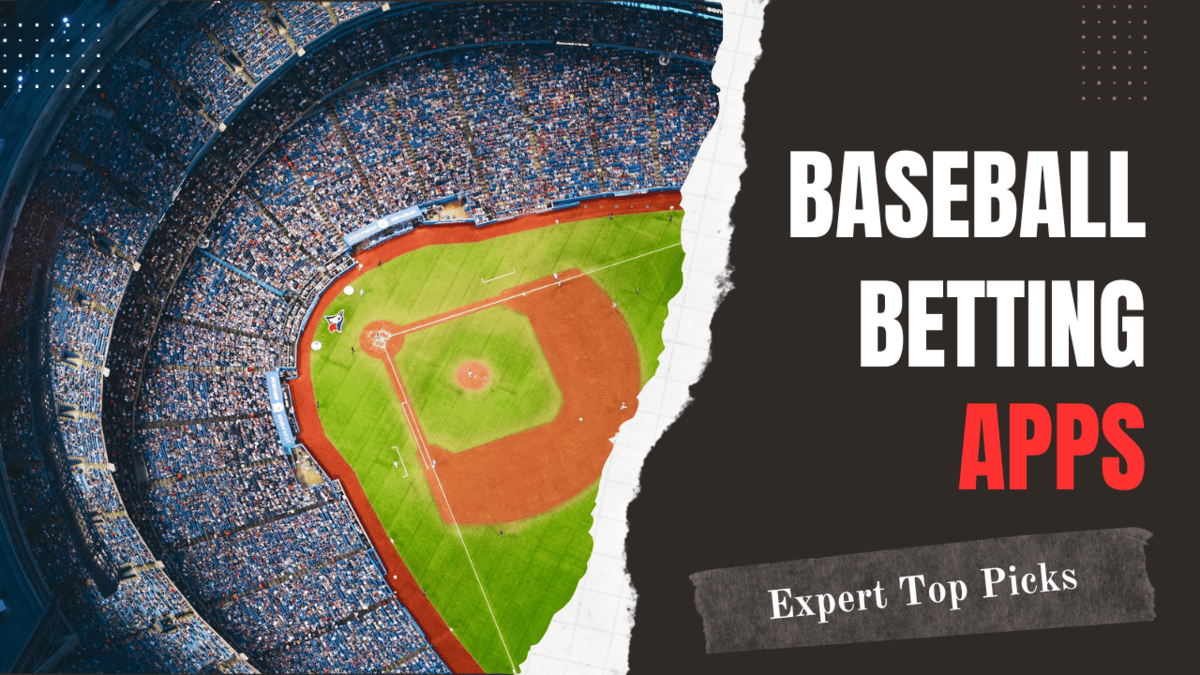 If you're looking to bet on baseball you might be wondering what the best baseball betting app for you to use is? If so, you're in luck as myself and the Gamble USA team have done the legwork in order to compile and give you our thoughts on a range of baseball betting apps to help you decide where you should be placing your bets during the season.
As you might be aware, sports betting has taken off in a big way across the United States. It has grown from wagering on daily fantasy sports to allowing betting on almost any sport around the world.
Baseball is currently the second most popular sport in the US, so it's no surprise that there's no shortage of baseball betting apps for us to choose from in legal states.
I have looked at all of these and asked some of our sports betting experts at Gamble USA for their input so you can see what we liked and what we didn't.
So, let's get right into it.
---
Our 5 Best Baseball Betting Apps
If you're in a hurry then here's a quick list of our five recommended baseball betting apps. If you want to learn more about why we think they're a good fit then you can find our full extensive reviews & insights below.
The betting apps listed above are the ones that me and our team feel offer the best betting experience for those looking to place some bets on baseball. All of them offer different qualities, and you can assess which one will be the most suitable to meet your betting needs.
Picking one provider among these best baseball betting apps usually boils down to personal preference, but I believe each baseball betting app on this list provides competitive baseball betting odds, lucrative bonuses, and the biggest variety of bet types you can find for a baseball game.
Still not convinced? Read on to see our full reasoning to help you make a more informed decision.
---
Why We've Picked These US Baseball Betting Apps
Each of the apps listed above are great for mobile baseball betting however each of them has unique features that we'd like to highlight:
🥇FanDuel Sportsbook app
🥈BetMGM Sportsbook app
🥉DraftKings Sports app
🎖️PointsBet app
🏅Caesars Sportsbook app
---
🥇#1. FanDuel Sportsbook app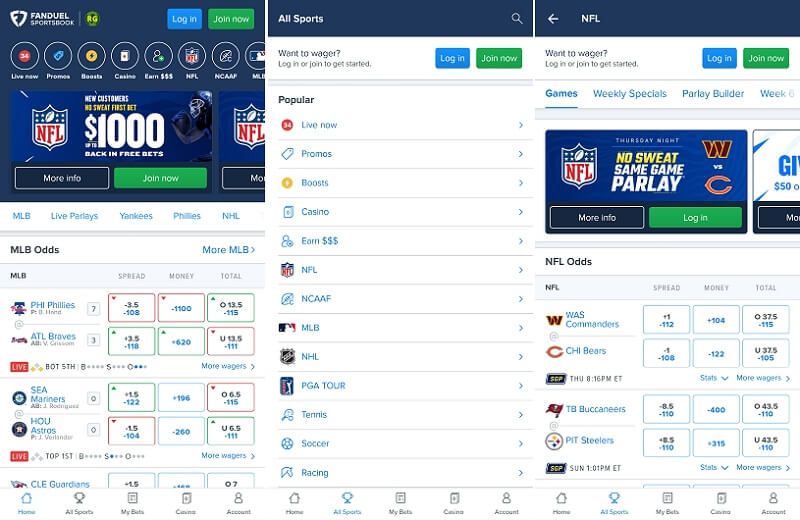 As one of the longest standing sportsbooks in the USA, I think FanDuel is without a doubt one of the best places to place your Baseball wagers. The fact that they've been around for so long has given them plenty of time to refine and perfect their mobile app and it is without a doubt my top pick for the best baseball betting app you can use right now.
FanDuel is an official partner with the MLB meaning that during the season you'll have access to a better wagering experience with exclusive boosts and offers as well as even being able to stream live MLB games through the app!
Expert Comments:
"Baseball is my favourite sport to bet on and FanDuels recent partnership with the MLB is incredible news for users like me. I can see FanDuel offering exclusive lines and boosts in the app for this season meaning it has to be my top pick here."
– Paul Ricci (Chief Sports Editor)

---
🥈#2. BetMGM Sportsbook app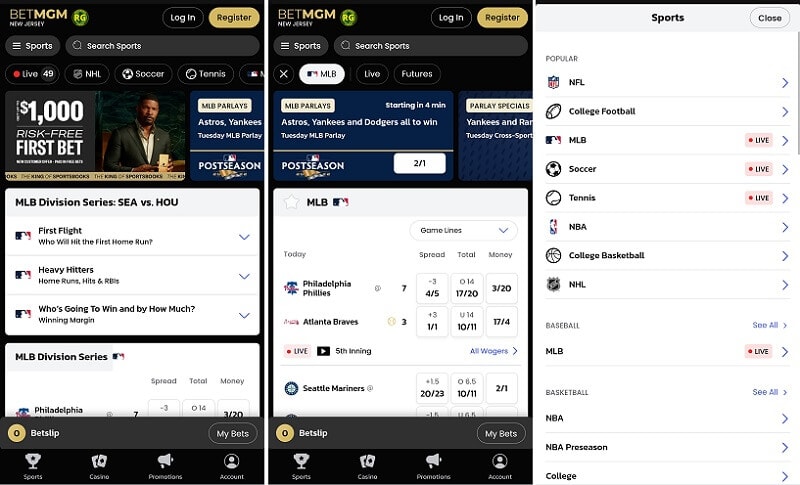 My second pick for baseball betting apps is BetMGM. They have always offered fantastic welcome offers for new bettors which have consistently been some of the best on the market. Perfect for new users to use while getting to terms with baseball betting on the app.
They have a huge range of lines in their betting app to choose from with some very competitive odds when compared to the other similar legal baseball apps. I also find that navigating the app is really easy and you'll find most of the markets you're looking for quickly which is really important for baseball betting on mobile.
Expert Comments:
"BetMGM is a top pick for baseball betting on the go. The app is extremely easy to use in my opinion with quick loading times and lines that offer great value. I've seen that they often have promotions for the MLB on their homepage too so I always keep an eye on this app throughout the baseball season."
– Paul Ricci (Chief Sports Editor)

---
🥉#3. DraftKings Sportsbook app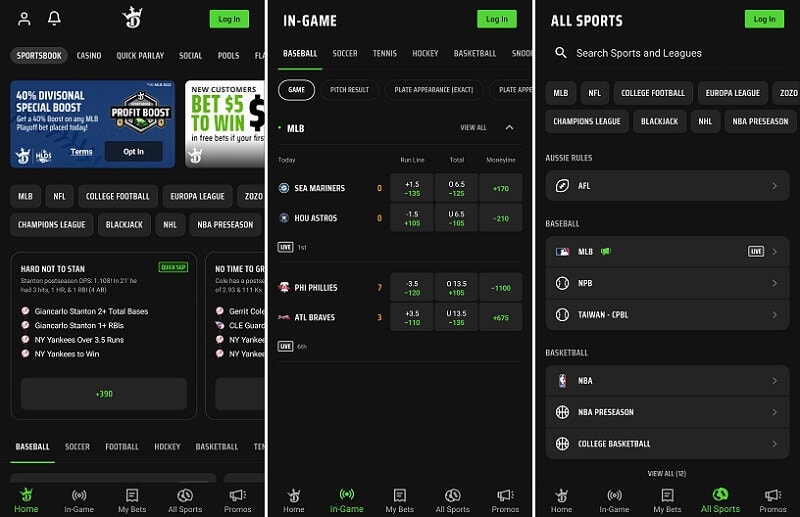 Another app that I think has a fantastic sportsbook pedigree is DraftKings. If you've been betting for any length of time like I have then I'm sure you've heard of DraftKings, they were one of the original sports books in North-America also originating from fantasy sports before moving into sports betting..
Over the many years DK has been operational they've been constantly updating and improving their mobile betting app to really make sure that they have one of the best betting apps available on the market.
I also think it's worth mentioning here that they offer a great reward program called Dynasty Rewards which allows you to earn crowns as you play that can then be converted into bonuses down the line. This is extremely valuable if you're a frequent bettor as the rewards can really rack up!
Expert Comments:
"I like betting apps to be as clear as possible however the dark background on the DraftKings app isn't alway the easiest for me to read at times I prefer more contrast. This is just personal preference but it took me some time to get used to it. This is a small trade off though for the great rewards program that they offer."
– Oliver Dickinson (Sports Editor)

---
🎖️#4. PointsBet app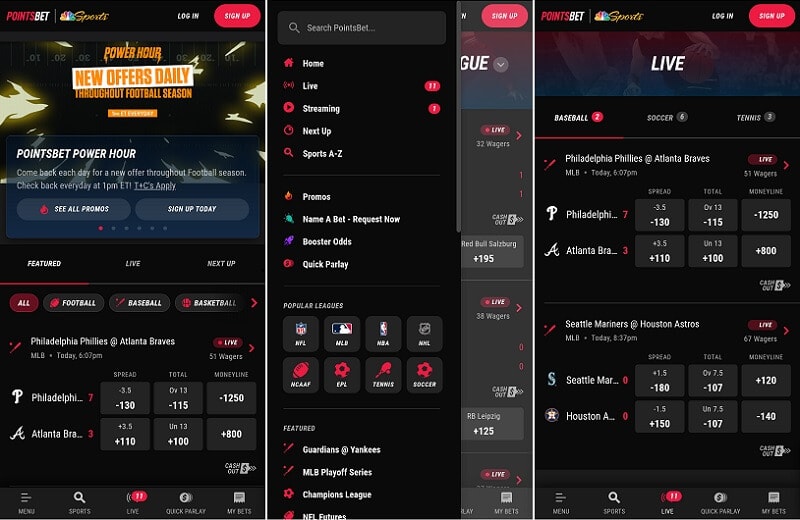 If you like to bet on the spread then Pointsbet would be an great baseball betting app to place over/under bets. PointsBet was the original sportsbook to make spread betting a popular and their baseball betting app encourages you to find value on the spread offering great odds on a huge selection of lines.
This can be an extremely lucrative betting strategy for those of us who really know our baseball. Even if you're new to spread betting it's worth downloading the app and getting their strong welcome bonus, this will allow you to place some trial bets on some MLB games. The best way to learn is to try at the end of the day!
Expert Comments:
"Betting the spread is something that I've found lots of success with in the past especially with the scoring potential in MLB games. PointsBets app experience for this type of betting really is the best as instead of initially promoting the Moneyline like most competitors, shows you the spread odds right on the face of things."
– Oliver Dickinson (Sports Editor)

---
🏅#5. Caesars Sportsbook app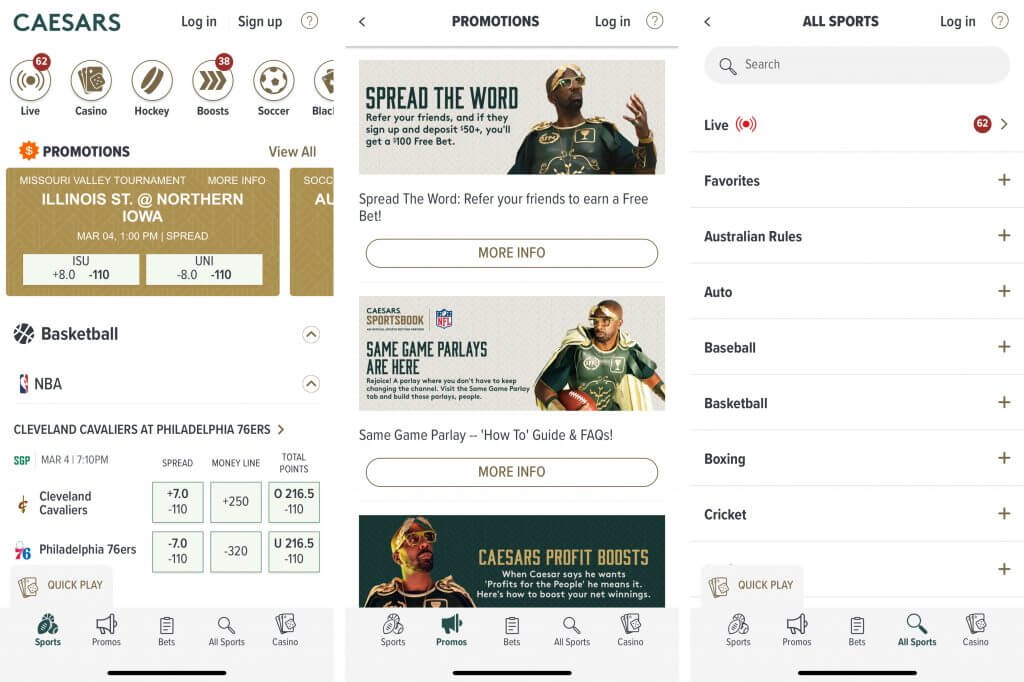 I've selected Caesars as my 5th pick on my recommended baseball betting apps list however, it's still a fantastic platform for placing your wagers on mobile.
They have a really strong app that is clear and easy to navigate. Furthermore they even have partnerships with some MLB teams meaning they sometimes offer exclusive lines and offers for these teams. Their same game parlay feature is something that I think can be useful when placing your baseball bets as it allows you to get enhanced odds by predicting multiple outcomes of a single game.
Expert Comments:
"Caesars sportsbook app has some of the best navigation out of and of the Baseball apps I've reviewed, this makes it easy to place bets and also find promotions. It's also great that they give you lots of detail about each sport to help you make an informed decision when placing wagers."
– Oliver Dickinson (Sports Editor)

---
Finding a Baseball App for MLB Betting
I'm sure that you know that Major League Baseball (MLB) is the largest and most famous baseball league in the world, attracting the best players. The league has an extensive schedule, with 30 teams playing 162 games in the regular season, meaning there are 2,430 games to bet on in total. This doesn't include the MLB playoffs or the World Series.
With the fact that sports betting is being legalized in states across the US, fans just like you are keen to bet on baseball games online. A lot of fans have previously used fantasy baseball apps, but they can now wager for real money online on licensed and regulated US betting apps.
Due to the number of regular-season games, sports bettors often develop a season-long baseball betting system or baseball betting strategy. Betting online attracts professional sports bettors as they can judge the momentum and better assess the betting landscape. The sport also attracts baseball betting amateurs as they can both enjoy watching the sport in addition to having the chance to win some cash.
There are lots of decisions you need to make when it comes to baseball betting. Selecting the baseball app that you want to use to place wagers on is a crucial decision. It's worth nothing that more than with any other major sport, MLB odds vary between baseball betting apps, so you must choose carefully.
It's definitely wise to have multiple apps to give you the best returns from your winning bets and plenty of betting options to choose from.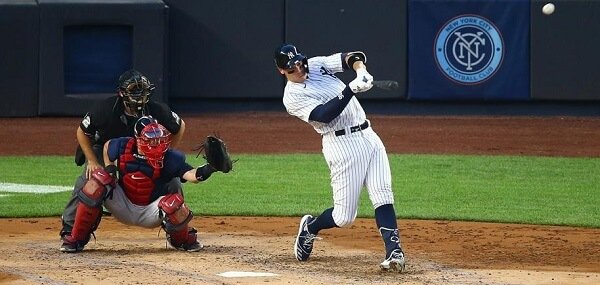 ---
States Where Baseball Betting Apps are Legal
I would say that before you rush to find an online sportsbooks that support betting on baseball games, you first have to make sure whether online sports betting is even legal in your state.
If you're not familiar with the legal background, after the repeal of PASPA in 2018, it was left up to individual states to decide whether they'll allow gambling and/or sports betting within their borders.
Since we're talking about baseball betting apps here, baseball bettors need to be in a state that has legalized online sports betting.
Here is the full list of states where online sports betting is legal:
Arkansas
Nevada
New Hampshire
Oregon
Pennsylvania
Rhode Island
Washington D.C.
West Virginia
On top of that, Maine, which has already passed the law to legalize online sports betting, is expected to open its doors to online betting soon.
---
Types of Baseball Bet to Place 
Different baseball betting apps will offer different types of betting markets, depending on which sports that particular site wishes to focus on.
For example, FanDuel focuses on all major sports such as football, basketball, hockey, and baseball. When talking specifically about baseball, most sportsbooks will offer options on the MLB regular season and playoffs, including the World Series.
The differences between all of the different betting apps come with the different types of baseball bets that each offers.
Some betting platforms will allow you to bet on every aspect of a game, including things like prop bets, moneyline, over/unders, futures, parlays and even grand salamis!
The best MLB betting apps will have a decent mixture of the above baseball betting lines in their app during each game week.
---
MLB Betting Lines: Understanding Baseball Betting Odds
If this is your first introduction into baseball betting, I would say that it's crucial you first familiarize yourself with the different available baseball betting lines.
I'll briefly run you though what each one is below but if you want to read more check out our guides section.
MLB Moneyline Bets
By far the most common type of bet found on the betting apps is the moneyline bet.
The moneyline bet in baseball betting simply involves choosing which team will win the match.
When we're looking at moneylines and other types of bets found on within betting apps, baseball odds are represented with a plus (+) and a minus (-) sign, representing the underdog and the favorite respectively.
MLB betting odds are expressed as three-digit numbers and are based off a $100 bet. Let's take a look at an example:
Team A (-190)
Team B (+180)
In this example, Team A is favored to win, with the negative betting line figure of -190 meaning you have to bet at least $190 in order to get a $100 profit.
Of course, baseball betting lines allow for larger or smaller bets than that, but the odds proportion outlined in the betting line will determine the payout.
On the other hand, Team B is considered the underdog. According to the betting line outlined above, a $100 bet will net you $280 – $100 stake + $180 profit thanks to the +180 betting odds.
Totals
Another extremely common type of bet found on baseball betting apps are totals, also commonly referred to as over/under bets. With this type of baseball bet, you're not trying to guess who will win the match. Instead, you aim to predict the total number of runs scored by both teams.
Here, you choose whether the number of runs scored will be more or less than a certain number, hence the name over/under bets. In case the total number of runs scored is equal to that number, this is considered a push and your initial wager will be simply refunded.
Parlay bets
One of my personal favorite bet types is the parlay bet. It is a combination of two or more different bets to create a single bet with longer odds.
Parlays offer the opportunity for the highest profit margins available in baseball betting.
While parlay bets offer the highest payouts available in baseball betting they're also considered the riskiest, as ALL of your parlay bets have to win or you lose your wager.
Prop bets
I think one of the most interesting bet types for baseball are prop bets. Unlike moneylines where you wager on the outcome of the game, prop bets allow you to bet on a specific element of a team's or player's performance within games.
This can include things like the number of strikeouts, match MVP awards, number of home runs, and so forth.
Due to MLB prop bets being tied to very specific statistics, they are usually only used by bettors who know the game, the teams, and the players well out and can hence make educated predictions on very specific outcomes.
Futures
Another incredibly popular form of betting found on all of my top recommended baseball betting apps is futures betting. With futures betting, you wager on the outcome of a certain series, event, or league instead of an outcome of a single match.
Futures bets are placed on events that will take place in the future (hence the name), and not on the day the bet is wagered.
When it comes to Major League Baseball, one of the most popular futures bets is predicting who will win the World Series at the end of the season.
---
Best Baseball Betting Promo Codes
---
Finding the Best Baseball App For You
Online sportsbooks will try and attract customers by stating they have the best odds, deposit bonus, betting line, or the most comprehensive college baseball betting coverage.
As we have mentioned, deciding which baseball betting apps you want to open an account on is a big decision. Whether you want an app with live MLB scores or a wide range of betting options, you want to sign up for a site that accommodates your needs.
Myself and the Gamble USA team has assessed at a few key aspects that are important when deciding which are the best basketball betting apps in our list above to help you make an informed decision.
Every betting app we feature on our best baseball apps list is 100% legal and regulated in the US by the relevant state gaming departments. You should always use a regulated sportsbook over an unregulated, offshore sportsbook like 5Dimes, MyBookie, or Bovada sportsbook. These operators are not licensed in the US.
---
Baseball Betting Early Lines
I'd definitely say that making the most of early lines is important. Sportsbooks early prices are not always the most accurate and reflect the bookie's view of the game and not the users.
When bettors begin wagering, and the line moves, the odds become more accurate. Once the game starts, the line is tighter. If you decide to bet with a book that opens its lines early, you can jump on the numbers before they move.
You can also read more on understanding odds with our handy guide on how to read baseball odds today.
---
Dime Lines
Dime lines are another important factor in baseball betting. Many MLB online betting apps will use a 20 cent line, meaning there are 20 points between the favorite and the underdog. So, a game with a -130 favorite will have a +110 underdog.
On the other hand, most sportsbooks will only offer 10 cent lines for MLB, meaning the 'tax' you pay on your bets reduces by half. If you were to use 20 cent lines instead of dime lines, it becomes a lot harder for your bet to be successful. If you are a casual when it comes to MLB betting and are just placing a bet on one particular game, this won't matter. However, if you are looking to bet consistently through the season, your savings can really creep up.
---
Baseball Betting Apps Security
There is no compromise to be had when it comes to any betting site's security and reliability. If you want to bet on Major League Baseball, or other sports for that matter such as boxing, you need to ensure you are doing so with a site that you can trust. In order for a sportsbook to end up on our best baseball betting app list we first make sure that the sportsbook in question is reliable and trustworthy by looking at factors such as licensing and regulation, business practices, player complaints, and the company's reputation. You know ESPN MLB coverage is fantastic, and if you are looking for NBA standings or are interested in basketball betting, you can check ESPN NBA scores because they have an excellent reputation.
We would also encourage bettors to do a little research as well before placing a bet, which is why we have provided some critical information for MLB betting on this page.
---
User-Friendly Website
There is nothing more frustrating than being excited to start placing your bets but struggling to find where or how to do it because of a poorly designed website. MLB online betting requires baseball betting apps that make betting on lots of baseball games at the same time straightforward. Navigation needs to be simple; otherwise, bettors could become frustrated and make a mistake and bet on the wrong thing.
Good baseball gambling apps will have all of the MLB games laid out neatly, so they are easy to sort. This makes finding the types of bets you are searching for simple without sorting through various pages and clicking on too many links. Additionally, there should be a player dashboard so bettors can keep track of their historical bets and current bets. The interface should be easy to use and adding single bets, and MLB parlays should be fast and simple to do.
---
Types of Baseball Bonuses
Whether you are playing at an online casino or placing a sports bet on a sportsbook, everyone loves a nice bonus. The best baseball betting app will reward their customers with some incentives of free cash to keep them on board. Some different types of baseball betting bonuses can be found below.
Welcome Bonus
Welcome bonuses are the most common type of promo on baseball betting apps and are typically awarded when a user makes their first deposit. Some types of welcome bonuses include a bonus bet, no-deposit bonus, matched deposit offer, or free bonuses. Once you have claimed your welcome bonus, you can then use it to bet on teams like the White Sox or New York Yankees hoping to turn that bonus into some huge winnings.
Weekend Bonuses
These tend to be small, but the best basketball betting apps will encourage bettors to place wagers on weekend games in the National League and then give you your money back on any losses.
Referral Bonus
If you want your friends to join you in betting on the major baseball American League (MLB) encourage them to sign up on your preferred baseball betting apps and bet and you will both be rewarded. There is no limit placed on the number of times these bonuses can be redeemed, so they are definitely worthwhile.
---
MLB Live Betting
Live betting on baseball matches is a stimulating way to bet on the action for any sports bettor. Some gamblers may argue that baseball is not the most exciting of sports; however, live or 'in-game betting' adds a huge excitement element. The best baseball sportsbook apps will have a considerable live betting section, which you can access as the action is taking place. There will be different bet types listed throughout a match, and it is a great feeling to win as you watch.
Live betting is fast-paced as the odds will change depending on how the game is going. If you haven't tried it before, there is nothing like betting on a Boston Red Sox game as they are playing. It adds a lot of excitement and gets the adrenaline pumping!
---
MLB Mobile Betting
You can bet on baseball on the go via your mobile device. Most sportsbooks will offer a sports betting app, making it quick and straightforward to place a bet. There will be tonnes of different wagering options on each app, and they can be accessed in the palm of your hand. Baseball bettors who want to make a bet on the go can quickly download the app and be betting within minutes. Apps are available for download to iOS and Android devices.
---
Target the World Series
Using a Futures bet on the World Series has become a rite of passage for a lot of bettors who like to study the statistics. There are more detailed stats reports, analysis and scrutiny available for baseball than any other sport, which means you can make a more informed decision when trying to make far-off predictions or wager on obscure elements of this famous old game. The annual World Series event gives you a great opportunity to do both.
If you want to maximize your potential earnings from World Series betting, look or an baseball betting app that releases futures lines for the World Series around October time, straight after the previous Series finishes. By doing this, you will have far more time to analyze odds movement and figure out the perfect time to put your wager down. You can compare  futures odds closely, as the payout amount for your team can vary between apps.
When the World Series comes around again in October, the key is looking for some enticing props and odds that are consistent with those you will get during the regular season. Remember that the most significant sporting events will usually incur some extra juice, and the World Series certainly falls into the significant category. When you have done your shopping and you find your preferred baseball betting app, you can find some quirky props to keep you engaged.
---
FAQ's
How does baseball betting work?
If you want to make some baseball bets, it is first recommended that you research the best baseball sportsbooks that will give you the most choice. Next, create an account at your chosen website and then begin your betting experience. In this article, we have highlighted what to look out for, the best MLB betting sites online, and what different types of bets are available.
How to make money betting on baseball?
Like with gambling in any form, there are no guarantees. However, there are some strategies you could use when placing bets on baseball matches. First, consider your budget. Most bettors bet around 2% of their total budget on a single MLB game. You don't want to be out of money straight away!

Additionally, research the current numbers, trends, and stats. The MLB numbers and statistics are very detailed and can reveal a lot about MLB betting trends or player performance. Finally, it would be a wise choice to stick with dominant pitchers. Following certain pitchers in the MLB can keep your bankroll ticking along nicely as they often record over 20 wins in a season.
How to read baseball betting lines?
Reading betting lines in baseball isn't that complicated. Suppose we take an example of the Boston Red Sox (BO) taking on the Los Angeles Angels (LA). So, you have BO (-115) @ LA (+104).

If you want to bet on the favorite, in this case, the Boston Red Sox, a bettor would need to bet $115 to win $100. If you bet on the underdog, the Los Angeles Angels, the same bettor could wager $100 to win $104.
Where can I bet on MLB games?
The apps we have listed above all provide MLB betting odds throughout the regular season and the playoffs.
How do I bet on the World Series?
Legal sports betting apps will display betting lines before the playoffs and the World Series, in addition to providing futures odds.
Latest News