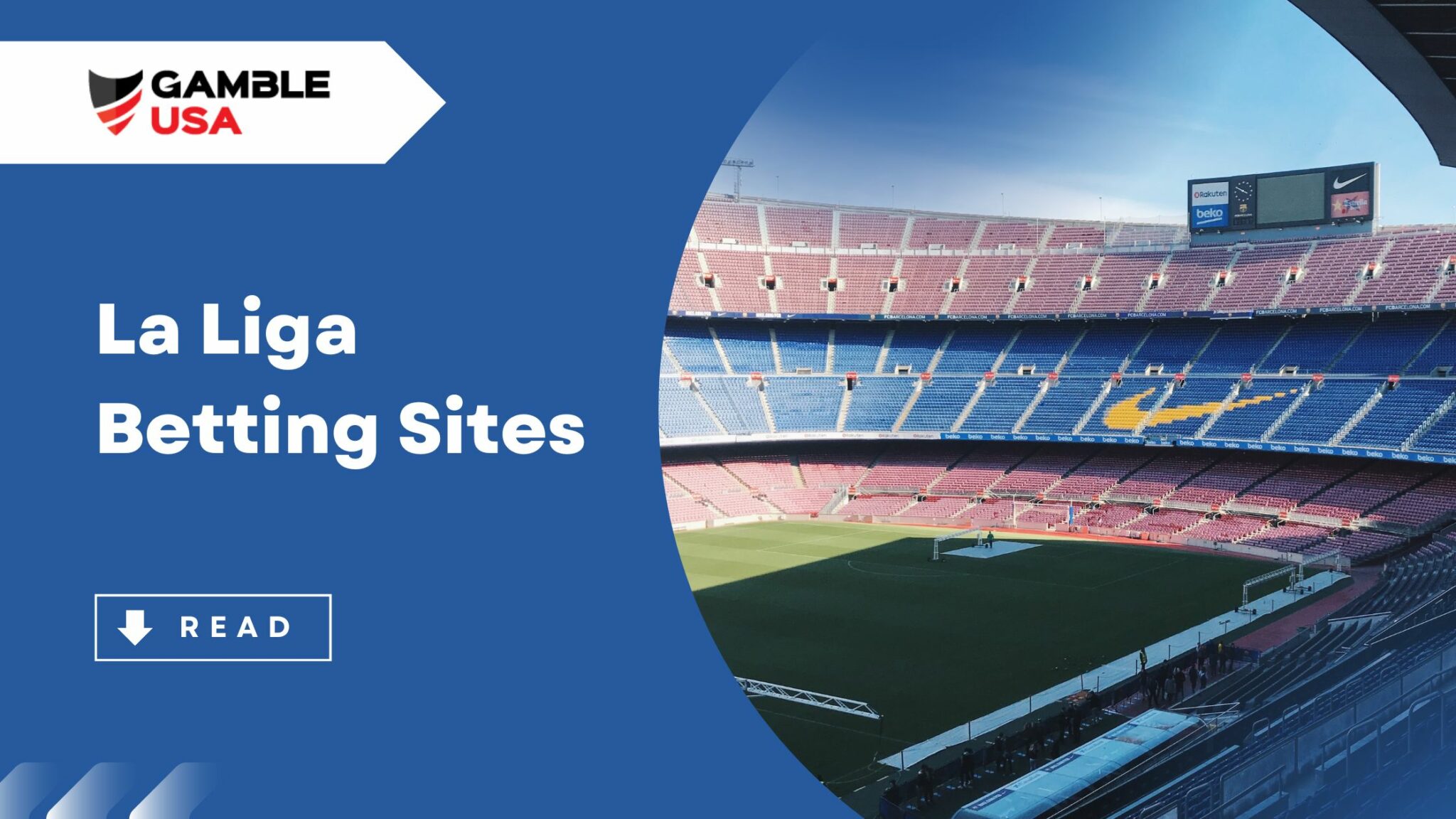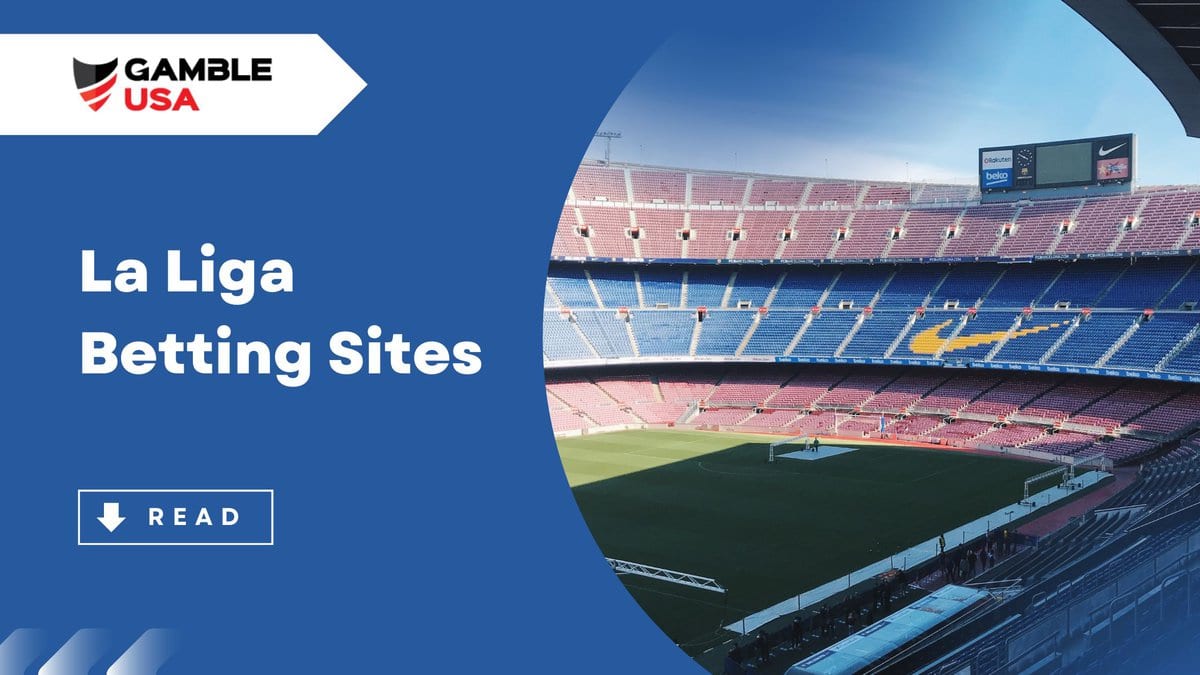 La Liga is the top tier of Spanish football, features superstars like Vinicius Junior and Robert Lewandowski and is home to arguably the two biggest football clubs in the world, Barcelona and Real Madrid who have won the UEFA Champions League multiple times. 
At La Liga betting sites, you can wager on all soccer matches from this thrilling Spanish league and enjoy live streams, unique bet types, and tons of bonuses. However, it is extremely important you choose a safe La Liga sportsbook considering you are entrusting them with your money and personal information. 
In this article, we will explore what makes a great La Liga sportsbook and show you legit betting sites personally verified by us!
---
What Makes A Good La Liga Betting Site
Virtually every sportsbook has a betting market for La Liga games. 
However, at the best betting La Liga betting sites, you get access to cutting-edge features like cash out, exotic prop bets like over/under number of fouls, relegation bets or odds on the coin toss, and you are provided with a sleek mobile optimized gaming experience where you can enjoy market-beating La Liga betting odds. 
When looking for a top La Liga betting site, make sure they excel in all of these factors:
Licensing 
Licensed La Liga sportsbooks are closely regulated by state gaming authorities, are based in the US, and operate legally. Avoid any sportsbook that isn't licensed because not only are they running an illegal business, but they tend to have other shady business practices like not honoring bonuses, non-existent customer support, and will ban your account without notice.
Customer Support
A good indicator of a legit La Liga betting site is the level of customer support they offer. If the only way you can reach them is via email, and they take forever to reply, that is a serious red flag. At top betting providers, you can contact them 24/7 via live chat and speak to real customer support agents who will quickly solve your issues.
Features
Top La Liga betting site features to keep an eye on include same-game parlays, live streams, cash out, and edit bet. These features provide a more immersive online betting experience and even boost your winnings if you know how to use them.
Odds + Betting Markets
Look for La Liga betting sites that consistently offer the best odds. You can pull up an odds comparison site that will show you the odds for the same soccer match from different sportsbooks. Look through different games and take note of the sportsbooks which regularly have the best La Liga odds. Also, head to the sportsbook's La Liga betting markets and see exactly how many different bet types they offer. Top sites have extensive live betting options and everything from player and team props to futures to match betting.
Bonuses
Bonuses can seriously impact your winnings, especially when you use them strategically. Some of the best bonuses for La Liga betting include cashback, bonus bets, insurance, profit boosts, and deposit match promos. Make sure the bonuses also come with fair terms and conditions, important T&Cs to look out for include wagering requirements, expiry dates, max win, and minimum odds.
Mobile Betting
Who doesn't love betting on soccer matches from their phone? The best La Liga betting sites have mobile-first designed websites where everything fits perfectly on your screen, and scrolling through the different markets is a breeze. They also have super popular 5-star rated apps, which you can pick up for free from the App Store or Google Play.
---
Top La Liga Betting Sportsbooks
The La Liga sportsbooks don't just have markets for every game but offer fantastic betting odds, top-notch customer support team, and more bonuses than you can handle. These La Liga betting sites ticked all our boxes!
---
🥇 #1 FanDuel Sportsbook
Bet $5, Get $150 In Bonus Bets
21+. T&C Apply
21+. T&C Apply
Convenient banking
Massive choice of sports
Bet $5, Get $150 In Bonus Bets
21+. T&C Apply
21+. T&C Apply
FanDuel is one of the most popular La Liga sportsbooks, and it is easy to see why! FanDuel offers 30 + bet types, including the first-half winner, first goalscorer, clean sheet, and goal totals on all La Liga games throughout the season. 
Don't worry, you won't be limited to Barcelona or Real Madrid matches. FanDuel has the most live betting options we have come across and consistently has excellent moneyline and spread lines for La Liga games. Sign up here and get a no sweat first bet up to $1000 on any La Liga game!
---
🥈 #2 DraftKings Sportsbook
Up To $1,000 Deposit Bonus
21+. T&C Apply
21+. T&C Apply
The best sportsbook
Amazing odds & offers
Awesome betting app
Up To $1,000 Deposit Bonus
21+. T&C Apply
21+. T&C Apply
DraftKings offers the best mobile La Liga football betting experience thanks to their mobile-first designed website and custom-built app for Android and iOS. They also have tons of exclusive bonuses for La Liga, including profit boosts, early cashout promos, and insurance. 
At DraftKings, you can place bets on every aspect of a La Liga game. Some of their top markets include over/under number of corners, last goal, Asian handicap bets, and both teams to score. Register here and get a 20% deposit match up to $1000 and use the bonus funds to start wagering on all La Liga games!
---
🥉 #3 Caesars Sportsbook
Promo Code: GUSA1000
$1,000 First Bet on Caesars
21+. T&C Apply
21+. T&C Apply
Promo Code: GUSA1000
Massive welcome bet offer
Earn Caesars Rewards
Promo Code: GUSA1000
$1,000 First Bet on Caesars
21+. T&C Apply
21+. T&C Apply
Caesars is a solid all-around La Liga sports betting site. 
They have competitive odds for numerous markets, including spread, goal totals, clean sheet, first goal scorer, and futures. Caesars boasts a fast and easy-to-use Android + iOS app that has all kinds of features, including live streams, in-depth stats, news, same-game parlays, and early cash-out. 
They also have 20 + in-play bet types for all games throughout the season. Use the promo code GUSAFULL and receive 100% insurance up to $1250 on your first La Liga bet!
---
🎖️ #4 BetMGM Sportsbook
Promo Code: GAMBLEUSA
Up To $1,500 In Bonus Bets
21+. T&C Apply
21+. T&C Apply
Promo Code: GAMBLEUSA
Super fast payouts
Live streaming
Promo Code: GAMBLEUSA
Up To $1,500 In Bonus Bets
21+. T&C Apply
21+. T&C Apply
BetMGM always has epic bonuses for La Liga games, including a $50 bonus bet for every friend you refer! This sportsbook has one of the most aesthetic themes we have come across, and they made it super simple to navigate between their extensive La Liga betting markets. 
They have a good mix of classic markets like moneyline and spread and also some more exotic ones like correct score and number of fouls. Use the promo code GAMBLEUSA and get up to $1000 in bonus bets if your first La Liga bet loses!
---
🏅 #5 PointsBet Sportsbook
10 x $100 Second Chance Bets
21+. T&C Apply
21+. T&C Apply
Awesome live betting
Multiple bet types
Huge range of sports & markets
10 x $100 Second Chance Bets
21+. T&C Apply
21+. T&C Apply
PointsBet is a young Australian La Liga sports betting site that is shaking up the US market. They have fantastic in play betting markets and their very own bet type called PointsBetting, where you multiply your stake when your team wins. For example, if you pick Real Madrid to win and they win by 2 goals, you 2x your stake. 
Another cool feature is the ability to create your own La Liga market – you just need to use the hashtag #nameabet and tweet them at @PointsBetUSA, and they will create a custom soccer market just for you! To get in on the action, sign up on this page and scoop up 5 x $50 bonus bets which you can use on any La Liga match!
---
La Liga Betting Tips and Strategies


Developing a winning La Liga betting strategy doesn't have to be difficult. Use these tips to get some inspiration, and start picking winners now!
Bet on the top striker from Real Madrid or Barcelona to win the season MVP award

–

Every season, the best player from La

Liga receives the MVP award, this player is virtually always from the team that won the league and is usually a striker, Lionel Messi, Cristiano Ronaldo, and Karim Benzema have all won the award. You can hedge by also betting some cash on Barcelona's or Real Madrid's goalie winning the award, as Jan Oblak and Marc-André ter Stegen have both recently scooped the MVP title.

Bet on Real Madrid or Barcelona to win the La Liga title

– La Liga is a two-horse race essentially every year, Real Madrid or Barcelona wins the title. Only once in the last 9 years has a team other than Barcelona or Real Madrid won the league (Atletico Madrid in 2020/2021).

Bet on the underdog team with a strong goal difference in the spread market

– With this strategy, you need to find a team with a – goal/s handicap who also happens to have a strong goal difference. For example, last season Girona was a good team to favor when they were underdog because despite being in 10th position, they still had a GD of 3.

Follow La Liga trends

– Key statistics to look at include head-to-head record, record over the last 5 games, average number of goals scored, and average number of goals conceded. Remember to look at these stats for both teams and identify which squad is in form.

Practice bankroll management

– Eve

n if you are the second coming of Lio

nel Messi, if you bet too big, you will quickly blow your whole bankroll. To endure the wild swings of La Liga betting, risk up to 2% of your total bankroll on each bet, for example, if you have a $1000 bankroll, stick to $20 bets.
---
Getting Started with La Liga Betting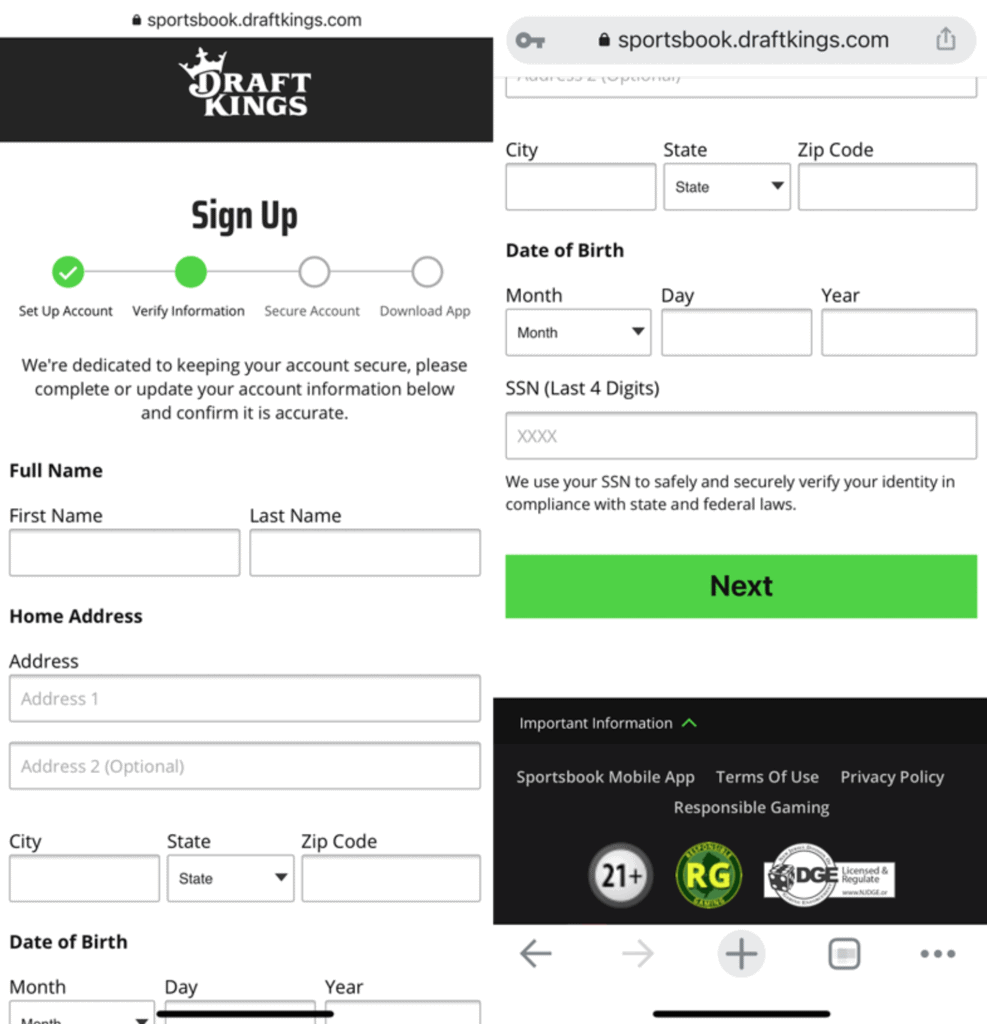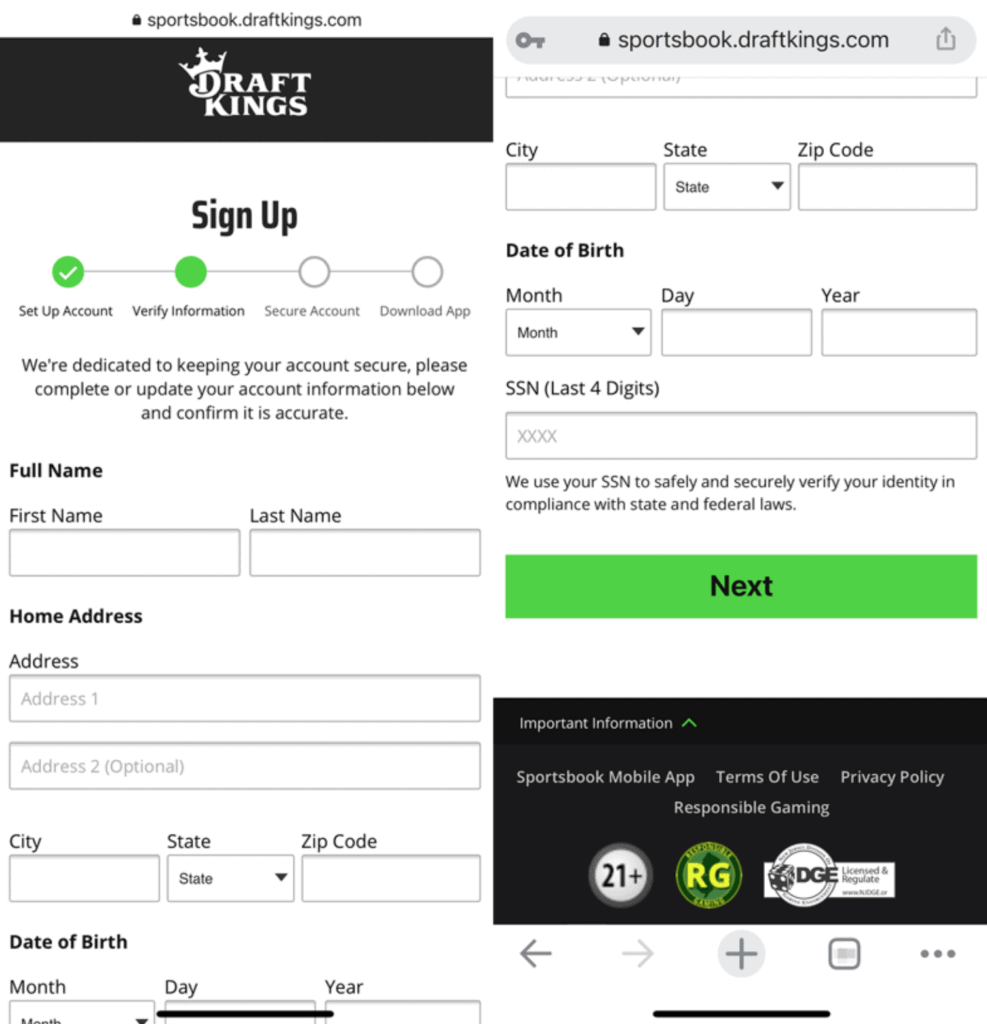 The best La Liga betting sites have a smooth sign-up, deposit, and withdrawal process. The whole process only takes a few minutes and is easily manageable irrespective of your tech skills. To get started, follow these steps:
Head to your chosen La Liga sportsbook official website and tap the Sign Up button in the top right-hand corner

Share your basic personal information such as name, mobile, number, email, date of birth, address, and last 4 digits of your SSN

Verify your account by uploading your official ID and proof of address, such as a utility bill or bank statement
After you have submitted your documents, you need to wait up to 24 hours so the sportsbook can verify your identity and address. Once you get approved, it is time to deposit, all you need to do is:
Sign into your La Liga sportsbook account

Hit the Deposit button at the top of your screen

Select your payment method and the amount you wish to deposit

Pick a bonus or enter a promo code if required

Enter your payment details

Confirm your deposit
Once you confirm the transaction, the funds and bonus should be credited to your account instantly. Now your account is funded to make your first La Liga bet, simply:
Navigate back to the main page

Scroll through the different sports and tap on Soccer

Then find La Liga and click on it

Select the game you wish to bet on, e.g. Real Madrid vs. Barcelona

Choose a bet type, e.g. moneyline 

Make a selection, e.g. Real Madrid to win at +150

Enter your stake, e.g. $100

Confirm your bet
Now just sit back and hope Vini Jr is playing well and Real Madrid gets the W. So let's say Real Madrid wins and you collect $250, now it is time to cash out. To withdraw from a La Liga betting site, simply:
Tap My Account in the top right corner

Go to the Cashier page

Click on Withdrawal 

Select your desired withdrawal method 

Enter the amount you wish to cashout

Type in your payment details

Confirm the withdrawal
---
How to Find Legit La Liga Betting Sites?
Don't sign up to any random La Liga betting site and risk getting your deposit stolen, your account banned, and your data sold. Identify trustworthy La Liga betting sites by considering these factors:
Licensing and Regulation
There are three types of La Liga betting sites, licensed in the US and operating 100% legally, licensed offshore and operating illegally in the US but subject to some foreign gaming authorities, and completely unlicensed sites that are often straight-up scams. 
We recommend only betting with US-based and licensed sportsbooks as these betting sites are subject to strict regulations relating to protecting players' funds and data, offering accurate odds, and providing fair bonuses. US-licensed betting sites are regularly audited and face serious fines and bans if they are found to be breaking any regulations.
Reviews and Feedback
You can't believe a sportsbook's marketing materials, of course, they are going to tell you how incredible their site, betting odds, and bonuses are. Likewise, many "independent" reviews are actually paid for and also can't be trusted. 
To work out if a La Liga sportsbook is legit, we recommend trawling through Reddit threads and heading over to TrustPilot. At both of these sites, you will get to read the unfiltered opinions of real La Liga bettors, and they don't pull any punches! However, make sure you read a number of opinions so you get a balanced view of a sportsbook, don't just trust the ravings of a lunatic who is convinced that BetMGM is rigged or DraftKings has a personal vendetta against them!
Track Record
You shouldn't immediately write off new sportsbooks, but it is definitely riskier betting with a new operator. To be on the safe side, we recommend signing up to La Liga betting sites that have been successfully operating for years, have a strong reputation in the sports betting industry, and are ideally backed by some serious financial capital. 
For example, what are the chances of BetMGM scamming you when they are owned by MGM Resorts, a public company worth $15 billion?
---
Types of La Liga Betting Markets
The La Liga gambling markets have evolved past just moneyline bets. You can now bet on everything from first goal scorer to player of the year to half-time winner and more. Here are some of the most popular La Liga betting markets:
Match Betting 
Match betting involves wagering on the outcome of La Liga games and goal totals. The most popular La Liga match betting markets are:
1X2

– Bet on Team A to win, a draw, or Team B to win. For example, bet on Real Madrid to beat Barcelona. 

Double Chance

– Bet on a La Liga team to win, but even if the game ends in a draw, you still win. This is a great bet if you are risk-averse and are unsure if the team has enough offensive firepower to secure a win.

Spread

– With a spread bet, each team has a +/- goal handicap, and you need to guess which team will win when factoring in the handicap. For example, if you bet on Real Madrid with a -1.5 goal handicap against Espanyol, then Real Madrid needs to win by 2 goals or more for your bet to payout.

Correct Score

– With a correct score bet, you not only need to predict which La Liga team will win but what the score will be. For example, bet on Atletico Madrid to beat Real Sociedad 2-1.

Over/Under Goals

– You need to predict how many goals will be scored by both teams in a La Liga game. The sportsbooks make it easier by setting it up as an over/under. For example, the line is 2.5, and if you take the over and 3 or more goals are scored, you win.
Outright Betting

Outright betting, also known as futures, involves betting on long-term outcomes. The most common La Liga outright betting markets include:
League Winner

– Predict which La Liga team will win the coveted league. For example, bet on FC Barcelona to become La Liga champions.

Most Valuable Player

– Predict which La Liga player is the best overall player in the league.

Tip

: A player from the team that wins the league usually takes home the award.

Top Goal Scorer

– Will Karim Benzema cause goalkeepers the most headaches, or will Robert Lewandowski roll back the clock and score the most amount of goals throughout the La Liga season?
Special Bets
With special bets, you can wager on different in-game stats like goals, halftime results, first player to score, and other player stats. Special bets are a great option if you are looking for faster-paced action and are tired of boring 1X2 wagers. Some of the top La Liga special bet markets include:
Half-time winner

– Predict which La Liga team will be leading when the ref blows the half-time whistle. For example, if FC Barcelona is up 2-1 to Real Madrid at half-time but then goes on to lose the game 2-3 at full-time, your wager still pays out!

First goalscorer

– Bet on your favorite striker to net the game's opening goal and instantly win big. This bet type offers competitive odds, especially if you pick a defender to score first.

Clean sheet

– With this wager, you need to guess whether a particular team will prevent any goals from being scored. It doesn't matter how many goals the team scores, you are only worried about if any goals are scored against them.
---
La Liga Betting FAQs 
What are the top La Liga betting sites?
The best La Liga betting sites are FanDuel, DraftKings, PointsBet, Caesars, and BetMGM. These sportsbooks offer 30 + sports bet types for all La Liga matches, they always have great odds, live betting options, and exclusive bonuses to instantly boost your bankroll.
What are the best betting strategies for La Liga matches?
The best betting strategies for La Liga matches include:
- Betting on Barcelona or Real Madrid to win the La Liga Title
- Betting on the top striker from Barcelona or Real Madrid to win the La Liga MVP award
- Betting on an underdog with a good goal differential in the spread betting markets

What to look for when choosing a La Liga betting site?
When choosing a La Liga betting site, it is important to check whether the site holds a current license, if their odds are competitive with other sportsbooks, see what types of bonuses and payment methods they offer, and check if they support mobile sports betting.
What bonuses can I find when betting on La Liga?
You can find all kinds of bonuses when betting on La Liga, including bonus bets, deposit match promos, insurance, odds boost for parlays and singles, and cashback. La Liga football betting sportsbooks are constantly coming up with new offers, so check out their promotions page regularly.
Can I bet live on La Liga matches?
You can live bet and make in-play wagers on every single La Liga match at top sportsbooks like BetMGM, FanDuel, and DraftKings. These sportsbooks have extensive La Liga markets, which feature 30 + bet types.