As sports betting continues to expand and develop across the United States, new forms of gaming and types of wagers continue to emerge.
Sports gambling is a $104 billion business globally, as customers enjoy placing bets on their favorite sports teams or participating in fantasy sports contests. Following the 2018 Supreme Court Ruling in the US, which gave states the ability to legalize sports betting, new trends have emerged, such as eSports betting.
One of these new trends we now see is peer-to-peer betting (p2p betting, p2p sports betting), which could potentially be a groundbreaking movement in the industry. In P2P betting, users can request odds that they want and then place bets accordingly. Consequently, not only can you place your wagers, but you can also play as a bookie and take bets from your peers.
Social betting is popular already, with friends constantly sharing stories about how much they have won or lost. Additionally, groups of peers may place shared wagers each week on NFL or NBA games. However, placing a legal wager on peer-to-peer betting takes the social aspect to a whole new level.
Online sports betting is the perfect opportunity to explore the concept of P2P wagering, and one company, ZenSports, hopes to introduce a peer-to-peer sports betting exchange to the US. ZenSports is a blockchain technology company and aims to revolutionize the online gaming space. It is taking custom bets to a new stratosphere.

Here we cover what P2P betting entails, how it works, and it could become the new norm for online gambling in the future. Until peer-to-peer sports betting is available in the US, have a look at these top-rated sports betting apps from legal and licensed US sportsbooks.
What Is Peer To Peer Sports Betting?
Let's begin by explaining what this new form of betting is. It is not like traditional TN sports betting apps where customers will log in, place their bets on their favorite sports leagues, and hope to win some money. This is a new concept to the betting marketplace. Let's take the example of ZenSports, which has been adamant that P2P betting will become mainstream in the market.
The company has apps available for Android and iOS devices. They aim to roll out a web product for non-mobile customers shortly. When customers visit the app, they can make a bet and set a limit of how much money they are willing to wager. At that point, another customer could then take on the total bet, or numerous people could take it on up to the set limit. Think of this as peer-to-peer sports betting app.
Instead of adding juice to the bet like most sportsbooks, the ZenSports exchange charges a fee that it claims is between 50-90% lower than the sportsbooks. Although ZenSports accepts money for bets, they also provide a cryptocurrency called Sports, which its customers can purchase.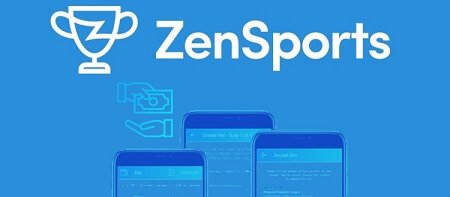 Additionally, customers can make bets on games as well as using the app to make in-game prop wagers. Many experts in the gaming industry believe this will be a game-changer and drive growth, as it adds excitement to watching sports. For example, you could be watching a game that looks over at half-time; however, fans will keep watching as they will be able to put money on the second half of the game.
Reasons Why P2P Betting Could Take Off
Companies like ZenSports have undoubtedly made waves among many in the betting market. Since the gambling laws were relaxed in the US, operators have been given scope to be creative to give bettors a unique and enjoyable experience. Below we have listed some reasons why P2P betting could be the future, especially on mobile. There is already a range of Peer-To-Peer betting apps available in the app store, but these aren't for real money.
Removing The Middleman
Before online gambling emerged, if you weren't familiar with a bookie, it was challenging to place a bet. People encountered several problems to validate the payments. The beauty of P2P betting is that you can act as the bookie. Players can use straightforward online platforms or even cryptocurrency for payments. There is no intermediary to contend with, and everything is done transparently.
Increasing Expansion Of Sports Betting
Sports betting has now been legalized across numerous parts of the world. Consequently, more players are likely to engage and participate in P2P betting. This is already happening, as  P2P betting is seeing massive participation from players worldwide. Following the Supreme Court ruling, most states are in the process of creating a regulated gambling industry.
For example, New Jersey currently has several big names that operate in the state, such as DraftKings and BetMGM. Additionally, there are fantasy league platforms that allow players to bet against each other, with the winner walking away with all of the pot.
Blockchain Is Built for A P2P System
Most observers believe Blockchain is primarily about bitcoins. However, Blockchain is a perfect example of a peer-to-peer network. In this example, every peer in the network must validate a transaction to take place. This is a trustworthy and reliable way of doing things, proven by the fact most significant banks now secure their networks and transactions using P2P technology.
P2P Betting Helps Sports Leagues
Sports leagues would be extremely keen to see betting become a vital part of the customer experience. P2P betting and its perks would be a huge plus for these leagues as they aim to build huge profits. Online sports betting is convenient and simple, and with the addition of P2P betting, it becomes even bigger.
P2P Is Attractive To Generation Z
Generation Z is disrupting several industries, and gambling is one of them. These are people born between the mid-90s and mid-2000s. Additionally, it is estimated that by 2022, almost 40% of the US would be filled with Gen Z. This particular generation has surpassed the millennials in the way they connect with people, network, and develop ideas.
Financial transactions over P2P platforms such as PayPal have become the norm. This emphasizes the point that Gen Z is entirely behind P2P platforms and would transfer this support to online sports betting.
FAQs
Is peer-to-peer gambling legal?
This depends on which state you live in. Following the ruling in 2018, power was given to states to legalize gambling with their own regulations. Interstate peer-to-peer betting may be incompatible under Federal Laws; however, this needs to be cleared up.