Gamble USA strives to improve your online gambling experience. We aim to help you play safely, make informed decisions when gambling, and increase your betting knowledge through our guides.
We adhere to strict editorial integrity; our content may contain links to products from our licensed & legal US partners.
As sports betting continues to expand and develop across the United States, new forms of gaming and types of wagers continue to emerge.
Sports gambling is a $200 billion business globally, as customers enjoy placing bets on their favorite sports teams or participating in fantasy sports contests. Following the 2018 Supreme Court Ruling in the US, which gave states the ability to legalize sports betting, new trends have emerged, such as eSports betting.
One of these new trends we now see is peer-to-peer betting (p2p betting, p2p sports betting), which could potentially be a groundbreaking movement in the industry. In P2P betting, users can request odds that they want and then place bets accordingly. Consequently, not only can you place your wagers, but you can also play as a bookie and take bets from your peers.
Peer-to-peer sports betting is also referred to as exchanged sport betting or betting exchanges. In the past, there has been the development and expansion of daily fantasy sports and the growth of the traditional sportsbook. Sports bettors can now visit a betting site in a state with a legal online gambling industry and bet on contests such as the Super Bowl and any other significant sporting event. However, things have developed even further, with sports fans now able to request better odds as the legal sports market continues to thrive.
---
Peer To Peer sports betting goes live in the US
Social betting is popular already, with friends constantly sharing stories about how much they have won or lost. Additionally, groups of peers may place shared wagers each week on NFL or NBA games. However, placing a legal wager on peer-to-peer betting takes the social aspect to a whole new level.
At the start of the 2022 NFL season, Prophet Exchange launched, becoming the first P2P betting exchange in the US. The operator is only live in New Jersey but is looking to secure licenses in other states, including Indiana, Colorado, and Michigan, in the coming months. Licensed via a partnership with Caesars, this is the first legal real money P2P betting platform in the US.
Prophet Exchange has really set the bar high with an excellent platform, an awesome welcome bonus, and a truly safe and legit p2p platform. The operator has an app available for Android and iPhone and offers all new players a fantastic $250 free bet on sign-up at prophetbettingexchange.com.
As with any p2p betting platform, Prophet Exchange lets you bypass the sportsbook and wager directly with other Prophet customers. P2p wagering differs from regular sports betting with a traditional sportsbook. The easiest way to think about how a betting exchange works is that it is bets between players, rather than with a book. Players get that chance to set their lines and odds; alternatively, they can buy other players' odds.
Prophet Exchange acts as the mediator and will hold the cash, then award the winner whilst taking a small fee for the trouble. Think of it as a safe and secure way to place bets between you and other random players. We cover the ins and outs in more detail below.
Bonus Bet up to $250
First legal p2p sports betting exchange
Backed by Caesars
Online sports betting is the perfect opportunity to explore the concept of P2P wagering. Another company looking to join the P2P revolution is ZenSports. The operator hopes to introduce a peer-to-peer sports betting exchange to the US very soon. ZenSports is a blockchain technology company that is aiming to revolutionize the online gaming space. It is taking custom bets to a new stratosphere.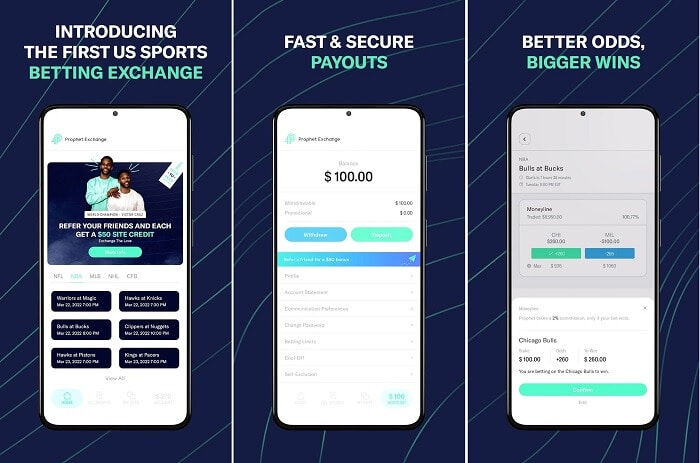 PokerStars Exchange has also got in on the act offering PokerStars player a peer-to-peer marketplace. PokerStars players access this and can bet on and trade on the outcome of events. You may also have heard of the Betfair Exchange, which is another betting platform that excels in social wagering. This is the world's largest betting exchange so anyone looking for p2p in sports gambling should look into it.
Here we cover what P2P betting entails, how it works, and it could become the new norm for online gambling in the future. Peer-to-peer sports betting is still in its infancy in the US, and as such, there is not a lot of competition. Until this happens, you may want to consider a more traditional sports betting app from legal and licensed US sportsbooks.

What Is Peer To Peer Sports Betting?
Let's begin by explaining what this new form of betting is. The principle of P2P betting is that you, the bettor, can sell and buy bets off of other bettors. You set the odds and if another bettor in the P2P betting exchange fancies the odds, they can place a bet against your bet. It is not like traditional TN sports betting apps where customers will log in, place their bets on their favorite sports leagues, and hope to win some money. This is a new concept in the betting marketplace. Let's take the example of ZenSports, which has been adamant that P2P betting will become mainstream in the market.
The company has apps available for Android and iOS devices such as the iPhone. They aim to roll out a web product for non-mobile customers shortly. When customers visit the app, they can make a bet and set a limit of how much money they are willing to wager. At that point, another customer could then take on the total bet, or numerous people could take it on up to the set limit. Think of this as peer-to-peer sports betting app.
Instead of adding juice to the bet like most sportsbooks, the ZenSports exchange charges a fee that it claims is between 50-90% lower than the sportsbooks. Although ZenSports accepts money for bets, they also provide a cryptocurrency called Sports, which its customers can purchase.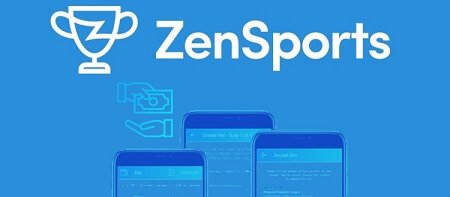 Additionally, customers can make bets on games as well as using the app to make in-game prop wagers. Many experts in the gaming industry believe this will be a game-changer and drive growth, as it adds excitement to watching sports. For example, you could be watching a game that looks over at half-time; however, fans will keep watching as they will be able to put money on the second half of the game.
---
P2P Betting Terminology
Betting exchanges are not only popular because bettors can set their own odds for bets, but also because they open many opportunities for arbitrage bettors and hedge betting. Before going further into how you can hedge your bets at peer to peer betting exchanges, it is useful to define the terminology.
Back Bet
To place a back bet, you must propose odds and then submit a stake. Once you have confirmed the details of your prediction, then it is registered in the market and other bettors can place bets against it. For your bet to qualify you need someone to place a back bet against it. If you cannot sell your bet to any bettor, then it does not qualify and will be canceled, returning your stake. Should a peer only buy a portion of your bet, that is, only $10 of a $20 bet, then only that much is active and the rest of your bet is voided. In the case where a peer buys $10 of your bet and leaves the other $10, then only half your bet is in play.
Lay Bet
This is a wager against a back bet. After browsing through the backed bets, you can pick one you want to place a lay bet against, and then can submit a stake. This is where it gets interesting. This bet is on anything but the back bet to win. For example, if a bettor backed team A to win in a soccer game, then the lay bet is on the game to end in a draw or for team B to win. In another example, if the backing bet was on a soccer player to score exactly 2 goals during the game, then the corresponding lay bet is on that player to either score no goals, 1 goal or 3 or more goals.
Liability
When you place a back bet, then you can set your stake and your odds. It is not as straightforward when placing a lay bet. The odds have already been determined for the lay bet, so instead you are asked for liability, and the betting exchange will show a profit margin based on what you type in. Liability here means the amount that you want to stake. Should the backing bet win, then the liability you put into the lay bet will be given to the backer and be part of their profit. If your lay bet wins, then you receive your liability back and you take a part of the profit. What about odds then? well, here is how you can calculate the odds in a lay bet.
Backing Bet 1: Odds -120 with a stake of $100. Potential return is $183.33
Backing Bet 2: Odds +220 with a stake of $100. Potential return is $320
As a lay bettor, if you want to take up both lay bets and win the full $200 that this backer is wagering, you need to stake the money that they would profit, should they win. This means, for bet 1 your liability is $83.33 and for bet 2 your liability is $220. The decimal odds of bet 1 and 2 are calculated using the following formula:
Full Return / Liability
Bet 1: 183.33 / 83.33 = 2.2. American odds are +120
Bet 2: 320 / 220 = 1.45. American odds are -220
As you can see, if the backing bets stake $100, then calculating the odds on the lay bets means simply flipping the plus and minus signs in the American odds format.
Liquidity
When you want to make hedge bets, then you are going to need liquidity. Put simply, this is the margin of profit you stand to win with your bet, and thus the money that you can use to stake your hedge bet. What you want to do is to sell a back bet and buy the corresponding lay bet on the same event, and pick out a small margin of profit. This can be done in numerous ways. You may try to take advantage of early odds, selling your buy bet at the beginning of the week, and then if during the week the odds should change in your favour, then you can seal a good lay bet. Another possibility is to try in-game bets, but these are far more risky. Live betting is certainly not the same at peer to peer markets as it is at sportsbooks, as you need someone to buy/sell a bet at the right price at the right time.
---
Hedge Betting at Peer to Peer Betting Exchanges
The theory of hedging a bet at peer to peer exchanges is far simpler than at sportsbooks. As you can make a back bet and a lay bet – which is essentially on anything but the back bet to win, it is always a two-way affair. Just look at soccer moneylines, where there are three possible outcomes, which demands more calculating for hedge bettors.
Back-to-lay and lay-to-back are the two different types of hedge betting. You could either sell a back bet, and then wait to find a lay bet which you can stake using some of your liquidity, thus guaranteeing a profit. Or, lay an existing bet, and then set up a back bet at a price that favors you, and sell it. There are dangers in both methods though.
It is impossible to know ahead of time which way the odds will shift, and how the peers in the market will respond to buying/selling at adjusted prices.
After selling the back bet in a back-to-lay strategy, the hedge bettor is basically waiting for someone to sell a lay bet at a good price. Should the bettor try a lay to back strategy and manages to find a buyer for their lay bet, then they will have to sell a back bet. There is no guarantee that a peer would buy the bet you are trying to sell, and selling a part of it does not work either as you will need your hedge bets to match each other to guarantee a profit.
---
Reasons Why P2P Betting Could Take Off
Companies like ZenSports have undoubtedly made waves among many in the betting market. Since the gambling laws were relaxed in the US, operators have been given scope to be creative to give bettors a unique and enjoyable experience. Below we have listed some reasons why P2P betting could be the future, especially on mobile. There is already a range of Peer-To-Peer betting apps available in the app store, but these aren't for real money.
Removing The Middleman
Before online gambling emerged, if you weren't familiar with a bookie, it was challenging to place a bet. People encountered several problems to validate the payments. The beauty of P2P betting is that you can act as the bookie. Players can use straightforward online platforms or even cryptocurrency for payments. There is no intermediary to contend with, and everything is done transparently.
Increasing Expansion Of Sports Betting
Sports betting has now been legalized across numerous parts of the world. Consequently, more players are likely to engage and participate in P2P betting. This is already happening, as  P2P betting is seeing massive participation from players worldwide. Following the Supreme Court ruling, most states are in the process of creating a regulated gambling industry.
For example, New Jersey currently has several big names that operate in the state, such as DraftKings and BetMGM. Additionally, there are fantasy league platforms that allow players to bet against each other, with the winner walking away with all of the pot.
Blockchain Is Built for A P2P System
Most observers believe Blockchain is primarily about bitcoins. However, Blockchain is a perfect example of a peer-to-peer network. In this example, every peer in the network must validate a transaction to take place. This is a trustworthy and reliable way of doing things, proven by the fact most significant banks now secure their networks and transactions using P2P technology.
P2P Betting Helps Sports Leagues
Sports leagues would be extremely keen to see betting become a vital part of the customer experience. P2P betting and its perks would be a huge plus for these leagues as they aim to build huge profits. Online sports betting is convenient and simple, and with the addition of P2P betting, it becomes even bigger.
P2P Is Attractive To Generation Z
Generation Z is disrupting several industries, and gambling is one of them. These are people born between the mid-90s and mid-2000s. Additionally, it is estimated that by 2022, almost 40% of the US would be filled with Gen Z. This particular generation has surpassed the millennials in the way they connect with people, network, and develop ideas.
Financial transactions over P2P platforms such as PayPal have become the norm. This emphasizes the point that Gen Z is entirely behind P2P platforms and would transfer this support to online sports betting.
---
Peer to Peer Betting Exchange
As betting becomes more widespread throughout the US, new features are emerging all the time. One of these are betting exchanges. A betting exchange is a marketplace that allows users to wager against each other at significantly lower fees than those offered by a typical sportsbook such as the sports betting site run by Caesars Entertainment. This is great news for any sports bettor.
Two sports bettors agree on the odds on stake for any game, and then go head to head against one another. By doing this, you are creating your own odds. For example, I may offer bet on the New England Patriots -3 against the Las Vegas Raiders, and another player on the exchange can accept my offer and wager on the Raiders at +3.
Betting exchanges have low overheads because they don't need large oddsmaking teams, so they charge a nominal fee on each wager, far less than the 5-10% you would be charged at a traditional sportsbook. There won't be any NFL point spreads appearing as -110 at an exchange; you can get them closer to even money.
As this area of sports betting is growing, some exchanges say they guarantee a more user-friendly experience by using simplified percentages rather than American odds. They argue current sports bettors prefer having odds presented in this format and their whole idea is to make everything as user-friendly as possible. The world's largest betting exchange, Betfair, is so popular becomes it provides an exciting platform for customers to bet in a new way in direct competition with odds that are easy to understand.
People are turning to betting exchanges as they also excite professional gamblers who enjoy playing for high stakes. It makes no difference to the exchange how skilled a bettor is as it makes its money by taking a cut of the transactions, not by beating its customers.
With the launch of platforms like Prophet Exchange app, we anticipate this boom in exchanges to grow. They are easy to understand and players love that competitive edge they provide. Just like with traditional sportsbooks, you can check out the quality of any exchange by its Google Play rating, discovering what other users' experiences have been.
FAQs
Is peer-to-peer gambling legal?
Yes, peer to peer betting is now legal in New Jersey with the launch of the Prophet Exchange app. As for the rest of the country, it depends on which state you live in. Following the ruling in 2018, power was given to states to legalize gambling with their own regulations. Interstate peer-to-peer betting may be incompatible under Federal Laws; however, this needs to be cleared up. Traditional legalized sports betting is growing in the United States with more licensed sportsbooks available than ever before allowing real money betting opportunities.
What if no peer lays my bet?
If no peer bets against your bet, then your wager becomes null and void. Your stake is refunded and essentially your bet is canceled. Should you place a wager with a stake of $100 and a bettor only lays $50 of your bet, then you only have a bet using 50% of your stake, the other $50 is not in play. Then, if a second bettor lays an extra $25, then this leads to a total stake of $75 against your bet - therefore you are using 75% of your wager and the remaining $25 in your original stake is not in play. Remember, betting in a P2P exchange requires you to essentially sell your odds.
How does a peer to peer bet work?
Instead of a sportsbook, fellow bettors make up their own betting odds and bets. Player A may bet on a team to win and propose the odds, and then player B can wager against player A's bet. If player A wins the bet, they collect player B's stake as a profit, and should player B win, they collect player A's stake as a profit.
What are the dangers of peer to peer betting?
P2P betting exchanges are regulated and so they are safe to use, but there are a few dangers to be aware of. For example, your bet will only pay out if there is a peer that takes you up on your odds and bets against you. If not, then your bet is null and void. This mainly affects hedge bettors, as they not only need to place a hedged bet, but it should be a precise amount for them to make any money.
What is the difference between liability and liquidity in P2P betting?
Liability is the money that you will need to spend to back or lay your bet, while liquidity is the money that you can use to make a hedge bet from, out of your potential profits. In a quick example: your bet costs $10 at odds +120, this is the liability you need to spend to make your bet. Should the bet win, you will win $22 ($12 in profit). That $12 profit is your liquidity, of which you can spend a portion to make a hedge bet against your original $10 bet. With the right odds and a peer to lay both your bets, you can successfully hedge your bets and ensure a profit regardless of the outcome of a sporting event.