Gamble USA strives to improve your online gambling experience. We aim to help you play safely, make informed decisions when gambling, and increase your betting knowledge through our guides.
We adhere to strict editorial integrity; our content may contain links to products from our licensed & legal US partners.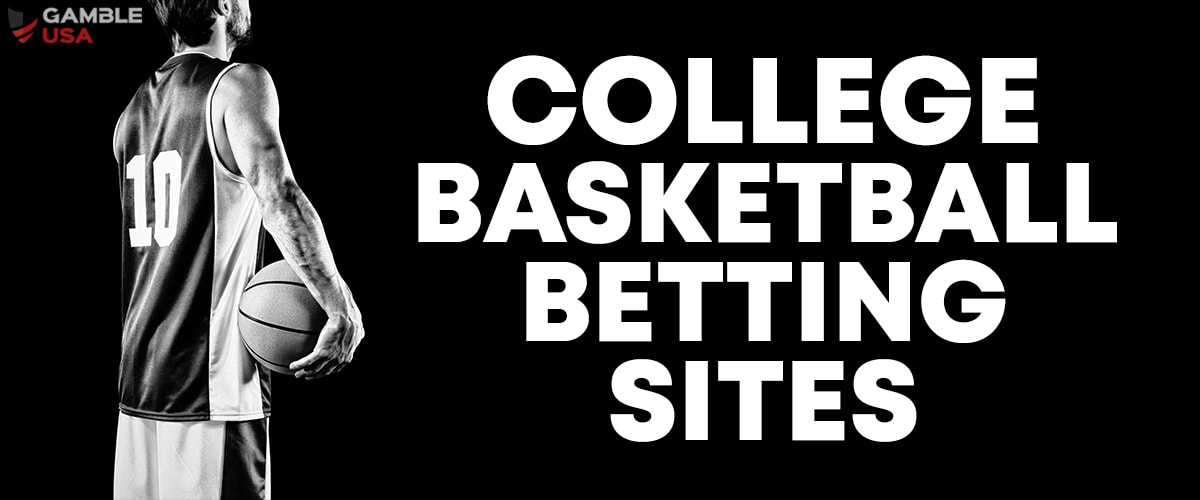 The interest in college basketball betting in the US is almost on par with pro basketball. During March Madness, bettors flock to various betting sites for the best college basketball odds.
Since every major US sportsbook features NCAAB, finding the one that suits you should not be difficult. But just in case you need any assistance identifying the very best NCAA basketball betting sites, we've compiled a top 5 list and included a short review about each platform worthy of your time and money.
For those completely new to college basketball betting, we've prepared an in-depth look into the structure of college b-ball, available betting markets, betting strategies, and more.
---
🏀 Our Best 5 College Basketball Betting Sites
After carefully analyzing dozens of sports betting platforms in the US, our experts believe these to be the top five options for college basketball bettors.
---
🥇 Caesars Sportsbook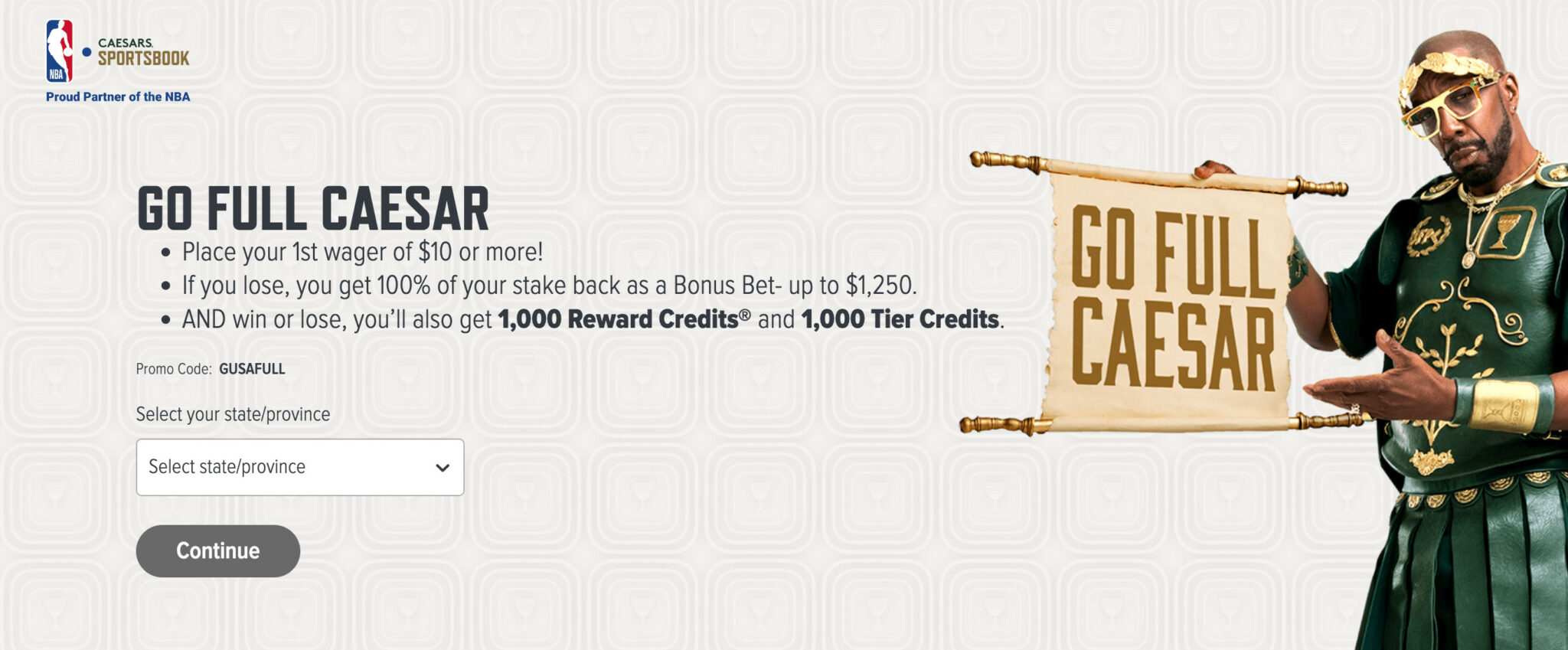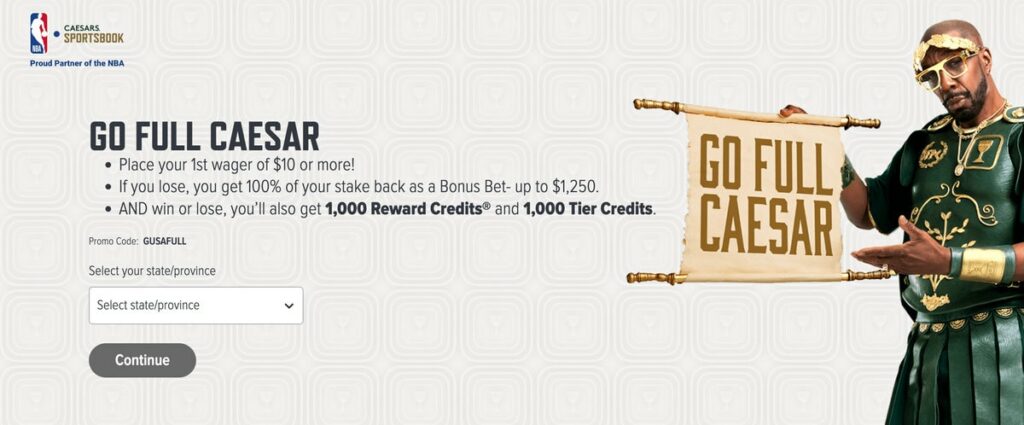 Caesars is among the best sportsbooks in the country overall. It entices new customers with a $1,250 first-bet insurance, the largest of its kind among licensed US betting sites. There's an extensive selection of college basketball bets and plenty of daily odds boosts, many of which cover March Madness games.
✅ Pros:
Impeccable reputation
Massive welcome offer
Plenty of odds boosts
Quick Picks feature for creating pre-selected parlays
Proprietary loyalty program
❌ Cons:
Strict odds boost limitations
Expert Comments:
"Caesars performs exceptionally well in all major areas, from market depth to bonuses and odds quality. Its app may not be as good as FanDuel's in terms of speed and overall user experience, but it still looks and feels pretty good. You can take advantage of a massive selection of odds boosts you can take advantage of, but keep in mind that they are usually on long-shot bets and have a $100 stake limit."
– Oliver Dickinson (Sports Editor)

---
🥈 BetMGM Sportsbook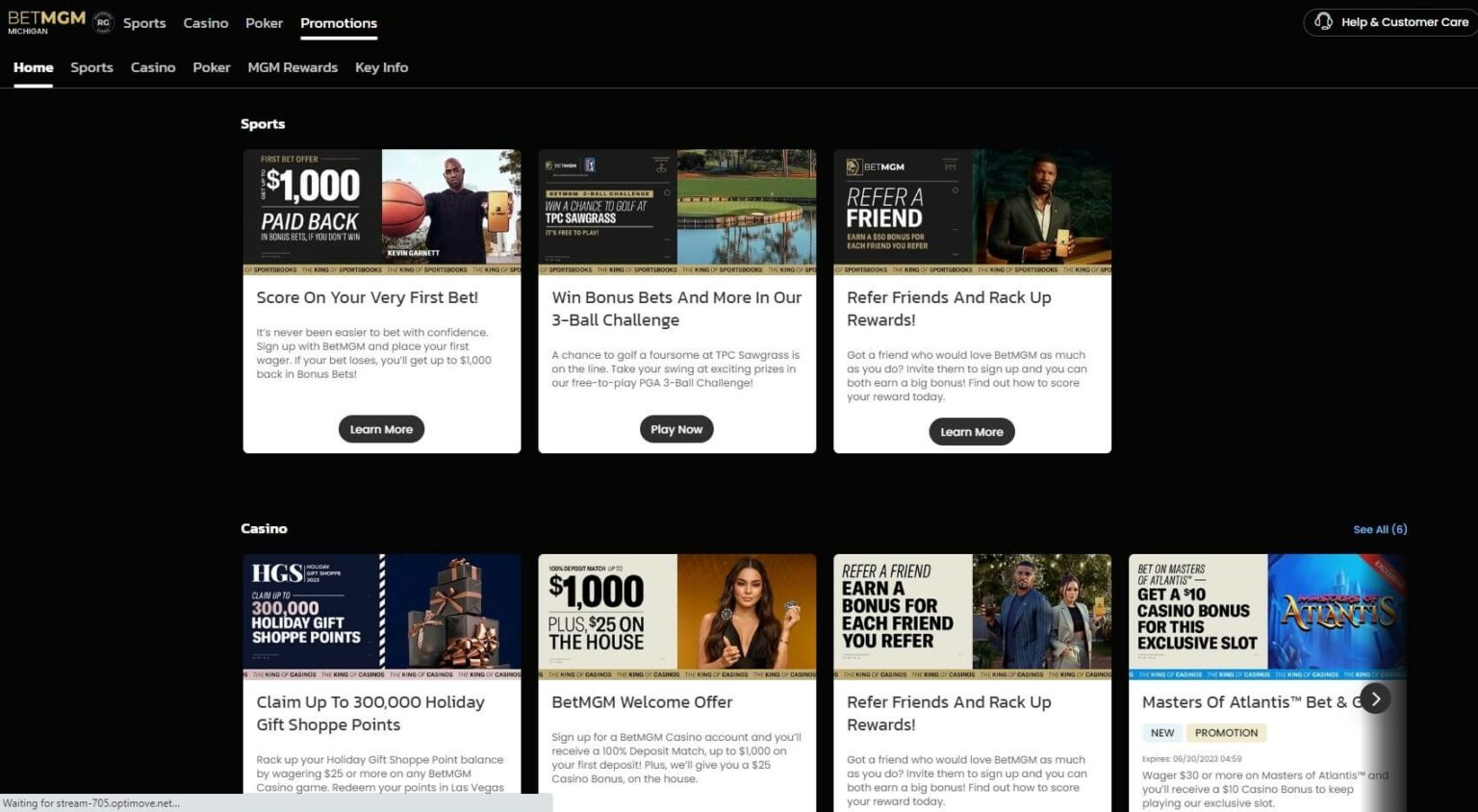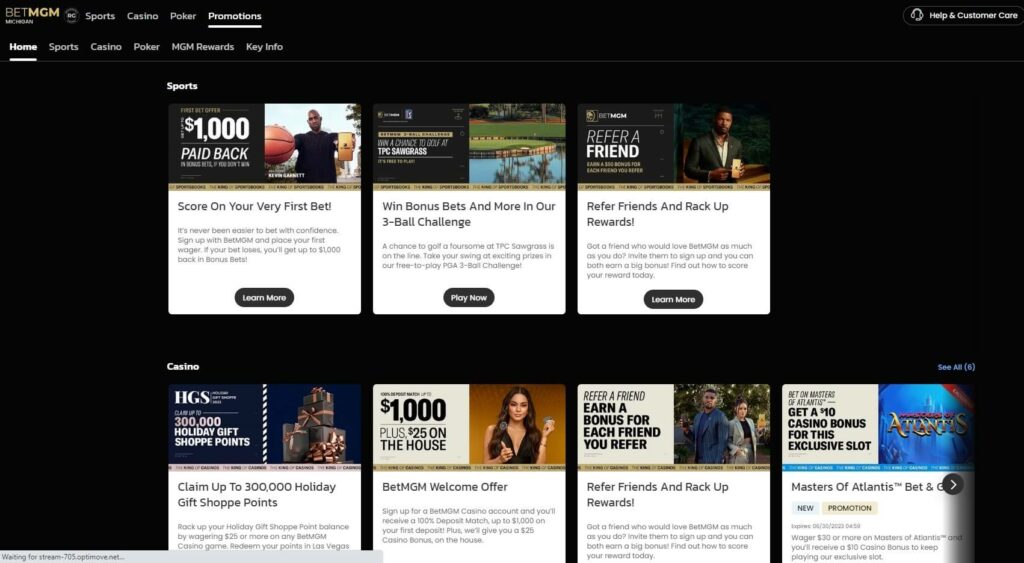 Similar to Caesars, BetMGM greets new customers with a solid $1,000 insurance bet offer and has an attractive rewards program tied with MGM Resorts. You'll find a solid selection of college basketball bets, a user-friendly mobile app, competitive odds, and plenty of odds boosts.
✅ Pros:
Solid welcome bonus
Top-tier loyalty program
Good bet slip design
Deep market range and fair odds
Edit My Bet feature
❌ Cons:
Occasional difficulties reaching customer support
Expert Comments:
"BetMGM is famous for having free bets and special offers during March Madness. The sportsbook has an excellent mobile app. I especially like their bet slip design that caters to fans of combo bets, as it makes it very easy to create parlays, teasers, and round robins. The Edit My Bet feature is great if you're having second thoughts about your current wagers."
– Damjan Spajić (Sports Editor)

---
🥉 PointsBet Sportsbook


PointsBet offers college basketball bettors a unique experience compared to most other books, thanks to its PointsBetting system. The payout scale can swing one way or the other based on how far the score was off the line, so you can win (or lose) much more than with fixed odds betting.
✅ Pros:
Features unique PointsBetting system
Has competitive odds across the board
Releases lines early
❌ Cons:
Lower welcome offer than the competition
State availability
Expert Comments:
"Aside from PointsBetting, the operator's main calling card, there are other reasons to join PointsBet. I found that they post lines earlier than most other books and regularly offer the best overall odds. Five second-chance bonus bets of $100 each are okay, but this is noticeably lower than what other bookmakers are offering."
– Paul Ricci (Chief Sports Editor)

---
🏅 FanDuel Sportsbook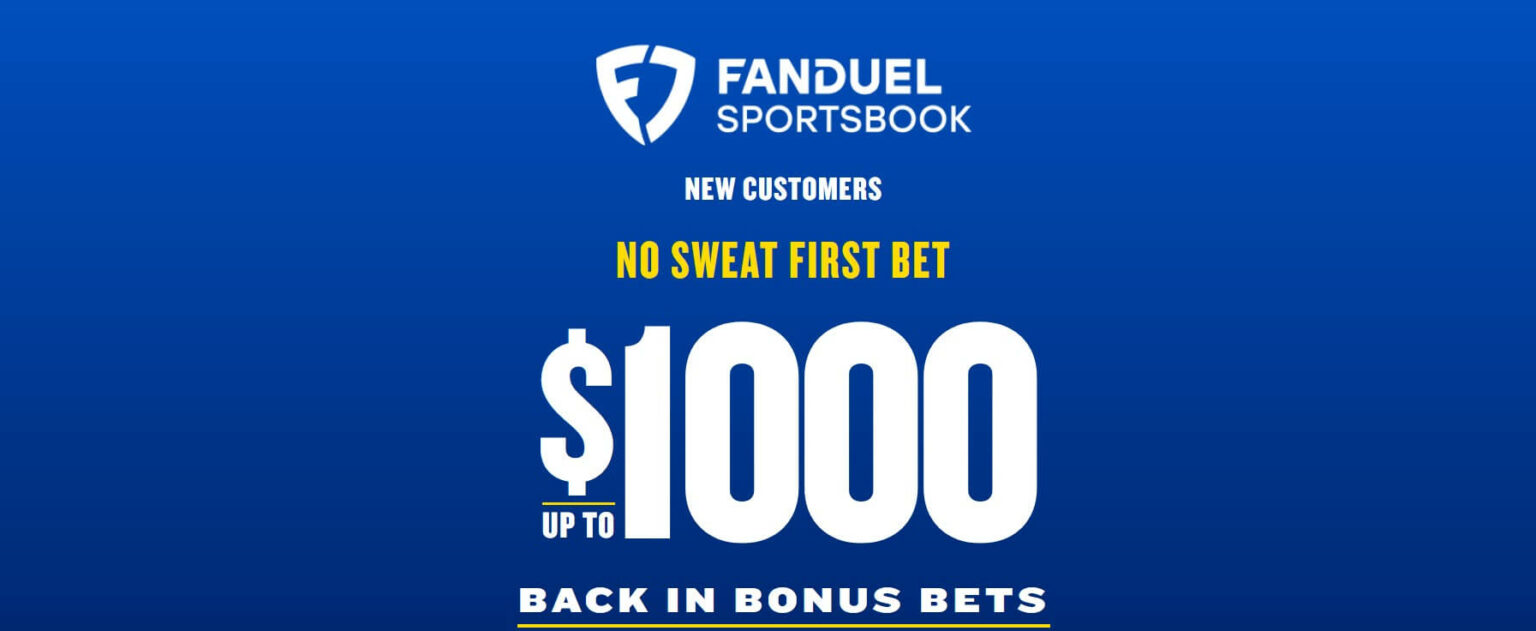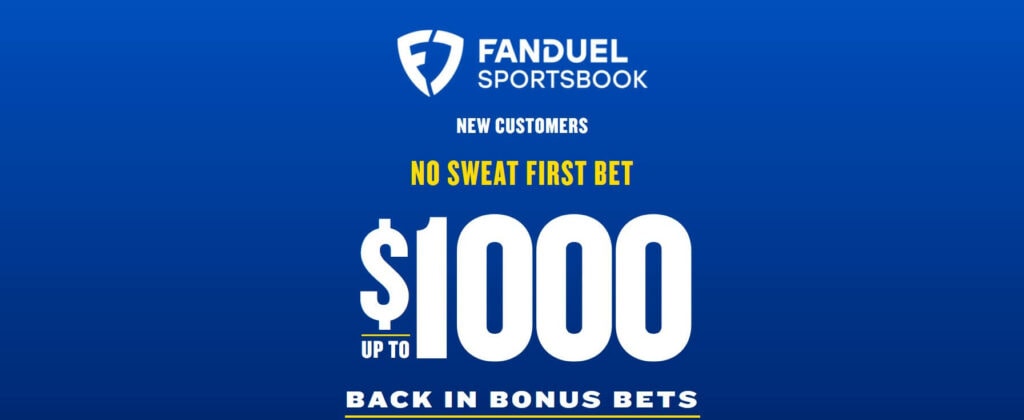 Propelled by its user-friendly app, odds boosts, and a wide range of proposition bets, FanDuel quickly grew from an industry-leading DFS platform into one of the best sportsbooks in the US. As a new FanDuel customer, you can make a No Sweat First Bet up to $1,000 and get a full refund if it misses.
✅ Pros:
Top-tier mobile app
Competitive welcome offer
Sizeable odds boosts
Plenty of prop bets
NCAA bracket predictions
❌ Cons:
Expert Comments:
"FanDuel needs no special introduction. It still has the best app in the business while also performing well in other key areas. I especially enjoy the sportsbook's range of prop bets and a constant flow of odds boosts. Another cool thing about FD is that they usually organize a bracket predictions game with rewards for top participants during March Madness."
– Paul Ricci (Chief Sports Editor)

---
🎖️ DraftKings Sportsbook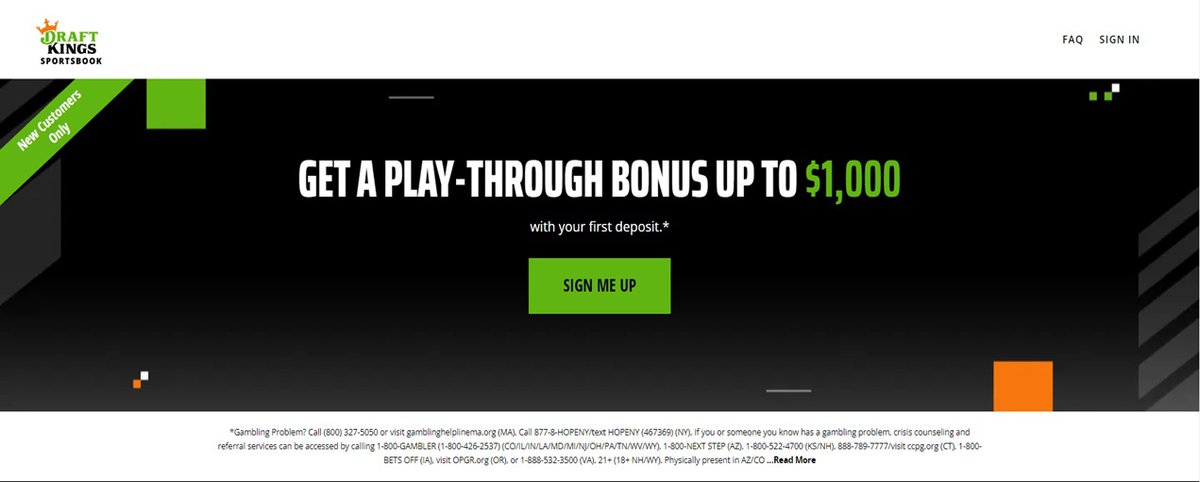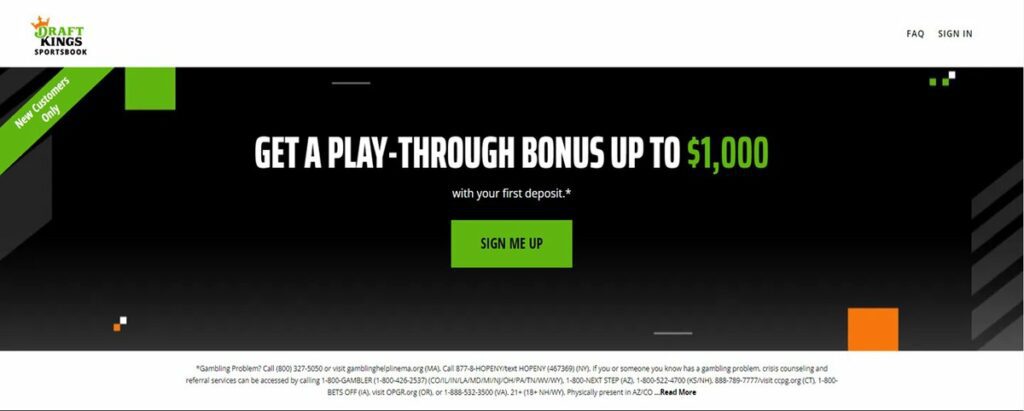 DraftKings is another excellent choice for college basketball fans. Like FanDuel, it is available in most states with legal sports betting and has one of the best mobile betting apps. If you use our link to register with DraftKings Sportsbook, you'll get to claim a special $1,000 deposit bonus.
✅ Pros:
Free-to-play pools and rewarding contests
Excellent welcome bonus
Great for micro-betting
Wide range of live and pre-match markets
Stats Hub for analyzing player and team data
❌ Cons:
Expert Comments:
"DraftKings is the best option if you love March Madness contests, as they come with larger prizes than I've seen in any other book. Every college basketball game at DK is full of prop markets, and the operator famously excels at point-by-point betting options with its Flash Bet. Stats Hub is also a notable feature, especially for those who like making data-driven betting decisions."
– Paul Ricci (Chief Sports Editor)

---
What Is College Basketball?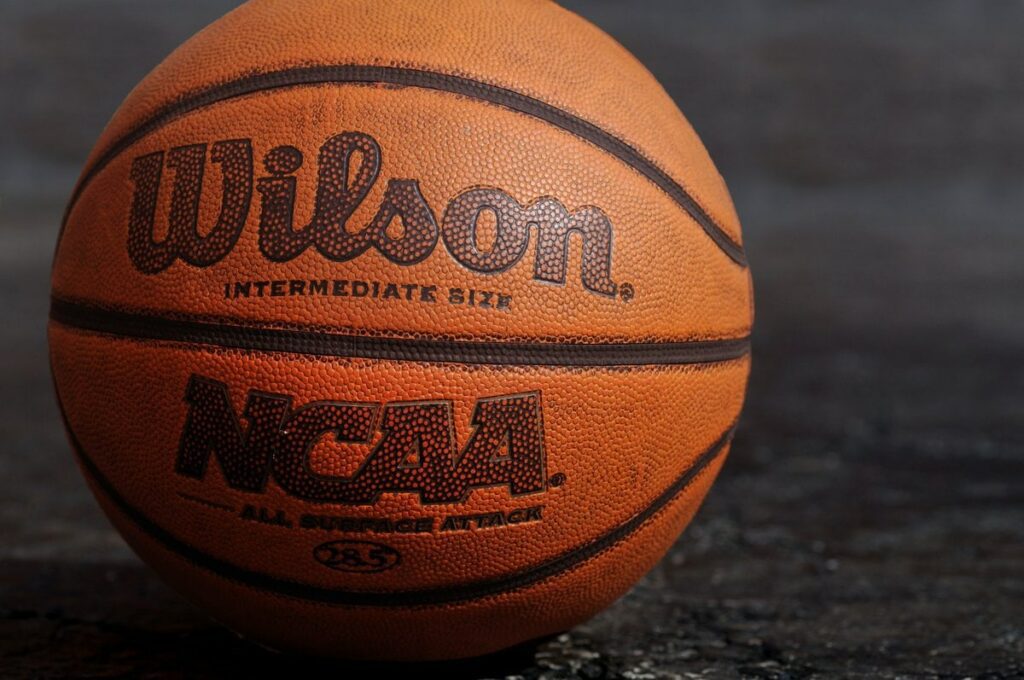 College basketball is a competitive form of basketball played between United States colleges. Below is a quick look into the sport's history, format, and top teams.
College Basketball Beginnings
College basketball is the oldest form of organized basketball. James Naismith invented the sport at Springfield College in 1891 in an attempt to create something that would keep college athletes in shape. Other colleges soon adopted the game, and the first Amateur Athletic Union tournaments were already being played by the end of the century, usually between college and non-college teams.
A big step forward in organizing college basketball was the establishment of the National Collegiate Athletic Association (NCAA) in 1939. Today, NCAA basketball has three divisions, each consisting of a few dozen conferences.
March Madness Format and Rules
The NCAA Division I men's basketball tournament (popularly called March Madness) is the pinnacle of the college basketball season. It is a 68-team knockout tournament played over the course of three weeks. It starts with the play-in games, followed by the first and second rounds. Winning teams advance to the Sweet Sixteen (regional semifinals), Elite Eight (regional finals), and Final Four (national semifinals). All of this culminates in a Championship game between the top two teams from each side of the bracket.
The game rules differ slightly compared to the NBA. Instead of 48 minutes, college b-ball games last 40 minutes, split into two 20-minute halves. The shot clock is 30 instead of 24 seconds, and the three-point line is shorter by a foot and a half.
Top College Basketball Programs
UCLA is the record-holder for the number of titles, winning the tournament 11 times. However, they haven't won a title since 1995. Kentucky won eight times, and North Carolina has six titles. Duke, Indiana, and UConn were each crowned champions five times, with UConn being the most recent winner.
---
March Madness Tournament Betting
March Madness is an NCAA tournament where the top teams from all Division I basketball conferences meet to make a run for the championship. The bids are given to 68 teams — 32 winners of each of the Division I conferences and 36 teams determined by the selection committee. The committee is also responsible for seeding and bracketing the whole tournament.
Every game is "win or go home." Therefore, March Madness guarantees to produce thrilling moments and dramatic finishes, making it attractive to bettors. Christian Laettner's game-winning shot against Kentucky in 1992, Steph Curry's 33 points against Wisconsin, Jimmer Fredette's dismantling of Gonzaga, Gordon Hayward's half-court heave that almost went in, and Kris Jenkins' buzzer-beater to secure the victory for Villanova are just some of the memorable March Madness moments from the past 30 years.
College basketball betting sites recognize the popularity of March Madness and will go the extra mile to make their offers as attractive as possible. During the tournament, it's common to see odds boosts and special bonuses, while there is also a broader range of props and futures markets.
---
Different College Basketball Markets
College basketball betting is as diverse in market depth as any other popular sport. College basketball bettors can pick among dozens of markets, from spreads and moneyline to all kinds of proposition bets revolving around individual performances or teams and players.
A typical college basketball betting site will post some of the following NCAAB markets.
College Basketball Point Spreads
The point spread accounts for the point difference by which one team wins the game. For example, if the point spread on Duke is -10.5 to win against Virginia, a successful bet entails Duke covering that spread by winning by 11 or more points. If you were to bet on Virginia, they would either need to lose by 10 or fewer points or simply win the game.
Points spreads aim to even out the playing field when one team is favored to win, so you'll often see similar or identical odds on both sides of this betting market. It's worth noting that some college basketball betting sites offer alternative lines for their spreads. A sports betting platform may feature a -5.5 or -14.5 spread on Duke on top of the original -10.5, so you can choose whether to take a safer or riskier bet.
College Basketball Totals (Over/Under)
The over/under market lets you predict how many points the two NCAA basketball teams combine in a single game. For instance, if the line is set at 150.5 in a game between Tennessee and North Carolina, you merely need to guess whether the total will be higher or lower. It doesn't matter who wins or by how big of a margin, but remember that the overtime score usually counts toward the total.
Aside from game totals, college basketball betting sites also offer over/under predictions on the score of each of the two teams.
College Basketball Moneylines
The moneyline bet is a straightforward wager, as it only challenges you to predict the winner of the game. Will it be UConn or Miami to move through to the next round? The winning margin doesn't matter, and overtime periods count.
Moneyline is not such a popular bet in the context of college basketball, as the games during the regular season and in the early rounds of March Madness are usually very predictable. There's typically one side being heavily favored to win and, therefore, given rather unattractive odds.
Then again, the moneyline bet in games in which the two powerhouses are evenly matched can be just as enticing to college basketball bettors as a point spread or any other market.
College Basketball Prop Bets
Proposition bets or props can be divided into game and player props. The former can be something along the lines of "team to lead after the half", "first team to reach 20 points," or "will the game be decided after overtime." With player props, sports bettors have to predict over/under on points, rebounds, assists, and other statistical performances of individual players.
However, you should check whether you can legally bet on college basketball props in your state. Some states have certain restrictions imposed on college betting sites, most commonly regarding the absence of player props on in-state college teams.
College Basketball Futures Bets
Instead of betting on individual games, you can skip right ahead and pick the champion of an NCAA basketball tournament in advance. The more teams left in the bracket, the harder it will be to predict the outright winner. But either way, betting on futures comes with some very enticing college basketball odds.
Aside from the March Madness tournament winner, which is the most popular futures market in college basketball betting, you can guess the conference winners, the elimination phase of each team, whether a team makes the final four, and more.
College Basketball Parlays
With so many college basketball games being played throughout the year, it would be a shame to only put one matchup at a time onto your betting slip. Luckily, you can combine multiple college basketball games on NCAAB betting sites by creating a parlay.
To win a parlay, all of your selections must hit, but if they do, you'll be in for a pretty decent payout.
Lately, college basketball betting sites have started to offer same-game parlays. This means that you can combine multiple bets from the same college basketball games. For example, you can bet on Duke to cover the spread, lead after the first half, and score fewer than 75.5 points.
---
NCAA Basketball Betting Strategies


If you're just betting for fun, you don't really need any tips. Follow your gut and bet on your favorite school. However, if you plan on making a serious profit from NCAA basketball games, you should consider some of these strategies:
Stats are crucial — Follow up on players' and teams' form, recent performance in their division, and head-to-head history of the two schools. You should also check how the two teams match against each other. Maybe one team has offensively dominant bigs, but the other can counter that with good rim protection.
Players' age can be important — College players can drastically improve in a year, so the advantage is always given to older and more experienced rosters. However, age isn't everything. For example, San Diego State was the oldest school in the Sweet Sixteen stage last year with an average player age of 23.0, but that didn't stop the younger UConn from blowing them off the court.
Search for the best college basketball betting odds — You don't need to limit yourself to a single college basketball betting site. Join multiple online sportsbooks to have quick access to the one that offers the best odds for a given NCAAB market at that particular time.
Look for value at lesser popular games — A large pool of teams and players in college basketball makes it difficult for oddsmakers to price everything correctly. This is where sharp sports bettors can swoop in and find great value. Therefore, look closely into the stats and news so that you can factor in something that the sportsbooks potentially missed.
How to Bet on College Basketball Online
Here's a quick step-by-step on how to start with NCAAB betting sites:
Pick an online sports betting platform from our list and follow the links to their official website. First, make sure that a given sportsbook is licensed to operate in your state.
Register in minutes by sharing some basic identification info. If required, use the promo code to unlock the welcome bonus.
Deposit using online banking, cards, e-wallets, or any other payment method offered by the sportsbook.
Find NCAAB under Basketball and browse the available games and markets.
Click on the odds to start forming a betting slip. Once you're done, type in an amount you wish to stake and submit your wager.
---
College Basketball Betting Bonuses and Promotions
Once you join a top-rated NCAA basketball betting site, you'll be greeted with a welcome bonus. This starting offer is usually in the form of bonus bets that you can use to wager on a number of eligible fixtures, including a college basketball game.
A betting site may offer $1,000 first-bet insurance. If you deposit and win your first bet, things go as usual. But if you lose the first bet, the sportsbook will reimburse you with bonus bets of the same value as your original bet.
For example, you may place $50 on Gonzaga to cover a -5.5 spread. Gonzaga wins by only four points, so you lose the bet. You now get $50 in bonus bets and use the credits to place a moneyline bet on Texas State with odds of +150. Texas wins the game, but since the stake part of the bonus bet is usually voided, you're only left with the profit part, in this case, $75.
There can be other types of deals, including deposit match bonuses, referral bonuses, cashback offers, bonuses acquired through the sportsbook's loyalty program, and more. The best college basketball betting sites are also in the habit of issuing special promotions exclusive to March Madness.
---
Things to Consider When Choosing an NCAAB Betting Site
We may have listed the top five college basketball betting sites in the US, but it's ultimately up to you to decide on your go-to betting platform. That said, here are a few things to consider when picking an NCAAB betting site:
Legality — Always make sure that the betting sites you register with are legal in your state. Offshore betting sites offer college basketball as well, but you should not risk joining them.
Bonuses — A constant flow of bonuses and promotions ensures that you always have a little extra in your bankroll.
Odds — College basketball betting sites differ in terms of odds, so always compare the prices between books to see which platform imposes the lowest vig.
User experience — Basketball betting sites and apps should provide a good user experience through streamlined navigation, an attractive interface, quick loading times, and ease of making bets.
Our recommended college basketball betting sites all pass with flying colors in these areas, so you'll likely come back to them even if you decide to do your own research.
---
FAQs
What are the best college basketball betting sites?
After analyzing all licensed and legal college basketball betting sites in the US, we can confidently say that the top five are Caesars, BetMGM, PointsBet, FanDuel, and DraftKings. Each features a flurry of college basketball bets, boasts competitive odds, and has excellent sports betting promotions, among other qualities.
Is online college basketball betting legal?
College basketball betting is available anywhere online sports betting is legal. There are currently over 30 states that have regulated online sportsbooks in some capacity. However, you should note that a lot of states set restrictions on college sports betting, such as not allowing player prop bets or excluding betting on in-state schools.
Can I bet on March Madness games?
Yes, March Madness is the crown of the NCAA basketball season, and all major sports betting sites feature it. Aside from individual March Madness games, you can bet on futures, predicting who wins the tournament or which teams qualify for the final four.
How to choose a reliable college basketball betting site?
Betting on college basketball online requires finding a safe and trusted sports betting platform. Saving you the trouble of picking these on your own, we've highlighted the top five college basketball betting sites, all of which are licensed in multiple US states.
What are the popular bet types for college basketball?
Point spread, totals, and moneyline are the three main college basketball bets. Nevertheless, each game offers a plethora of other markets, including many exciting proposition bets. You can also make futures bets and predict long-term outcomes.
Are there any bonus promotions for college basketball?
Yes, top college basketball betting sites will usually offer special promotions during March Madness. But even when there's not a specific promo for college basketball games, you will usually be allowed to use the sportsbook's welcome offer and other promos for making NCAA basketball bets.