Gamble USA strives to improve your online gambling experience. We aim to help you play safely, make informed decisions when gambling, and increase your betting knowledge through our guides.
We adhere to strict editorial integrity; our content may contain links to products from our licensed & legal US partners.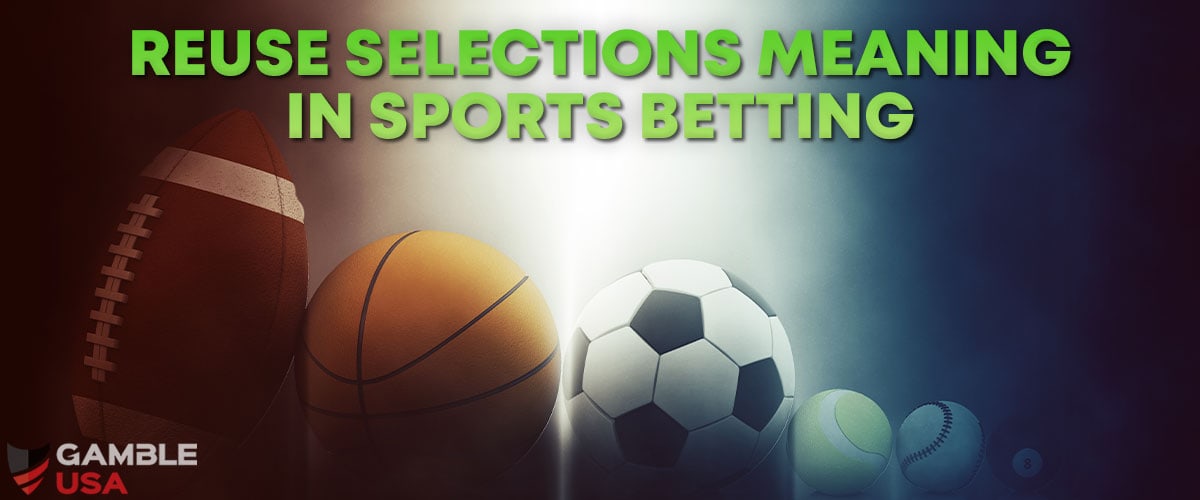 Confident of a specific betting pick? You could make the most of the opportunity by reusing your pick on another bet slip. Some sportsbooks make it easy for customers to retain selections although it can sound a little intimidating for sports betting newbies. Let's take a look at how you can use this feature.
What Is the Reuse Selections Option?
Most sports bettors have seen the option and wondered what's the reuse selections meaning. Well, all it means is that you will be able to include your bet picks in another bet with some slight changes.
This does not mean that you are editing the first bet! You are just lining up another bet. For example, I'm pretty confident the White Sox are going to upset the Angels so I decide to bet a plain and simple $100 on the moneyline option with a payout of $225.

After doing some more reading, I figured the Marlins and Red Sox would have quite a high-scoring match so I was looking at the option of betting on the Over 9. This payout wouldn't be great with odds of -120 so the best move would be to double down on my initial prediction of the Cubs winning and both teams scoring over 9.5 runs in the second selection.
The easiest way to do this was to retain selections of my first bet and include the selection on the second one. This also allows me to change the stake that I put down; I wasn't very keen on wagering another $100 on my gut feeling so I just went with $20. As you can see in the screenshot, the parlay payout would be $82.50 instead of the straight payout of $36.67.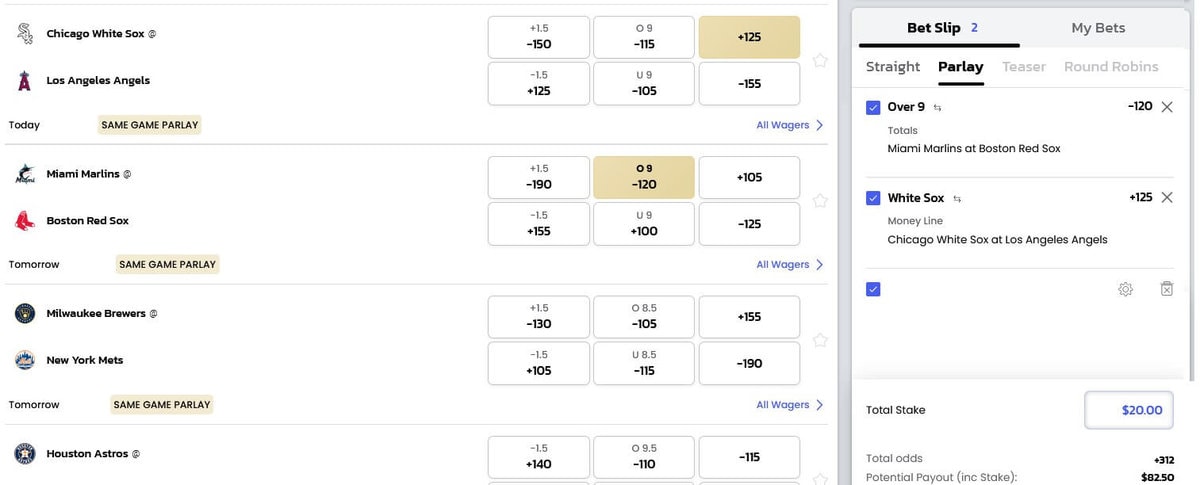 It doesn't end there. If I wanted to bet some more, I could still retain selections again and add even more bets to my bet slip. The option is always available with sportsbooks that support the feature as long as no terms or conditions have been breached.
When Can You Use the Reuse Selection Option?
You can use the 'reuse selection' option after placing any bet as long as the sportsbook has it available. It's not a common feature so if you are a sports bettor who has a strong focus on one sporting market, we recommend you sign up with a platform that has it available.
There are some obvious limitations; if the match has already been completed, you won't have the chance to reuse your selection for another bet. If the odds for the specific selection have changed, you will also have to change the selection again, you can't go back to the same odds as when you placed your first bet.
Is Reuse Selection Available for All Sports?
Just about every sporting market will give customers the option of placing a variety of bets. For this reason, the retain selections option is generally available with all sports too.
Unfortunately, this is not a specific term that is covered by sportsbook platforms, each of them has limitations on making these bets and others don't even offer the option at all. Just keep an eye out for a similar option to the one below:

If you plan on using the feature a lot, we recommend contacting some of the sportsbooks mentioned below to ensure that you won't have trouble uploading your picks on betting day. All of them have incredible customer support and you should receive an answer in time to place your bets.
Sportsbooks with the Reuse Selection Feature
As we've said before, the option to copy over your predictions is not available with all sportsbooks but it is with some. Take a look at our list below of licensed and legitimate platforms that support the feature.
The list is quite limited for now, but don't let that scare you off all the other platforms. It's an easy feature that can be added and if you don't mind the extra minute, you can just create a new bet with the same selection. If the feature is vital to you, we recommend signing up with FanDuel. They have an incredible betting platform and you can take advantage of their current bonus offer shown below.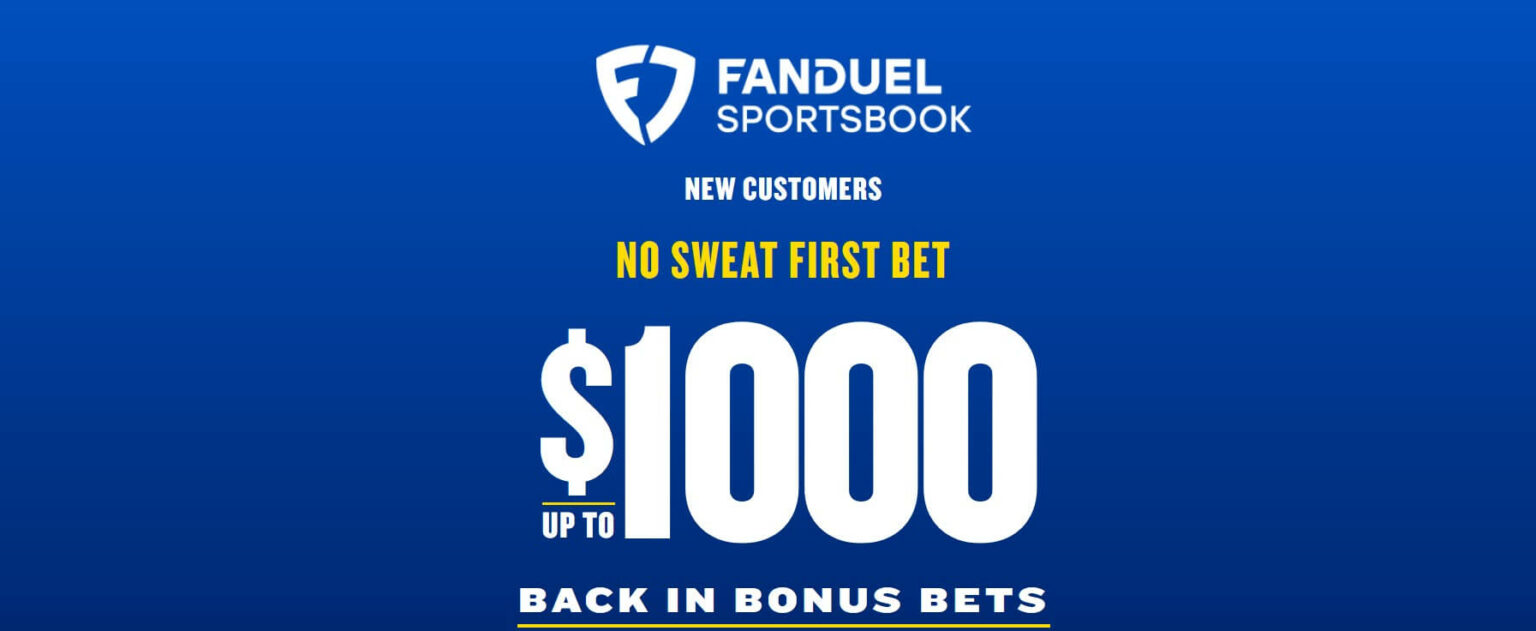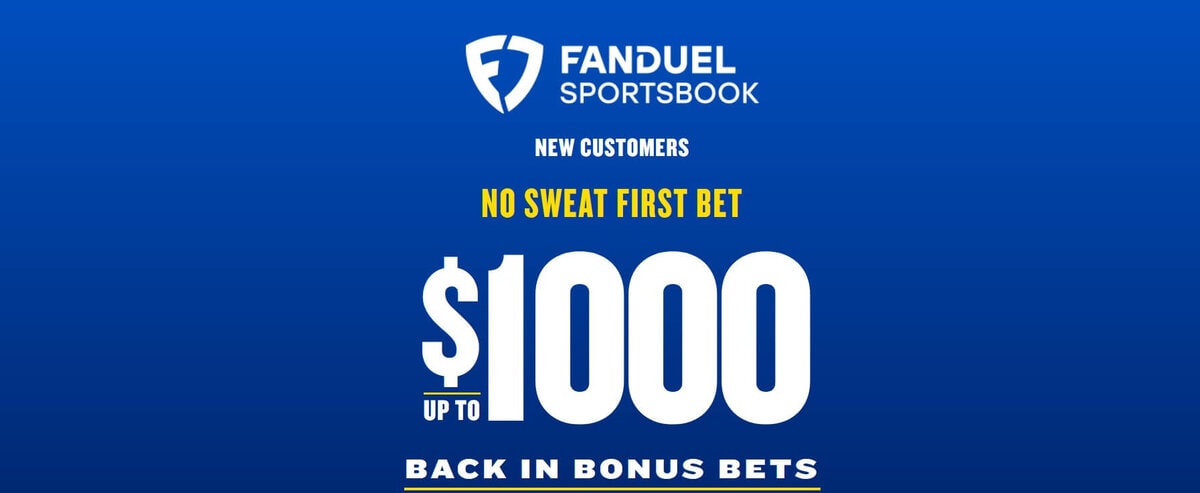 Can You Place the Same Bet Twice?
Definitely! Most sportsbooks will allow customers to place any bet as many times as they want. It's usually done to increase the bet amount that was initially made but you can also mix up the specific pick with other betting options that are available. If you simply want to put more money down on a game, make the same bet again but keep an eye on the odds as they can change at any time.
You might also find that the odds have increased in favor of your bet selection! Unfortunately, you won't be able to cancel the first bet and put the money on a new one, but you will be able to repeat the bet for an even bigger payout.
FAQs
What does reuse selections mean in sports betting?
Once you place a bet, you'll see the option of reusing selections at the bottom of your betslip. This means you'll keep the selection that you just made in case you want to make another bet with the same pick. For example, say you bet on the Kansas City Chiefs to beat the Detroit Lions, you might want a standard moneyline bet on that game and then another parlay bet that includes it and two other matches. This would be the best time to reuse your first selection.
Can you change a bet once placed?
Most of the time, you won't be able to. Some sportsbooks have policies that allow customers to change or cancel a bet if it's within a couple of minutes after placing the bet while others simply give the customer no option but to just hope the bet works out.
Can you reuse selections on FanDuel?
Yes, you can. The 'Reuse Selection' button will be on the bottom of the betslip once you've completed the bet placement on their website or mobile app.
Can you reuse selections on DraftKings?
You will be able to reuse selections on DraftKings but unfortunately, there is no easy feature to do so. You'll have to place your first bet and then browse through the platform again to build your next bet.
Is retain selections and reuse selections the same in betting?
Yes, they both mean that you will keep your picks of the first bet to place another one with a different bet amount or maybe some additional matches to build up the bet's payout.