Legal online gambling is growing in the United States, with the options available varying state by state. This makes it challenging to know exactly what states have online gambling, what states allow online sports gambling only and which states don't have a legalized gambling industry online at all. On this page, you will find details of legal online gambling states and what betting activities they allow.
GambleUSA closely monitors the US legal sports betting and iGaming industries in the US, including providing frequent updates as well as news and reviews of states with online gambling.
Some states allow online sports betting in addition to online casinos. We will list the states that allow internet gambling across the board, including states that so far have only legalized sports betting apps.
Growth of legal online betting
Legal online betting is quickly becoming widespread throughout America. The number of states where gambling is illegal is becoming much smaller, with more retail sports betting and online gambling sites frequently appearing. Most US states have offered legal online horse racing betting for several years now. However, recently we have started to see individual states legalize more forms of online wagering such as online poker, casino games, daily fantasy sports, and lotteries. Nowadays, a casino gambling site will offer a considerable amount of options for bettors bet to bet on the move via mobile apps.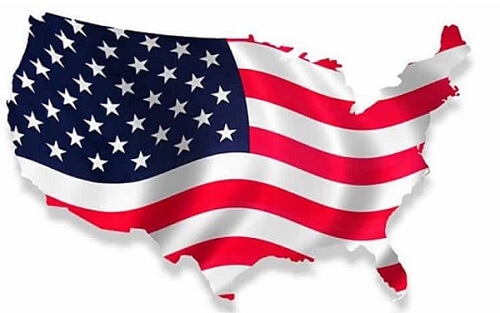 In 2011, the Department of Justice provided a legal opinion that altered the way the federal government interprets the Wire Act of 1961. The Department declared that the Wire Act only applies to sports betting and not to any other forms of online gaming, such as online casino gambling.
States such as Nevada, Delaware, and New Jersey quickly recognized the potential and became online betting states. Each one of them legalized online casino games, online poker, or both as long as the operators seeking to host such games were adequately licensed and approved. Pennsylvania was next to join the action in 2017, followed by West Virginia in 2019. Michigan joined the party in early 2021 with the launch of mobile sports betting, poker, and online casino gambling.
Legal online sports betting has grown thanks to a 2018 Supreme Court decision to remove the federal prohibition. In addition to Nevada, legal sports betting is now available in Mississippi, New Jersey, Pennsylvania, Delaware, West Virginia, and additional gambling states since then.
What Sate & Federal Gambling laws mean for the industry
Something that may be unclear if you are wondering if it is legal to gamble online is how state and federal laws work with one another. For instance, it may not be instantly apparent what it means for gamblers in your state, specifically when you see that the Supreme Court has removed the federal sports betting prohibition. This may lead people to question, 'where is online gambling legal in the US?
Essentially, there are two sets of laws that must be listed in any sports betting or gambling discussion. First, we must address the federal betting laws that apply to every state in the country. These are the overarching laws that have an impact across all fifty states. Federal laws dictate the general status of gambling but don't go into lots of detail.
Some of the significant federal betting laws that have been enacted in the USA are below:
PASPA: This stands for the Professional and Amateur Sports Protection Act and was introduced to ban all states apart from Nevada from legalizing traditional sports wagering. Some states were given exemptions for limited forms of betting, but ultimately, PASPA gave Nevada a monopoly over sports betting. The Supreme Court struck down PASPA in 2018.
The Wire Act: The Wire Act of 1961 was enacted to target mafia groups who oversaw sports betting organizations across state lines. This Act prohibits the use of "wire communications" to help in placing bets across state lines.
UIGEA: The unlawful Internet Gambling Enforcement Act introduced in 2006 targets the finances of offshore betting sites that have American customers. The UIGEA does not criminalize online gambling. Instead, it prohibits financial institutions from processing financial transactions to/from unlicensed gambling websites.
State Betting Laws
State laws have a more significant impact at the state level and cover everything that federal gambling laws haven't covered. These laws are more specific as they fill in the gaps left by federal laws. Individual states have a lot of leeway in determining how to regulate betting as long as it doesn't contradict federal law.
This is why, for example, when PASPA was relevant (a federal law), states had no possibility to legalize sports betting. Once PASPA was removed, states gained the ability to legalize sports betting if they wanted. Since then, some states have decided to legalize online sports betting, while in other states, sports wagering remains prohibited by state law.
State laws also get into the fine print of gambling regulation. This is where state gambling authorities come into action and determine all the rules for legal forms of gambling within each state. Things like business hours for casinos, how fast sports wagers must be paid, and mobile wagering are all decided by state laws.
This is why there is a need to have information on the betting laws of every US state. No sports betting bill tends to be the same, and the regulations vary from state to state. What is entirely legal in one state may be prohibited in a neighboring state, so it is vital to keep up to date.
The overall attitude towards gambling in the United States is softening. No states have moved to enforce more stringent rules on betting to any major degree in recent years. Instead, many states have decided to expand legal gambling options for their citizens.
States that have legalized sports betting
Individual states now have the option to legalize and regulate sports betting as they see fit. This happened fairly recently as for a long time, the Professional and Amateur Sports Protection Act (PASPA) prevented every state except for four from authorizing sports wagering. Only Nevada had complete exemption allowing a raft of sports betting options on a single game of those four states.
Oregon and Delaware were also granted limited exemptions for restricted forms of parlay-style "sports lotteries." Montana allowed sports betting squares not to run for a profit. Apart from that, no state was allowed any form of sports wagering.

All of that information changed in May of 2018 when the Supreme Court decided that PASPA was unconstitutional and removed it entirely. With PASPA removed, it did not mean sports betting was legal across the country, though. Each state must now change its own laws to bring sports betting back into the equation.
Lawmakers in over two dozen states have put forward legislation seeking to legalize and regulate sports betting. So far, the below states have passed laws and either already has online sportsbooks and retail sportsbooks available or will soon.
Arkansas
Connecticut
Maryland
Montana
Nebraska
Nevada
New Hampshire
New Mexico
North Carolina
Oregon
Rhode Island
South Dakota
Washington
Washington DC
Wisconsin
As things are changing so quickly, it is likely this list will frequently change. We will update this list and explain the latest legislative actions occurring across the United States as more states move towards legal sports betting. This page provides information on the types of bets that are legal right now, in addition to a glimpse of things to come based on legal issues currently underway in legislatures across the country.
States with legal online horse racing betting
Federal law dictates that the regulation of online horse racing betting can be left up to individual states. Some states are strictly opposed to horse racing betting in all its forms, but the majority either allow the activity or have laws in place to regulate in-person and online horse racing betting.
Additionally, exemptions written into federal gambling laws permit horse racing betting operators that have obtained a license in one state to provide their services in other states as long as it is legal in both jurisdictions. Consequently, a selection of operators owned by well-known brands in the horse racing industry offer their products throughout most of the country.
The overriding factor in all of this is that the law in most states is out of date and unclear on the legality of online horse racing betting. This means it is up to individual operators to interpret the law in each state and decide if they are comfortable or not to begin offering their services there.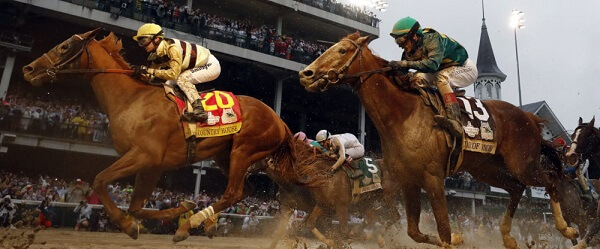 This confusion means not all horse racing betting sites are operating in all states. You can visit our state pages on the site for up-to-date legal information where you live and a complete list of safe and available sites in that state. This should help if you are wondering can you online gamble in the US.
States with legal online betting
States were banned from legalizing and regulating online gambling until 2011 as most people believed the Federal Wire Act applied to all forms of gambling.
All of that changed when lottery officials in Illinois and New York asked the Department of Justice to issue guidance regarding their hopes to start selling online lottery tickets.
The Department of Justice issued a memorandum a decade ago in which it expressed that it has reinterpreted the Wire Act to only apply to sports wagering. Although the initial request from New York and Illinois was regarding online lotteries, the Justice Department's interpretation paved the way to most forms of online gambling.
Numerous states have since jumped on the bandwagon and used this opportunity to legalize, regulate and tax online poker and online casino games. States where online poker, online casino games, or both are legal include:
Connecticut
Delaware
Michigan
Nevada
New Jersey
Pennsylvania
West Virginia
As with the list showing where sports betting is legal, we will update this list with states that decide to permit online gambling in the future. More will likely do so, although this has been slower to get off the ground compared to sports betting.
States that could legalize online gambling
As we have mentioned above, unlike sports wagering, legalizing online casinos and online poker in the US has been a slow, gradual process. The legalization of online casinos and online poker began in 2013 when Nevada launched online poker. This was followed by Delaware and New Jersey launching online casinos and poker sites. Since 2013, only three other states have established online platforms offering bettors the chance to play casino games online: Michigan, West Virginia, and Pennsylvania.
Whereas sports betting has moved at a fast pace, with online casino and poker, it is about picking up small wins along the way. It is hoped that one of the below states will approve legislation authorizing online gambling in the next 12 months.
New York
Indiana
Illinois
California
Massachusetts
Nevada
California, in particular, is a significant state. It is the most populous state in the country and is seen by those in the industry as the 'golden goose.'
States with legal Daily Fantasy Sports
The daily fantasy sports (DFS) market is regulated primarily at the state level. The legal status of DFS was unclear in the majority of US states when DFS was starting to emerge and gain traction, but a huge amount of progress has been made on the legislative front since then.
Today, most states have active laws that expressly legalize and regulate DFS operators. A small number of states still ban the activity, but most others have either passed legislation to regulate fantasy sports sites or allow DFS under existing law.
States with legal online lotteries
Over a dozen states have legal online lottery sales to some extent. Some states sell a full range of lottery products online, including tickets to all drawing games, keno, and access to instant win games. States with more stringent rules limit online purchases to subscriptions for draw games.
In an interesting twist, the push to legalize online lotteries led to individual states gaining the authority to regular online poker and online casinos. In 2009, lottery officials from New York and Illinois requested input from the Department of Justice on if their plans to legalize online lottery sales would go against the Federal Wire Act.
The DOJ responded with a comment in 2011 that had lasting implications far beyond the legality of online lotteries. In their analysis, the DOJ explained that it interprets the Wire Act as only applicate to bets  on "sporting events or contests." This ruling not only cleared the path for online lotteries but also for online casino and poker sites.
States that could introduce legal online lotteries
The authorization of online lottery products happened before sports betting and online casinos and poker came to the forefront. However, the online lotteries back then came with a caveat: The initial online lotteries were subscription-based. Online lotteries that distribute single tickets, and in some states, online instant win games, appeared in conjunction with poker and casino legalization in 2012/2013.
With all of the focus on sports wagering and online casinos, online lotteries have been growing under the radar. Lotteries have been expanding throughout the US, with a few high-profile lotteries ready to join the online party. These include:
Connecticut
Maryland
Massachusetts
We will update this list as and when more states launch an online lottery.
FAQs
Is gambling online legal?
Gambling online legal is legal in the US, but not in every state. Some states offer legal online sports betting and legal casinos, while some just offer one of the two. To see which states offer which forms of gambling, refer to our article above or our individual state pages on the site.
How many states offer legal online casino games?
Online gambling is legal in six states, where players can play classic casino games such as blackjack, roulette, and craps. These states include New Jersey, Connecticut, West Virginia, Delaware, Pennsylvania, and Michigan.
How many states offer legal online sports betting?
Online sports wagering is legal in 21 jurisdictions, including Washington, DC. Lawmakers in more states are pushing for the authorization of online sports betting in their respective locations.
How many states offer legal daily fantasy sports?
Daily fantasy sports are available in a total of 45 states. The legal status of fantasy sports in the remaining states is somewhat open to interpretation. Fantasy states are available in 21 additional states that do not address the legality of DFS. In those jurisdictions, DFS providers operate under the assumption local laws allow for the operation of fantasy contests.
Are offshore gambling sites legal?
There are several risks involved with using offshore sportsbooks and online casinos; however, you are unlikely to fall foul of the law. Authorities would rather target the operators of illegal online gambling operations rather than their customers.
With that said, Washington State enacted a law in 2006 that makes it illegal to participate in offshore online gambling. There has never been an individual prosecuted under the law, but it is still a risk.
The biggest risk linked with illegal online gambling comes from the lack of consumer protection regulations. If something happens and you can't withdraw your money, or an operator refuses to payout, the users of illegal betting sites have nobody to turn to for help.
How many states offer legal online poker sites?
Online poker is legal and available in seven states which are: Connecticut, Delaware, Michigan, Nevada, New Jersey, Pennsylvania, and West Virginia.
How many states have legal online horse betting?
Online horse racing betting is live in over a dozen states. However, the legal status of advance deposit betting remains unclear in numerous states because their laws don't explicitly address the issue. Despite that, most horse racing betting sites accept customers from over 30 states.
Do I have to live in the state where I am betting?
The straightforward answer is no. States with legal sports wagering allow non-residents to venture to retail sportsbooks and use sports betting apps as long as they are physically located within state lines. Additionally, bettors are permitted to download mobile betting apps, create new accounts, make deposits and withdrawals from anywhere.