Gamble USA strives to improve your online gambling experience. We aim to help you play safely, make informed decisions when gambling, and increase your betting knowledge through our guides.
We adhere to strict editorial integrity; our content may contain links to products from our licensed & legal US partners.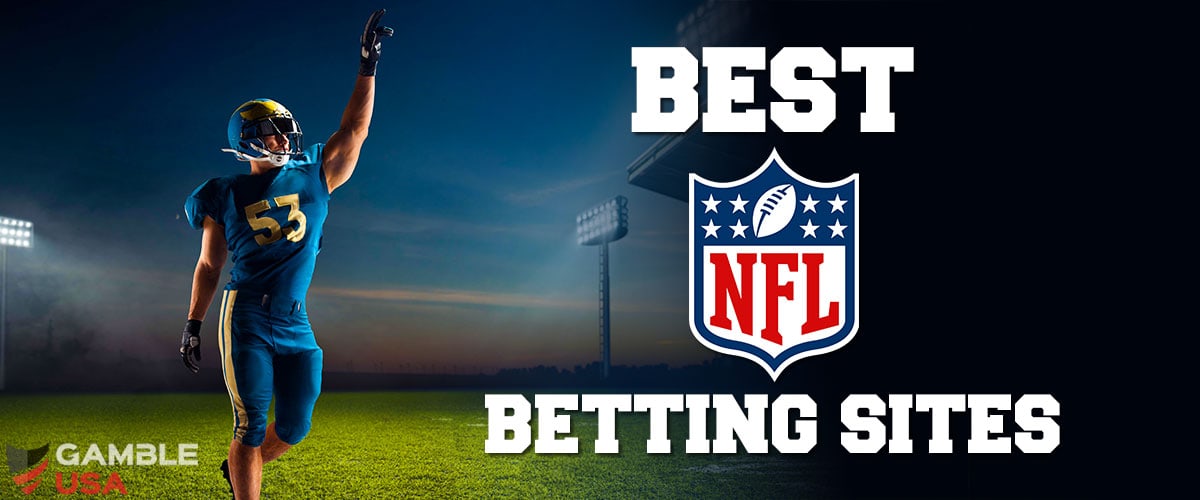 Baseball may be America's pastime, but football is the most popular sport. Regular season NFL games average 16.7 million viewers, and 200 million tuned into last year's Super Bowl. With so many eyeballs glued to the NFL, it is not surprising that it is also the most bet-on sport in the US.
Due to the NFL's immense popularity, virtually every betting site has NFL betting markets. However, that doesn't mean you should sign up to any random online sports betting platform. To have the best betting experience, you need to find a sportsbook with competitive odds, generous bonuses, fast cashouts, and 24/7 customer support.
Keep reading to find the best NFL betting sites which tick all those boxes and more while also leveling up your football knowledge!
---
What Is the NFL Football League?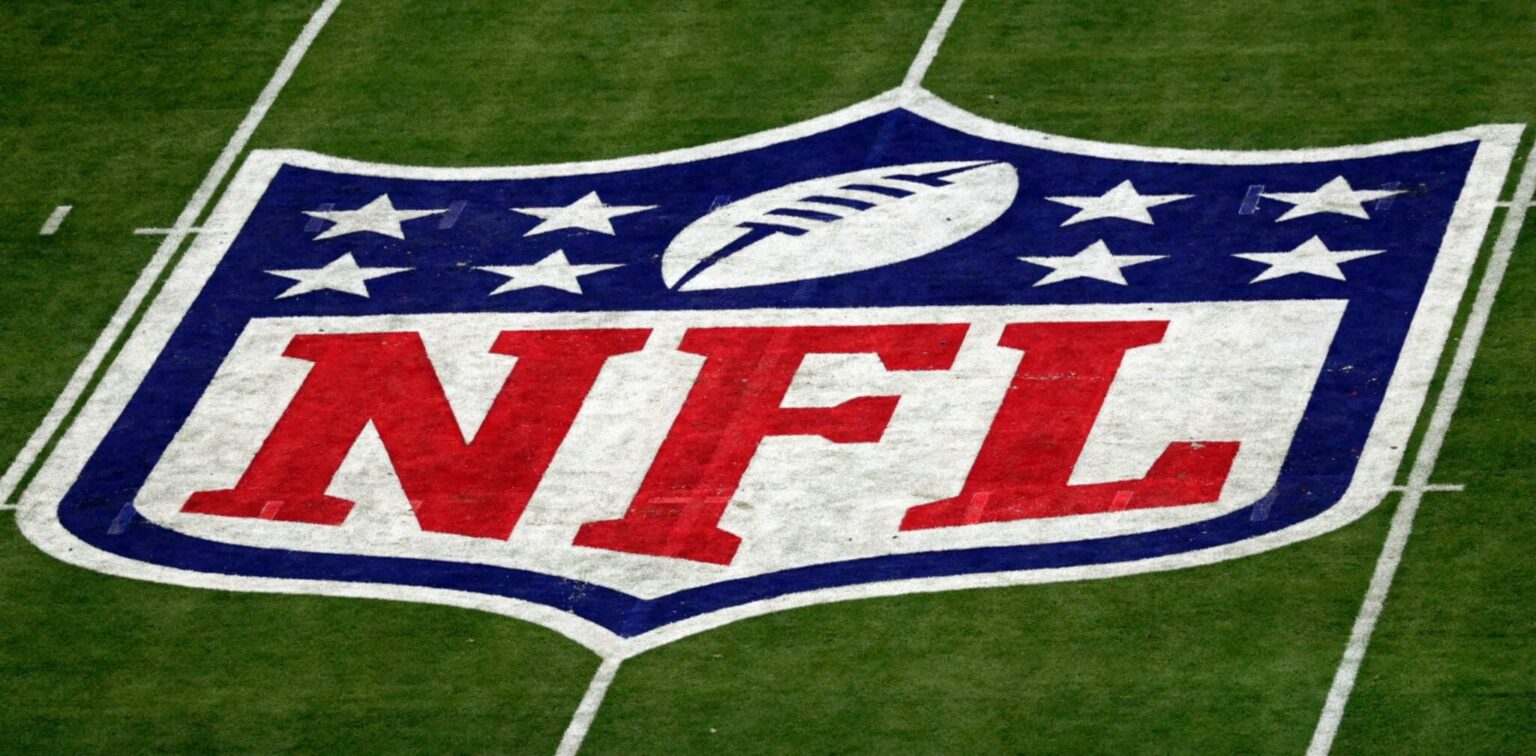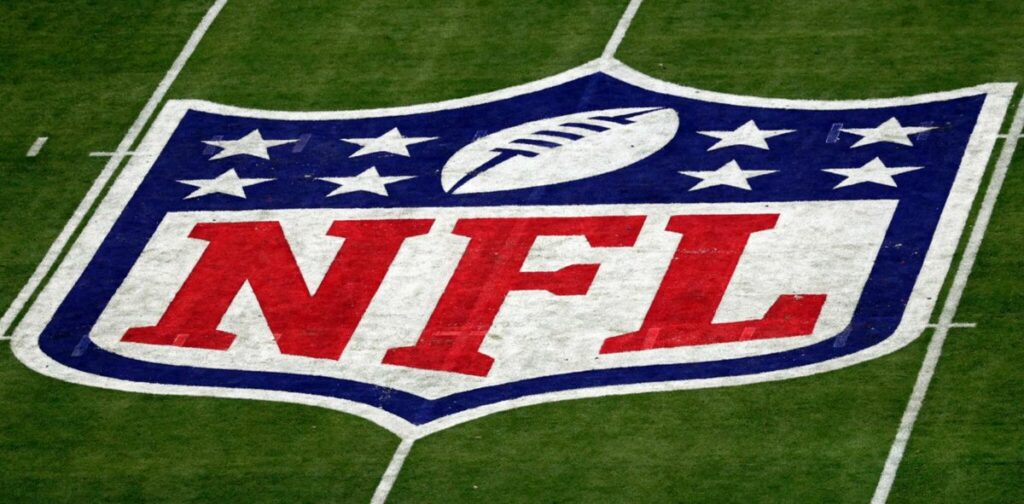 The NFL is the premier professional football league in the US and is where the best college players end up. It was founded in September 1920 and features 32 teams from across the United States. The 32 two teams are divided into two conferences and four divisions. The NFL is steeped in history and is the most popular sports league in the US.
Brief NFL History
The NFL was created in 1920 with just 10 teams from 4 states. Only two of the original franchises still remain in the league, the Decatur Staleys, who became the Chicago Bears, and the Chicago Cardinals, who became the Arizona Cardinals.
In 1960 a rival professional football league, the American Football League, merged with the NFL, resulting in the first Super Bowl. Since the 1970s, the NFL has been the number 1 sports league in the US due to the massive success of the Super Bowl, rule changes that made the sport more spectator friendly and the introduction of Sunday Night Football which captivated Americans all across the country.
Who Are The Best NFL Teams?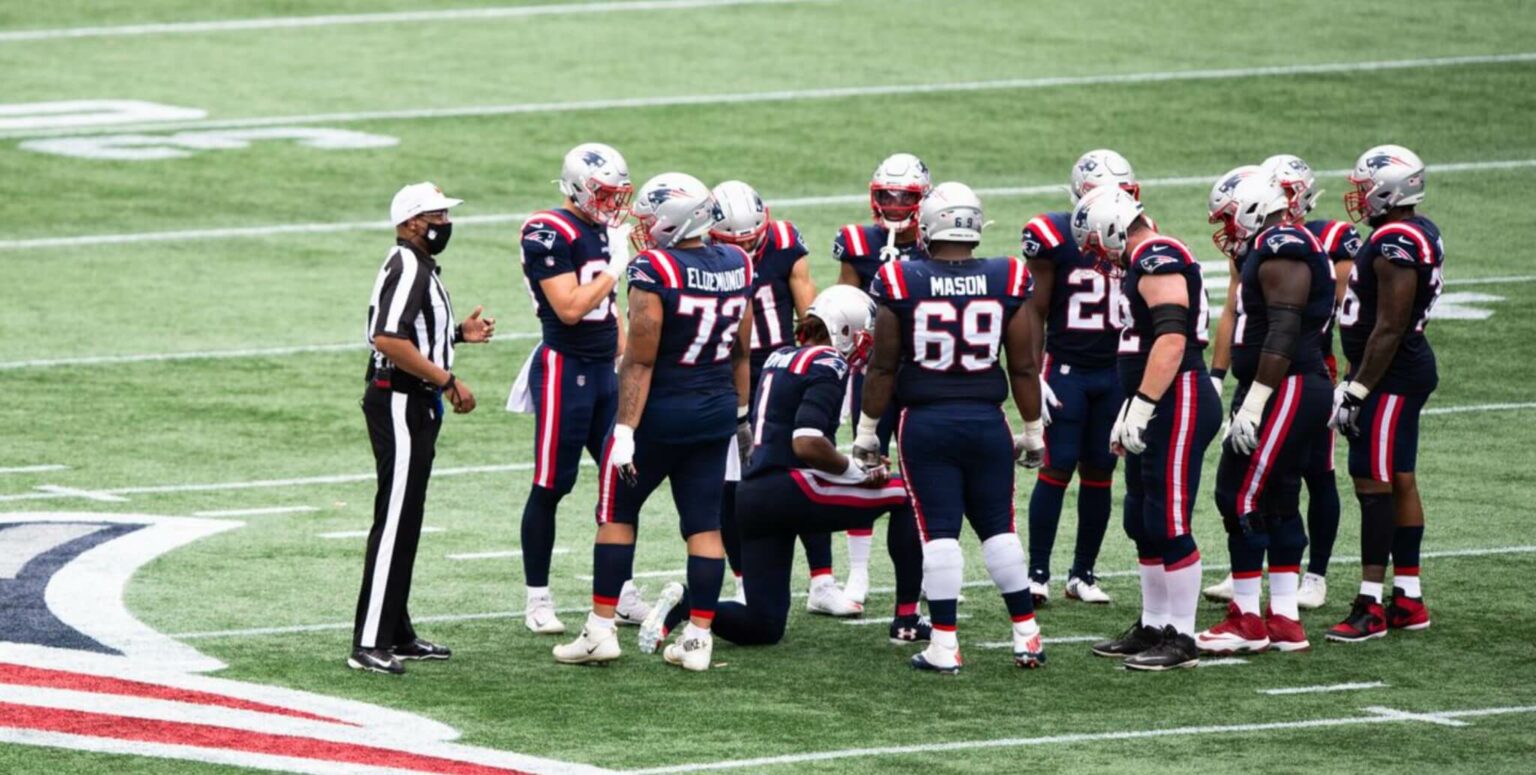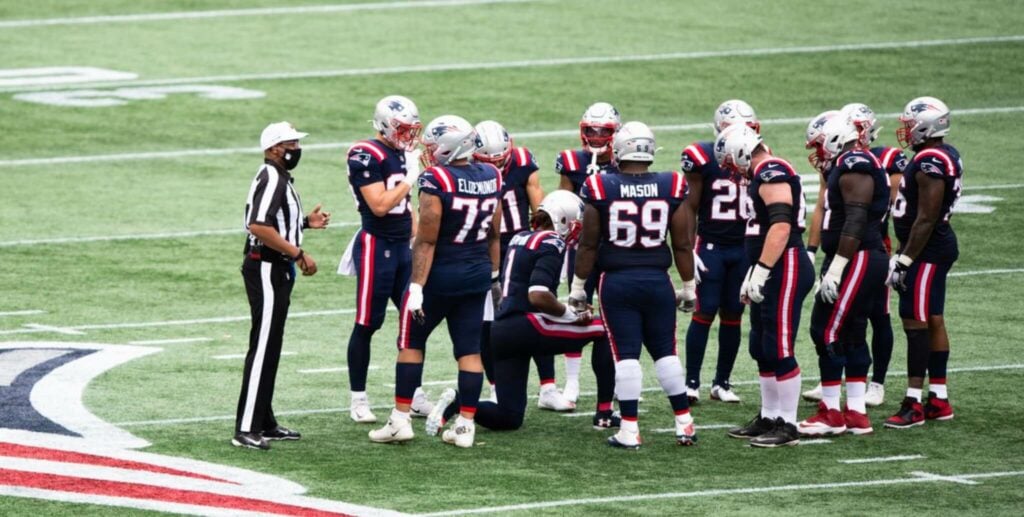 The best NFL franchise of all time is the New England Patriots. Thanks to Tom Brady's magic arm and Bill Belichick's maestro-esque play calling, the Patriots have won a record 6 Super Bowl titles. The Pittsburgh Steelers also have won 6 Super Bowl titles, and not far behind are the Dallas Cowboys and San Francisco 49ers with 5 titles.
However, some of the big-name historical NFL franchises have been struggling as of late. Based on last year, teams to watch out for include reigning Super Bowl champs, the Kansas City Chiefs, runners-up, the Philadelphia Eagles, and the Cincinnati Bengals.
How Many Games NFL Teams Play?
Every NFL team plays 17 regular season games. Then the top 14 teams progress to the playoffs. The NFL playoffs start with the wild card round, then the divisional round, the conference championship, and finally end with the Super Bowl. The top seed from each conference receives a bye and progresses directly to the divisional round. So the minimum number of games an NFL team can play to win the Super Bowl is 21.
How Much Do NFL Players Make?
The average NFL salary is $2.7 million, and they are some of the highest-paid athletes in the world. The league minimum salary is an impressive $750,000. The top NFL earner is Los Angeles Chargers quarterback Justin Herbert, who is pulling in an eye-watering $52.5 million per year.
While NFL players make a lot of dough, it is a tough league, the average player only sticks around for just 3.3 years due to the intense physicality and unrelenting competition.
What Is the Super Bowl?
The Super Bowl is the grand final of the NFL. It is contested between the two best NFL teams, and the winner is declared the season champion. The Super Bowl is one of the biggest sporting events on the planet. 200 million tuned into the last year's Super Bowl, and companies pay over $6,000,000 for a 30-second commercial.
A key component of the Super Bowl is the half-time show which features some of the most famous artists in the world. Notable Super Bowl half-time performances include Prince (2007), Michael Jackson (1993), Beyoncé (2013), Lady Gaga (2017), and Bruce Springsteen & The E Street Band (2009).
---
Best NFL Betting Sites
To enjoy competitive online NFL betting odds, a fantastic mobile betting experience, and tons of exciting bonuses, sign up to these online NFL betting sites:
🥇#1. DraftKings – Best Overall NFL Betting Site

DraftKings has everything NFL bettors could possibly want! They have a 4.8-star rated app for iOS and Android and have live betting markets for every single NFL game, including all regular season and playoff matchups. DraftKings has 20 + different NFL bet types, including lots of exciting props, and offers regular profit boosts.

DraftKings has an incredibly easy signup process and a sleek interface which makes finding high-value NFL bets a breeze. Sign up below and claim your 20% deposit match up to $1000, you can use this bonus cash to bet live on all NFL games!
Expert Comments:
"I make most of my NFL bets at DraftKings thanks to their great odds and the range of bets. I mostly stick to spread betting but don't mind the odd prop. They always treat me well, and any issue I ever had was quickly solved by their pro customer support team, and my bankroll loves the profit boosts on weekly NFL games."
– Oliver Dickinson (Sports Editor)
---
🥈#2. FanDuel – Best Mobile NFL Betting Site

FanDuel is NFL mobile betting paradise! Their website loads instantly, and the intuitive menus + search function is ideal if you want to quickly find exciting bets. FanDuel is known for its high betting limits and always having fair odds. They also provide 24/7 customer support via live chat, so you won't have to spend weeks going back and forth over email to get issues solved!
FanDuel has some of the best odds and extensive markets for all NFL games. It doesn't matter if you are a Chargers fan or can't get enough of the Broncos, you can follow your team effortlessly at this NFL online sportsbook. Use the offer below to sign up to FanDuel and get insurance on your first NFL bet up to $1,000!
Expert Comments:
"I spend way too much time on the FanDuel app, but that is only because it is so good. They have one of the best-designed betting slips, and I can make NFL bets virtually instantly which is great for live betting. I also appreciate the fast withdrawals at FanDuel, even when cashing out big, it hits my account within 48 hours."
– Paul Ricci (Chief Sports Editor)

---
🥉#3. BetMGM – Best NFL Live Betting Site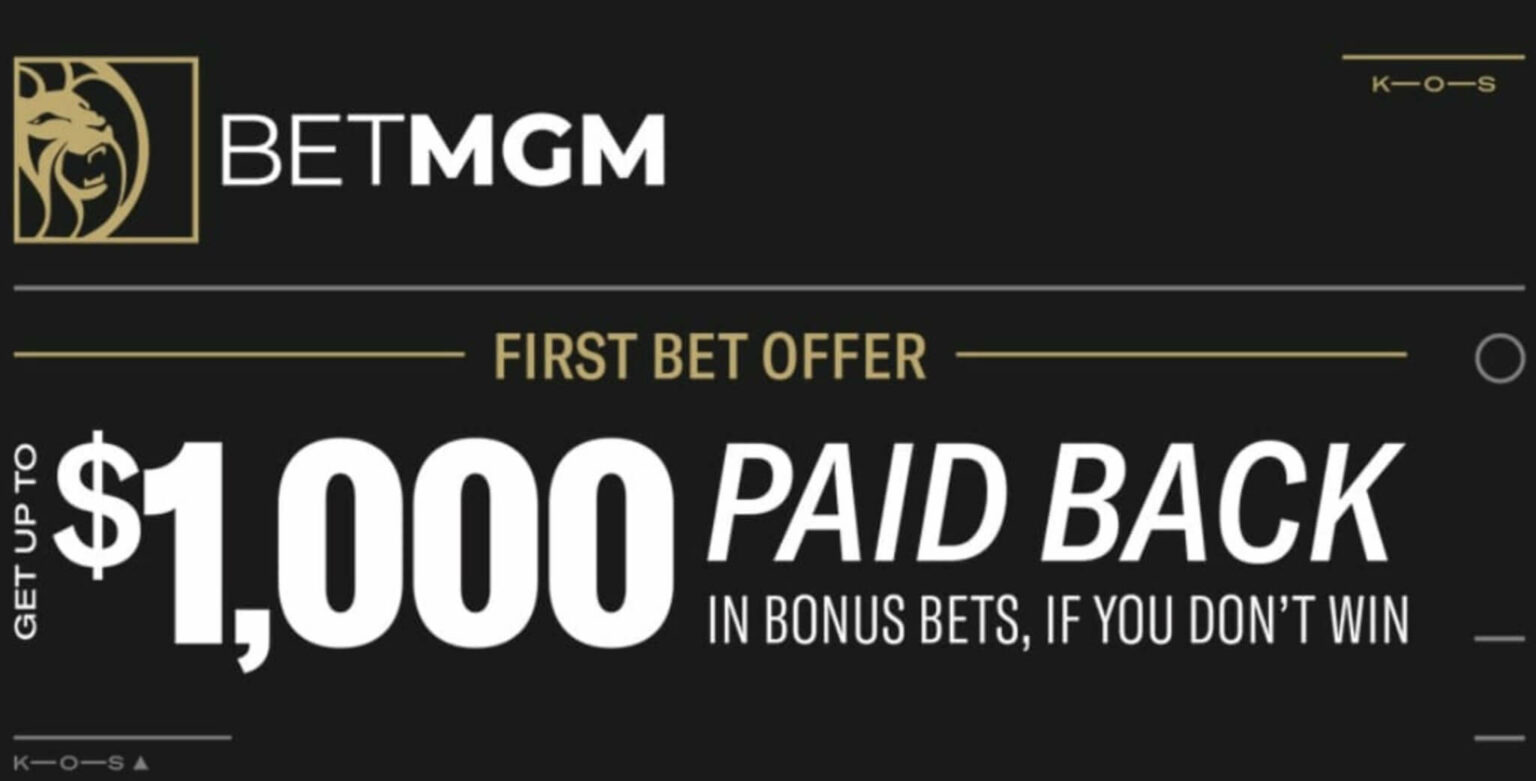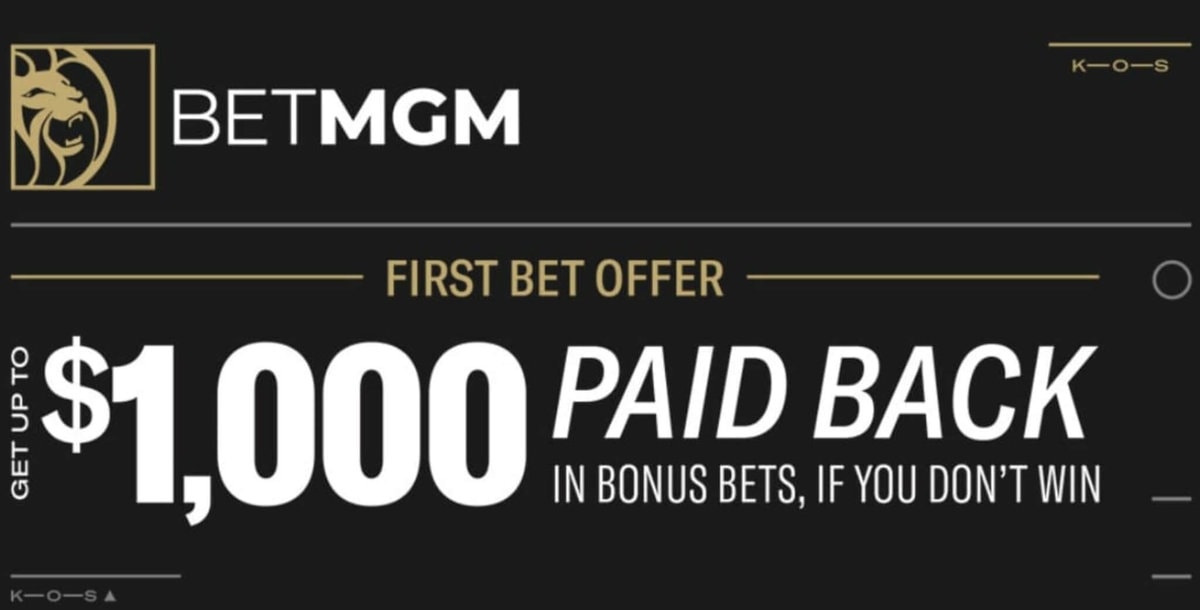 At BetMGM, you can bet on 25 + sports, including all 272 regular season games and every game from the playoffs. BetMGM is known for being extremely generous with their promos, throughout the NFL season, they have all kinds of special reload bonuses and profit boosts. They also have the best live betting markets of any sportsbook featuring 30 + bet types and incredible odds.
BetMGM is an overall very solid NFL betting site, you can't go wrong with their bonuses, odds, and well-designed app. Make your first NFL bet at BetMGM and use the promo code: GAMBLEUSA to get up to $1,000 in bonus bets.
Expert Comments:
"I regularly make NFL parlay bets at BetMGM thanks to their awesome parlay boost promotion. I have got up to 40% boosts before, which are a game changer for your bankroll. I am also a big fan of BetMGM's live betting markets, the amount of bet types brings a tear to my eye!"
– Paul Ricci (Chief Sports Editor)

---
🎖️#

4. PointsBet – Best NFL Odds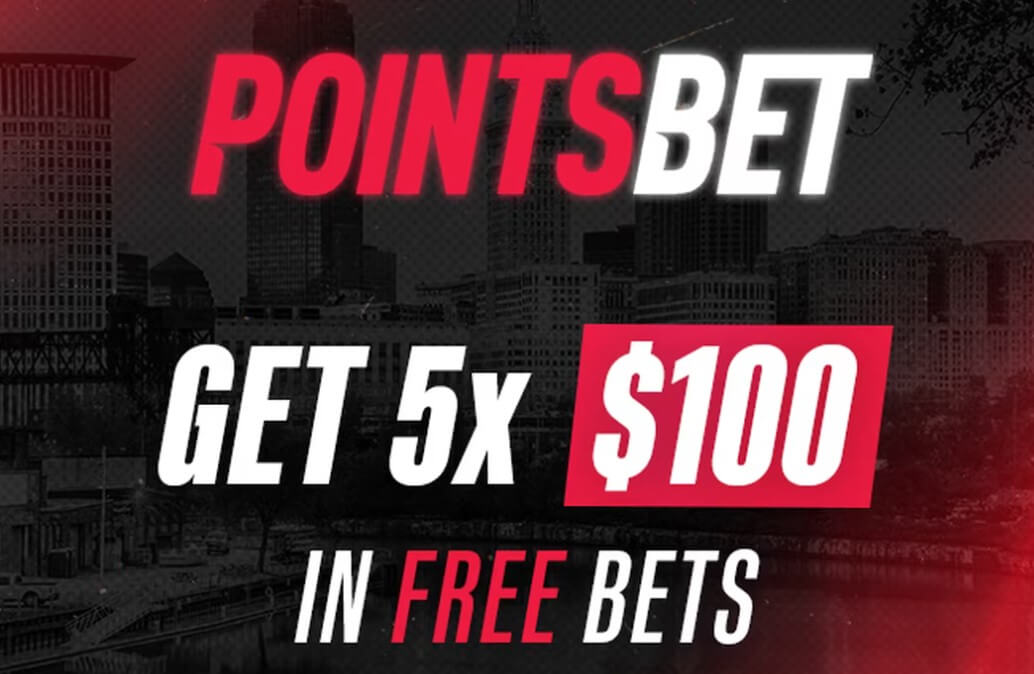 PointsBet is the fastest-growing online NFL betting site for a reason! They have the best odds on the market and the lowest juice. PointsBet is actively trying to lure bettors away from the big sportsbooks and is willing to offer amazing odds and bonuses to entice them. PointsBet also has a fully mobile-optimized website and great markets for all games, including moneyline, spread, and some fun NFL prop bets.
Points Betting is a unique take on spread betting which is exclusive to PointsBet. How it works is your profit or loss is determined by how far away your prediction is from the spread. Sign up to PointsBet now to try this unique style of NFL spread betting and claim 5X$100 bonus bets!
Expert Comments:
"PointsBet is a hidden gem that is quickly blowing up. When I am looking for NFL value bets, I always start by checking out PointsBet's markets because they consistently have the highest odds. I also really enjoy their Points Betting option, be warned, you will be on the edge of your seat the whole NFL game."
– Oliver Dickinson (Sports Editor)

---
🏅#

5. Caesars Sportsbook – Best NFL Betting Site For Bonuses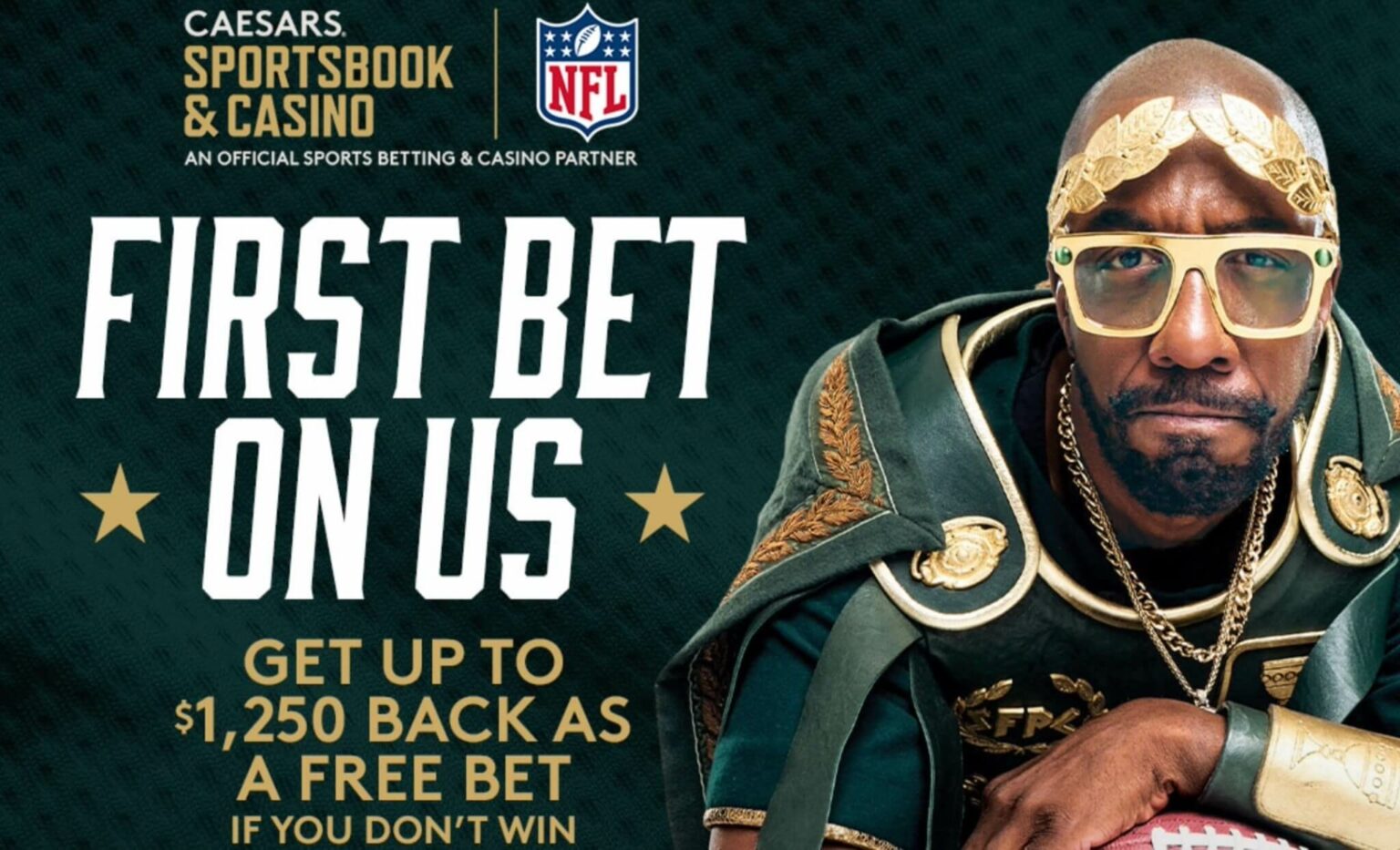 Caesars Sportsbook is a fantastic NFL betting site that offers HD streams for all NFL games via its free mobile app. Caesars is also famous for its massive welcome bonuses, which come with player-friendly terms and conditions.
Also, if you are looking for a VIP program, you can't beat Caesars reward program, where you earn points that can be converted to bonus cash or hotel rooms, food, and experiences at Caesar properties throughout the US!
Don't waste your time with poor odds and limited markets, register at Caesars and start betting on every NFL game. Remember to enter the promo code: GUSAFULL and get your first NFL bet refunded up to $1,250 if it loses!
Expert Comments:
"I am a loyal Caesars Sportsbook player due to their excellent VIP program. I can't tell you the number of free Vegas trips I have scored, thanks to their reward credits. I am also hooked on their mobile NFL streams, it really creates an immersive NFL betting experience."
– Oliver Dickinson (Sports Editor)

---
Features of Top NFL Betting Sites
When looking for top NFL betting sites, pay close attention to their odds. We recommend pulling up the NFL betting markets for different games and then comparing the odds for the same bet across 4 or 5 online sportsbooks.
You want to find an NFL betting site that consistently has competitive odds because even small differences in odds can radically impact your bankroll, especially if you bet often.
The best NFL betting sites are also fully mobile optimized. They have dedicated apps for iOS and Android and have sites that work on any browser. They have spent time designing fast and easy-to-navigate platforms.
To have the flexibility to bet on all aspects of an NFL game, find an NFL betting site that has a solid variety of bets. They should have all of the classic markets like moneyline, spread, and totals but also lots of fun props, and every market should be available pre-match and live.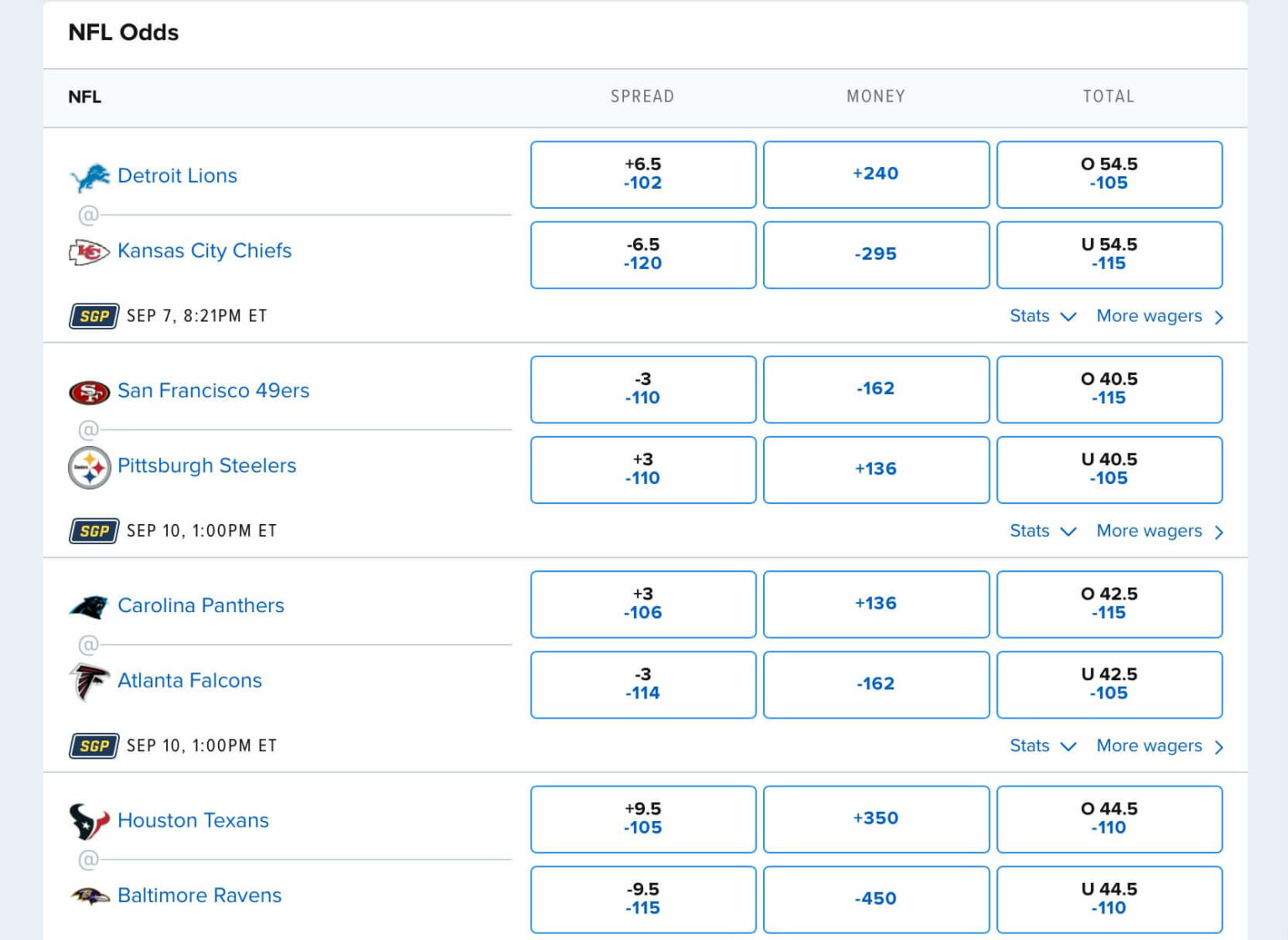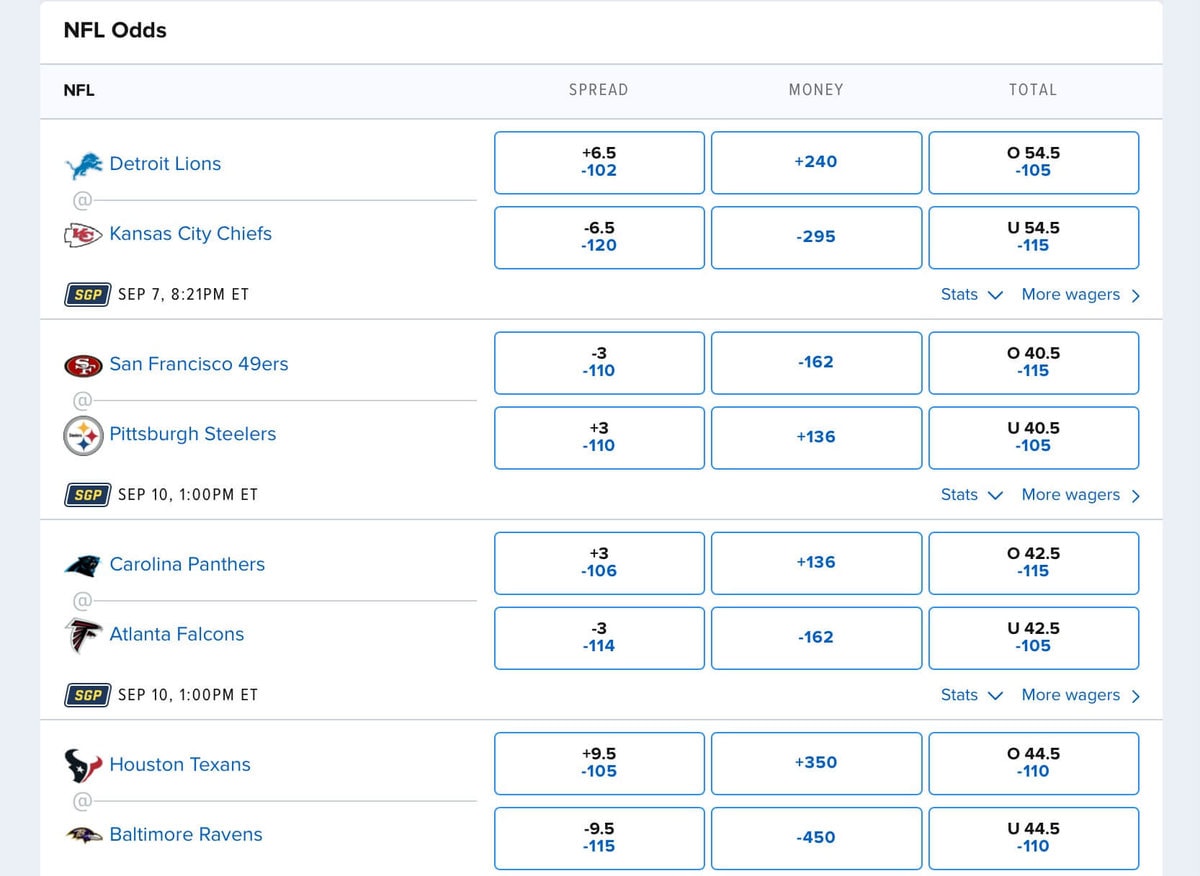 Before you sign up to an online NFL betting site, do some research about the available payment methods. You should pay special attention to any fees involved, the number and types of payment methods, minimum and maximum betting limits, and the processing speeds. High fees can really eat into your profits, and there is nothing more frustrating than waiting weeks to receive your winnings.
At the best NFL betting sites, you can deposit and withdraw via secure and 100% free payment methods, including Visa, Mastercard, American Express, PayPal, ACH, and bank transfer. Deposits are instantly added to your account, and you can receive your winnings within 72 hours.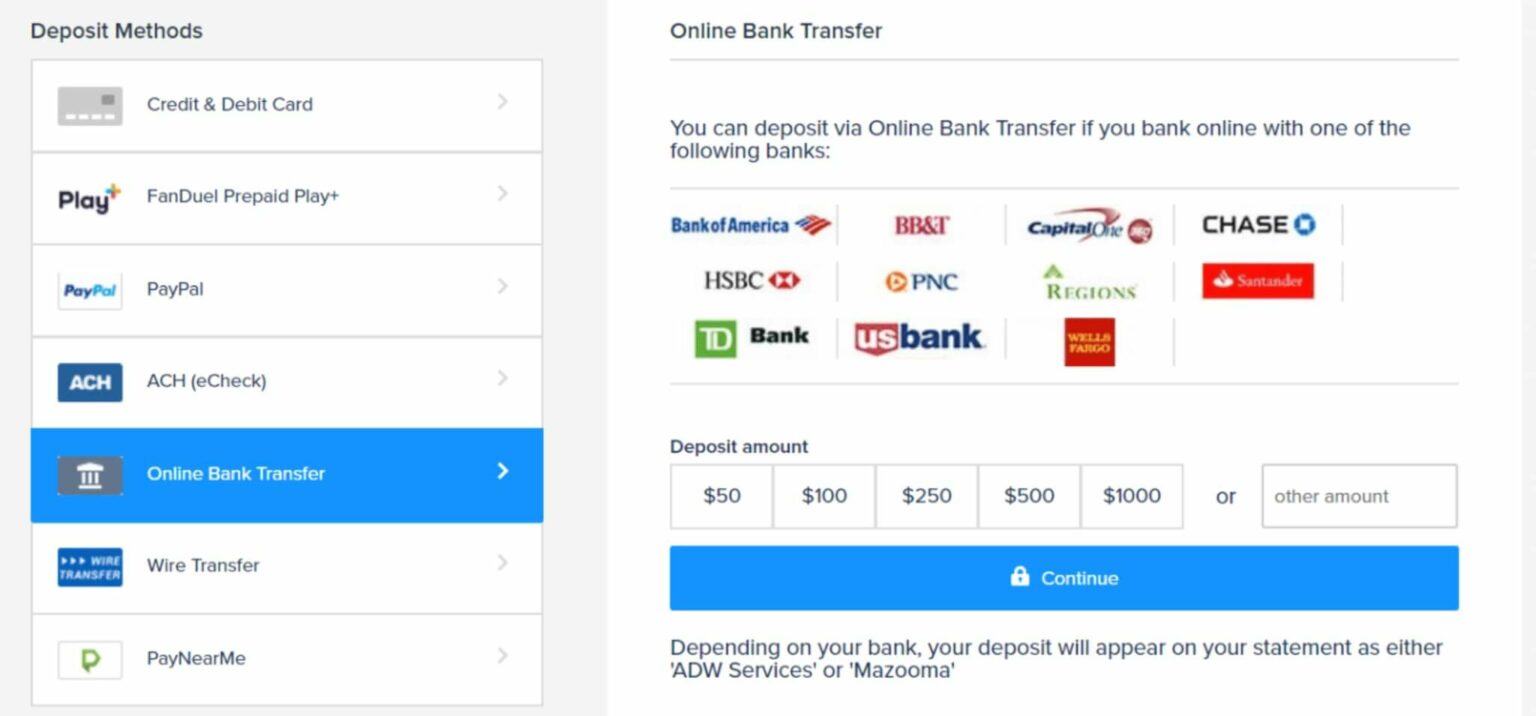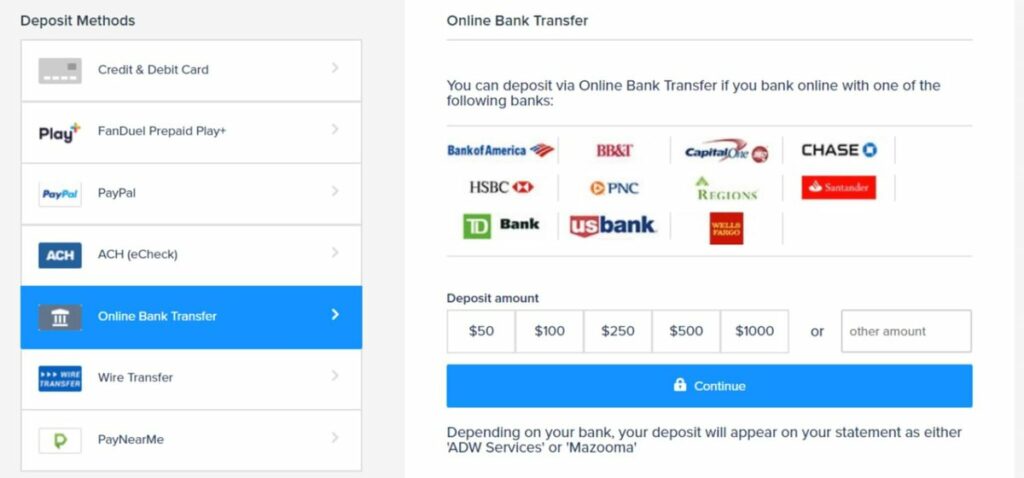 ---
How To Get Started with NFL Betting
Signing up at online NFL betting sites and making your first wager is simpler than you think. To get up and running in no time, just follow these steps:
Select any of our recommended NFL betting websites and sign up via our link to get an exclusive bonus
Hit the Sign Up button and create an account by sharing your personal details (name, date of birth, address, email, mobile number, and last 4 digits of your SSN).
Upload your ID and proof of residence, such as a utility bill
Tap the deposit button and add funds to your account instantly via credit/debit cards, bank transfers, and e-wallets
Go to the homepage, type in NFL into the search bar, or scroll through the sports and tap on football and NFL
Browse the NFL markets and, select a game, bet type, and make your prediction
Enter your stake and confirm your bet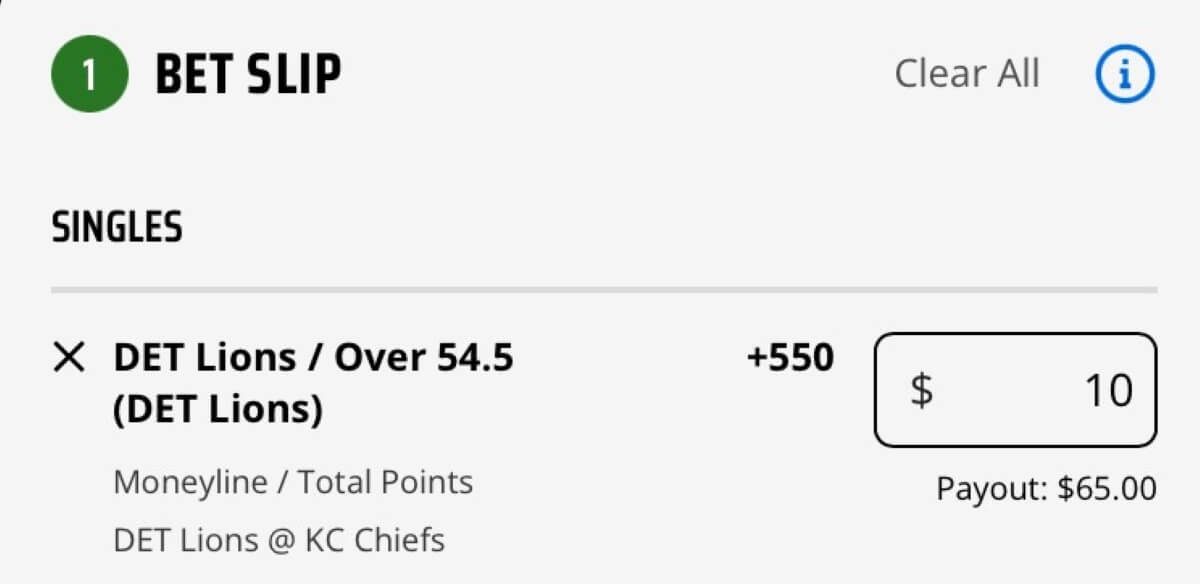 ---
Understanding NFL Betting Odds
NFL odds may look a little intimidating if you are new to sports betting, but they are actually pretty simple. They tell you two vital pieces of information, your potential payout, and your implied probability. Implied probability is the likelihood of your bet winning based on the current odds. The goal of sports betting is to calculate the probability of an event occurring and then bet when your calculated probability is significantly lower than the implied probability at the betting site.
Odds come in 3 distinct formats, American, decimal, and fractional. They all tell you the same information, but to find out the implied probability and your potential winnings, the math is a little different.
With American odds, the underdog has + odds, and the favorite -. + odds reveal how much profit you will win if you bet $100. For example, if the Dallas Cowboys are a +200 underdog to beat the Philadelphia Eagles and you bet $100 on them, your potential profit is $200, and your total payout is $300 ($200 profit + your $100 stake). While – odds show you much you need to bet to win $100. For example, if you bet on the Kansas City Chiefs to beat the Miami Dolphins at -250, you need to bet $250 to win $100 profit.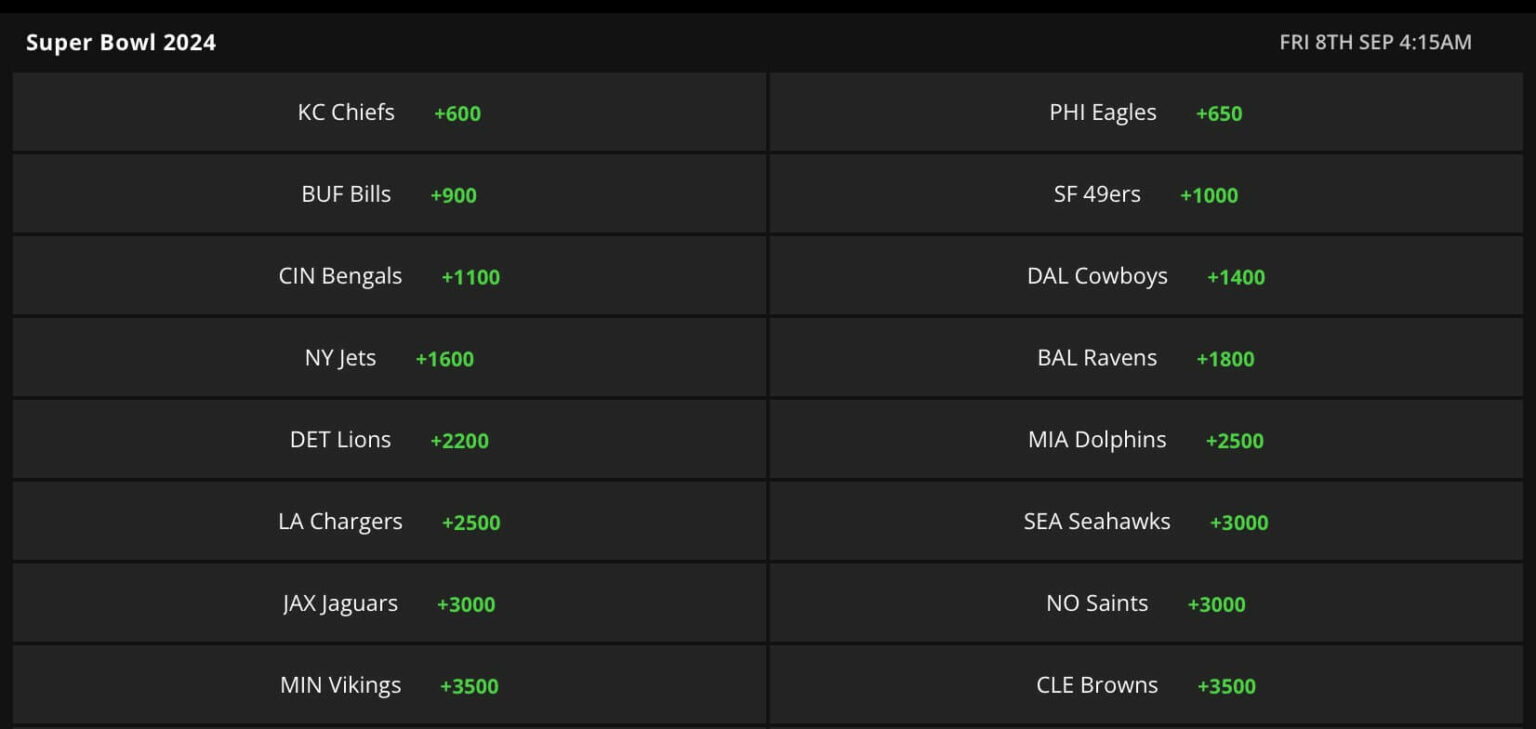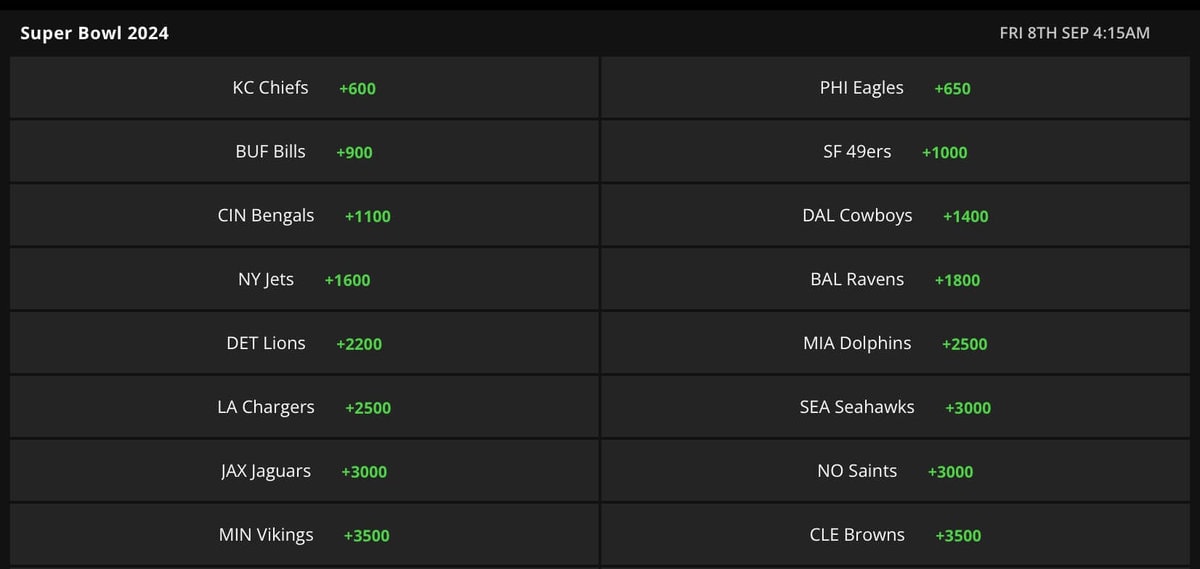 Now turning your American odds into implied probability is a little trickier. You first need to convert your American odds into decimal odds. To convert positive odds, divide the American odds by 100 and add 1. So +150 odds becomes 2.5 (150/100 + 1). To convert negative odds to decimal odds, use this formula 1-(100/American odds). So -150 odds becomes 1.67 (1-(100/-150)). Now to get the implied probability, you divide 1 by your decimal odds, so a +150 favorite has a 40% chance of winning, according to the sportsbook (1/2.5).
If you don't want to waste time whipping out your high school calculator, you can just pull up a free odds converter. Then just enter your stake and odds, and it will instantly tell you your potential profit, payout, and implied probability.
Also read our full guide on how to read odds if you're still unsure on how it all works.
---
Effective NFL Betting Strategies
Are you tired of following your crazy uncle's NFL betting tips? Level up your betting game and try out these effective strategies:
Bet on home underdogs who are coming off a big loss – NFL teams usually play better at home, and when a team has suffered a recent tough loss, the odds often swing against them too far. With this bet, you are banking on the fact that the home underdog will be fired up and ready to play well in front of their home fans and also a reversion to the mean effect where their previous bad performance is unlikely to repeat itself.
Bet against east coast teams when playing on the west coast – Home-field advantage is amplified when an east coast road team has to travel across the country and deal with a long flight and a 3-hour time difference. We recommend betting on the Seattle Seahawks whenever they are playing an east coast team at home.
Avoid betting on divisional matches – Each season, every NFL team plays 6 games against teams in its division. These games can be very difficult to predict because the teams know each other very well and are able to come up with specific game plans.
Don't add too many bets to your parlays – Parlays can result in some huge wins, but if you add too many selections, they quickly turn into lottery tickets. The sweet spot is between 2 and 4, any more, and your odds of winning plummet.
Bet on teams coming off a bye – After a bye, NFL teams are refreshed both physically and mentally and are ready to secure a win. Don't blindly use this strategy, make sure the team you are betting on has all of its star players and is ideally playing a team that has been in some matchups and is looking a little fatigued.
---
Types of NFL Bets
NFL betting is more than just betting on your favorite team to beat their division rivals. You can make all kinds of different bet types, including:
Moneyline – If you are new to NFL betting, start with a moneyline bet. This is where you try to predict which team is going to win. For example, you bet on the Kansas City Chiefs to beat the Detroit Lions.
Spread – Once you have got the swing of NFL moneyline betting, you can broaden your horizons and try spread betting. Spread betting is similar to moneyline betting, but you need to predict the winner of an NFL game while factoring in the points handicap placed on each team by the betting site.
For example, if you bet on the Buffalo Bills to beat the New York Jets with a -7.5 points handicap, they need to win the game by 8 points or more. The minus points handicap is applied to the favorite and the plus to the underdog. The goal is to make the game more even.
Prop Bets – Props are bets within a game and aren't directly related to the outcome of an NFL match. With props, you can bet on individual or team performances. For example, you could bet on Patrick Mahomes to throw the first touchdown in a game or bet on the Las Vegas Raiders to kick a field goal in the 2nd quarter. Props add a new level of excitement to NFL betting and are great if you are looking for fast-paced action.


Over/Under – With over/under bets, you can bet on different NFL statistics, for example, passing yards, rush yards, QB rating, number of touchdowns, points totals, and virtually everything you can think of.
How it works is the sportsbook sets a line, and you need to predict whether the result will be higher or lower. For example, the line for total points might be 45.5 if you take the under and 45 points or less are scored, you win.
Futures – Futures bets is where you predict the outcome of an event in the future. Common NFL futures betting options include betting on the Super Bowl winner, a team to make the playoffs, and a player to win MVP. These wagers are multi-probability events. For example, if you bet on the Dallas Cowboys to win the Super Bowl, you are betting on them to win enough regular season games to make the playoffs and then betting on them to win all of their playoff matches.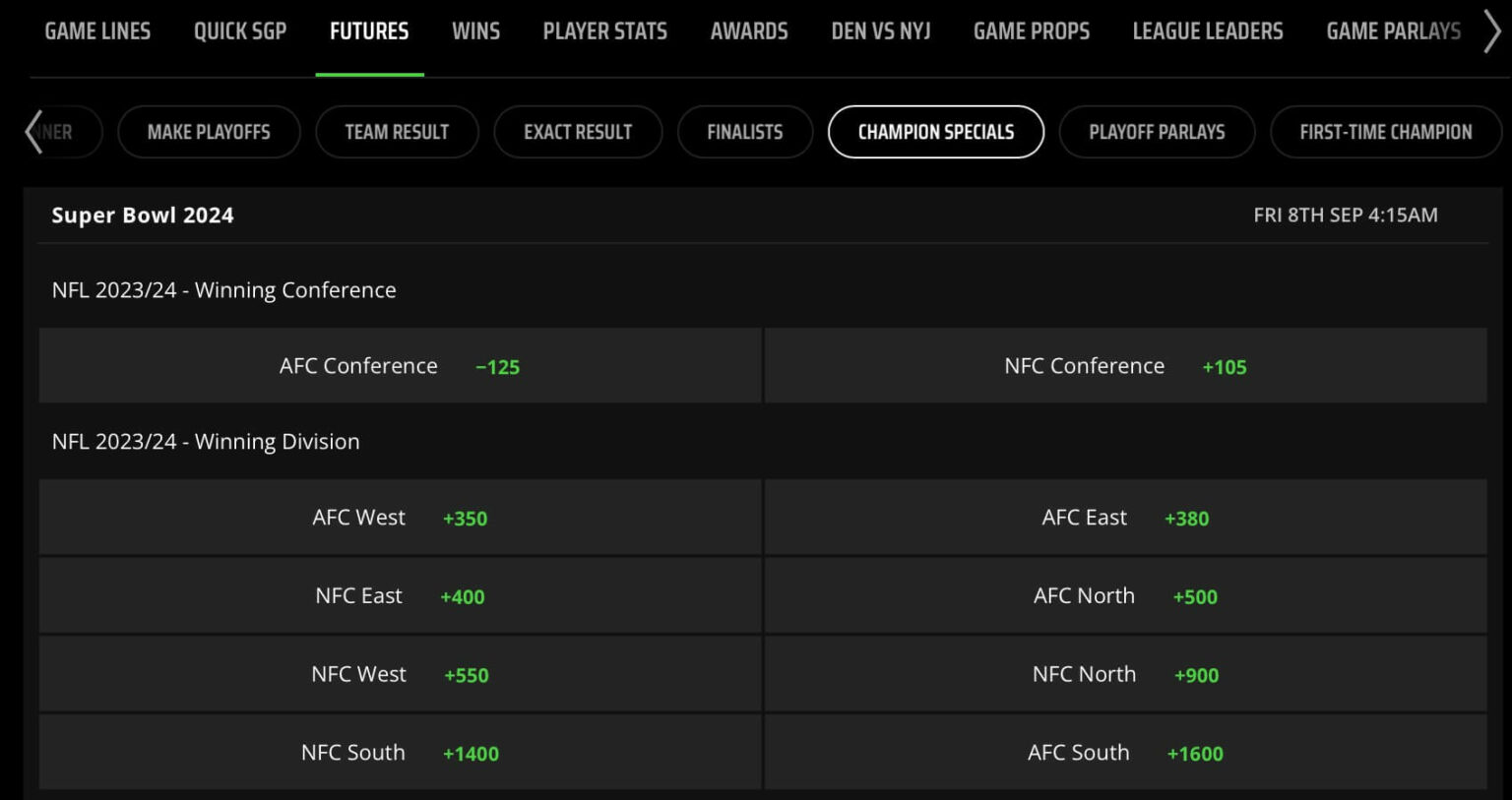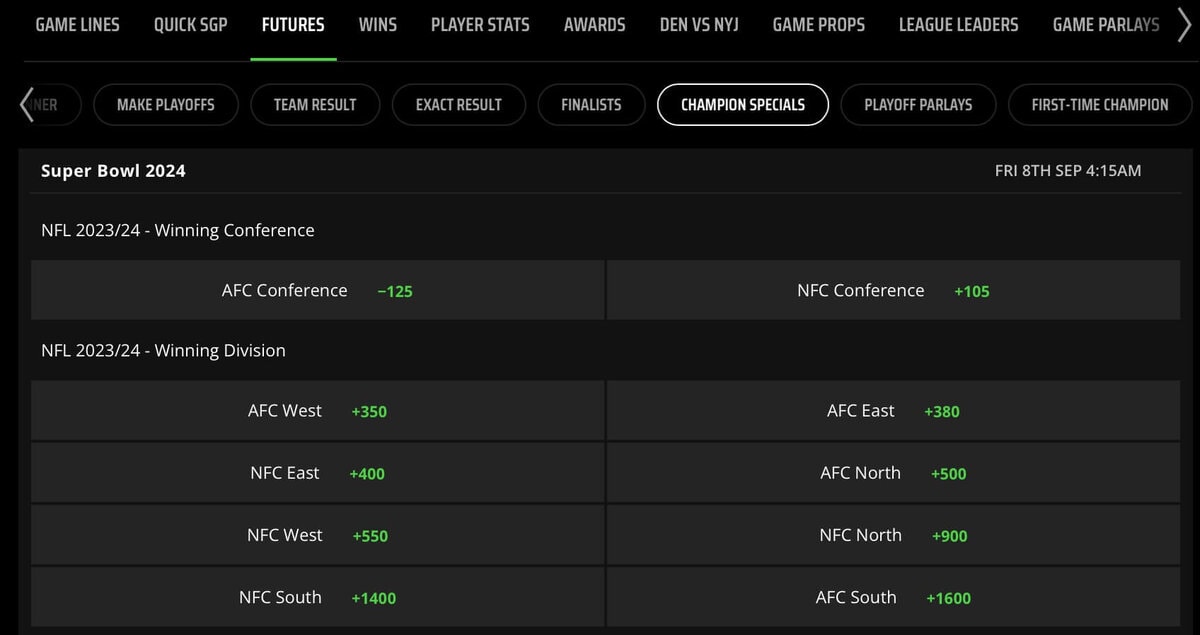 Parlay – A parlay is where you group 2 or more NFL wagers into the same betting slip. For example, you bet on the New England Patriots to beat the Houston Texans and the New York Giants to beat the Philadelphia Eagles. Your bet only pays out if both of your teams win. The benefits of making parlays wagers are the combined odds, you can chase some ridiculous payouts from small stakes if you add 5 or more legs to your betting slip.
Live betting – The term live betting refers to any wager you make while an NFL game is being played. Previously you could only make bets prior to kick-off, but thanks to advances in betting technology, you can bet throughout the game. Typically all pre-match bet types, including moneyline, totals, same game parlays, and spreads, are all available as live bets.
---
Common Mistakes to Avoid
NFL betting can be a cruel mistress, especially if you repeat the same mistakes over and over again. To leapfrog other beginners, avoid these rookie errors:
Blindly betting on favorites – Betting on big favorites is like picking up pennies in front of a steamroller. You may win 5 or 6 times in a row, but that one time you lose wipes out all of your profit and puts you squarely in the red.
Forgetting to claim a bonus – You would be surprised by how many players don't go to a sportsbook's promotions page. The best NFL betting sites have regular profit boosts for selected NFL games, insurance offers, and bonus bets. These promos allow you to chase big wins without taking on additional risk.
Wagering when it's not your day – Sometimes, no matter what you do, you just can't pick a winner. During these frustrating days, it can be tempting to bet on more games and jack up your stake in hopes of recouping losses. This is the worst thing you can do, this is how you turn a small loss into a bankroll killer. When luck is not on your side, take a breather and come back tomorrow!
Gambling on too many games – The sports betting sites are pretty good at setting accurate lines. This means there are lots of games and markets where there isn't any value. A lot of undisciplined bettors will bet on these games anyway, while the pros will bide their time and wait for a better spot. If your goal is to make money, you can't just gamble for fun.
---
Legal and Regulatory Considerations
The US online sports betting industry has undergone massive changes since 2018 when the Supreme Court ruled that the Professional and Amateur Sports Protection Act (PASPA) was unconstitutional. Since that critical ruling, more and more states have legalized online sports betting. Online NFL betting is now legal in 33 states, and it won't be long until it is fully legal across the country, with the exception of Hawaii and Utah, which have banned all forms of gambling.
To legally bet on NFL games, you must be at least 18 years, for example, in Wyoming and Oregon, you can enjoy NFL betting when you are just 18. However, in most states, you must be 21 years or older.
Sports betting is now heavily regulated in the US. Legal NFL betting sites have to apply for specific state licenses and follow strict regulations laid out by individual gaming authorities. You must only bet with licensed NFL betting sites because they are mandated to follow rules which are designed to protect you, such as fair odds, accurate bonuses, use of encryption, separating players' funds, and responsible gambling practices like deposit limits and self-exclusion.
---
FAQs
How do I choose the best NFL betting sites?
When choosing the best NFL betting sites, check if they are licensed and have a solid welcome offer + promos for existing players. Also, compare NFL odds to other online betting sites, test their customer support, and see how fast you can cash out.
What are the most popular online NFL betting strategies?
The most popular NFL betting strategies include:



Bet on teams coming off a bye


Bet on home underdogs who lost their most recent game


Create parlays with 2 to 4 bets


Bet on west coast teams playing east coast teams at home


Is it legal to bet on NFL games online?
It is legal to bet on NFL games online as long as you are physically located in a state with legalized online sports betting and you bet with a licensed sportsbook. NFL online betting is legal in 20 + states, including AZ, CO, CT, IL, IN, IA, KS, LA, MA, MD, MI, NJ, NY, OH, PA, TN, VA, WV & WY.
Can I bet on live NFL games?
You can bet live on NFL games. Live football betting markets have become extremely popular over the last few years, and now all the best NFL sportsbooks like BetMGM, FanDuel, and DraftKings offer extensive live markets, including NFL moneyline bets, spread, and over/under.