Gamble USA strives to improve your online gambling experience. We aim to help you play safely, make informed decisions when gambling, and increase your betting knowledge through our guides.
We adhere to strict editorial integrity; our content may contain links to products from our licensed & legal US partners.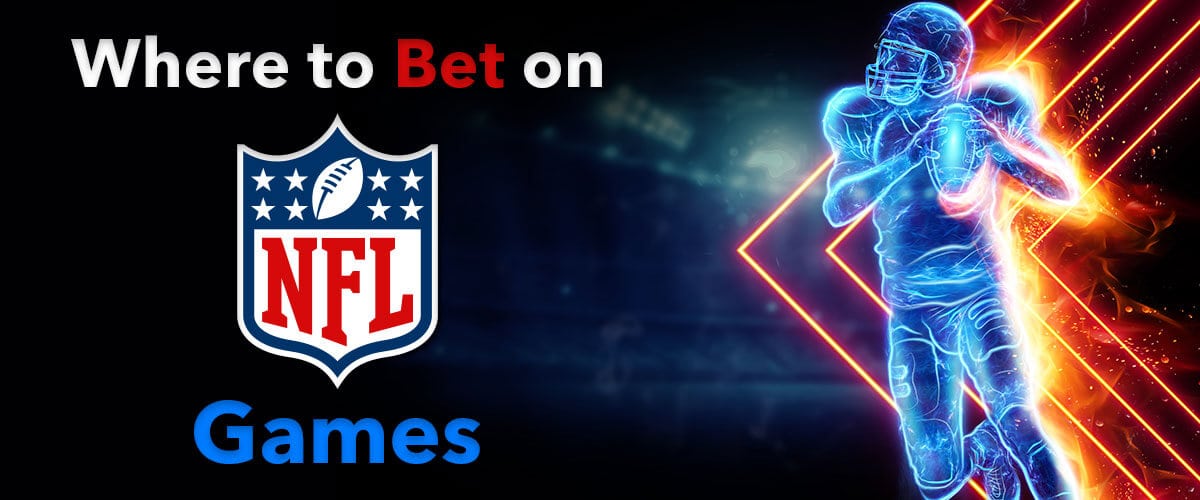 Betting on the National Football League games beyond the borders of Nevada used to be a big no-no.
Fast forward to when the federal ban was lifted in 2018, and the legal US sports betting industry is generating billions in revenue, with no signs of slowing down.
In June 2018, New Jersey became the first of more than 30 states to have some form of legalized sports betting on the books, with Ohio being the most recent after going live in 2023.
More than a dozen legal online sportsbooks have already received approval in the Buckeye State, many of whom launched on day one. Ohio even has legislation to allow approved restaurants, bars, and grocery stores to house sports betting kiosks in their establishments. A first for the US sports betting industry.
NFL football betting with a reliable sportsbook, overseen by local state gaming commissions, guarantees fair play, reliable transactions, and secure sensitive information. The same can't be said for unregulated offshore betting sites.
By revenue and ratings, DraftKings and FanDuel lead the pack, but PointsBet, BetMGM, and BetRivers aren't far behind in terms of features and favorable NFL betting lines offered.
Below we go over the best legal NFL betting apps, the welcome bonuses they offer, their existing customer promotions, type of bets, state availability, standout features, and steps to getting started.
NFL Betting Online Sportsbooks
States Where You Can Bet on NFL Games Legally
More than 30 states have some form of legal sports betting, with some states having dozens of legal online sportsbooks to choose from, others like Oregon and Rhode Island, just one. Sports betting in Maine, Massachusetts, and Nebraska is approved but not yet live. States like Delaware, New Mexico, North Carolina, North Dakota, South Dakota, Washington, and Wisconsin only allow legal sports betting in person.
Complete list of states where online NFL betting is legal:
Arkansas
New Hampshire
Oregon
Rhode Island
How To Verify If An NFL Betting Site is Legal in the US
It's common for online NFL betting sites to post regulation information at the bottom of their home pages. It is usually accompanied by either authorized or licensed by whatever governing body oversees legal sports betting in your state. Any retail partnerships will also be listed. The bottom portion of promo terms and conditions or FAQ help sections can also be good places to find additional information.
How to Bet on NFL Games Online Legally
Once you've decided on an NFL online sportsbook, it will take less than five minutes to create an online sportsbook account, claim the welcome bonus, and start placing bets on the Super Bowl or other NFL games. Bettors must be 21 years of age and physically located in an approved state. Geolocation checks will be performed.
Step 1: Choose an online sportsbook or mobile app
After using this write-up and any reviews to aid in deciding what NFL online gambling site best fits your style, it's time to sign up. To begin the registration process, find the join or sign up button, usually in the top right corner of the homepage, and click on it.
Step 2: Create an account
Along with creating a password, you'll need to provide verifiable personal information, including your name, email, date of birth, address, phone number, and the last four digits of your social security number. Some NFL betting sites may ask for a picture of your ID. If there are any boxes to be checked, you must do so before being allowed to move on.
Step 3: Claim welcome bonus
The way to claim welcome bonuses varies. Each sportsbook will have a dedicated promo section. Always be sure to read the fine print before making any deposits. For some, you'll need to enter promo codes or opt-in during the registration process. Others will automatically apply on your initial deposit or first bet. Other requirements may be attached to qualify or dictate how free bet credits can be used.
Step 4: Deposit
Any online sportsbook worth using will have multiple instant deposit methods available. These may include credit cards or debit cards, online bank transfers, PayPal, and even Venmo. For more traditional types of deposits, checks can be mailed, or cash can be dropped off at retail locations.
Step 5: Place your NFL bet
Depending on the betting site, NFL bets can be accessed from multiple places on the homepage. The moneyline, point spread, and total points will be listed for each game. Click on a team or the matchup box to find additional bets. Some online sportsbooks may provide a link in the box. Once you've selected a side, a bet slip will populate. This is where you'll be able to enter stakes to see potential payout or combine picks into a parlay. Live betting is done the same way.
Step 6: Withdraw winnings
While less abundant than instant deposit options, most betting sites will have a few ways to get you your winnings quickly. PayPal is the preferred method for most. The first transaction may take longer, but on average, money will reach your account within 1-5 days of requesting a payout.
Betting on NFL Games Explained
Traditional ways to wager on NFL football games include moneylines, point spreads, over/unders, prop bets, futures, and parlays, which are a combination of individual wagers into one.
These wager types can often be found when live betting, which has become an industry standard feature. The amount and type of wager options vary widely from NFL betting site to site. Live betting odds change regularly based on how the game is going. Another welcomed feature adopted by most online sports betting sites is the early cash-out option. This NFL betting online feature allows sports bettors to cash out, based on live betting odds, before the game is finished. To do so, visit your open bets. If applicable, the payout will be listed on the wager, along with a button to confirm. Here's an explainer on how to bet on NFL games across most common betting types.
Moneylines
A moneyline bet involves picking the outright winner of the contest. The favorite is indicated by the (-) and the underdog with a (+). The number next to the +/- is the football game's odds and expected payout on a $100 wager. The further away from an even split the number gets, the more or less you can expect to make.
For example, PointsBet sportsbook has the Kansas City Chiefs as the favorites to win the Super Bowl at +375. If you bet $100, you can expect to win $375. If the odds were -375 and you wagered $100, you would profit $26.67.
Points Spreads
Oddsmakers set the point spread in an attempt to split the action as evenly as possible. Bettors are wagering on if a team wins or loses by more or less than a specific amount. Landing on the number is considered a push, and money will be returned. The spread can change as bets and new information come in.
Each sport has key numbers bettors should be aware of. When betting on NFL games, those numbers are 3, 4, 6, 7, and 10. Pay attention to half points. With the addition of alternate lines, bettors can usually buy down the spread of the favorite or add the hook (0.5) to underdogs for push purposes.
Over/Unders
Like spread bets, over/unders are based on the expected point total and deciding if the result will be over or under that number. These totals can be for the game, half, or quarter. Most prop bets will be of a similar style.
Prop bets
Prop bets can be player or team related, and include over/unders, yes/no, and range selection. Most betting sites will allow you to parlay designated options from the same game together. There is usually a dedicated section for same game parlay possibilities found within the more bets portion of a contest. Some unique NFL props include the octopus bet, Gatorade color, and on the coin toss.
Futures bets
NFL futures are long-term bets on things like the team to win the Super Bowl, division and conference champs, team win totals, player stat totals, and season-long awards like MVP, coach of the year, and rookie of the year. NFL futures odds do change as the NFL season progresses. Most online sportsbooks will allow you to cash out early.
Parlays
If available, bettors can combine multiple picks into a single parlay bet for an increased payout. Parlays do come with the risk of needing numerous outcomes to go your way. The more legs, the more risk.
Teasers are parlays that allow bettors to adjust the point spreads by a designated amount. The number on favorites will come down; underdogs will go up. By doing so, bettors curve some risk but give up a portion of the payout. Some online sportsbooks will provide teaser options directly from the bet slip. Others will require bettors to select the alternative spread prop bet for each game. You'll have more customization with the latter.
Best Legal NFL Betting Sites
DraftKings Sportsbook – Best Legal NFL Sportsbook Overall –
FanDuel Sportsbook – Best NFL Free Bet Bonus
BetMGM Sportsbook – Fastest Payouts
PointsBet Sportsbook – Unique Features
BetRivers Sportsbook – Second Chance Bet
The top legal NFL betting sites below check all the boxes regarding ratings, accessibility, ease of use, NFL odds, and features. Along with web browser access, most legal NFL betting sites are available for Android and iOS mobile devices. Mobile sportsbook apps can be downloaded from their respective app stores and installed like any other. The BetRivers mobile betting app is broken up by individual states.
In case you're wondering "Where can I bet on NFL games legally?" this list is a pretty good starting point.
PointsBet Sportsbook
10 x $100 Second Chance Bets
21+. T&C Apply
21+. T&C Apply
Awesome live betting
Multiple bet types
Huge range of sports & markets
10 x $100 Second Chance Bets
21+. T&C Apply
21+. T&C Apply
PointsBet sportsbook has all the bells and whistles to make it one of the best NFL betting sites. The online sportsbook is in 13 states (CO, IA, IL, IN, KS, LA, MD, MI, NJ, NY, PA, VA, WV) and features 19 sports betting markets to choose from, along with some of the best NFL betting odds offered consistently.
Bettors can get to the complete NFL betting section by selecting Sports A-Z from the drop-down menu in the top left corner of the homepage and going to football or by scrolling further down the sidebar to find the NFL in the featured leagues portion. The full list of sports is also available at the bottom. Bettors in 10 states (CO, IL, IA, IN, MI, NJ, NY, VA, PA, WV) can take advantage of lightning bets, which are wagers on the result of the current drive, next play, or how the next points will be scored.
Along with fantastic NFL odds, PointsBet provides new bettors with a pair of generous welcome bonus second chance bets totaling up to $2,000 when promo code GUSA is used. The first is a $500 fixed odds bet, refunded in free bet credits if your wager settles as a loss. The other is a pointsbetting wager up to $1,500 back in bets credits (Louisiana and New York not included). Click our PointsBet link to claim the PointBet bonus and start betting.
Free bet credits will be processed within 24 hours and expire after seven days. Stakes using bet credits are not included in any payouts. Bet credits require a one-time playthrough before being available to withdraw. PointsBet's best bonus for existing customers is the pair of daily odds boost tokens to be used on a 3+ leg parlay and 3+ leg same game parlay. There are no minimum or maximum stakes.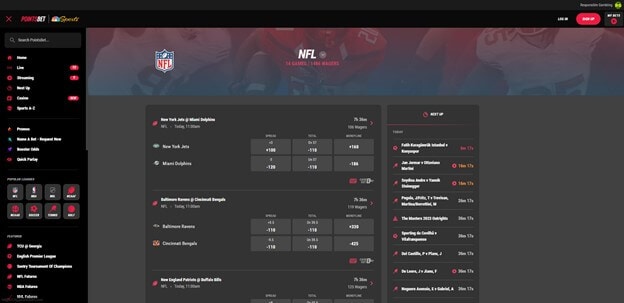 FanDuel Sportsbook
No Sweat First Bet Up To $1,000
21+. T&C Apply
21+. T&C Apply
Convenient banking
Massive choice of sports
No Sweat First Bet Up To $1,000
21+. T&C Apply
21+. T&C Apply
The most profitable and popular legal US online sports betting site, FanDuel sportsbook, sets the standard for up-and-coming betting sites to emulate. With a clean look, intuitive interface, and extensive same game parlay options, FanDuel has found its way into over 18 states (AZ, CO, CT, IL, IN, IA, KS, LA, MD, MI, NH, NJ, NY, OH, PA, TN, VA, WV & WY).
FanDuel features 19 sports and aggressive lines, often leaning towards NFL underdogs. The NFL is listed in multiple spots on the homepage, including under the promo ads at the top of the screen and on the sidebar to the left. Look for the popular section or scroll to the bottom and go through football. If it's NFL game day, bettors can find the slate posted on the homepage.
To attract new bettors, FanDuel offers a welcome bonus to all new customers of a no sweat first bet of up to $1,000. The no sweat bet requires a $10 minimum deposit. Any free bet credits will settle in your account within 72 hours and expire after 14 days. They don't have to be used all at once. FanDuel's favorite way to reward existing users is with free bet opportunities. Usually, with a $25 cap.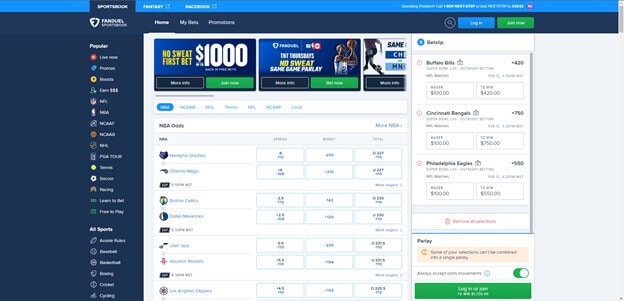 DraftKings Sportsbook
Up To $1,000 Deposit Bonus
21+. T&C Apply
21+. T&C Apply
The best sportsbook
Amazing odds & offers
Awesome betting app
Up To $1,000 Deposit Bonus
21+. T&C Apply
21+. T&C Apply
A close second for the biggest legal US betting site, DraftKings sportsbook does everything well, which is a big reason they are operating in more states than any other betting site, at 20 states (AZ, CO, CT, IA, IL, IN, KS, LA, MD, MI, NH, NJ, NY, OH, OR, PA, TN, VA, WY, WV). The sportsbook is the only online option currently available in Oregon.
With 26 sports to pick from and a plethora of wager options within them, DraftKings ranks towards the top of sports betting markets offered by US betting sites. The sportsbook features competitive NFL odds, with one side usually in line with the other most generous NFL oddsmakers.
Bettors can find the NFL betting section in multiple spots on the sidebar to the left. It's the first option listed under popular at the top of the page, or it can be found by scrolling down and going through the football link. On NFL game days, the game lines tab, located just below the homepage ads, will also pull up the NFL.
The DraftKings welcomes bonus initial deposit match of up to 20 percent of $1,000 released $1 at a time for every $25 spent could use some work. Bettors have 90 days to earn their maximum bonus amount. The sportsbook does make up for it with plenty of other worthwhile weekly offers for existing customers, including $5 free bets, bet insurance, and parlay profit boosts.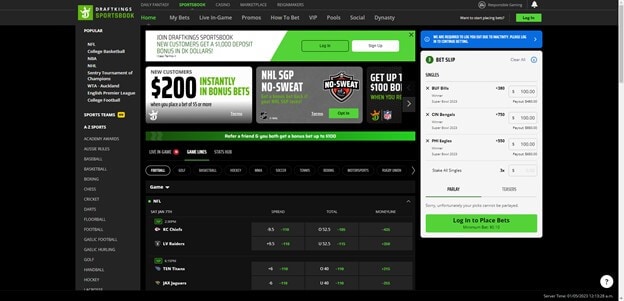 BetMGM Sportsbook
Promo Code: GAMBLEUSA
Up To $1,500 In Bonus Bets
21+. T&C Apply
21+. T&C Apply
Promo Code: GAMBLEUSA
Super fast payouts
Live streaming
Promo Code: GAMBLEUSA
Up To $1,500 In Bonus Bets
21+. T&C Apply
21+. T&C Apply
BetMGM sportsbook has everything bettors could ask for, including 25 sports to peruse, quality NFL betting odds on favorites, and rewards points, redeemable at MGM retail locations nationwide. What began as a Vegas retail sportsbook in 1973 now operates online betting sites in 19 states (AZ, CO, IA, IL, IN, KS, LA, MD, MI, MS, NV, NJ, NY, OH, PA, TN, VA, WV, WY). Nevada bettors must sign-up in person at the MGM Casino.
Along with an expanding list of same game parlay options, BetMGM has a new feature making its way to the scene recently, known as the edit my bet option. Along with increasing stakes, bettors can add, swap, or remove picks.
The NFL betting section can be reached by directing your attention to the tabs above the promo ads at the top of the homepage. One of the first listings is for the NFL. Bettors can also get there by going through the football link on the sidebar to the left.
To welcome new bettors, BetMGM offers a bonus bet up to $1,000 when you deposit at least $10 and use promo code GAMBLEUSA. If your bet loses and it is an amount greater than $50, you will receive five free bet credits back in equal denominations of 20% of the total amount. Free bet credits will reach your account within 24 hours and must be used in seven days or less.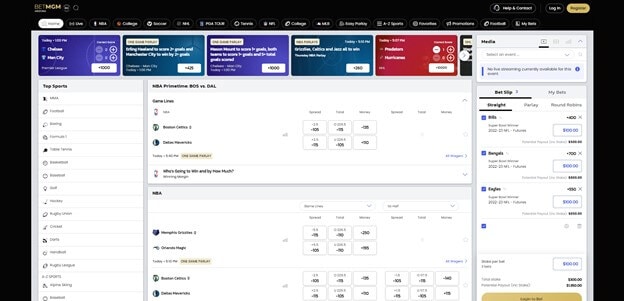 BetRivers Sportsbook
Promo Code: SPORTS
Up To $500 2nd Chance Bet
21+. T&C Apply
21+. T&C Apply
Promo Code: SPORTS
Regular promos & rewards
Generous sign up bonus
Promo Code: SPORTS
Up To $500 2nd Chance Bet
21+. T&C Apply
21+. T&C Apply
A laser-known name in the online sports betting industry, BetRivers sportsbook has been making inroads by offering some of the best NFL betting lines in the business. The online betting site is in 14 states (AZ, CO, CT, IL, IN, IA, LA, MI, NJ, NY, OH, PA, VA, WV) and features 27 sports betting markets.
To quickly reach the NFL betting section, select the football icon at the top of the page or search the popular portion of the sidebar to the left. A full list of sports can be found if you keep scrolling.
To entice bettors BetRivers way, the sportsbook offers a second chance bet of up to $500 on the first wager ($100 in New York). Use promo code SPORTS to claim the bonus. A minimum $10 deposit is required. Free bet credits will hit your balance within 24 hours of the wager settling and expire after 14 days. Bet credits can only be used on odds of -200 or higher.
Existing NFL bettors can enter weekly or entire NFL season same game parlay contests to win a share of free bet credits. BetRivers also features a rewards program where bettors can earn points that can be redeemed for profit boosts, free bet credits, or cash.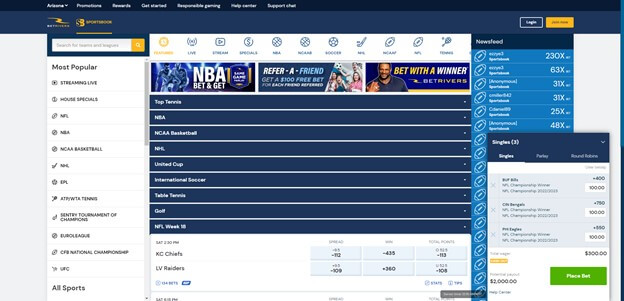 NFL Promotions, Free Bets, and Football Betting Promo Codes
Thanks to a thriving and extremely competitive industry, the start of the NFL season and around the Super Bowl are great times to find boosted welcome bonuses and seasonal offers. The most common bonuses are bonus bets and first bet insurance. For special NFL offers, you can visit the following links:
If taking advantage of a free bet, stakes will be refunded if the wager settles as a loss. Bet insurance is similar to a free bet, but stakes are only refunded if a portion of a parlay comes up short (usually one leg). Betting promos can be earned by being on the losing side of a wager with a free bet or bet insurance in place. Betting sites will also occasionally reward bettors with small freebies.
Promo terms and conditions will vary from book to book and offer to offer. Some bonuses may require you to meet certain stakes or odds minimums. Existing customer promotions usually require bettors to opt-in from the promo page. Welcome bonuses can only be claimed once per residence.
Legally Betting on the Super Bowl 2023
The Super Bowl is not only the most watched US sporting event, but it's also the most bet on. According to the American Gaming Association, a record 31.4 million Americans wagered a record $7.61 billion on the big game in 2022. With more states still to pass sports betting legislation, these numbers will only grow.
Along with all the usual ways to wager on an NFL game, prop bets are expanded to include exotic options involving the national anthem, coin toss, halftime performance, Gatorade celebratory shower color, and the like.
FAQ's
Can I legally bet on NFL games?
Betting on NFL games is legal in more than 30 states. The majority of which allow for online betting. For a full list of states, see above. Use a state-regulated online sportsbook to ensure trusted transactions and proper privacy protections.
On which sites can I bet on NFL games?
There are dozens of online sportsbooks, but the best NFL betting sites for beginning and seasoned bettors alike are PointsBet, DraftKings, FanDuel, BetMGM, and BetRivers. All of these online sportsbooks have high ratings, generous bonuses, and competitive odds.
Which is the best NFL gambling app?
PointsBet sportsbook is the best NFL betting site and mobile betting app thanks to having the best odds on NFL favorites, live betting lightning bets, and a pair of welcome bonus second chance bets totaling up to $2,000.
Can I bet online on NFL games in Vegas?
Sports bettors can wager on NFL games using online sports betting apps in Nevada, but they need to register for an online betting account in person at a corresponding Las Vegas retail sportsbook. Features and betting markets may be limited compared to out-of-state versions.
Where can I bet on NFL games legally online?
You can legally bet on any licensed sportsbook that offers to bet on NFL games, as long as you're in a state that allows online sports betting and you're 21 or older.
Is online NFL betting safe?
Yes, NFL online betting is completely safe if you stick to licensed & regulated sportsbooks. On the other hand, if you go to offshore and unregulated venues, you risk losing your money and your financial information.
Can I join more than one NFL sportsbook?
Absolutely. Not only is it allowed, but it's recommended as well, as by having accounts at multiple NFL betting sites, you can work to grab the most lucrative bonuses and the best betting odds at any given time.
What are the best NFL betting sites?
The best NFL betting sites are:

1. DraftKings Sportsbook
2. FanDuel Sportsbook
3. BetMGM Sportsbook
4. PointsBet Sportsbook
5. Sportsbook