Gamble USA strives to improve your online gambling experience. We aim to help you play safely, make informed decisions when gambling, and increase your betting knowledge through our guides.
We adhere to strict editorial integrity; our content may contain links to products from our licensed & legal US partners.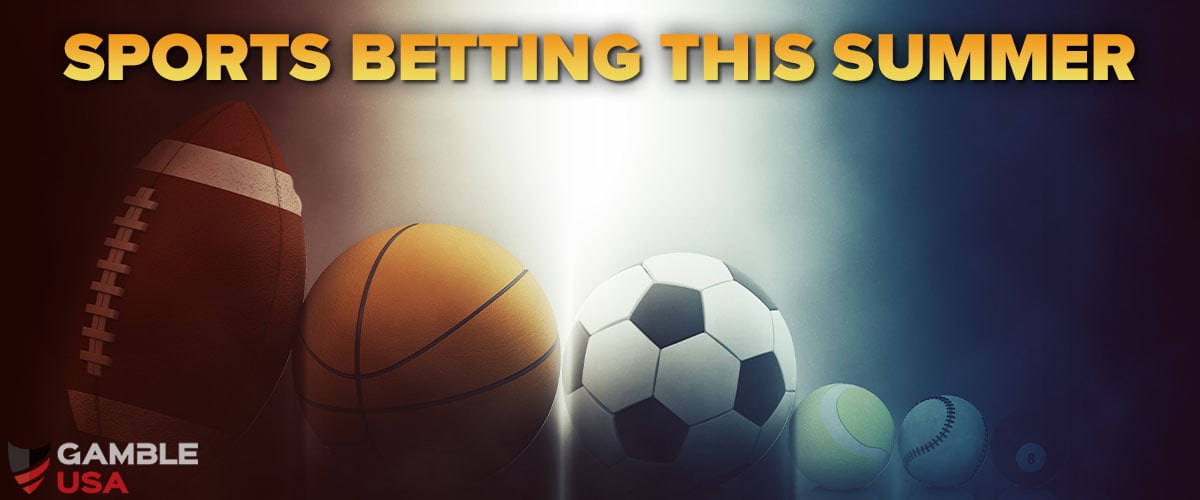 Summer is one of the only times of the year where three of America's biggest sports are in a period of inactivity.
With the new NFL, NBA and NHL seasons slowly looming into view, summer is the perfect time for some other sports to take center stage. With top sporting action taking place all over the world over the next few weeks, there is plenty for you to sink your teeth into.
10 Sports Betting Picks for October 2023
Visit any of the listed sports betting operators to find competitive odds in the following sports!
#1 Wimbledon
3rd July – 16th July
Novak Djokovic to win Men's Singles
Despite the emergence of a new breed of potential Grand Slam Champions, Novak Djokovic still very much remains the man to beat. Having won both the Australian and French Opens, Djokovic is seeking his third major of the year and potentially set up the prospect of completing the calendar Grand Slam. The winner of the last four Wimbledons, the Serbian sensation remains on track to win a record-equalling eighth title. If you're a tennis bettor, Wimbledon and Djokovic are definitely worth keeping in your crosshairs.

#2 Tour de France
1st July – 23rd July
Jonas Vingegaard to win Yellow Jersey
The Tour de France is one of sports most watched events attracting an audience of billions each year. This year's Tour has been billed as a match up between two former champions, Jonas Vingegaard and Tadej Pogacar.
Both riders are supreme in the mountains but it's expected that last year's winner Vingegaard should just have the edge having posted a series of great results in the lead up to this year's Tour.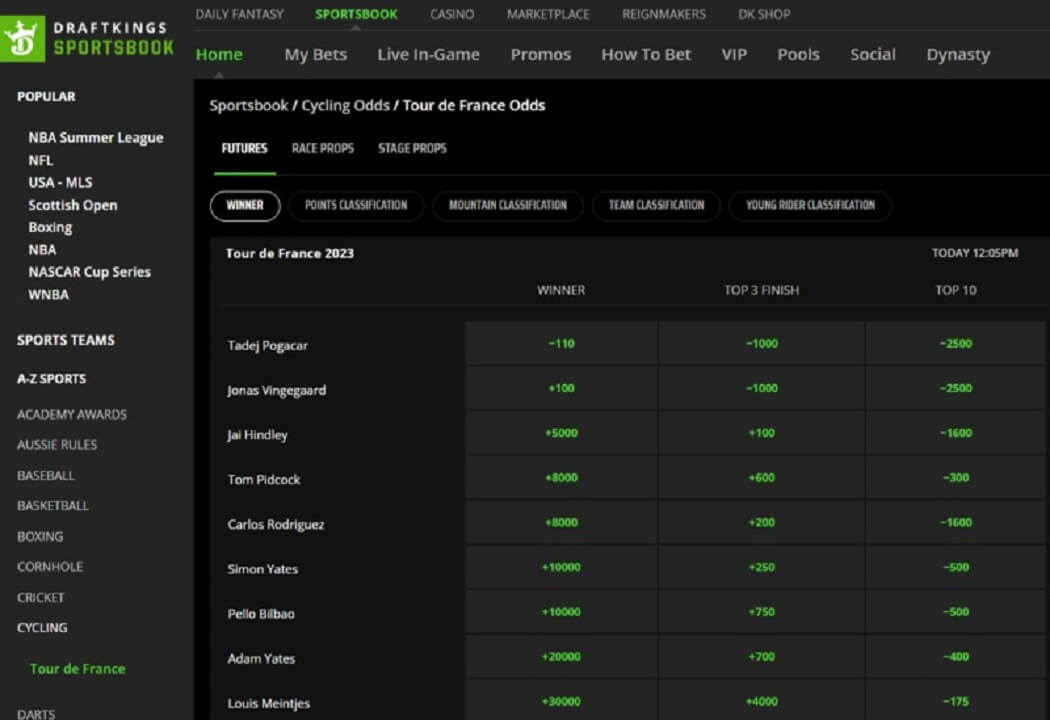 #3 MLB
Throughout summer
Atlanta Braves to win the World Series
Summer is when baseball takes center stage and July and August are often critical months for teams looking to wrap up a postseason berth.
With the playoffs on the horizon it is the Atlanta Braves who are looking to cement their position as World Series favorites. Holding a handsome lead in the National League, the Braves look like the team to beat.

#4 British Open
20th July – 23rd July
Rory McIlroy to end nine year major drought
Rory McIlroy hasn't won a major for almost a decade but in the last two years has come close on several occasions. Despite missing the cut at this year's Masters, the Northern Irishman has posted top ten finishes in both the PGA Championship and US Open.
A winner of the Open back in 2014, McIlroy is no stranger to success on the links and looks well placed to taste success on home soil once again. If golf betting is your cup of tea, this is the event to bet on during the summer.
#5 FIFA Women's World Cup
20th July – 20th August
USA looking for 5th title, 3rd in succession
After a four year wait, the FIFA Women's World Cup heads to Australia and New Zealand and it's the USA who are the favorites for glory once again. A group consisting of the Netherlands, Portugal and Vietnam shouldn't pose too many issues, however potential knockout matches against fellow top contenders such as England, Canada, France and Germany should prove far trickier. With an abundance of stars in their line up, the expectation is that Team USA should just have too much class and experience for their rivals.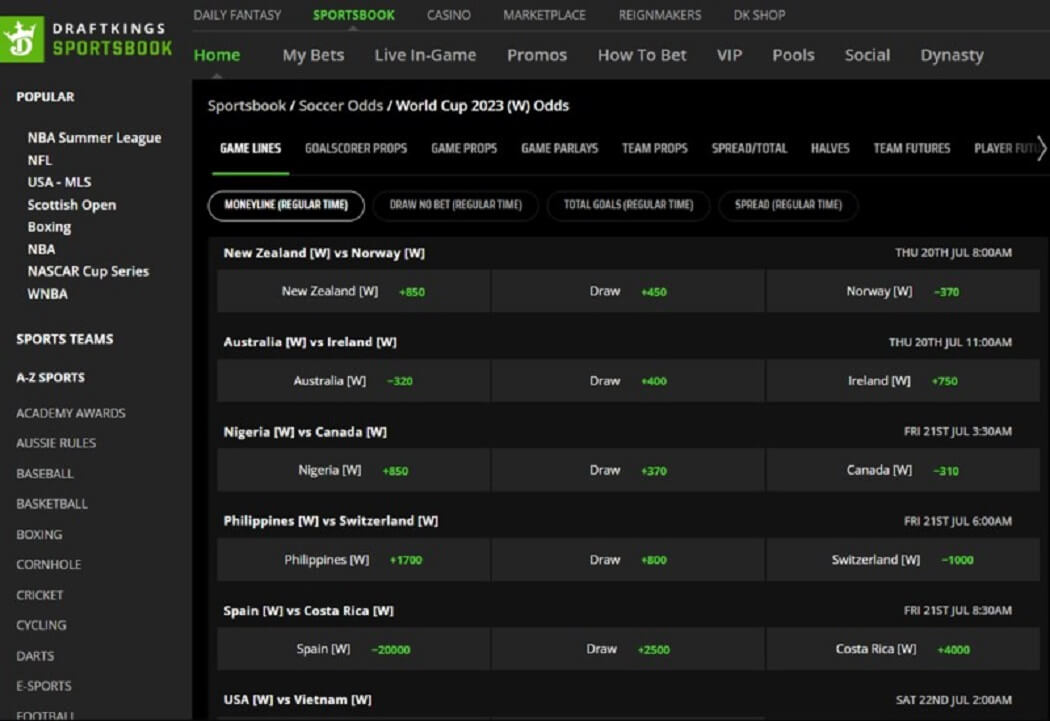 #6 Rugby Championship
July 9th – July 30th
New Zealand aiming for perfect World Cup preparation
This year's Rugby World Cup has the potential to be one of the best editions of the tournament with several teams in with a real shot of victory. New Zealand have long been the dominant force in men's rugby and will be looking to head into the World Cup full of confidence fresh off the back of what they hope will be another successful Rugby Championship.
An annual tournament between the Southern Hemisphere's greatest sides – New Zealand, Australia, South Africa and Argentina, the All Blacks will be hoping to land the Championship for the third consecutive year.
#7 Horse Racing
Throughout summer
Cody's Wish to win the Grade 1 Whitney Stakes
Horse racing is a sport that never rests, and between July and August there are several high profile Stakes races including the United Nations Stakes, American Oaks, Vanderbilt Stakes and million dollar Whitney Stakes. The Whitney Stakes is one of the most valuable races raced on American soil and a strong field will line up for this year's contest. Placed at the top of the market will be Cody's Wish who will be looking to add to the four Grade 1 prizes he has previously won.
#8 Amundi Evian Championship
27th – 30th July
Rose Zhang looking for first major
The majors keep on coming thick and fast on the LPGA Tour, and the world's best female golfers will descend on the picturesque French town of Evian for this year's Evian Championship. It's been an exciting year on Tour with Rose Zhang emerging as one of the sport's newest stars. Tipped to be the face of the women's game for years to come, Zhang will head to the Evian as the tournament favorite and it wouldn't be a surprise to see her lift her first major title.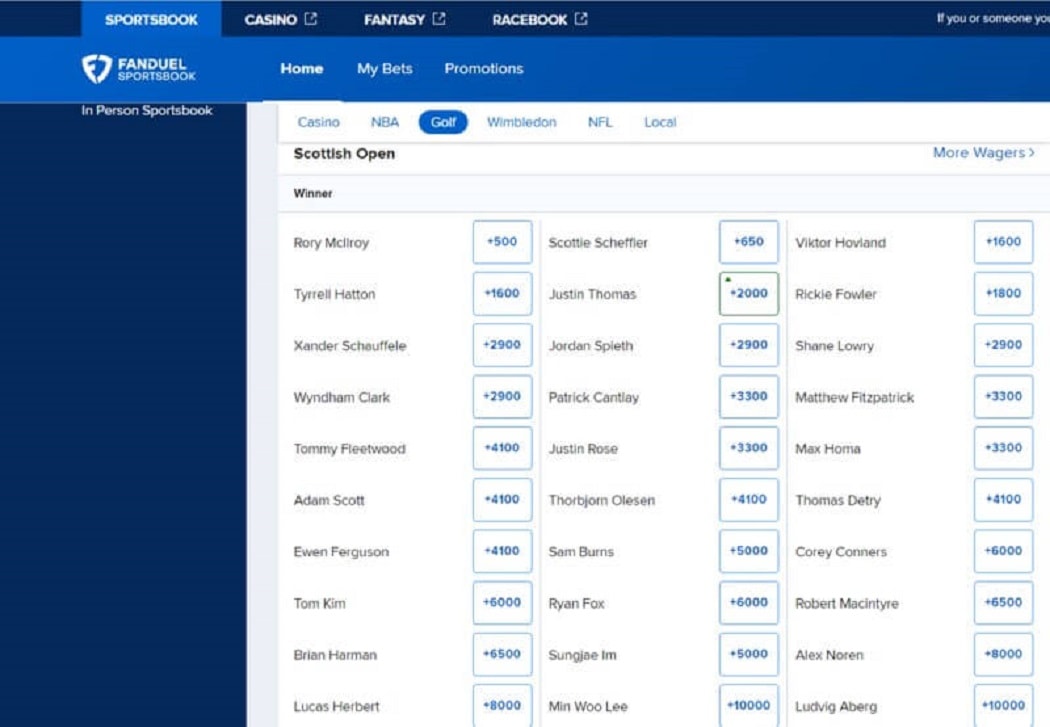 #9 Hungarian Grand Prix
23rd July
Max Verstappen looking to extend championship lead
Max Verstappen has been a tour de force in this year's Formula 1 Championship. The winner of the last six F1 races, the Dutchman heads to the world famous Hungaroring full of confidence and will be expecting to win his seventh race in succession. Competition will come from Lando Norris, Fernando Alonso and Lewis Hamilton but it's Verstappen who they will all need to beat.
#10 NFL Hall of Fame game
August 3rd
New York Jets to beat the Cleveland Browns
The annual Hall of Fame game officially marks the start of the NFL Preseason. This year's game pits the Cleveland Browns against fellow AFC hopefuls the New York Jets. Many believe that the Jets have a good shot of reaching the Super Bowl and whilst it's unlikely that we will see Aaron Rodgers make his first start for gang green, the Jets will want to set the tone for their season with a big win.
Best Sports to Bet on This Summer
Summer is the perfect opportunity to get involved in some of the world's most popular sports. Offering a fantastic range of different betting options and markets, the sports we have highlighted below can offer you some action packed betting over the next few weeks.
⚽Soccer
This summer all eyes will be on the Women's World Cup. This year's World Cup will take place in Australia and New Zealand and looks set to be the biggest ever edition of the tournament.
Lasting over a month, each and every game will have dozens of betting markets available to US bettors.
In play and prop bets market
Soccer has long been recognized as one of the best sports to bet on in play, with the odds potentially changing dramatically, in play bets can be placed on markets such as the outright result, next scorer and the timing of the next goal.
As well as having the ability to bet in play, bettors can also place bets on a variety of team and player prop bets – markets include the total amount of goals, total amount of cards, half specific bets as well as game specific bets such as the total amount of corners.
🏌️Golf
Summer golf betting is usually dominated by The Open.
The Open is the oldest major in the world and all of the game's biggest stars have been able to get their hands on the famous Claret Jug.
Competitive outright markets
With tournaments played almost every week of the year, golf is a hugely popular sport to bet on. With tournament fields often 156 men deep, the outright market odds usually offer tremendous value. Ahead of the biggest tournaments some of the best players on the planet are usually priced in double figures. Golf bettors can often see tremendous returns by backing some of the PGA Tour's most established stars.
🎾Tennis
Similarly to golf, the world of tennis never stops but its key months are held over the summer. Wimbledon is the jewel in the crown before players start thinking about the US Open and the series of highly competitive warm up tournaments.
Parlay and game specific prop bets
Another brilliant sport to bet on whilst in-play, there are so many different tennis bets that you can look to place.
Tennis is brilliant for single outright bets or combining selections into parlays. Prop bets can often add in a layer of fun with bettors able to bet on markets such as the total number of games, total number of sets, whether the match will have a tie break, the amount of aces and even how long a match will take.
⚾Baseball
Summer is when the MLB comes into its own. Without the distraction of the NFL and NBA, often baseball is the hottest ticket in town.
Prop bets lead the way
Baseball is a great sport to bet on, as well as predicting outright results, bettors are provided the opportunity to bet totals, or can place a series of over or under bets.
Another sport that lends itself kindly to the world of player and team prop bets, bettors can bet on players to score a home run, or whether their team will win over or under a certain amount of games for the season.
🏇Horse racing
Horse racing is one of the best sports in the world and offers competitive action almost every day of the week.
Racing from all over the world hots up over the summer with huge races such as the Belmont Derby and fixtures such as Royal Ascot taking place.
Win, place and show bets
Offering bettors tremendous value, US horse racing fans can bet on their horse to win, place or show.
A win bet does exactly what it says on the tin with bettors able to make some nice returns if their horse crosses the line first. It's not often where you can make money if your bet doesn't win but horse racing is one of those rare sports where you can make returns if your horse finishes second or third. A place bet is where you will make money if your horse finishes second and a show bet is where you can see some returns if your horse finishes third.
List of All Sports Betting Events During the Summer
Here are just some of the sports you can look forward to betting on this summer
| 📅Date | 🎉Event | 🏟️Sport |
| --- | --- | --- |
| 1st - 23rd July | Tour de France | 🚴Cycling |
| 3rd - 16th July | Wimbledon | 🎾Tennis |
| 13th - 16th July | Genesis Scottish Open | 🏌️Golf |
| 14th - 30th July | FINA World Aquatic Championships | 🏊Swimming / Diving |
| 19th - 23rd July | Ashes: 4th Men's Test | 🏏Cricket |
| 20th - 23rd July | The Open | 🏌️Golf |
| 20th July - 20th August | FIFA Women's World Cup | ⚽Soccer |
| 23rd July | Diamond League: London | 🏃‍♀️Athletics |
| 23rd - 30th July | Tour de France Femmes | 🚴Cycling |
| 27th - 30th July | Senior British Open | 🏌️Golf |
| 27th - 31st July | Ashes: 5th Men's Test | 🏏Cricket |
| 27th - 30th July | Amundi Evian Championship | 🏌️Golf |
| 28th July - 6th August | Netball World Cup | 🏐Netball |
| 31st July - 6th August | CITI Open | 🎾Tennis |
| 31st July - 6th August | Mubadala Silicon Valley Classic | 🎾Tennis |
| 1st - 27th August | The Hundred | 🏏Cricket |
| 3rd August | NFL Hall of Fame Game | 🏉NFL |
| 3rd - 13th August | UCI Cycling World Championship | 🚴Cycling |
Where to Bet This Summer?
If you are looking to place a bet this summer then there is certainly no shortage of options. Each of our featured sportsbooks offer a fantastic range of welcome offers and bonuses and have all of the major sporting events covered. With so much choice, the perfect online bookmaker is ready and waiting for you.
Final Thoughts
As our sporting calendar indicates, there is a plethora of sports that you can bet on this summer. With the majority of US sportsbooks offering markets across each of these sports, you can fully immerse yourself into a whole host of new and exciting betting markets.
This summer you can feel part of some of the globe's biggest sporting events with hallmark events such as Wimbledon, The Open, Tour de France and Women's World Cup often attracting huge global audiences.
If sports betting is legal in your State, the majority of sportsbooks should contain markets that are ready for you to bet on today.