Gamble USA strives to improve your online gambling experience. We aim to help you play safely, make informed decisions when gambling, and increase your betting knowledge through our guides.
We adhere to strict editorial integrity; our content may contain links to products from our licensed & legal US partners.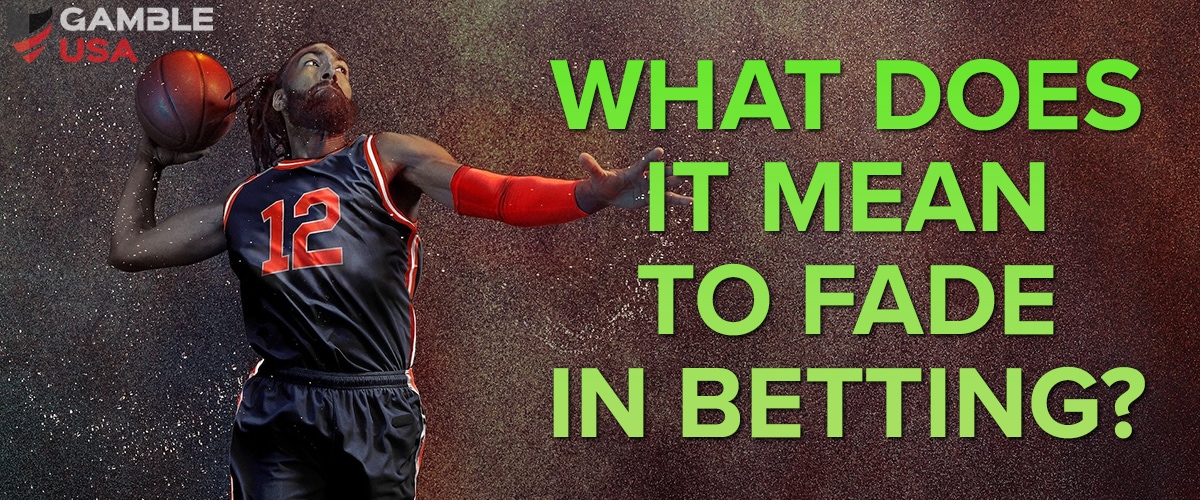 Ever wondered what a fade is in sports betting? Well, most new sports bettors would be confused unless specifically looking for the term. The basic definition of the betting strategy would simply involve picking the outcome that is not the crowd favorite.
We plan on taking you through all the details of the risky betting option and how it can be combined with a point spread to give you the best chances of some winnings.
---
What Does Fade Mean in Betting?
A fade bet is usually made against a particular team or player. The bet is the unfavored option by the general community or sport market experts. To have a reasonable chance of winning one of these bets, you're going to have to know your stuff. It isn't simply betting on the underdog and hoping for the unlikely outcome, it's taking advantage of line movements and securing a bet at the perfect time for the biggest payout.
Let's say we're interested in betting on the Houston Astros for the World Series. That would be considered a fade bet as most baseball fans would favor the likes of the Braves or the Rays. We're not saying you should go straight to the sportsbook and place this bet, we just think there's a reasonable chance they could go back-to-back as World Series champions and not the +1000 odds that most sportsbooks are putting on offer.

The key to this bet would have been to place it early. Unfortunately, you lose the insight into all the season games then. The Astros are one of the top-performing teams in the league and momentum can have a significant contribution to sports betting strategy. After having won the previous World Series, the players' mentality would have them believing they can do it again.
---
Pros & Cons of Fading a Bet
As with any betting strategy, you'll have pros and cons of using the approach. With fade betting, the benefits can be huge but so too can the downside.
You'll be in for some serious winnings while you place fade bets and this is due to most sports bettors opting to go for the favorite in the match-up.
Of course, the line movements will reflect this as more money is wagered on the favorites, so you'll need to time your bet!
Thanks to the odds being against you, you can also wager small amounts to make some winnings. This will also help you to minimize risk while betting. Take a look at the payouts for a decent fade betting option below.

Djokovic is definitely the favorite for Wimbledon but some might say this could be the rise of new, younger players on the scene. A $10 bet on Medvedev pays out a massive $170.
The difficulty with fade betting is that it will take a lot of time to gather these insights into each sports market. You can't just head to the Rugby Union section and pick an underdog early, you'll need to have some exposure to the sport and actively do research on the teams and players.
You'll also be going against public opinion, so most of the time the decision will have to be made by you alone. The odds will always be against you but it is very rewarding pulling these bets off.
---
When Fading a Bet is a Good Strategy
With all the risks that are associated with fade betting, you might want to consider when you should be placing these bets. Every opportunity is not a good one and good fade bets are quite scarce. Let's take a look at three factors that can help you place a decent fade bet.
Insider tips
Tips are the bread and butter of a sports bettors strategy. By being one of the first to come across the news of a key injury or team change, you'll have the first opportunity to bet before line movements adjust to the true probability. For this reason, you're going to have to become part of a community or forum that actively discusses the sports market so that you can get your money wagered in good time.
Professional bettors will all have access to some form of sports content that they browse through before betting. If you can't come across any tips, you might want to take a look at the form of each team going into the match. For instance, the Chicago Bears had an insane preseason to the '22 NFL season and were pitted against the 49ers in Round 1. Many thought the 49ers would be the favorite but the Bears ended up taking the match 19-10. The in-form team usually causes an upset!
Specific matchups
After you've considered the form of each team and any specific factors that could influence the outcome, you'll have to consider the specific matchup. Some teams just seem to have an edge over certain opponents and this trend usually continues.
A great example would be between the New York Jets and the Philadelphia Eagles. In a standard NFL season, the Eagles have now beaten the Jets 12 times in a row. A record that stretches all the way back to 1973. If the Jets come out firing in the next season, you might want to consider the Eagles as your fade bet to cause an upset.
Loud fans
This one might upset a few readers but there are some teams who have 'loud fans'. We'd classify these as teams that are either past their prime or they may be one of the best that has just not won anything yet.
A great example would be Manchester United in the English Premier League. They're definitely one of the best teams in the league but their results have been disappointing of late and because of this, fans always believe in the next season.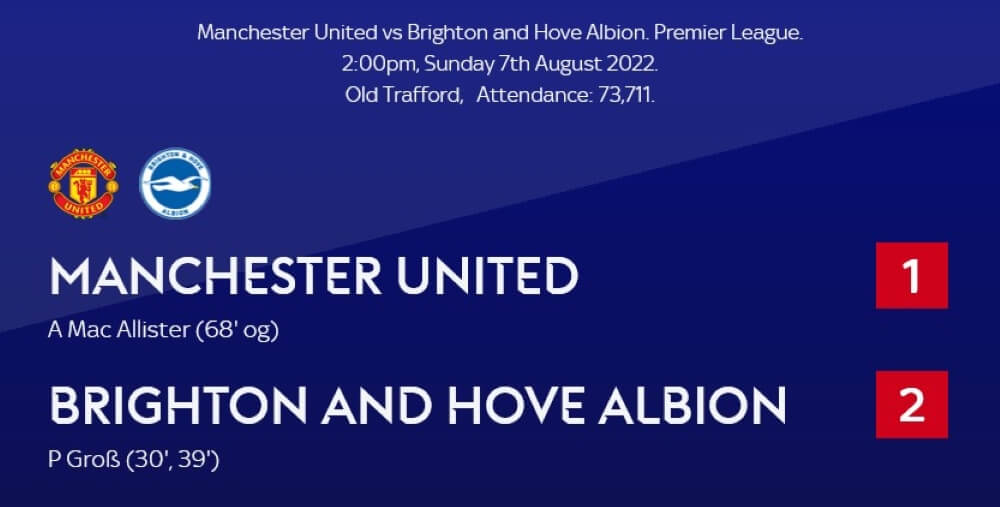 This led to one of the best fade betting opportunities for sharp bettors. Sportsbooks and fans alike considered United to bag a win at home for the first game of the 22/23 season. Unfortunately, Brighton was on a great spell of form after the preseason that saw them upset the hosts and eventually end 6th in the league.
---
Fading Scenarios
Now that we know how to apply the strategy, let's explore some of the most common scenarios for successful fade betting.
The big upset
Besides the Dolphins '72 season, most performing teams don't manage to get through the season without taking at least one loss. This scenario is quite difficult to predict but if you do apply the strategies you will have the best chance of betting on the big upset!
Keep an eye on the team or player that's leading in a specific tournament and look at their upcoming matches. You might find that a bogey team for the leaders is on the rise and this would be your best opportunity.
Uncontrollable factors
Another key fade scenario would be as simple as checking the weather. Depending on your sports market of choice, you might be able to use these uncontrollable factors to your benefit. If there's rain predicted, you could bet on a low-scoring outcome. Some matches are also just far away for a traveling team, so despite them having better results, the long travels might have taken their toll on key players and an upset could be on the cards. As you can see from the image below, the win rate of Under bets significantly increases when it rains.

Up-and-coming
Sometimes a sport just has a star on the rise that proves unstoppable for the competition. It's difficult to judge whether the form will continue or if the player is just a one-hit-wonder, but, if you can recognize the talent early on, you could take advantage of some fading bets.
A great example of this would be Carlos Alcaraz. He's one of the youngest players in history to reach the fourth round of a Grand Slam and has already battled with the likes of Djokovic, Nadal, and Zverev in the last couple of years and only continues to improve. Alcaraz showed promise from early on in his career, so always keep an eye out for newcomers to the scene.
---
Fading A Bet in Different Sports
Finally, let's consider some of the sports markets where you can fade bets. We've broken them up into team and individual sports.
Team sports
🏈Football: Probably the most common fade betting market would have to be on Football games. The NFL is so competitive that fade bets will have a decent chance of winning. But it will be difficult to accurately predict them. We recommend all betting options here as line movements can be frequent.
🏀Basketball: Another popular option would be both college and national basketball leagues. The high-scoring nature of the game is perfect to place some total and spread fade bets.
⚽Soccer: It's the perfect sport for a fade bet. One goal is all it takes for a massive upset and a big payout. Soccer leagues do have dominant teams so make sure to do your research.
⚾Baseball: It's a little more tricky than the rest but if you're familiar with the sport, baseball could be ideal for a sharp bettor. Keep track of the data that's presented each match and time you are fading bets to have the best chances.
Individual sports
🏌️Golf: Without the benefit of a supporting team, golf is a little more difficult to bet on. You'll have to keep up with the player's performance on the tour and make a bet in a key moment to have any chance of making some profits.
🎾Tennis: It is probably the most chaotic of all individual sports but there has been some consistency in results over the last couple of decades. Tennis is all about form and a player's natural talent, so be sure to watch all the matches you can and look for any players who might be cramping or struggling throughout a tournament.
🥊MMA & Boxing: Combat sports are also ideal for fade betting. Much like soccer, it only takes one moment for a fighter to cause an upset and this can happen in mere seconds. Here you'll need to take into account each fighter's style against their opponent's and what shape they're in. Always do your research on the UFC to make the best decision possible!
---
FAQs
What does it mean to fade a game?
When you fade a game, you are betting on the option less favored by the general public. You could also fade against a specific person who has predicted a match.
What does fade mean in sport?
Fade has the same meaning in most sporting markets. It means that you're betting on the opposite outcome of what everyone else believes. An example of a fade would be to bet on Novak Djokovic to lose Wimbledon, most would consider him the favorite.
What is the opposite of fade in betting?
Fade's opposite would simply be betting on the favorite. It means that you think the outcome of a match is quite obvious and there's just no way there will be an upset. You would also be agreeing with what the general sports betting public would have to say about the match.
What is a fade in soccer?
A fade in soccer is the option to specifically bet against a player or team. Fade betting options could be just about anything. You might feel that Lionel Messi will be on a bad spell of form and bet against him scoring any goals in a specific Inter Miami match. By doing this, you are fading a bet as most bettors would assume he would be scoring.