Gamble USA strives to improve your online gambling experience. We aim to help you play safely, make informed decisions when gambling, and increase your betting knowledge through our guides.
We adhere to strict editorial integrity; our content may contain links to products from our licensed & legal US partners.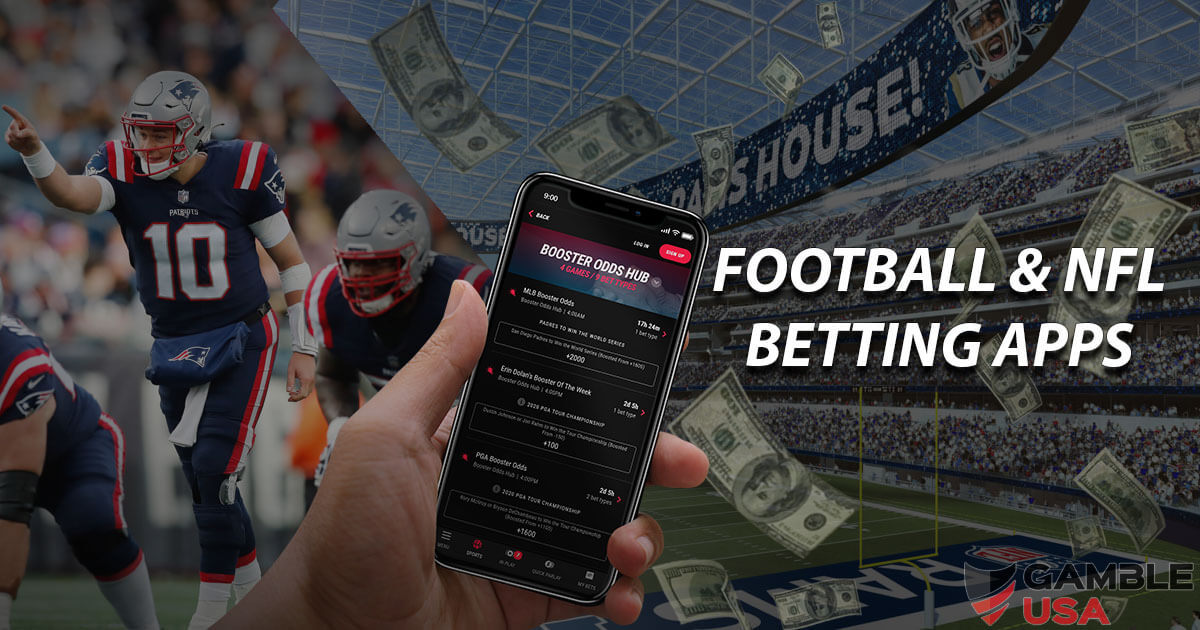 What is the best NFL betting app? Our experts take a look at all of the best NFL betting apps from safe and legal US sportsbooks so that you can place you next wager quickly and easily from your mobile
Our team will help you to find the an app that fits all of your sports betting needs. We have researched all the best NFL betting apps in the US in order to together this guide
The good news is there are plenty of NFL betting apps currently available. There are no betting apps that are currently dedicated to just NFL betting however you will still have many options from a range of sports betting apps.
Finding the best NFL betting app to suit your needs can be challenging. You might want good odds on draft futures or just be looking for a straightforward moneyline NFL bet. It's important to research what each sportsbook offers before signing up and testing them out yourself to make sure it offers everything you require for your football wagers.
Whatever your need, you will find the online NFL betting app on this page that offers all types of NFL bets. Football betting is the most popular sport to bet on with US sportsbooks, but that's not to say every book offers good football lines. Some sportsbooks offer better odds, better markets, and more features like cash out and parlay boosts.
So let's take a look at the mobile apps you should be using to wager on the NFL.
Read More: Football Betting Strategy | Reading Football Odds | Football Promo Codes | Super Bowl Betting | Football Streaming
Best NFL Betting Apps in 2023
Below we have listed our picks for the 5 best NFL betting apps that our team had the most success with. We've listed them in our quick summary table below so you can find the best offers quickly or alternatively read on to see our app testers thoughts and feedback on specific features.
---
Why We Like These NFL Betting Apps
The mobile sports betting industry is flourishing, with more options for football betting than ever before. Heres out reasoning for picking each of these as the best NFL betting apps to use in the USA.
---
🥇#1. DraftKings App – Best NFL Betting App Overall
Everyone knows DraftKings for their Daily Fantasy Sports contests, and that experience stands them in good stead when it comes to offering NFL odds and markets. When you log in to your account on the DK app, you will immediately notice the NFL odds and bet types. It is the bet types where the DraftKings really excel, with Futures, point spread, and same-game parlay options all available.
Expert Comments:
"DraftKings is always the first app that I check before I place a sports bet on an NFL game. I've been betting with them ever since they were made legal in my state and although I bet other sports with different books, I always come back to DK for my Football bets. Safe to say they've been great over the years providing strong odds on a variety of different lines."
– Paul Ricci (Chief Sports Editor)

---
🥈#2. BetMGM App – Highest Football Betting Bonuses
NFL bettors will love the BetMGM app. In addition to special promotions aimed at NFL games, you can get boosts on your NFL picks and take advantage of the excellent live betting service. BetMGM also offers parlay insurance, so if your bet doesn't come in, you haven't lost it all. BetMGM is particularly strong on mobile sports so that you can bet on your favorite team on the go with ease.
Expert Comments:
"The BetMGM app has improved vastly since they first launched, at first I wasn't sure but they have made stides in both their mobile app interface as well as the amount of odds that are offered for each NFL game week. If you haven't tried BetMGMs mobile app yet it's worth a go using their sign up offer to get some bonuses"
– Damjan Spajić (Sports Editor)

---
🥉#3. Caesars App – NFL Betting App With Most Bet Types
The Caesars App covers both the sportsbook and online casino, so you literally have everything at your fingertips. The welcome offer for the sportsbook fans is a "Bet Credit" of up to $1250. This is a 100% stake back as a bet credit if your first bet using the sportsbook is not a winner. You also get 1000 Rewards Credits and 1000 Tier Credits for signing up.
All major sports are covered here, with a fantastic selection of bets on offer for the NFL, including Over/Under, Props, Futures, and unique bets such as predicting the last digits of the final score!
Expert Comments:
"When I think of Caesars I automatically think of the casino. However I was blown away by the sportsbook app that they had when I tried it during the NFL season. Not only do they offer a huge selection of lines to wager on every available NFL game, but they also have some really strong odds compared to other sportsbooks"
– Oliver Dickinson (Sports Editor)

---
🎖️#4. FanDuel App – Best NFL Betting App for Parlays
Like DraftKings, FanDuel has had success with DFS contests. If you like parlays, you will love the NFL options on this app. FanDuel was the first brand to really develop the same game parlay feature, which has proven to be a big hit with NFL bettors. Paylays on FanDuel are really easy to place as well. With a generous welcome bonus to set you on your way, FanDuel offers numerous NFL markets and odds to keep passionate NFL fans engaged.
Expert Comments:
"FanDuel has one of my favourite user interfaces out of all of the NFL mobile betting apps we tested. The app has a great colour scheme which makes it really each to find the betting lines that I want for the NFL games. I also also find them offering some great boosted odds in the run up to major NFL games which usually provide some really good value bets."
– Paul Ricci (Chief Sports Editor)

---
🏅#5 PointsBet App – Unique Odds for Online Sports Betting
PointsBet pays a lot of attention to its NFL offering. In January, the company announced that it offers customers in-game wagering opportunities without suspensions in Moneyline and spreads markets. They tested this in January, which is believed to be the first time in-game sports wagering was offered in the U.S. without suspensions. This proves the brand is serious about the NFL.
Expert Comments:
"I'm not a huge fan of the colour scheme on this app as I find dark sportsbooks difficult to navigate, however thats personal preferecne. What PointsBet offers though makes it worthy of a reccomendation, if you like to bet on points then there is no better place to do it than on this app. Worth trying this bet type out if you haven't bet points before as it's great fun!"
– Paul Ricci (Chief Sports Editor)

---
Choosing The Best NFL Betting App For You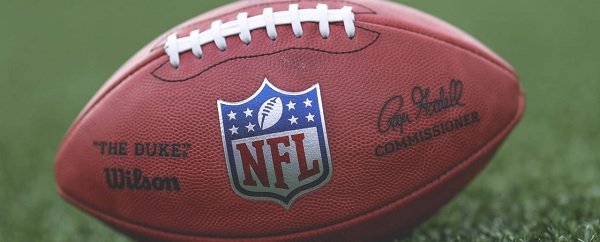 The above list is a look at what our experts deem to be the best NFL betting apps currently on the market. We'll edit and amend this list as things change but it's worth trying out each of the above apps above to see if they're right for you. If you use the sign up bonuses from our links you'll be able to get hold of some bonus bets if you lose your first bet. Perfect for a trial during a weekend of football!
We'll take a look at the factors we look for when selecting the best apps for betting on the NFL. It's not all about just being able to place a sports bet. There are a lot of factors to consider that slightly differ from those you consider when choosing the best online NFL betting app.
Safety and Security
All of the football betting apps in our list have a reliable gambling regulator's license and are located in a legal jurisdiction. We want to ensure players are protected when betting on the NFL online. When we looked through all of the betting app options, we are fully confident our recommended betting apps are safe.
Security measures are in place on all of these NFL betting apps, such as SSL data encryption, to ensure player information is protected. This means hackers cannot access players' banking information or details, and this is crucial when we consider which NFL betting apps you should use.
Football Betting Options
While most football betting apps offer coverage of the NFL, they vary regarding the number of betting options that are available. When looking for the best NFL betting apps, we wanted to find those with the most significant variety of bets. This means football betting platforms that have line such as prop bets, super bowl specials, futures bets, as well as standard wagers.
For example, any apps that offer NFL futures on the divisional round winners, the NFL MVP, or the NFL playoffs will be an excellent choice.
Benefits of Using an NFL Betting App
There are lots of benefits for using an NFL betting app. Listed below you will find some of the top reasons why using a betting app will provide you with a superior betting experience than online:
You can bet from anywhere in a regulated state. For instance, you can wager while watching a playoff game with friends or at a bar.
You can follow the action via live streams on your mobile.
You can add instant deposits to bet on an NFL game.
NFL betting apps run special promotions for the big events that can only be claimed on the app.
In conjunction with live betting, you can also cash out using an NFL wagering app. This means if it isn't going well, you can cut your losses and lock in some profit.
You can do all of the above once you have downloaded your NFL app and verified your account.
---
Legal NFL Betting Apps
Legal sports betting is rapidly expanding across the United States, both online and mobile. After Nevada and specifically Las Vegas monopolized gambling for years, numerous states have allowed online NFL betting apps to launch, including Arizona, New Jersey, Pennsylvania, Illinois, Indiana, Colorado, Tennessee, Iowa, and others. It is legal to wager using a NFL betting app in any of these states.
In conjunction with daily fantasy sports, football betting has surged in popularity in recent year. Football is one of the most profitable sports to wager on in the United States, with many people enjoying the fact they can win real money by betting on their favorite teams. The best apps for NFL betting have comprehensive game coverage, numerous betting options, and a wide range of markets.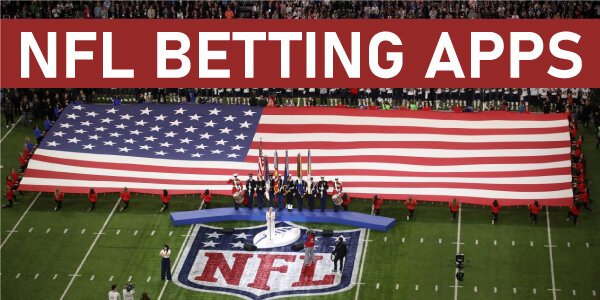 When creating our list of best apps for legal NFL and football betting, we looked at various factors. We don't just pick out the most well-known NFL sportsbook app or the biggest brand names in online betting. We strive to make sure that we recommend betting apps that are the best options for real-money betting on the NFL. As we have said, with so many NFL betting apps out there, this is quite a task!
We've covered all of the essential factors we consider to be crucial in deciding what makes a great NFL gambling app. Since online betting was legalized in 2018, many states have jumped on the bandwagon and launched an online gambling industry including;
Arizona, Arkansas, Colorado, Connecticut, Illinois, Indiana, Iowa, Kansas, Louisiana, Maryland, Michigan, Nevada, New Hampshire, New Jersey, New York, Ohio, Oregon, Pennsylvania, Rhode Island, Tennessee, Virginia, Washington D.C, West Virginia, Wyoming
Have a look at our page for more information on where you can bet on NFL games legally.
---
NFL Betting Bonuses and Promotions
All betting apps will offer some form of bonus or promotion as the gambling market becomes cluttered, and they try and entice customers to sign up. It is common to find welcome bonuses and promotions on most NFL apps for betting, however, you will find some are better than others if you are willing to spend some time searching.
Using our recommended mobile betting options, you can take advantage of some superb bonuses while betting on the NFL online. All of the betting apps for the NFL featured on this page offer bet credits or even a no deposit bet.
Most of the operators run crazy promos and specials before any major game. A lot of big players like FanDuel Sportsbook and DraftKings Sportsbook run new player promos too, Most of the time, you will need to use a football betting promo code to claim the offers. Finding the best NFL football betting promo codes can help you get off to a great start with a solid amount of extra cash to wager with or with risk-free bets to help cover potential losses.
---
Popular NFL Bet Types
Once you have chosen the NFL betting app most suitable for you, you'll be able to access loads of different types of bets. Below you will find the most common betting types when placing wagers on the best online NFL betting apps.
Moneyline Bets
These are the most straightforward type of bets. A moneyline bet is simply picking which team you believe will win. If that team wins, you will get some money, NFL betting at it's most simple!
Spread Bets
The spread bet is very prominent among bettors. If you want to place a spread bet when betting on the NFL, the football betting app will post a spread on the game. This spread represents the number of points they think one of the teams will win by and, in turn, how many points one team will lose by.
In-Play Bets
In-play betting has become prominent in recent years. NFL live betting allows players to place a wager as the game is happening. The odds will change to reflect what is occurring on the field and adds an element of excitement for the bettor. For example, you could bet on which player you think will score the next TD. There are many other live betting choices, including predicting the next team to score, etc. Live NFL betting is becoming one of the most popular ways to bet as you can change your mind as the game unfolds.
Over/Under Bets
If you want to bet on the NFL but don't want anything too complicated, an over/under bet is for you. For every NFL game, betting apps will post a total number of points they expect both teams to score combined. The player then decides if they think that the total will be over or under the amount posted.
Prop Bets
If you want to have some fun betting on the NFL, make sure you check out prop bets available on NFL betting platforms. A prop bet allows players to wager on various quirky topics outside of the traditional wagers. Some of these include if the coin flip before the game will land on heads or tails, who will get covered with Gatorade, and how long will the national anthem last.
Futures Bets
Betting on a futures allows you to make a bet on games or events months in advance. For example, you could make futures Super Bowl bets on who you think will be the winner before the regular season even begins.
---
Desktop Vs. Mobile Football Betting
Today, sports betting enthusiasts have numerous options to choose from when it comes to wagering on their favorite NFL teams and players. With recent advancements in technology, the online space has experienced huge growth, and you can now bet via the internet in many states.
Sports bettors can now choose between betting on their laptops, tablets or smartphones, but which one is the best option? There are a number of things to consider when choosing which device to use to place your NFL bets on.
Display
Being able to clearly see all of the betting odds is one of the most crucial aspects of online betting. You may naturally assume a desktop computer or laptop would be the best option for clear display, smartphones could be just as good depending on your preferences. The best online NFL betting apps have been optimized to comfortably display lines, odds and markets on a betting app.
Convenience
If you are a regular bettor, convenience will play big role in your overall betting experience. If you receive a hot tip and must get a wager placed quickly, it is useful to do this whether you are in a grocery store or on the way to work. Mobile devices are ideal for this scenario, as they offer a level of flexibility that laptops don't.
User experience
This will depend on what you are looking for, but there are still some pertinent points to look out for. As we have already mentioned, the best NFL betting apps have been optimized for use on both mobile devices and laptops, to give the same user experience across all platforms. However some other things to think about when considering user experience include mobility, battery life and connections.
Portability is a massive factor to user experience, providing you with greater accessibility on the go, during a live match or at home. Of course, battery life varies from one device to another, but you don't want the battery to die just before you hit the submit bet button. Finally, placing wagers using a device that has a strong internet connection is also vital. Mobile devices have the edge here, as they can utilize both 5G mobile data and WiFi.
---
How to Download a New NFL Betting App
The main two operating systems are Android or iOS, which is why gambling operators have developed mobile applications that focus on both. The good news is, no matter what operating system you have on your mobile, downloading a betting app is straightforward.
First, you need to search for the app you want to download and then install it on your device. This process is different if depending on if you are an Android user or iOS. Android users must make sure the application they want to download is available on the Google Play Store. Google has recently relaxed it's rules on gambling apps so the biggest operators should be available on there. If it isn't on the Play Store, bettors must download and install the app's apk file.
For iOS users, head to the App Store and find the app you want. Download to your device and it will be installed within seconds. For both Android and iOS users, once the app is on your device, open it up and either log in or create a new account.
---
---
FAQs
Where can I bet on NFL games legally?
There are currently 24 states where online sports betting, including NFL online betting, is legal. These are:

Arizona
Arkansas
Colorado
Connecticut
Illinois
Indiana
Iowa
Kansas
Louisiana
Maryland
Michigan
Nevada
New Hampshire
New Jersey
New York
Ohio
Oregon
Pennsylvania
Rhode Island
Tennessee
Virginia
Washington D.C.
West Virginia
Wyoming

Can you bet on NFL games online?
Yes, football betting apps and websites are available in a variety of states that have legalized online sports betting. If you live in the appropriate state and you're 21 years old, you can legally bet on NFL games online using real money.
What mobile devices can I use to download an NFL or Football betting app?
Football betting apps, in general, are supported by most mainstream mobile devices, thanks to HTML5 technology. These include iOS and Android devices. Players can download the football betting apps for iOS devices from the App Store, while Android users can download the apps directly from the operators' websites. You can read our Sportsbook guide for more details.
Are any of these options great NFL betting apps?
Surely! If you are a football bettor looking to bet on the preseason, regular season, or postseason professional football (NFL) games, the options listed in this guide will all work as NFL betting apps. The NFL is usually the most widely covered sport by football betting apps.
How do I get started with a football betting app?
You will need to select the betting site you wish to sign up for, then download their app. Once downloaded, you will be able to start your online betting experience and wager on the go. Make sure you take advantage of the bonuses most sports betting sites offer. These could include free bets and odds boosts. The best NFL betting sites will have plenty of bonuses and promotions to use on NFL games online.
Are bonuses still available on Football & NFL betting apps?
Yes. New customers who want to place a mobile sports bet for the first time are eligible for bonuses, just as they would if they registered with online sportsbooks and casinos through websites.
Do sports betting apps differ from online sportsbooks?
They should not be otherwise than in appearance. The best mobile betting sites should offer users everything available on a computer, only with more freedom. This includes registering for a new account, making deposits and withdrawals, and placing bets.
Do all football betting sites have mobile apps?
Almost all major online sportsbooks now have an app that can be downloaded to iPhone and Android devices, including PointsBet, BetMGM, DraftKings, FanDuel, BetRivers and Caesars.
How do I get started with top football betting apps right now?
Getting into real money football betting is easy and only takes a few steps. First, choose the best football betting app for you from this guide. Click the link next to the app, and you will be redirected to the relevant page or app store. Download the app from there and create your free account. Make a real money deposit using one of the many secure options listed, and you're ready to place your first bet!
What is the best mobile NFL betting app operating right now?
Everyone seems to have their own opinion on this. Our team recommends PointsBet and BetMGM for mobile football betting. These are famous betting apps known for their security. We are sure fans will love the variety of exciting football betting options these platforms offer.
What's the best promo code NFL betting in 2023?
Currently, the best NFL betting promo code we've found is the code "GUSA" over at PointsBet - our own code that we managed to negotiate with the operator in order to provide up to $2,000 in bet credits for our readers.