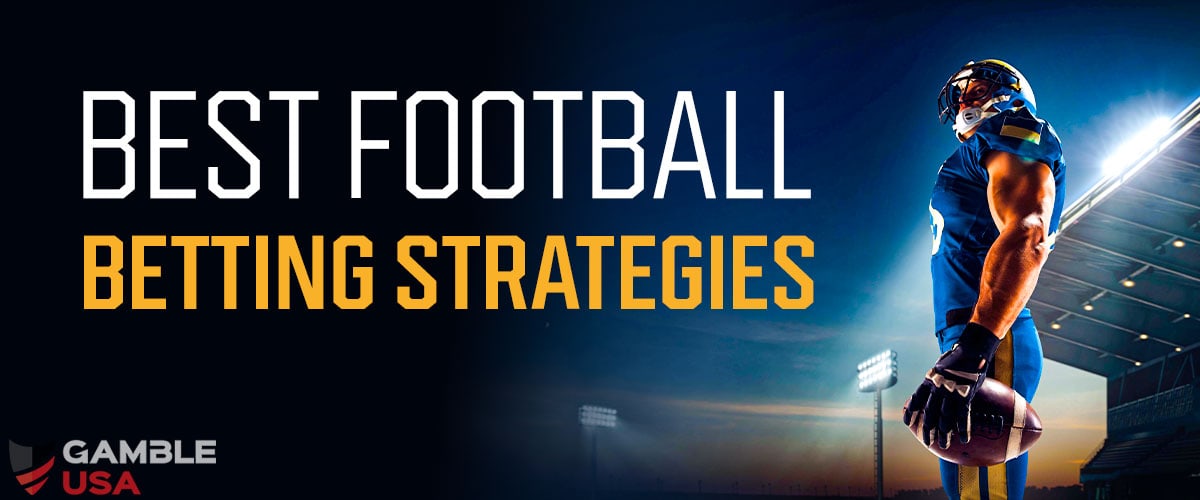 Sports betting sounds simple enough. Win more bets than you lose. Still, professional sports bettors only beat the sportsbook just over half of the time.
Most bettors placing football wagers stay above a 50 percent winning mark by sticking to a few successful football betting strategies, including arbitrage betting, match betting, and value betting.
Arbitrage and matched betting will eliminate most of your risk of losing money by betting on both teams but significantly reduce the size of your football betting payouts. Matched betting is arbitrage but using sportsbook promotions. Both are excellent football betting strategies for beginners to learn the ropes.
Value betting is a more advanced football betting system that gives up a chance at a guaranteed profit in hopes of a more significant payday by taking the best team at the best odds giving bettors the best chance to earn profits long-term. All three strategies will require multiple betting sites to ensure good odds.
Below we cover all three of the most profitable football betting strategies and other factors that often play into smart bettors having prolonged success.
Apply the Best Football Betting Strategies at These Sportsbooks
Best Betting Strategies for Football: Beginners
With worthwhile welcome bonuses aplenty, there's never been a better time to be a sports bettor. This article will go into further detail about all the best football betting strategies, but below is a quick overview of how pros cash more winning bets. Along with arbitrage, matched, and value betting, following expert handicappers and their statistical edges can also be to your advantage.
If you're feeling strongly about your favorite team or a particular prop bet, you can forgo attempting to mitigate risk for the chance at an increased payout using value betting. If you think the match will be close, just want to put a little action on it while you're watching, or are ready to grind some arbitrage bets, there are less risky ways to play it. Do what makes sense for your budget and sports betting risk tolerance.
Arbitrage betting
Match betting
Value betting
Tipsters
Statistics
Explore your betting options
With more and more ways to wager popping up, it's essential to explore your betting options before placing any bets. Betting markets and good odds will vary from sports betting site to site. All the top online sportsbooks will have the top professional football leagues, but how you can play them and getting the best odds will vary from sports betting site to site.
Odds tracking sites are a great way to see the odds offered by multiple sportsbooks on a particular match. These listings can also be an excellent place to start deciding what betting sites to begin with. Look for the outliers.
Select your bet
Traditional football bets like the three-way moneyline, double chance, and tie no bet vary in risk vs. reward. The nice thing about soccer betting is eliminating some risk with the double chance and tie no bet. Both football betting types are built to limit risk. Depending on the sportsbook, you may find more niche options in the prop section, which have a higher chance of being mispriced, but a lower probability of panning out.
Three-way moneyline
The three-way moneyline includes either team to win or the draw as an option. This means a draw is considered a loss if you bet on one of the two teams to win, and the match ends in a tie. The moneyline will be where you'll find the best odds on the favorite. Matches end in a draw 20 to 30 percent of the time.
Double chance
The double chance couples the win and draw as a single option. The wager type comes with less risk but a reduced payout by more than half of what it would be betting the winner straight up. The larger the favorite, the more you'll give up on adding the draw.
Tie no bet
The tie no bet involves picking a winning team but eliminates the draw by making it a push, and you'll get your money back. You have to give up a little less than the double chance odds to get it done.
Other football wager types:
Over/under total goals
Total goals by one team
Both teams to score
Score at halftime
Time of the first goal
Anytime goalscorer
Double result (halftime/match)
Avoid bad or too risky bets
Look to avoid outrageously high odds, known as sucker's bets, and highly volatile lines that have moved away from your target. Sucker's bets offer enticing payouts but rarely pan out. It's also important to be aware of the points needed in tournament play. Depending on the standings, some teams may be ok playing to a draw, while others may need to press on offense. If you think you've got a team figured out, prop bets extend to total shots on goal, corner kicks, and cards handed out.
5 Expert Football Betting Strategies
As mentioned above, arbitrage, matched, and value betting are the best betting strategies for beginners and seasoned bettors alike. All three have their benefits. Your appetite for risk and quick profits should decide your path. You will need multiple sportsbook accounts to lock in the best odds at all times. Tipsters and statistics experts can also provide strategies that may be worth following. With so many options, finding the handicapper that best suits your playstyle may take some time.
#1 Arbitrage Football Betting Strategy
A form of hedging, but the bets must be placed simultaneously on multiple sports to take full advantage of the best football betting strategy. A process that has been used to great success by bettors for ages, arbitrage betting is not the most exciting football betting system, but it can be a profitable football betting strategy when deployed consistently, which it needs to be for small gains to add up.
The stable betting strategy starts with finding mispriced lines at odds higher than the probability of winning. Traditionally these outliers are used to strategically get odds on both sides at even or better and profit by the slight difference. This is done by selecting the favorite to win on the betting site with the best odds and placing a second bet on the other team to win or draw using the double result from a second sportsbook.
Waiting for the correct setup does require patience and more digging than it used to. Many betting sites have caught on to the play in recent years. Improper listings are being phased out as more and more popular online sportsbooks use one of just a few oddsmakers.
You may choose to go with a modified strategy that includes giving up some of the guaranteed profit for an opportunity to place bets with more frequency and a chance to make some money while still getting a good portion of your stakes back if anything goes wrong. It also gives you more flexibility to place one side and wait on the second wager to see if the odds move further in your favor.
#2 Matched Betting Strategy on Football
Why use your money when you can use someone else's? Matched betting involves using welcome bonus risk-free bets, boosted odds, or other promotions from sportsbooks to place arbitrage bets, so no matter the outcome, you win money or at least free bet credits for the losing amount. This betting strategy gives you more leeway to take on the risk of losing for the chance at winning. Make sure to use our matched betting calculator to make the whole process of calculating the profits significantly easier.
Depending on where you live and your online sports betting options, the well on house money will eventually run dry. So make sure to take risk-free bets and any bet credits seriously. Sportsbooks may provide additional opportunities to score free bets, but they usually come with more challenging requirements than any initial deposit asks.
Along with searching out the largest risk-free first bet amounts, it's crucial to find sports betting sites with zero or one-time rollover requirements for free bets. This will allow you to cash out your free bet credits immediately or after using them one time through. Wagers using free bets are not included in the payout. Depending on the free bet stipulations, it may not be worth signing up with particular sportsbooks. So be sure to check first.
#3 Value Football Betting Strategy
Similar to arbitrage and matched betting, value bettors search for outlier odds on the team expected to win. These improperly priced lines are higher than the real probability of winning and should be taken when found.
However, unlike arbitrage betting strategies, value betting does away with the safety of betting both sides and instead focuses on the clear favorite and the idea of taking the highest probability outcome and a better payout, under the mathematical understanding of coming out ahead over time. The additional money made is how successful football bettors flip the house edge.
You may want to tread lightly with the bet size to begin and stick with proven winners in popular leagues. The oddsmakers and handicappers have more information when kicking the tires on these favorites. Make sure you're scoring wins on more than half your wagers before committing to value betting. A losing streak can quickly put a considerable dent in your bankroll. The variance may not be for everyone. Only bet what you can afford to lose.
#4 Tipsters & Experts Betting Strategies
With betting regulations easing and many reputable names in sports journalism getting into handicapping sports betting, there's a lot more information out there. It's not a bad idea to follow a few handicappers you trust but never bet big money blindly. Always do your research. Many talking heads will claim to be making money, but it can be difficult to tell if they're being honest. The more transparent, the better. Take some time to track their success or lack thereof.
Experts can help you cut the learning curve and turn you on to specific statistics to look for when making betting decisions. They're also an excellent way to confirm or deny your suspicions about a particular match.
Prop bets on teams trending in one direction or the other can be an excellent place to find odds overlooked by the bookmaker. Sportsbooks like BetRivers and DraftKings have a stats section on site, which can be adjusted by the last five or ten matches, head-to-head results, games during a tournament, and after a win or loss. BetRivers also always bettors to adjust some prop bets by success rate.
#5 Bet on Football Using Statistics
Winning football bets based on statistics is only viable if your information about the match and players is more accurate than what oddsmakers are considering. Betting sites don't have the resources to react to every new trend for every match, so it is possible to squeeze a few wins out of oddsmakers before they catch on.
There are a lot of opportunities to be found on underdogs in the prop bets section. Find good ones and ride them until the tide changes. This edge is also found often during live betting when injuries, substitutions, and other coaching adjustments come into play.
Don't Give Up On Your Football Betting Strategy
Assuming you've got a football betting strategy in place, it's important to let that strategy play out over some time before considering any significant changes to bet type or size. No matter what you decide to do, get in the habit of searching out the best odds at all times. Bigger wins and smaller losses are what it's all about.
You must see your betting strategy through
Give your football betting strategy a chance to breathe. You decided on it for a reason. Many professional sports bettors keep a log of their bets to help identify trends, including winning or losing streaks and what type of bets are causing them. This practice is also a good speed bump for bettors that tend to place an excessive amount of wagers.
See the match to the whistle
It's to your benefit to watch the match until the final whistle. The final result, and even the box score, don't always tell the complete story. Not to mention, there may also be additional betting opportunities that present themselves during the match, which can be taken advantage of with the help of live betting. Live betting has become a standard feature for the majority of online sportsbooks. The odds are constantly changing based on in-match events. They also lock occasionally, so you'll need to act quickly if you see the tide changing.
Don't fall for other people's bets
Fading the public is a real sports betting strategy for a reason. Smart bettors know how to avoid most chatter and any overreaction, to stick to their football betting strategy. It's about the number, not the team, as the saying goes.
Oddsmakers are trying to maintain a 50-50 split of total wagers on matches. When that number shifts to 70 percent or more for one side, but the money is on the other side, this may be an opportunity to follow the sharps on a value play. PointsBet sportsbook has these statistics displayed prominently on the event's main page.
Control your betting impulses
Successful bettors know how to manage their emotions. Have a plan and stick to it. Bankroll management is a big part of responsible gambling. Limiting the number of wagers made and staying consistent with your stake size will help keep more money in your account. It's ok to evolve if you are on an extended losing streak and need to dial it down or have had repeatable success and want to increase your bet size by a percentage. Never chase a losing streak with increased stakes. It rarely ends well. Instead, take a break and look over your journal. Start one if you haven't.
It's also good to narrow your focus to a league or two and learn the teams. It can be easy to get distracted by the dozens of leagues and hundreds or thousands of teams listed. Even the most prolific betting sites can sometimes make it confusing or attempt to shift your attention elsewhere. Caesars sportsbook fixes this by providing a favorites feature. If you find yourself having trouble setting betting limits, most online sportsbooks will help do it for you. Users can often set visit restrictions, time limits, or amount caps.
Ensure you're betting on a safe sportsbook
Ensure you're betting on a safe sportsbook by using one of the top-rated betting apps, including BetMGM, Caesars, DraftKings, FanDuel, and PointsBet. BetMGM has the superior layout for football betting by far. Along with industry-leading technology to ensure safe banking and secure information keeping, these online sportsbooks and betting apps offer risk-free first bets ranging from $500 to $1500, refunded in free bet credits if the wager misses the mark. Perfect for bettors looking to implement a matched betting strategy. There may be specific criteria that must be met to claim promotions or use free bet credits. Check the terms and conditions before making any money moves. Read more on these online sportsbooks here.
FAQs
What is the best football betting strategy for beginners?
The best soccer betting strategy for beginners is arbitrage betting, using welcome bonuses for matched bets. Placing arbitrage bets allows football bettors to negate much of the risk but also limits the payout. The betting system must be run at a high volume or with massive stakes to make a noticeable profit. Matched betting makes the process more profitable by getting a refund in free bet credits instead of losing your money on one of the sides. You can slowly increase the bet size over time if successful. Read more about welcome bonuses here.
Are there any advanced football betting strategies that work?
Advanced football betting strategies like value betting can work but carry more risk as it does away with taking both sides. It's also a betting system that provides larger payouts. Like arbitrage and matched betting, value betting requires multiple sportsbook accounts to ensure the best odds possible. Hence the value. Unlike the other two options for the best football betting strategy, value betting works by betting favorites of more than a 50 percent implied probability at the best odds possible. Over time the favorites should win more than they lose, and when they do, so will you.