Gamble USA strives to improve your online gambling experience. We aim to help you play safely, make informed decisions when gambling, and increase your betting knowledge through our guides.
We adhere to strict editorial integrity; our content may contain links to products from our licensed & legal US partners.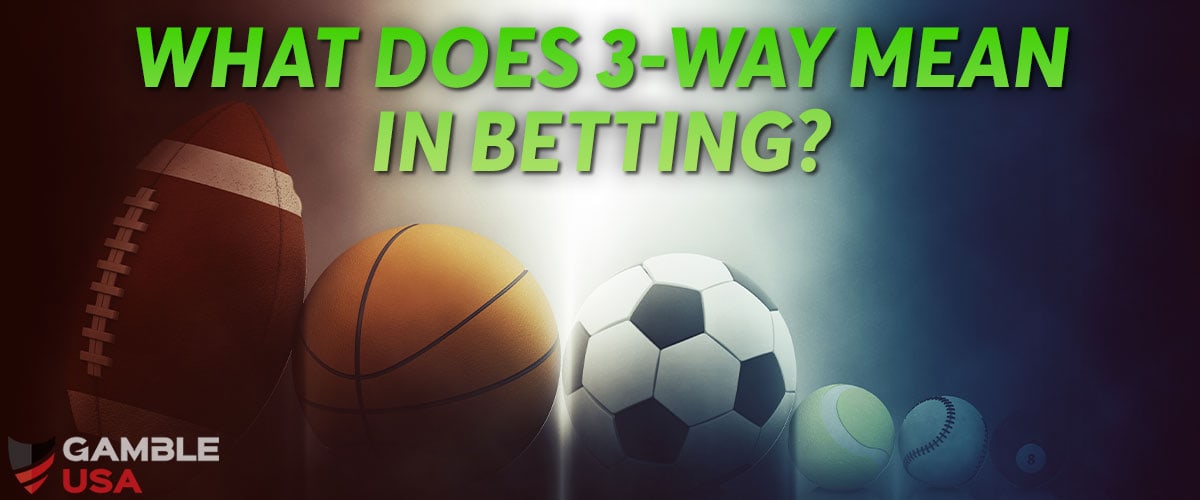 Throughout history, sports betting has been a prevalent practice involving two parties holding opposing views regarding two possible outcomes. However, the betting industry has undergone significant evolution, which resulted in the introduction of many new bet types. One of these game-changing innovations was the introduction of 3-way moneyline bets, which expanded the options to three possible outcomes.
Unlike the traditional moneyline, which offers only two possible outcomes, a 3-way moneyline is a form of a bet with three potential outcomes.
This situation elevates the sports betting experience by raising the stakes and presenting three options for the bettors, increasing the moneyline odds and adding an extra layer of excitement to the game.
What Is 3-Way Betting?
By placing a three-way moneyline wager, bettors are betting on one of the three potential outcomes of a sporting event. Unlike the two-way lines, where bettors can choose between Team A and Team B, the three-way moneylines allow bettors to have three choices. The third choice is known as a tie or draw. It means the sporting event between the two teams will end without a winner in regulation time.
Now let's dive deeper into the core differences between a three-way line and a two-way line.
3-Way Versus 2-Way Line
Both the three-way line and the two-way line are used by sportsbooks to define the likelihood of a particular outcome in a sporting event and calculate the potential payout. However, the main distinction between the two lies in one crucial aspect.
Sportsbooks use two-way odds when there are only two possible outcomes and three-way odds when there are three potential outcomes. Another distinction between these two types of bets is how they are determined. Two-way lines get resolved upon the completion of the competition, unlike the three-way lines, which get settled at the end of regular time.
Simply put, when sporting events finish as a draw and go into extra time, the winning bettors will be the ones who placed three-way moneyline wagers on the game to end in a tie.
Hockey 3-Way Betting Example
Although they might require some additional time to locate, betting odds for three-way moneylines for hockey can be found at most legitimate online sportsbooks.
Despite the fact that hockey games technically cannot end as a draw due to the implementation of the shootouts, bettors can still place three-way moneyline bets on any available hockey game. However, bettors who are all about three-way lines should know that their three-way wagers will get settled based on the score at the end of the three periods. Any goals scored by any of the teams in the overtime period will not affect the fortune of their three-way moneyline bets.
Here is an example of an NHL three-way moneyline bet:
Boston Bruins (-180)
Draw (+240)
Toronto Maple Leafs (+210)
This three way bet is essentially the same as a traditional moneyline bet, with the only difference being that there are three possible outcomes instead of the usual two seen in NHL games.


Best Sports For 3-Way Betting
If you want to bet on a three-way line, the first thing to check is whether you enjoy regulation time sports. These are sports where more time gets added to a game if the score is tied at the end of regulation. When you bet on the three-way line for regular season games from these sports, you wager on the game's result before it goes into extra time.
When it comes to such sports, soccer and hockey are, by far, bettors' favorite choices. These two sports go with three-way lines like peanut butter and jelly. As a matter of fact, 3-way moneylines are the most standard soccer bets at any sportsbook.
However, it's crucial to know that there are plenty of other games from various other sports for which sportsbooks offer three-way moneyline odds. Let's check out the best together.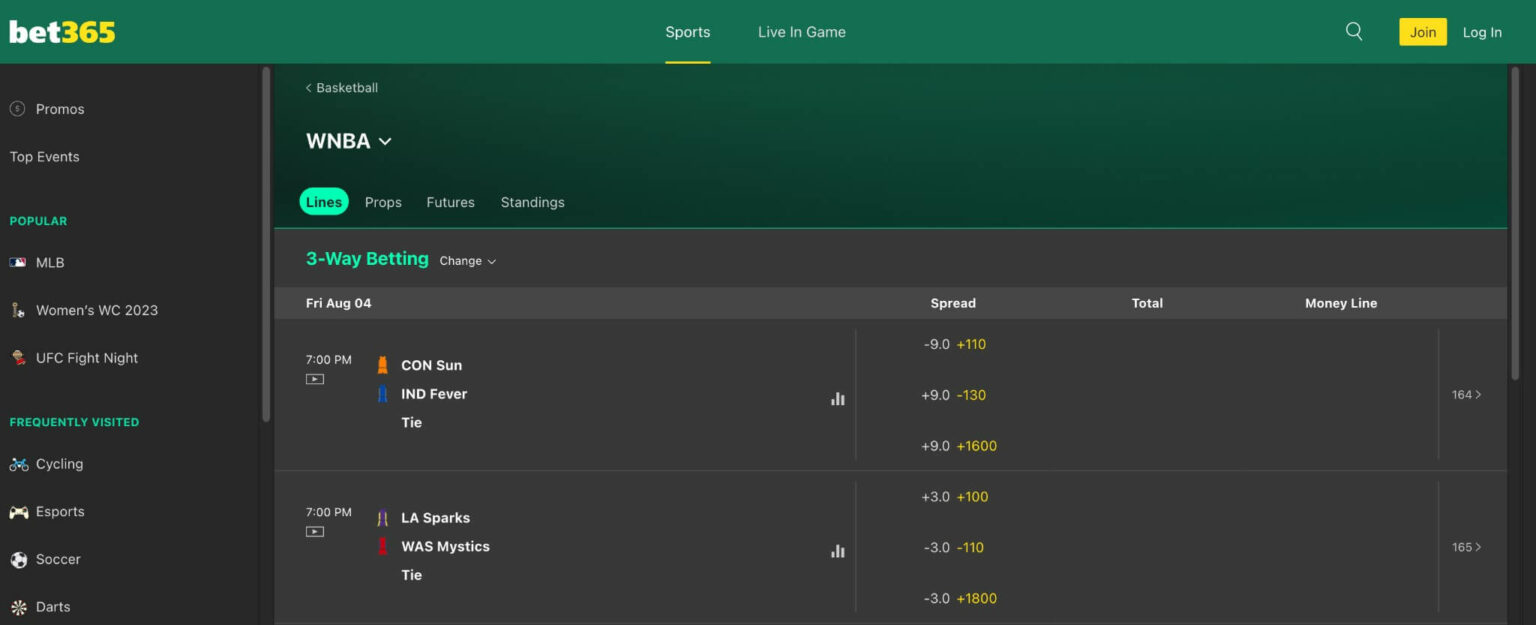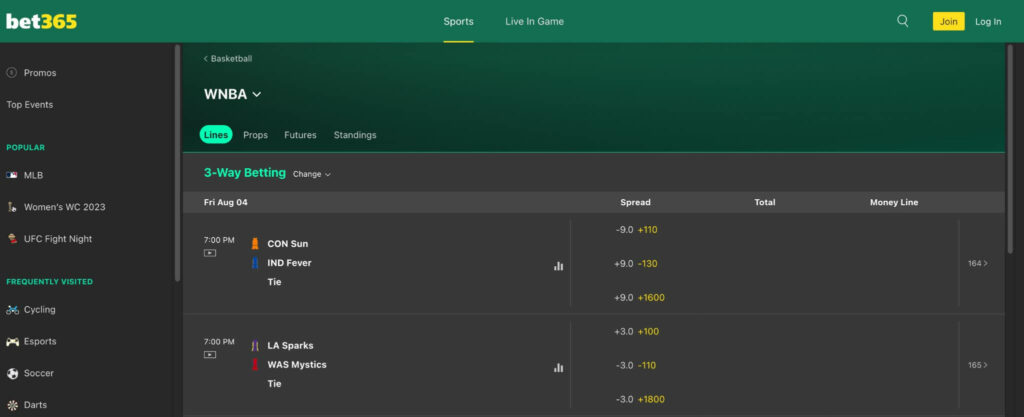 How to Make a 3-Way Bet Online
No matter which sportsbook from our list you choose, placing a 3-way bet online is a simple process and can be done in just a few minutes. Here is how:
Enter the website of your online sportsbook of choice or download the official app.
Create an account by providing your personal information and setting up your login credentials.
Visit the Cashier section to make your first deposit.
Navigate to the left side of the page, where you can choose your preferred sport and select the sporting event you want to bet on.
Find the 3-way betting option among the available betting types.
Enter the amount you wish to wager on your chosen 3-way line.
Confirm your wager and enjoy the game.
Where to Bet 3-Way
Finding a reliable online sportsbook to bet on a three-way line is easy. Here are some of the best options in the industry.
| 📖Sportsbook | 🇺🇸 States | 🎁Welcome Offer | 💵Minimum Deposit |
| --- | --- | --- | --- |
| bet365 | NJ, CO, OH, VA | New customers who bet $1 will get $200 in Bonus Bets | $5 |
| DraftKings | AZ, CO, CT, IL, IN, IA, KS, LA, MD, MA, NH, NJ, NY, OH, OR, PA, TN, VA, WA, WV, WY | New customers receive 20% deposit match up to $1,000 | $5 |
| PointsBet | CO, IL, IN, IA, KS, LA, MD, MI, NJ, NY, OH, PA, VA & WV | 5x100 – Receive up to five $100 Bonus Bets in case your first Fixed Odds cash bet of the day loses. | $10 |
| FanDuel | AZ, CO, CT, IL, IN, IA, KS, LA, MD, MI, MA, NJ, NY, OH, PA, TN, VI, WV, WY | Each new customer gets up to $1,000 back in Bonus Bets if their first bet doesn't win | $10 |
| Caesars | AZ, CO, DOC, FL, IL, IN, IA, KS, LA, MD, MA, MI, MS, NV, NJ, NY, NM, NC, OH, PA, TN, VA, WA, WV, WY | New customers will receive a first bet on Caesars for up to $1,250 and also get 1,000 tier credits and 1,000 reward credits. | $10 |
Each of these sportsbooks operates under a valid US license. These licenses ensure that the sportsbooks comply with specific regulations, maintain fair practices, and provide a secure environment for every bettor.
On top of that, they all offer competitive three-way odds for soccer, football, baseball, hockey, and other sports competitions from all over the globe and a plethora of generous welcome offers, bonus bets, odds boosts, and various other promotions.
Additionally, these sportsbooks provide reliable web platforms and modern mobile apps, enabling bettors to experience the excitement of 3-way wagering conveniently from their homes.
Last but not least, all of these sportsbooks promote responsible gambling, and by doing so, they are implementing various tools to prevent their customers from developing a gambling problem.
3-Way Betting Strategy & Tips
There are several strategies you can implement to elevate your 3-way betting experience and increase your chances of winning. Check out how betting on the draw and finding discrepancies in the odds can help you achieve that.
Betting on the Draw
For savvy bettors who appreciate calculated and strategic wagering, betting on the draw offers a compelling balance between risk and potential reward, making it an attractive choice.
In sports like hockey, draws occur with relative frequency, making them a practical and viable option to consider for wagering purposes. On top of that, the odds for the draw are typically higher than those for either team to win, potentially resulting in more significant payouts.
In soccer, for example, many competitions are played on two legs. That creates various scenarios where particular teams can advance to the next round by getting a draw in the second leg. Savvy bettors aware of the opportunities in such situations can utilize the three-way lines to place bets on the draw.
Placing three-way prop bets is also a great option, especially in sports like soccer, football, hockey, and basketball. In games with heavy favorites, placing a money line draw bet on the score of the first half of the first quarter can be a subtle but lucrative way to back the underdogs.
While placing bets on the underdog is usually considered a long shot, betting on a first-quarter draw is an entirely plausible and attractive option.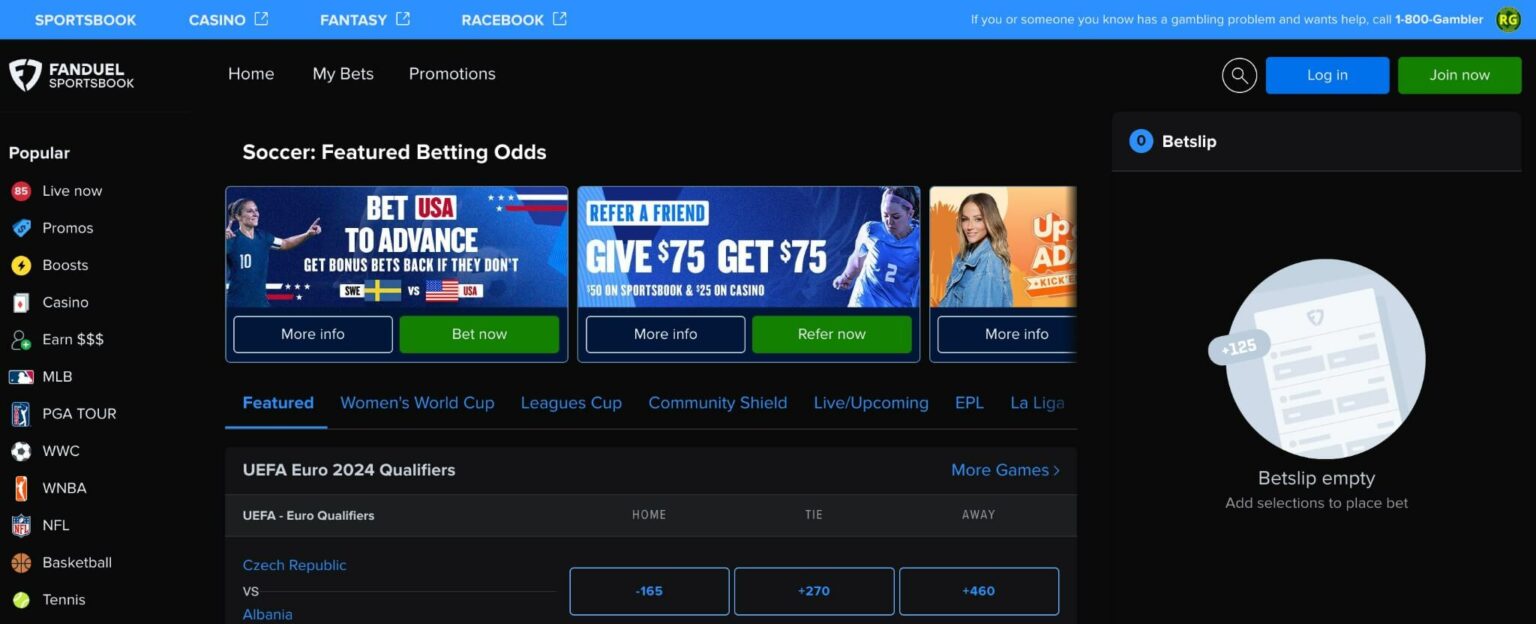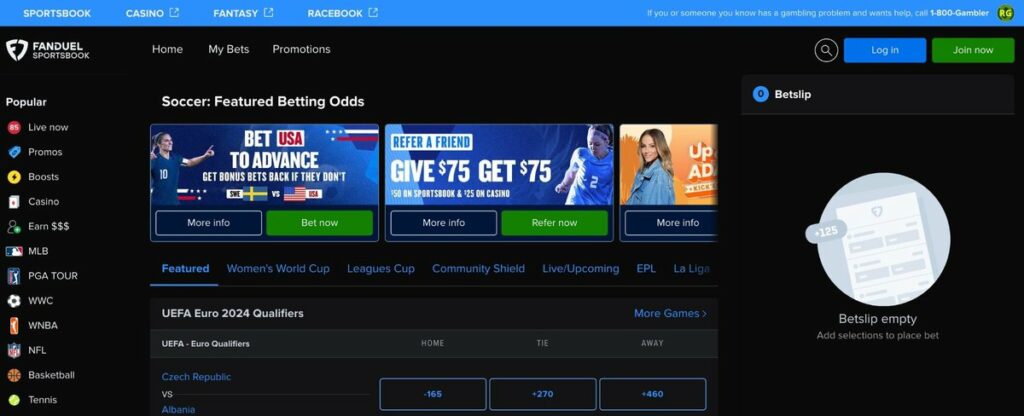 Finding Discrepancies in the Odds
The extra outcome in three-way lines diversifies choices and affects odds. Draws are less common, resulting in higher odds and appealing to bettors looking for bigger payouts. On the other hand, two-way lines with just two outcomes usually offer lower odds but are simpler for bettors to grasp and predict.
Fluctuations in odds can create perfect scenarios for line shopping. This strategy involves comparing odds from different sportsbooks to discover the most favorable and advantageous options.
Devoting time to research and compare the odds for two-way and three-way lines can help bettors identify potential discrepancies that may present opportunities to exploit inefficiencies in sportsbook odds.
FAQs
What is the 3-way spread in betting?
Spread betting involves wagering on a team to either win by a specific number of points or a team that must lose by less than a certain number of points. However, when bettors go for the three-way line, the sportsbook introduces an additional outcome - the chance of the match ending in a tie.
Here is an example of a 3-way spread bet for an NFL game:

New England Patriots, -10, +225

Tie, -10, +2200

New York Jets, +10, -265
What is a winner 3-way bet?
3-way moneyline bets are wagers settled on the score during regular time. Unlike the two-way odds usually offered for college basketball, these bets offer a third option and cannot get affected by the score in extra time. By betting on the three-way odds, you can bet on the A team, B team, or on the game to end in a tie.
What is a 3-way bet in soccer?
In soccer, a 3-way bet is a type of wager that presents three possible outcomes for bettors to choose from in a specific soccer match. By placing a 3-way bet, bettors can bet on the home team, away team, or a draw.
What is an example of a 3-way bet?
Here is an example of a 3-way bet for an NHL game:

Arizona Coyotes (-125)

Vegas Golden Knights (+280)

Draw or Tie (+32)
What does a three-way moneyline mean?
In sports wagering, a three-way moneyline bet refers to a type of wager which provides three potential end results for a specific sporting event. By placing a three-way moneyline bet, bettors can choose one team that will win or a draw.

3-way moneyline bets are the most common betting markets among soccer, hockey, and basketball betting enthusiasts.
What is the meaning of a 3-way bet?
A 3-way bet is a betting option that offers three possible outcomes for a particular sporting event.