Gamble USA strives to improve your online gambling experience. We aim to help you play safely, make informed decisions when gambling, and increase your betting knowledge through our guides.
We adhere to strict editorial integrity; our content may contain links to products from our licensed & legal US partners.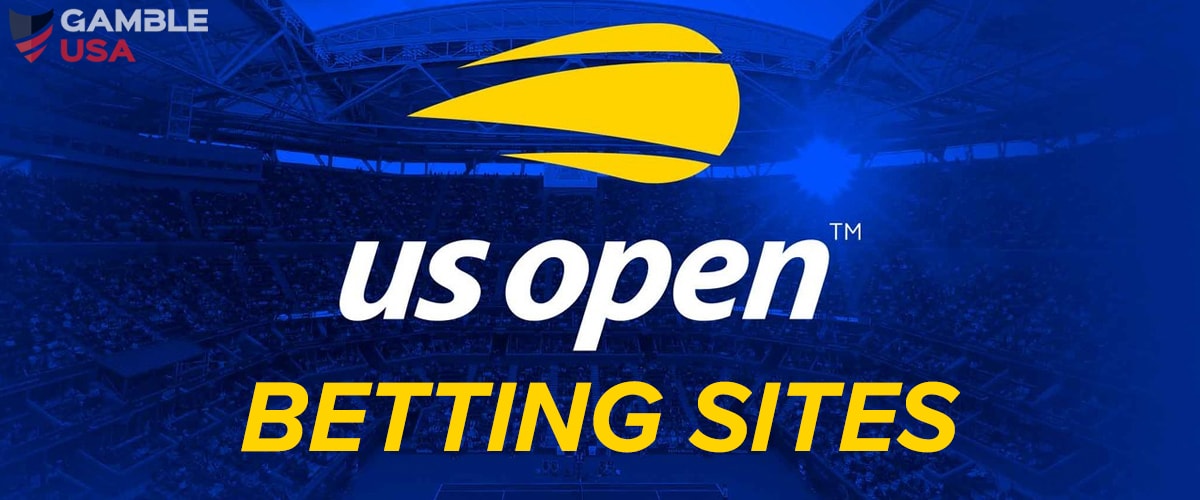 The US Open is a tennis extravaganza that concludes the Grand Slam calendar. Held amidst the hustle and bustle of New York City, it attracts tennis fans and bettors across the globe from late August through early September. It coincides with the Labor Day weekend, adding an extra spark to the event's buzz.
This is easily one of the top sporting events of the year's last quarter. The NBA, NFL, and NHL championships have come and gone, and tennis is about to steal the global sports spotlight.
With the ascent of new stars like Carlos Alcaraz, the power dynamic in tennis has shifted. All the pressure falls upon Novak Djokovic, the final bastion of the Big 3, to hold the fort. The narrative of fresh talent versus seasoned skill is sure to add an extra layer of intrigue and suspense to the upcoming tournament.
Whether you're taking your first steps into the world of US Open tennis betting or looking to add more strategic depth to your game, our guide can help. You'll find pointers on everything from identifying the best tennis betting site to making the most of US Open bonuses.
---
What Is the Tennis US Open?
The US Open is one of the four tennis Grand Slams, the apex of achievement in the sport. However, it's not just the chance to see the world's most elite players in action that makes it special. The US Open is a show like no other in tennis. It's a festival of high stakes and emotions, famous for its electric atmosphere — especially during the pulse-pounding night matches.
Below, you'll find everything you could possibly want to know about the competition — from where it's played, its fascinating history, surface type, rules, and key patterns that have emerged over the years.
History and Previous Winners
The championship's roots stretch back to 1881, back when it carried the name the US National Championship and took place on Newport Casino's grass courts in Rhode Island. In 1968, the event became the US Open, marking the start of the Open Era where professionals could participate.
Interestingly, the tournament underwent a surface change from grass to clay from 1975 to 1977, aiming to neutralize the advantage of serve-volley players. The US Open found its true identity in 1978 when it moved to its current home — the USTA Billie Jean King National Tennis Center in New York — and switched to hard courts.
In the Open Era record books, Roger Federer, Jimmy Connors, and Pete Sampras share the throne in men's singles, each having won the tournament five times. On the ladies' side, Chris Evert and Serena Williams hold the high ground, with six victories each.
Setting and Schedule
The US Open unfolds at the USTA Billie Jean King National Tennis Center, which is in Flushing Meadows-Corona Park in Queens, New York City. The tournament traditionally kicks off in the last week of August. It runs for two weeks and coincides with Labor Day in the US. The 2023 edition will run from Monday, August 28, to Sunday, September 10.
The tournament's center court is the iconic Arthur Ashe Stadium. With a seating capacity of over 23,700 spectators, it stands as the largest tennis stadium in the world.
Surface Composition
The US Open is one of the two majors played on hard courts, the other being the Australian Open. The playing surface at the US Open underwent a major change in 2020, moving from DecoTurf to Laykold Cushion Plus.
Laykold Cushion Plus courts consist of a five-layer acrylic cushion system over an asphalt or concrete base. The top layer is textured with sand, providing excellent traction for players and reducing glare for spectators.
This modern surface design has resulted in a speed boost, with the courts being 20%–30% faster than their DecoTurf days. The unrecognized benefit of Laykold Cushion Plus is its impact on player welfare, with court-related injuries expected to be reduced.
The tennis balls used for the tournament are courtesy of Wilson, a long-term partner of the US Open.
US Open Rules and Trends: Quick Bites
If you're looking to place informed bets on the US Open, here's some vital information about the tournament's rules and recent trends:
Matches at the Arthur Ashe Stadium are protected from weather interruptions by a retractable roof.
On-court coaching, albeit with certain restrictions, has been permitted since 2022.
From 2022 onwards, a 10-point tiebreak is in effect for the final set.
The main draw in singles features 128 players, including 16 men and women from the qualifiers.
The defending champions in singles are Carlos Alcaraz and Iga Swiatek.
The men's singles have crowned five different winners in the past five years.
In the past decade, most of the men's singles winners (8 out of 10) were in the top 10 ranks.
All recent champions had won at least 63% of their hard-court matches in the respective season.
Novak Djokovic has experienced six US Open final losses (a record for any single Major).
Carlos Alcaraz became the youngest male US Open champion in 2022, surpassing Pete Sampras' record.
---
Best US Tennis Open Betting Sites
US betting sites are a dime a dozen, and generally, any legal sportsbook is a safe bet. But when it comes to tennis betting specifically, there's a distinct upper echelon. These elite few betting websites take things to another level.
They've got the depth, the breadth, and all the extras a tennis fan could ask for. We're talking about specialized markets, innovative features, and a betting experience that's tuned to the rhythm of the sport. Let's dive into the specifics.
🥇#1. Caesars Sportsbook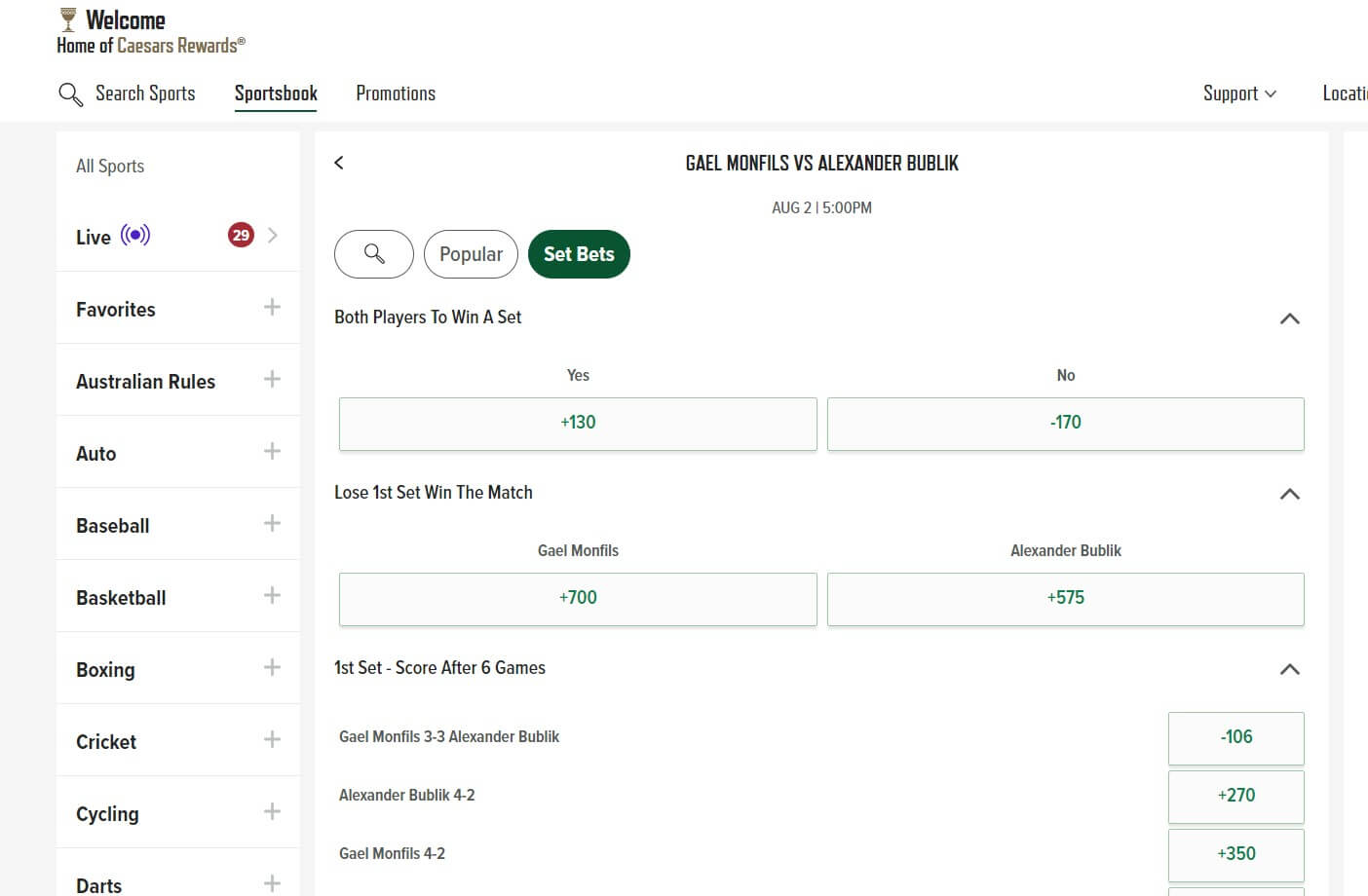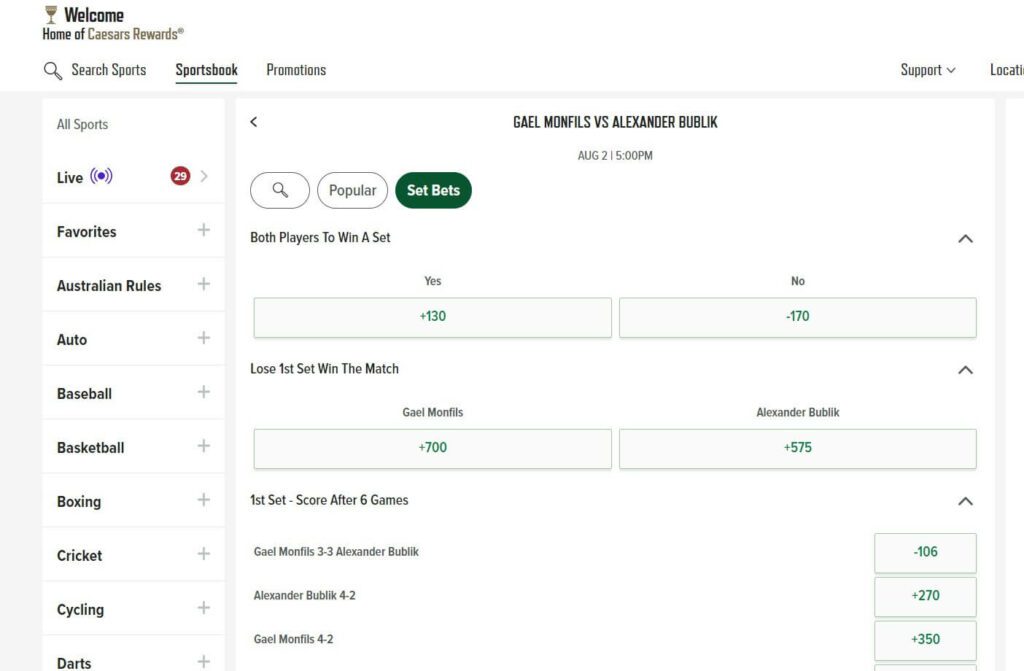 Caesars is a must-have on every bettor's roster because it often sets the pace with the most competitive odds for major tournaments, including the US Open. On top of that, Caesars is one of the rare birds offering odds boosts for secondary markets like tennis.
They're also no slouch when it comes to promotions. Their welcome bonus is a humdinger, netting you up to $1,250 in bonus bets. Come Grand Slam, the book brings out tennis-centered incentives, like insurance bets and parlay boosts.
Expert Comments:
"Caesars has tools that facilitate betting, like the Quick Picks feature. This is their spin on the parlay builder, designed to help you to put together your perfect parlay hassle-free. I'm also impressed by their tennis market depth, with interesting bets like "both players to win a set" and "exact score after six games." Plus, you'll appreciate how intuitive their platform is, featuring helpful features and filters."
– Oliver Dickinson (Sports Editor)

---
🥈#2. PointsBet Sportsbook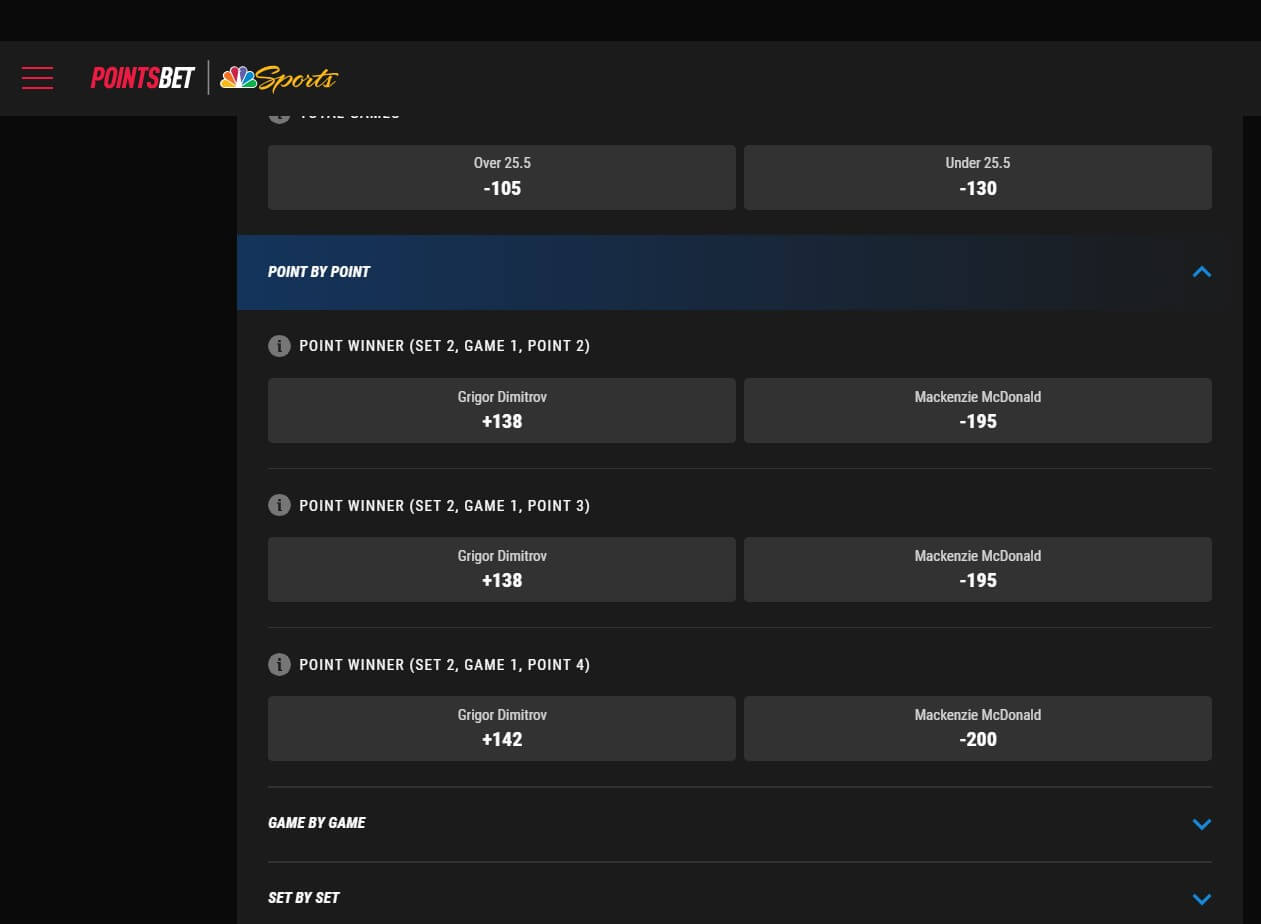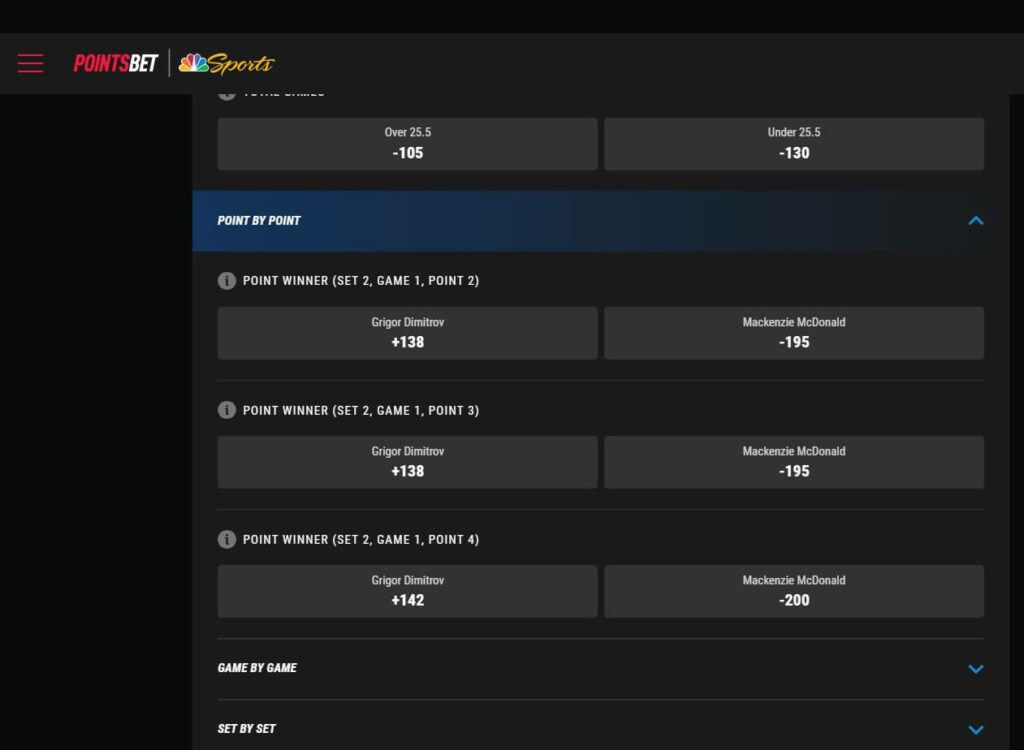 PointsBet recently went through an ownership change, being scooped up by the sports apparel heavyweight, Fanatics. With the transition behind them, they're now back in full swing.
They've brought scads of innovation to the betting scene with features like Quick Parlay and Partial Cashouts. The latter is particularly handy for tennis bettors, as it allows you to claim a chunk of potential winnings from a current bet while the rest continues to ride out the game. New users get $500 in bet credits to kick things off on a high note.
Expert Comments:
"PointsBet boasts a strong market variety, featuring standard set and game bets along with a range of combos and tiebreak specials. On top of that, it provides live tennis match streaming —  which I believe is a real boon for bettors who like to watch the action unfold in real-time. They've also broken new ground by introducing Same-Game Parlays for live bets."
– Paul Ricci (Chief Sports Editor)

---
🥉#3. BetMGM Sportsbook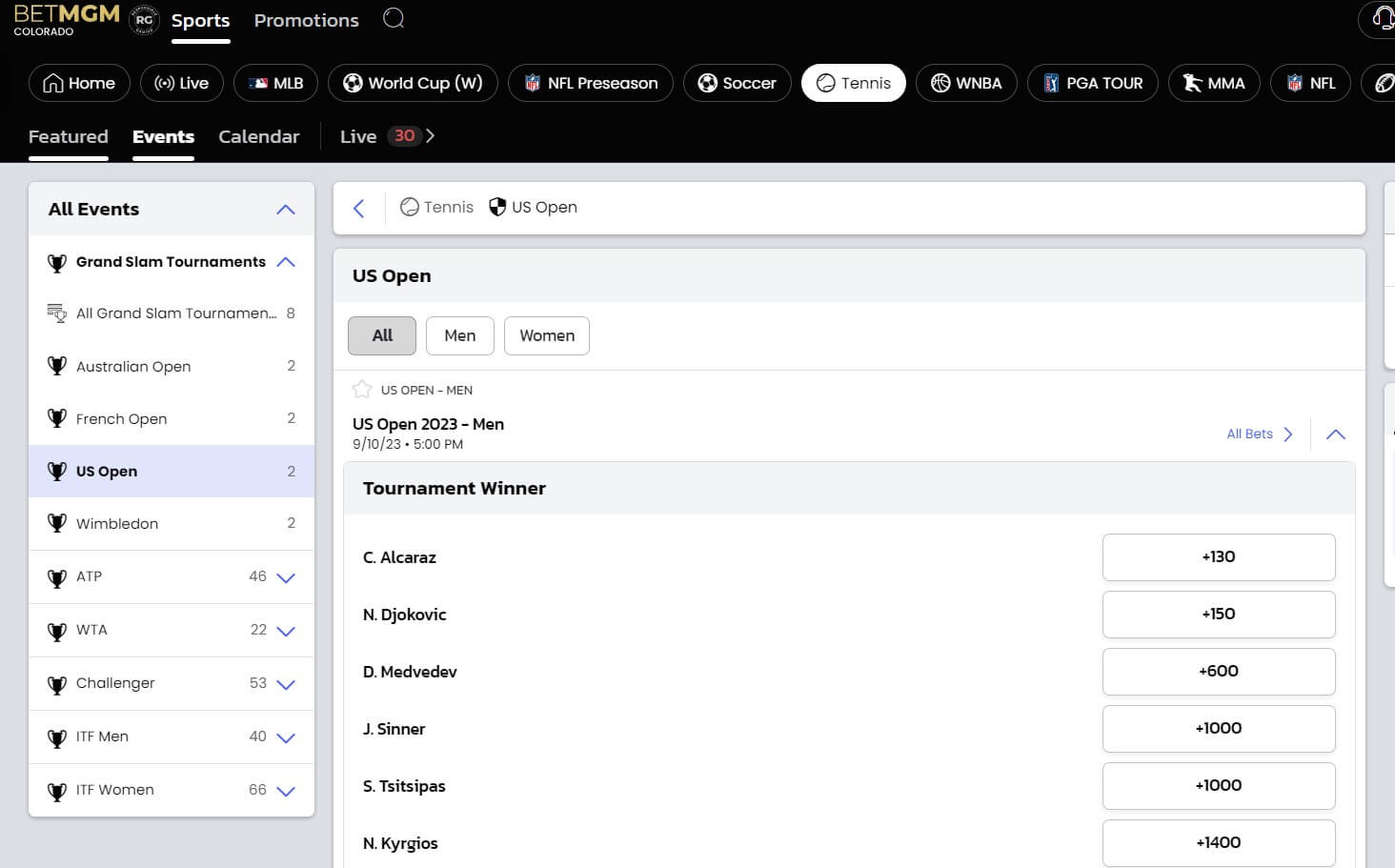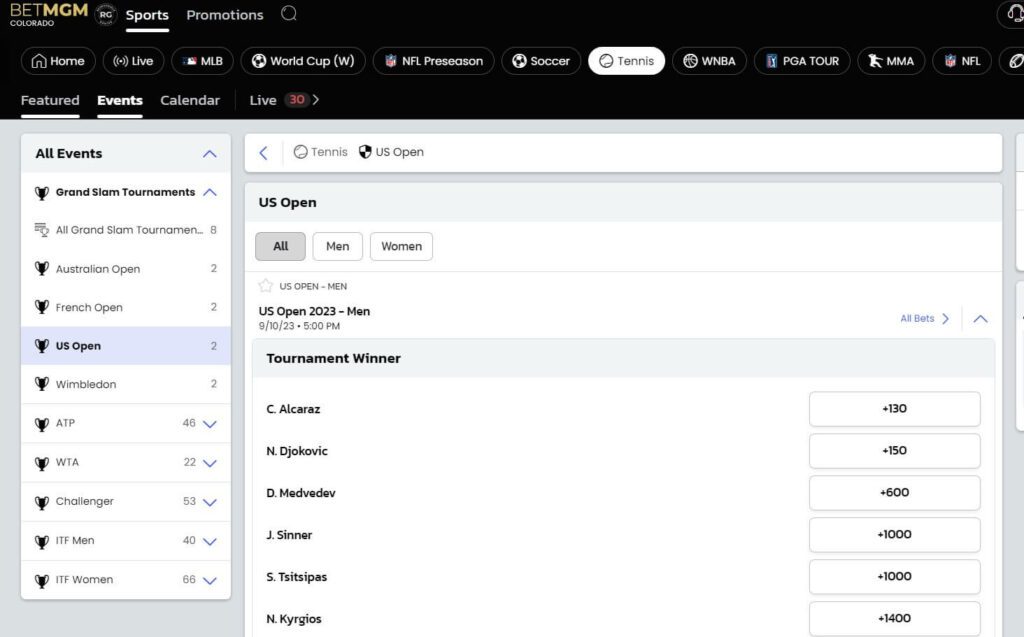 BetMGM stands tall among US tennis betting sites, and it doesn't take much digging to see why. Right off the bat, they welcome you with $1,000 in bonus bets. Then, they keep the perks coming for returning bettors, ranging from referral bonuses and parlay boosts to sport-specific challenges.
Their loyalty program, BetMGM Rewards, is arguably the best in the business, offering plenty of opportunities to stretch your tennis betting dollar. Plus, through BetMGM's partnership with IMG Arena, the operator can bring you live streams of all US Open matches, ensuring you never miss a moment.
Expert Comments:
"Parlay builders are the new wave in sports betting, and BetMGM is riding the crest. Their arsenal includes features like Edit My Bet, Multi Builder, and One-Game Parlays, giving you multiple avenues to craft perfect parlay. As I see it, tennis bettors will find a pretty good spread at BetMGM, even throwing some curveballs like "Will a player trail 0-1 in sets and stage a comeback?"
– Paul Ricci (Chief Sports Editor)

---
🎖️#4. FanDuel Sportsbook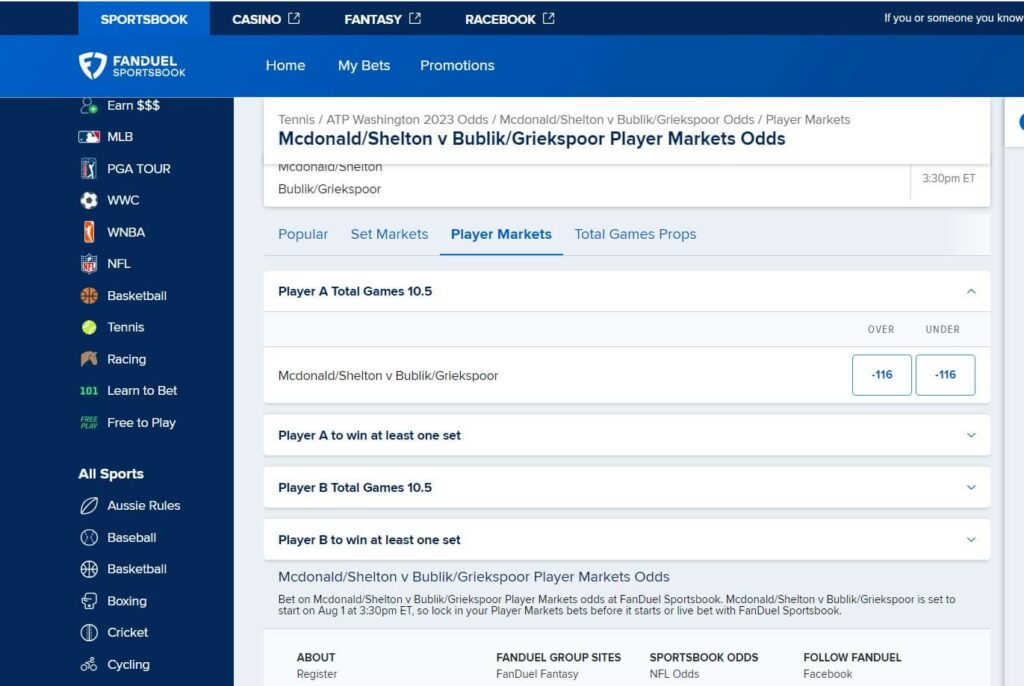 FanDuel is the leading sportsbook in terms of market share. Their new user promo is a knockout offer — No Sweat First Bet of $1,000. It's a great starting point for casual tennis bettors getting their feet wet. But the incentives don't end there — you can rack up promo dollars down the line to reinforce your tennis picks with their insurance bets, no-brainer promos, and parlay boosts.
Expert Comments:
"While most bettors praise FanDuel's user experience, I'm more impressed with their market depth. Their rotation of alternate lines for games is second-to-none. You're presented with a 5-spectrum line range for total games and games won by individual players. Plus, they serve up a suite of unique player props, such as "Player A to win the first service game" or "Set with most games." I also like that you can tune in on live action via their FanDuel TV+ live streaming service for a complete in-play tennis betting experience."
– Paul Ricci (Chief Sports Editor)

---
🏅#5. DraftKings Sportsbook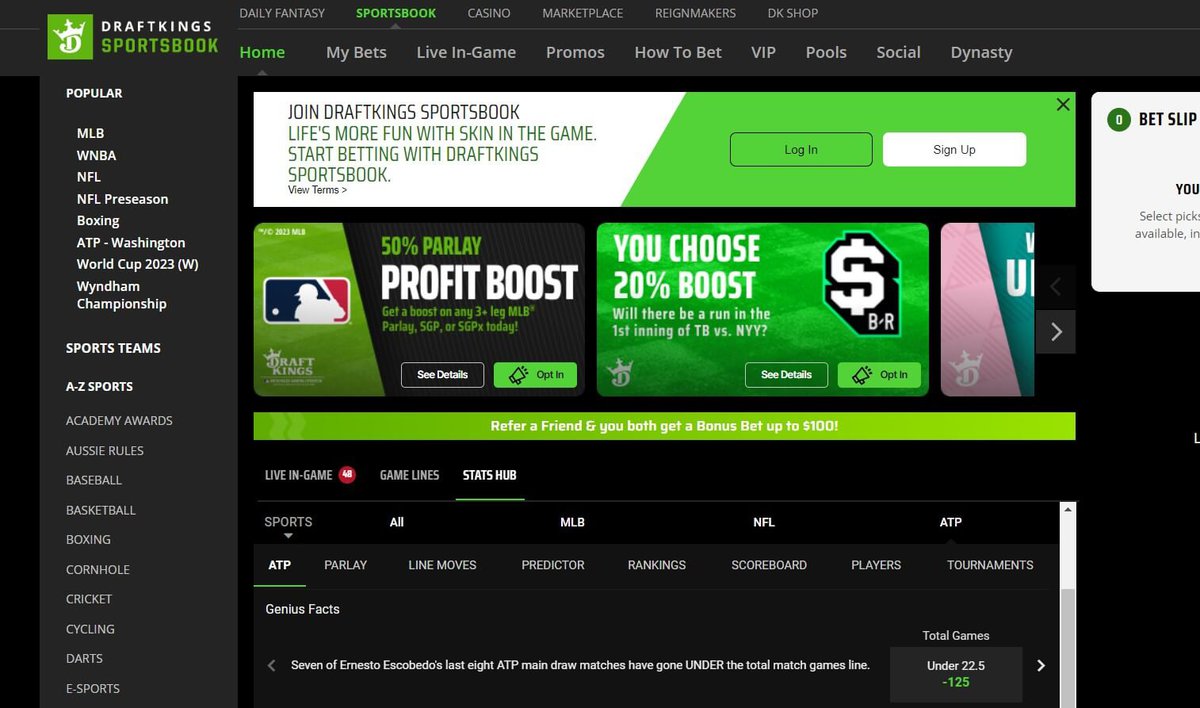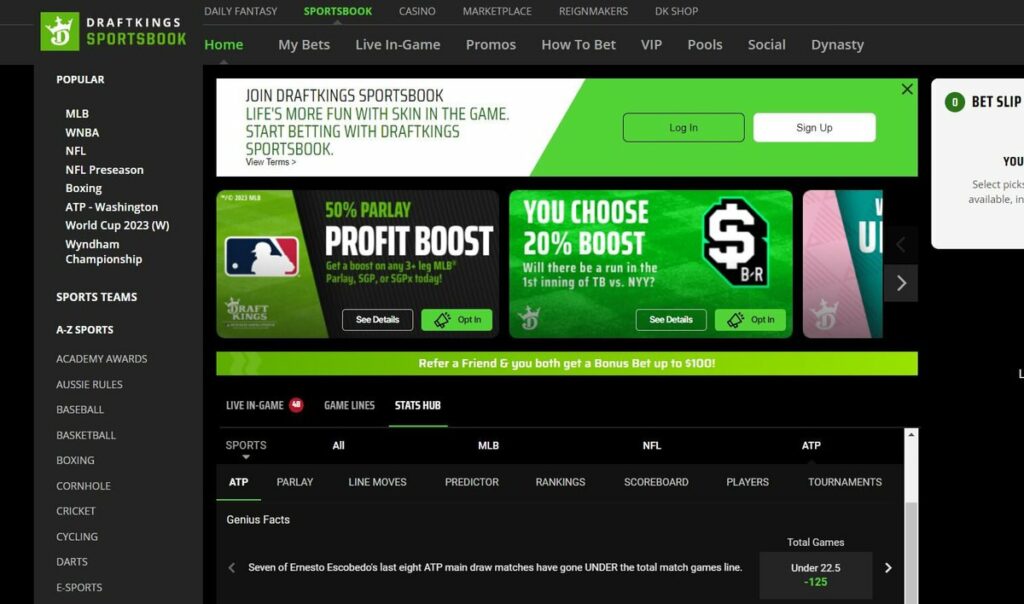 Pound-for-pound, DraftKings throws down a highly competitive welcome offer — 20% deposit match up to $1,000. DK is a top-tier shop for tennis bettors, as this is often the place to find the best-priced tournament winner odds for Grand Slams, including the US Open.
Expert Comments:
"DraftKings is one of the most progressive books around, and one of its crown jewels is the Stats Hub, an invaluable resource for any tennis bettor. Open any US Open matchup, and you'll find a load of advanced data and trends. I've found that it's like having your personal tennis stats guru on speed dial, ready to dish out insights at your command."
– Paul Ricci (Chief Sports Editor)

---
What Makes a Good US Open Sportsbook?
If you're on the hunt for the ultimate tennis betting sites but you're feeling a bit lost in the maze of choices, don't worry. We're here to help clear the fog and highlight the crucial elements that make an online sportsbook worthy of your time and money.
Licensing
Rule number one: your tennis betting site of choice should be licensed in the US. While offshore books may dangle the carrot of gigantic bonuses, they are not worth the trouble. Issues like skewed bonus terms and sluggish payouts are common. Plus, if you face any hitches, there's no regulatory authority you can turn to. In contrast, US-licensed online sportsbooks are under constant scrutiny by government agencies and have dedicated departments to address player disputes.
Security
Security is paramount once you have the licensing sorted. If you've picked legal tennis betting sites, you're already in the safe zone, as robust security measures are a prerequisite for obtaining a license. For an extra safety net, look for online sportsbooks that offer additional security features like two-factor authentication (2FA) and biometric logins.
US Open Odds
This one's a no-brainer. Choosing tennis betting sites with the best odds is paramount if you're aiming to reap the maximum returns from your US Open bets. Keep in mind that this isn't a one-size-fits-all scenario. In light of this, it's a smart move to sign up with several top-tier sportsbooks, so you'll always be in sync with the best tennis betting odds.
Grand Slam Betting Variety
In the weeks leading up to the US Open, you'll see the best tennis betting sites rolling out a raft of special bets. These unique prop bets can give you the edge you're after. From longshot props with odds of 5000+ to stat-based exotic bets like the total number of aces served, the right data and approach can lead you to a lucrative bet.
Features
Gone are the days when cash out and live streaming were the height of sports betting innovation. Today's top online sportsbooks offer advanced features like Bet Builders and Parlay Generators. Such options make for a more enjoyable tennis betting experience, and tools like DraftKings' StatsHub can provide valuable insights.
Customer Support
With the US Open being a daily event, every moment matters. The last thing you need is an untimely glitch or hiccup that pulls you out of the action. You want a sportsbook with top-notch customer support that's ready to jump in and get you back in the game quickly. They should be on the ball, solving issues efficiently and professionally so you can take advantage of the next big play.
---
Types of US Open Tennis Bets
When it comes to betting on the US Open, the variety of bets available is much broader than for most lower-tier tennis tournaments. Below are some of the most popular bets you'll encounter:
Moneyline (match betting): This is the most straightforward form of betting, where you're predicting the match winner. However, in the early rounds, match-ups can be fairly one-sided, often tipping the odds heavily in favor of top players like Novak Djokovic. If you're eyeing palpable value from match betting, you may need to wait for the tournament's later stages when stronger contenders face each other.
Over/under (totals): This tennis bet involves wagering on whether the total number of games or sets in a match goes over or under a given line. There are several variations, including betting on total games in a match, total games won by a particular player, and total sets. In the best-of-five matches in the men's draw, the total usually hovers around 38.5.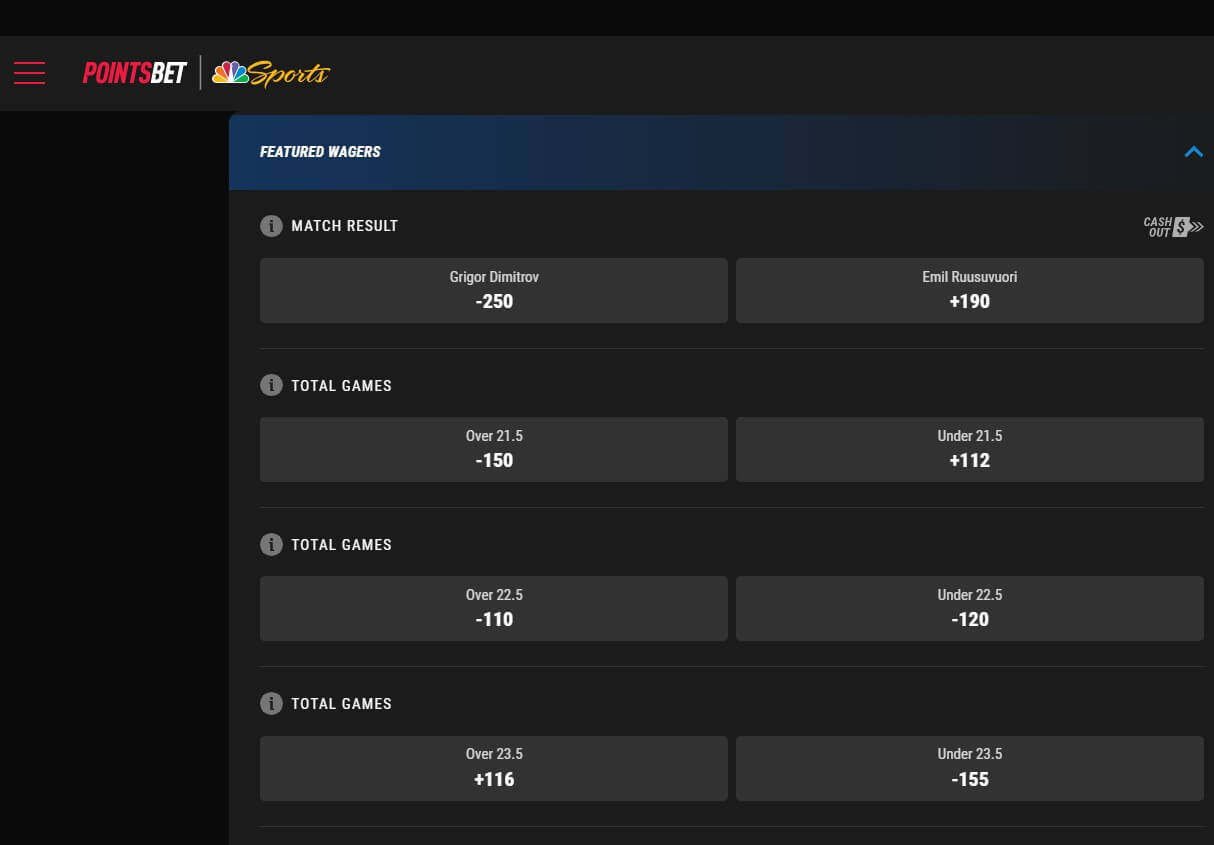 Spread betting (handicap betting): In tennis, spreads are available for both games and sets. Books sometimes offer alternative lines for these. The goal is to balance the perceived strength disparity between players. Essentially, you're betting on a player to win, taking the spread into account.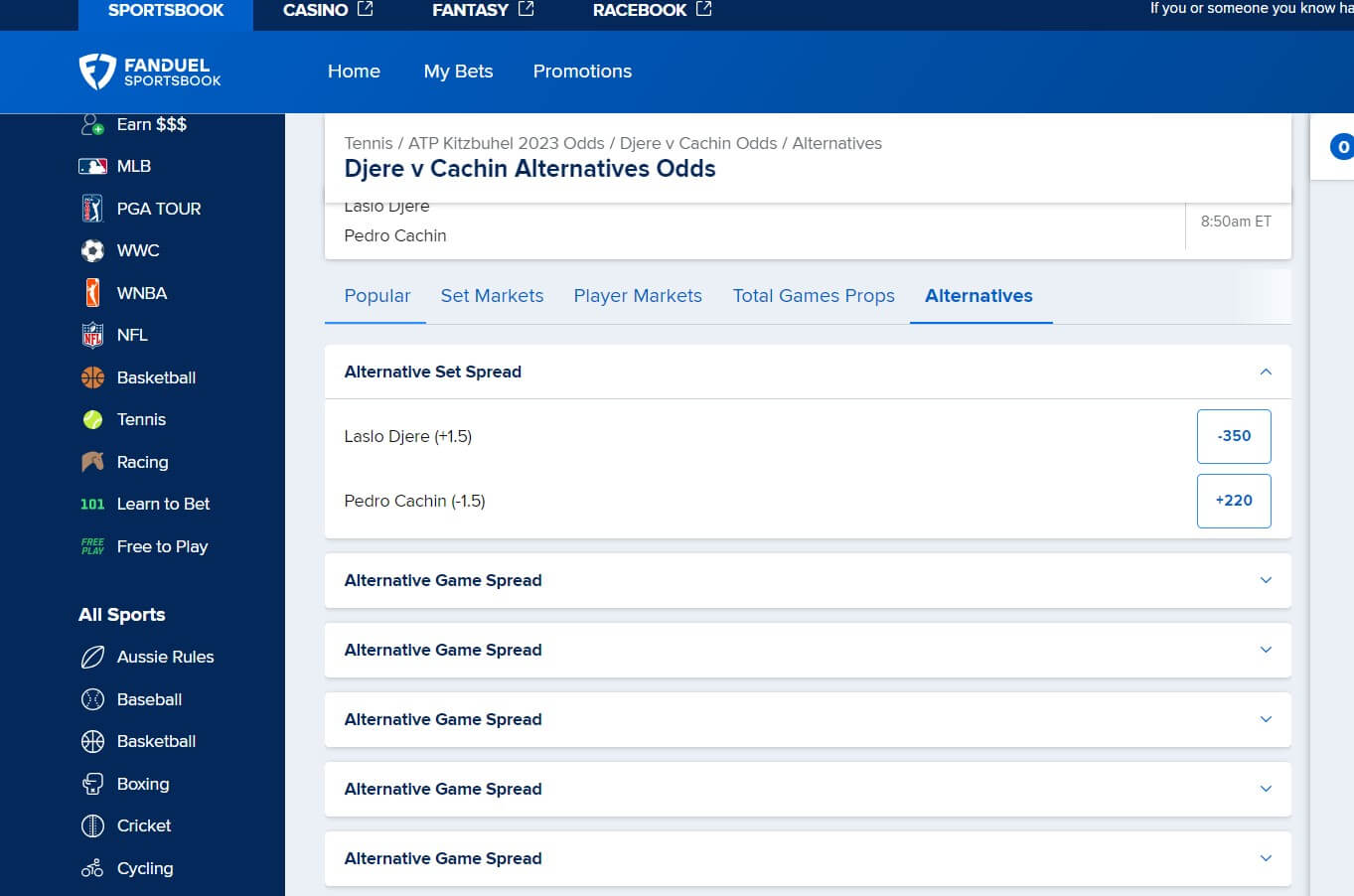 Tournament betting: These bets involve predicting outcomes for the tournament as a whole. For example, you could wager on who will be the outright winner of the US Open or how far a specific player will progress in the tournament. This type of betting often requires a broader understanding of the tennis landscape and players' form.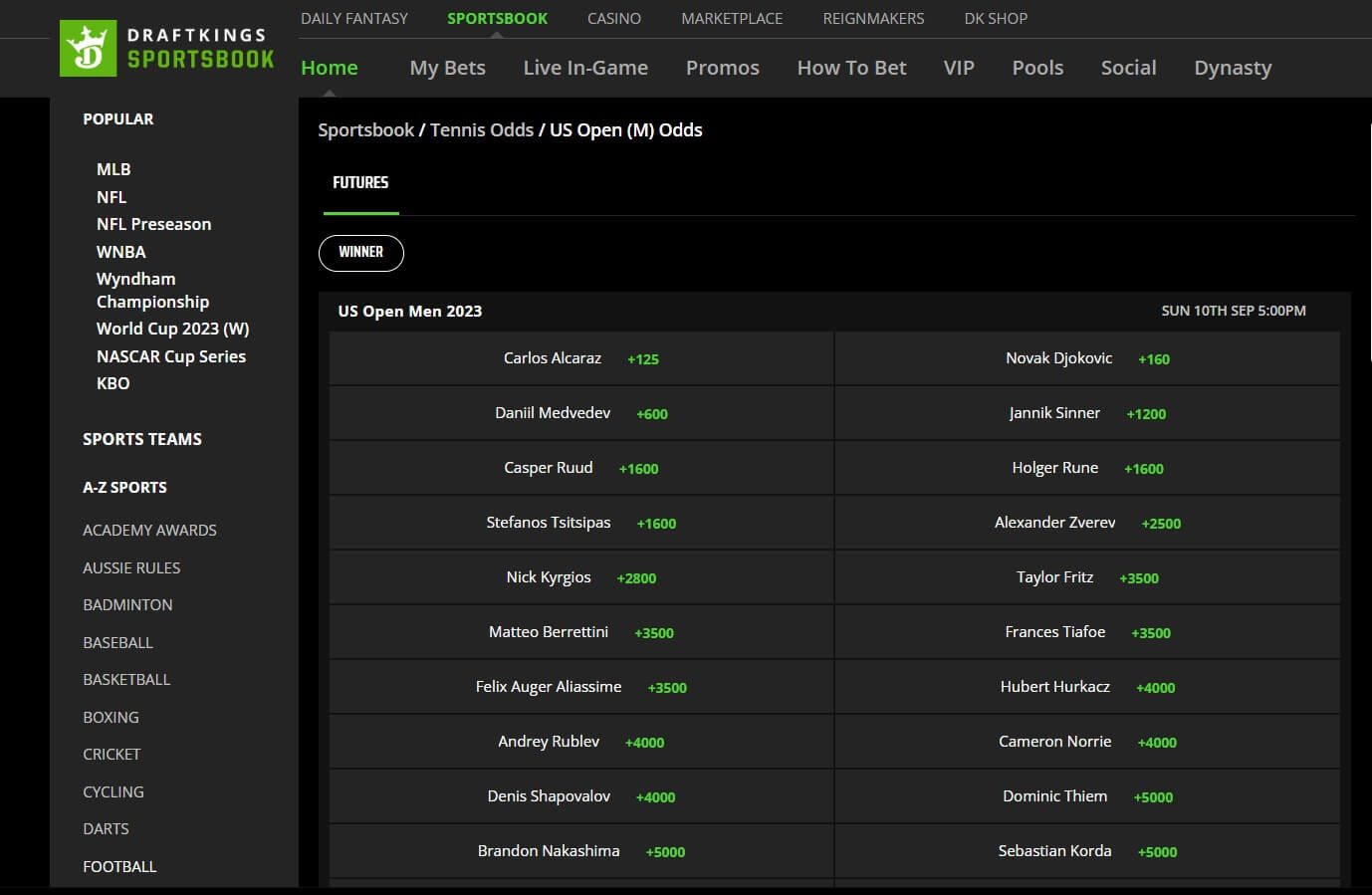 Exact score: This challenging tennis bet involves predicting how many games a player wins in a specific set or match. It isn't easy to get right, but it can yield substantial returns.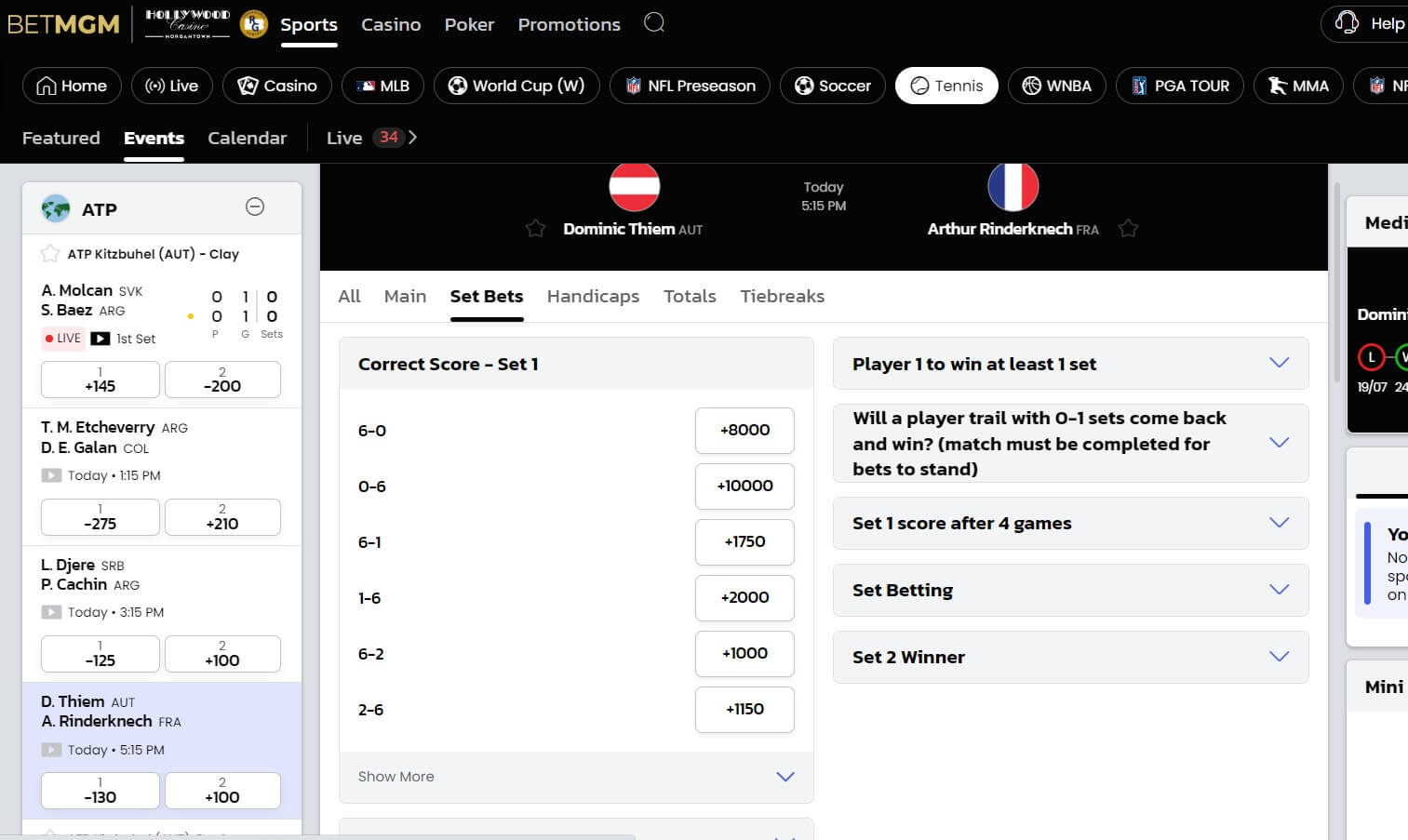 Prop sets: These bets focus on specific occurrences within a match. For instance, one popular prop bet is whether there will be a tiebreak in a set or match or how many aces Andy Murray might serve in a game.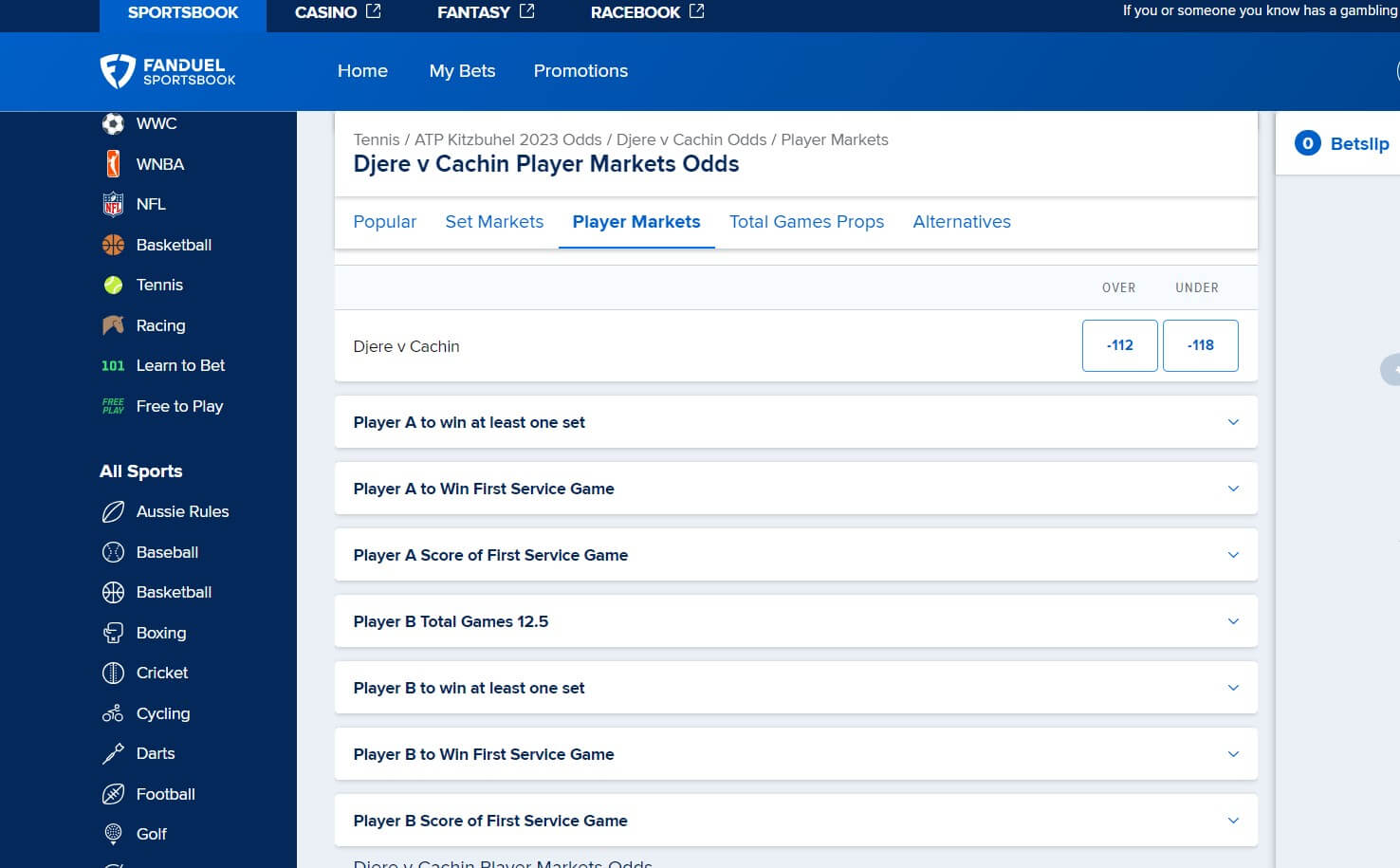 US Open Betting Tips and Strategies
Setting yourself up for potential success in US Open betting requires a comprehensive understanding of players, game dynamics, and strategic betting approaches. While knowledge of these areas won't promise wins, it will put you on the right path.
Here are some tips to sharpen your betting acumen:
Analyze player form: A player's recent performance can be a great indicator of their potential results in the US Open. Look into how players have fared in the run-up tournaments to the US Open, such as the ATP Washington, Masters in Toronto, Cincinnati, and Montreal.
Know the court: The US Open takes place on a hard court. This surface generally favors strong baseliners with footwork to match the speed of play and tactical diversity.
Study past performances: Players often have a knack for performing particularly well at specific tournaments. Dig into past US Open results to see who steps up their game under New York lights.
Check head-to-head records: Check the history between two players before placing a bet. Sometimes, one player simply knows another's play, and it's more about mind games than skill levels.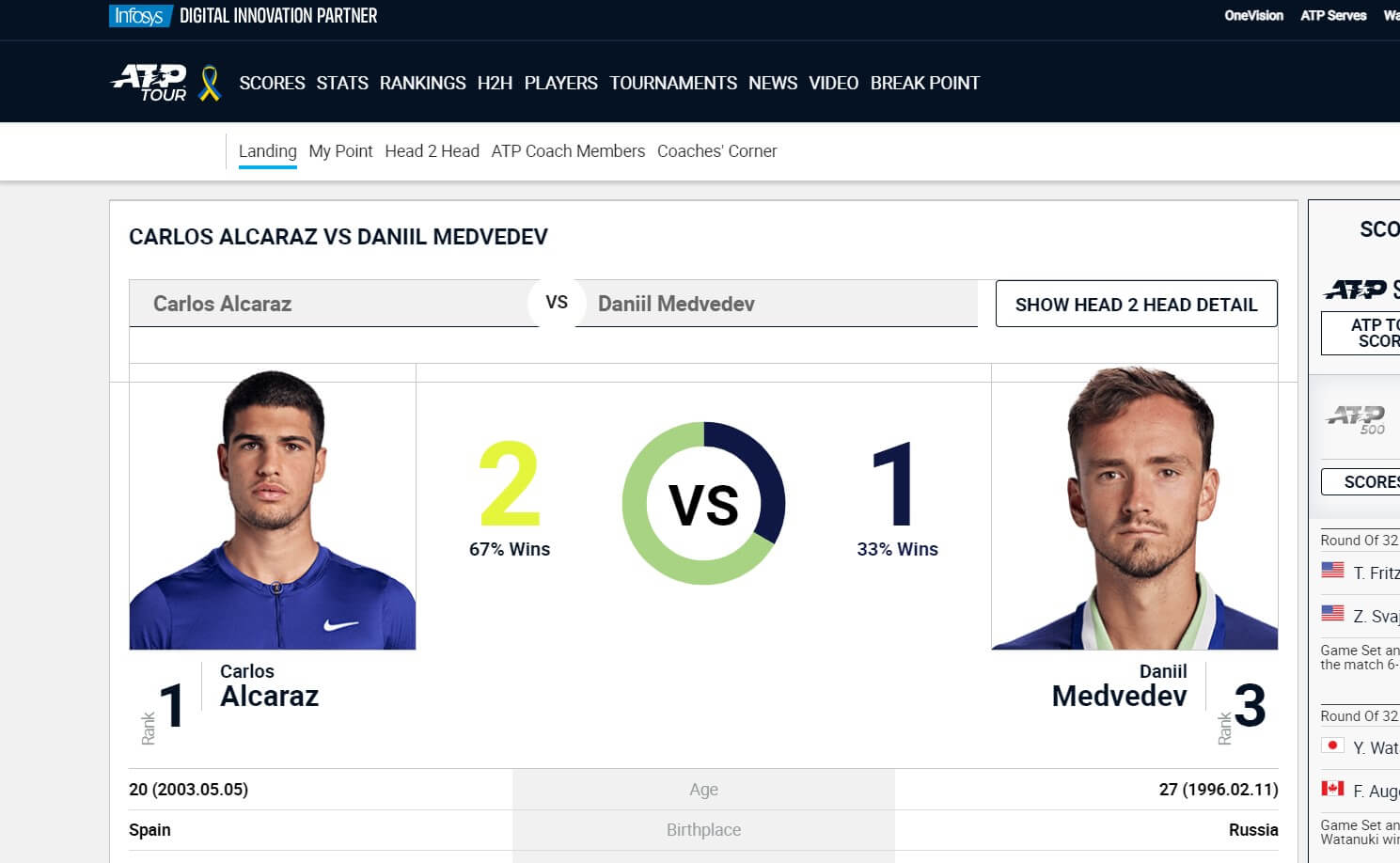 Utilize bonuses: Online sportsbooks often roll out a slew of bonuses and promotions for the US Open. Use these to your advantage to squeeze out some extra profit, but always ensure you're up to speed with their terms.
Advanced Tips
Pay attention to grip styles: Players using western and semi-western grips have historically excelled during the US Open. These grips enable high, aggressive shots with significant topspin — ideal for the high-bouncing, fast US Open courts. The list of players with these grip styles includes big names like Novak Djokovic, Rafael Nadal, Andy Murray, and Daniil Medvedev.
Consider the schedule: The tennis season is intense and come September, some athletes might feel worn down. Assess the players' tournament load and downtime to understand potential performance impacts.
Examine the draw: Studying the tournament draw can give you hints about a player's likely journey through the rounds. While a top seed could face difficult opposition early on, others may benefit from a draw against less proficient hard-court players. You can check out the draw at the official

US Open page

.
Keep an eye on the temperature/schedule: Temperatures and scheduling can change the dynamics of a match significantly. Hotter conditions can give the tennis ball a lively bounce, while cooler night sessions result in a lower, faster bounce. Keep an eye on the weather forecast and the match schedule when making your bets.
---
How to Get Started Betting
Betting on the US Open doesn't require much hassle. Here's a quick rundown of how to get started on tennis betting sites:
Choose a betting site: Check out our top list to find the best US Open betting site.
Sign up: Register with your personal details, including the last four digits of your SSN. Post-registration, you might be required to verify your account to activate it.
Deposit funds: Add funds to your account through an accepted payment method. Remember, some online betting sites require a promo code to activate your welcome bonus. We'll provide you with the bonus code on this page if there's one.
Browse the US Open program: Navigate through the available US Open matches and types of bets.
Place your bet: Choose your match, decide on the bet type and stake, then confirm your bet.
Remember, the minimum betting age is 21 in most states, and you must be physically present within the operational state lines of tennis betting sites to place a bet.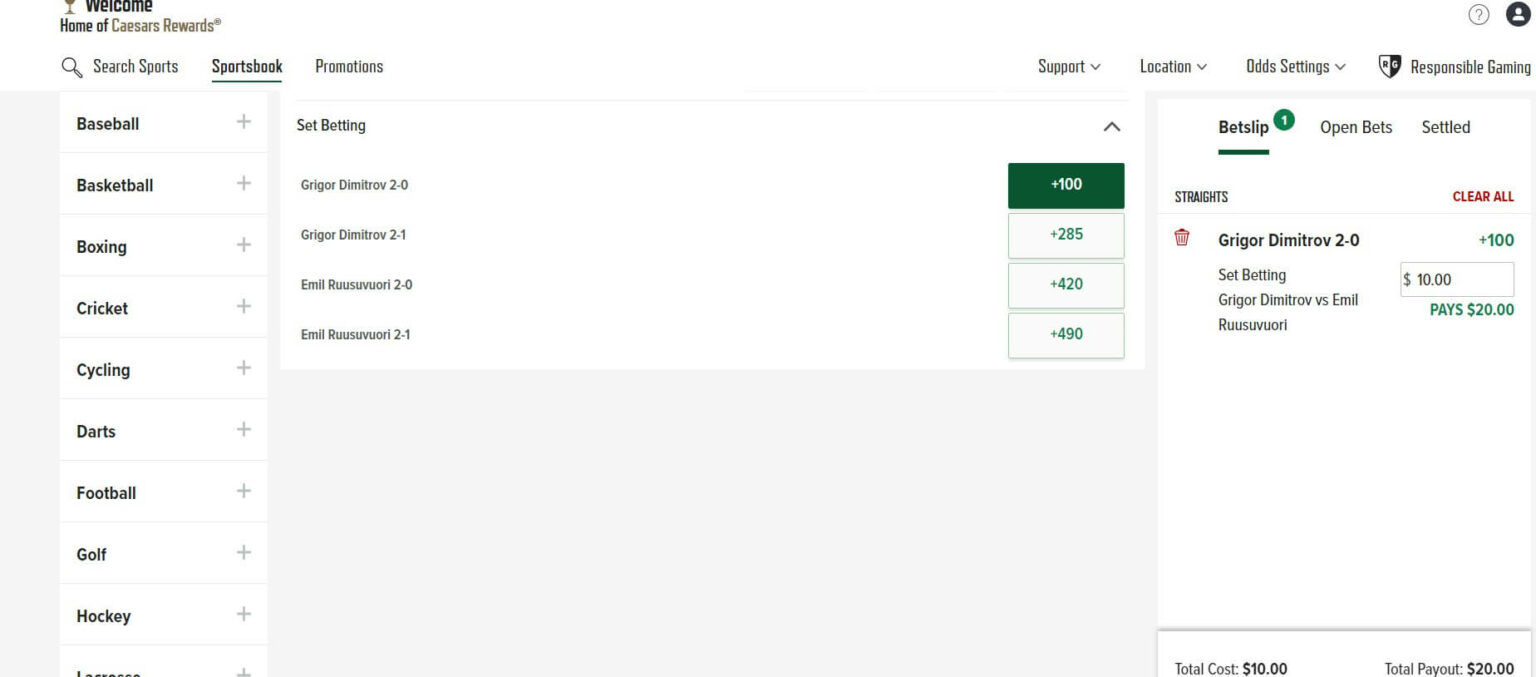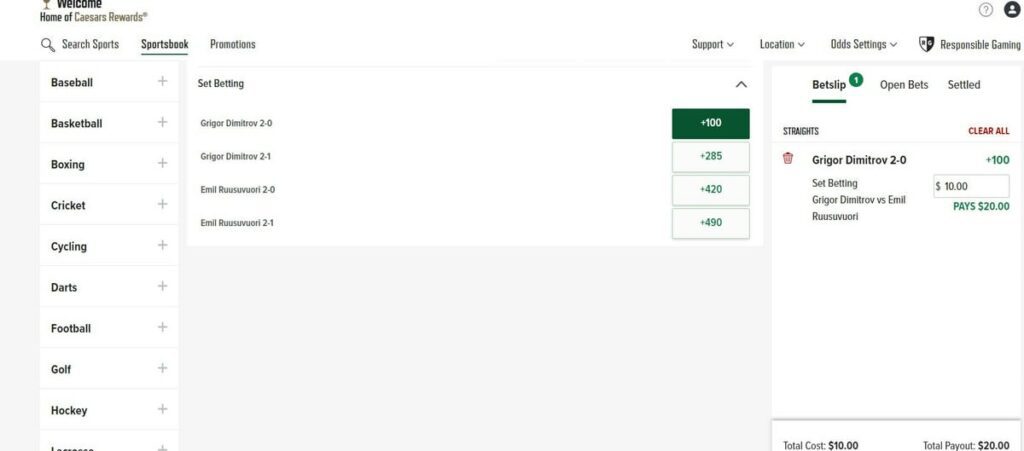 ---
FAQs
Can I bet on individual sets during the US Open?
Yes, most tennis betting sites provide the option to bet on the outcome of individual sets.
Is online tennis betting legal in the US?
Yes, but the legality varies by state. Make sure you understand your local laws before placing bets.
Are there any specific bonuses for US Open betting?
Yes, the best tennis betting sites run special promotions and bonuses during the US Open, including no-brainer deals, insurance bets, parlay boosts, and more.
What factors should I consider when choosing a US Open betting site?
Keep an eye out for site reputation, range of betting markets, competitive odds, user interface, and promotional offerings, among other things.
Can I bet on matches during the US Open using my mobile phone?
Yes, all US tennis betting sites have mobile platforms or apps allowing you to bet on the go.
How do I know if a US Open betting site is trustworthy?
Trustworthy online tennis betting sites hold legitimate licenses, offer secure transactions, and receive positive user feedback.