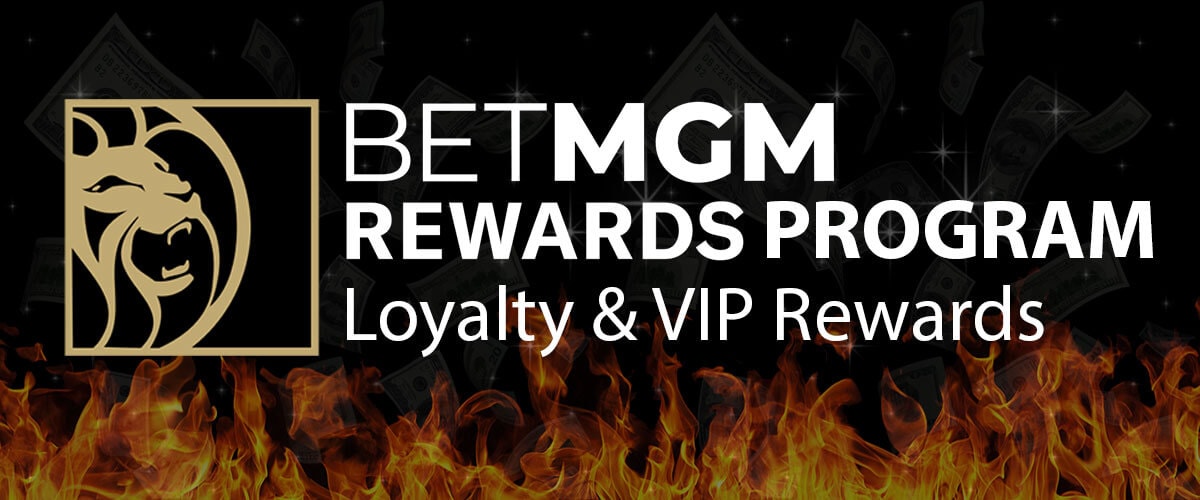 The BetMGM Sportsbook rewards program is one of the best rewards systems available in the country because it's operated by MGM Entertainment, one of the largest casino and resort operators in the country. The ownership by MGM Entertainment allows the online sportsbook to use a similar and cooperative rewards system, meaning that users can earn rewards points from all money spent through participating MGM Resort properties and its online casino and sportsbook.
It is a very lucrative loyalty program that allows users to redeem MGM rewards points for cash for sports wagering, online casino play, and at MGM rewards properties. It's also split into several different tiers of users, allowing the bigger spenders to earn more bang for their buck.
In the current MGM rewards program, online bettors will discover enhanced benefits and new ways to earn points. For the first time ever as part of this scheme, gaming and non-gaming customers can earn the same currency – MGM Rewards Points. These points can be redeemed for benefits including hotel stays, entertainment, complimentary dining and more.
If you're interested in reading more about the M Life Rewards program, read below for information on the different tiers and rewards, how to earn tier credits, how to sign up for an account, and how it compares to the Caesars Sportsbook loyalty program.
Overview of the BetMGM Rewards Program
The BetMGM Rewards program is one of the best rewards programs of top-tier sportsbooks like Caesars and DraftKings because of its massive number of ways users can redeem BetMGM rewards points. It also has a very competitive tier list that gives each member a unique set of perks and rewards just for continuing to bet with them.

It is also one of the easiest-to-use online rewards services because of the simplicity of the sign-up process and the fact that both the online casino and sportsbook use one account for each individual, meaning there's no need to link multiple accounts. It also allows users to earn rewards in several ways other than just online gambling, but at all MGM rewards destinations.
MLife Tiers & Rewards
Each MGM Rewards account is placed in a specific tier based on the amount of money the user has spent through online sports betting platforms, online casino play, and at MGM Resorts properties nationwide.
There are five reward tiers in total, and each one provides different rewards and perks for the user, such as increased iRP rates and priority access to MGM hotel stays, dinner reservations, and car services.
If you need to know what I mean by iRP rates, iRP stands for iRewards Points, which are what can be redeemed for different prizes and benefits (synonymous with rewards points). These reward points are earned by betting on the online casino or sports wagering platform.

Please read below for more information on the different tier levels, how to achieve them, and the perks that come with them.
Sapphire
The Sapphire tier is the base of MGM rewards tiers and is what most casual users will be in if they don't traditionally spend much money through MGM Resorts International or BetMGM Sportsbook locations. MGM rewards accounts in the sapphire tier have a standard iRP rate, meaning there is no modifier for how they earn rewards points.
Users in this tier do not qualify for a unique chance to experience MGM resorts properties; however, it allows them discounts on qualifying rooms.
Tier Credit Range: 0-24,999 MGM tier credits
Pearl
The Pearl tier is second in the BetMGM rewards program and has several benefits, including the first increased iRP rate on the list with an extra 10% on each rewards point earned. It also includes all of the benefits from the Sapphire tier, meaning that it has discounts on qualifying rooms available for members of this tier.
Pearl tier also gives users access to select buffet lines at participating MGM Resort properties!
Tier Credit Range: 25,000-74,999 MGM tier credits
Gold
Gold members of the BetMGM rewards program have access to all of the previously mentioned perks (excluding the iRP rate) and have an increased rate of earning rewards points with an extra 20%. Other perks include access to priority hotel check-in lines, perfect for the MGM Grand and Mandalay Bay properties in Las Vegas that are traditionally very busy (as well as several other places).
Tier Credit Range: 75,000-199,999 MGM tier credits
Platinum
The platinum tier is where the MGM rewards service really starts to unlock VIP benefits because it gives users access to an annual cruise for FREE! Platinum members also get access to priority taxi and valet services at MGM hotels.
On top of all the benefits listed above, platinum members receive a bonus iRP rate of an extra 30% per point earned.
Tier Credit Range: 200,000+
Noir
The Noir tier is the only one that cannot be earned by attaining enough rewards points but by being invited by a member of the MGM team. It's a challenging tier to attain, and it's hard to tell precisely what you must do to become a member of this tier; however, it definitely entails spending lots of money on MGM online casino games or at an affiliated BetMGM casino.
The benefits of this tier include all of the previous benefits and an iRP rate of an extra 40% per rewards point earned. It also gives members access to guaranteed hotel and dinner reservations and complimentary tickets for a limo service to and from the airport during their stay.
Tier Credit Range: Invite only
Tier Credits (iRPs) Earning System
There are several different ways to earn BetMGM rewards points (iRPs) that all include gambling your money within the MGM Resorts property portfolio. Each time you earn iRPs, you will also earn an equal amount in MGM Rewards tier credits that will be added to your account.
The difference between iRPs and tier credits is that iRPs are MGM rewards points redeemable for different free bets or experiences at MGM Resorts properties, restaurants, and entertainment venues. Rewards points also expire after 180 days of receiving them, so be sure to use them quickly!
Tier credits, on the other hand, expire after an entire year, meaning you will need to bet consistently to stay or increase in tiers after you pass sapphire. Tier credits cannot be redeemed for anything; they control the user's rewards tier.
Each way to earn rewards points has a different conversion rate, meaning your money spent at the sportsbook will not have the same conversion rate as money spent on online poker play.
BetMGM Sportsbook iRPs
Whether it be in person or on the BetMGM or Borgata online casino and sportsbook, users will receive rewards points and tier credits for the money they spend on sports betting through MGM. The conversions are different for straight bets, or bets with -110 odds (typically spreads or totals bets), and parlays with odds of +300 or better.
Straight bets of $50 receive nine iRPs and tier credits, while BetMGM parlays of $25 earn 12.5 iRPs and tier credits.
Promo Code: GAMBLEUSA
Up To $1,500 In Bonus Bets
21+. T&C Apply
21+. T&C Apply
Promo Code: GAMBLEUSA
Super fast payouts
Live streaming
Promo Code: GAMBLEUSA
Up To $1,500 In Bonus Bets
21+. T&C Apply
21+. T&C Apply
BetMGM Online Casino iRPs
Earning iRPs and tier credits through online casino games is somewhat different than the online sportsbook because the conversion rate of each game is 1. For example, the following betting amounts will yield the user one rewards point and tier credit:
Promo Code: GAMBLEUSA
$25 On The House + $1,000 Matched Bonus
21+. T&C Apply
21+. T&C Apply
Promo Code: GAMBLEUSA
Awesome $25 Casino Bonus
Huge Games Library
Promo Code: GAMBLEUSA
$25 On The House + $1,000 Matched Bonus
21+. T&C Apply
21+. T&C Apply
BetMGM Online Poker iRPs
Betting on BetMGM online poker gets a good return because $1 from each cash game rake and $1 from online play in tournaments net the user 4.2 iRPs and tier credits. Unfortunately, this doesn't mean that if you enter a tournament with a buy-in of $5, you get 21 rewards points; it means that each time you enter a tournament or receive a cash rake of $1 or more, you will receive 4.2 iRPs and tier credits.
MGM Retail Casinos iRPs
If you live near an affiliated MGM casino or resort, use your rewards account to receive a ton of tier credits for every dollar spent. It's by far and away the best bang for your buck when spending money through MGM, so be sure to get your credits every time you do!
It's possible to earn credits for getting dinner, staying at the hotel, using the spa, indulging in entertainment, and betting on slots or table games.
For every $1 spent on dining, spa, entertainment, and hotel rooms, users will receive 25 tier credits.
For every $3 spent on slot machines at MGM properties, the user will receive 10 tier credits.
Every $10 spent on video poker at MGM properties will yield the user 10 tier credits.
Table games such as blackjack and roulette vary based on the time played and average wager, which will change based on your betting habits.
While this is the best possible way to get tier credits, there are better ways to receive rewards points because none of the in-person casino games give them to members. It's mainly a means of getting into higher rewards tiers quicker than the average player who only bets online.
MGM Moments
BetMGM provides an 'extra' layer of rewards called MGM Moments. These are ultra-exclusive experiences only available to members, however, they are not free. Members can buy these special perks over the phone or through a concierge or casino host at any MGM property.
Some examples of these moments include:
Dolphin swimming experience at the Mirage: $500
Shark diving experience at Shark Reef at Mandalay Bay: $650
Choose the Bellagio fountain songs: $2,000
Signing up for M Life Rewards at BetMGM Online
Signing up for the M Life Rewards system is easy and takes only a few minutes to complete. First, you'll need to click the link here and click the "activate online account" button if you already have an account through the online sportsbook or casino or on the "sign up" button if you don't already have an account (pictured below).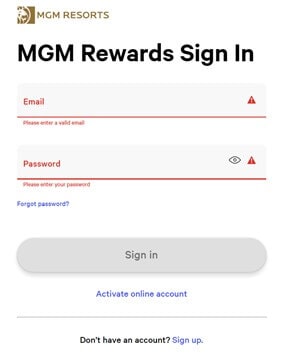 If you do have a BetMGM account, the only thing you will need to do is verify your email to sign up for M Life Rewards. If you're new and need to create an account, you will need to open a BetMGM account using your full name, date of birth, email address, phone number, home address, and the last four digits of your social security number.
Redeeming your BetMGM Rewards
Points can be redeemed at the BetMGM rewards store in two separate ways, in-person or online. Redeeming online has a conversion rate of 1.25 times the points, meaning that for every thousand points redeemed, the user will get $12.50 in free bets for the online sportsbook or casino.
Users can also convert BetMGM online rewards points to MGM rewards points, which can be redeemed for tickets to MGM rewards concerts, hotels, and other comps. The conversion rate for converting BetMGM rewards points to MGM rewards points is the same as above at 1.25 times the points.
Differences between BetMGM Rewards and MGM Rewards
The main difference between the BetMGM rewards system and the MGM Rewards system is that the points earned through each can only be redeemed for select services. As mentioned above, BetMGM rewards points can be redeemed for MGM rewards points, so they are transferable; however, they cannot be used synonymously.
MGM rewards points can be used to redeem prizes like waived resort fees for up to three nights, complimentary tickets to concerts and other entertainment activities, and discounts and gift cards for different MGM dining experiences. BetMGM rewards points, on the other hand, can only be redeemed for free bets in online casino play poker, online table games, and on the online sports betting platform.
Issues with BetMGM Rewards Program
Similar to everything else on the internet, BetMGM technical issues will sometimes involve the app or website needing to be fixed. Sometimes, you will need to contact customer support if there is a big enough issue. It can range from issues redeeming your points to problems signing in or activating your account.
If you have an issue redeeming your points, you need to contact customer support immediately because this is a significant irregularity and should be fixed as soon as possible. If it's something like an issue signing in to your account, try resetting your password or calling customer support at +1(866)761-7111.
Be sure to link your BetMGM casino or sportsbook account with MGM Rewards to earn points and tier credits, or else your spending won't earn you points! Also, use the rewards app (pictured below) every time you're at an MGM resort property to earn points for every dollar you spend in person!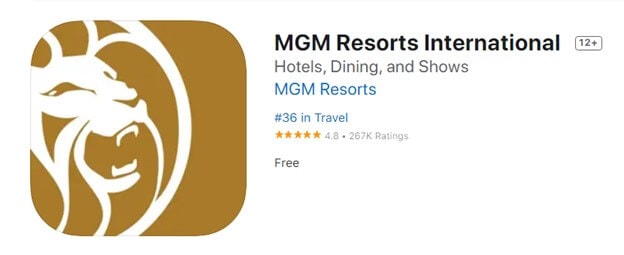 BetMGM Rewards vs. Caesars Rewards
BetMGM Rewards is often compared to the Caesars Rewards system because of the similarity that each is owned by a titan of the resort industry in Las Vegas and the gambling industry as a whole nationwide. They are both leading sports betting platforms, and each provides users with a top-tier rewards system that provides users with plenty of perks in select tiers.
Caesars has a very similar tier system to earn points and earn tier credits by gambling onlineor in person at one of their properties; however, the MGM system provides a quicker way to get higher through the tiers. MGM offers more tier credits for money spent at MGM Resorts than Caesars, as well as an equal number of experiences to redeem the points on.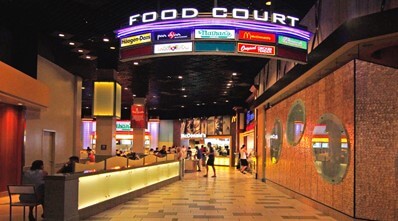 BetMGM Rewards Program FAQs
Do I need to make a new account for BetMGM Rewards?
No! If you already have an account with BetMGM, you only need to activate it on the BetMGM Rewards website by verifying your email address. To do this, you will need to enter your BetMGM account's email address, and the verification code sent to that email address.
How do I redeem my BetMGM rewards points?
To redeem BetMGM rewards points, you need to convert them to specific prizes from the loyalty store, formerly the M Life rewards store. From there, you can redeem BetMGM rewards points for free bets online in increments of $10 or $25 by redeeming 800 or 2000 rewards points.

Users can also convert BetMGM rewards points to MGM rewards points that the user can use at MGM properties. Users can redeem 400 BetMGM rewards points for $5 in MGM rewards points or 2000 BetMGM rewards points for $25 in MGM rewards points.
What is the best way to earn tier credits for my account?
The quickest way to upgrade through the BetMGM Rewards tier system is by spending money on in-person experiences at different MGM Resorts around the country. Dining, entertainment, and hotel stays have the highest return rate on tier credits than any other form of spending.
What casinos and Resorts can I earn BetMGM Tier Credits from?
All MGM Resorts properties across the country can earn users tier credits, including the MGM National Harbor, MGM Grand, and Mandalay Bay Resort. Online sportsbooks and casinos are included as well. If you have any questions about the Rewards program, speak to the MGM rewards desk.
Can I earn MGM Rewards points and bonus credits?
While there isn't a way to earn bonus credits, you can multiply your points earned by being in a higher rewards tier. Increased iRP rates are the only way to earn more rewards points than the standard conversion rate.
How do I join the BetMGM Rewards program?
When you have created a new BetMGM account, you will be automatically enrolled into the rewards scheme. There is nothing extra you have to do or any hoops you need to go through. You will then begin to accumulate BetMGM Rewards Points as soon as you make your first real money wager.