Baccarat is a classic casino game, with players flocking to gambling meccas such as Las Vegas and Atlantic City to try and win some real money while enjoying this card-based game. But did you know you can play on your mobile on one of the new real money Bacarrat apps? We take a look at which ones provide the best playing experience on mobile devices.
Playing real money baccarat is now easier than ever, thanks to some amazing baccarat apps that are now available on mobile, Android & iPhone. As technology has advanced, players can experience premium online gambling, with online casinos now available in states such as Michigan, New Jersey, and Pennsylvania. Players in those states can play Baccarat on the go with NJ Casino apps and PA Casino apps.
Best Baccarat Apps
If you are searching for the best baccarat app, we have a list of mobile casinos with a superb collection of baccarat games, including live dealer options. These include:
Mobile gaming has become a crucial element of what an online casino can offer, with players requiring a sophisticated mobile app that they can play on their smartphone or tablet. Customers enjoy playing casino games on the go, and with cutting-edge casino apps, that is now possible. The good news is through these mobile apps, you can play baccarat on the move, too.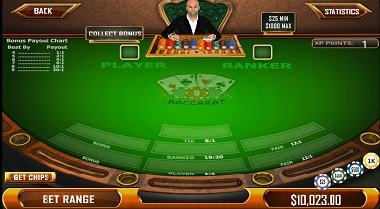 This article covers the best real money baccarat apps, baccarat free download options, how to play mobile baccarat, and more. The baccarat game has been one of the last of the classic casino games to transfer from a desktop to a mobile app. The transition has not been as straightforward as options such as French roulette online or roulette slot machines; however, baccarat is now available on a select number of secure mobile casinos.
If online casinos are not legal in your state, you may want to play at a sweepstake casino where you can play and win real money. These casinos play using virtual sweepstakes currencies instead of cash, making them legal in most states in the US.
All the top apps we have listed above have variants for both iPhone and Android devices. If you are entirely new to the game of baccarat, there are also baccarat dealer training apps available on Play Google. These apps allow you to learn the baccarat system and gain some knowledge and develop a betting strategy. Additionally, these brands offer in-app purchases if you wanted to expand your online baccarat experience.
Choosing a Baccarat Mobile App
As most bettors are accessing online casinos through smartphones and tablets, operators are investing in their games for mobile devices. There are two ways you can play online baccarat on your smartphone or tablet; you can play via your web browser on the mobile version of the casino website or download the mobile casino app. The best operators have updated their popular games, so they are compatible with iOS and Android devices. This means the baccarat download will be straightforward whether you have an iPhone or Android device.
Additionally, modern games are released in HTML5, meaning they have an easy-to-navigate layout, making for a pleasant gaming experience on smaller screens. However, if you are looking to play mobile baccarat, you should be aware of the variety of games a mobile casino offers before signing up. To make their casino apps lighter, operators frequently will only include a small number of their games libraries, with most options typically slot titles.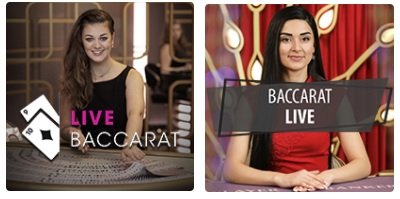 The good news is that baccarat games available on mobile apps are popular, so it is safe to assume you will find the most prominent baccarat games to play on the go. The most obvious starting point when looking to play baccarat for real money on a mobile app is to go for the most well-known brands. However, if you explore the online casino market, you will come across numerous options that include free mobile-friendly games and various bonuses.
Here is what to look out for when choosing a baccarat app.
Functionality: The app must be easy to use, so it is easy to navigate and contain all the necessary features. You don't want to get lost if you are looking for baccarat rules or searching for different games. This can easily translate to a frustrating game experience.
Quality Baccarat Games: A top Baccarat app should consist of a range of mobile Baccarat games since that is what you are after. These games should also come from quality developers so you can expect the best graphics, sound quality, and gameplay.
Game Variety: There are not as many games available on a mobile as there is on a desktop, so make sure there are enough available to keep you engaged. Ideally, you want to see a good mix of games in addition to Baccarat like slots, progressives, live dealer games, etc. This way, you can easily swap to something else when you are tired of playing Baccarat.
Security: Ensure the platform you are playing on is licensed and encrypted, so your personal information is protected. The app should also have safety measures in place to prevent your details from falling into the wrong hands. This is not something that you'll find on many mobile apps, which is why it is a critical factor to evaluate.
Remarkable Customer Support: There are times you'll need to contact the customer support specialists on your chosen Baccarat app. This is inevitable even if you settle for the best app you can find. Not every app will have the same professionalism in terms of customer support, so you want to go for only the best. Make sure the team is friendly and easily accessible via live chat, email, and telephone.
Bonuses and Promotions: The right bonuses can have a significant impact on your overall experience. As such, you want to aim for platforms with amazing bonus offers and promotions, especially when you play Baccarat games and other casino games. These could range from welcome bonuses, no deposit bonuses, free spins, free cash, and many more. In addition, they should have fair wagering requirements to make them worthwhile.
Free Games: Before playing baccarat for real money, you may want to test the waters and play for free. Unfortunately, not all mobile apps offer free-play, but free-mode is available on desktop.
Differences Between a Baccarat App vs. Web-Browser
Nowadays, all gambling sites give users the chance to play their favorite games on the go. Whether that be Android blackjack, looking for blackjack odds, or playing slots on an iPhone, operators have optimized responsive design so you can play via your web browser or on their mobile app. Customers can download the mobile app directly from the casino's website, the iTunes App Store, or the Google Play Store.
Some brands that have been around for a long time, before mobile gambling became widespread, have adapted their sites, so they function seamlessly on the latest devices. Additionally, new sites are launched with mobile users' requirements in mind so that players can play mobile baccarat on laptops, tablets, smartphones, and desktops, and all work equally as well.
One of the significant factors that prevent a mobile casino from offering real money baccarat through a native app is the restrictions on Google Play and iTunes. Furthermore, the work required for designing an app is far more extensive than optimizing the site for mobile browsers. Because mobile browsers do not support the Flash extension, the software needs to be developed in HTLM5 or JavaScript. As we mentioned above, new operators have this in mind when designing their platforms. Playing a baccarat game via Chrome or any other browser is fast and efficient. Another bonus of playing baccarat via a web browser is there is no need to download anything; consequently, your memory won't be eaten into.
iOS vs. Android: Where Should You Play Mobile Baccarat
It is one of the big debates every time there is a release of the latest mobile. Should I go for the new iPhone or Android? In terms of gambling apps, until recently, Apple customers had more benefits compared to those with Android devices. This is because Google did not allow real money gambling apps to appear on the Google Play Store until 2021. The tech giant was concerned about people placing bets online and had licensing concerns.
However, as time has progressed, Google has softened its stance, and baccarat apps, online casino apps, and online poker options are now available on the Play Store. Furthermore, operators who want to offer an app on the App Store need to provide lots of information and undergo a thorough vetting process before they are permitted.
While all this was going on, Apple continued to allow betting apps, and if you have always owned an iPhone, you will have had no problems accessing baccarat apps. Even if you have an old phone, you just need to update your iOS, and your mobile becomes compatible with the newest gambling applications.
Both Apple and Google have stringent policies regarding real money applications, so if you want to play baccarat for real cash, you will be doing so on a safe platform. Your data is protected, and there is no need to worry when downloading a mobile baccarat application.
Playing Baccarat Online
When you have chosen whether you want to play mobile baccarat on an app or web browser or on an iPhone or Android, the final choice is which site to use. One of the first things you should look out for before you play baccarat on an app is the number of games available. It will be noticeable that the number of games on offer at most casino applications is smaller than a desktop version.
Some software developers have lots of experience when it comes to offering mobile baccarat. These include NetEnt, Microgaming, and  Playtech. If you are looking for some good baccarat options to play on the go, keeping an eye out for an online casino with games provided by any of these brands would be an excellent place to start.
All of these real money baccarat apps are available for players in CT, MI, NJ, PA & WV. If you are located in a different state, you can play for free money with SugarHouse Casino4fun, or with Hollywood casino play4fun.
If you are looking to find some extra tips and strategies for Baccarat, then our guide will provide you with some great information.
Why You Should Use Baccarat Apps for Casino Games?
After all of this, you may be wondering why it is beneficial to use a baccarat app instead of playing via your PC. Here are a few reasons why using an app is beneficial:
It is Convenient
With an app, you don't need to leave home and find your way to the closest online casino to play Baccarat. Instead, you can do this from the comfort of your home or any location using your mobile device. This makes it a highly convenient option especially if you are always on the move.
Play for Real Money
Baccarat apps allow you to enjoy real money games as opposed to playing for fun. This means you can wager and win real cash right from your palms, using your mobile device!
Bonuses and Promotions
Baccarat apps come with a range of unique bonus offers that you may not have gotten if you did not use the app. These range from free cash, bonus chips, and many more. In most cases, you get these bonuses simply for downloading and registering on the app!
FAQs
Is it legal to play baccarat on mobile?
If you are in NJ or PA, then you can legally play baccarat on your mobile (or online) for real money. There are lots of free or play money baccarat games available in Google Play & iTunes for states where real money casino gaming is not allowed online.
Do I need to Pay to Download Baccarat Apps?
No, Baccarat apps are free to download and don't cost any penny. Simply head to the IOS or Google Store depending on your device, and start your download.
Can I use more than one Baccarat App?
Yes, you can. In fact, it is advisable to try more than one app before you settle for one. This will enable you see what the apps are offering and choose the one that aligns with your needs. However, don't open numerous accounts with one Baccarat app as it is against the casino's policy and may cause you to get banned.