Gamble USA strives to improve your online gambling experience. We aim to help you play safely, make informed decisions when gambling, and increase your betting knowledge through our guides.
We adhere to strict editorial integrity; our content may contain links to products from our licensed & legal US partners.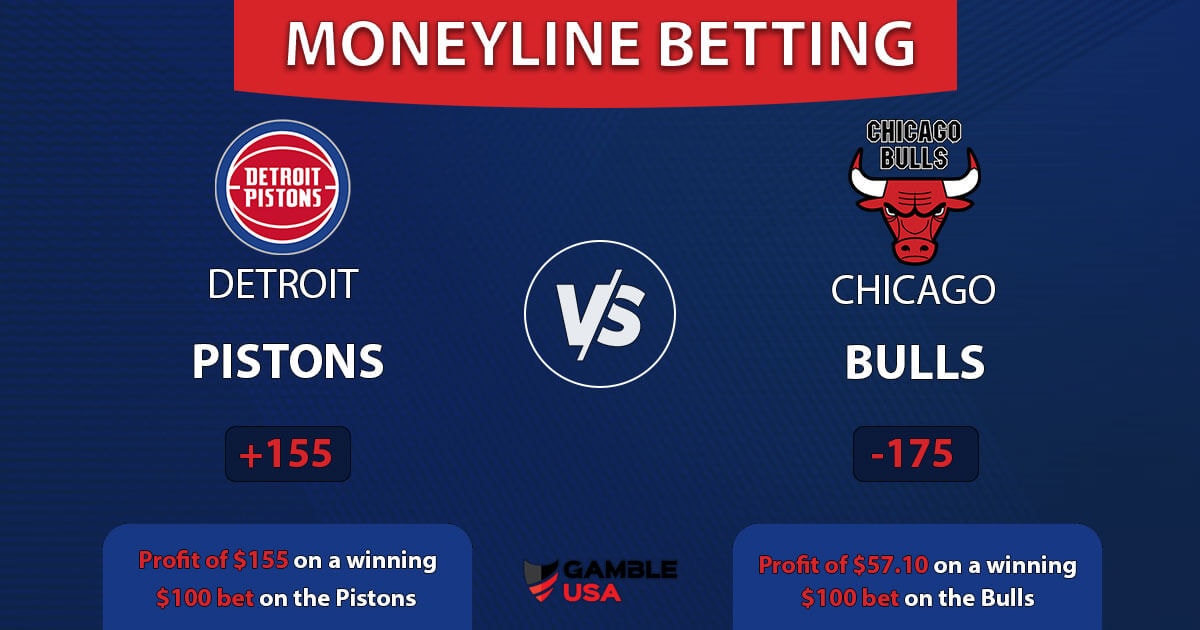 One of the most prominent ways to bet on sports is the moneyline.
Most bettors make moneyline bets without even realizing it. Visit New Jersey or Nevada, and Vegas moneyline bets are everywhere. People who aren't really interested in gambling or sports will have made a money line bet. Betting the moneyline for a game is arguably the most straightforward way to wager on sports, certainly compared to a prop bet, point spread bets or parlays. Bettors simply choose a team or player to win when betting money line. If the player is victorious and selects the winning team, the sportsbook will transfer their winnings to their online account. There are no hidden complications to sports betting money line; it is that straightforward.
People may wish to look at moneyline VS spread before placing a wager to see which method is the most suitable for them. Everyone should be aware that there is no point spread with a moneyline bet as people are just choosing the winning side. Although the premise of placing a bet is easy, trying to grasp and understanding money lines and how they pay may be more challenging. Each side of a moneyline wager is paid on a different schedule, and, consequently, this type of wager can be confusing.
The favorite player or team on a sports money line is the one that is expected to win. This side of the wager will have a minus sign (-) listed. Conversely, the underdog player or team on the moneyline is the one that is widely expected to lose. This side of the bet will have a plus sign in front (+). These signs indicate how each side of the bet will play. The minus side will pay out less than the original bet, while the plus side will pay out more.
If you have ever wondered 'what does it mean when you bet the moneyline?', wonder no more as you will discover money line betting explained in this article. There are numerous betting strategies out there, such as matched betting and arbitrage betting. However, we are going to explain everything you need to know regarding moneyline betting in this article. We will carefully explain how moneyline odds work and how it differs from other wagering options such as over/under and point totals in this money lines explained article.
Money Line Explained
One quick look at the moneyline odds will instantly tell you who is the favorite to win and who is the underdog. Oddsmakers will attach odds to both sides of the coin and users can see the implied probability from these odds. The favorite will be given negative odds, while the underdog will have positive odds attached. Below is what that would look like at a mobile betting site if you were using an NFL betting app.
Kansas City Chiefs vs. Miami Dolphins Betting Odds
Team
Moneyline Odds
Kansas City Chiefs
-130
Miami Dolphins
+110
In this example, the Chiefs are favored, and wagers on that side will payout at odds of -130 if correct. For the Dolphins, who are the underdogs, in this case, successful bets on that side payout at odds of +110.
Regarding how the odds will impact this bet, we break this down below if you were placing a $100 wager.
$100 bet at odds of +110 would see a potential return of $210, which is $110 profit plus the original stake.
$100 bet at odds of -130 would see a potential return of $176.90, which is $76.90 plus the original stake.
As the above highlights, a successful bet at positive odds offers the chance for higher returns over successful wagers at negative odds. This doesn't mean bettors should choose a random underdog and hope to strike lucky. Standard handicapping rules apply with moneyline betting. In order to win, you should place bets on who you think gives you the best chance of being successful.

Example Of A Moneyline Bet
Lower-scoring sports such as hockey, soccer, and baseball are typically bet on the moneyline. Online betting sites will offer numerous moneyline odds for MLB betting in addition to the MLS and NHL. For example, a soccer betting pick vs. moneyline is a popular choice among bettors. Additionally, moneyline betting is also popular in jai alai, football, including the NFL and college football betting.
The most straightforward way to explain how moneyline bets are paid is to use an example. Let's use an NBA game between the Los Angeles Lakers and the Boston Celtics. The easiest way to understanding a moneyline bet is by using a $100 wager. Taking the two teams listed above as an example, the moneyline on the underdog Celtics was +175. At +175 odds, you would only need to wager $36 to win $100. On the other hand, you would need to bet $140 to win $100 in profit if the Lakers win the game.
Rather than betting heavily on the moneyline favorites, most bettors like choosing underdogs because this means the potential returns are higher. Of course, the amount you wager is entirely up to you, but using this method makes it easier to track. This is especially the case for casual bettors because bankroll management is critical for long-term success. There are other, more advanced forms of moneyline betting, like 1st quarter 3 way moneyline bets, which can bring even more profits to experienced bettors.
Moneyline Betting On Close Games
You will naturally come across many close contests on the odds board regardless of which sport you're interested in. When two teams go up against each other, and they are evenly-matched, it can be a 50-50 in terms of which team will win.
Oddsmakers understand this, and they will price the games accordingly. For example, in a close NFL game, you could see moneyline odds listed such as this:
Seattle Seahawks vs. San Francisco 49ers Betting Odds
Team
Moneyline Odds
Seattle Seahawks
-105
San Francisco 49ers
-115
If the odds are in a close range, such as in this example,  the difference in return is minimal. However, that doesn't mean you should just toss a coin and hope you win. The same rules still apply in terms of you handicapping the game in search of a winner. Even if the teams look impossible to split at first glance or according to the odds, there will still be differences to be found. Alternatively, if you still believe it is too close to call, you can always go in search of another game.
How To Handicap Moneyline Bets
The phrase 'handicapping' might seem complicated if you are unfamiliar with the concept. However, it is a straightforward process as long as you research the game before betting. You don't need to spend lots of time studying data and information. In fact, people often get lost in research and become weighed down by data. If you are new to wagering, carrying out a small amount of research by following the below steps can be very useful.
What are the opening odds and lines for the game?
Is there a big difference in quality between the two teams?
Key stats such as how is their recent form looking? Does one team have a lot of injuries?
Is one team much better at home than on the road?
This process will become second nature the more you bet. Once you have become accustomed to it, you can personalize it to your specifications and add more stats that you feel will impact the outcome.
Tracking opening odds to when you place your wager provides key indicators of what the betting public is thinking and how oddsmakers feel the game will play out.
Why do Moneyline odds change?
Money line bets begin when a sports betting site, be that DraftKings, FanDuel or Caesars sportsbook, opens up a line. You can simply use Google to find out which sites set markets. There are not many that do as most copy lines from the market-setters, which are sportsbooks that tend to attract big wagers from high rollers.
The usual process and cycle of a moneyline wager is as follows:
A market-setting betting site creates a market.
Competitors copy the lines and then also set up a market.
All of these operators' limits begin low, the size depends on the sportsbook.
As the event draws closer, more news, stats and info enter the market. This information allows the sportsbook to alter the line to what they feel is closer to the 'real' odds.
When the sites are confident their numbers reflect the value, they expand the limits. Most sportsbooks will follow what the market-setters have laid out with some changes based on house risk.
The line closes when the game starts. Usually, when a line moves, it means a lot of action form a bettor has occurred. The sportsbook will then alter the lines accordingly.
Any sports betting site reacts players placing large wagers. For example, if someone was to bet big on Brazil to win the World Cup, the line on Brazil would shift. This is why it is important for players to do some 'shopping' before placing a bet, searching for the best money line odds.
What Is Moneyline Shopping?
Just as you may shop around looking for the best clothes or accessories, the same applies to moneyline odds. Although most online sportsbooks have odds in a similar range, you can find some differences. Typically, the odds won't be staggeringly different. Any operators that have odds that really stick out will see so much action on the moneyline that the odds will sharply move back to the general level of consensus.
To find these differences, you will need to enter the world of line shopping. This involves checking numerous odds and lines at different sportsbooks in an effort to find the best price. As mentioned above, when shopping online for general goods, you will always lean towards the better deal, and it is the same with sports betting odds. For example, if one book is offering odds of -150 on a favorite, but another is -140, the better deal is the second. You will get a better payout placing your bet on that specific game.
Moneyline parlay
The parlay bet is one of the most popular bet types in the US. More and more bettors are now opting to use a moneyline parlay when placing a wager. With a moneyline parlay, they don't use fixed odds because the odds of winning vary greatly from team to team. To better understand this, moneyline parlays take the total amount of your wager, and then place all of the money on one team. If your pick wins, this recalculates your bet amount on the next pick, again placing your entire wager on that team, and so on, until the bet is complete.
The exception is correlated parlays. These wagers link two or more correlated events, meaning the chances of one leg of the parlay hitting increases the chances of another. A basic example would be parlaying a heavily favored, high scoring team's moneyline to over the game's total. If, as expected, the team does well, they will score more points, which then increases their chances of winning the game.
Most betting sites are wise to this so they put measures in place to prevent players placing clear correlated bets. These could look something like Josh Allen over 3.5 touchdowns with the Bills' team total over.
You may also want to read our guide on the best parlay betting sites & apps.
Negative Moneyline
When it comes to moneyline betting, we have found that most of the queries surround negative odds and what they mean for potential payouts. People often ask if negative odds would mean any potential profit would be lower. The answer to that question is no. Any profit you generate on those odds will just be lower than it would have been compared to positive odds.
Negative odds represent favored teams. This also means that your bet won't bring in as much profit as it would if it was a positive number, however, the chances are you are more likely to win your bet.
For example, if you place a $100 bet with odds of +220 you would get a profit of $220. On the flipside, a team with odds of -220 means you would have to wager $220 to get a profit of $100. Wagering on a team with negative odds is probably a safer bet as the markets consider them as favorites. But remember, it also costs more and you will get less profit. This is the case with every sport as well, so there is no advantage betting a certain way on the NFL compared to the NBA.
The rule of thumb for the favorite is our profit is (100/Odds) * Bet Size. Moneyline betting is a great way for amateur bettors to get used to how odds work and the potential profits you could generate from certain bets. It is really simple to calculate potential payouts when looking at moneyline wagers. Additionally, moneylines are also an excellent option for more seasoned players to try and find some unique betting opportunities.
Pros of Moneyline Betting
When you want to bet on a single contest such as the Super Bowl, betting moneyline is among the best options available. Let's take a look at why a bettor should always look to the moneyline to place their sports bet.
Simple Wagers
Something I am sure every sports bettor can agree on is that there is no need to overcomplicate things. Some people may think there is a need to use a spread bet or look into detail with different decimal odds to make bets more complicated as this is the best way to win. However, this is not true. The true secret to making a profit, whether you are placing a point spread bet or wagering on the NFL moneyline is looking for value.
There is no correlation between how complex a wager is and how likely you are to win. In fact, you could argue simply betting on Team A or Team B to win is far better as you understand exactly what is going on. Moneyline wagers are top of the pile when it comes to simplicity.
Moneyline bets work well for newcomoers. Any amateur bettor looking for a nice early winning bet should look at moneyline wagers.
You can find value
Finding value in sports betting is never a sure thing and is very difficult. You may think the New England Patriots are a certainty to defeat the New York Giants but sport is nothing if not unpredictable. However, finding value with a moneyline wager is easier than with other bet types.
There are no complex fractional odds to look through to see if your prediction is expected to be a value pick. With some simple calculations, you can determine whether there is value in your bet.
Moneyline Betting FAQS
What do betting lines mean?
The minus sign and plus sign in front of a betting figure on a sports betting line indicate your potential payout and whether you are wagering on the favorite or the underdog. If the number is positive, the shows the amount of money you will win if you bet $100. All recognized sportsbooks such as DraftKings Sportsbook and FanDuel sportsbook offer betting lines with American odds.
What is the difference between moneyline and spread?
A Moneyline bet is straightforward as you simply bet on a specific team to win a game. Conversely, wagering on a point spread is about who wins and by how much. Therefore, point spread bets are slightly more complicated.
Why would you bet on negative odds?
Any negative numbers signify the favorite on the betting line. If you are confident about the chances of the favorite winning, you could bet heavily on the unfavorable odds. However, beware that anything can happen in sports.
How do you bet Moneyline?
As any betting guide will tell you, wagering on the Moneyline is one of the easiest ways to gamble. Sports bettors choose a team they think has the best chance of winning. If the bettors are successful, the sportsbook will pay the amount due.
Are Moneyline bets good bets?
They're perfectly fine. Your bankroll, your call. It's not a long-term winning strategy to bet big on heavy favorites, after all, favorites lose all the time. The "spread" is considered the great equalizer and involves a bit more handicapping (by how much will X team win or lose?), but there's nothing wrong with just picking the winner straight up.
What does a +200 Moneyline mean?
A +200 money line would mean that if you placed a $100 bet, you would win $200. It also tells you that the team is not expected to win, as it is the underdog in the game.
What is a macro bet?
Macro betting is also known as live betting. These are wagers placed during the course of a game.