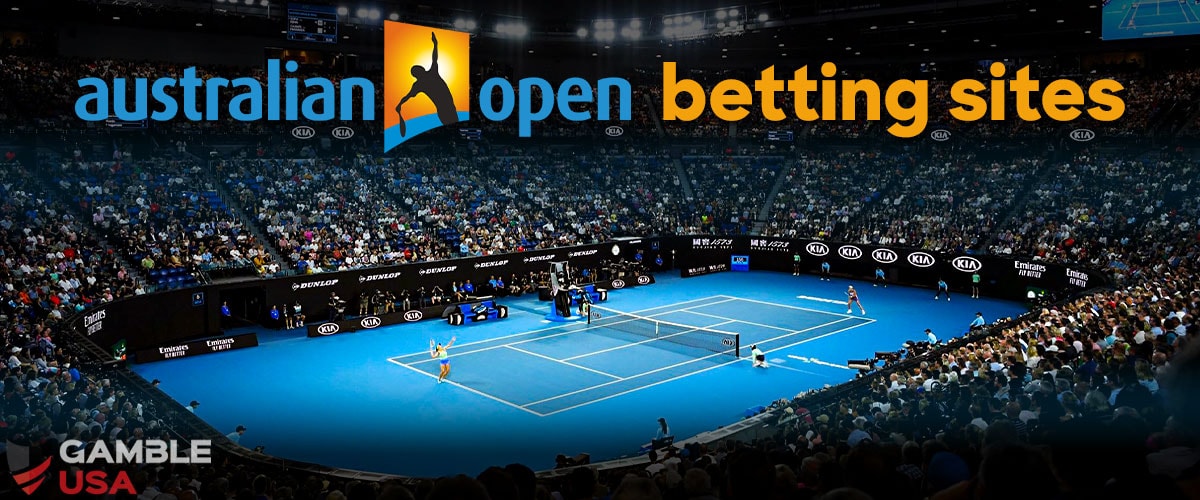 The Australian Open tops the calendar in the first quarter of the tennis season. Being one of the four Grand Slams, it's the Southern Hemisphere's top sports gig, pulling in more than a billion viewers and close to a million visitors.
One of the top tennis tournaments, there are masses of betting opportunities on the Australian Open, awaiting eager bettors. As I am one of them, I always look for new betting sites and the best odds on the market, and on this page, I have collected all my findings. Click on any of our links to pick up your welcome offer at my top recommended sportsbooks. You can also read on, to find out exactly what each of my Australian Open betting sites has to offer you.
---
Top Australian Open Betting Sites
The gap between US sportsbooks is narrow, with several contenders vying for the "best tennis online sportsbook" title. Separating the cream from the crop has taken a special kind of effort and a granular analysis of each betting site.


I have whittled down the list to a handful of standouts. Without further ado, here they are:
🥇 #1 FanDuel Sportsbook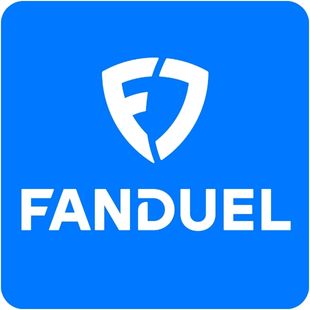 Hardly a surprising entrant on any betting top list, FanDuel is a no-brainer for tennis betting. FanDuel is available in over 20 states, which I had to consider in my evaluation. But that was not the only reason why I chose this sportsbook as my top Australian betting site.
I particularly like their mobile apps, which are a masterclass in usability. Designed for slick, on-the-go betting, they feature a clean, fast, and stable platform. The tennis betting menu is well-designed, and the interface has a dual menu alignment, with Australian Open betting odds grouped into drop-down menus (only displayed when selected).
When it comes to Australian Open odds, FanDuel frequently comes out on top. While testing the betting markets, I noticed that FanDuel consistently offers better lines and odds on the underdogs.


In terms of betting variety, FanDuel plays second fiddle to no one. In addition to the starter pack of wagers, you'll find some outside-of-the-box options, too: think along the lines of "set with most games" and "set X correct score groups any player," where you predict the correct score but not necessarily the winner. The only area I thought FanDuel could improve in is its same game parlays for tennis, which are a bit limited. You can still combine markets such as Aces, Moneylines and various others, but I would have liked to see more possibilities.
When it comes to in-play tennis offerings, FanDuel delivers big time. You can bet on the winners of individual points and games at a given AO match or opt for player props like "Taylor Fritz to win at least one set." Live streaming is also available via their streaming service, FanDuel TV+.
Expert Comments:
"When testing the app with Oliver, the first thing we noticed about FanDuel was the generous prices offered on underdogs. These can be put to great use on the Australian Open, especially with so many up and coming young tennis players."
– Paul Ricci (Chief Sports Editor)

---
🥈 #2 bet365 Sportsbook
Bet365 is a European juggernaut that's built up a large fanbase in the US over the past few years. The tennis coverage at this sportsbook is second to none, as it delivers wagering opportunities on tennis tournaments from all over the world. I was hesitant to put them in the top place, as bet365 only operates in a handful of states, but hopefully they will extend their services to other states in the US.
The user experience at bet365 may not be on par with DK or FanDuel, but it holds its own with its streamlined, minimalist design. They've embraced a "less is more" philosophy with a clean, no-nonsense interface. It's responsive and functional; plus, it features a great search function that recognizes sports, players, and even specific bet types. Want to back Novak Djokovic in his next Australian Open campaign? Just type in his name, and voila — the software will promptly pull up the betting catalog.


Bet365 is among the few books that offer Australian Open odds boosts; in fact, several are available daily (granted, they're mainly for longshot combo props, but still). For example, I could place a same-game-parlay boost for a Maria Sakkari vs. Alize Cornet match, where bet365 bumps the odds from +333 to +350 for a combination bet involving:
Sakkari to win the match
Sakkari to win Set 1 6-3 or 6-4
Sakkari to serve 5+ aces
On top of that, they dish out specialized tennis promos, like a tennis parlay boost. You could see profits increase by up to 70% on successful Australian Open bets. They're also known for their early payout bonuses, where winner bets are paid out if the player leads by two sets. Even without a rewards program, there's lots of promo value up for grabs.
Bet365's selection of tennis bets is impressive. They're among the few sportsbooks offering over/under odds on players' ace and double-fault totals. Plus, they've got some funky options, like betting on whether an opponent will reach 15 or 30 in a player's first service game.
Expert Comments:
"I have tested the tennis betting markets on bet365 for the Australian Open and many other tennis competitions. I can always rely on the platform to deliver a great diversity of betting options, and the live betting experience is top notch. You can also benefit greatly from the generous parlay boosts."
– Damjan Spajić (Sports Editor)

---
🥉 #3 DraftKings Sportsbook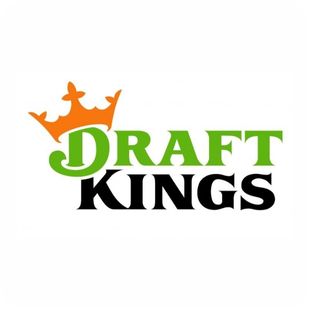 Choosing DraftKings as the go-to online sportsbook for your Australian Open ventures is a sure-fire bet. There are several reasons why DK has earned a spot on my list. For starters, it's among the top books in terms of availability, serving players in over 20 states.  Moreover, DraftKings often leads the pack regarding futures odds for Grand Slam tournaments, including the Australian Open. If you were to bet on Novak Djokovic to clinch another AO title, DK would most likely give you the best bang for your buck.
DraftKings' mobile app's quality is top-tier, as it excels in both functionality and aesthetics. It runs neck-and-neck with FanDuel. I personally prefer FanDuel for Australian Open betting, but ultimately, the choice between the two largely boils down to individual preference.
DK's tennis betting platform employs a single menu alignment for Australian Open betting odds. While efficient, this might be a notch below FanDuel since you may need to scroll a bit to find your preferred bet.


DK has wall-to-wall coverage of Australian Open matches, and their live betting is particularly impressive. Thanks to their adoption of micro-betting, you'll find creative in-play markets, such as whether a specific game will reach a deuce or the number of points played in a particular game. Nevertheless, while their pre-match props selection is robust, it doesn't quite measure up to FanDuel's breadth.
Expert Comments:
"Bettors looking for a quality experience should consider DraftKings. With its extensive range of props and futures, it gives users the flexibility to personalize their bet slips and create some lengthy parlay wagers. I would recommend it  to rookies and veteran bettors alike."
– Damjan Spajić (Sports Editor)

---
More Australian Open Betting Sites
Here are some of the betting sites that did not make my top 3, but I would like to add as honorable mentions. They all offer spectacular betting markets and cater to a wide range of bettors, from NFL fans to MLB buffs. The Australian Open markets are similarly extensive, and you can pick out some great prices from them. If the top three don't do it for you, be sure to check out these sportsbooks, or head to our betting sites reviews for more information.
---
Choosing the Right Australian Open Betting Site
Selecting a reliable betting site should be your top priority if you plan to put a few bucks down on the line for the Australian Open. Let's unpack why landing a trustworthy sportsbook is a must for your Australian Open betting endeavors:
Regulatory oversight: Online sportsbooks in the US are under the watchful eye of jurisdictional regulatory agencies. So, it's not just about a badge or a license in the footer. It's about ensuring you have recourse if things go south — like when a sportsbook refuses to pay out your Australian Open winnings. For instance, the New Jersey Division of Gaming Enforcement (NJDGE) has a

complaint service

to mediate unresolved disputes. This kind of backup is absent with offshore, unregulated books where you are at the mercy of the operator.
Safety lock: US-licensed sports betting sites are required to have foolproof safety protocols to protect your data. SSL encryption is the bare minimum. For example, all books in PA, NJ, and CT are obliged to implement two-factor authentication. Such protective measures aren't mandatory at offshore books, which puts your personal and financial data at risk.
Responsive customer support: While customer support efficiency varies among

legal US sportsbooks

, they generally resolve issues promptly. This allows you to focus more on the game and betting fun instead of wasting your time on red tape.
Superior betting variety: When it comes to betting options, regulated sportsbooks beat offshore books hands down. At

FanDuel

and

BetMGM

, you'll find a ton of game, set, and match props, not just your standard wagers. DraftKings has tapped into micro-betting, offering point-by-point markets that make in-play tennis betting a whole new ball game.
Native apps: All US-licensed tennis betting sites offer standalone

iOS and Android apps

, which offshore books typically lack. These apps provide not only a more tailored experience but also handy features like push notifications and facial recognition logins.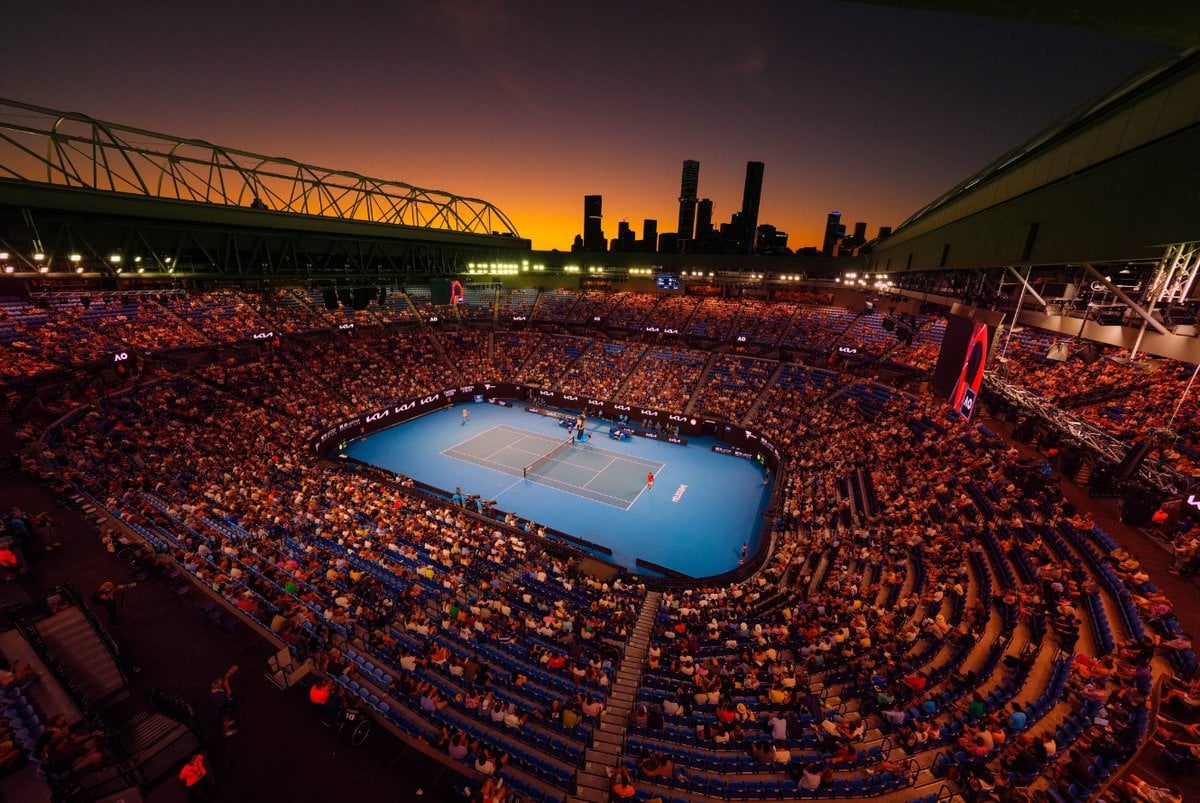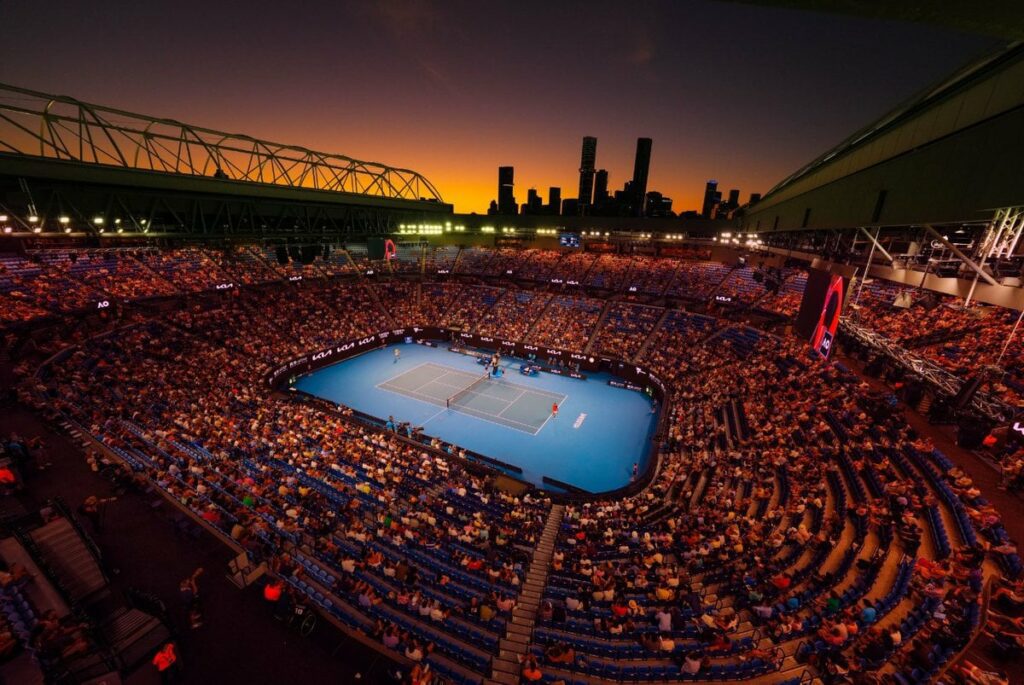 ---
What to Look for in a Top Australian Open Betting Site
So, you've decided to stick to regulated online sportsbooks — that's great. But your work isn't done; you're only halfway there. Now comes the real deal: sifting through these sportsbooks and picking out the best ones for tennis betting.
Here are a few pointers on how to spot the top options:
Competitive Australian Open odds: No sportsbook nails the best odds every time. One day, Book A might ace set bets. The next, Book B may crush it on game spreads. Still, a few books consistently outrun the pack. So, keep them on your radar and do a price check when it's showtime.
Good app usability: While aesthetics are subjective, everyone wants a user-friendly app. Forget the fancy stuff and go for the option that's easy to navigate and doesn't have annoying ads or promotions cluttering your screen. Some cool features like parlay builders can add to the smooth betting experience.
Special tennis promos: Many US books offer great deals, but they're mainly reserved for major sports. Still, a few sites give tennis some love. For instance, this is where certain European-rooted books like

bet365

shine. They know their tennis, and it shows. Keep an eye out for odds boosts, insurance bets, or reload bonus bets during the Australian Open.
In-play betting platform: Most US books have decent live tennis offerings. However, a few have upped their game by adding niche markets like "total points played in a specific game" or "winner of a specific point." The best ones

offer live streaming

for

Grand Slam tennis

matches or, at the very least, detailed stats. Look for a book that updates lines quickly; if you're making an in-play bet on Djokovic to win the next point, for example, you want those lines open long enough so that you can place it.
No market restrictions on welcome bonus: Most US books give out bonus bets for new signups, but the devil is in the details. Go for a generous offer, but don't forget the fine print. Make sure you can use that first bet on Australian Open matches and that there are no sports restrictions.
---
Who has Won the Australian Open?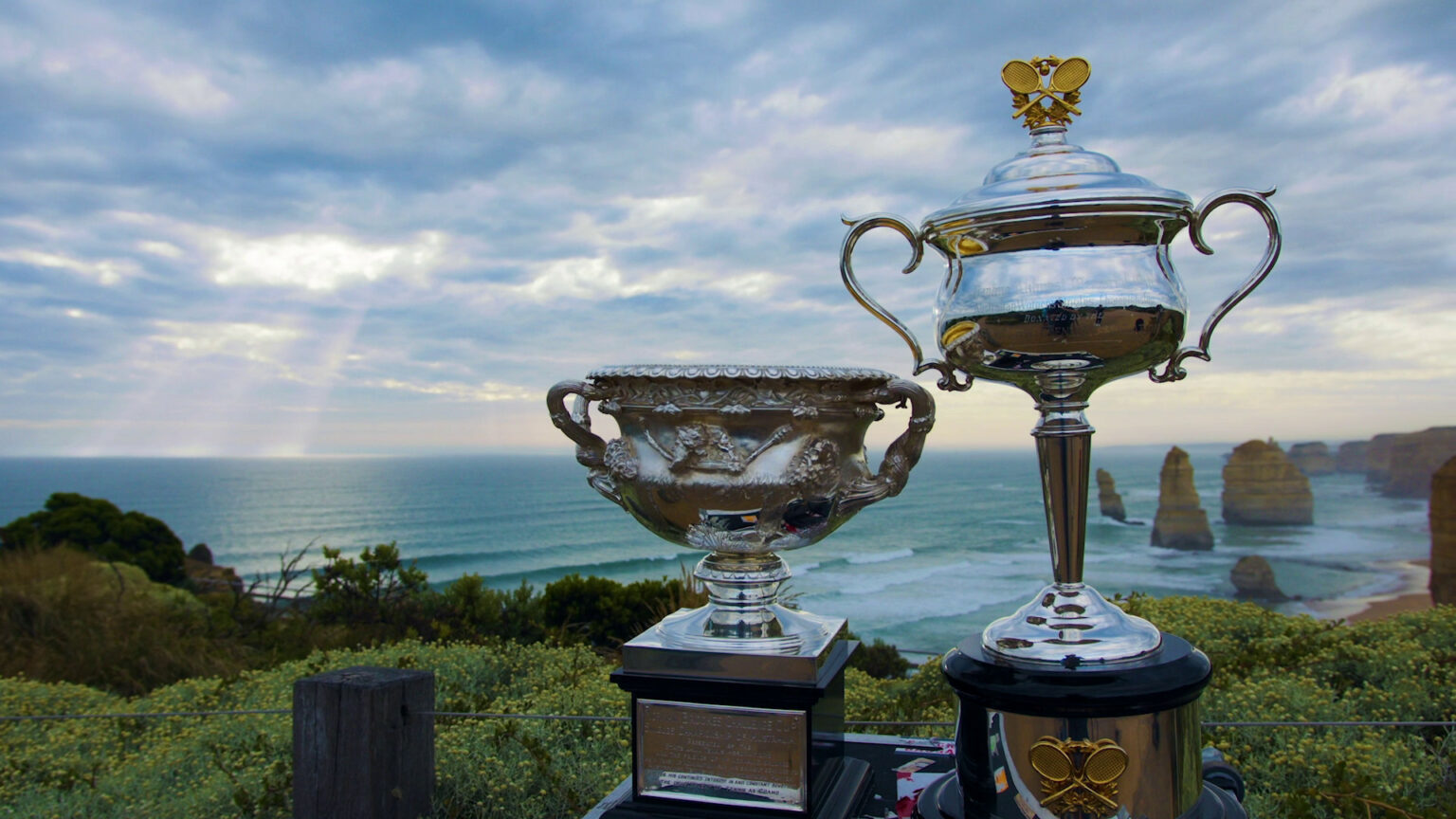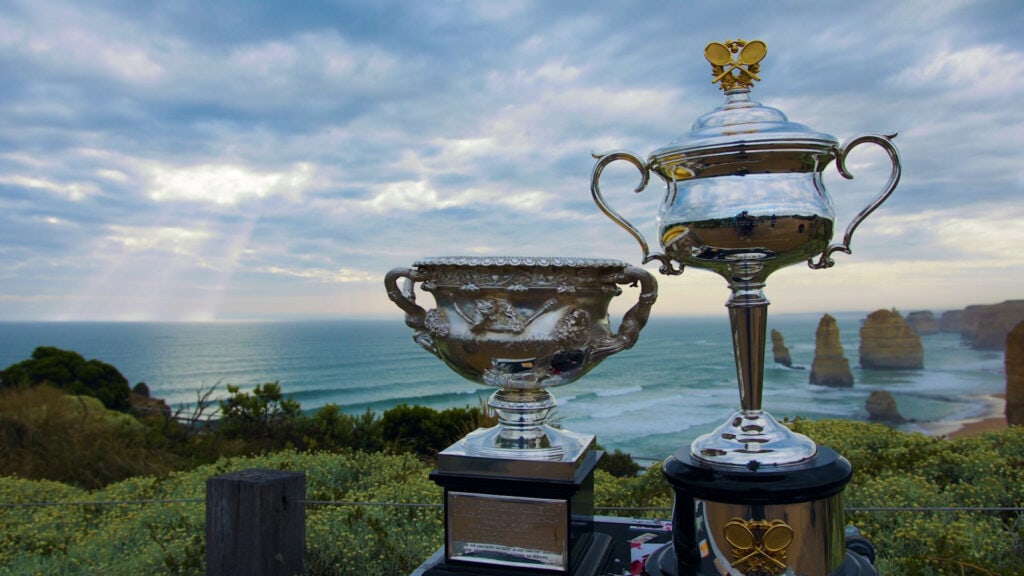 The Norman Brookes Challenge Cup and Daphne Akhurst Memorial Cup are awarded to the winners of the men's and women's singles. In addition to the prize, the winners receive a massive sum of money, but more importantly, 2,000 points that are go into their score in the ATP and WTA rankings, shooting the players to the top places. Here are the winners of the Australian Open from 2015 onwards.
🏆 Australian Open Winners
Men's Singles
Women's Singles
2015 - Novak Djokovic 🇷🇸
2015 - strong>Serena Williams 🇺🇸
2016 - Novak Djokovic 🇷🇸
2016 - Angelique Kerber 🇩🇪
2017 - Roger Federer 🇨🇭
2017 - Serena Williams 🇺🇸
2018 - Roger Federer 🇨🇭
2018 - Caroline Wozniacki 🇵🇱
2019 - Novak Djokovic 🇷🇸
2019 - Naomi Osaka 🇯🇵
2020 - Novak Djokovic 🇷🇸
2020 - Sofia Kenin 🇺🇸
2021 - Novak Djokovic 🇷🇸
2021 - Naomi Osaka 🇯🇵
2022 - Rafael Nadal 🇪🇸
2022 - Ashleigh Barty 🇳🇿
2023 - Novak Djokovic 🇷🇸
2023 - Aryna Sabalenka 🇧🇾
2024 - Novak Djokovic 👀
2024 - Naomi Osaka 👀
Just from a betting perspective, I would also add that the Australian Open poses some great opportunities with special Grand Slam futures.  The exact bets that come to mind are at FanDuel under the Player Specials category, where you can bet on players to win 1+, 2+, 3+ or even all 4 Grand Slams in the Year.
I go with either 1+ or 2+, and if my player wins the Australian Open, I have either won my bet or can lock in a tremendous cash out offer. The best time to catch these bets is before the Australian Open has started.
---
Betting Strategies and Tips for the Australian Open
Australian Open betting can yield good returns, but it requires nuanced analysis rather than just a cursory look. One should consider tournament-specific factors, the latest updates, and even some trivia, as these elements can shape your picks. Here are some key insights to keep in mind:
The Australian Open was the first Grand Slam tournament to adopt the 10-point tiebreak rule in decisive sets.
A 25-second shot clock has been installed to strictly measure the intervals between serves and keep the game pace steady. This rule has been enforced since 2018 when the time limit was also pushed up from 20 seconds.
Since 2023, on-court coaching has been permitted at the Australian Open.
In 2020, GreenSet Worldwide became the official court surface provider for Melbourne Park, replacing the former supplier.
As of 2023, the Australian Open extended its contract with Dunlop as the official ball supplier.
Novak Djokovic holds the record for the most Australian Open titles in men's singles (10) — impressively, he's never been defeated in the finals.
An Australian player hasn't reached the men's singles finals at the AO since Lleyton Hewitt in 2005.
The Australian Open was the first Grand Slam to adopt hawk-eye technology and install a rectangle roof: it's available at Rod Laver Arena.
How to Win Consistently at the Australian Open Betting
Making successful Australian Open predictions is about much more than luck; it requires careful consideration of various factors. Here are some advanced Australian Open betting tips to help boost your winning chances:
Capitalizing on early upsets: Spotting potential upsets in the early rounds can be a great value proposition. For instance, a top-seeded player like Frances Tiafoe, who hasn't competed in the lead-up to the Australian Open due to a leg injury, could start off slower than usual. This scenario could create an opportunity for a lower-ranked player to spring a surprise.
Surface adjustments: Melbourne Park's acrylic hard court is rated "medium-fast" (Category 4) by the ITF Court Ratings. Players often say that these courts play faster than most, almost on par with grass ones. Aggressive baseliners and powerful servers like

Carlos Alcaraz

and

Jannik Sinner

could have an edge here. Notably, faster courts can lead to more service holds, so consider betting the "'over" when total game lines are in the 33.5–38.5 range.
Dunlop balls favor flat-hitters: The Australian Open uses Dunlop balls, known for their high bounce and weight. They fluff up quickly and lose pressure faster than some other brands, which can hamper players like

Rafael Nadal

or Alcaraz, who rely heavily on topspin. On the other hand, flat hitters like Rybakina might benefit, as seen in her Australian Open finals appearance.
High bounces: Due to lower energy absorption, hard courts at Melbourne Park produce higher ball bounces than clay courts at the French Open. This comes in handy for those players who favor a higher ball contact point, such as Novak Djokovic and

Daniil Medvedev

.
Endurance is key: Given the often extreme heat conditions at Melbourne Park, the Australian Open is all about the survival of the fittest. Players known for their supreme fitness, like Novak Djokovic, usually perform well in these conditions, especially in the later rounds. Keep an eye out for athletes renowned for their high endurance levels. As a side note, familiarize yourself with your sportsbook's rules concerning player withdrawals, which are possible, given the tournament's demanding conditions.
---
Types of Tennis Bets for the Australian Open Tournament
The Australian Open offers a wealth of betting opportunities. From standard bets to props and Australian Open futures odds, there are plenty of options to dip your toes into. Here's a breakdown of the most popular ones:
Moneyline: With Australian Open

moneyline betting

, you back one player (or a doubles squad) to win the match. The favorite will have a negative sign in front of the odds, indicating how much you need to bet in order to win $100. Conversely, the underdog will have a plus sign in front of the moneyline odds, showing how much a $100 bet will yield. In early rounds, the odds are heavily skewed toward the seeded tennis players, but things aren't necessarily as lopsided as the odds may imply.
Totals: Like with other Grand Slams, totals in the Australian Open revolve around whether a match will feature more or fewer games/sets than the sportsbook's line. The benchmark for this tends to increase as the tournament progresses and matches become more closely contested. On average, the over/under for best-of-five matches on hard courts hovers around 36.5.
Spreads: Spread bets aim to level the betting field by adding a handicap. There are game line spreads, which account for the number of games won, and

set line spreads

, based on the number of sets won. For example, if Rafael Nadal is a -2.5 favorite on the spread against Stefanos Tsitsipas, he needs to win in straight sets for your bet on him to be successful. If Tsitsipas takes a set or wins outright, he covers the set spread.
Outright winner: Given the depth of the competition on hard courts, picking the outright winner can be a tricky task. However, if your prediction hits the target, you can win big. A less risky alternative is the top finisher bet, where you're betting on a player to make a deep run.

Props: These wagers tackle specific elements within an Australian Open match. You could, for instance, place a bet on Novak Djokovic winning the initial coin toss or wager on the number of aces that Rafael Nadal will serve. Another popular

prop bet

revolves around whether a tiebreak will occur in a match or specific set — an option that can be lucrative when two strong servers are going head-to-head. Some sportsbooks might even offer tournament-long props, like the total number of aces a player will serve over the course of the event. However, remember that such bets are significantly influenced by the player's progression throughout the competition.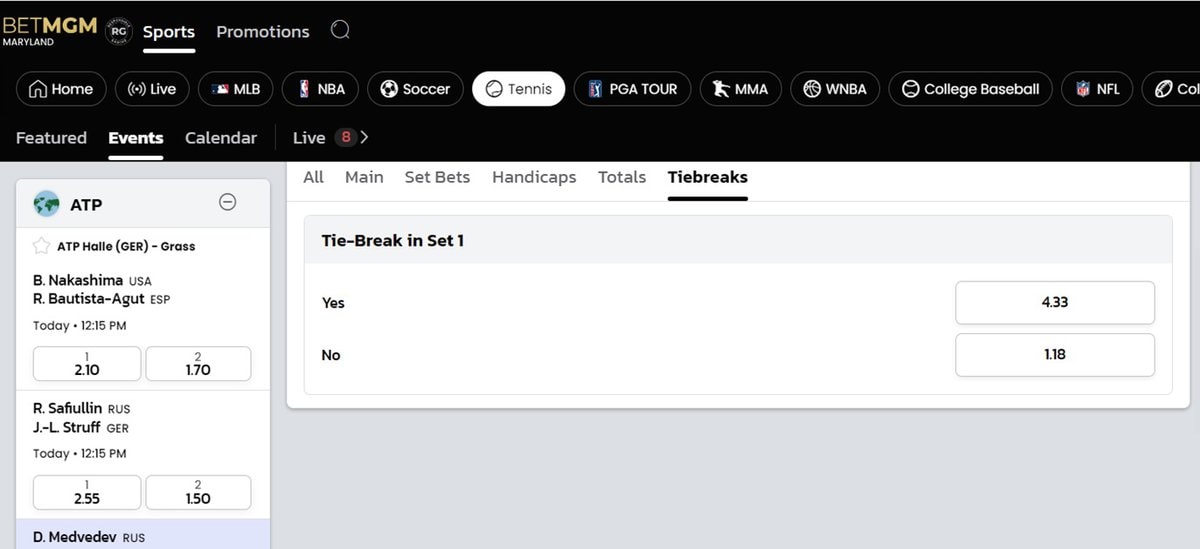 ---
FAQs
What are the best Australian Open betting sites?
Our top picks for Australian Open betting are DraftKings, FanDuel, and bet365 — you can't go wrong with any of them. BetMGM, BetRivers, and Caesars are also worth checking out.
How do Australian Open odds work?
Australian Open odds indicate the likelihood of a player winning a match. A favorite is tagged with negative odds in American format, meaning you'd have to bet that amount to earn $100. Conversely, an underdog is given positive odds, implying a $100 bet would yield that much in winnings.
Is it legal to bet on the Australian Open online?
Yes, but you must make sure that you're in a state where betting is legal. You can typically find a list of states where the sportsbook operates on its homepage.
What types of bets can I place on the Australian Open?
You'll find a deep roster of bets for every AO matchup. Options include matchwinner, set spreads, game totals, tiebreak props, and live betting, to name a few. Outright betting odds are also widely available.
How can I find the best odds for the Australian Open?
If you want to secure the best Australian Open betting odds, it's crucial to compare offerings across multiple sportsbooks known for competitive pricing.
Are there any bonuses or promotions available for Australian Open betting?
Yes, many sportsbooks offer bonuses and promotions during the Australian Open, such as deposit bonuses, bonus bet deals, odds boosts, and insurance bets. Always read the terms and conditions before opting in.
Can I bet on live Australian Open matches?
Yes, live betting is a staple at all US sportsbooks. It allows you to place bets as the action unfolds in real time during the Australian Open.
What strategies should I consider for successful Australian Open betting?
The basic betting strategy encompasses researching player form and head-to-head stats, considering playing conditions, and understanding betting markets. It's also important to manage your bankroll effectively.
Are there any specific betting tips for the Australian Open?
When betting on the Australian Open, consider elements like player form, their aptitude for the hard court surface, and the likely impact of Melbourne's variable weather conditions.
How do I choose a reliable and trustworthy Australian Open betting site?
When choosing a betting site, ensure it carries a legitimate license and offers secure payment options. Also, consider factors like customer service, user reviews, and the site's reputation for fair play and prompt payouts.