Gamble USA strives to improve your online gambling experience. We aim to help you play safely, make informed decisions when gambling, and increase your betting knowledge through our guides.
We adhere to strict editorial integrity; our content may contain links to products from our licensed & legal US partners.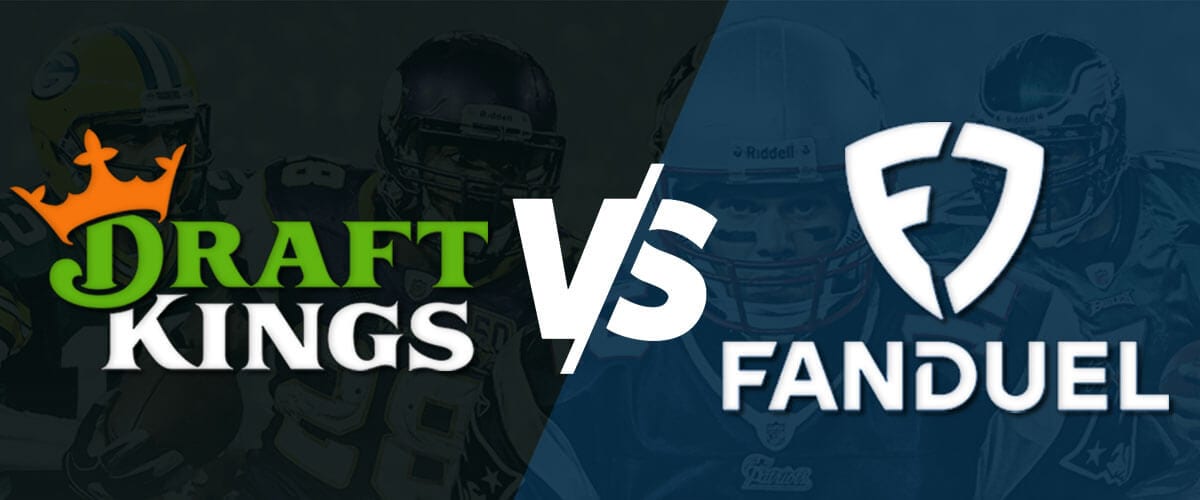 Red Sox vs. Yankees, Frazier vs. Ali, Lakers vs. Celtics, Packers vs. Bears……..and FanDuel Sportsbook vs. DraftKings Sportsbook. Aren't rivalries amazing?
Both FanDuel and DraftKings are two of the US's most popular platforms for daily fantasy sports (DFS). Combined, they have roughly 14 million active users across the US. They have established partnerships & sponsorships with the most significant sports leagues in the US, notably FanDuel being the Official One-Day Fantasy Game of the NBA and DraftKings being the Official Daily Fantasy Partner of the NFL.
Even more, both DraftKings sportsbook and FanDuel sportsbook now offer legal online sports betting in a handful of states. Since the Supreme Court struck down the ban on online betting in 2018, both have become the most popular gambling sites for lots of bettors. Competition between the two DFS giants is only likely to get more fierce as more states legalize sports betting.
For new players, deciding whether to choose the FanDuel sportsbook vs. DraftKings sports betting app can be a difficult task. You might be just looking to start by betting on a major event like the Super Bowl but are unsure where to begin. Both operators have a lot to offer to players, and neither has a clear lead in the competition for DFS players or online sports bets. Luckily, we have created a head-to-head, in-depth comparison of the Fanduel sportsbook and DraftKings sportsbook set-up. Some people may think the only difference between the two is the name and branding, but that isn't the case.
So without further ado, we look to answer one of the biggest questions in sports betting; which is better DraftKings or FanDuel? FanDuel VS DraftKigns, let battle commence!
FanDuel vs. DraftKings – Who really is the best?
The main difference between FanDuel and DraftKings is the interface. They are both similar in many ways, from the number of markets they offer to the range of bets available and more. However, there are differences between the two. From our experience and feedback from users, the main difference is that the FanDuel platform is easier to use than Draftkings.
This is particularly crucial for anybody new to online betting. The fact that FanDuel allows bettors to navigate their way around the site and app with ease means they will feel comfortable from the get-go. Additionally, it means they are likely to keep coming back.
FanDuel vs. DraftKings Overview
FanDuel and DraftKings have established themselves as two of the most popular sports betting sites in the United States. Together, the two platforms have approximately 14 million users and have developed partnerships with some of the biggest sporting leagues in the US. Both the DraftKings sportsbook and its counterpart are fighting tooth and nail for market leadership in numerous states across the country. The FanDuel or DraftKings rivalry began in their daily fantasy sports days and has now led to a DraftKings vs. FanDuel sportsbook debate. Many people wonder, is DraftKings better than FanDuel?
It is not hard to see why both of these juggernauts have left the rest of the competition behind. Both FanDuel and DraftKings offer excellent promotions and bonuses, competitive sports betting odds, generous bonus bets and a first-class user experience. So, deciding whether FanDuel vs. DraftKings sportsbook is the right platform is the platform for your needs is tough. Neither has a clear advantage over the other; Some may say FanDuel has the edge with its amazing app, but others may disagree.
Signing up for an account on both sportsbooks is straightforward. You will need to provide some personal information such as your full name, birth date, and address, and then it is just a few clicks and you are up and running.
There is only one way to settle the argument, and it is not looking for DraftKings vs. FanDuel Reddit. Read on for a detailed look at the FanDuel vs. DraftKings sports betting battle to find out which sportsbook app is the most suitable for you. We will cover two of the popular US sports betting apps extensively, in great detail, from the DraftKings vs. FanDuel market share, football betting promo codes available, professional leagues covered, the best DFS app, and more.
FanDuel Sportsbook vs. DraftKings Sportsbook – New Player Offers
When considering the difference between FanDuel and DraftKings, many will look to their welcome bonuses. DraftKings offers new players a 20% match deposit bonus of up to $1,000. You must deposit $5,000 of your own money to unlock the full amount. Regarding wagering requirements, DraftKings requires you to complete a 25x release requirement on the bonus funds, which is not slightly frustrating. By comparison, sports bettors are only faced with a 1x rollover on their 100% match deposit bonuses on sites such as bet365 and BetRivers. BetMGM also has favorable terms on their welcome offer, so a BetMGM vs. DraftKings argument solely on bonuses may not go DK's way. However, on the plus side, DraftKings Sportsbook typically throws in a very generous $50 no deposit bonus as part of the welcome package. That is free money so naturally is always welcome!
FanDuel offers an opening risk-free bet worth up to $1,000 to attract new players to create a sports betting account. If your first bet wins, you can keep your money in the same way as any other wager. If it loses, you will be eligible for a full refund – in the form of a free bet token – worth a maximum of $1,000. This is also an attractive offer and is more straightforward than the DraftKings bonus. However, the FanDuel welcome bonus will only benefit you if your opening bet loses, whereas you can trigger the DraftKings bonus regardless of whether or not your first wager performs.
You can find a Fanduel promo code or a DraftKings sportsbook promo code on our site and sign up for either today.
You can also check out our guide to the best FanDuel alternatives and also our DraftKings sportsbook alternatives guide.
Winner: FanDuel Sportsbook
FanDuel vs. DraftKings – Sports Coverage
Although some sports like betting on the Canadian football league (CFL) are not available, both of these platforms cover the major international sports leagues. You can also get odds on college football matches and other collegiate action.
FanDuel has been able to utilize a very experienced in-house team of sportsbook operators and oddsmakers when it joined the Flutter Entertainment group. This is a company that was developed through the Paddy Power Betfair merger. The FanDuel sportsbook operates on Scientific Games' OpenSports engine and has betting markets on football, baseball, NBA games, tennis, golf, boxing, and MMA.

Other sports available include Aussie Rules, cricket, cycling, motorsport, darts, rugby, volleyball, and water polo, which is a huge list. Flutter Entertainment's European sites offer betting on swimming, Gaelic sports, netball, snooker, and surfing, so FanDuel could also add these in the future.
At the time of writing, DraftKings is run on the Kambi platform. It provides more sports than FanDuel. It has markets in all major sports in addition to more niche choices such as field hockey, badminton, handball, softball, surfing, and swimming.
DraftKings is preparing to migrate to SBTech, which covers a slightly different range of sports. However, for now, we certainly give DraftKings the upper hand in this section of the FanDuel vs. DraftKings battle. Both sites offer in-depth coverage of all the well-known sports, but FanDuel has a more extensive array of betting options, including a better same game parlay option.
Winner: FanDuel
FanDuel vs. DraftKings – State availability; Where You Can Play & Bet?
Before joining either of these online sportsbooks, you need to know if your state accepts them. So, we thought we would list the states with DraftKings sportsbook and the FanDuel sportsbook states.
The DraftKings app is available in AZ, CO, CT, IL, IN, IA, KS, LA, MD, MI, NH, NJ, NY, OH, PA, TN, VA, WV, and WY. The DraftKings casino states include CT, NJ, MI, PA, & WV, and you can play fantasy sports across the country.
Both sites went live in New York state which has proved to be a massive market. New Yorkers love their sports so being able to use both DraftKings and FanDuel will appeal to them.
The FanDuel sportsbook has launched in nearly the same states as DK, except it is available in all of these states AZ, CO, CT, IL, IN, IA, KS, LA, MD, MI, NH, NJ, NY, OH, PA, TN, VA, WV, and WY. If you are looking to play on the real money casino games, the FanDuel casino states are CT, MI, NJ, PA, & WV.
Once again, this highlights the similarities between the two sites. When a new state announces that it will be launching an online gaming industry, it will inevitably include a sports betting site from either FanDuel or DK.
Read more on sports betting in your state: Arizona, Colorado, Delaware, Illinois, Indiana, Iowa, Kansas, Louisiana, Michigan, Mississippi, New Jersey, New York, Ohio, Pennsylvania, Tennesse, Virginia, West Virginia, and Wyoming.
Winner: DraftKings
FanDuel vs. DraftKings – Banking Options
You will have a wide range of payment options to choose from at DraftKings and FanDuel. Both sites accept Visa, Mastercard, wire transfer, online bank transfer, PayPal, and a Play+ card. One difference is that DraftKings takes ACH deposits, which are no longer available on FanDuel. Additionally, you can pay in cash at the casino cage of partner properties. FanDuel has a minimum deposit of $10, compared to $5 at DraftKings. Consequently, casual bettors may find DraftKings more appealing with the smaller minimum betting deposit.
From our experience, FanDuel tends to process payout requests quicker than DraftKings. There is a section on the FanDuel site where it boasts it has fast payouts in as little as 24 hours while stating that DraftKings Sportsbook takes up to seven business days for withdrawals to be processed. We must also point out that there is no official maximum withdrawal limit at either site.
FanDuel has slightly bigger maximum winnings than DraftKings. Both sites payout up to $1 million on NFL, NBA, MLB, college basketball, and college football bets. However, DraftKings only goes up to  $500,000 for soccer and $250,000 for NHL, whereas FanDuel offers a maximum payout of $1 million on both. FanDuel may get the edge here as they also offer larger maximum winnings on golf and tennis and other smaller events such as MMA.
Winner: DraftKings
FanDuel vs. DraftKings – Odds & Markets
One of the most important aspects of finding a suitable platform for sports betting is that they provide competitive odds. For example, it may be off-putting if the FanDuel football odds aren't really appealing or the sports DraftKings don't offer odds on the college basketball pools.
Fortunately, both FanDuel and DraftKings offer excellent odds and markets. We feel FanDuel offers slightly more appealing lines than DraftKings, but there isn't much in it. FanDuel generally offers standard juice lines, but you may find -113 / -106 or -114 / -105, which is a bit more generous. DraftKings can often be found to charge an extra point here and there. You will typically find -114 / -107 or -112 / -109 on sides and totals, which is slightly below average.
Regarding props, futures, and moneyline odds, FanDuel will often have better prices than DraftKings, but on some markets, DraftKings comes out on top. For that reason, many sports bettors may ignore the FanDuel vs. DraftKings debate, and sign up for accounts with both sites and then choose the best available odds on each game.
Winner: Draw
Live Betting on DraftKings Sportsbook & FanDuel Sportsbook
Also referred to as in-play betting, this type of wagering has snowballed in recent years. Both DraftKings and FanDuel excel when it comes to live betting. Each site has a live streaming service, so you can watch the action unfold as you place wagers. The in-play sections on both platforms are presented in a clean, tidy format, and they each provide you with a wide range of live betting options.
For example, on both books, you can wager on the outcome of each point, game, and set within a tennis match. FanDuel has more alternative spreads and totals, more information and statistics on live games, and covers slightly more sporting events in-play. With this in mind, FanDuel may have a slight edge regarding the live betting markets in this battle.
Winner: FanDuel
FanDuel vs. DraftKings – Sportsbook Features
With the advances in technology, all bettors these days expect online sportsbooks to have innovative features, and both DraftKings and FanDuel deliver. For example, players can cash out on DraftKings and settle their bets before the game ends. This is a fantastic option if you are worried that your team will struggle. It means you can make an early profit, then sit back and relax, or protect yourself against the potential for further losses.
There is also a FanDuel cash-out option, and both sportsbooks have an extensive guide and resources on how to use this feature.
| Feature | DraftKings Sportsbook | FanDuel Sportsbook |
| --- | --- | --- |
| Android App | YES | YES |
| iPhone App | YES | YES |
| Cash Out | YES | YES |
| In-Game Wagering | YES | YES |
| Parlays | YES | YES |
| Same Game Parlays | YES | YES |
| Risk-Free Bet | NO | YES |
| DFS | YES | YES |
| Daily Odds Boosts | YES | YES |
| Loyalty Program | Dynasty Rewards Program | FanDuel Players Club |
| Minimum Deposit | $5 | $10 |
Each site also has a busy suite of sportsbook contests to provide users with added value and excitement. Most of these are free to enter, and you can win cash prizes by making accurate predictions. You can also access some free games with this feature.
In terms of the overall number of features both sites offer, we give the edge to DraftKings. They clearly feel bettors enjoy having access to new and fresh options to keep them engaged, and it is evident when you log in to your account.
When it comes to online sports, DraftKings has a clear upper hand over FanDuel. While both operators offer the same amount of sports to bet on, DraftKings offers a wider variety of leagues to bet on, such as the Canadian Football League and EuroLeague Basketball, and also operates in more states than FanDuel, as mentioned previously.
DraftKings Sportsbook platform includes gambling-specific stats about individual players and teams. For example, this allows you to find information about how a particular team has performed against the spread over its last ten games.
FanDuel's platform includes no stats at all, so you would have to look elsewhere, such as their oddsFire service to find your wagers.
Winner: DraftKings
FanDuel Sportsbook vs. DraftKings Sportsbook – Mobile Betting App and User Interface
These gambling giants offer two of the very best sports betting apps worldwide. The DraftKings Sportsbook & Casino app has an average rating of 4.8 on the App store from 230,000 reviews. The FanDuel Sportsbook & Casino app has similarly impressive numbers, with an average rating of 4.8 out of 5 from more than 190,000 user reviews.
The FanDuel and DraftKings user interfaces are nearly identical in the ways that matter to customers. Both have lobbies that are arranged by sport. Both offer filters so you can find exactly what sporting event you are looking for. Additionally, both allow you to add players to your roster on the fantasy football app with one click.

On mobile devices, it is more straightforward to monitor live contests that you've entered into on the DraftKings app. The FanDuel app prioritizes a screen for connecting with friends to begin new contests.
Rival sportsbooks typically struggle with location services, but you won't encounter any such problems with DraftKings or FanDuel. This round is hard to split the two; both apps offer excellent services. If you have issues with the DraftKings app or find the FanDuel app not working, they quickly resolve any problems.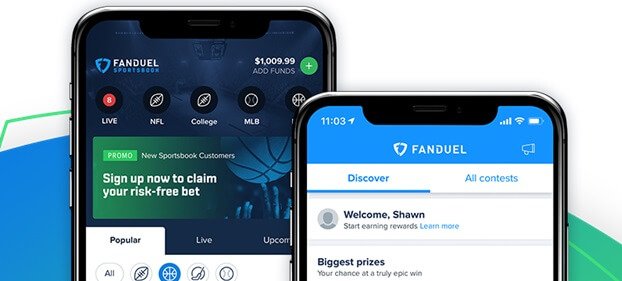 Winner: FanDuel sportsbook
FanDuel vs. DraftKings – Football betting
As you would expect with the two most popular betting sites in the US, they provide extensive coverage of the most popular sport in the US. FanDuel runs weekly promotions to run alongside the slate of regular-season NFL games. For example, if you bet $1, you can win a $125 NFL bonus with any score on a selected NFL game.
DraftKings also runs special promotions when it comes to the NFL. With the playoffs currently in full swing, DraftKings has an "NFL postseason exclusive". With this promo, you can bet $5 and get $280 on any team to win. It is a limited-time offer exclusively for the NFL playoffs.
Both platforms undoubtedly have fantastic coverage of all things football, and if you are a fan of the pigskin you are in for a treat.
Winner: Draw
FanDuel vs. DraftKings – Promos, bonuses, and Offers
We have already discussed the welcome bonuses for each site above, but each site must encourage users to return. One way to do this is by providing generous ongoing promotions and bonuses. You can unlock multiple exciting offers at FanDuel, including free bets, enhanced odds, site credit, parlay insurance, odds boosts, and more. Make sure you regularly check the "Promotions" section of the site, which constantly updates with appealing offers.
The DraftKings sportsbook also offers a broad array of ongoing promotions. You can benefit from Big Birdie Payday offers on golf tournaments, a refer-a-friend offer, daily free-to-play pools, and NBA parlay boosts. We have noticed that FanDuel provides a longer list of ongoing bonuses than DraftKings. However, a perk with DraftKings is you can earn loyalty points for placing bets, whereas FanDuel will only give you loyalty points for daily fantasy sports entries.
The DraftKings loyalty program provides you with DK Dollars, which you can use for free bets and contest entries. Overall, both sites score highly in this section of the FanDuel vs. DraftKings debate.
Winner: Draw
FanDuel or DraftKings for new players?
The chances are if you are reading this guide, you are new to sports betting. DraftKings and FanDuel are hands down the two biggest names in sports betting in the US and the ones that grab the most headlines. As more states open up to online and retail sports gambling, those who have never bet before will want to get involved. But which operator is the best for brand new sports bettors?
Let's start at the very basics of signing up and placing a simple bet.
If you are wondering how to place a wager with FanDuel, it is very easy. The process involves creating an account at fanduel.com/sportsbook, adding funds to your account, then moving to find a sport you want to bet on and making your selections. Even to a newbie, this is very easy but read our beginners guide on how to bet on FanDuel for more details.
Betting with DK is exactly the same. You need an account that you can make at sportsbook.draftkings.com, then add funds and select your sports. Ok well, there is a tad more to it than that, but you can watch our handy video and read this guide on how to bet on DraftKings sportsbook.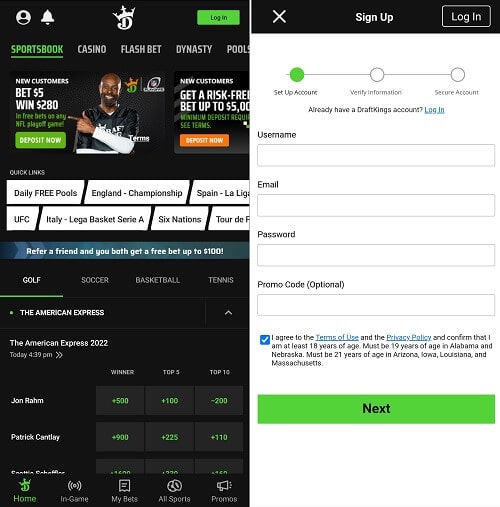 Both books are very easy to use and are probably the two most straightforward sportsbooks to use for US bettors.
FanDuel vs. DraftKings | Daily Fantasy Sports
There is no question that DraftKings and FanDuel dominate the daily fantasy sports landscape, and they both excel in this field. Once again, they are similar in terms of the daily fantasy games offered, but there are some different features that can affect your chances of winning. In the most significant aspects, the daily fantasy games offered by FanDuel & DraftKings are very similar. But, each operator does offer unique features that can affect the player's chance of winning.
Salary Cap
Almost every contest on FanDuel has a fixed salary cap of $60,000. That is higher than the cap for most events on DraftKings, making it easier to field a high-scoring team with FanDuel. With the DraftKings model, the salary cap varies between sports and tournaments. This can add another element to fantasy games since it changes the math of how you draft a team. However, it can also work in favor of high-volume players and make it more challenging to win in large contests.
Late Swap
A significant difference between both of these powerhouses comes with the deadline for swapping players. On FanDuel, your roster is set and locked in as soon as the first games that are relevant for your contest begin. DraftKings allows a late swap, giving you the chance to switch out individual players from your lineup right up until the game they are playing in begins.
Late swap doesn't offer any significant benefits for NBA fantasy contests because the teams often don't announce injuries until right before game time.
Contest Types
FanDuel sportsbook and DraftKings offer many of the same popular contest types. Both books offer tournaments of all sizes with guaranteed payouts, 50/50s in which the top half of players win, and head-to-head contests. However, there are some contests unique to each platform.
FanDuel's advantage is that the platform is always experimenting with new, fresh contests. For example, FanDuel hosted a home range challenge for the 2019 MLB season, where only home runs counted toward players' fantasy scores. On DraftKings, satellite contests are excellent. These are small fantasy tournaments with low entry fees. If you win one of these contests, you gain entry to a  larger, featured tournament at no cost.
In this round, we give the edge to DK. DraftKings offers more high-stakes contests than FanDuel, with a lower rake on those games.
Winner: DraftKings
FanDuel vs. DraftKings – Loyalty Programs
Customers, whether they are daily fantasy players or regular bettors, can collect loyalty points on both sites. These points are known as 'Crowns' on DraftKings which you can collect via the DraftKings Dynasty rewards program. If a sports bettor earns 100 crowns in a month, they move up to the Bronze tier. If you reach 500 points you get to the Silver tier, and the other tiers are Gold, Platinum, Diamond, and Black. If you manage to reach those heights, you will get daily rewards the following month.
The FanDuel program only runs for a DFS player and is only applicable for DFS contests. The FanDuel sportsbook VIP program is invite-only and is not that widely accessible. There is no points to be had for choosing a betting option on the sportsbook, these are only for daily fantasy sports contests. It is for this reason that we certainly give the edge to DraftKings here.
Winner: DraftKings
FanDuel Vs. DraftKings – Payouts
As we mentioned in the banking section above, both sites offer a wide range of options but the speed at which you receive your funds is different. From reading reviews and through our own experiences, the processing time tends to be quicker on FanDuel. As there are slightly higher maximum winnings on FanDuel, it may be the case that they have gone above to ensure speed is priority.
Aside from credit and debit cards, payment methods at both sites include:
PrePaid Card +
PayNearMe
PayPal
Online Banking
Check
Wire Transfer
These are standard for major sportsbooks and all offer quick processing times. If you want an instant payout, we suggest using PayPal, which is an option at both FanDuel and DraftKings. The general rule for both books is that you must use the same payout method as you did to deposit. Naturally, this isn't always possible, which is the case for credit cards. Both DK and FanDuel will allow you to select another withdrawal method like a check if you can't choose the same option you used to deposit.
As there is not much separating either rival in terms of the range of payment options, we have to edge towards FanDuel here as their processing times are quicker. Safety isn't an issue either, as both are major brands with all the correct licensing and encryption technology in place. FanDuel takes the payout glory due to the speed with which you will receive your cash.
Winner: FanDuel
FanDuel vs. DraftKings – Extras
Before committing to making your first deposit on DraftKings or FanDuel, there are multiple things to consider. For example, you may want to know how to bet on DraftKings or FanDuel for a start. The good news is it is easy to place a bet on FanDuel, and its rival, and you can deposit watch sports quickly.
Another thing to note about both operators is they each have a casino app. With online iGaming growing across the country, both DraftKings and FanDuel have launched successful online casino apps. Players can now play their favorite casino games such as blackjack and roulette on the go.
If you have already registered for a DFS account on Draftkings or FanDuel, you can use the same account details to sign into the mobile app. If you have not signed up before now, the registration process on both apps is extremely easy. Simply click on the "Join Now" button and follow the prompt. Both these platforms offer easy to use applications and you should not miss out on anything regardless of the option you choose.
DraftKings and FanDuel have also signed a range of sponsorship deals in a bid to boost their profile. In 2021, DraftKings agreed to a $350 million partnership deal with the UFC, the largest sponsorship deal in the promotion's history. Caesars, DraftKings, and FanDuel then signed $1 billion worth of deals with the NFL.
Both books have sponsorship deals with a variety of NFL, NBA, MLB, and NHL franchises. It speaks volumes about their pulling power that such professional leagues and sports are willing to join forces with them. If you've ever wondered, how much money does FanDuel make? A quick glance at these sponsorship deals suggests they aren't doing too badly.
An area that FanDuel has yet to expand is the crypto-space. The DraftKings NFT marketplace is a feature that attracts Americans who are not interested in betting, although not yet extremely popular.
Winner: Draw
Alternatives to Both FanDuel and DraftKings Sportsbook
We have extensively covered the differences in this FanDuel and DraftKings sportsbook comparison. But after going through the differences, you may decide that none of these sites have what you require. This is understandable since the best sportsbook is dependent on your unique needs, which is why we have also put Caesars head to head with FanDuel. If you are in this category, there are some alternatives that you can check out. These include:
FanDuel vs. DraftKings – Partnerships
Another thing to look at in the FanDuel vs DraftKings debate is the value and prestige of their partnerships. Both operators have signed numerous sponsorships as they seek to boost their image. In 2021, DraftKings agreed to a huge $350 million partnership deal with the UFC, which, at that time, was the biggest sponsorship deal in UFC history. DraftKings, FanDuel and Caesars followed that up by agreeing to $1 billion worth of deals with the NFL.
Both FanDuel and Draft Kings have deals in place with multiple NBA, MLB, NFL and NHL franchises. FanDuel has joined forces with well known US sports franchises Chicago Bulls, Dallas Mavericks, New York Knicks, Brooklyn Nets, Orlando Magic and the LA Lakers. Additionally, the FanDuel Group has team-level sponsorships with the NFL's Denver Broncos, Indianapolis Colts and Washington Commanders, while DraftKings have ties to the New York Giants and Philadelphia Eagles. DraftKings also have links to NBA franchises including the Philadelphia 76ers, Indiana Paceers and the Boston Celtics. These agreements give both DK and FanDuel exclusive rights to in-game promotions, activations, marks and logos.
Winner: There is very little to choose between the two where when judging sponsorship deals. Both have invested a lot of money in sponsorship deals as they compete for market share so we are calling this one a draw.
Final Verdict: Should You Choose FanDuel or DraftKings Sportsbook?
DraftKings and FanDuel both excel in several categories. They both have excellent mobile apps, top-quality live streaming platforms, numerous payment options, deep sporting coverage, and generous welcome bonuses. Also, they cover numerous events allowing you to bet on the rugby league, NBA games, and various NFL teams. These platforms are also particular about responsible gaming and have tools in place to ensure you don't develop a gambling problem.
They are aspects where one is slightly ahead in our view. DraftKings offers a better loyalty scheme and more payment methods. However, FanDuel has slightly better odds, more promos, and quicker withdrawals.
It would help if you worked out which is the most important category for you and then chose accordingly. Or, you could use our exclusive links and signup with both sites and get the best of both worlds.
Both these sportsbook and DFS site operators are absolute powerhouses in the US online sports betting industry. The FanDuel and DraftKings market share take up around 70% between them. DraftKings Inc. (DKNG) Stock Price has been climbing steadily over the past few months and is only expected to keep rising as sports betting gets legalized in more states.
So when it comes down to FanDuel vs. DraftKings sportsbook who is the best? It's a very close contest and if you read this guide, you will probably think FanDuel has just edged it. But, we think DraftKings just edges it. Ok, FanDuel may be more user-friendly, we just feel DK has the edge when it comes to betting. Our money is firmly on the DraftKings sportsbook all day long.
Why Choose FanDuel Over DraftKings
A consistent fixed salary cap provides a simplified and cohesive experience
New, unique, and fun contests are regularly introduced
Sportsbook offers competitive odds
Why Choose DraftKings Over FanDuel?
Fantasy contests and sports betting on international sports leagues
Satellite contest allows players to enter larger tournaments they otherwise would be unable to
Offers late swap for more customization
The sportsbook platform is available in more states and offers more in-depth statistics