Red Sox vs. Yankees, Frazier vs. Ali, Lakers vs. Celtics, Packers vs. Bears……..and FanDuel Sportsbook vs. DraftKings Sportsbook. Aren't rivalries amazing?
Both FanDuel and DraftKings are two of the US's most popular platforms for daily fantasy sports (DFS). Combined, they have roughly 14 million active users across the US. They have established partnerships & sponsorships with the most significant sports leagues in the US, notably FanDuel being the Official One-Day Fantasy Game of the NBA and DraftKings being the Official Daily Fantasy Partner of the NFL.
Even more, both DraftKings sportsbook and FanDuel sportsbook now offer legal online sports betting in a handful of states. Competition between the two DFS giants is only likely to get more fierce as more states legalize online sports betting.
For new players deciding whether to choose the FanDuel sportsbook vs. DraftKings sportsbook can be a difficult task. Both operators have a lot to offer to players, and neither has a clear lead in the competition for DFS players or online sports bets. Luckily, we have created a head-to-head, in-depth comparison of the Fanduel sportsbook and DraftKings sportsbook set up.
So without further ado, we look to answer one of the biggest questions in sports betting; which is better DraftKings or FanDuel?
FanDuel vs. DraftKings New player offers
Both sportsbooks from FanDuel and DraftKings offer a new player welcome bonus
FanDuel Sportsbook – Risk-free bet up to $1,000
DraftKings Sportsbook – Risk-free bet + deposit bonus up to $1,000
You can also check out our guide to the best FanDuel alternatives and also our DraftKings sportsbook alternatives guide.
FanDuel vs. DraftKings | Sports Coverage
Both FanDuel and DraftKings offer daily fantasy matches and legal sports betting in the US for all major sports leagues. NBA, NFL, MLB, NHL, College Football, College Basketball, PGA, and NASCAR are all available using either platform.
However, if you are interested in a wider variety of leagues such as Euroleague Basketball or betting on the Canadian Football League (CFL), DraftKings is the best choice. DraftKings is the only operator to offer fantasy MMA fights and eSports.

FanDuel vs. DraftKings | Where You Can Play & Bet?
For daily fantasy sports, Fanduel and DraftKings are available in all 43 US states where online fantasy gambling is legal along with Canada.
DraftKings has a broader international reach, offering accounts to residents of the UK, Ireland, Malta, Austria, and Germany.
If you wish to use FanDuel or DraftKings for mobile sports betting, we'd recommend DraftKings as it currently operates in more states. FanDuel is offering mobile sports betting in Arizona, West Virginia, New Jersey, Indiana, Colorado, Tennesse, Iowa, Illinois, Iowa, Pennsylvania, Michigan, Virginia, Wyoming, New York, and retail betting in Mississippi.
FanDuel vs. DraftKings | Promotions, and Offers
When it comes to welcome offers, both FanDuel and DraftKings offer a lot of value for new users to get their teeth stuck into.
At DraftKings Daily Fantasy Sports, new players can use the DraftKings promo code "SAVE" and get a 20% matched first deposit bonus up to $500*.
Then at DraftKings Sportsbooks, new players can claim a sign-up bonus of up to $1,000, awarded as a $500 risk-free bet and a matched first deposit bonus up to $500 by using the sportsbook promo code "WIN"
FanDuel is offering a very similar deal to DraftKings in that of a $500 risk-free bet. FanDuel will credit your first bet up to $500 if you lose. The risk-free bet must be made on only one bet slip. So, there is no reason not to bet $500 on your first bet as you have nothing to lose.
FanDuel vs. DraftKings | Daily Fantasy Sports
In the most significant aspects, the daily fantasy games offered by FanDuel & DraftKings are very similar. But, each operator does offer unique features that can affect the player's chance of winning.

Salary Cap
When using FanDuel, you will find that the majority of contests will have a salary cap of $60,000. This salary cap is higher than a lot of contests found at DraftKings, meaning it is easier to play a star-studded, higher-scoring team when using FanDuel. This model appeals to the casual fan as they can use more household names in their lineups and requires less knowledge of the sport to get the most out of your $60,000 salary.
At DraftKings, the salary cap varies between each sport and specific tournament. This adds another dimension when it comes to drafting your team as the math is different every time. This model makes DraftKings better suited for players who are very knowledgeable on the sport as they will need to find value in their later picks on a depleted budget.
Contests
Both FanDuel and DraftKings offer many of the popular contests. Both offering tournaments of all sizes, including guaranteed payout contests, head-to-head competitions, and 50/50's, where the top half of players win prizes. However, each operator offers unique contests.
DraftKings players can partake in their Satellite contests; these are small tournaments with low entry costs. If you win a satellite fantasy contest, you're entered into much larger, featured competitions at no extra cost. This allows players to take part in larger tournaments that otherwise would be too expensive.
FanDuel poses a real advantage when it comes to contests on offer, as FanDuel is continually experimenting with unique contests. The most popular of these being the Home Range Challenge for the 2019 MLB season in which only home runs counted towards a player's fantasy points; or when FanDuel tried a positionless NBA league, in which players could draft a starting five, regardless of their position. Fans enjoyed these contests as they added some diversity and excitement to the FanDuel platform.
Swapping Players
The major difference between DraftKings and Fanduel is found in the deadline for swapping players in and out of your lineup.
On FanDuel, your lineup is locked in as soon as the first games that are being counted for your current contest begins. Whereas DraftKings offers a late swap, meaning that you can switch out an individual player from your lineup up to the point where the game with that player begins.
This late swap feature is incredibly useful for NBA fantasy betting since teams don't often announce injuries until right before tip-off. Late swap can also be helpful for NHL, and MLB games as lineups for the west coast aren't always announced before games on the east coast begin.
FanDuel Sportsbook vs. DraftKings Sportsbook
When it comes to online sports, DraftKings has a clear upper hand over FanDuel. While both operators offer the same amount of sports to bet on, DraftKings offers a wider variety of leagues to bet on, such as the Canadian Football League and EuroLeague Basketball, and also operates in more states than FanDuel, as mentioned previously.
DraftKings Sportsbook platform includes gambling-specific stats about individual players and teams. For example, this allows you to find information about how a particular team has performed against the spread over its last ten games.
FanDuel's platform includes no stats at all, so you would have to look elsewhere, such as their oddsFire service to find your wagers.
FanDuel vs. DraftKings | User Interface
The DraftKings and FanDuel user interfaces are near identical in ways that matter. Both of their DFS lobbies are organized by sport, and both offer filters, making it easy for players to find the exact contest they wish to partake. Both operators allow you to draft players to your roster with just one click of a button.
The mobile apps are very similar between both platforms. On DraftKings mobile app, it is easier to view live contests that you've entered. Whereas on the FanDuel mobile app, they have prioritized the social aspect of DFS as they have added a screen for connecting with friends for starting new contests.
For us, the main difference between FanDuel and DraftKings is how you feel when using the app and site. We much prefer the interface on DK and find it a lot better laid out.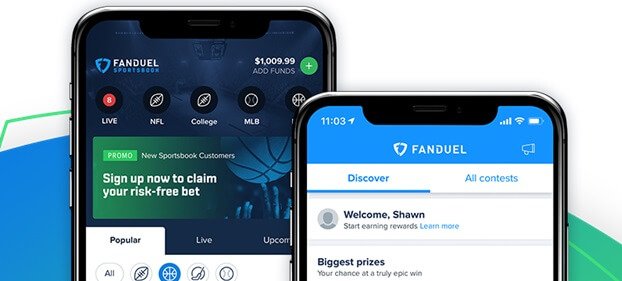 If you have not downloaded a sports betting app to your Android device before, check out our Android sportsbook guide.
Why Choose FanDuel Over DraftKings?
A consistent fixed salary cap provides a simplified and cohesive experience
New, unique, and fun contests are regularly introduced
Sportsbook offers competitive odds
Why Choose DraftKings Over FanDuel?
Fantasy contest and sports betting on international sports leagues
Satellite contest allows players to enter larger tournaments they otherwise would be unable to
Offers late swap for more customization
Sportsbook platform is available in more states and offers more in-depth statistics
Both these sportsbook and DFS operators are absolute powerhouses in the US online gaming market. The FanDuel and DraftKings market share take up around 70% between them. DraftKings Inc. (DKNG) Stock Price has been climbing steadily over the past few months and is only expected to keep rising as sports betting gets legalized in more states.
So when it comes down to FanDuel vs. DraftKings sportsbook and who is the best? Our money is firmly on the DraftKings sportsbook all day long.