Gamble USA strives to improve your online gambling experience. We aim to help you play safely, make informed decisions when gambling, and increase your betting knowledge through our guides.
We adhere to strict editorial integrity; our content may contain links to products from our licensed & legal US partners.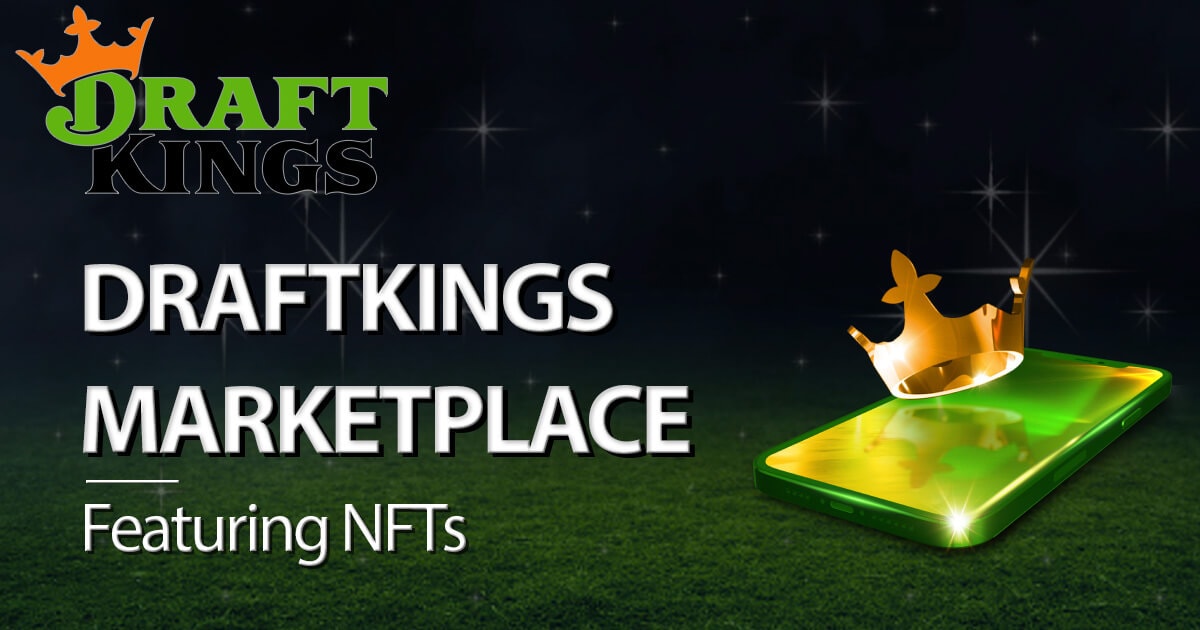 The DraftKings Marketplace is one of many online ecosystems that feature sports NFTs or official digital collectibles that users can collect, trade, and use in daily fantasy sports for big cash prizes! The DraftKings sports betting platform is one of the first online casinos and sportsbooks that entered into the NFT space and has since become one of the largest NFT marketplaces in the world.
Similar to NBA Top Shot, users can buy these collectibles from either drops or through a secondary marketplace of resellers from the DraftKings community. These sporting collectibles range from in-game moments to concept art featuring and endorsed by all of your favorite athletes.
Sports-related NFTs are a huge market for collectors of digital assets in different NFT ecosystems. If you want to know more about the DraftKings NFT platform and marketplace, the types of NFTs available, how to get started, and why it's a good idea, keep reading this DraftKings review below.
DraftKings NFT & Marketplace Overview
Up To $1,000 Deposit Bonus
21+. T&C Apply
21+. T&C Apply
The best sportsbook
Amazing odds & offers
Awesome betting app
The DraftKings Marketplace is an NFT platform co-founded by the Autograph platform, which creates and mints all of the NFTs featured on DraftKings to the blockchain. Autograph's platform mints these non-fungible tokens by adding them to the blockchain to give users a log of ownership when they decide to place the NFT on the marketplace and sell artwork at their desired price.
The marketplace acts as a primary marketplace to sell its own NFTs at different scheduled drop times while allowing users to resell NFTs they purchased from the marketplace on a secondary market. While the marketplace itself runs on the Ethereum Network (which is crypto-based), it's currently only accepting purchases in the form of cash payments (through an array of payment methods).
All of the NFTs purchased from the marketplace are placed in your portfolio, which can be found by clicking the "portfolio" button on the marketplace tabs menu or selecting the "my cards" button from the ReignMakers tabs menu. These NFTs can also be withdrawn and transferred to a Web3 EWallet that you need to link to your DraftKings account.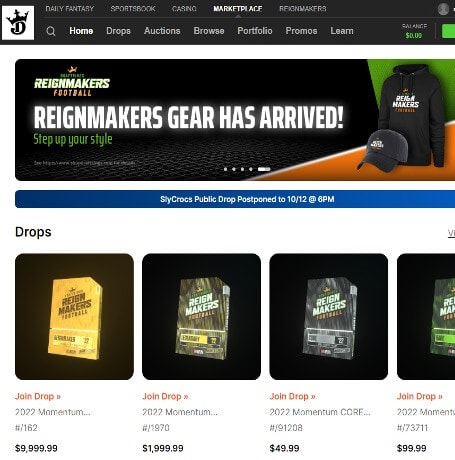 NFTs and Items you can trade on DraftKings Marketplace
There are several different types of NFTs that users of the DraftKings Marketplace may find on the platform that can be used for two reasons. Some of them may be used for daily fantasy sports as long as they are one of five different rarities (core, rare, elite, legendary, and ReignMakers). In contrast, the others are simply concept art or digital collectibles.
Suppose you're looking for simply digital collectibles and are not interested in the daily fantasy sports aspect of the platform. In that case, the marketplace features several collections up your alley if you're looking for fun and interesting digital art. For example, DraftKings offers an Aaron Donald collection featuring the all-pro defensive tackle in phenomenal concept art that includes him on the cover of a comic book (pictured below).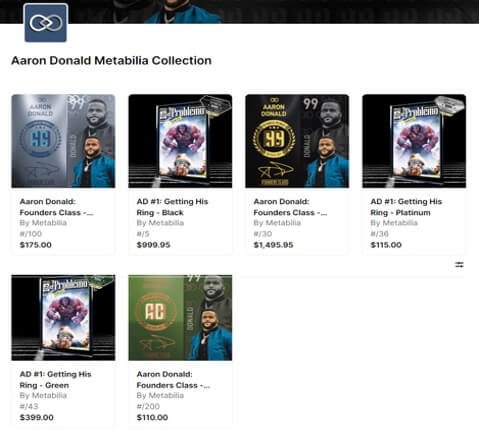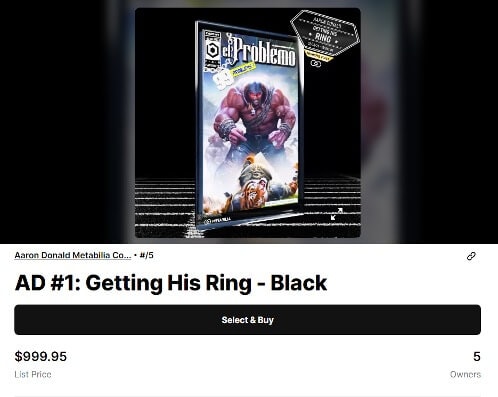 As mentioned above, all of these NFTs are minted by Autograph, although not all are directly sports related. For example, a current collection being released on the DraftKings Marketplace that's not directly related to sports is SlyCrocs, a take on the famous bored ape NFTs. However, they feature crocodiles in different sports jerseys (as seen below).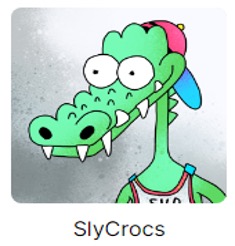 Other concept art might include famous retired athletes or animations of different sports-related material, such as animated caricatures of famous Kentucky Derby horses. It's also possible for celebrities and properties to create NFT collections on the DraftKings Marketplace, including EDM DJ Steve Aoki, as well as the Saw movie franchise.
Getting Started with DraftKings NFT Marketplace
Up To $1,000 Deposit Bonus
21+. T&C Apply
21+. T&C Apply
The best sportsbook
Amazing odds & offers
Awesome betting app
To get started on the DraftKings NFT Marketplace, you must first have an account on the DraftKings Sportsbook. If you haven't created an account yet, click the link here and register for an account in just a few minutes. New users must provide their full name, date of birth, home address, email address, phone number, and the last four digits of their social security number to register for an account.
After your account is created, go to the DraftKings website, separate from the sportsbook, and click "ReignMakers" from the horizontal tabs at the top of the screen (pictured below). Click the "sign-up" button and register for a marketplace account (no additional information) to access the platform.

From here, you can claim your account's starter pack and get started by linking your Web3 EWallet to withdraw NFTs purchased on the platform. You will also need to make deposits to this account (through various payment methods) to purchase NFTs from the primary or secondary market.
Six Card Starter Pack
Every user signing up for an account on the platform is entitled to a starter pack consisting of six core cards, the lowest of six rarities of cards on the platform. These types of card NFTs on DraftKings are what users can use to set their daily fantasy sports lineups, which is why it's important to buy more players to upgrade your team.
To set a starting lineup, users will need five players, which means the starter pack gives you five starters and one guy on the bench that are entirely random and not always the best. My starter pack is pictured below; as you can see, it won't get far in any DraftKings prize pools. None of the NFTs from your starter pack are available for resale, so it will be an investment to get better.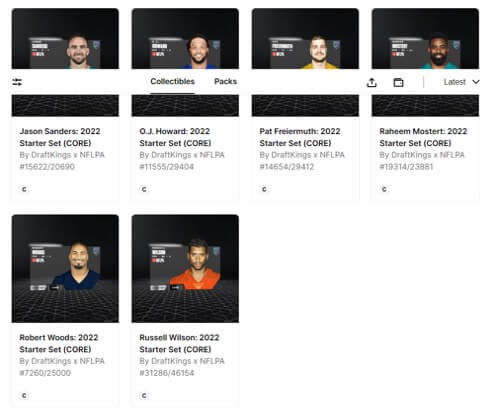 Selling DraftKings NFTs
If you own some NFTs that you've purchased from the DraftKings NFT Marketplace that you're looking to resell, you can place them on the secondary market, allowing owners to set them up for auction or for a specified price. The auction house is a new feature, although several users use it to get the general value of what their collectible is worth.
If you're looking to sell for a specific price on the secondary market, do a bit of research on the NFT you own and see what other users are listing theirs that have similar editions to yours for a good idea of the price. Research allows you not to have a sale sit for too long before it is bought because you're listing it for a reasonable price.
To start selling your NFTs, go to your portfolio, click on an individual, then select the "sell" button. This will create a listing and let you set your price or the starting auction price for your collectible.
Buying DraftKings NFTs
If you're looking to buy NFTs from DraftKings, you must deposit them into your account instead of using cryptocurrency like many other NFT marketplaces. To make a deposit, you will need to choose from one of the following DraftKings payment methods:
Credit or debit card
Online banking options
PayPal
ACH eCheck
Online Wire Transfer
PayNearMe
Other than the PayNearMe option, all the options above can be saved for future transactions for easier access. NFTs on DraftKings are available through drops at scheduled times until they are sold out or through the secondary market.
Similar to selling on the secondary market, you will need to research the NFT you're buying before you purchase it as quickly as possible. Every time you're looking through the marketplace and something catches your eye, look for the same NFT with similar editions to get an average look at the price.
Who can trade on DraftKings Marketplace?
Anyone older than 18 years old can trade NFTs on the DraftKings platform unless they're in the state of Louisiana or Massachusetts (19 and 20). While you're able to create an account from almost anywhere in the United States, some states, like Nevada, have restrictions for online gambling websites, which means you cannot access your account anywhere in the United States.
Why use DraftKings NFT Marketplace instead of Other Trading Platforms?
Two main reasons to trade and use DraftKings as your NFT marketplace are buying unique sports-related NFTs and NFT fantasy sports. DraftKings partners with several different athletes and celebrities to bring users a unique selection of online collectibles that collectors worldwide can invest in using the blockchain.
Up To $1,000 Deposit Bonus
21+. T&C Apply
21+. T&C Apply
The best sportsbook
Amazing odds & offers
Awesome betting app
If you enjoy sports and are interested in NFTs, I can't think of a better place to buy sports NFTs other than from the athlete individually, which is rare because they generally partner with DraftKings. Other trading platforms also require most of these transactions to be made through cryptocurrency. In contrast, DraftKings is made all through real money transactions, meaning you don't need to invest in cryptocurrency to buy it.
The second and most unique reason to use DraftKings as an NFT marketplace is that you can use them for daily fantasy sports contests to win money from prize pools. You will need five players for each contest and there will be limits on the number of players with a specific rarity based on the contest entered.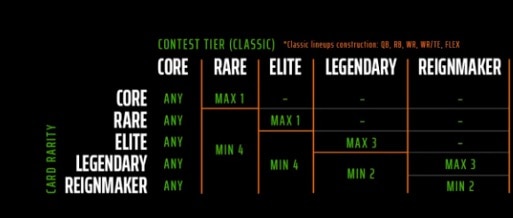 DraftKings NFT Marketplace Terminology: FAQs
What is a DraftKings NFT drop?
DraftKings NFT drops are when an individual or collection of NFTs become available for purchase on the DraftKings Marketplace, which is the primary market for featured NFTs. Any purchases from a secondary market will not be considered a drop because they are not being sold for the first time.

Drops can range in rarity from Core to ReignMaker, and users can receive a random edition of their favorite athletes, such as Tom Brady, Tony Hawk, or even Wayne Gretzky! Be sure to check the drop schedule for the predetermined drop dates and times when the drop begins.
What does NFT Portfolio mean?
NFT portfolios are a user's collection of multiple NFTs. These digital collectibles can either be from the same collection or different ones, and the portfolio is a way for the users to view NFTs on DraftKings.
What's available on DraftKings Marketplace?
The DraftKings Marketplace works very similarly to any other NFT marketplace on the internet; it's the only place where users can buy NFTs on DraftKings as the primary market. A primary market essentially means that it's direct from the distributor rather than a reseller, which means you're getting it for face value.
What do you get for buying DraftKings NFTs?
Whenever you buy an NFT, you will then own digital assets using blockchain technology to mint your individual asset as a non-fungible token (or NFT). NFTs are similar to a digital baseball card, meaning that it gets their value through having minted a limited number of the asset, accompanied by being a fun thing for collectors to enjoy.
What are NFT editions?
As mentioned above, each collectible is minted a specific number of times based on the rarity of the asset. An NFT edition is the number of the asset that was minted, meaning that if I had a Tiger Woods NFT, that's #2 of 5, I would have the 2nd edition, being the 2nd most valuable version of the asset for resale.
How to use the DraftKings secondary-sales market, and why?
If you want to start trading NFTs on DraftKings, you will need to familiarize yourself with its secondary market for resellers. This is where users who own DraftKings NFTs are able to buy and sell NFTs at a listed price that the seller determines. From here, you will be able to browse for a specific edition of an asset as well as purchase NFTs.
Are DraftKings NFTs withdrawable?
Yes! DraftKings NFTs can be withdrawn to a user's self-custody Web3 wallet. If you want to make a withdrawal, link your wallet to your DraftKings account, go to your portfolio, and expand the details page. From here, select the "Take custody" option from the details to begin the withdrawal (which requires two forms of authentication).
How often are new NFTs listed on DraftKings?
New NFTs are listed in drops every few weeks and will last until the drop runs out. If you join a drop that's very busy, you will be added to a waiting room until you're finished purchasing your digital asset.
Summary
The DraftKings Marketplace is a very unique NFT experience that few other NFT marketplaces can rival. Between the unique digital art and the fun and unique daily fantasy sports offered by the platform through NFTs, the entire experience is different from any other sports NFT you've ever seen.
Whether you're buying from its frequent drops or its secondary marketplace of resellers, DraftKings has created a great NFT marketplace perfect for new and advanced collectors. If you're interested in the NFT space, create an account and enjoy what DraftKings offers!