Gamble USA strives to improve your online gambling experience. We aim to help you play safely, make informed decisions when gambling, and increase your betting knowledge through our guides.
We adhere to strict editorial integrity; our content may contain links to products from our licensed & legal US partners.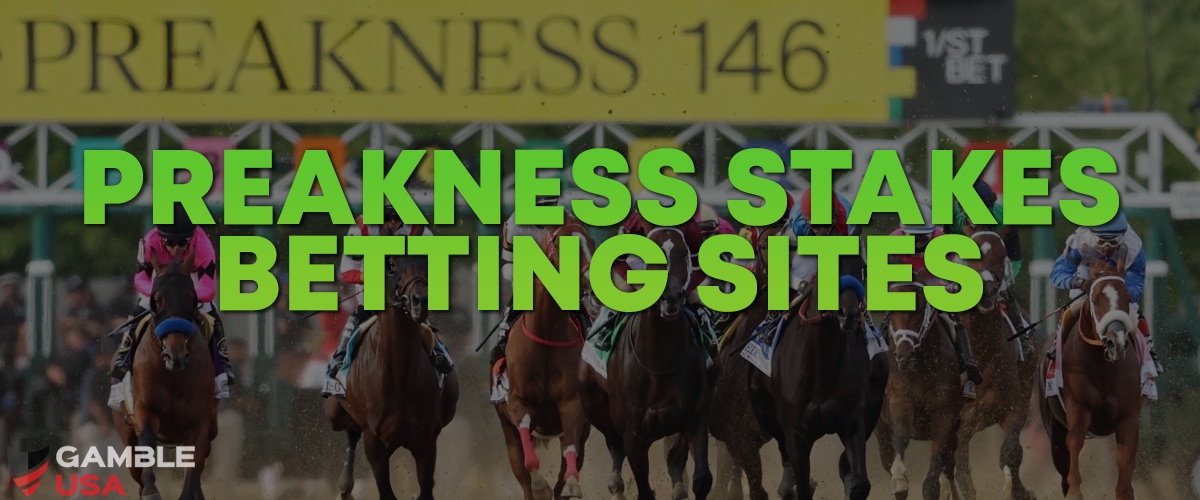 Second only to the Kentucky Derby, the Preakness Stakes is one of the nation's most prestigious horse racing events — making up the second leg of the illustrious Triple Crown.
Few races are as exciting. And while the Preakness Stakes may come in second to the Kentucky Derby for popularity, keen sports bettors are well aware that results of the Run for the Roses can be accurately used to predict the winner of the Run for the Black-Eyed Susans, making the Preakness Stakes a perfect entry point for sports bettors looking to get started in the Sport of Kings.
Hosted at the Pimlico Race Course in Baltimore, Maryland — the Preakness Stakes is one of the oldest US thoroughbred horse races, having first been hosted back in 1873. Of course, a lot has changed since then. An original purse of $3,000 has since had multiple increases, now rising to $1.65 million as of 2023. Though one thing that hasn't changed about the Preakness Stakes is its popularity for horse racing bettors, being one of the most popular events for American sports betting. In fact, with over $100 million wagered on the race annually, it can be argued that it's just as important for horse racing bettors as it is for the jockeys and stables who compete.
Unsurprisingly, just about every US racebook offers action on the Preakness Stakes. Though just as only the best horses can race in the Preakness Stakes, so should you only look to bet with the best racebooks for this monumental event. So consider this article your one-stop handicap guide for the Preakness Stakes — including the best racebooks and insights into the most profitable bets the pros make. Plus, as an added bonus, we'll show you how to get more bang for your buck by using exclusive Preakness Stakes promos.
| 🏇Site | 🎁Welcome Bonus | 🌐Registration Link |
| --- | --- | --- |
| FanDuel Racing/TVG | Up To $200 Back In Wagering Credits If You're First Bet Loses | Click Here! |
| DK Horse | 100% Deposit Match Up To $250 | Click Here! |
| Caesars Racebook | 100% Deposit Match Up To $300 (Varies By State) | Click Here! |
| BetMGM Horse Racing | 100% Deposit Match Up To $200 | Click Here! |
| PointsBet Racing | TBA | Click Here! |
---
Best Preakness Stakes Betting Sites
Since PASPA being repealed in 2018, many racebooks have opened up in the US to allow horse racing betting. Of these sites though, we've come up with our pick of five horse race betting sites that stand above the pack.
🥇 #1. FanDuel Racing & TVG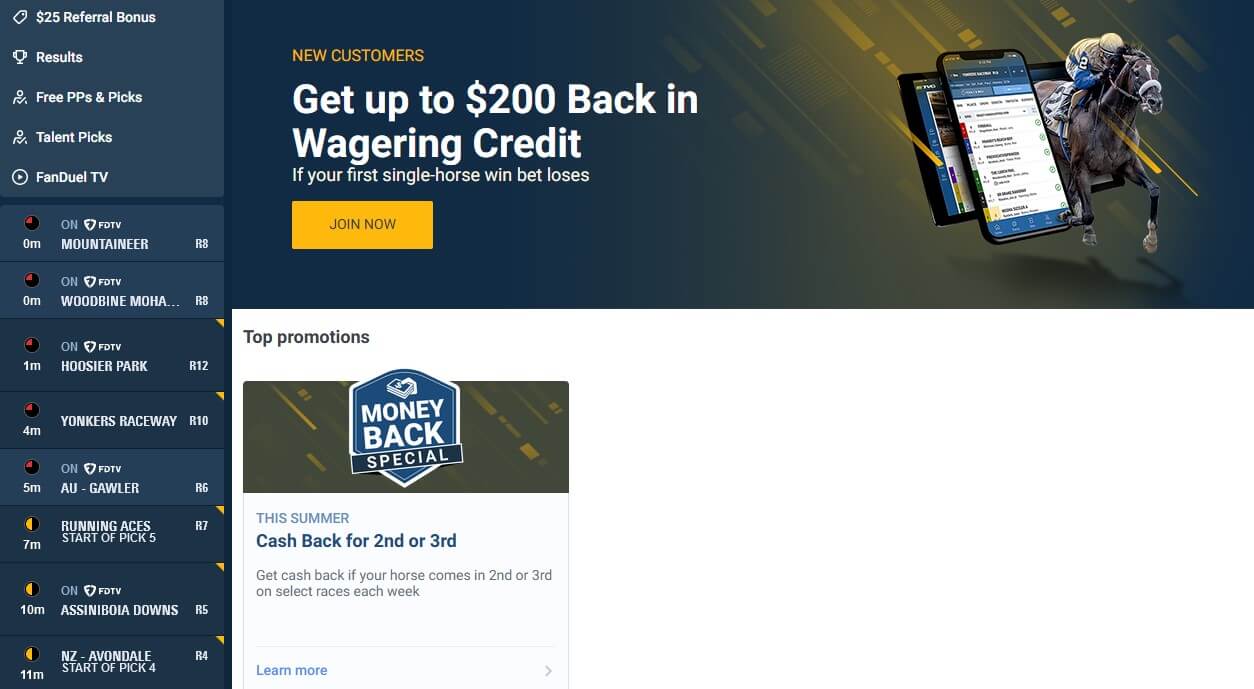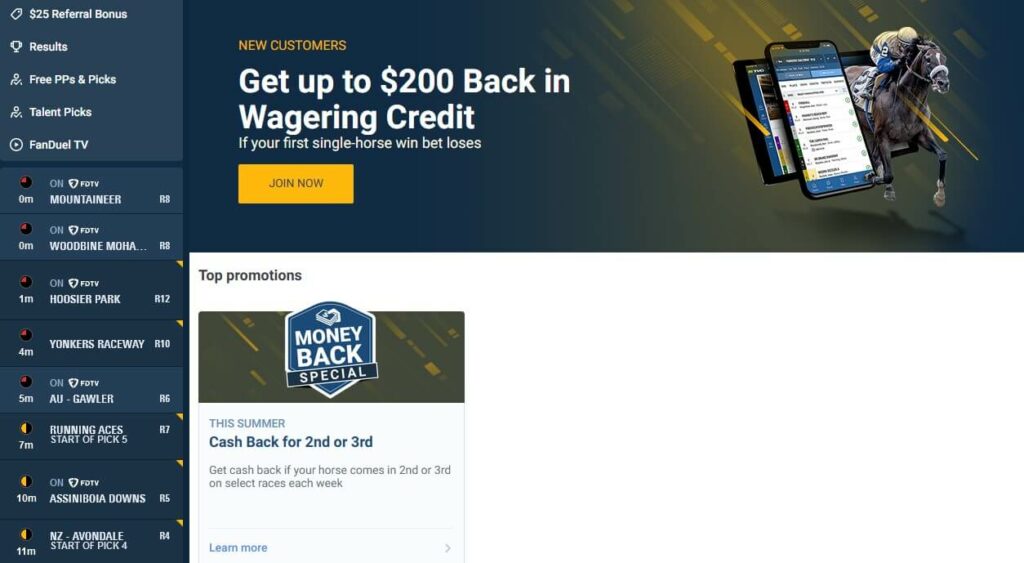 FanDuel is already one of the top US sportsbooks. Now add TVG into the mix and you have a recipe for one of the very best racebooks. Their site is easy to navigate across both mobile and desktop-based sites, they offer frequent promotions for all the most popular horse racing events including the Preakness Stakes, plus they've also got a great customer support team.
If you live in the US and have access to the FanDuel Racing or TVG sites, then there are few better options for betting on and watching the races.
✅ Pros of TVG/FanDuel Racing
Available Across Most US States
Frequent Horse Racing Promotions
Live Streaming of Preakness Stakes is Great
Informative Preakness Stakes Betting Guide
Helpful Customer Support Team
❌ Cons of TVG/FanDuel Racing
Android Mobile App is a Bit of a Pain
Expert Comments:
"When I think about what makes a racebook great, I usually think of good streaming options, frequent and worthwhile bonuses, and a helpful team. For that reason, FanDuel Racing and TVG have all that. Add in some great in-built handicapping tools and widespread availability across almost the entirety of America and FanDuel/TVG becomes an absolute lock for really any sort of horse racing betting and especially for major events like the Preakness Stakes."
– Paul Ricci (Chief Sports Editor)

---
🥈#2. DraftKings — DK Horse


For newcomers to Preakness Stakes betting especially, DK Horse really stands apart from the crowd with its easily accessible sites and friendly team. Owned and operated by the same company that runs sports betting site behemoth DraftKings, DK Horse borrows from their already proven formula for success by focusing on the basics — and making horse racing betting as simple as possible.
Their free handicapping store especially shines in this regard, helping out bettors who are looking to make the jump into becoming a more serious bettor by gathering as much information as possible before placing a bet.
✅ Pros of DK Horse Racing
Great Preakness Stakes Betting Guide
Friendly Customer Support Team & Good FAQ Section
Easily Accessible Site For Mobile & Desktop Users
Handicapping Tools are Free With Bet
❌ Cons of DK Horse Racing
Some Users Have Reported Issues Claiming Bonuses
Expert Comments:
"Fine margins are everything in horse racing. With DK Horse, you are given those fine margins with their handicapping tools, which you can get for free whenever you make an applicable bet on the relevant race. Even better though, for big races like the Preakness Stakes, they have helpful guides."
– Paul Ricci (Chief Sports Editor)

---
🥉#3. Caesars Racebook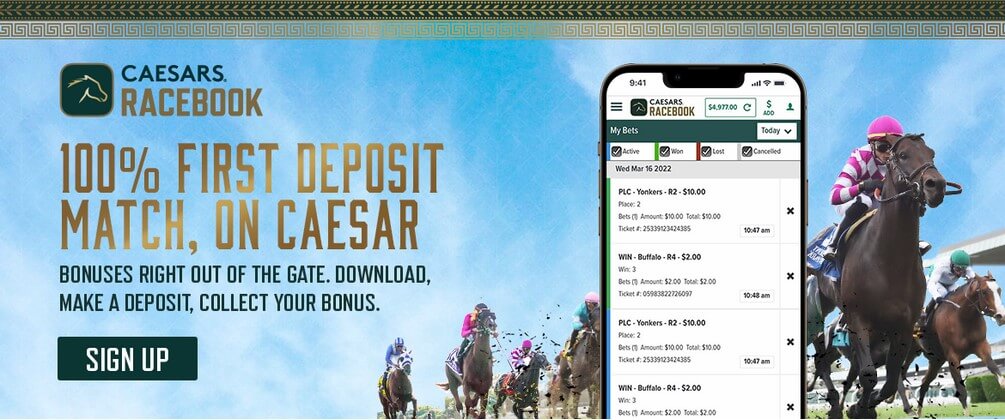 If you regularly bet from your mobile, Caesars Racebook is for you. While the mobile horse racing betting site is technically available from all devices, it's clear that Caesars has put the majority of its focus on making the mobile experience as streamlined as possible. This philosophy also extends to their promotions.
There are no complicated terms & conditions, nor are there any huge wagering requirements that need to be met. Instead, all Caesars Racebook bonuses only require you to meet an x1 playthrough requirement before they're able to be withdrawn from your account. Just make sure to use your correct state specific Preakness Stakes bonus code.
✅ Pros of Caesars Racebook
Simple Mobile App
Welcome Bonuses Have x1 Playthrough Requirements
Regular Horse Racing Promotions
❌ Cons of Caesars Racebook
Expert Comments:
"If I'm being honest, I probably don't bet on the horses as much as I do other sports. As such, it's absolutely crucial that any site I bet on is fine with me doing that and doesn't try to tie me down with ludicrous 10x or 25x playthrough requirements when offering a bonus. In that regard, Caesars Racebook's 1x playthrough requirements bonuses are perfect. No desktop site might be a deal breaker for some, but I only bet using my iPhone, so it isn't that big of an issue for me."
– Oliver Dickinson (Sports Editor)

---
🎖️#4. BetMGM Horse Racing
When it comes to betting on any sport in the US, there are few names as respected as BetMGM. It should therefore be no surprise to hear that the Sport of Kings gets the royal treatment from BetMGM Horse Racing with frequent bet boosts available for all the famous races, including of course, the Preakness Stakes.
The only real downside is BetMGM's minimal availability across the nation. As of writing, only users from Florida, Ohio, and Louisiana have access to BetMGM Horse Racing.
✅ Pros of BetMGM Horse Racing
Lots of Horse Racing Bet Boosts
Mobile Apps Are Terrific
Live Streaming Tool Allows You To Bet & Watch Races at the Same Time
❌ Cons of BetMGM Horse Racing
Limited to Residents of FL, LA, & OH
Expert Comments:
"I really like the regular Bet Boosts on BetMGM which mean you can artificially inflate your odds on selected races. Another thing that I like is that they offer probably the best live streaming options across all mobile racebooks, allowing you to bet and watch races simultaneously."
– Damjan Spajić (Sports Editor)

---
🏅 #5. PointsBet Racing
PointsBet Racing may be new to the marketplace, having only launched in October 2022 — however, they've already established themselves as one of the top US sportsbooks. Available across a good chunk of the US, PointsBet Racing has made it their mission to make horse racing Preakness Stakes online betting easy. Perhaps the most popular way they've done this is with their easy-to-read handicapping tool.
✅ Pros of PointsBet Racing
Stats Tool Makes Researching Easy
Available in 24+ US States
Regular Bonuses for Horse Racing
❌ Cons of PointsBet Racing
Mobile App Can Be Buggy
Information Inaccessible Until You Sign Up
Expert Comments:
"I think that the Australian owned PointsBet Racing is great. Although I do think that the mobile app has developed a tendency to be a bit buggy at times, but since the latest update, I haven't noticed any issues."
– Paul Ricci (Chief Sports Editor)

---
What is the Preakness Stakes
The Middle Jewel of the Triple Crown, the Preakness Stakes is the second leg of Thoroughbred racing's most prestigious series of horse races. The Preakness Stakes is typically held on the third Saturday of May — two weeks after the Kentucky Derby and three weeks before the Belmont Stakes. Held in Maryland at the Pimlico Race Course, it is the shortest of the three races.
Like the other races making up the Triple Crown, the Preakness Stakes is only open to three-year-old thoroughbreds. Colts do typically dominate the proceedings — although over its 150 year history, there have been some geldings and even fillies that have won the competition.
For a quick overview of this prestigious event, check out the below table.
🏇Preakness Stakes At A Glance
Nicknames
The Middle Jewel of the Triple Crown
The Run for the Black-Eyed Susans
Date
Third Saturday in May
2023 Preakness Stakes Champion
National Treasure (5-2)
Prize Money (2023)
$1,650,000
Race Course
Pimlico Race Course Baltimore, Maryland
Number of Horses in Competition
14
Record
Secretariat (1:53.0)
First Run
May 27, 1873
---
Betting Options for the Preakness Stakes
For centuries horse racing has been one of the most popular types of sports betting. Of course the most popular type of bet is the standard "to win" bet. However, there are now many other types of wagers that horse racing fans can place. When betting on the Preakness Stakes, you can typically divide all types of bets into two categories — standard bets and exotic bets.
Standard Preakness Stakes Bets
Standard bets are a type of bet that is made on one horse in one race.
To Win — The most straightforward bet is the "to win" bet. With this bet, you simply pick the horse you think will win.
To Place — Similar to the "to win" bet, picking a horse to place means picking a horse to finish anywhere in the top two. With this bet, payouts don't differ whether your horse finishes 2nd or 1st just so long as they finish anywhere in the top two.
To Show — The safest standard bet you can make is a "to show" bet. It's similar to the above bets, but rather than needing to pick the winner outright or needing your horse to finish in the top two, a "to show" bet only requires your horse to finish anywhere in the top three. This bet is easier to pick. However, the winnings are also typically a lot smaller than other types of bets.
Exotic Preakness Stakes Bets
Exotic bets are much more challenging to call when compared to standard bets. However, where there's more risk, there's also more rewards. While all the standard bets are offered by all racebooks, exactly which exotic bets are offered will depend on which horse racing betting site you're playing at — with that being said, when it comes to major events like the Preakness Stakes, you can typically expect to find the following:
Exacta — An exacta bet requires you to pick the winner and runner-up horse in the correct order.
Quinella — A quinella bet can be seen as a slightly more forgiving exacta bet. You still have to pick two horses to finish in the top two, but with a quinella, you don't need to pick the correct order.
Trifecta — Probably the most famous exotic bet, the trifecta requires you to pick the horse to win, to place, and to show all in the correct order. It's one of the most difficult bets to get right, but carries a hefty payday if you get it.
Superfecta — One of the newer types of exotic bets is the superfecta. With this bet, you need to call 1st, 2nd, 3rd, 4th, and 5th in the proper order. Trifectas are hard enough — but a superfecta really takes it up a notch. Though while it increases the difficulty of calling it right, it also brings the potential winnings up to a whole new level, with some racebooks even offering a progressive jackpot for winning a superfecta bet.
---
Understanding Preakness Stakes Betting Odds
Like most horse racing betting, the Preakness Stakes uses a parimutuel betting system. What this means is that rather than placing fixed odds bets against the house, you're instead placing bets against other bettors. One of the results of this is that rather than having fixed odds, the odds of a horse will vary based on how other users are betting.
The more popular a horse is, the smaller the Preakness Stakes odds. This also means that final odds aren't calculated until all betting has finished. A racebook will still advertise what the odds currently are as well as the morning line (estimated odds), but you should keep that these are just approximations and are subject to change.
One way to think of it is kind of like playing Texas Hold'Em poker at a casino. You're not playing against the house, but rather other players — with each pot being subject to the casino's rake or in the case of a racebook, their take (usually about 10%). As such, there's a considerable skill element to betting on the Preakness Stakes, far more than that of other sports. Because of this, to come out ahead, you'll need to do more research than your opponents and make sure you consider all the factors.
---
How To Bet On The Preakness Stakes
Because the Preakness Stakes is such a massive event, betting on it is pretty easy.
Using our secure links, navigate to your chosen racebook.
Complete the registration process, make your first deposit, and claim your welcome bonus.
Check out the Preakness Stakes section and make your bets.
Since the Preakness Stakes is a one-day, one-race event, you don't need to worry about betting markets like futures unless you're looking to bet on the Kentucky Derby winner and are interested in picking them to be the Triple Crown winner.
Instead, you only need to worry about one event. This might sound easy, and while the sign-up process and ease of use may make it easy to place a bet, identifying the right bet takes a lot of skill. If you've bet on horses before, you'll probably have your own system down pat. Though even so, for newcomers and veterans alike, we recommend you check out the next section for our expert tips on betting on the Preakness Stakes.
Preakness Stakes Betting Tips and Strategies
Due to the popularity of the Preakness Stakes it attracts a large crowd of bettors — both pros and amateurs alike, and since horse racing uses a parimutuel betting system, you'll need to come in prepared if you plan on winning. Of course, many pros will have their own system, and if this is your first bet, it's unrealistic to think that you'll beat them. But that's okay. Most of the bettors on the Preakness Stakes aren't serious players, and you'll only have to beat these users to come out ahead.
Below, we'll give you our crash course on betting tips and strategies for the Preakness Stakes.
Watch the Kentucky Derby — Being the Middle Jewel of the Triple Crown means that many of the horses in the Kentucky Derby will also be in the Preakness Stakes. By watching the race either live or as a replay, you'll be able to get a good idea of the horses and their styles.
Analyze Recent Form & Past Events — In horse racing, form is everything. Analyzing recent results, especially at the Pimlico Race Course or tracks similar to you'll be able to see how a horse typically goes under similar conditions.
Monitor the Weather & Track Condition — Track conditions can make an otherwise familiar course seem foreign. A horse that loves to run on dry grass can hate running in the mud and perform poorly in such courses. As such, just like you need to analyze recent form, you should also examine how horses run in different weather and then use that information to gauge how they'll run during the weather of the Preakness Stakes.
Ignore Betting Advice on Popular Racing Forums — Since odds change based on how people are betting, by following popular advice on racing forums, you're likely to be following the crowd and thereby losing out when the tracks claim their take. While it can be easy to follow the crowd, it's better to do your own research.
Practice Proper Bankroll Management — Horse racing is wild. California Chrome seemed an absolute lock for the Triple Crown until he was stepped on while leaving the gate. Because of this, you should never bet too much of your bankroll on one race and should always gamble responsibly by practicing proper bankroll management.
Bet Late — Since odds aren't locked in until betting closes, there's no advantage to betting early. Wait until the very last moment to see if the odds are profitable for your chosen horse before locking in that bet.
Take Advantage of Bonuses — A Parimutuel betting system means that odds are the same regardless of which site you play on. As such, the only way to get more bang for your buck is by using bonuses that give you bonus bets or bonus cash. The best bonuses are welcome bonuses. To claim these bonuses it's essential that you sign up for a racebook by using our exclusive links.
---
History of the Preakness Stakes Horse Race
Wedged in between the two other legs, the Preakness Stakes can sometimes miss out on the limelight, but the Run for the Black-Eyed Susans has had more than its share of historic moments.
First won by Survivor in 1873.
The Preakness Stakes has been run at seven different lengths. Though since 1925, it has been run exclusively at 1 3⁄16 miles.
Legendary horse Secretariat is the record holder of the fastest time at the Preakness Stakes, finishing at 1:53.0 in 1973.
Master Derby is king of the upsets, winning at 23-1 odds in 1975.
Rachel Alexandra broke a 75 year duck for fillies by winning the 2009 edition — in doing so, jockey Calvin Borel also became the first jockey to win the first two legs of the Triple Crown with different horses.
---
FAQs
How does Preakness Stakes betting work?
Preakness Stakes betting is very simple to understand. Simply sign up for your chosen racebook by using our links and then select which horse and which bet you want to place.
What are the best betting sites for Preakness Stakes?
The best Preakness Stakes betting sites are FanDuel Racing/TVG, DK Horse, Caesars Racebook, BetMGM Horse Racing, and PointsBet Racing.
Can I bet on multiple horses in the Preakness Stakes?
Yes. You can bet on multiple horses in the Preakness Stakes in two ways. First, by placing multiple standard bets on different horses, or secondly, by making an exotic bet which pays out bigger odds for predicting the correct finishes for more than one horse.
What is an exacta bet in Preakness Stakes betting?
An exacta bet in the Preakness Stakes is a type of exotic bet that requires you to pick which horse will win, and which horse will place in 2nd.
How do I choose the winning horse for Preakness Stakes betting?
Picking the winning horse for the Preakness Stakes isn't easy. To choose the right horse you'll need to research the recent form of all the horses running and try to use that information to predict the winner. When in doubt, the Kentucky Derby winner can be a good bet.
What are the different types of bets I can place on the Preakness Stakes?
All Preakness Stakes bets can be split into two categories. Standard bets that require you to pick a horse to win, place, or show — and exotic bets like exactas, trifectas, and superfectas, which require you to predict the position where multiple horses will finish. For the full list of bets offered for the Preakness Stakes, you'll need to check what your racebook is offering.
Can I bet on the Preakness Stakes online?
Yes. US citizens can now bet on the Preakness Stakes online so long as they live in a state where it is legal to do so and sign up for a legal racebook.