Gamble USA strives to improve your online gambling experience. We aim to help you play safely, make informed decisions when gambling, and increase your betting knowledge through our guides.
We adhere to strict editorial integrity; our content may contain links to products from our licensed & legal US partners.
This page will give you a clear answer on what teaser bets are and explain if they are sucker or good bets to make on sports. We'll also see whether they are a good betting strategy and pick out some of the best sportsbooks for teaser bets.
At first glance, teasers are relatively easy to understand and are a bet that more advanced bettors use, but we know many people reading this will want a "Dummies Guide To NFL Football Betting Teasers," and we'll provide that as well.
Teasers revolve around point spreads in football and basketball, and it is essential to understand how the points work in these two sports, as that will determine the strategy you use for your teaser wagering.
We'll cover this in an easy-to-understand format for sports betting fans further down the page, with examples and screenshots of NFL games.
What is Teaser Betting
Teaser betting is kind of like parlay betting. If you do not understand what we mean by a parlay bet, then check out our dedicated parlay betting guide.
But a quick explanation of a parlay bet is at least two teams to win at moneyline odds. Below is an example of a straight parlay bet.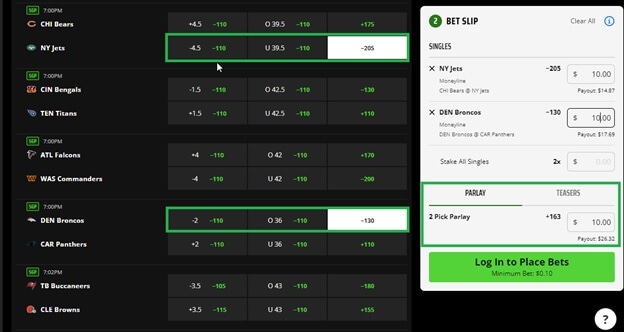 The above example shows a straight two-team parlay, but you do not need to add singles to neither the Jets nor the Broncos as we have above if you don't want to. In this example, your two-team parlay would come out +163 for both the Jets and the Broncos to win.
A teaser bet is the same as parlay betting but with a twist. Instead of backing two teams at moneyline odds, you are betting a minimum of two teams on the point spread of a game. Sportsbooks will offer moneyline odds and point spreads across all ongoing events for you to set up your teaser bet.
Teaser Betting in Action
Let's put a teaser bet into specific examples to give you a clear idea how it works.
Low Risk Two Team Teaser Bet Example : New York Jets (-4.5) + DEN Broncos (-2.0)
Teaser bets are all about finding a price that looks good. So If you like the look of the New York Jets beating the Chicago Bears and the Broncos beating the Panthers, then this example below means you are giving yourself a low-risk bet.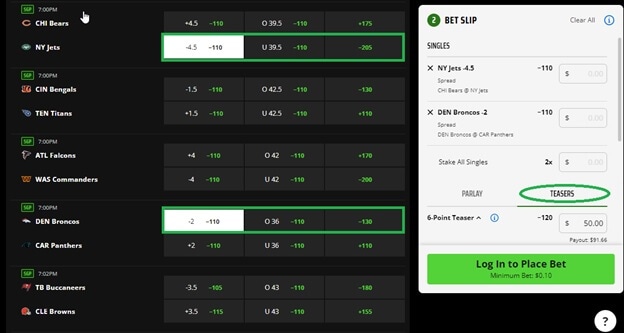 A teaser allows you to choose the odds with which you're comfortable in a football game. So in the Jets and Broncos teaser, our original point spread of -4.5 changes to +1.5 for the Jets, and the -2.0 changes to +4.0 for the Broncos.
In the screenshot below, you can see how this works, where we have selected a six-point football teaser, and the line has changed for each team, meaning our odds are -120.
If you were to choose a 6.5-point teaser, the odds would be -130, and for a 7-point teaser, your odds would be -140.
The more points you add to your teaser, the shorter the odds become, which means you have less chance of your bet failing. Therefore, your chances of winning a bet increase.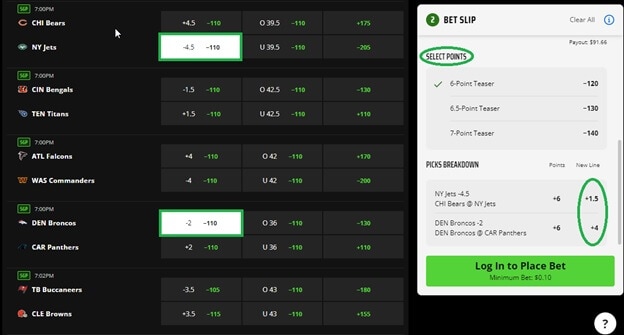 So our first example looked at a low-risk bet where you chose two favorites. But not just a parlay but a teaser where you added 6 points, making both teams nearly impossible to beat. But let's take a look at a higher-risk teaser. We all like to get bigger odds bets when we can.
High Risk Two Team Teaser Bet Example : New York Jets (-4.5) + Miami Dolphins (-13.5)
In this instance, we are switching and doing a reverse teaser. We are taking the New York Jets at -4.5 and choosing a -6 point spread; the -4.5 changes to -10.5.
We are adding the Miami Dolphins at -13.5 and choosing a -6 point spread; the -13.5 changes to -19.5.
Some sportsbooks like FanDuel offer -6 point, -6.5 point, and -7 point reverse teasers, giving you a chance for a huge difference in odds.
So, the bet:
New York Jets -10.5
Miami Dolphins -19.5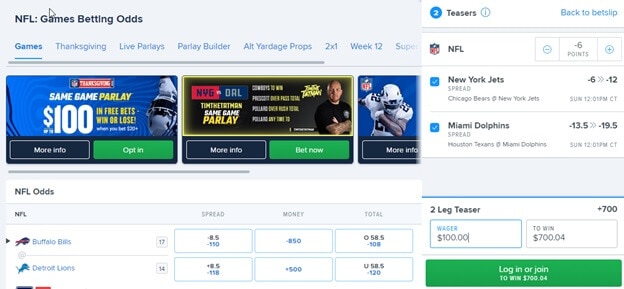 FanDuel Teaser Betting Rules
Sportsbooks have different sports betting rules for teaser bets, and one of the best sportsbooks for teasers is the FanDuel sportsbook. Let's look at the FanDuel teaser betting rules and explain how they work.
The main thing to note when placing teaser bets at FanDuel is that if a tie happens in two leg teaser, then that means the bet will be a push, and your stake is refunded. The same situation applies if you have a three-leg teaser and two legs of the bet end in a tie. You will have your wagering stake on that bet refunded.
Sportsbooks have different rules, and you should check the terms for the sportsbook you are betting with.
Teaser Odds and Payouts Explained
Teaser payouts depend on the number of games you include in your teaser bet. The more NFL games you add, the larger the odds will be. Of course, adding more games to a teaser means great risk but also greater reward if all your teams win with their adjusted points taken into account.
Below is an example of the odds we found on the Fanduel sportsbook using the teams and points below.
Minnesota Vikings -2.5 points
Baltimore Ravens -4.0 points
Denver Broncos -2.5 points
Tampa Bay Buccaneers -3.5 points
| Number of teams | +6 points | +6.5 points | +7 points |
| --- | --- | --- | --- |
| Two team teaser | -134 | -143 | -150 |
| Three team teaser | +140 | +130 | +120 |
| Four team teaser | +240 | +200 | +180 |
So you can see how the more teams you add, increase your odds, but on the flip side, the more points you add decreases your odds.
So that is how a teaser works, but let's also give you an example of a reverse wager using the same teams as above and see how that can lead to much bigger teaser odds and payouts.
| Number of teams | -6 points | -6.5 points | -7 points |
| --- | --- | --- | --- |
| Two team teaser | +700 | +750 | +900 |
| Three team teaser | +2200 | +2500 | +2800 |
| Four team teaser | +6600 | +7000 | +10000 |
So as you see above, the reverse wager is a bet that can pay very big odds, but again, you have much more risk. You are already taking a team giving a head start on points and making that even more considerable, meaning these teams need a more considerable winning points margin for you to hit the jackpot.
What is a Push in Teaser Betting?
A teaser bet push occurs when you have one leg of your teaser bet ending in a tie.
Many bettors are not clear on the rules surrounding teaser bets. So if you backed a team with +6 points and they lost the game by 6 points then that would be a draw and therefore a push.
The majority of sportsbooks will treat a teaser bet like a standard parlay. They will just delete the push leg from the bet and treat it as a teaser with one leg instead of two, two legs instead of three, and so on.
But you need to be careful and read all the terms and conditions of the bet. FanDuel, as an example, will cancel a two-team teaser if one leg is a push and the other wins. It means your stake gets returned.
Reverse Teasers Explained
Reverse teasers are where you can really enhance your odds by taking a strong stance against the sportsbook.
So instead of "buying" six points, you are "selling" six points. It's similar to trading stocks in a way. Look at the screenshot below, which explains how a reverse teaser affects odds.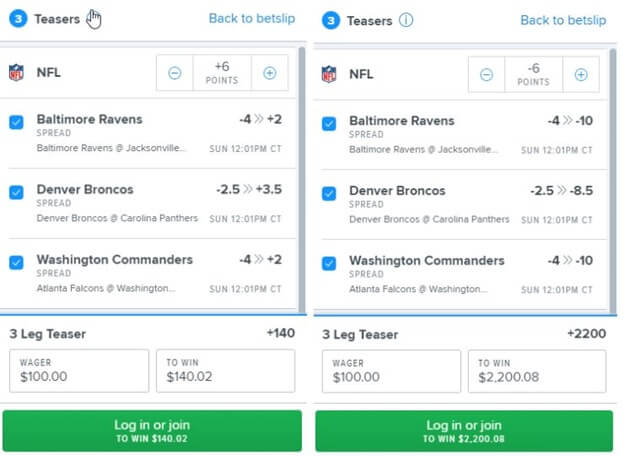 So in our two examples of bet teasers above, we have a "teaser" (+6) and a "reverse teaser" (-6), which is sometimes referred to as a "pleaser."
For the teaser, we have added (bought) six points, and because we have wagered on three favorites, the odds are short, whereas in the reverse bet, we have deducted (sold) six points, meaning our three favorites have given their opponents an extra 6 point head start.
These bets are sometimes referred to as "pleasers" because the sports bettor will be delighted if he manages to pull one off at monster odds, while the sportsbook is pleased because they have more chance of the sportsbook scooping your money.
Reverse teasers are a more strategic bet, so looking for games with a narrower point spread, like our example above, can be a solid betting strategy.
Are Teaser Bets Worth Using?
As with any bet, you must weigh a teaser's pros and cons. Betting teasers is a bet for the more advanced handicapper, as they require more strategy.
They are definitely a bet worth using, as you control the odds. You use your knowledge of the various teams to decide who will win, and by adding or subtracting points, you also manage your risk level.
Two and three-team teasers are the most common and where you will likely have the best chance of hitting a winning bet.
Teaser Betting Strategies
As a sports bettor, you may have heard the term "Wong Teaser," a betting strategy invented by the gambling author Stanford Wong, the author of the book "Sharp Sports Betting," which was released more than two decades ago.
Wong had looked at teasers in-depth and, using mathematical probability, found that backing favorites in football games at between -7.5 to -8.5 and adding underdogs at +1.5 to +2.5 would produce a winning bet up to 76% of the time.
Why was this?
It was because of how football scoring works, with the key numbers of touchdowns, extra points, and field goals being important. Most points scored in football are either 7 points or 3 points. A team scores 7 points by scoring a touchdown (six points) and kicking for an extra point through the posts after a touchdown, while a field goal (3 points) can be a drop kick or kick from the hands through the posts from open play.
Wong found that using this scoring strategy, aligned with certain point spreads and a 6-point teaser, as we mentioned above.
Wong managed to pull one up the sportsbooks using "Wong Teasers" on pro football but not on college football. He believed college football was unpredictable, so he did not tease college football games.
However, the online sportsbooks soon realized they were at a disadvantage and closed the loop by not using those points spreads and offering shorter odds to swing the risk towards the punter.
Top Teaser Betting Sites
There are two ways to decide which are the best teaser betting sites USA.
First, we look at the odds. We all want to get the best odds for our football bets, and secondly, we took a look at the top five sportsbooks for placing teaser bets.
Below you can see the odds for a two-team football teaser using +6 points on the New York Jets (-6) versus the Chicago Bears and the Miami Dolphins (-13.5) playing the Houston Texans.
FanDuel -134
DraftKings -120
Caesars -120
BetRivers -104
Unibet – 104
So as you can see above, BetRivers and Unibet have significantly better odds on these two-team teasers and NFL point spreads.
So we have looked at the odds, but what about placing your bets? How easy is it to place a teaser with these five sportsbooks?
Fanduel Teaser Bets
FanDuel has the best teaser betting slip interface of the five sportsbooks we checked out.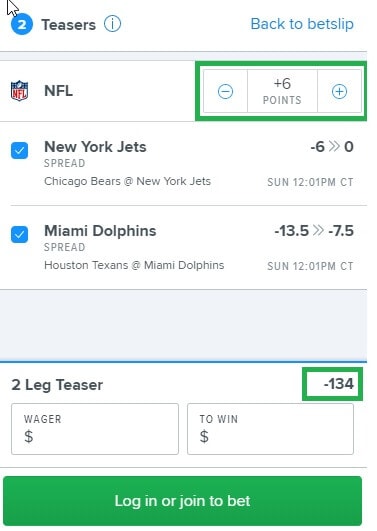 They make it very easy to play a common teaser or reverse-style teaser all from the same screen by using the + and – sliders as outlined in green on the teaser cards above. The odds are also shown clearly.
Make sure to check out the free bets available at FanDuel before placing your teaser bets.
Draftkings Teaser Bets
This interface of DraftKings is less user-friendly than FanDuel, as you need to scroll to select your points.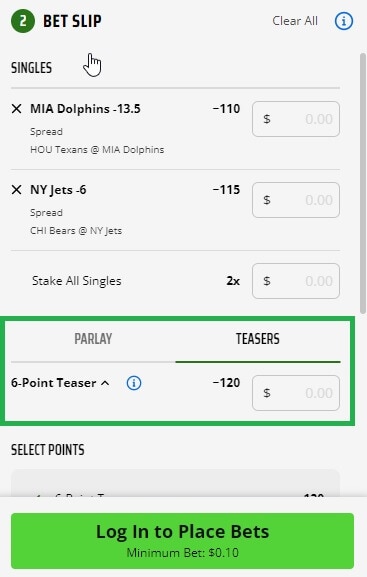 Another negative is that Draftkings does not offer bettors the chance to place wagers on reverse teasers. Even so, make sure to check their free bets offer, which gives up to $1000 to play with.
Caesars Teasers Bets
The Caesars Sportsbook teaser interface is our second favorite and is very easy to use. All the information can be seen clearly inside the betting slip without the need to scroll.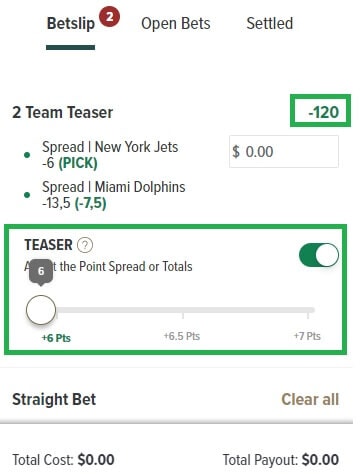 We like that the odds are displayed clearly, and the points slider is straightforward and easy to use.
Check out the free bets available at Caesars, as they have a $1250 risk-free bet offer for new players.
BetRivers Teaser Bets
You saw that BetRivers have one of the best offers regarding teaser odds, but how easy is it to use their betting slip?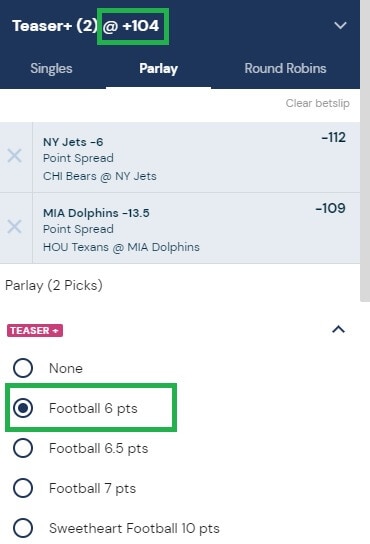 As you can see above, it is nice and easy to choose your points spread. However, to see all of the points offered, you will need to scroll further down.
Check out the BetRivers bonus codes here if you are planning to go with them.
Unibet Teaser Bets
The Unibet Sportsbook comes out second best when it comes to the odds offered on this particular two team teaser bet. So let's look at the betslip and see if that is easy to use.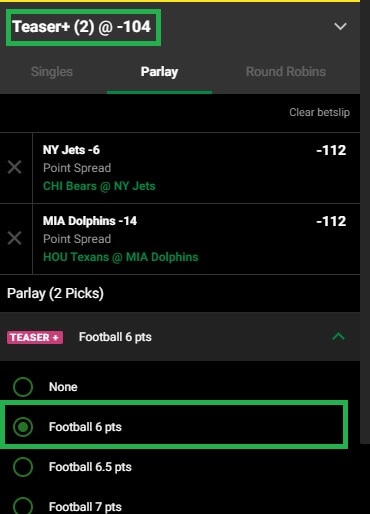 Once you have made your match selections, you will arrive at a betslip like the one above. We like that the odds are clearly displayed, as are the points spreads.
If you like the Unibet interface, use our links to start betting on their site.
FAQ
How does a teaser bet work?
A teaser bet is a type of NFL or Basketball parlay bet but with the option of increasing or decreasing the points spread between two teams. This allows you to get shorter or bigger odds depending on if you back the favorite or the underdog.
Is teaser a good bet?
Every sports bettor has to solve that riddle for themselves. However, teasers are great bets as they give you more control. You are not just accepting the points spread the sportsbook posts. You can change this by using your own key numbers and adding or subtracting points.
Do all sportsbooks take teaser bets?
Most major sportsbooks, like FanDuel, Draftkings, Caesars and many others take teaser bets. However, not all sportsbooks offer reverse teasers, so you will need to check your favorite sportsbook to see if this type of teaser bet is available.
Can I use my sportsbook free bets to play teasers?
Sportsbooks have different rules on which bets they allow the free bet bonuses to be used. Some will allow the use of your free bets on teasers while others won't. It is advised to look at the rules for each sportsbook for football teasers and basketball teasers.