Gamble USA strives to improve your online gambling experience. We aim to help you play safely, make informed decisions when gambling, and increase your betting knowledge through our guides.
We adhere to strict editorial integrity; our content may contain links to products from our licensed & legal US partners.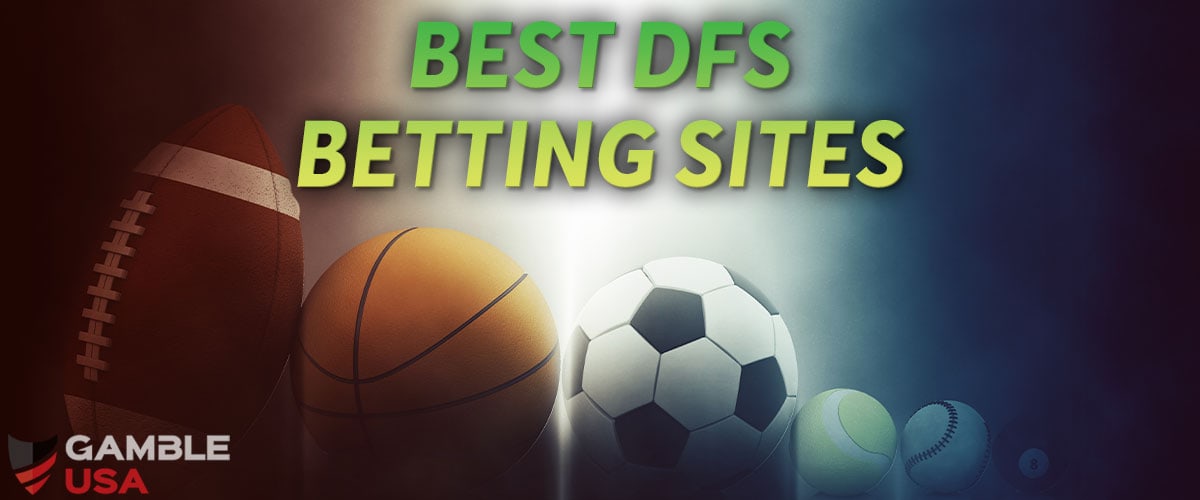 Playing fantasy sports with your buddies is a great way to kill some time, but if you want to compete for massive prize pools, play innovative contests, and take advantage of lightning-quick games, it is time to play Daily Fantasy Sports!
To ensure you have the best DFS experience and get access to the biggest prize pools, the juiciest welcome bonuses, and more sports than you can handle, we have ranked the 10 best Daily Fantasy Sports sites. Stick around as we also share insider tips to help you craft the ideal DFS strategy!
---
What Is Daily Fantasy Sports?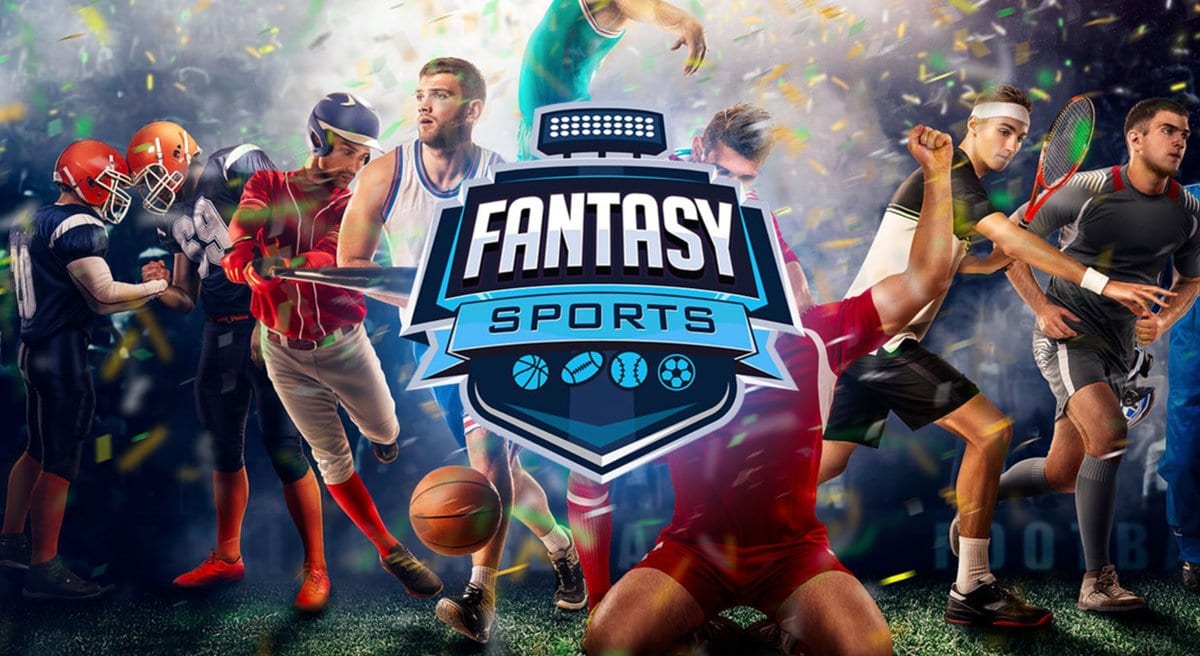 Daily Fantasy Sports is a condensed version of classic fantasy sports. Instead of being played over a week, Daily Fantasy is played over a single day or week. How it works is you select a team of players, and based on their game performance, you earn points. Whoever earns the most points wins.
Each player has a value, and you have a salary cap, so you need to strategically select your DFS players without going over the cap. For example, at DraftKings, you get a $50,000 salary cap, and when playing football need to select 9 players, including 1 QB, 2 RB, 3 WR, 1 TE, 1 FLEX (RB/WR/TE), and 1 DST.
Each DFS sport has its own rules for accumulating points. For example, when playing DFS football, you get 1 point for every 25 passing yards, 1 point per 10 yards rushing, 4 points for a passing touchdown, and 6 points per rushing touchdown.
You can win real money at DFS gambling sites and $1 million + from a single Daily Fantasy contest by taking part in tournaments. You and the other players pay an entry fee which goes into the prize pool, which is then divided amongst the winners, similar to a poker tournament.
The most popular Daily Fantasy Sports are football, basketball, baseball, and hockey, and you can take part in all kinds of different games, including GPP, Cash Games, Classic, Pick'Em, Head to Head, and more! We will explain how all of these different games work a bit later.
---
What Makes A Good Daily Fantasy Site?
Signing up at the wrong Daily Fantasy Sports site can ruin your DFS experience and result in you playing boring games, earning minimal payouts, and potentially getting scammed. Look for DFS gambling sites that excel based on these factors:
Bonuses – If a Daily Fantasy Sports site isn't offering you a big deposit match bonus, find another site! All of the best DFS sites, like FanDuel and DraftKings, have generous welcome bonuses.

Games – At budget DFS sites, you are limited to classic fantasy tournaments, but on top platforms, you can play exciting variants such as Best Ball, Pick'ems, Cash Games, Showdowns, and more. All of these games have their own unique rules, so there is always a new challenge!
User Interface – Playing your first DFS contest can be a little intimidating, trying to figure out who to draft and how to spend your salary cap has caused more than a few headaches. However, the best DFS sites have easy-to-navigate platforms and offer insightful guides to quickly help you assemble the best lineup and take part in real money tournaments!
Prize Pools – At major DFS sites like DraftKings and Underdog, you can become a literal millionaire from a single DFS tournament. Smaller sites don't have enough DFS players to offer these mouthwatering prize pools.

Customer Support – If something goes wrong with a payment or there is a glitch in your game, you want to get the problem solved immediately. This is why professional and responsive customer support is so important. The best DFS sites offer 24/7 customer support via live chat, email, and even telephone.
Fast Cash Outs – Who wants to hit a massive DFS win only then to be delayed for weeks and receive every excuse in the book from customer support? At the best Daily Fantasy Sports sites, you can cash out on the same day via e-wallets and receive up to $60,000 in a single transaction.
---
9 Best DFS Betting Sites 2023
Finding the best Daily Fantasy Sports betting websites is a full-time job! If you don't have hours to compare DFS betting sites based on the factors we described above, don't worry, we have done the hard work for you. Check out the top-rated Daily Fantasy betting sites below:
1. DraftKings – Best Overall DFS Site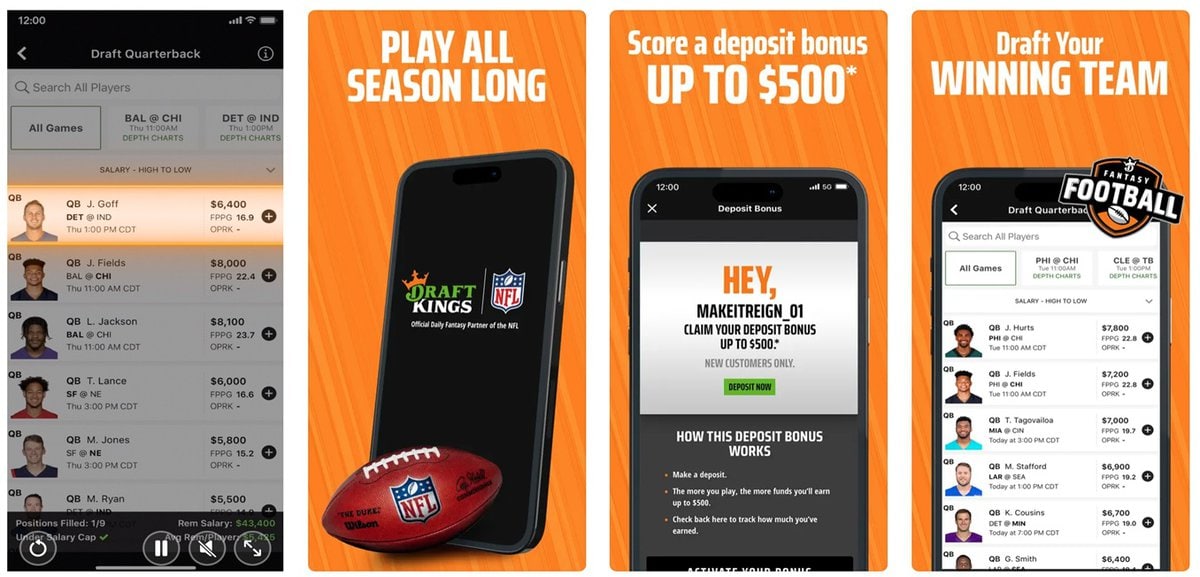 DraftKings has been offering real money DFS contests since 2012 and is famous for its massive prize pools, including the legendary Millionaire Maker, where the top prize is a cool $1 million. DraftKings has tons of exciting contests, including GPPs, 50/50s, and Head-to-Heads for football, golf, basketball, MMA, hockey, tennis, and more. Sign up at DraftKings right now and get a massive $500 first deposit bonus!
Expert's Comments: DraftKings is one of the DFS originators, and I keep playing with them thanks to their GPP tournaments. There aren't many sites that can offer regular 7 figure prize pools. They also have a good range of sports and, in my opinion, the best loyalty program of any DFS site.
Up To $1,000 Deposit Bonus
21+. T&C Apply
21+. T&C Apply
The best sportsbook
Amazing odds & offers
Awesome betting app
Up To $1,000 Deposit Bonus
21+. T&C Apply
21+. T&C Apply
---
2. FanDuel – Best DFS Site For Cash Games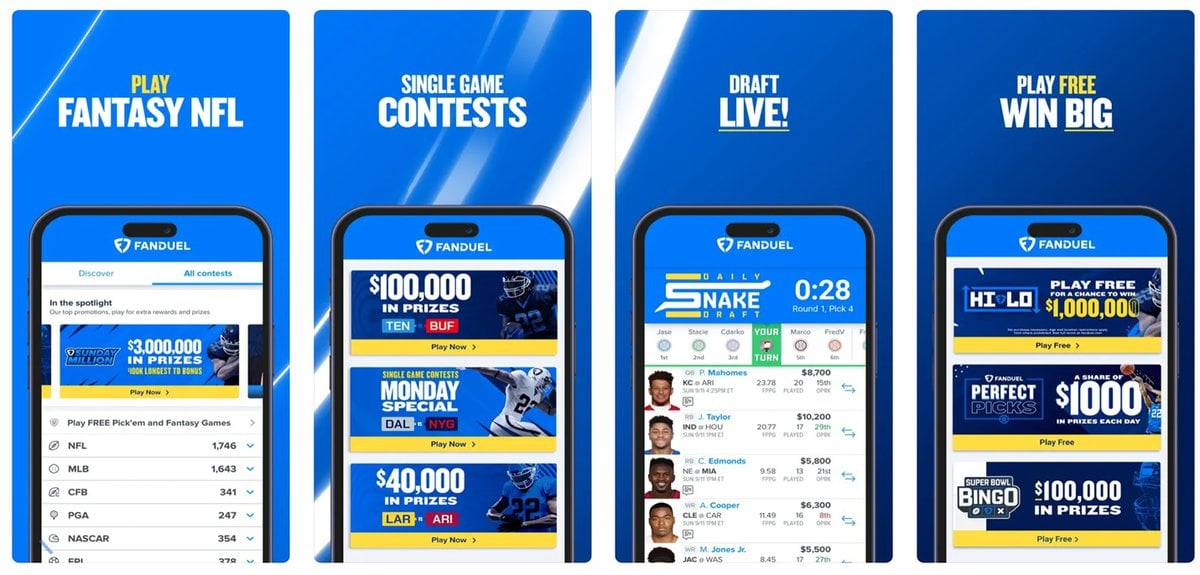 FanDuel launched all the way back in 2009 and is still going strong. They offer excellent customer support via live chat, a sleek mobile app for iOS, and a good mix of contests, including Cash Games, GPPs, Qualifiers, and Head-to-Heads. FanDuel has a solid choice of sports, including NBA, NFL, MLB, NHL, golf, soccer, and more. Join FanDuel and deposit just $20 to receive $40!
Expert's Comments: You can catch me playing the Sunday Million every weekend! Where else can you find a DFS tournament with a $4 million guaranteed prize? FanDuel is close to the perfect DFS site, they offer tons of contest types, and I love the variety of sports. You also need to play their Cash Games, there is great value there!
No Sweat First Bet Up To $1,000
21+. T&C Apply
21+. T&C Apply
Convenient banking
Massive choice of sports
No Sweat First Bet Up To $1,000
21+. T&C Apply
21+. T&C Apply
---
3. Underdog – Best DFS Site For Pick'ems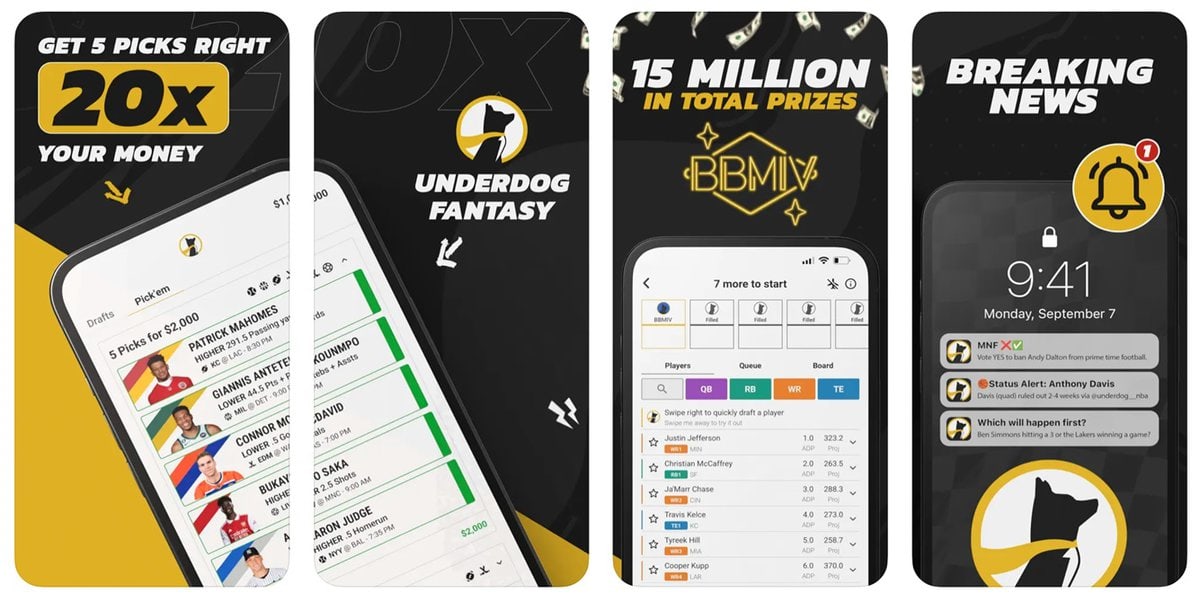 Underdog is considered the home of Pick'ems, they offer amazing payouts for NBA, NHL, MLB, NFL, PGA, NCAAB, Esports, Soccer, and MMA, including 3 to 1 on a 2-leg Pick'em. Apart from Pick'ems, they also have great Best Ball and exciting Daily Drafts. Register here and score a 100% first deposit match up to $100!
Expert's Comments – Underdog Pick'em games are so fun! I regularly play NBA points and rebounds over/under games at Underdog. They let you predict a wide range of player stats, including hits, yards, and runs, and I am a big fan of their fast payouts. When I cash out via PayPal, I get my winnings within a few hours.
---
4. Sleeper – Best DFS Site For Basketball Props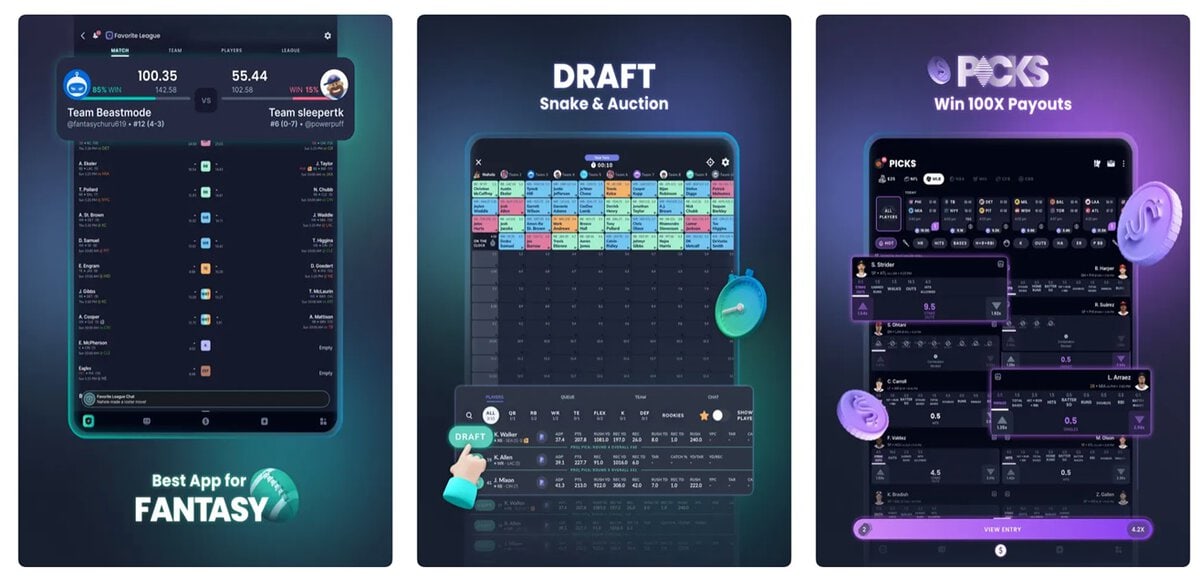 Sleeper is a San Francisco-based DFS site that was launched in 2014. They have some fun contest types, including lots of props allowing you to predict a player's stats, and Bracket Mania, where you select your March Madness bracket and compete for cash prizes.  The only downside is the limited sports, Sleeper only offers basketball, football, and LCS. However, they make up for it with their great welcome bonus. Create an account today and get a 100% first deposit match up to $100!
Expert's Comments: I enjoy the fun basketball props you can make on Sleeper. Their mobile site is well-designed, and playing is very easy. I wish they added a few more sports, and their tournaments don't have the biggest prize pools, but if you are looking for basketball or football prop contests, Sleeper is a great option.
---
5. Vivid Picks – Best DFS For Variety Of Sports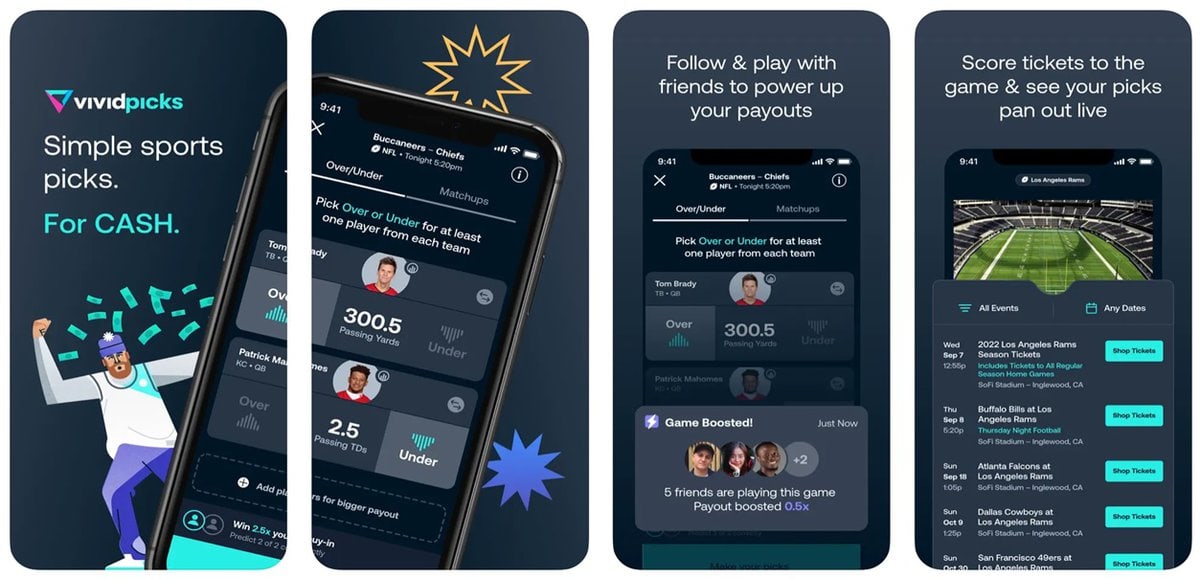 Vivid Picks is another DFS site that focuses on Pick'em games. They offer the most sports for prop games, including NFL, NBA, NCAA Football, NCAA, Basketball, MLB, NHL, PGA, CS:GO, League of Legends, NASCAR, and F1. The only downside to Vivid Picks is the payouts are a little smaller than other sites, a 2-leg Pick'em payout is 2.7x while a 5-leg pays out 17x. Sign up here and score a 100% first deposit match up to $100 now!
Expert's Comments: I keep coming back to Vivid Picks, thanks to their variety of sports. Where else can you play Pick'em games for CS:GO, NASCAR, and NFL at the same time? However, if they want to take their DFS site to the next level, they need to increase their payouts and add live chat.
---
6. ParlayPlay – Best DFS Site For Unique Contests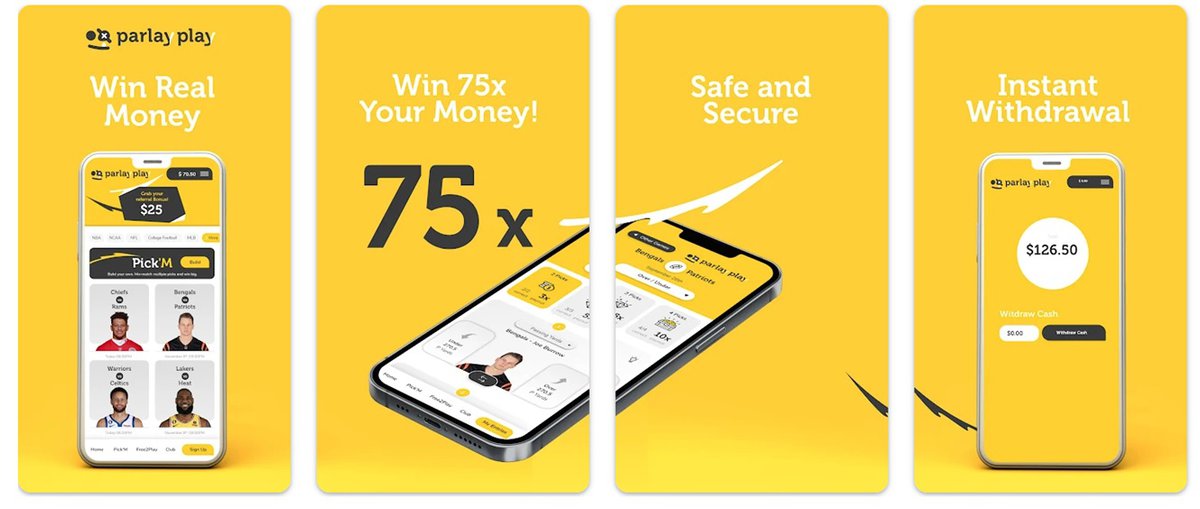 ParlayPlay offers two contest types, Over/Unders, where you need to predict if the player's stats will be higher or lower than the line set by ParlayPlay, and Hit It, where you select two players and need to correctly guess their scoring range. This DFS site offers 7 sports, including football, basketball, and MMA, and when you register, you will unlock a 100% deposit bonus up to $100!
Expert's Comments: It is great to see DFS sites coming up with unique game types. I am hooked on Hit It games, they aren't easy, but I have scored some 6x wins on NBA players. They are also one of the only DFS sites with a no-deposit bonus which is worth claiming!
---
7. PrizePicks – Best DFS Site For Pick'em Payouts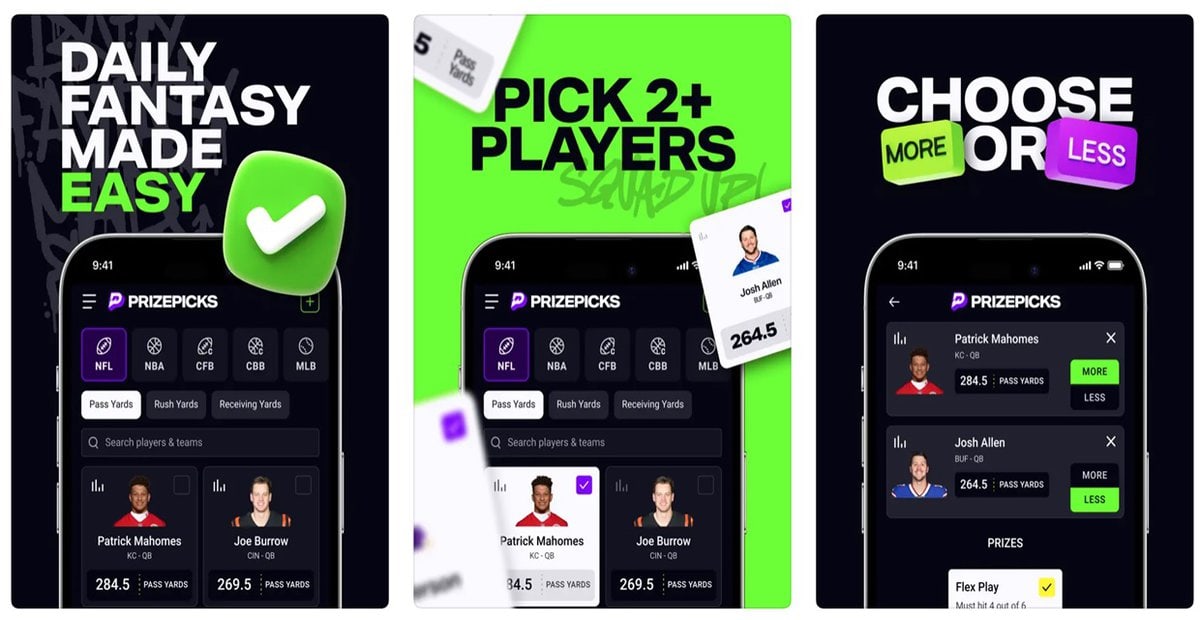 PrizePicks has been around for 6 years and has surged in popularity thanks to their unique contests, Flex Pays and Power Plays. How it works is you select over/unders for 2 to 6 players' stats. If you choose Flex Pay, you need to win 4/6 to earn a prize, while if you choose a Power Play, you need to win all of your selections. If you go 6/6 on a Power Play, you can 25x. Sign up via this link and get a 100% first deposit match up to $100 now!
Expert's Comments: In my opinion, PrizePicks is the most user-friendly props DFS site. I like the concept of high-risk, high-reward Power Plays but also the option of going the risk-averse route with Flex Plays. PrizePicks also has a great range of sports, their tennis options are particularly fun.
Promo Code: GAMBLEUSA
$100 Instant Bonus 100% Match Rate
21+. T&C Apply
18+. T&C Apply
Less competition than on FanDuel & DraftKings
Best alternative to real money sports betting
Promo Code: GAMBLEUSA
$100 Instant Bonus 100% Match Rate
21+. T&C Apply
18+. T&C Apply
---
8. SuperDraft – Best DFS Site For Daily Jackpots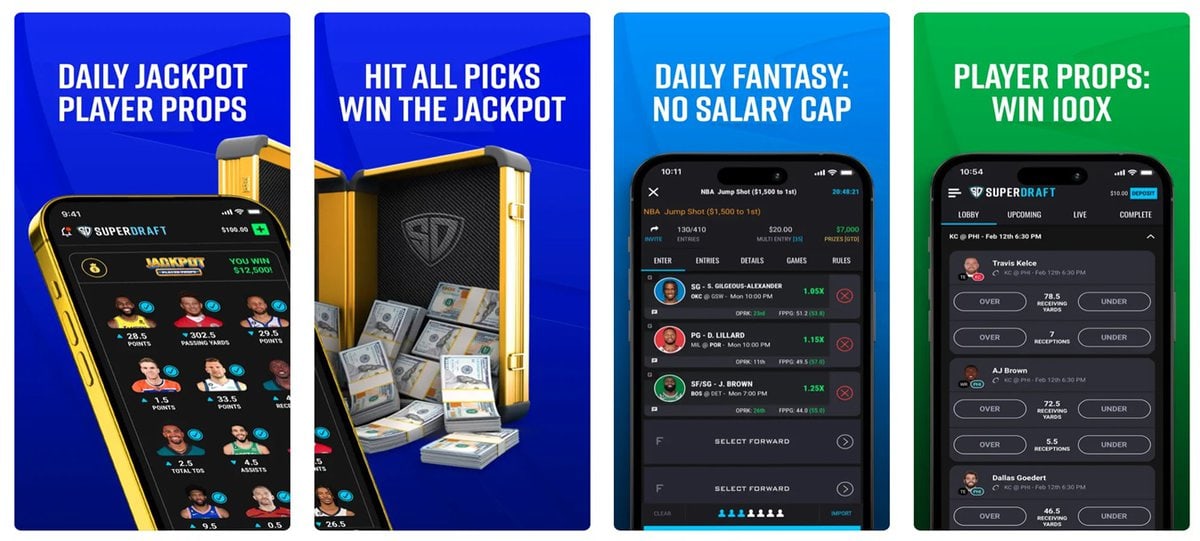 SuperDraft is a newer DFS site, debuting in 2018, and features a wide range of contests, including GPP, no salary cap daily fantasy, player props, and multipliers. Some of the available sports include NBA, NHL, PGA, MLB, and NFL. SuperDraft also has a lower rake than many other DFS sites. Join now and get a 100% match up to $100!
Expert's Comments: If you want to chase big wins on player props, I recommend signing up to SuperDraft. You can 100x from a single-player prop, whereas at most sites, you are lucky to get 20x. Their PGA props have tons of hidden value!
---
9. Thrive – Best DFS Site For Welcome Bonus
Thrive is based in NY and was launched in 2016. They offer exclusively prop games for NFL, NBA, MLB, NHL, PGA, cricket, and esports and have below-average take at 10%. Thrive has an easy-to-use app, and if anything goes wrong, it offers 24/7 customer support via live chat. Register today and get a massive 100% first deposit bonus up to $250!
Expert's Comments: Currently, Thrive has the best welcome bonus on the market, so I definitely recommend depositing and scooping up all that bonus cash. If you enjoy esports, Thrive is also an epic site, there are tons of exciting props to choose from!
---
How To Choose the Best DFS Site?
From the outside, all daily fantasy sports websites look the same, but if you actually start digging a little deeper, you will quickly be able to spot a legit site. These are the most important factors to consider when looking for the best DFS sites:
Welcome bonus – Just like sportsbooks, DFS sites also have welcome bonuses, including deposit match offers and bonus bets. Before signing up at any DFS site, pull up their promotions page and see what offers they have. The best DFS sites offer juicy deposit match promos.
Entry Fees – Every time you enter a contest and pay a tournament fee, the DFS site takes a cut. These fees can really cut into your winnings and make it hard to end up in profit. Look for sites that take a 10% cut or less from every tournament prize pool.
Games – Gone are the days of DFS sites just offering Guaranteed Prize Pool (GPP) games. Now the best DFS platforms offer tons of exciting game types, including Cash Games, Showdowns, Pick'Ems, and Head-to-Heads. Don't get stuck playing boring games, look for DFS sites that offer a wide range of contests!
Sports – Top-rated DFS sites offer contests for 10 + sports, including football, baseball, golf, hockey, basketball, soccer, MMA, and even NASCAR. You can also find college football and basketball daily fantasy contests.
Rewards – The best Daily Fantasy Sports sites don't just offer massive tournament prize pools, they also offer incredible VIP programs where you earn points for every dollar you pay in tournament fees. You can convert these points to bonus cash, use them to make purchases at the in-site store, access exclusive bonuses, and even access VIP sporting experiences!
Banking Options – The best DFS sites offer a wide range of secure and free payment methods, including Mastercard, Discover, American Express, Visa, PayPal, bank transfer, Venmo, and more. Stick to sites that process deposits instantly and withdrawals within 48 hours.
---
Where Is DFS Legal?
DFS is legal in all US states except Hawaii, Idaho, Montana, Nevada, and Washington. Daily Fantasy is legal on the federal level, but certain states have decided to pass laws to ban it. DFS is legal in far more states than traditional sports betting because it is considered a game of skill and, therefore, is not considered gambling.
---
How To Play Daily Fantasy Sports?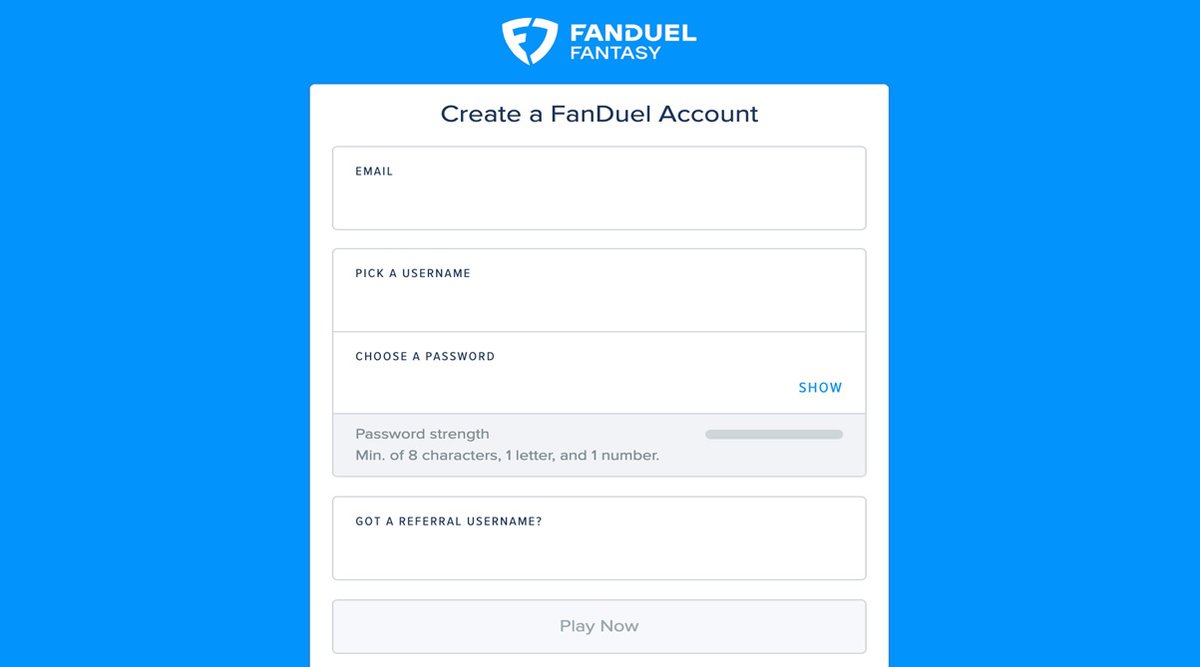 A big reason why Daily Fantasy Sports are so popular is because of how accessible they are. You can immediately jump into real money contests and walk away with cash prizes. To play your first DFS contest, follow these steps:
Head to any of our recommended Daily Fantasy Sports betting websites and tap the sign-up button
Enter your email, create a username, enter your phone, and a promo code
Enter the code sent to your mobile
Type in your date of birth, address, and in some cases, the last 4 digits of your SSN number + upload your ID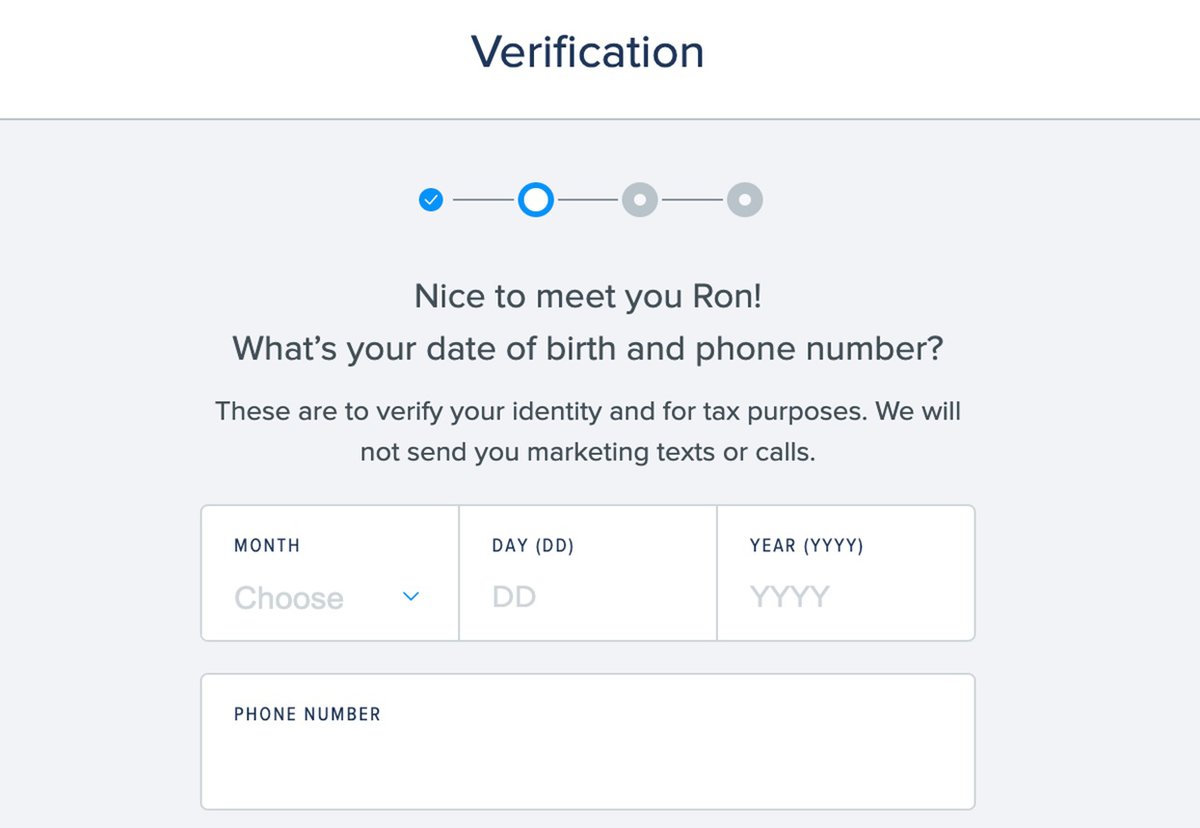 Once your account is verified, you need to add money to your account. All you have to do is:
Hit the deposit button
Select your payment of choice and enter the amount you wish to deposit
Enter your payment details
The funds will hit your account immediately. To play your first DFS contest, simply:

Go to the lobby and select a sport, for example, football
Pick a game, for example, Cash Game
Choose a stake, for example, $10
Select your lineup and submit it
Now it's time to tune into the games and watch your players' ball out! The DFS site will automatically compile all of your players' points, and if you finish in the money, your winnings will be added to your account once the contest is finished.
---
Comparison Table
| 🌐DFS Site | 🌀Contest Types | 🏈Sports | 🎁Welcome Bonus | 📱Mobile App | ☎️Customer Support | 💵Fees |
| --- | --- | --- | --- | --- | --- | --- |
| DraftKings | GPP, Double Ups, 50/50s, Head-to-Head, Season Long | 10 + - Football, basketball, baseball, MMA, golf | 20% first deposit match up to $500 | ✅Yes | Live chat, email, phone | 10% |
| FanDuel | Single Game, Best Ball, Qualifiers, GGP, Head-to-Head, 50/50 | 10 + - Football, basketball, baseball, MMA, golf | Deposit $20 Get $40 | ✅Yes | Live chat, email | 10% |
| Sleeper | Daily Drafts, Season Drafts, Pick'ems, Bracket Mania | Football, basketball, LCS | 100% first deposit match up to $100 | ✅Yes | Live chat, email | 12.5% |
| Underdog | Best Ball, Snake Drafts, Prop Pick'ems | NBA, NHL, MLB, NFL, PGA, NCAAB, Esports, Soccer, MMA | 100% first deposit match up to $100 | ✅Yes | Email, phone | 10% to 15% |
| Vivid Picks | Pick'ems, Matchups | NFL, NBA, NCAA Football, NCAA, Basketball, MLB, NHL, PGA, CS:GO, League of Legends, Nascar, F1 | 100% first deposit match up to $100 | ✅Yes | Email | 10% |
| ParlayPlay | Prop Based Contests | Football, Basketball NBA, Hockey, Baseball, Soccer, MMA | 100% first deposit match up to $100 | ✅Yes | Email, phone | 10% |
| PrizePicks | Flex Plays, Power Plays | NFL, NCAA Football, MLB, NBA, NHL, PGA, Soccer, Esports | 100% first deposit match up to $100 | ✅Yes | Live chat, email | 14.73% |
| SuperDraft | GGP, Props, Salary Cap, Multiplier | NBA, NHL, PGA, MLB, NFL | 100% first deposit match up to $100 | ✅Yes | Email | 9% to 10% |
| Thrive | Prop Contests | NFL, NBA, MLB, NHL, PGA, Cricket, Esports | 100% deposit bonus of up to $250 | ✅Yes | Email, live chat, phone | 10% |
---
Top DFS Sports
There are now DFS competitions for 10 + sports, including everything from the NFL to PGA to tennis to even esports. These are the most popular DFS sports:
NFL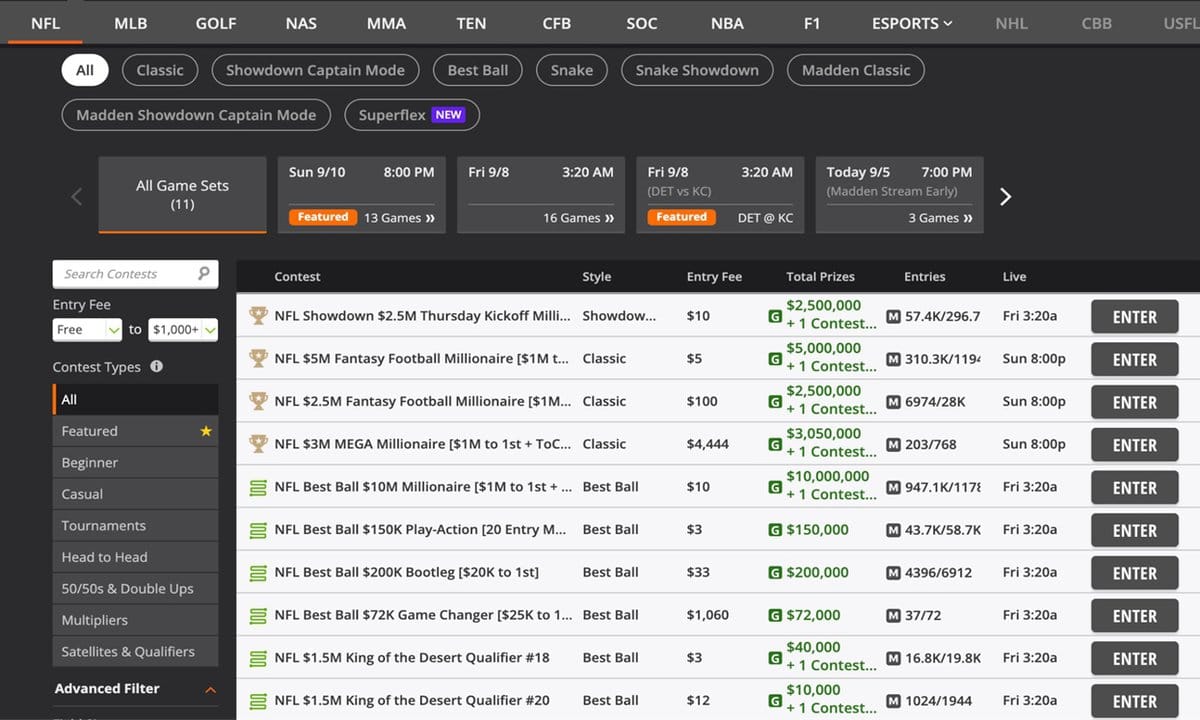 When it comes to DFS, NFL football is definitely the king. In 2022 just under 30 million Americans were playing DFS NFL which is not surprising, seeing as it is the most popular sports league in the nation. The most common way to play DFS NFL is via guaranteed prize pool tournaments where you get a salary cap and then need to draft 9 players. When playing DFS football, your roster must consist of 1 QB, 2 RB, 3 WR, 1 TE, 1 FLEX, and 1 DST. Your lineup then earns points based on these criteria:
1 point – 25 passing yards
1 point – 10 yards rushing
4 points – passing TD
6 points – rushing/receiving TD.
---
NBA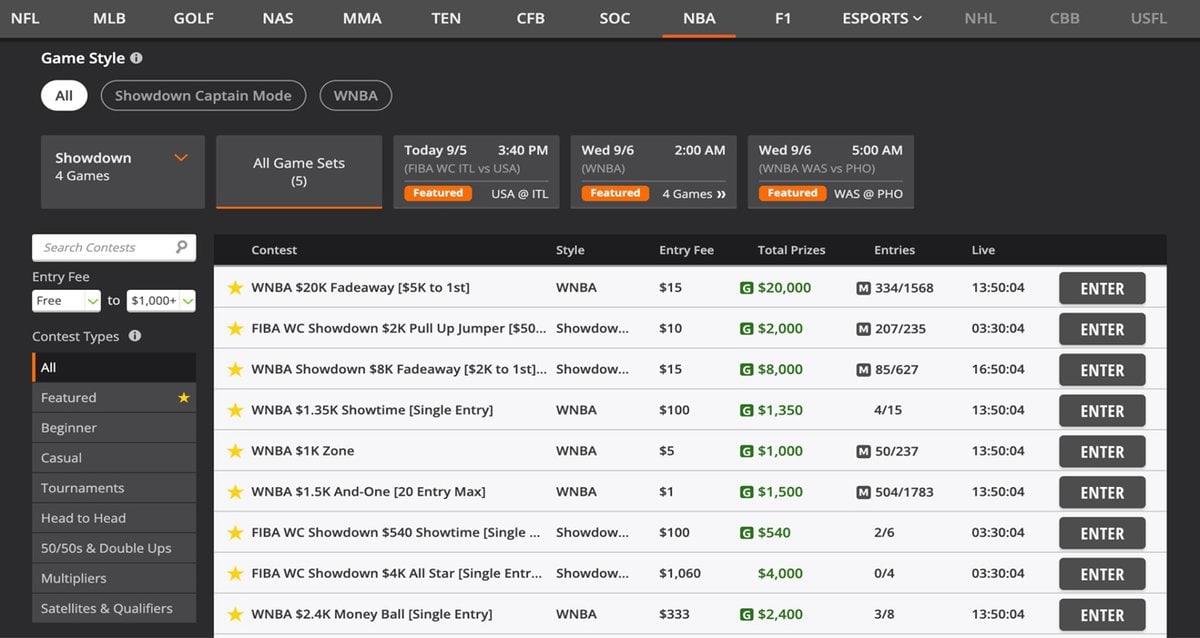 DFS NBA has exploded in popularity over the years thanks to its fast-paced action and easy-to-compile rosters. DFS NBA is more predictable than other fantasy sports because players can earn points via various methods, and no single point accumulation method is outweighed, unlike in DFS football, where if your player gets lucky and scores a touchdown, it can be a game-changer.
In DFS NBA, you are allotted a salary cap just like in DFS football, and then you need to draft 8 or 9 players. For example, at DraftKings, you must select PG, SG, SF, PF, C, G, F, UTIL. This is how your team earns points:
Points – 1
3s – 0.5
Rebounds – 1.25
Assists – 1.5
Steals – 2
Blocks – 2
Turnovers – -0.5
Double-Double – 1.5
Triple-Double – 3
---
MLB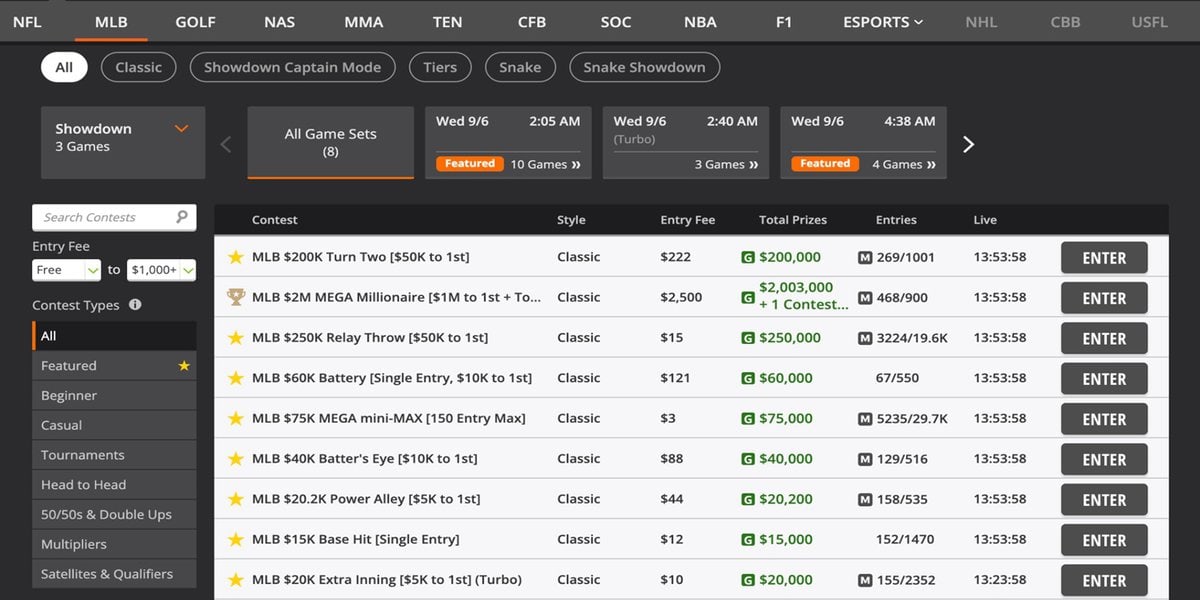 Prior to DFS, MLB was always a popular season-long fantasy sport, and people all across the country were constantly talking up their lineups, crunching stats, and tweaking their roster. How DFS MLB works is you select 9 to 10 players, including 1 Pitcher, 1 Catcher/First Baseman, 1 Second Baseman, 1 Third Baseman, 1 Shortstop, 3 Outfielders, and 1 Utility. Your team earns points via:
Single – 3 points
Double – 6 points
Triple – 9 points
Home Run – 12 points
RBI – 3.5 points
Run – 3.2 points
Stolen Base – 6 points
---
NHL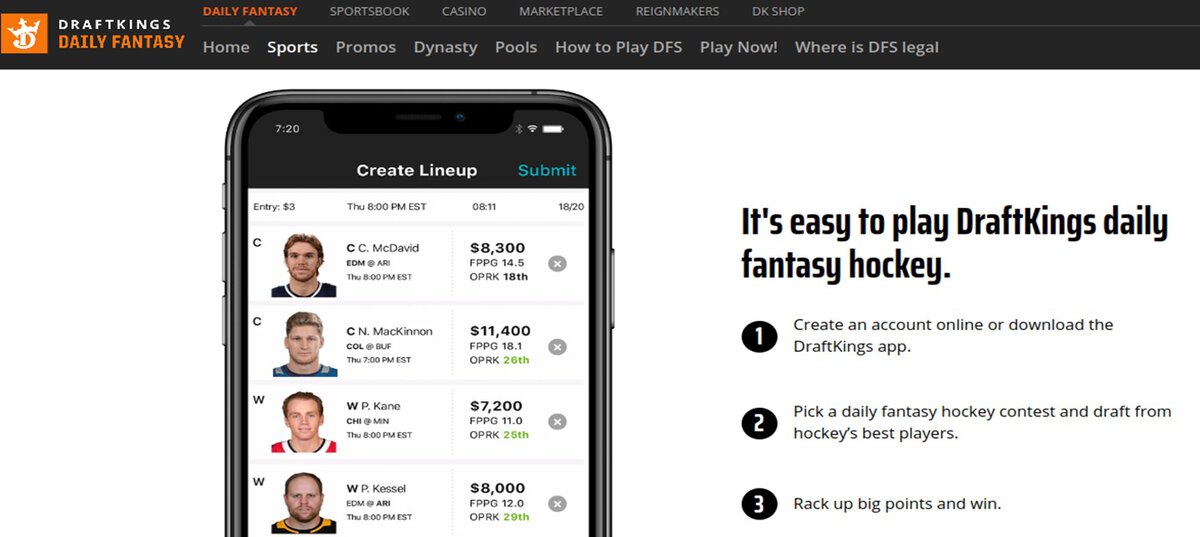 Don't worry, DFS sites haven't forgotten about hockey fans. You can play all kinds of fun DFS NHL games, including massive tournaments, cash games, and fun prop-based games. In DFS NHL games, you pick 6 players, and then, just like in other DFS contests, the better they perform, the more points you accumulate. Your players earn points for goals, assists, shots on goal, saves, wins, and shutouts.
---
PGA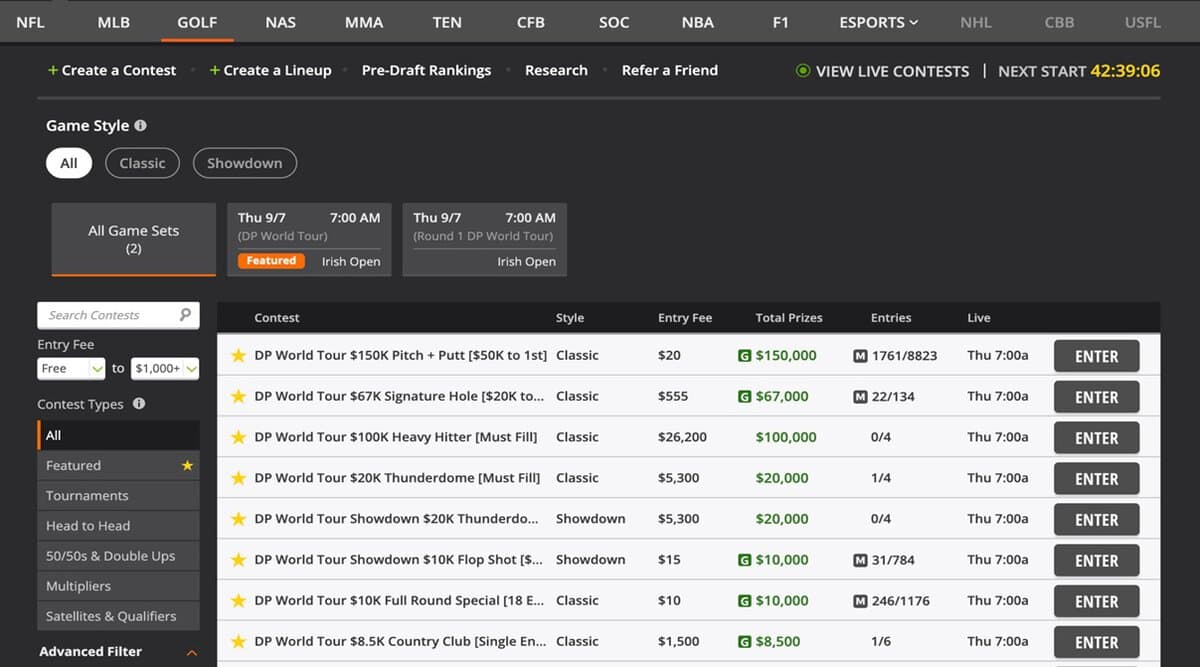 Golf is a relatively new DFS sport, but it quickly provided a huge hit with golf fans who were already known for being big sports bettors. How DFS PGA works is you get a salary cap and then need to select 6 different golfers. For example, on DraftKings, you get $50,000, and top golfers typically cost around $10,000, while budget players are $5,000 or $6,000. Your roster scores points based on birdies and pars, but look out for bogeys as they subtract from your total. With 40 + PGA events per year, you can always find great DFS GPPs and Cash Games to play.
---
MMA
DFS sites are constantly adding new sports, and you can now play League of Legends, women's college basketball, and MMA games. MMA is a particularly exciting sport for DFS/ How it works is you get a salary cap and then need to select 6 fighters.
The fighters' values are based on their likelihood to win, so you need to strategically select underdogs to ensure your lineup is under the salary cap. When playing DFS MMA tournaments, you will typically need at least 4 wins to cash and go 6/6 to win.
---
Types of DFS Games

The number of DFS games continues to expand as players demand variety and new ways to win. Here are some of the most popular DFS games you can try out right now:
Classic – In Classic DFS games, you get a specific salary cap, for example, at DraftKings, it's $50,000, and then you need to draft 8 or 9 players from designated positions. For example, in DFS football, you are only allowed 1 QB and 2 RB. Each player has an assigned value, so you need to run the numbers and build a team without breaching the salary cap.
Cash Games – In these games, half of the field is paid a cash prize. Typically players receive 90% of the prize pool, so to become a long-time winner, you need to win 56% of DFS cash games. For example, let's say 100 players pay $10, and the DFS site takes $100 (10%) as their fee, then the 50 winning players each receive $18.
GPPS – GPP stands for guaranteed prize pool, these are large multiplayer tournaments where typically the top 20% of players win cash. In GPPS, the prize pool is extremely top-heavy similar to poker tournaments, with the top 3 players winning a huge chunk of the cash. As the prize pool is guaranteed, sometimes there is an overlay where there are not enough players to cover the prize pool, so the DFS site has to cough up the extra money, overlays can have an extremely high ROI.
Showdown – In Showdown games, you select 6 FLEX players from a single game, and you must include at least 1 player from both teams. For example, if the Philadelphia Eagles are playing the Kansas City Chiefs, you might select Patrick Mahomes, Jalen Hurts, D'Andre Swift, A. J. Brown, Isiah Pacheco, and Kadarius Toney. This is the only DFS game where you can draft 2 QBs.
Pick'Em – A Pick'Em game is DFS' answer to over/under or prop betting. How it works is the DFS site will post a player's stats, and you need to predict whether their real in-game stats will be higher or lower. Pick'Em games are always part of 2 to 5-leg parlays, you can't play single games. For example, you might select Lebron James to score lower than 32.5 points and Patrick Mahomes to throw higher than 303.5 yards.
Head-To-Head – In Head-To-Head DFS games, you compete against one other person. You each select your best line-up just like in a GPP, and whoever's players get the most points wins. For example, if you are playing DFS basketball, you select 8 players, and the points they earn are based on the number of points, rebounds, blocks, and assists they score.
Best Ball – Best Ball is a season-long DFS game where you select players via a snake draft. Your cash winnings are based on your team's performance over the entire season instead of individual games. You don't have to manage your roster, you simply draft your lineup, and then each week, your top-scoring lineup is automatically assembled.
Rivals – Rivals is a form of Pick'Em game where two players are placed in a head-to-head scenario, and you need to select which player will outperform the other based on a particular stat. For example, Josh Allen and Joe Burrow may face off, and you need to select which player will throw for the most passing yards in their next game.
---
DFS Strategies and Tips
As Daily Fantasy Sports is considered a skill game, a lot of strategy goes into building lineups. You can't simply pick your favorite players and hope they will have a good day. To boost your chances of picking a winning roster, use these tips:
Start With Cash Games – When you first start playing DFS contests, it will take some time to get the hang of analyzing players and picking lineups. This is why we recommend starting with Cash Games because, unlike GPPs, you only need to beat 50% of other lineups to win money. This is in contrast to tournaments where often only the top 20 or 30% of lineups earn a prize.
Stick To Sports You Know – This may seem like a no-brainer, but you would be surprised at how many new players get overexcited and start playing different sports that they don't even watch or have never played. If you are an expert on all things NFL but have never swung a golf club in your life, then avoid PGA contests like the plague to stick to the NFL games.
Bankroll Management Is Crucial – DFS contests can be high variance, especially if you are playing tournaments with massive fields. When playing GPPs, have a bankroll of at least 300 buy-ins. For example, if you are playing $10 tournaments, your bankroll should be $3,000. If you are playing Cash Games and Pick'ems, then you can get away with a 100 buy-in bankroll.
Understand The Role Of Injuries – Injuries can make or break your DFS roster because, obviously, if you have an injured player on your roster, they won't score any points while also taking up a valuable spot on your lineup. However, injuries of non-roster players can also affect your player's performance. For example, if the Bucks are playing the Nuggets and Giannis is out, then you can expect Jokic to score even more points.
Learn Correlations – You want to find pairs of players that when one performs well, so does the other. These correlations boost the overall performance of your roster and make it build successful lineups because you don't need to predict each individual player's performance. For example, you might select a QB, WR, and TE all from the same team when you expect a particular NFL team to have a dominant performance.
---
Advanced Tips For Winning DFS
Now you understand the basic principles of DFS games, let's dive into some specific strategies that will help you win your next contest:
Look For GPPs With Overlay – An overlay occurs when the tournament fees paid by the players are less than the guaranteed prize pool put up by the DFS site. By playing overlays, you are essentially getting the chance to win a bigger prize without risking more money. Also, due to the fewer players, you have a better shot at winning.
Use All Of Your Salary Cap – To maximize the value of your roster, you should spend as much of your salary cap as possible. In most cases, the winning lineups only leave a few hundred dollars on the table at most! If you find that you have lots of salary cap left over, you should re-configure your roster and squeeze some more high-value players in.
Game Stack In DFS NFL Games – The most effective game stack in DFS contests is to select a QB, WR, and RB from the same team and then a WR or RB from the opposing team. This is a high-risk strategy, as your lineup will get crushed if your team plays badly, but if they crush it, your roster will earn a ridiculous amount of points. Also, game stacking is not that common in DFS NFL, so an aggressive game stack lineup can ensure you don't have to share the prize with too many other players.
Use These Metrics To Find DFS NFL Games To Stack – You should look for NFL games with Vegas totals because the sharps are predicting lots of points to be scored. Find games featuring QBs, RBs, and WRs with high projected fantasy results, and pick a QB who has a low-pressure rate and a strong offensive line.
Pick A Cheap DST When Playing DFS NFL – A common mistake is overpaying for a defensive player when you can pick up an adequate player on a budget. Pick a defensive player from a team that is a heavy-betting favorite.
Pick DFS NBA Players Who Play A Lot Of Minutes – The more time an NBA player is on the court, the more opportunity they have to score points, get rebounds and assists, and generate points for your roster.
Match The Field For Highly Owned DFS NBA Players – Pros like to match the field for highly owned players. For example, if a player is 30% owned, they will play close to 30% of him in their roster. However, when it comes to lowly owned players, they will select them 3x to 4x more than the field. For example, they will play a 10% owned player in 30% of their lineups.
---
DFS Banking Options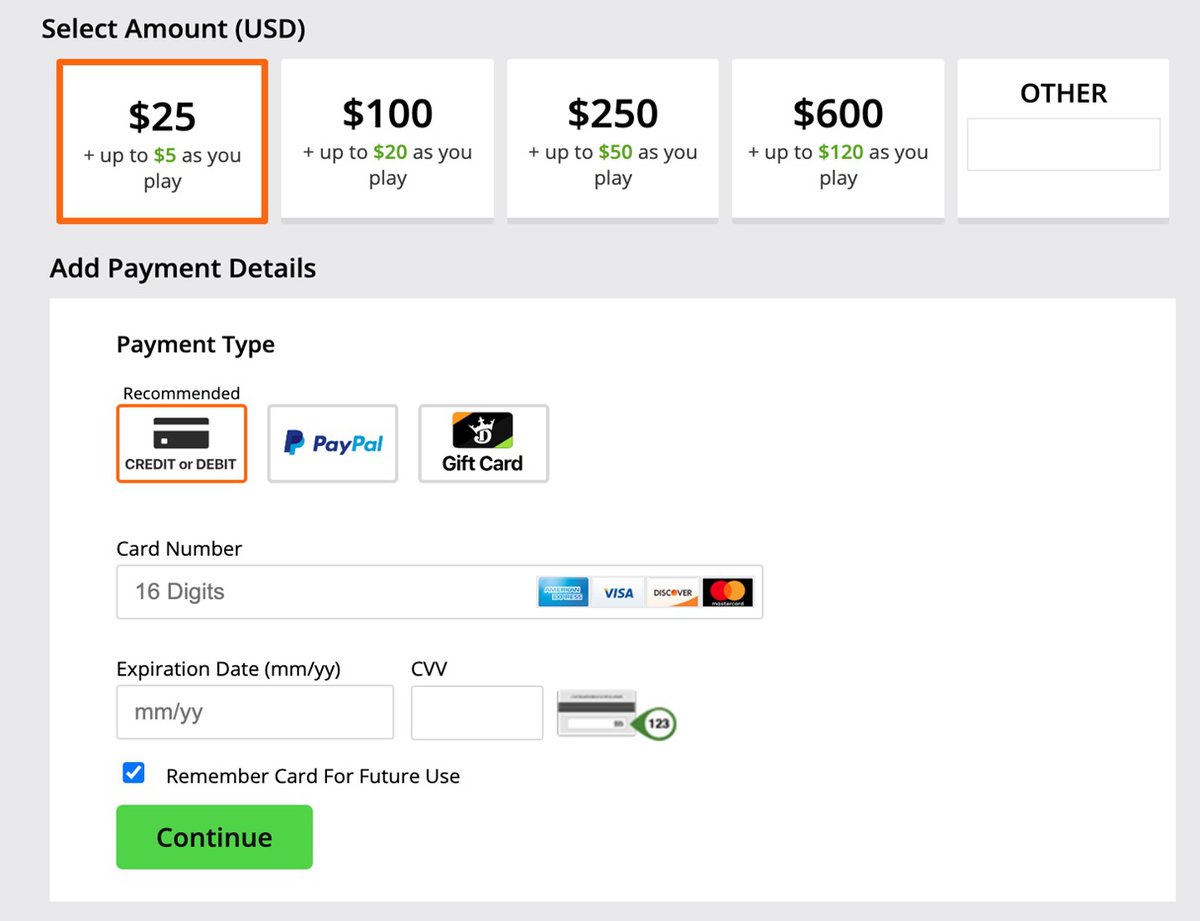 Depositing to and withdrawing from a Daily Fantasy Sport site is easy, thanks to the range of free banking options on offer. The most common deposit methods at DFS betting sites are:
Visa
Mastercard
American Express
Discover
PayPal
Venmo
At Daily Fantasy Sports sites, you can withdraw via these payment options:
Debit Card
PayPal
Bank Transfer
Check
Venmo
The minimum and maximum deposit and withdrawal amounts differ based on the payment method and DFS site. However, in a single transaction, you can deposit/withdraw anywhere from $1 up to $60,000, so no matter your bankroll, you can easily move funds around.
Deposits are processed instantly, but withdrawals can range in processing time. PayPal and Venmo tend to be the fastest methods, and you will receive your winnings within 24 hours. Check and bank transfer are the slowest payment methods and can take 7 + days.
---
Rankings Methodology
When evaluating DFS sites, we rank them all based on the same criteria, which include game types, number of sports, payment methods, bonuses, ease of use, prize pools, VIP program, mobile optimization, and customer support. To come up with impartial and accurate Daily Fantasy Sport site rankings, we create an account at every site we review, deposit, play different contests, claim bonuses, contact customer support, and withdraw.
By thoroughly testing every aspect of the DFS site, we can provide detailed insights into the inner workings of the platform. We spend weeks testing out each DFS site and diligently provide them with a score based on each critical factor. We then total these scores for every Daily Fantasy Sport site, and the platforms with the highest total number of points secure spots in our list of the best DFS sites.
---
FAQs
What are the best DFS sites for beginners?
The DFS sites for beginners are DraftKings and FanDuel, which both have easy-to-use websites, lots of free contests, and great bonuses.
How do DFS bonuses work?
DFS bonuses work similarly to sportsbook bonuses. When you sign up and deposit at a DFS site, they will give you bonus cash which you can use to enter real money daily fantasy contests.
Are DFS winnings taxable?
DFS winnings are taxable. If you win $600 or more, then you and the IRS will both receive a Form 1099-MISC reporting the income. You will pay a flat 24% tax on your DFS winnings.
Can I play DFS on my mobile device?
You can play DFS on your mobile device via your phone's browser or free app. All the top DFS sites like DraftKings and FanDuel have well-designed iOS and Android apps you can download from the App Store and Google Play.
Do DFS sites offer free contests?
The best DFS sites, like DraftKings and FanDuel, do offer free contests. These free contests even have real money prize pools. DFS sites give away thousands of dollars via free contests, so they are definitely worth playing.