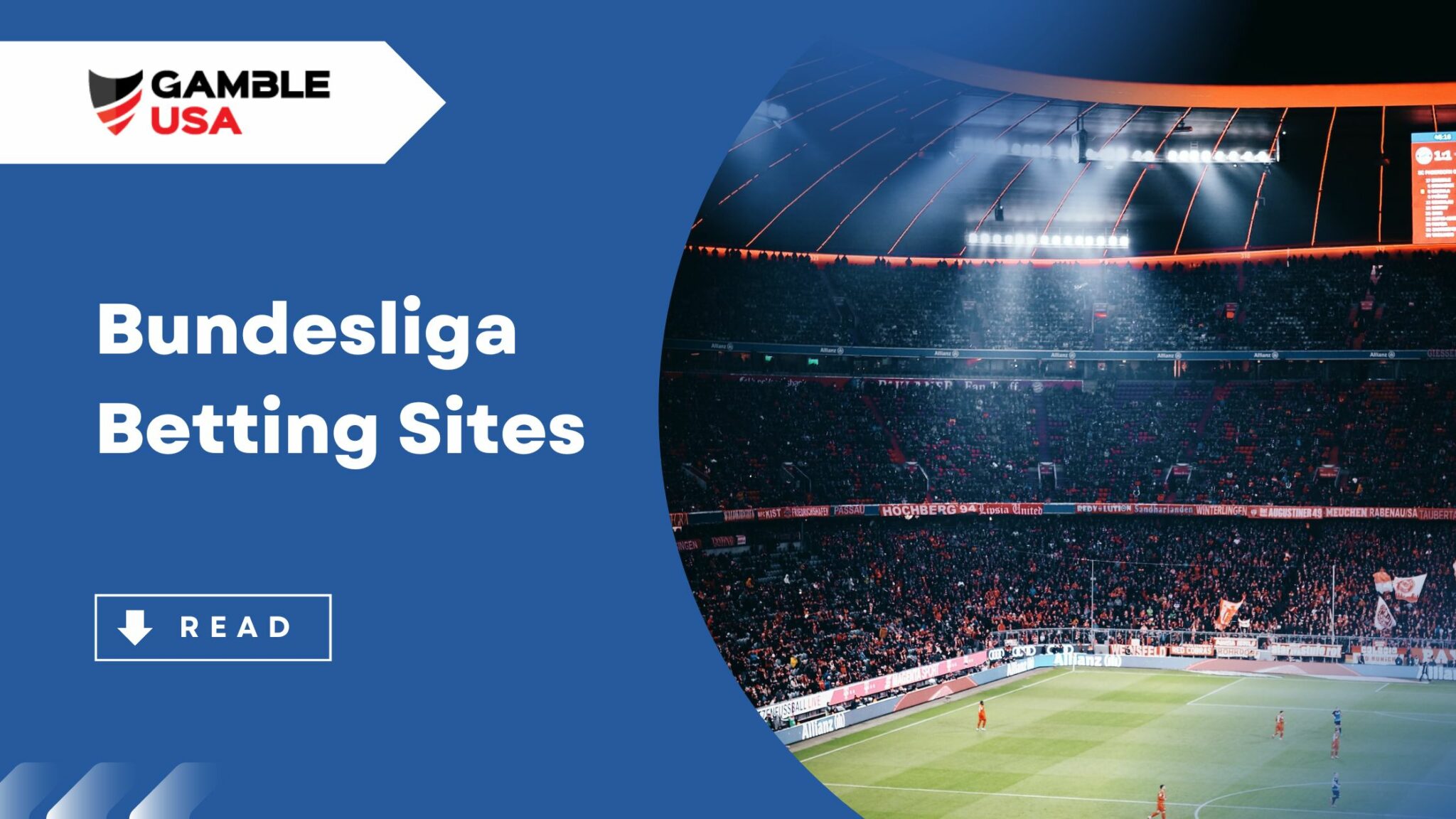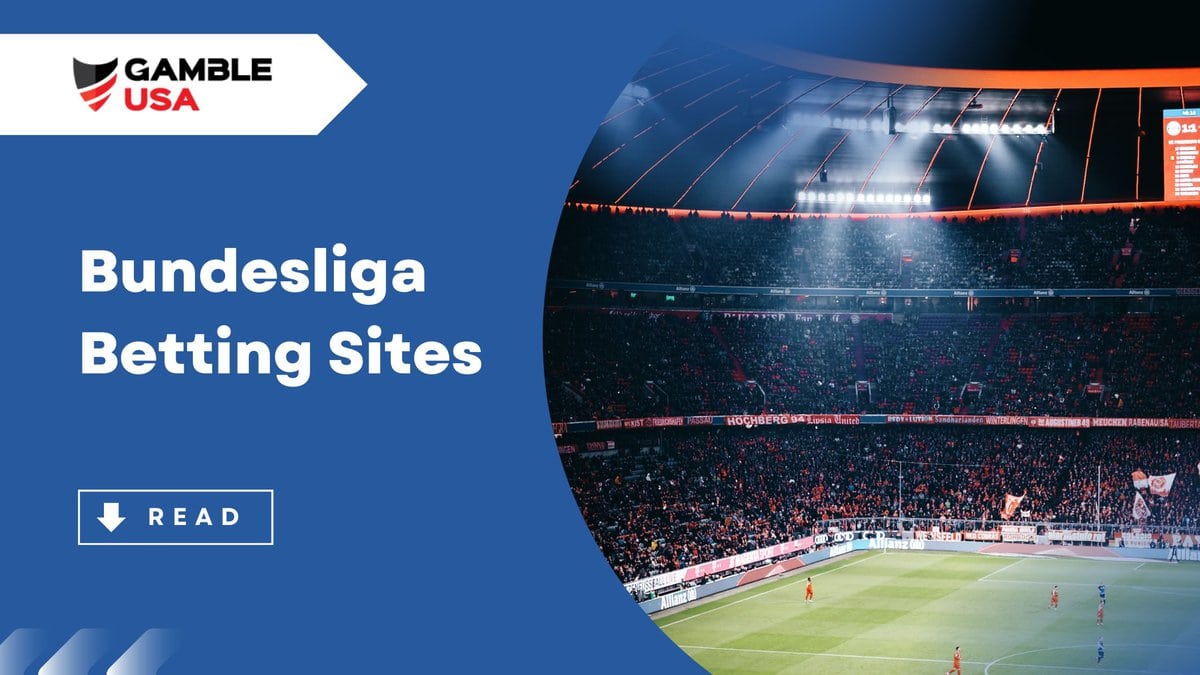 The Bundesliga is electric. While most of the other leagues from the big five had pretty much crowned their champions by April, in Germany's top soccer division, it came down to an 89th minute goal on the final match day for Bayern Munich to wrestle the title away from Borussia Dortmund and secure the Meisterschale for another year.
The fans love it as well. The Bundesliga consistently has the highest average attendance across all of the major European leagues, thanks to their attractive soccer and fan-friendly policies. And it's not just domestic fans either. The Bundesliga has always been about showcasing young, exciting players and managers from across the globe. In fact, many of the brightest US talents like Christian Pulisic, Giovanni Reyna, and Jesse Marsch got their chance to break out into mainstream attention via the Bundesliga.
Because of this, it's not surprising that many Americans want to get in on the action by betting on the German Bundesliga. With that being said, not all sports betting sites are equal.
While some look to give their customers the best experience by offering bonuses like bonus bets combined with the best Bundesliga betting odds, others like to cut corners — providing mediocre odds with questionable reliability. But if you're looking to get in on the action for the up-and-coming Bundesliga season, don't sweat it. Because in this guide, we'll be showing you the best sports betting sites to play on and the best types of bets to make for a Bundesliga match.
---
Choosing the Best Bundesliga League Soccer Betting Sites

While the Bundesliga may not be as popular in the US as other soccer leagues like the English premier league and the Spanish La Liga, most sportsbooks still offer online betting for it. Though just because a sportsbook offers Bundesliga betting doesn't mean that they're good. So in this section, we'll give you a few pointers on what you should look out for when selecting an online sportsbook.

Licensing — When selecting which sportsbook to play at, the most crucial feature to look out for is licensing. Proper licensing is the only way for a sportsbook to operate legally in the US — and without licensing at the state level, you run the risk of getting scammed.

Live Betting Options — The Bundesliga is wild. Who can forget Robert Lewandowski's 9-minute miracle where he scored five goals in nine minutes for Bayern Munich to change the score from 0-1 to 5-1 in less than 10 minutes.


And while this doesn't happen every day, it is a taste of what the German Bundesliga is about. As such, when betting on the Bundesliga, you always want to make sure that in-play betting is supported.

Great Bonuses — Bonuses are what give you more bang for your buck. They can give you bonus bets, or sometimes bonuses on your first deposit. Though whatever type of bonus it is, it gives you more value for your dollar, and more chance to win big. But we don't just look for an initial welcome bonus. When recommending a betting site, we also make sure that they have plenty of offers for their loyal existing users.

Competitive Odds — While a welcome bonus can get you off to a winning start, great odds are what keep you winning. That's why you should always make sure the betting site you play at offers great Bundesliga odds.

Variety of Betting Markets — Moneyline is the most popular Bundesliga bet type. However, for experienced bettors, there's also money to be made from handicap markets, half-time results, individual player prop bets, and many more markets. A variety of betting markets gives you the tools to win big, so always make sure that your Bundesliga betting site gives you the tools to win.

Mobile Betting Accessibility — If you're the sort of player that likes to bet on the go, make sure that the sportsbook you sign up with has either a dedicated sportsbook app or a mobile compatible site. The good news is that all of the best Bundesliga betting sites now support mobile betting.
---
Top German Bundesliga Betting Sportsbooks
For a quick head-to-head summary on how the best Bundesliga betting sites stack up against each other, check out the table below.
| Sportsbook | Welcome Bonus | Promo Code | Legal States | Minimum Deposit |
| --- | --- | --- | --- | --- |
| FanDuel | $1,000 No Sweat First Bet | None! | AZ, CO, CT, IL, IN, IA, KS, LA, MD, MI, MA, NJ, NY, OH, PA, TN, VI, WV, WY | $10 |
| PointsBet | 5 x $50 Second Chance Bets | None! | CO, IL, IN, IA, KS, LA, MD, MI, NJ, NY, OH, PA, VA & WV | $5 |
| DraftKings | 20% First Deposit Match $1,000 | None! | AZ, CO, CT, IL, IN, IA, KS, LA, MD, MA, NH, NJ, NY, OH, OR, PA, TN, VA, WA, WV, WY | $5 |
| BetMGM | $1,000 First Bet Offer | GAMBLEUSA | AZ, CO, D.C., IL, IN, IA, LA, MA, MD, MI, MS, NJ, NV, NY, OH, PA, TN, VA, WV & WY. | $10 |
| Caesars | $1,250 First Bet On Caesars + 1,000 Caesars Rewards Tier Credits + 1,000 Reward Credits | GUSAFULL | AZ, CO, D.C., FL, IL, IN, IA, KS, LA, MD, MA, MI, MS, NV, NJ, NY, NM, NC, OH, PA, TN, VA, WA, WV, WY | $10 |
Otherwise, read on for a more comprehensive review of the five best Bundesliga betting sites.
---
🥇 #1 FanDuel Sportsbook
Bet $5, Get $150 In Bonus Bets
21+. T&C Apply
21+. T&C Apply
Convenient banking
Massive choice of sports
Bet $5, Get $150 In Bonus Bets
21+. T&C Apply
21+. T&C Apply
When it comes to Bundesliga sports betting sites, there are few, if any better options than FanDuel. With FanDuel, you're guaranteed to get some of the most competitive odds across the board, plus access to Bundesliga same game parlays that boost your odds. FanDuel is easy to use. Plus, they give regular bonuses to existing customers.
One of my favorite reasons to use FanDuel for the Bundesliga though is because of their amazing welcome bonus.
For new customers who sign up to FanDuel by following our links, you'll get access to the FanDuel $1,000 No Sweat First Bet. With this bonus, if your first bet loses, you'll get 100% of your stake back in bonus bets up to a maximum value of $1,000. 
This sort of bonus really favors the kind of user who likes to go for a slightly risky bet. So if you fancy one of the big teams like Bayern Munich or Borussia Dortmund getting upset on the opening day, give FanDuel a try.
---
🥈 #2 PointsBet Sportsbook
10 x $100 Second Chance Bets
21+. T&C Apply
21+. T&C Apply
Awesome live betting
Multiple bet types
Huge range of sports & markets
10 x $100 Second Chance Bets
21+. T&C Apply
21+. T&C Apply
If you find yourself betting the underdogs often, PointsBet is for you. The PointsBet Bundesliga odds tend to be quite a bit different from the other sportsbooks on this list, as they tend to give slightly worse odds when betting on the favorites, and slightly better odds when betting on the underdogs. For example, if you've got a team other than Bayern Munich or Borussia Dortmund winning the league, your best option is PointsBet.
For experienced sports bettors, PointsBet can be a great addition to your sports betting arsenal, as you'll want to shop around and sign up to multiple sportsbooks to get the best Bundesliga betting odds consistently. While you might want to bet with another betting site for the favorites, when you do fancy an upset, PointsBet should be your number one destination.
PointsBet's welcome bonus is pretty different from most other sports betting sites — as for users who sign up via our links, they offer 5 x $50 bet offer, where if your first bet of the day loses, you'll get your stake returned to you in bonus bets up to a maximum value of $50. Given that you're awarded one bet on each of your first five days, I prefer to use this bonus once European competitions have kicked off, so you can bet Bundesliga on Saturday, Sunday, and Monday, then bet the Champions League on Tuesday and Wednesday. You can also tie it in with the Europa League if you prefer.
---
🥉 #3 DraftKings Sportsbook
Up To $1,000 Deposit Bonus
21+. T&C Apply
21+. T&C Apply
The best sportsbook
Amazing odds & offers
Awesome betting app
Up To $1,000 Deposit Bonus
21+. T&C Apply
21+. T&C Apply
When it comes to sportsbooks in the US, there's perhaps no bigger name than DraftKings. Available in 20+ US states, DraftKings has won its reputation as one of the best Bundesliga betting sites by offering consistently great odds in a variety of markets. When it comes to Bundesliga prop bets, DraftKings is usually the first place I'll look.
This season, I'll be 100% locking in Manuel Neuer to mark his return with a clean sheet when Bayern Munich comes up against Werder Bremen. And given Bayern's record against teams in the bottom half — I love the +125 odds offered by DraftKings.
Exclusive for our readers, when you sign up to DraftKings using our links, you'll get a first deposit bonus of 20% up to $1,000. This bonus does come with some pretty hefty playthrough requirements, so you'll need to make sure to make multiple bets every game week.
---
🎖️ #4 BetMGM Sportsbook
Promo Code: GAMBLEUSA
Up To $1,500 In Bonus Bets
21+. T&C Apply
21+. T&C Apply
Promo Code: GAMBLEUSA
Super fast payouts
Live streaming
Promo Code: GAMBLEUSA
Up To $1,500 In Bonus Bets
21+. T&C Apply
21+. T&C Apply
The self-proclaimed King of the Sportsbooks is one of the best destinations for Bundesliga soccer betting. Their mobile app is one of my favorites — being easy to navigate and simple to use. BetMGM can sometimes garner a reputation as offering inferior Bundesliga betting odds — and while that may be true on the surface, you can usually pad these odds out by using a bet boost or parlay bonus.
Parlays are usually pretty risky. But fortunately, BetMGM has the solution for this with their welcome bonus. Because if you've never signed up for BetMGM, you can get a $1,000 first bet offer when you sign up via our links and use promo code GAMBLEUSA. The way it works is that if your first bet doesn't win, you'll get your stake back in the form of bonus bets. This makes it perfect for when you're going for a multi-legged parlay, as you'll either win big or you'll get bonus bets.
---
🏅 #5 Caesars Sportsbook
Promo Code: GUSA1000
$1,000 First Bet on Caesars
21+. T&C Apply
21+. T&C Apply
Promo Code: GUSA1000
Massive welcome bet offer
Earn Caesars Rewards
Promo Code: GUSA1000
$1,000 First Bet on Caesars
21+. T&C Apply
21+. T&C Apply
Most experienced sports bettors prefer to play at multiple sites so they can shop around for the best odds — however, if you do have your heart set on signing up for only one site, Caesars should be at the top of your list. They offer competitive odds on all markets and have frequent bonuses targeted towards existing users. Even their welcome bonus has something for existing players.
Because for new users, not only will you get a $1,250 first bet on Caesars, but you'll also get 1,000 Caesars Rewards Tier Credits + 1,000 Reward Credits.
These credits can be redeemed for bonus cash and other cool rewards and can be further accumulated by making regular bets. This is a bonus unique to our readers though. So to claim it, you need to sign up for Caesars using our links and enter promo code GUSAFULL.
---
Bundesliga Betting Tips and Strategies
Betting on the Bundesliga can be pretty wild at times. However, over the years of betting on Germany's top soccer division, we've come up with a few strategies and tips to come out ahead more often than not.
Keep Up To Date With Bundesliga News —

Whether it's injury news or transfer news — keeping your fingers on the pulse of Bundesliga news is crucial to reacting to the news first and beating the sportsbooks in making a profitable bet.

Analyze Form, Head-To-Head Records, and Home & Away Records —

Using a combination of form, head-to-head records, and considering home & away form, you can make some pretty bold predictions about the results of a match. This sort of data can be especially helpful towards the middle of the table, where team news doesn't surface as frequently.

Consider the Impact of European Competition —

While top teams nearly always get off to a strong start, when European soccer comes around — upsets in the domestic league become more likely. This is because in many cases, teams eligible for European soccer can be playing two or sometimes even three games a week — thereby being forced to rotate players. As such, when betting on the Bundesliga, you should also check the European calendar to see if the team you're betting on has had a tough mid-week fixture.

Practice Proper Bankroll Management —

In the Bundesliga, surprises happen every week. While this makes the Bundesliga exciting, it also means that results can be wild, and a sure thing can end up losing. The only way to protect yourself against these unforeseen events is to always practice proper bankroll management. Never bet too much of your bankroll on one game. And always make sure that your bankroll will survive a pear-shaped week.
---
How to Get Started with Bundesliga Betting
To get started with Bundesliga soccer betting, just follow the below steps.
Using our secure links, navigate to your chosen Bundesliga sportsbook.

Click the "Registration" button.

Enter in all relevant information required, including your address, mobile number, and full name as it appears on your photo ID.




Read through the terms & conditions and submit your information.

Confirm your registration by clicking the registration link sent to either your mobile or email, then log in to the sportsbook you selected.

If you signed up via our links, you'll be eligible for a bonus. To claim it, head to the cashier section and make a deposit.

Legitimate US sportsbooks will support a variety of payment methods like Credit/debit, Skrill, and PayPal. So next, just select your preferred banking method, enter in the amount you want to deposit, then click through the prompts.

Most deposit methods are instant. So once you've completed the depositing process, your funds will be instantly available.

Since most bonuses require you to make a bet, you'll now need to navigate to the Bundesliga section by selecting All Sports -> Soccer -> Bundesliga. From there, all the available betting markets will be displayed, and you'll be able to add bets to your bet slip.

Once you've made all your bets, just click the confirm button, and your bets will be live.
---
Trustworthiness on Bundesliga Betting Sites

With the Bundesliga surging in popularity in the US, many sportsbooks are beginning to offer Bundesliga betting. Some of these sites like FanDuel and BetMGM are great — others not so much. When it comes to sports betting, trust is everything. While there was once a time prior to the legalization of sports betting in the US where the only way to bet on sports was to use shady offshore sites, now there are ways for legitimate sportsbooks to set themselves apart from scammers. Below, we'll cover what some of these signs are.
Proper Licensing —

As previously mentioned, licensing is everything. In the US, sportsbooks can become licensed at the state level so long as they partner with a brick-and-mortar casino property and meet other relevant requirements. Partnering with a physical casino guarantees that a betting site has the equity to pay out all bets, and further shows that they are committed to operating above board.

Player Reviews —

Player reviews is a bit of a gray area. While in theory it should provide an unbiased look at a site — the reality is that people with a negative experience are more likely to leave a review. And given gambling can sometimes lead to losing money, there are a lot of people complaining. For this reason, I don't recommend relying too heavily on sites like Trustpilot. Instead, look for moderated sites that feature reviews made by players with lots of reviews under their names, as these sites are much better at providing an unbiased look as to whether or not a site is a scam.

History —

If a site has a good record of paying out and is partnered with a physical casino that also has a long history, that's a good sign that they're legit. That's why we recommend trustworthy names like DraftKings, BetMGM, and Caesars. Because when you bet with them, you know they're legit.
---
Types of Bundesliga Betting Markets
While moneylines are a great entry point into Bundesliga betting, experienced sports bettors know that to come out ahead, you need to consider all the different markets. These markets can seem intimidating at first. But don't sweat it. They're pretty simple to understand once you get the hang of it, and most markets can be split into three different types of Bundesliga betting options.
Match Betting — Match betting is the simplest betting type to understand. These bets not only include the standard moneyline win-draw-win market, but also include other basic types of bets that take place over the course of an entire match. Other types of match betting are handicap betting, correct score, and over/under total goals.
Outright Betting — Instead of betting on a single match, outright betting is a type of betting made on futures at the end of a season. The most basic of these bets is the overall winner of the league. Though you can also bet on the goalkeeper that you think will get the most clean sheets, which teams you think will make it into Europe, and which teams you think will get relegated. Additionally, a fan favorite betting type is picking which player you think will be the top goal scorer. Füllkrug and Nkunku won it last season — but my money is on Borussia Dortmund's Sébastien Haller

for the 23/24 Bundesliga campaign.



Special & Prop Betting — Prop betting is betting on a specific outcome to occur, usually for a particular player to score a goal. Though you can bet on a player to get carded, or for a team to win a certain amount of corners. Special bets can also be made on half-time results and other aspects of the game.
---
FAQs for Bundesliga Betting Sites
What are the best Bundesliga betting sites?
The best Bundesliga betting sites are FanDuel, PointsBet, DraftKings, BetMGM, and Caesars. These sites are 100% trustworthy and offer competitive Bundesliga odds and great bonuses.
How do I choose a reliable Bundesliga sportsbook?
When choosing a reliable Bundesliga sportsbook, you need to first make sure that they are licensed to operate in the state where you reside and have a track record of reliability. You can spend a few days doing your own independent research, though for simplicity, you can also check out our page of the best online sportsbooks in the US.
What are the most popular Bundesliga betting markets?
Standard moneylines make up the majority of Bundesliga bets. However, handicaps are also becoming a popular way for experienced bettors to maximize their winnings. Given that the Bundesliga is also known for its exciting attacking soccer, picking the top goal scorer for the season is also a popular outright bet type.
Are there any Bundesliga betting strategies that work?
Given the unpredictability of the Bundesliga, the best betting strategies are those that account for the unpredictable by limiting your bet sizes and protecting your bankroll. For this, we like the unit based betting system.
Can I bet live on Bundesliga matches?
Yes. Live in-play Bundesliga betting is available on all Bundesliga matches.
Are there any bonuses or promotions specifically for Bundesliga betting?
Yes. While not as frequent as promotions aimed towards the English premier league, you'll still be able to find regular Bundesliga specific promotions around special events like the opening as well as for fierce derbies like Der Klassiker between Bayern Munich and Borussia Dortmund.
Is mobile betting available for Bundesliga matches?
Yes. Most licensed US sportsbooks allow you to bet on Bundesliga matches through your mobile. If you're interested in mobile Bundesliga betting, we recommend FanDuel, DraftKings, BetMGM, and Caesars.