With the 2024 ICC T20 World Cup fast approaching, it will not be long before we all rush to place our cricket bets in the US. That is because the US will jointly host the big tournament (with the West Indies), and it will be the first time the US cricket team will play in the World Cup.
If you already have an interest in cricket as a sport and want to dive into its betting market, then finding the best cricket betting site is your first step. The US has several top cricket betting sites, and this guide will narrow down these sites to the top five.
Sure, you may not know much about this historic game. But in many countries, the UK, India, Australia, Pakistan, South Africa, to name a few, people love to spend a day drinking beer and watching the action. Cricket is also great for online betting, and with someone here who as watched live test matches all over the world (me) I feel confident enough to provide you with some cricket betting tips.
Here, we explain our selection process, the available cricket betting types, how to set up an account, and the bonuses you'll find. Once you decide to bet using any of these sites, you can create an account by visiting the link we provide for a unique bonus offer.
---
🏏5 Best Cricket Betting Sites November 2023
We have found the top 5 cricket online betting sites based on platform interface, banking options, customer support, cricket betting mobile app availability, market depth, and welcome offer. See our rankings below!
🥇Draftkings Sportsbook
🥈BetMGM Sportsbook
🥉Caesars Sportsbook
🎖️PointsBet Sportsbook
🏅BetRivers Sportsbook
| 🏏Sportsbook | 🖥️Interface | 💳Banking options | ☎️Customer Support | 📱Mobile Apps | ⭐Market Depth | 🎁Welcome Offer |
| --- | --- | --- | --- | --- | --- | --- |
| DraftKings Sportsbook | 4/5 | 4/5 | 4/5 | 5/5 (iOS and Android) | 5/5 | 4/5 |
| BetMGM Sports | 4/5 | 4/5 | 4/5 | 5/5 (iOS and Android) | 4/5 | 4/5 |
| Caesars Sportsbook | 4/5 | 4/5 | 4/5 | 5/5 (iOS and Android) | 4/5 | 5/5 |
| PointsBet Sportsbook | 4/5 | 4/5 | 4/5 | 5/5 (iOS and Android) | 4/5 | 3/5 |
| BetRivers Sportsbook | 3/5 | 4/5 | 4/5 | 5/5 (iOS and Android) | 4/5 | 3/5 |
---
🥇#1 DraftKings Sportsbook – Best for Access to a Large Selection of Betting Markets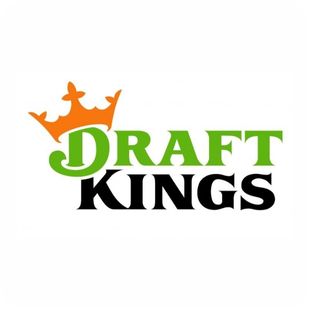 DraftKings stands out from the other sites on this list thanks to its wider selection of cricket betting markets. It has more leagues to bet on, giving you more opportunities to profit on DraftKings. Its cricket betting interface comprises seven cricket markets, including the IPL, ICC T20 World Cup, The Ashes, The Hundred, Vitality T20 Blast, World Cup, and Twenty20 International. It's like a candy store for cricket fans!
If you're an advanced bettor seeking a chance to win big with low investments, then DraftKings is open to help you out through its Parlay, Teasers, and Round Robin bet options. From our review, we found 15 match props and 19 player props in addition to the moneyline bet on one game. Prop bets are an area where DraftKings shines, so definitely give those a try when playing on the sportsbook.
✅ Pros:
Access to up to seven cricket leagues
Real-time countdown so you don't miss any cricket match
❌ Cons:
Rewards program isn't as good as sites like Caesars and BetMGM
Expert Comments:
"The sheer volume of cricket games that I can bet on at DraftKings makes it easily my favorite place to bet on cricket. The sportsbook also provides loads of bets that I can combine into parlays, which I can personalize to my liking."
– Paul Ricci (Chief Sports Editor)

---
🥈#2 BetMGM Sportsbook – Top Price Boosts on Props Bets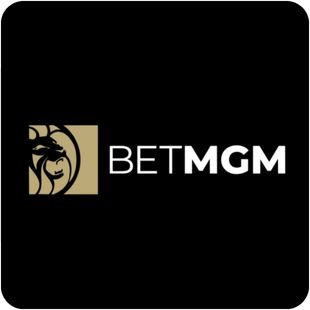 BetMGM has several cricket betting options with at least ten unique bets per match. These bets include the moneyline bet and several BetMGM prop bets like the top run scorer, Will there be a Century (Yes/No bet), team to hit the most sixes, and more. To navigate the wagers section quickly, bets are classed into All, Main, Innings, Player Props, 1st Inning, and Other, so you can quickly find what you need.
The coverage at BetMGM is also quite good, with betting markets for top Cricket events such as the World Cup, T20 World Cup and Indian Premier League. Live betting is extremely fun, as it has a dynamic scorecard with all the stats you could possibly need to form your winning predictions.
✅ Pros:
Offers a price boost on certain prop bets
Live streaming and in-play betting are available on certain events
❌ Cons:
Claiming a Refer a Friend sports offer makes you ineligible for any other sports welcome offer
Expert Comments:
"BetMGM makes cricket betting fun for everyone. It is especially good for live betting, as there are loads of in-play betting options and if a certain event is not streamed, you can use the dynamic scorecard to keep track of what is going on."
– Damjan Spajić (Sports Editor)

---
🥉#3 Caesars Sportsbook – Excellent Rewards Program for Crickets Bettors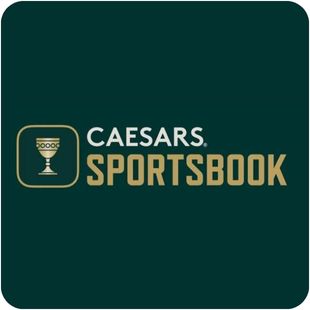 Choosing Caesars Sportsbook grants you access to many of the best cricket betting markets, like the futures market, in-play betting, props bets, totals, match betting, and more. In the totals market, you will find several bets on total runs for different players, giving you several opportunities to grow your profit.
The Caesars welcome bonus gives up to $1,250 back as bonus bets if you lose your first bet, 1000 Caesars Rewards Tier Credits, and 1000 Reward Credits, you're off to a great start with the Caesars welcome offer. The fun does not stop there, as Caesars has a loyalty program that grants you all sorts of goodies to keep you on your toes.
✅ Pros:
Decent selection of props, runs, and standard betting options
Recurring odds boost for various events on the site
❌ Cons:
Coming across a cricket-specific bonus can take a while
Expert Comments:
"Caesars Sportsbook is the gift that keeps on giving. I have been using this sportsbook for a while now, and keep getting great offers and promotions. Though they are not cricket-related I can still use some of them on my favorite cricket tournaments."
– Oliver Dickinson (Sports Editor)

---
🎖️#4 PointsBet Sportsbook – Best for Unique Betting Options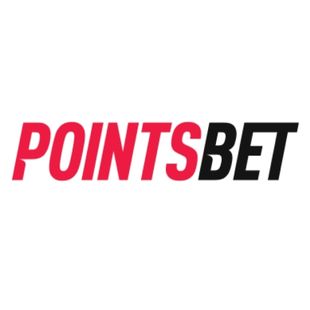 Once you open PointsBet, you will find all sorts of cricket fixtures to be on. These include the Indian Premier League (IPL), Twenty20 Internationals, The Ashes, and ICC Men's Cricket World Cup. There are plenty of bets lined up for each, including a handful of props. There are two features that make PointsBet stand out among its competitors.
The PointsBetting and Name a Bet options. With the name a bet, you can create any bet you want and have the PointsBet analysts price it for you. It's a unique bet that only you can access. The Pointsbetting option shifts from the traditional points spread by paying out based on the margin of victory. Live betting at PoinstBet is also fantastic, as it has a range of featured flash bets.
✅ Pros:
Large selection of betting types, including a "Name A Bet" option
❌ Cons:
Doesn't include betting on Cricket Test Matches
Expert Comments:
"PointsBet has top shelf betting markets and promotions for the major US sports. It does surprisingly well with its cricket coverage too, providing all sorts of thrilling markets. Whatever it does not have, I can request with the Name a Bet feature."
– Damjan Spajić (Sports Editor)

---
🏅#5 BetRivers Sportsbook – Best for New Cricket Bettors
In addition to its high quality streaming services and betting markets, BetRivers has a Sports Zone that you can find on its betrivers.net page. The sports zone allows you to bet on real events using virtual credits. So, while you won't be able to win real money, you can better grasp cricket betting, test your strategies, and improve yourself.
There is no shortage of betting options on the BetRivers sports betting app, and we're all in for this service. On each cricket match, the site has over 50 bets available, and these are spread across the player props, match props, dismissals, match events, BetRivers parlays, and moneylines.
The BetRivers cricket interface may not have the best appearance, but it offers some excellent features that make it a perfect sportsbook for new bettors. It has high quality streaming services that can make live betting exhilarating, but unfortunately, it does not cover many cricket games.
✅ Pros:
Over 50 bets are available on every cricket match
Various stats on the IPL, such as standings, team-specific stats, stadium-specific stats, and more
❌ Cons:
Cricket matches aren't often available on the live streaming section
Expert Comments:
"I like how BetRivers has such a broad selection of choice for cricket games. You never need to settle for a bet you don't like, as you can easily find another that comes with the odds you want. I have had a lot of fun parlay betting on T20 games at BetRivers."
– Oliver Dickinson (Sports Editor)
---
Cricket 101 – Everything You Need to Know
Not all cricket is the same, and depending on which of the 4 variants of the game you are watching, the gameplay can be drastically different. Which type of cricket is played depends on the competition or whether it is a one-off fixture or not. Basically, the key difference is how long the games are played for, with the longest lasting 5 days per match and the shortest only two and a half hours.
Test Cricket
This is the oldest, and for many diehard fans, the "purest" form of cricket. There are 5 tests in a series, and each test game is played over the course of 5 days. Both teams have 2 batting innings and have to flip a coin to decide which team will bat first. Over the course of 5 days, a team can win if they have more runs than the other team, and the other team should completely run out both their batting innings. Should a team be in the lead but the other team does not finish their second innings during the 5 days, then the game is a tie – there is no winner.
It is quite astonishing to think two teams can play for 5 days without a winner, but the truth is that this is not very rare. Especially as the cricket grounds are so big and therefore do not have roofs. And in England, it does tend to rain a lot, so games can be stopped even for a day or two.
In terms of gameplay, this is the slowest form of cricket, as the batters have to be careful not to be bowled out too quickly. It is not as dynamic as other forms of cricket, but things do speed up around day 3, and by the 5th day, you can see some quick action.
Best Test Series to Watch:
The Ashes (Australia vs England)
ICC World Test Championship
ICC Test Matches (which contribute to the ICC Rankings)
One Day International (ODI)
ODIs last around 9 hours, and the two teams both have 50 fixed over innings. Within 50 overs they need to score as many runs as possible and hope they can beat their opponent. ODIs technically can end as draws, but as scores can go beyond 100 runs (and occasionally beyond 200) the odds are slim. ODIs are also played in series, but the number of games in a series depends on the competition. Whereas test cricket is played almost exclusively by England and commonwealth countries, there are currently 12 nations with permanent ODI status and a further 8 with temporary ODI status. The US has an ODI cricket team that competes in the biggest tournaments.
The gameplay in ODIs is far more brash and fast-paced than test cricket. The teams have one 50-inning over to score all their points. If one team is all bowled out before they have played 50 overs, then that is all they get. Otherwise, the game and rules are the same as test cricket.
Best ODI Cricket to Watch:
ICC Cricket World Cup
ICC Champions Trophy
Twenty20 (T20) Cricket
T20 cricket is relatively new, it was only created in 2005. Also called "pajama cricket" among older fans who prefer the more traditional variants. T20 is also fixed over cricket, but the two teams only have 20 overs to score their runs. Games usually last about 2 and a half hours, which is almost the same as MLB games, so it has a far larger appeal in the US. T20 is more global than ODI cricket. There are 105 nations with T20 status, including the US.
Games in T20 are far more action-packed, as the average run rate is about 8-9 runs per over. Just compare that with 3-3.5 in test cricket or 5 in ODI cricket. It is far more engaging to watch and two and a half hours is the perfect length for fans to sit and watch a game from start to finish.
Best T20 Competitions to Watch:
ICC T20 World Cup
T20 Blast (England and Wales)
Indian Premier League
Major League Cricket (US)
The Hundred
This is the latest variant of cricket, that was launched in 2021. It is currently only played in England and Wales, between counties across the two countries. The Hundred differs from the other formats of cricket in that there are 5 deliveries in an over and 20 overs in an innings. Each team has to play one 20 over innings, and games last around the same amount of time as T20 games.
In the first 5 overs, there is a rule called "Powerplay" in which the bowling team can only have 2 fielders out of the 30-yard circle of the batter. What that means is in the first 5 overs, batters are encouraged to smash the first deliveries as much as possible. This makes the Hundred games exciting right from the get-go.
There is only one tournament that uses this format of cricket, called The Hundred.
---
Compare the Best 10 Cricket Betting Sites in the US
| 🏏Cricket Betting Site | 🇺🇸 Legal States | 💳Banking Options | 🎁Welcome Bonus | 💵Minimum Deposit |
| --- | --- | --- | --- | --- |
| DraftKings Sportsbook | AZ, CO, CT, IL, IN, IA, KS, LA, MA, MD, MI, NH, NJ, NY, OH, PA, TN, VA, WV & WY | Bank cards, Play+ Prepaid, DraftKings Gift cards, bank transfer, PayPal, prepaid card | 20% first deposit bonus match up to $1,000 and $50 free bet | $5 |
| BetMGM Sportsbook | AZ, CO, DC, IL, IN, IA, KS, LA, MA, MD, MI, MS, NJ, OH, NV, NY, PA, TN, VA, WV & W | Bank cards, Neteller, Bank wire transfer, ACH/E-check, Apple Pay, PayNearMe, BetMGM Gift Card | Up to $1,000 Paid back in Bonus Bets on first wager losses | $10 |
| Caesars Sportsbook | AZ, CO, IA, IL, IN, KS, LA, MA, MD, MI, NJ, NY, OH, PA, TN, VA, WV, & WY | Wire transfer, PayPal, ACH, bank cards, PayNearMe, cash at cage, online bank transfer, Caesars Play+ Prepaid Card | Up to $1,250 back as bonus bet if you lose your first bet, 1000 Caesars Rewards Tier Credits, and 1000 Reward Credits | $10 |
| PointsBet Sportsbook | CO, IL, IN, IA, KS, LA, MD, MI, NJ, NY, OH, PA, VA & WV | Bank cards, PointsBet prepaid card, ACH/e-check, online banking | 5x$50 Second Chance Bets (i.e., $50 every day for five days, giving a $250 total) | $5 |
| BetRivers | AZ, CO, IL, IN, IA, LA, MD, MI, NJ, NY, OH, PA, VA & WV | Bank cards, pay with cash, BetRivers Play+ card, Apple Pay, Venmo | 2nd Chance Bet up to $500 ($100 in NY) | $10 |
| FanDuel Sports | AZ, CO, CT, IL, IN, IA, KS, LA, MA, MD, MI, NJ, NY, OH, PA, TN, VA, WV & WY | PayPal, ACH/eCheck, bank cards, Venmo, online transfer, PayNearMe, cash | $1,000 No Sweat First Bet | $10 |
| Betway | AZ, CO, IA, IN, NJ, OH, PA, & VA | Google Pay, bank cards, PayPal, PayNearMe, ACH | $250 bonus bet | $10 |
| Unibet | AZ, IA, NJ, PA, VA | Bank cards, PayNearMe, Play+, PayPal, VIP preferred, Online banking | $250 second chance bet | $10 |
| WynnBET | AZ, CO, IN, LA, MA, MI, NJ, NY, TN, & VA | ACH/E-Check, bank cards, online bank transfer, cash at casino cage, PayPal | Bet $100 get $100 | $10 |
| Borgata Sports | NJ | PayPal, ACH/E-check, PayNearMe, VIP Preferred, Skrill, Borgata Play+ prepaid card, bank transfer, bank card | Bet $20 get $100 free bet with GUSA Code | $20 |
---
Cricket Betting Promo Codes
With US betting sites focusing on popular sports leagues like the NFL, NBA, Champions League, NHL, and MLB, to promote their brands, finding specific cricket betting promo codes isn't easy. Instead, you're left with general bonuses like the odds boost, parlay boosts, and referral bonuses to get rewards on cricket betting, as cricket online is growing but is not yet established.
Nonetheless, it's common to find some cricket-specific bonuses during significant events like the Cricket World Cup or ICC T20 World Cup.
The cricket betting bonuses we've come across on various top betting sites usually include any of the following:
---
Cricket Betting Sites Rating Process: Aspects To Look For
When picking your best cricket betting site, you can focus on the same areas we consider, such as:
Odds Offered by Sportsbook
When selecting a cricket betting site, comparing the odds from various sites will help you find the best. The odds on a cricket match refer to the possibility of an outcome and indicates your chance of winning a bet.
The odds on the exact match will vary depending on the betting site you select, and it's possible to get the best odds on an IPL match on BetMGM sports today, while BetRivers may have the best odds for the next IPL match on the schedule.
Seasoned bettors can determine the best odds immediately, but we always encourage readers to use online cricket betting odds calculators for accurate profit estimates. With an odds calculator, you can provide your stake and the cricket match odds and then calculate the potential payout.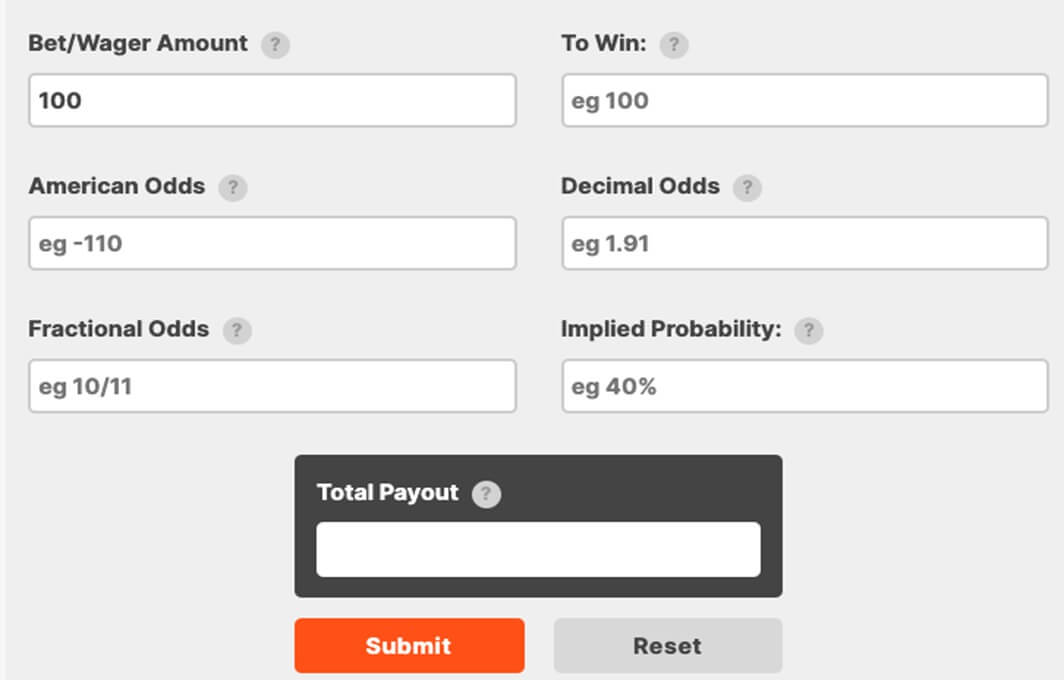 To ensure you always get the most profitable outcome, we recommend you use our list as a guide for online cricket betting sites to consider and compare the odds from all sites for each game.
Payment Methods
US cricket betting sites offer various payment options to bettors, and the best sites have four or more payment options. The standard payment options are trustworthy and easy to use, and they include the following:
Among those listed, bank cards are the most widely accepted in the US. However, we recommend sites offering PayPal payment (or other e-wallets) due to its convenience and ease of use.
Safety
The iGaming market is susceptible to scams perpetrated by what we refer to as 'rogue' sites. Thankfully, the US has tighter control over online gambling activities through state-sanctioned regulators like the Indiana Gaming Commission, Michigan Gaming Control Board, and the New Jersey Division of Gaming Enforcement.
If you decide to place a cricket sports bet, we recommend you use the links to sites we provide on our page. These sites are recognized and licensed by regulators in the US and have been tested by our experts and other US cricket bettors.
Market Depth
The best US betting sites have excellent market depth in addition to being competitive. This means they allow you to bet on many sports and include several leagues for each sport.
For the sites we picked for cricket betting, you can place bets on the ICC T20 World Cup, IPL, The Ashes, The Hundred, Twenty20 International, World Cup, and Vitality T20 Blast.
Bonuses
Cricket bonuses are crucial for a boost in your bankroll, and they also give you a chance to test the quality of a site's services while minimizing your exposure. For the cricket betting sites in the US, the most common bonuses are the welcome and other general bonuses like Parlay bonuses, profit boosts, and more.
---
Getting Started with Cricket Betting Online
Setting up an account for cricket betting on any sportsbook is a straightforward process that will take less than ten minutes. Depending on the option you select, you can start by downloading a sports betting app with these steps:
Visit the sportsbook website and search for a Google Play or App Store download link (usually at the bottom of the home page).
Click on your preferred choice to be redirected to the app download page.
Tap the download button and follow the prompts to install the app on your mobile device or tablet.
With your app set up, you can now register for an account on the sportsbook. These steps apply to mobile and web app users, and they're easy to follow:
Launch the betting app or open the official website using our links.
Click/tap on the Sign-Up/Join Now/Register button on your screen.
Provide the essential details like your name, DOB, SSN, email, password, and bonus code (if applicable).
Complete the verification process to gain full access to the sports betting services.
Follow the instructions to claim your welcome bonus – you can do this by making a minimum deposit using one of the banking options available.
Start betting on your favorites in any cricket match.
The same sign-up process can be completed online at the sportsbook. As soon as the money is in, you can visit the Cricket betting tab, pick your market, select the odds, and lock your bet.
---
Cricket Betting Odds
Betting on any US sportsbook works in the same way. You predict the outcome of an event (usually in sports), place a wager, and wait for the outcome. If the outcome matches your prediction, you win the bet but lose the bet and the amount wagered if the outcome differs.
Sportsbooks offer different odds to determine how much you win from a bet. For the American odds, a negative (-) odd represents the favorites to win a match, while the positive (+) odds represent the underdogs.
With the – representing the stronger team, sportsbooks usually offer payouts for wagers on these teams. However, since everyone likes an upset (which occurs occasionally), the + odds typically provide a much better payout.
For example, in a cricket match between the Delhi Capitals (+110) and Mumbai Indians (-140), if I bet $100 on the favorites, I will win $71.43 for a $171.43 total payout. However, if my research shows a high probability of the underdogs coming out on top, I can get a profit of $110 and a $210 total payout with the same $100 bet.
---
Cricket Betting Types
Betting on the winner or loser in a match is the most common form of sports betting, but many more options are available nowadays. To simplify these further, we've separated the beginner and expert bet types available in crickets.
Best Cricket Bets for Beginners
For beginners reading this guide, the best way to start is through the bet types listed below. These options are low risk and low reward but offer excellent opportunities to test your strategies and grow your bankroll.
Moneyline
Every beginner starts betting using the moneylines or match betting option, which lets you bet on the team to win, the team to lose, or a draw at the end of the match. In some cases (usually sport-dependent), Cricket betting apps may also include the option to bet on a team to win or draw, which we call a double chance.
Over/Under Bet (Totals)
Moving on to the next beginner-friendly bet type, we have the totals. In this case, your goal is to predict the total number of runs both teams will have at the end of the match. The sportsbook will list the total number of runs according to their analysis, and you have to determine if the teams will have more runs (Over) or fewer runs (Under) at the end of the match.
Props Bet
The props or proposition bet is popular amongst bettors since it doesn't depend on the game's outcome, and you have so many options. You can bet on things like Virat Kohli to score 100+ runs, MS Dhoni to take the first Wicket, the top batsman for a team, the man of the match, top bowlers, and more.
In addition to these three, you can also find a futures betting option that allows you to place bets on matches that will take place much later.
Betting Options for Cricket Experts
To consider yourself a cricket betting expert, you should have a decent bankroll and a clear idea of how to find minor changes that can affect the outcome of a game. Once you have the right skill, you can then move on to riskier but more profitable betting options, such as:
Parlays
A parlay is a bet that combines multiple wagers into a single bet to boost potential winnings. You can have a parlay of 2-legs or more, but you must win all legs to get your payout from the parlay bet.
There are several types of parlays, such as the same game parlay, round robins, and teasers. Trying out a same-game parlay is an exciting option for cricket bettors since you can access numerous prop bets, match props, moneylines, and more.
Same Game Parlay
This is a parlay bet in which all the outcomes you select are from the same game. So, you can pick a match bet, player prop, and match prop from a game between Pakistan and New Zealand to form a same game parlay.
Round Robin
The round robin is a unique type of parlay that consists of multiple parlays on the same bet slip. In this type of parlay, it is possible to lose a leg and still be profitable at the end of the parlay.
A round robin can involve three or more team selections, which determine if you get to bet on four unique two-team parlay or six unique two-team parlays.
Cricket Moneylines Vs. Parlays
So we tested the Parlay bet on BetMGM to show how much you can make as an expert.
First, we selected two IPL matches on the schedule; a game between the Chennai Superkings (-120) and Rajasthan Royals (-120) and another between the Kolkata Knight Riders (-125) and Sunrisers Hyderabad (-100).
With $100 to bet, we can split it into two straight bets; one for the Chennai Super Kings to win (potential $91.67 payout) and another $50 on the Kolkata Knight Riders (potential $90 payout) for a total of $181.67 if both teams win.
On the other hand, by placing a $100 parlay bet, we lock in our stake for a $330 potential payout from the same picks, giving us a profit difference of over $140 – which is why cricket betting experts love parlays.
Cricket Live Betting
The live betting or in-play betting option for cricket is an indispensable betting market since so many options are available to you. Although most sites close the top bowler markets once a game commences, you still have a chance to access the top betting markets, over/under options, props, and more.
On some US cricket betting sites, you can find live streaming services as an addition to the in-play betting option. However, many betting apps like PointsBet, BetMGM, DraftKings, and Caesars focus on providing a play-by-play animation with match statistics you can follow.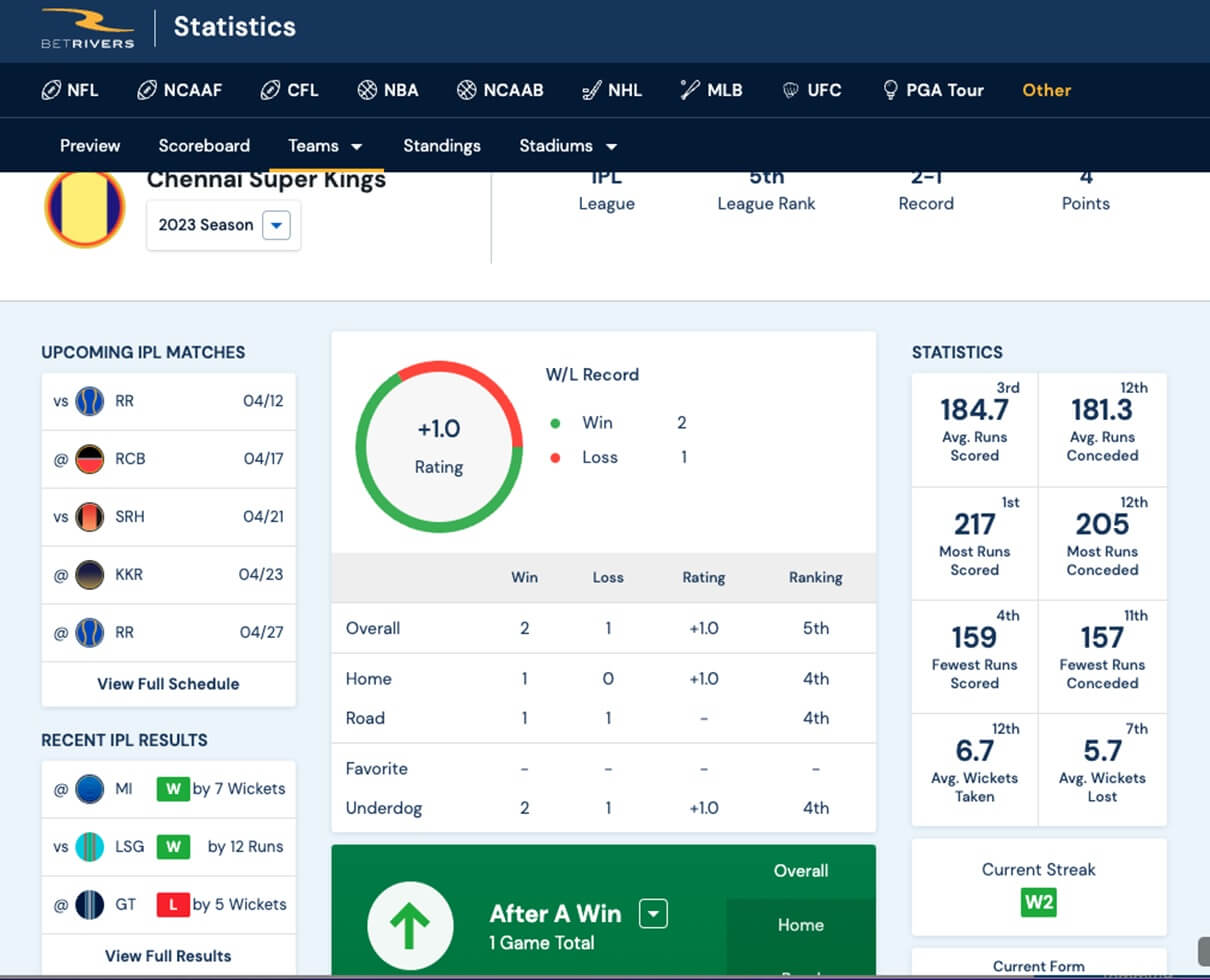 ---
Importance of Finding the Right Cricket Betting Site
With an estimated 2.5 billion fans worldwide, it's becoming more and more difficult for top sports bettors to ignore the limitless opportunities to take profits from online cricket betting legal sites. As one of the few taking a step into this market, you need the right cricket betting site to support you to ensure you're truly on the winning side.
US betting sites provide support through several means, including bonuses, live streaming services, in-play betting options, and competitive odds.
In creating this guide, we've deposited funds and tested the betting markets on the top betting sites in the US and have handpicked the best sites for you. While we do our best to guide you, it's up to you to make the final decision.
If you find out any of our top picks matches your needs, you can sign up using the links we provide.
---
FAQs
Is there any trick to understanding cricket betting odds?
The cricket betting odds are like the odds on any other sport. You have the favorites and underdogs, and you can view the odds in the American, Decimal, or Fractional formats. To get better at reading odds and estimating your payouts, use an odds calculator and use odds values from sportsbooks for payment estimates.
Is there a smart way to bet on cricket?
Yes, you can follow several smart tips to improve your cricket betting activities. One of these is to focus on a team and study its records. Unlike other sports with several teams, only a few teams and countries participate. Currently, the International Cricket Council (ICC) has only given 12 teams the Test status (so finding one team to study shouldn't be difficult). Also, bankroll management and comparing odds are essential.
What strategies should I use to boost my profits on cricket betting?
The first strategy we recommend is constantly comparing odds from various betting sites. There is no best site for betting, so you must have at least three top sites you visit regularly. Another tip is to learn more about the sport if you're a beginner since you'll come across unique prop bets like the Method of 1st Dismissal, Century Scored, 1st Wicket Caught, and more.