Gamble USA strives to improve your online gambling experience. We aim to help you play safely, make informed decisions when gambling, and increase your betting knowledge through our guides.
We adhere to strict editorial integrity; our content may contain links to products from our licensed & legal US partners.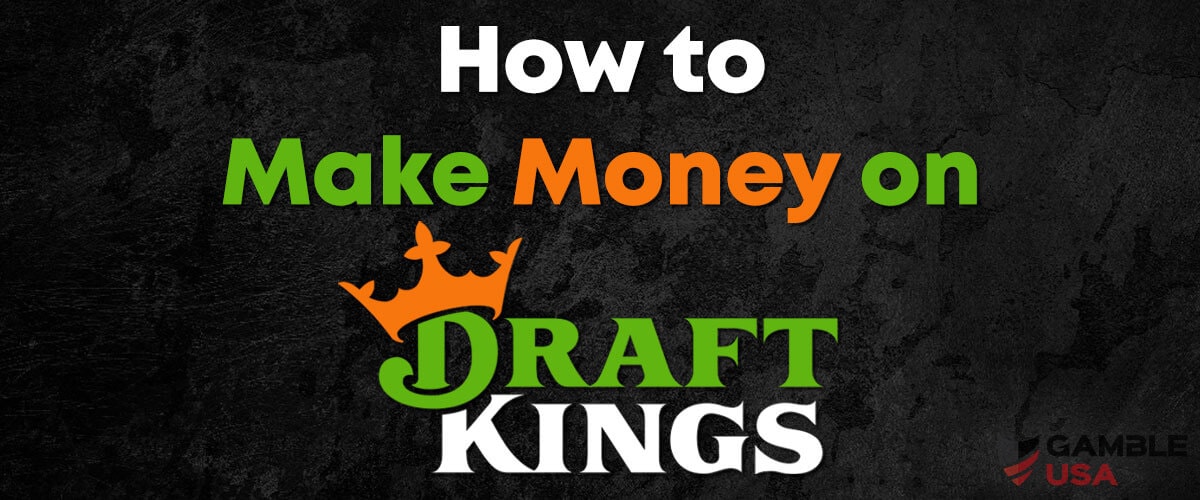 DraftKings is an American fantasy sports and betting company that was founded in 2012. Due to many reasons, DraftKings is now one of the leading sportsbooks in the USA. With one of the best online sportsbooks, casinos, and DFS sites, it's easy to see why people are choosing DraftKings over other sportsbooks.
DraftKings is based out of Boston, Massachusetts. Major League Baseball was the first professional sports in America to invest in DraftKings during 2013. When that happened, the company became one of the more known betting options in the world.
Since the repeal of PASPA in 2018, DraftKings Inc has jumped to the top of the ranking for US online sportsbooks. Alongside FanDuel sportsbook, it is well known for being a leading DFS platform, as DFS players look for contest entry options to set their lineup and compete against other players. It has since grown to become a fully fledged sportsbook offering numerous bet types on NFL week games and other major domestic and international sports. A DraftKings online casino is also now available in some states. Since it has grown in popularity, many bettors are now wondering how to make money on DraftKings.
Making money on DraftKings Sportsbook has never been easier for USA players. Continue reading below and learn how to make money betting on DraftKings from our guide. Whether it be sports betting, or daily fantasy sports, DraftKings sportsbook has ways for you to profit.
Up To $1,000 Deposit Bonus
21+. T&C Apply
21+. T&C Apply
The best sportsbook
Amazing odds & offers
Awesome betting app
How Does DraftKings Work?
Before we get into how to how to win money on DraftKings, let's look at how the site functions. DraftKings Sportsbook launched in New Jersey on August 1, 2018. When it opened in New Jersey, it became the first company to offer legal mobile and online betting. This was after the overturn of the Professional and Amateur Sports Protection Act.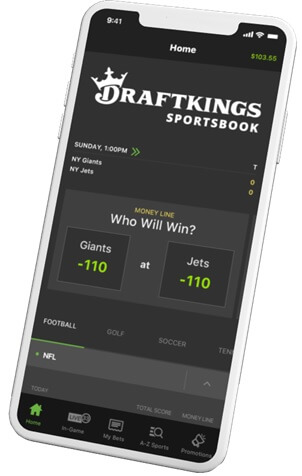 Since then, DraftKings Sportsbook has quickly become one of the best sportsbooks in the United States for various different reasons. They are one of the safest and most legit sports betting operators available in the US.
Not only do you have the option of using what most sportsbooks have in terms of moneylines, spreads, and over/unders, but DraftKings has parlays, same game parlays, alt spreads, alt over/unders, and many more excellent features. Each of these DraftKings bets is a way to make money online.
Same game parlays have been used on DraftKings a ton in the past few years. It allows users to bet on multiple things throughout the same game in one big parlay. For example, DraftKings will allow you to take the Milwaukee Bucks to beat the Detroit Pistons by -7.5, Jrue Holiday to have a steal, Cade Cunningham to have over 25 points, and Khris Middleton to have two threes for +500 odds.
DraftKings also has a great live betting section, which means if you didn't get your bets in before the games, you can now still bet on the game. This could be perfect for you if you are hoping that your favorite team is losing early on and you can get them for better odds. Making in game money has become a very popular choice for sports fans.
One of their best live betting features is their flash bets. This allows you to bet on any game in real-time and bet on the next outcome of whatever you would like to put money on. For example, if Aaron Judge of the New York Yankees is up to bat and you think he is going to get a hit, DraftKings will allow you to bet on that.
Cash-out features are also a thing that DraftKings does better than most other sites. Early cash-outs are typically given to you if your team is winning and you want to make sure you secure some profits. If you hit four out of five legs of a parlay, they might be giving you more than half of your possible winnings with a cash-out.
Betting Tips to Make Money on DraftKings
There are a few different ways that you can make money on DraftKings sportsbook but the best thing to do is always to be safe and never bet money that you aren't afraid to lose.
Another big thing is to make sure that your bet will have a good potential payout. If you put $100 on a game with -250 odds, it does not make too much sense because you will hardly be winning. Try to keep your odds below -190, and if you can't do that, create a parlay.
When starting off, it is probably best to make sure that you are trying new things out. Put a couple of dollars on spreads, moneylines, over/unders, and see which one is working best for you. There are many options out there to learn from and doing so is going to make you more money down the road.
Avoiding big parlays is something new bettors should do. Parlays are always going to be intriguing because of the potential payout, but at the end of the day, these bets are often tougher to hit than winning the lottery. If you are going to bet parlays, try to keep it to just two-four legs and be safe. Although it isn't going to give you the type of money that a 10-leg parlay would, winning something is better than nothing.
Don't put all your eggs in one basket. If you have a game you really like, throw a few units on it, but don't put every single dollar that you have in your account on the game. Sports betting is tricky because if a player gets hurt in a basketball game like LeBron James, the Lakers likely aren't going to win and now your ticket is done.
Try to avoid betting on too many games. Typically, it is best to find a few games that you like. If there are 16 MLB games, take four or five of those and bet them, not 10. It might seem easy to win most of those bets, but you likely won't find long-term success betting like that.
States You Can Make Money on DraftKings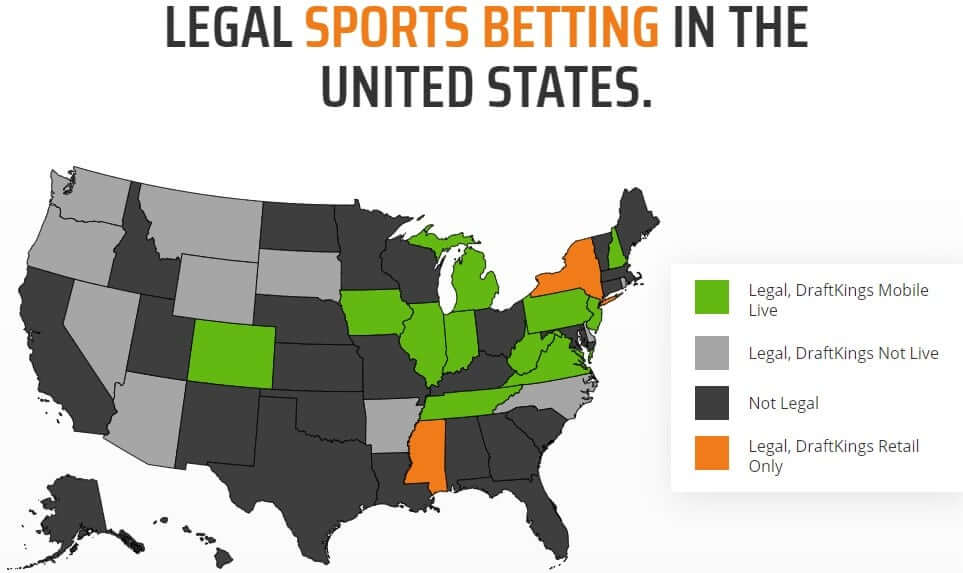 DraftKings is available to users in plenty of states right now. One thing to keep in mind is that you do not have to be a resident of one of these states to place a bet, but you must be located in the state at the time of your bet. This means that if you are traveling to Arizona but you are from a state that does not allow sports betting, you can still place a bet on your favorite team in Arizona.
DraftKings Sportsbook states include Arizona, Colorado, Connecticut, Illinois, Indiana, Iowa, Kansas, Louisiana, Michigan, New Hampshire, New Jersey, New York, Oregon, Pennsylvania, Tennessee, Virginia, West Virginia, and Wyoming. DraftKings has also made its way to Ontario, Canada recently. Keep in mind that although all of those states listed above are allowed to use DraftKings, some states have different policies about what you are able to do on the betting app.
Tips to Get Started with DraftKings
Let's take a look at some tips for new users getting started on DraftKings.
Register Online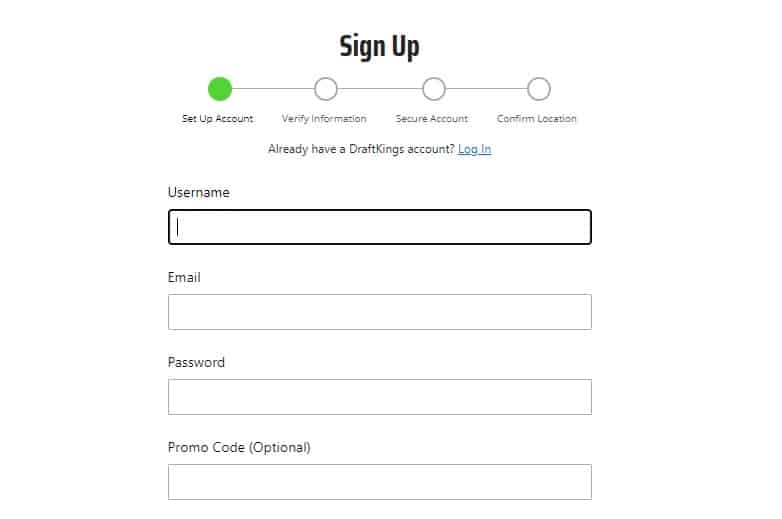 Starting a DraftKings account is easier than on most other sportsbooks. A lot of other sportsbooks take time to register, but DraftKings is somewhat easy and all you need is a few simple things. To get started using DraftKings, you will need a username, a valid email address, and a password. Then you will need your full name, your home physical address, and your date of birth. You will also have to give your telephone number and social security number.
There are some instances where you will be asked to upload your state-issued identification card.
Registering for the DraftKings Sportsbook is simple, and you can also download the DraftKings app and get started with your mobile. Once complete, you can benefit from a guaranteed prize pool if you want to play in DFS contests.
Up To $1,000 Deposit Bonus
21+. T&C Apply
21+. T&C Apply
The best sportsbook
Amazing odds & offers
Awesome betting app
Deposit Money
There are a few different ways that you will have an option to deposit money into your fantasy sports, sportsbook, or DraftKings casino account. You will be able to use online banking, debit and credit cards, electronic gift cards, DraftKings gift card, and PayPal. This makes it easy for anybody all over the world to be able to deposit money into their DraftKings account. One thing to remember here is that if you are using an American Express card, it will not work for the sportsbook or casino.
Once you put your money into DraftKings, if you have enough in your bank account or other forms of payment, it will go right into your account in a matter of seconds.
Claim the DraftKings Bonus
One of the reasons why DraftKings is one of the best betting sites in the United States is because of their bonuses. DraftKings doesn't only have bonuses for new users, but even existing customers.
DraftKings is currently offering a special promo offer, which is a sportsbook match up to $1,000 for new users.
The $1,000 bonus is a DraftKing promotion that is offering 20% of your initial deposit. This means if you added $5,000 to your account, you would receive 1,000 dollars. This is essentially a welcome deposit bonus offer.
Claiming the bonus is as easy as it gets. All you will have to do once you create your account is to go over to the promotions tab and opt-in. Remember to make the deposit right after you opt-in so you can be sure that you will be awarded the bonus.

Claim your DraftKings bonus here as a new player, and become a DraftKings VIP! There is no DraftKings promo code required to claim this offer.
Making Your Sports Selection
Making your sports selection can be easy and you should typically stay within the sport that you are most knowledgeable about. If you are an expert on the NFL, try to bet mostly on the NFL. Other sports markets covered at DraftKings and offering real money winning chances include:
In order to make your sports betting selections, you have to understand the different types of betting markets. Most bets that people make are either spreads, over/under, and moneylines. Moneylines are the easiest to understand. If you place a wager on a team to win and they win, you will win the bet. An over/under will have a certain number of points/runs. If the over/under is set at 7.5 and they score eight runs, your bet will hit if you took the over. If you're betting on a spread, you have to cover whatever line you take. Spreads can be set at any number by the book. If you take +7.5, your team can loss by seven points/runs.
Placing Your DraftKings Bet
Placing a bet on the DraftKings Sportsbook is simple. To place a bet, find the game or event that you would like to bet on and add it to your bet slip. Once the game has been added to your bet slip, you will have an option to bet on singles, parlays, and round robins. You can then enter the amount that you want to wager and it will give you the potential payout. If you bet 25$, it will tell you your full winnings, if you bet only $1, it will still tell you your potential winnings.
For example, you might want to place money on the New York Yankees and they are +100 on the Moneyline. This means if you placed only one bet and it was on the Yankees, you would win double what you put in. A $100 dollar bet would allow you to win $100 dollars.
A spread bet is often the most used one for experienced bettors and people that have been around for longer than new users. There are point spreads in many different sports, the MLB, NFL, NHL, NBA, and most other professional sports. If you bet on the Buffalo Bills to win by -7.5 points, they would have to win by eight points for your bet to win. If you put money on the Miami Dolphins +8.5, the Dolphins can lose by eight points and you would still win your bet. DraftKings sportsbook also has alternate spreads, meaning you can take the Miami Dolphins for +11.5 and give yourself some leeway. Keep in mind, however, that if you use the alternate spread, the odds are going to be lower.
Over/unders have become popular recently, mostly in the MLB, NBA, and NFL. These types of bets are for a game and it will have a number of points or runs that the game can go over or under. If the Chicago Bulls are playing the Brooklyn Nets and the over/under is slotted at 224.5, if you bet on the over you would need it to go over 225-plus, and if you took the under, you would need it to go under 224 points. Over/unders are not the easiest things to bet on, but some find more success with them than other bets.
Knowing how the DraftKings bets work can help you make money easier on the book. Once you have everything that you wanted set up in your slip, you simply click place bet to lock it in.
Best Bets to Make Money on DraftKings
There are a few ways to make money on DraftKings. The best way to do so is to create a parlay and hit big on only a couple of dollars. You can be smart with it too and take some huge favorites because it will still add up to you making a killing. If you are also a fantasy football lover, DFS might be for you.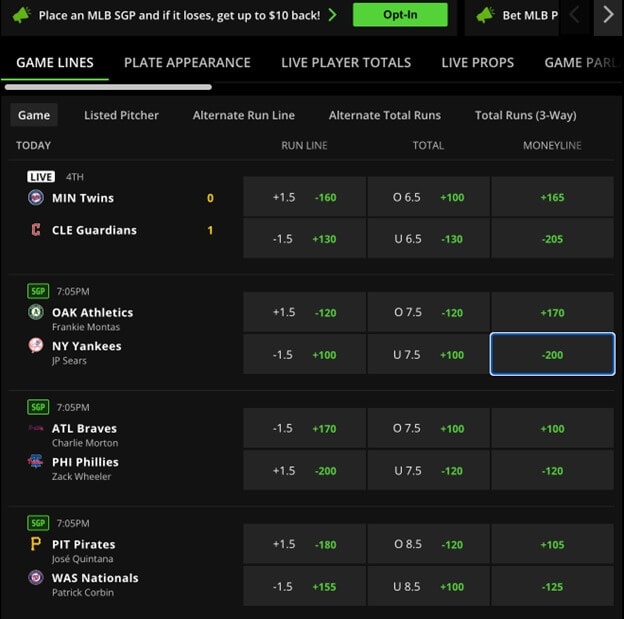 If we had a parlay that looked like something like this, it would pay out big:
New York Yankees Moneyline -200
Toronto Blue Jays Moneyline -140
Houston Astros Moneyline -120
Texas Rangers Moneyline -155
Los Angeles Dodgers Moneyline -215
With this type of parlay, you would have +1036 odds. This means that for only $10, you would have a total payout of $113.63.
There are a few other options and some have high risk, while others have low risk. For example, if we wanted to do just the Dallas Cowboys Moneyline for -250 odds, this means that we have a better chance of hitting the bet, although the payout wouldn't be as large.
There are a few other ways to be smart but also win big. For example if you took two teams that have -200 odds, you would still have +125 odds. This is typically a way that people find ways to make money. It seems tough because you still need to win two games, but it is not too hard and typically can be profitable if you don't go overboard.
Parlays aren't the easiest to hit because all five of those games would have to win, but if you are looking for some excitement and want to hit big, it is your best option.
Up To $1,000 Deposit Bonus
21+. T&C Apply
21+. T&C Apply
The best sportsbook
Amazing odds & offers
Awesome betting app
Withdraw Your Winnings from DraftKings Sportsbook
Withdrawing your winnings from DraftKings Sportsbook has never been easier. Some other sites only allow you to have a check sent to your address, but not DraftKings.
DraftKings has many options to withdraw and it is simple. All you have to do is log into your DraftKings app, go to your profile, scroll down and tap withdraw, enter the amount you want to withdraw, click continue, select how you want to receive your funds, then boom, it is ready for you.
Users have the option to be paid by PayPal or a check, among other options. If you are using a PayPay account, remember that you need to have a verified bank account associated with your PayPal account or an existing PayPal balance on file.
If you select an check, DraftKings will mail you a check to the exact name and address that is associated with your account.
FAQ's
How much money can you make on DraftKings?
This all depends on how much money you are willing to bet, your knowledge of DraftKings DFs fantasy players and how competent you are at sports gambling. The best way to make money on DraftKings is going with a sport or contest you have a lot of knowledge about. Whether you want to play fantasy sports or bet on the NFL college football, NBA the World Cup or NHL, it is important you develop a strategy to make some long term profits. For example, if you are new to betting, jumping with player props wagering on Tom Brady or a wide receiver to go over a certain amount of yards probably isn't the best decision.

Take a look at the betting options we have mentioned above and ease yourself in. Once you get used to how the DraftKings online sportsbook works, you can begin to build your bankroll. You may also then feel confident about entering tournaments or any contest offering a cash prize on the platform.

In terms of how much you can win on Draft Kings, well, if you bet enough and have a solid betting system, the sky is the limit. You can also collect dynasty rewards as part of the loyalty program to win some impressive cash prizes and VIP trips. So, if you are wondering, can you make money on DraftKings, the answer is most definitely yes.