Gamble USA strives to improve your online gambling experience. We aim to help you play safely, make informed decisions when gambling, and increase your betting knowledge through our guides.
We adhere to strict editorial integrity; our content may contain links to products from our licensed & legal US partners.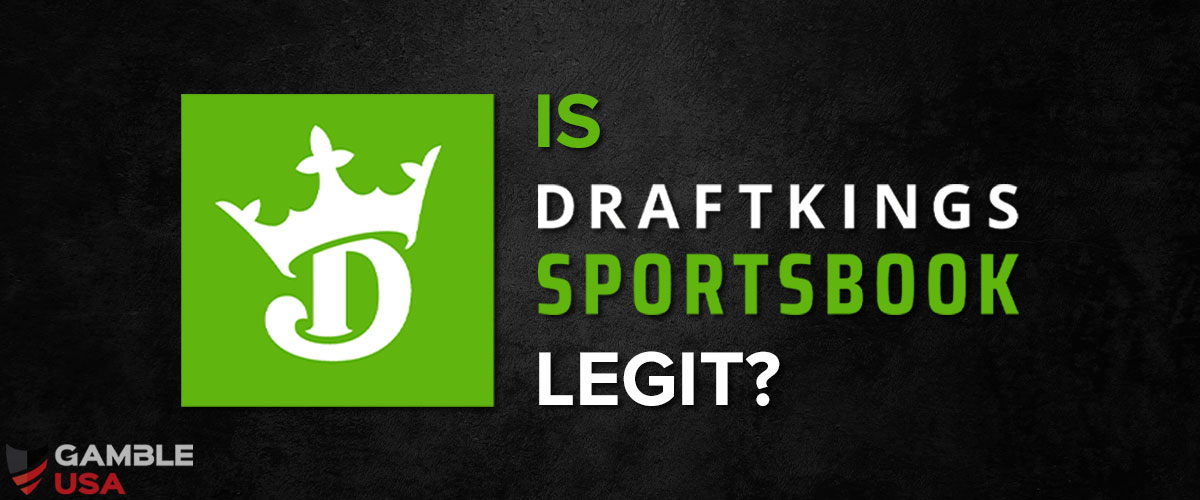 A lot of people are asking the question of whether or not the DraftKings Sportsbook is legit because, frankly, it sounds too good to be true. Can you win money online from your phone without going into a casino? Sounds like a scam, but it's not.
The DraftKings Sportsbook is one of the best online casinos and sports betting sites in the industry and allows users in legal and sanctioned states to place wagers online. The DraftKings Sportsbook is much safer and 100% legal, unlike other websites like Bovada and BetOnline.ag which should never be used.
DraftKings started life as a daily fantasy sports platform and has grown to become a giant in the online sports betting market. Read any DraftKings sportsbook review and it will confirm why it is so popular, from attractive bonus bets to an excellent sports betting app and more. Most importantly, it is an entirely safe and legal platform for bettors to enjoy wagering without worrying about being scammed.
Up To $1,000 Deposit Bonus
21+. T&C Apply
21+. T&C Apply
The best sportsbook
Amazing odds & offers
Awesome betting app
Is DraftKings Sportsbook Really Safe?
Yes! The DraftKings Sportsbook was created by the daily fantasy sports betting platform that started by offering daily fantasy football with the same name. The DraftKings website and app (which are much better than so many apps) are a top-tier sports betting app and site that has millions of happy sports bettors around the world.
The DraftKings mobile app and sportsbook have partnerships with huge casinos and betting markets like the UFC, for which they are the official sportsbook. If this isn't enough, they are constantly being independently tested by members of state legislation to ensure fairness and safety for their citizens and constituents.
Can DraftKings Scam Players?
Like all sports betting sites, you should be wary of places trying to scam you for your money, especially on the internet. Many people worry about whether or not betting sites are fair and regulated because their money and bank account information is at stake.
The risks make users ask questions, which they should! The following questions will help you determine whether or not an online casino or sportsbook is a scam or legit.
Is the sportsbook legal and licensed in my state?
Do I have to prove my identity with a driver's license or social security number?
Does it have a land-based or credible partner?
As I've mentioned above, the DraftKings Sportsbook is licensed and regulated in every state that allows sports betting. It requires you to prove your identity, verify your age, and track your winnings for tax purposes. DraftKings also has several land-based casino partners with brick-and-mortar DraftKings Sportsbooks inside different live casinos around the country. If you're using betting sites that do not have these three things, be very careful about signing up.
DraftKings Sportsbook Overview
As I mentioned in this DraftKings review, the platform originated as a daily fantasy sports betting site in 2012 that mainly focused on fantasy football. After rapidly growing to several other fantasy leagues as their popularity expanded around the country, they were one of the most prominent voices in the country for legalizing online sports betting and casino games.
When online gaming was legalized on a federal level in 2018 in the United States, state governments around the country started working towards legalizing online gambling to open up the space and cash in on one of the world's oldest industries. During this process, DraftKings was working just as hard to get licenses and work with gaming commissions to provide better odds and a correctly run desktop site for their users' benefit.
Up To $1,000 Deposit Bonus
21+. T&C Apply
21+. T&C Apply
The best sportsbook
Amazing odds & offers
Awesome betting app
Licensing by State
The DraftKings fantasy sports platform legally operates in 45 states around the United States, excluding Montana, Idaho, Washington, Nevada, and Oregon. The DraftKings sportsbook currently operates in over 17 states online and the DraftKings casino can be played in five states, including Michigan, Pennsylvania, New Jersey, West Virginia, and Connecticut. Here customers can play awesome casino games like blackjack games or roulette.
The sportsbook is currently licensed by:
DraftKings Ohio is expected to go live on January 1, 2023.
Independent Testing
The commissions and organizations above regularly audit DraftKings through independent testing on their random number generator for casino games. The random number generator, or RNG as I will call it, is the software that determines winners in their online casino games.
These commissions test this software for irregularities to ensure fairness by checking their average rate of return to player percentage, or RTP. The state independently licenses the developers of this different software before being used by each online sportsbook, which means that the software that the DraftKings Casino and Sportsbook uses precedes DraftKings itself. The tests are regularly conducted, to ensure that DraftKings continues its commitment to responsible gambling practices and excellence.
DraftKings Investments and Stock Value
DraftKings is a publicly-traded company on the stock market in the United States and was founded in Boston, Massachusetts, by Jason Robins and Matt Kalish in 2012. They were backed and funded by several venture capital firms over the years until the mighty Disney invested $250 million into the company because of its future as a sports betting site. The current price of DraftKings stock is $11.61 a share.
Although money doesn't mean legitimacy, the fact that Fox Sports, Disney, and other independent companies have invested in DraftKings shows that it is as legit as an online gambling company can be. With new USA offices and continuing expansion to new states, DraftKings appears to be the most trusted operator in the US market.
Betting on DraftKings vs. Offshore Sportsbooks
The difference between legal and offshore betting sites is that the legal ones are licensed and regulated by local state gaming commissions to ensure that everything is on the up and up. Offshore betting sites are not regulated and can steal your data, withhold your winnings, and trick you into a substantial initial deposit because of bonus offers that aren't as advertised.
Here is how to spot legal from offshore sports betting services to ensure you're using a secure and legal sports betting site:
Official license by each state authority they operate in indicates a legal US sportsbook
Partnership with retail casinos to seal their presence in the state
A betting or casino app available to download from Google Play or App Store
Safe and secure banking options
Fair and clearly displayed terms and conditions
Software providers that are licensed to operate in the US
What about DraftKings Casino being rigged?
$50 Casino Credits + $2,000 Bonus
Excellent mobile app
User-friendly design & games
$50 Casino Credits + $2,000 Bonus
Online casino games such as blackjack and roulette are decided by the random number generator (RNG) software that fairly determines winners based on completely random outcomes. This is regulated by third parties regularly auditing this software to check for irregularities in the return to player winnings.
The method above is also implemented into the DraftKings online slots and other online games for money to ensure fairness.
DraftKings Casino wouldn't even be able to rig its games, since they are run by the providers powering it. For example, Pragmatic Play, NetEnt, IGT, Relax Gaming, and other such companies would have to manipulate the RTP or RNG to help themselves and DraftKings Casino rig the profits in their favor. Although it could make sense in the short term, the software companies powering DraftKings are the best in the industry, licensed in Europe from the MGA, in the UK from the UKGC, in other countries by Governmental bodies, and in the US by every state's commission. As such, it is unlikely that they would risk everything for some extra profit; especially when they are already making tons of cash.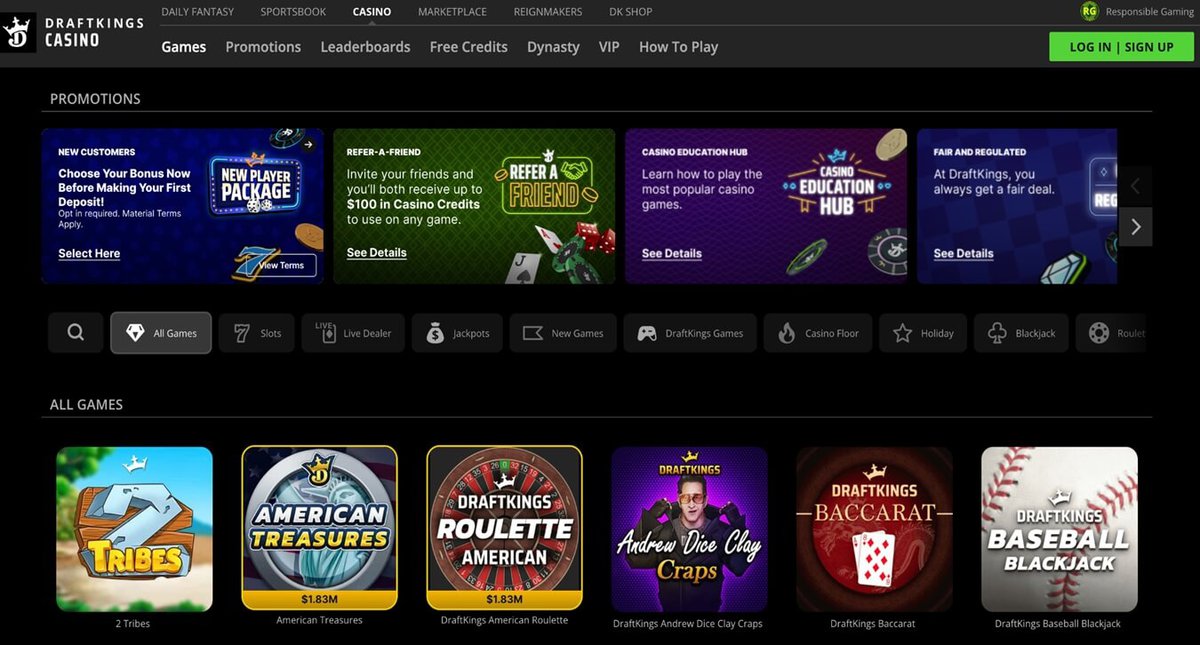 Ecogra, TST, GLI, and other 3rd party labs also run regular tests on the games available at DraftKings Casino, further confirming their safety. And if you are wondering whether a blackjack game or Lightning Roulette is rigged, or other live casino games, Evolution Gaming (who powers DraftKings live casino) is sealed by 50+ independent organizations globally.
DraftKings Reviews by Users: Scam or Legit?
DraftKings is one of the highest-rated sportsbooks in the Apple App Store, the Google Play Store, and Reddit. The app is rated 4.6-stars out of five on the Google Play Store from over 23 thousand reviews by customers who show overwhelming support. Similarly, the app is rated on the Apple App Store with a 4.8-star rating out of five from over 330 thousand glowing reviews.
While these app marketplaces are a good indication of the public's opinion on the DraftKings Sportsbook, I do not think it's the only thing that should be considered.
Reddit has thousands of testimonials on r/DraftKings that discuss the love for the sportsbook and how much money users have been making. It also contains picks and other sports betting tips and conversations that I highly suggest you check out for better betting in your future! You are likely to encounter a negative for every 10 positive DraftKings reviews sealing its safety; I checked 50+ and couldn't find any legit one highlighting malpractices, unpaid winnings, or anything of that sort.
How is DraftKings Legal in the US?
DraftKings is legit and legal in the United States because of federal legislation in 2018 that allowed local governments to determine whether or not their state can legalize gambling. After states started changing their legislation to allow the industry to begin, DraftKings quickly worked to get licenses to be legal and insured in all the states they operate in.
The licensing from the state checks the sportsbook to make sure that it meets their requirements for web security to prevent user information from being stolen; their RTP is accurate to industry averages and ensures user information, so even if it is stolen, you will be covered by your local state government.
Safety Features at DraftKings Sportsbook
DraftKings daily fantasy sports and sports betting website offers some of the best safety features to protect sports bettors in the entire industry. They have 5-star customer service that can set betting limits for days, weeks, months, or years to prevent someone from getting a gambling problem and spending too much on casino games or sports betting.
There are several other sites with this feature. However, the DraftKings Sportsbook and online casino offer several other features to be one of the country's fairest and most popular betting sites. This section of the DraftKings review will discuss their bonus code conditions, algorithms, VIG, betting lines, and casino partnerships.
Promo Code Terms and Conditions
While the DraftKings Sportsbook doesn't have a promo code for their bonus offers, they do offer a bonus amount of 20% on your initial deposit worth up to $1,000. This bonus money allows for more than just one bonus bet and can be claimed by using our link at the bottom of this DraftKings review.
You'll need to make a deposit between the minimum deposit of $10 and the maximum deposit of $5,000. This bonus offer will not allow you to withdraw money that isn't from your actual cash and is not a part of the first bonus. Be sure to read the terms and conditions on the website itself because they can constantly change, and it may have different answers when you're reading this. They display these clearly, ensuring that DraftKings players do not feel scammed. Unsafe and unregulated sportsbooks will lock users' deposited money through unfair terms and conditions and hidden ts and cs; the worst part is that players have nowhere to turn for help.
You can read the DraftKings Sportsbook promo details and the DraftKings Casino bonus terms from our guides to decide whether they are legit and fair.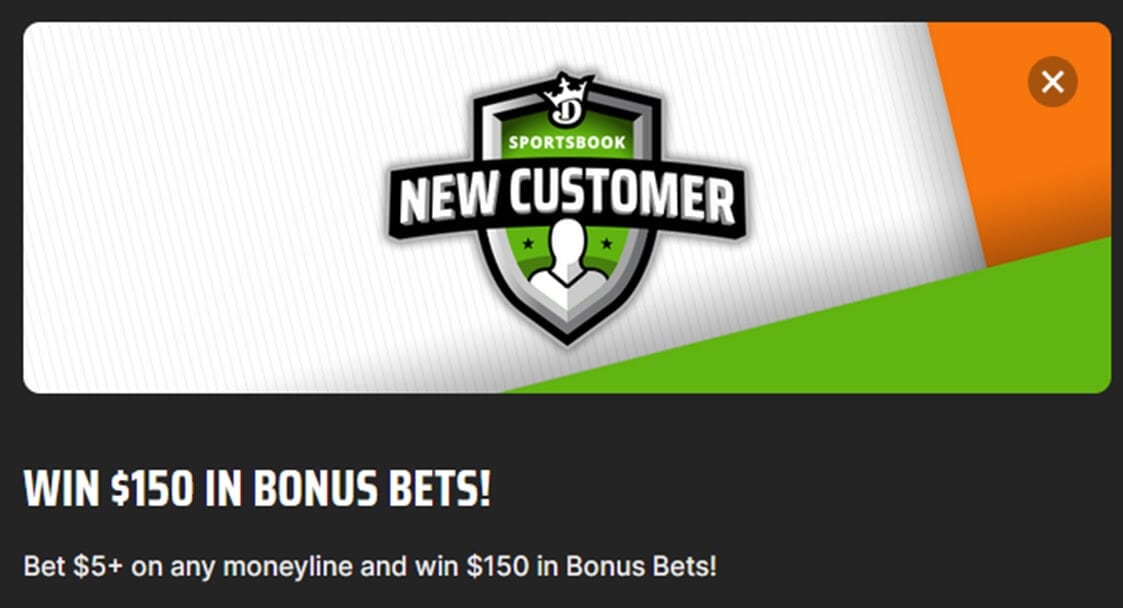 RNG & RTP
As I mentioned above, the RNG, or random number generator, determines whether or not a player wins their casino games. Considering that many offshore online casinos and sportsbooks have taken advantage and gotten in trouble publicly for cheating using this software, DraftKings is audited frequently and randomly to ensure fairness. When the RNG is being audited, auditors check the online casinos return to player winnings for irregularities compared to other sites' averages. Questions like is DraftKings or FanDuel rigged are often cleared this way.
VIG/Juice
DraftKings offers a very industry-standard Vig or juice on their bets which should be considered an entry fee. This is essentially the fee that the sportsbook implements on each bet into their odds to provide a great range of gaming options. For example, if you were to be taking a spread bet on the Denver Broncos, which would be considered an even bet because of the point line given, then the Vig would be -10 because the odds are -110. Rather than being a straight-up +100 for either line, they add the -10 as a fee for taking on the bet.
Operators that are not licensed do not need to be competitive in terms of odds, since they target users where online gambling is illegal. By comparing offshore betting sites lines to DraftKings sportsbook odds, you will notice why betting legally also means better value for your money.
Lines Release
The DraftKings Sportsbook releases its lines on several different betting markets at different times, but sometimes as early as when that event is next up for both teams or athletes. This could mean lines would come out as early as months for sports like boxing or weeks or days for other sports like football or baseball. Thanks to DraftKings MLB, UFC, and NHL partnerships, the lines are more competitive and always released early.
Nonetheless, the lines that are initially released change based on the money bet on the event and other factors such as new injuries, news, and other things like where the sharp sports bettors are placing their wagers. Lines changing is a common practice that every sportsbook does to limit losses, especially in-play betting.
Brick-And-Mortar Casino Partnerships
The DraftKings Sportsbook has several brick-and-mortar locations around the United States. Since they started as a fantasy sports platform, they do not have any locations that are casinos (yet), but they have several sportsbooks in many live casinos all around the country.
Having partnerships with real in-person casinos proves the answer to the question; is DraftKings Sportsbook legit? If it wasn't, brick-and-mortar casinos wouldn't have partnerships with DraftKings to run and operate a sports betting platform in their building, or else that would reflect incredibly poorly on them.
Should you choose DraftKings?
The DraftKings brand has been relentless in its pursuit to become the most popular online sports betting site throughout the United States. Alongside FanDuel, DraftKings is the most recongizable sports betting operator in the US as more and more people look to sign up to the DraftKings sportsbook website when wagering is legalized in their state.
One of the biggest positives of registering at DraftKings is that it caters for all skill levels. If you are a casual bettor who just like placing the odd wager on your favorite team or getting involved in major events, then the DraftKings online sportsbook is one of the best options for you. The free-to-play games and engaging promotions are some of the best in the industry, which is ideal if you are just getting started with online betting.  Additionally, if you already have a DFS account with DraftKings, you can link this with the DraftKings sportsbook so everything is in one place.
If you sign up today, you can claim the DraftKings welcome bonus which gives you $200 in bonus bets. The total package of the opening offer is worth $1,250. This will give your initial bankroll a nice early boost and means you can enjoy your placing your first wager with less pressure.
Summary
Is DraftKings legit? Absolutely, unequivocally, yes. This DraftKings review is about how their online casino and sports betting platform is one of the best and most trustworthy betting websites in the United States.
Seventeen states license the DraftKings Sportsbook through their state gaming commission to ensure safety for bettors' personal information and complete fairness in their betting. The licenses, DraftKings Sportsbook odds, and their enticing promotional offers make the platform one of the most popular betting sites in the country.
If you're thinking about signing up, be sure to get the best DraftKings Sportsbook offers by using our exclusive link here for their welcome bonus. This link will get you a 20% bonus on your initial deposit after signing up for a DraftKings Sportsbook account.
Up To $1,000 Deposit Bonus
21+. T&C Apply
21+. T&C Apply
The best sportsbook
Amazing odds & offers
Awesome betting app
FAQs
What is the DraftKings promo code?
Whether you are playing on the DraftKings DFS platform, the DraftKings sports site or the DraftKings online casino, you may want to know the bonus code to claim the opening welcome bonus. For all Draft Kings platforms there is promo code required to access the welcome package. Simply sign up for a new account and you can claim the bonus offer. If there is ever a DraftKings sportsbook promo code required to claim a free bet or credits, the operator will typically make you aware.
Is DraftKings legal to use?
Yes, DraftKings allows you to bet real money on your favorite sport or play your favorite online casino game on the go with the DraftKings app. The sportsbook and DK casino are licensed in all of the states we have mentioned above in this article. Players in those states can be safe in the knowledge they are protected at all times when using the many features on offer such as live betting, flash bet or playing for DK dollars.
Is DraftKings secure?
Yes, DraftKings is one of the most secure gambling sites for daily fantasy sports, regular sports and online casino games. It is entirely safe for US players in select states. Bettors do not need to worry about sharing personal information when creating their new account as DK uses SSL-encryption technology to keep all personal details safe.
Can I bet on DraftKings if I live in another state?
You can create an account at DraftKings outside of a legal state, but you must be physically located in a state that offers DK to wager on your chosen betting market on the DraftKings sportsbook app or casino.
Is DraftKings safe to use?
Yes, DraftKings is entirely safe as a fully licensed sportsbook with the latest safety technology utilized.