Gamble USA strives to improve your online gambling experience. We aim to help you play safely, make informed decisions when gambling, and increase your betting knowledge through our guides.
We adhere to strict editorial integrity; our content may contain links to products from our licensed & legal US partners.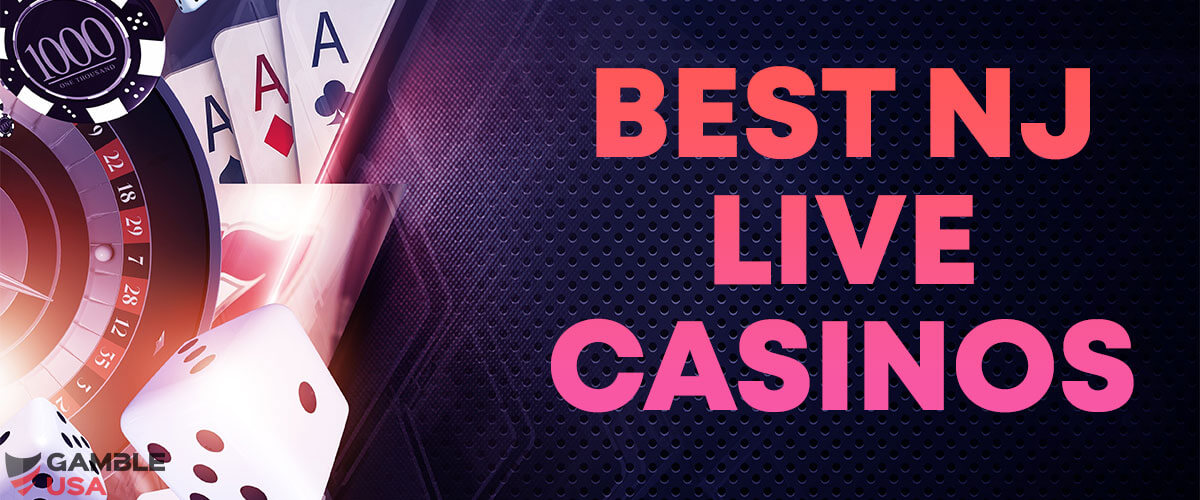 Get the thrill of the casino floor straight on your computer or mobile with one of the new breeds of NJ Live Dealer Casinos.
With the advent of new technology, iGaming enthusiasts can now enjoy the thrill of a live casino floor from their own homes. The best New Jersey live casinos offer up several top-quality live dealer games that invite you into a world of fast-paced action and interaction. Live dealer games offer the same format of table games that you would find in a land-based casino. Most of the classic casino games are available in the live format on NJ live dealer casino sites, including live dealer blackjack, roulette, Baccarat, three-card poker, and Casino hold'em.
In our guide, we take a look at what are the top-rated USA live dealer sites for players in the Garden State. Look at the pros and cons of playing online and see what games are available.
Best NJ Live Dealer Casinos in September 2023
Live casinos have been available in New Jersey since 2016, when the Golden Nugget online casino first launched its live dealer section. Since then, live dealer games have exploded in the NJ online casino market, with many NJ online casino live dealer options available. This is, of course, in addition to the usual casino and sports betting games and markets available in New Jersey.
These top NJ online casinos provide the only platforms in New Jersey where players can experience the same type of gambling in a physical casino without needing to actually visit one. They have left behind online casinos that have not evolved with the times, such as the Golden Lady Casino.
Read more to learn how the live dealer games work and where you can play them. If you want to play real-time casino games from your sofa for real money, look at the wealth of NJ online casino options available.
🤵8 Best New Jersey Live Casinos with Live Dealer Games
If you want to play against a live dealer from your mobile or computer in NJ, then these are the best live dealer casinos for gambling online in New Jersey:
The Golden Nugget Live dealer casino was the first to introduce live dealer action in an NJ online casino. Since then, other NJ online live casino offerings soon went live, and now players have numerous options to choose from. Betfair where the next to offer a range of live dealer games, utilizing the majority of the same dealers and tables as the Golden Nugget.
Competition in the NJ online casinos market continued to grow as Hard Rock struck a partnership with one of the best live dealer software providers, Evolution Gaming. Together they built a cutting-edge studio inside the Hard Rock casino. Hard Rock then launched its New Jersey online casino and began offering live dealer games soon after.
Moreover, PlaySugarHouse, 888 Casino, and Mohegan Sun entered the market, increasing NJ players' options. It is not just traditional casinos that have recognized the popularity of online live dealer games. Sports betting giant DraftKings has added live games to their DraftKings casino app, venturing into the casino gambling world for the first time in New Jersey.
Live dealer options are usually available from early morning (around 10 am) until late at night (2 am); however, this can vary depending on which NJ online casino you choose. Most of the top live casino providers in NJ offer live dealer games for PC, Mac, Android, and iOS mobile devices.
How Do Online Live Dealer Games in New Jersey Work?
So how can you enjoy the thrill of an Atlantic City casino through your computer or mobile device? Until technology made things like live dealer NJ roulette possible, the only choice you had was playing in a physical casino. However, that has now changed. Live dealer games allow players to watch live streams from inside an exclusive live dealer casino in NJ.
However, this is not just a case of watching some gambling taking place on broadcasting against a computer. The beauty of live dealer games is that you can make bets in real time as the action unfolds instead of merely watching it. Furthermore, you can enjoy some interaction with the dealers just as you usually would in a brick-and-mortar casino.
There are a lot of technical features that go into making live dealer games possible. Some of the technology used will be very specific to the software provider who has worked on the games. However, the typical live dealer online casino will have the following features:
A Webcam
Roulette Wheel/Cards/Betting Table
RFID Sensors
A Dealer/Croupier
A Virtual Overlay
Utilizing the above best NJ live casino site features, the games are then broadcast from a dedicated live dealer studio. Players can use the virtual overlay, which will be visible on their mobile device or computer to place a bet. Once each player has placed their wager, and the round has closed, the dealer or croupier will then spin the wheel or deal the cards, depending on what live game you are playing.
When a 'hand' or 'spin' has been completed, the dealer/croupier will reveal the results, and a central processor will compare what happened to the bets made by all of the players. Any results that match are winners, and the game pays out accordingly.
Are Live Dealer Casinos in New Jersey Safe?
One issue some players in NJ may have with live dealer games is fairness. In a typical NJ online casino, games rely on a random number generator (RNG) that produces random outcomes. However, playing live dealer games means you must trust the live dealer overseeing the action rather than a machine. This still shouldn't be an issue as you can see the action unfolding in real time, which should give you confidence these games are fair. Furthermore, the best NJ live casino sites work to guarantee maximum fairness, as a tainted reputation can significantly impact the venue's bottom line.
Another vital aspect to remember when judging the safety of these online live dealer games is that they are under the governance of the New Jersey Division of Gaming Enforcement. This body tests the games to ensure they are fair, as it does for all online casino games in New Jersey. This should mean you can play at live casinos in NJ without worrying about a safe and secure environment.
Can I Play Live Dealer Games on My Mobile?
The beauty of live casinos is the ability to play the games remotely. Most live dealer games are available on Apple iOS and Android devices and your desktop computer. The choice is down to the player on which format they wish to use. Some live casino games may work better on different devices.
Besides NJ casino apps, gambling venues in New Jersey also support a variety of payment options such as Paysafecard, PayPal, wire transfers, and so forth, providing much-needed flexibility for different types of players.
You must be located within the borders of New Jersey to play live casino games from your mobile. You don't need to be an NJ resident to play; make sure your device's Geolocation settings are turned on, and you are good to go.
What is the difference Between Live Dealer and Classic Casino Games?
As a live dealer casino is still a relatively new concept, some players may still be unsure of precisely the difference between playing games at a live casino or a traditional one. Well, actually, they are pretty much the same. The most significant difference is that the games are streamed to your mobile or desktop computer and feature online wagering.
This means one of the most significant changes is where you watch the action unfold and how you place your bets. Online live dealer games give players an interactive experience without the need to leave their house. At the best live casinos in NJ, you can also play exactly the same classic games like three-card poker that you can in a physical casino. As long as you are located within the state lines of New Jersey, you can experience your favorite games on your mobile or at home. The live games genre has expanded with "game show quality games" also playable such as the hugely popular Crazy Time and even more volatile versions of Roulette like Lightning Roulette.
Some NJ live dealer casinos also offer live slots – a live variant of traditional NJ slot games where instead of playing directly within gambling software, you play on an actual slot machine viewable through a camera.
Pros and Cons of NJ Live Dealer Casino Games
Even though traditional casino games and live dealer games share a lot of similarities, some differences may sway your decision. When you decide to experience gambling online, there are benefits of betting on your computer or mobile. First, you will get access to numerous extras, such as in-game statistics like your betting history. Next, there will be lower stakes available than you would get at a traditional casino, and there are multiple side bets available. Additionally, you are guaranteed a seat at roulette and baccarat tables (something often difficult to obtain at land-based NJ casinos), and it is easy to bet with one-touch betting options and repeat bets available.
One other significant advantage of playing live dealer games is that you can experience the social aspect of gambling while retaining your anonymity. This is very important for some players, and an online live casino gives you that freedom. You also don't have to worry about carrying cash, as all your deposits and withdrawals can be done online. NJ online operators have some of the fastest paying online casinos available.
Naturally, there are also some cons to live casino play. If you want a fast-paced, continually moving gaming experience, you might want to stick to traditional online tables, as even at the best live dealer casino in NJ, the live dealer tables generally tend to be slower. Moreover, the minimum bet is usually higher than some NJ online casino table games.
Best Games at Live Dealer Online Casinos in New Jersey
Live casinos in New Jersey all feature the four main live dealer games: live blackjack, live roulette, live baccarat, and live Texas Hold'em. There will also typically be a selection of live dealer baccarat options available. The options will vary depending on which studio you choose to play at; some may provide Ultimate Texas Hold'em, while others will have different casino Hold'em variants. The latter resemble live game shows like Crazy Time live more than the typical table games.
The best sites for playing live games will offer one traditional roulette table and one baccarat table. One of the great things about a live dealer casino is for the majority of games; one table can host a substantial number of players. This doesn't apply to live dealer blackjack as all of the players are actively taking part. Each player will receive a unique hand, so seating is limited to seven players per table.
In recent years the live games have expanded massively with crossover games being released by Evolution Gaming, such as MONOPOLY Big Baller, Extra Chilli Epic Spins, and Dead or Alive: Saloon, which incorporates elements from the most popular online slots into a live casino game show setting, these genres are still in their infancy, but the quality and possibilities of these types of games are almost endless.
Live Dealer Blackjack
When you take your 'virtual' seat at a live dealer blackjack table, you may be surprised to discover that it is very similar to a traditional casino. The main differences are that betting is done electronically instead of physically, and a timer is in place, so you have a limited amount of time to make your move. Additionally, payouts are determined by a computer rather than a dealer.
The rules are no more unfavorable to a player than you would find on the busy casino floors of Atlantic City, but maybe a bit harsher when compared to most online casinos in New Jersey. The rules for online live dealer blackjack games in NJ can be found below:
Blackjack pays 3:2
Dealer hits on soft 17
Double down on any two cards
Double after split
No re-splitting
Split Aces receive one card per hand only.
No late surrender
Minimum bet: $10
Maximum bet: $1,000
You can also take advantage of two side bets available with online live dealer blackjack. These are 21 + 3 and Pair bets. 21 + 3 bets payout when a player makes a flush or three-of-a-kind. Pair bets win when a player's first two cards pair up. The winnings will be bigger if the cards are the same suit or color.
Live dealer blackjack is offered by some of the biggest names in the casino industry, such as Golden Nugget and BetMGM. Look out for the BetMGM bonus code and other NJ online casino bonuses, which give you access to a fantastic bonus to get your bankroll off to a great start when playing at online casinos in New Jersey. You can also look at using another NJ No deposit online casino bonus.
Live Dealer Roulette
There are not many differences between playing live dealer roulette and roulette at a brick-and-mortar casino. There isn't a lot of pushing and shoving playing the live dealer version, as everything is done electronically. Online live dealer roulette games based in New Jersey actually use a traditional American roulette wheel. An American roulette wheel has one more number than its European counterpart.
The extra number is 00, which is placed right next to the traditional single zero. Due to the addition of the 00, the house edge increases to 5.26%, which is unfavorable compared to European roulette, which has a house edge of 2.70%.
Live Dealer Baccarat
Live dealer Baccarat games at the best live casino sites in New Jersey are pretty much identical to those played in physical casinos, except for physically handling the cards yourself. The biggest difference between the two is that you can play baccarat at a live online casino for a minimum of just $1 per hand.
The house edge for live dealer baccarat player bets is 1.24%, with banker bets having a house edge of 1.06%. There are also numerous side bets available.
Live Dealer Three Card Poker
The premise of three-card poker is simple. You compare hands between the player and the dealer. An Ante bet is then made, and three cards are dealt. Depending on how confident you are in your hand, or if you want to bluff, you can match the bet or fold your Ante.
The minimum bet s $0.50 and three-card poker has a house edge of 3.4%.
Other Live Dealer Casino Games in NJ
If you are a resident or visitor to the Garden State and want to play online poker in NJ, then you are in luck. There are loads of live dealer poker games available in NJ, depending on the studio. Golden Nugget offers casino Hold'em, while Hard Rock offers Ultimate Texas Hold'em and Three Card Poker.
FAQs
Do you have to live in NJ to use the online casinos?
No, you don't need to be an NJ resident to play at live casino online NJ venues. You can register for a New Jersey online casino from outside the state; however, you must be located within state lines to play. Online casino sites have geolocation technology that can pinpoint your location. So you will be blocked if you attempt to play live casino games from outside of New Jersey.
Are live dealer casino games fair?
When can I play NJ live dealer casino games?
Each online casino has its own timetables for when players can access the live games. Some casinos, like the top NJ online casino Golden Nugget, run 24/7, while others will have set hours.
Can I win real money from live casino games?
Yes, you can. Like playing in Atlantic City, any casino games you play give you the chance to build up those winnings. Live casino games don't have a demo mode available, so whenever you play, you are playing for real money.