Sports betting is on the rise in the United States and so to is peer-to-peer betting, especially on mobile and p2p betting apps.
The chance to bet with friends and add more of a social element makes the gambling experience even more enjoyable. After all, it is fun bets with friends. With the launch of new betting app options in states with legal online gambling, bettors are now searching for an app that allows users to participate in peer-to-peer sports betting.
The rise in popularity of social gambling p2p betting apps is supported by the number of new market options and sportsbook sites appearing worldwide. Additionally, news of a startup looking to expand peer-to-peer gambling into the digital world has increased the anticipation for a p2p gambling app. Bloomberg recently revealed that Wagr is currently running a seed-funding round that has attracted interested parties such as Reddit co-founder Alexis Ohanian among others.
Peer-to-Peer Sports Betting Gathers Pace
There is undoubtedly interest out there among gamblers for a dedicated social betting app over a more traditional platform. New additions to the marketplace, such as ZenSports, which allows you to wager with anyone else in the world on your favorite team, have only increased interest levels. Nowadays, people want iOS and Android apps that permit you to place bets with friends from different countries. It is fun winning money, but even more fun doing it on a bet with friends app.
Although the support for peer-to-peer apps is growing, there are no real money social apps available yet. You can access some and play for free, but we await the launch of real money peer-to-peer gaming platforms. However, there is a growing number of regular real money sports betting apps available. Our top three can be found below:
Each of the above apps offers an excellent online sports betting experience where you have the chance to win big if you trust your knowledge. Additionally, creating an account is straightforward, and you can be up and running, placing bets at generous odds on your favorite teams in no time.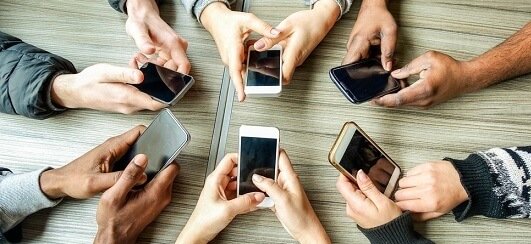 Best Peer-to-Peer Betting Apps
If you are interested in the social aspect of gambling, no doubt you have searched for the best peer-to-peer betting app. Fortunately, we have outlined our top picks for the best peer-to-peer betting apps below. We have chosen a variety of apps that cater to different needs in the peer-to-peer betting app space.
These apps all stand up individually as excellent choices and are worth a download. The main categories we looked for when choosing these apps were:
Core Functionality
Innovative Features
User Experience
All of the apps listed below excel in each of the above categories. We have extensively reviewed them to make sure they provide a fantastic gambling experience. Using a free app is a great way to see where you would have put your cash. These friendly sports betting apps can be serious fun and it's a great way to hold one over your mate if you continually trash their picks.
Social sports betting, like real money sports betting, is very much on the up. So let's run down the top 3 peer-to-peer betting apps that you can download, and wager on for free against friends.
1. WagerLab – Sports Betting & Prop Bets with Friends
WagerLab lets players bet on over 40 different leagues and categories, including NFL, NBA, MLB, CFB, NCAAM, NHL, UFC (MMA),  and the EPL. Soccer fans will be spoilt for choice as you can also bet on the Champions League, La Liga, MLS & more. It's no wonder they call themselves the #1 app for friendly bets.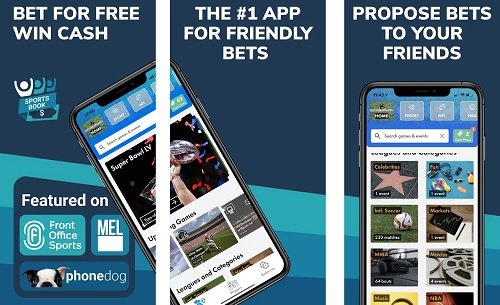 Standout features:
Prop bets on social topics
Multiple bet types
Google Play Rating: 4.3
iTunes Rating: 4.6
Download for Android on Goole Play
Download on the iTunes app store
2. betstamp – Sports Betting Hub
betstamp offers a lot more than just p2p betting. The app allows you to calculate parlays, track game, and player props, see live scores, and more. It really is an action-packed app, ideal for sports and gambling fans.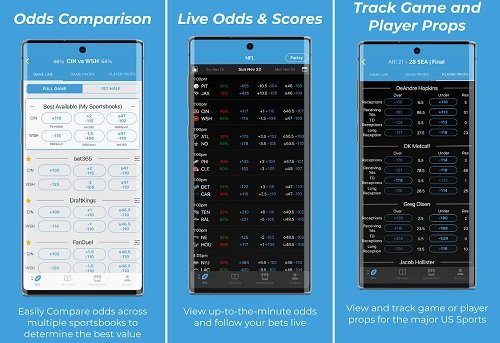 Standout features:
Track, analyze, and improve your sports betting
See live updates on how your bets are performing
Google Play Rating: 4.4
iTunes Rating: 4.7
Download for Android on Goole Play
Download on the iTunes app store
3. PeerBet – Sports prediction game
PeerBet is one of the new breeds of peer-to-peer betting apps. The platform offers an exciting, fun, and free p2p social prediction game that lets you wager against friends and other players on a huge choice of markets. Make friendly bets on sports, political, and entertainment events, all from the PeerBet app that's available on iPhone and Android.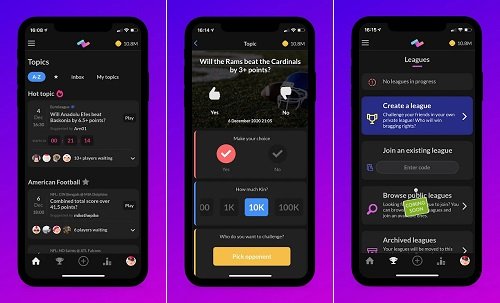 Standout features:
Challenge your friends or bet against other players
Win game currency
Google Play Rating: 4.3
iTunes Rating: 4.5
Download for Android on Goole Play
Download on the iTunes app store
If you want to get involved in some brilliant social gambling, download any of the above apps and get involved today.
Is Peer-to-Peer Betting Legal?
There is nothing on the face of it to suggest P2P sports gambling is illegal in US states that have legalized sports betting since the Supreme Court decision in 2018. However, there are some obstacles to overcome before players are actively taking part in social betting.
Most of the significant issues revolve around the Wire Act, which prohibits wagering across multiple states. This means that a gambler in New Jersey can only bet peer-to-peer with other players in the same state. Straight away, there's a liquidity problem because there are not enough active bettors to build up large enough pools of money.
Additionally, traditional sports betting operators don't view betting exchanges in a positive light because they will take away customers. These brands have a powerful voice when lobbying due to the vast sums of money they generate in taxes for each given state.
With that being said, Flutter Entertainment – the owner of the world's largest betting exchange, completed a purchase of daily fantasy sports operator FanDuel a few years ago. Additionally, Smarkets, a UK betting exchange, plans to launch its hybrid sportsbook in the US. We have also mentioned Zensports above in this article, who also have ambitious plans to expand in the US market. The intentions of these companies highlight that some well-known names are competing for positions to ensure they are first in line to introduce America to betting exchanges.