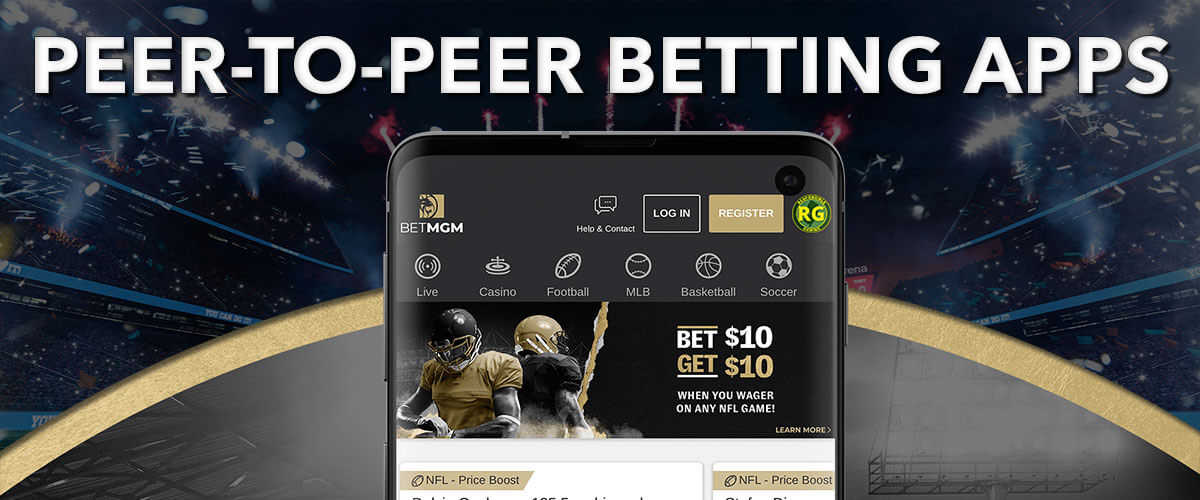 Sports betting is rising in the United States, and so is peer-to-peer betting, especially on mobile and specific p2p betting apps.
Peer-to-peer betting is now legal and available in New Jersey with the launch of the very first peer-to-peer betting app, Prophet Exchange. As of August 2022, mobile peer-to-peer wagering became available, and Prophet Exchange jumped in early.
The chance to bet with friends and add more of a social and competitive element makes the gambling experience even more enjoyable. After all, it is fun bets with and against friends. With the launch of new betting app options in states with legal online gambling, bettors are now searching for an app that allows users to participate in peer-to-peer (p2p) sports betting.
The rise in popularity of social gambling p2p betting apps is helped by the number of new market options and sportsbook sites appearing worldwide. Additionally, news of a startup looking to expand peer-to-peer gambling into the digital world has increased the anticipation for a p2p gambling app. Bloomberg recently revealed that Wagr is currently running a seed-funding round that has attracted interested parties such as Reddit co-founder Alexis Ohanian.
---
What is Peer to Peer Betting?
Before we delve into sport apps or any sports platform that allows peer to peer betting, let's look at what p2p wagering actually entails. This is still a relatively unknown commodity in North America, with sports fans used to using traditional methods to bet on a big sporting event like the Super Bowl or the World Cup.
Peer-to-peer betting is simply a bet primarily between two individuals. If you enter a betting exchange and place a wager, then you are directly betting against a peer. As we mentioned, it is still a new concept for a lot of people in the betting industry but is quickly growing in popularity.
In some markets, an exchange punter could also be referred to as a layer or backer. A backer believes a solid outcome will happen, while a layer takes the opposite stance. Away from a betting exchange, a peer-to-peer wager could be something as straightforward as a bet between to friends. One of the things people who participate in p2p betting really appreciate is that there are no bookmakers or oddsmakers involved as the odds agreed by the two parties.
It gives this form of wagering more of a freedom compared to traditional betting. If you have a friend who really enjoys betting on sports and adding excitement when watching their favorite teams, peer to peer sports betting could be idea for you.
Promo Code: GUSA
Up To $500 Free Bonus Cash
Social betting marketplace
Available in 45 states
Great mobile app
Promo Code: GUSA
Up To $500 Free Bonus Cash
---
1st Real-Money Peer-to-Peer Betting App Launches in the US
It has felt like a long time coming, but there is now a legal p2p sports betting app available to bettors in the US. Step forward, Prophet Exchange. The operator launched at the start of the 2022 NFL season bringing p2p gambling to players in NJ, with more states to follow soon. Prophet Exchange has dedicated betting apps available for Android and iPhone and gets players off to a winning start with a new player bonus worth up to $250.
Prophet exchange became the first legal, real money p2p betting app in the US when it launched. There has been a lot of talk of other operators going live, but PE beat them off the start line. Prophet exchange removes the need for a traditional sportsbook, as you wager against other PE customers. Think of the operator as a betting marketplace. Other players set odds, and you bet against them. Typically, you can find more favorable odds than you would with a traditional book. As well as getting increased odds, you can play the role of both the oddsmaker and the bettor.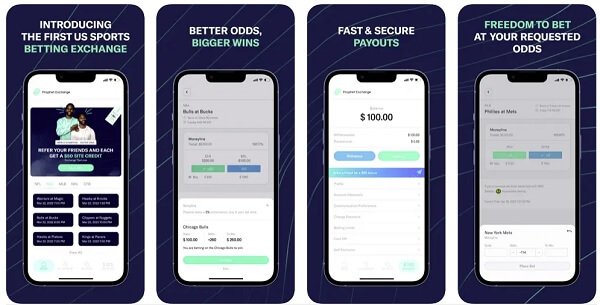 So what is the app like to use? Well, it's pretty awesome. We downloaded it the minute it was available in iTunes and have been super impressed with the design and functionality. It works in a similar way to traditional apps or a sports betting site where you can search the markets and place a bet. Requesting a bet is easy on the platform, and it's equally as easy to place a bet on an already existing price.
As mentioned, only players in NJ can use the app and site currently, but the operator is looking to go live in Indiana soon. Licensed through a deal with Caesars, Profit Exchange is looking to become the #1 destination for peer-to-peer gambling in the states.
Currently, there is only a handful of deposit options available, but we expect this to grow in time with the addition of PayPal and Skrill would be a nice option. So if you are looking for a legit P2P betting app, give Prophet Exchange a try at prophetbettingexchange.com with a $250 bonus.
Key features
Better prices
No limits on betting
Request your own odds
Low juice on moneylines
Promo Code: GUSA
Up To $500 Free Bonus Cash
Social betting marketplace
Available in 45 states
Great mobile app
Promo Code: GUSA
Up To $500 Free Bonus Cash
---
Peer-to-Peer Sports Betting Gathers Pace
There is undoubtedly interest out there among gamblers for a dedicated social betting app over a more traditional platform. New additions to the marketplace, such as Prophet Exchange and, the soon-to-launch ZenSports, which allows you to wager with anyone else in the world on your favorite team, have only increased interest levels. Nowadays, people want iOS and Android apps that permit them to place bets with friends from different countries. It is fun winning money, but even more fun doing it on a bet against a friend app.
Although the support for peer-to-peer apps is growing, there is only a handful of apps scheduled to launch. You can access some and play for free, but we still await the launch of more real-money peer-to-peer gaming platforms. For now, Prophet Exchange is our #1 pick. Until there is more competition in the market, there is a growing number of regular real money sports betting apps available. Our top three can be found below:
Each of the above apps offers an excellent online sports betting experience where you have the chance to win big if you trust your knowledge. Additionally, creating an account is straightforward, and you can be up and running, placing bets at generous odds on your favorite teams in no time.
If you want to apply your own twist to real money betting with friends, then the numerous refer-a-friend betting offers could provide you with a very novel way of using the sportsbooks offers. Many casinos and sportsbooks offer superb refer-a-friend schemes which you can take advantage of and share with friends.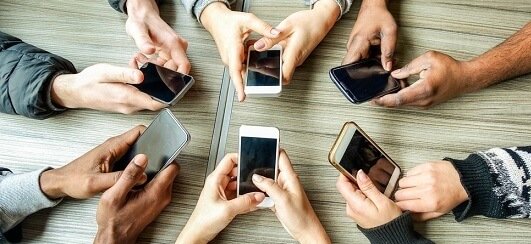 ---
Introducing BetterEdge
Social media and betting is big business now, but it hasn't always been the case. Before it really took off, James Seils and Greg Kajewski had an innovative idea to approach this trend and came at it from a different direction. They are the founders of BettorEdge, a social media platform that facilitates exchange betting. They are hoping they can exploit this emerging trend in the marketplace as big names starting paying more attention to looking into how exchanges work and the added interactivity they provide for customers.
BettorEdge is not a traditional online sportsbook and consequently does not have to abide by the same laws that the likes of DraftKings or FanDuel must do. The platform can operate in states where sports betting is not legal. They generate their revenues through advertisements and premium tiers.
BetterEge is currently operating in 46 states and is based in Minnesota. Due to the location of their HQ, a lot of their marketing is heavily focused on the upper Midwest area, where sports betting in Iowa and Michigan is thriving. To highlight the impact the company is having, BetterEdge announced in July that it had surpassed $3.5 million in exchange orders since it launched in January.
Best Peer-to-Peer Betting Apps
If you are interested in the social aspect of gambling, no doubt you have searched for the best peer-to-peer betting app. Fortunately, we have outlined our top picks for the best peer-to-peer betting apps below, many similar to Betfair. We have chosen a variety of apps that cater to different needs in the peer-to-peer betting app space.
These apps all stand up individually as excellent choices and are well worth downloading. The main categories we looked for when choosing these apps were:
Core Functionality
Innovative Features
User Experience
All of the betting apps listed below excel in each of the above criteria. We have extensively reviewed them to ensure a fantastic gambling experience. Using a free app is a great way to see where you would have put your cash. These friendly sports betting apps can be serious fun, and it's a great way to hold one over your mate if you continually trash their picks.
Social sports betting, like real money sports betting, is very much on the up. So let's run down the top 3 peer-to-peer betting apps you can download and wager on for free against friends.
🥇#

1 WagerLab – Sports Betting & Prop Bets with Friends

WagerLab lets players bet on over 40 different leagues and categories, including NFL, NBA, MLB, CFB, NCAAM, NHL, UFC (MMA),  and the EPL. Soccer fans will be spoilt for choice as you can bet on the Champions League, La Liga, MLS & more. No wonder they call themselves the #1 app for friendly bets.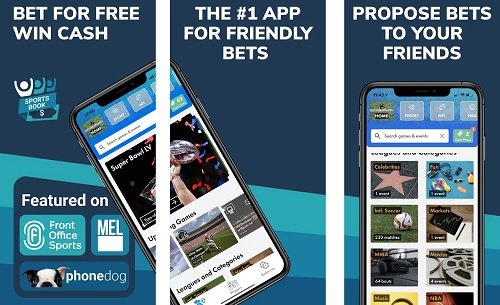 Standout features:
Prop bets on social topics
Multiple bet types
Google Play Rating: 4.3
iTunes Rating: 4.7
Download for Android on Goole Play
Download on the iTunes app store
🥈#

2 betstamp – Sports Betting Hub

betstamp offers a lot more than just p2p betting. The app allows you to calculate parlays, track games and player props, see live scores, and more. It really is an action-packed app, ideal for sports and gambling fans.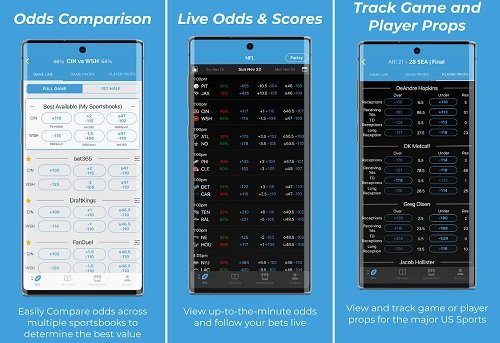 Standout features:
Track, analyze, and improve your sports betting
See live updates on how your bets are performing
Google Play Rating: 4.4
iTunes Rating: 4.6
Download for Android on Goole Play
Download on the iTunes app store
🥉#

3 PeerBet – Sports prediction game

PeerBet is one of the new breeds of peer-to-peer betting apps. The platform offers an exciting, fun, and free p2p social prediction game that lets you wager against friends and other players on a massive choice of markets. Make friendly bets on sports, political, and entertainment events, all from the PeerBet app that's available on iPhone and Android.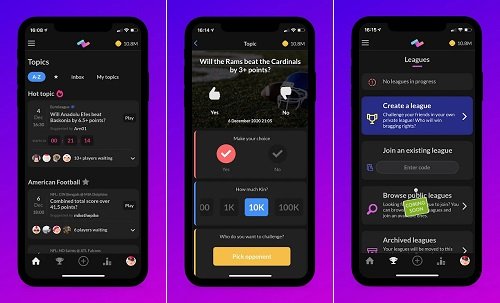 Standout features:
Challenge your friends or bet against other players
Win game currency
Google Play Rating: 4.6
iTunes Rating: 4.5
Download for Android on Goole Play
Download on the iTunes app store
If you want to get involved in some brilliant social gambling, download any of the above apps and get involved today.
---
Is Peer-to-Peer Betting Legal?
As of August 2022, peer-to-peer gambling is legal in the US, but currently, only available in New Jersey. Click the link above to read our full review of the Prophet Exchange app, where you will discover better odds, more markets, and more juice than anywhere else.
There is nothing on the face of it to suggest P2P sports gambling is illegal in other US states that have legalized sports betting since the Supreme Court decision in 2018. However, some obstacles exist to overcome before players actively participate in social betting.
Most of the significant issues revolve around the Wire Act, which prohibits wagering across multiple states. This means that a gambler in New Jersey can only bet peer-to-peer with other players in the same state. Straight away, there's a liquidity problem because there are not enough active bettors to build up large enough pools of money.
Additionally, traditional sports betting operators don't view betting exchanges positively because they will take away customers. These brands have a powerful voice when lobbying due to the vast sums of money they generate in taxes for each given state.
With that being said, Flutter Entertainment – the owner of the world's largest betting exchange, Betfair, completed a purchase of daily fantasy sports operator FanDuel a few years ago and could look to do something in the betting exchange market in the US soon. Additionally, Smarkets, a UK betting exchange, plans to launch its hybrid sportsbook in the US. We have also mentioned Zensports above in this article, which also has ambitious plans to expand in the US market. The intentions of these companies highlight that some well-known names are competing for positions to ensure they are well-suited to introduce America to betting exchanges.
---
Sportsbooks vs Betting Exchanges
With a sportsbook like DraftKings the odds and terms are set by the house. This means that the odds you see are what you get. With betting exchanges things work a little differently you're not betting against the sportsbook but rather other users of the platform.
This means that you can post a bet with a spread of your choice on the market and see if anyone is interested in taking you up on the bet. Once accepted, you both put up a stake that the betting exchange will hold for you until the bet is finalised. Then finally the winnings are transferred to the winner with a small amount being held by the exchange as a fee for using the service.
It's worth comparing both the odds on a sportsbook with the ones found on an exchange as often one or the other will be more favourable.
---
FAQ's
What is peer to peer gambling?
Peer-to-peer gambling allows you to bet between friends with the chosen App acting as the intermediary in the bet.

While this can be a simple bet, the apps have expanded on the features available, allowing you to join betting teams, and participate in leaderboards with all sorts of novel twists to the regular bets.

Real money social betting apps are still in their infancy, but social apps are already exploring many ways to engage friends in friendly bets.