Prophet Exchange Review
Let me introduce you to Prophet Exchange, the United States' first peer sports betting exchange. Unlike traditional sportsbooks, there is no house to wager against, meaning you'll only lose money to other players, which is somewhat comforting for a sports gambler like me.
It was created in 2018 by Jake Benzaquen and Dean Sisun (Chief Operating Officer and Chief Executive Officer respectively) after the senate passed legislation regarding online gambling for online casinos and sportsbooks. Caesars Entertainment even gave them a multi-year deal to help them with their launch to add credibility to their otherwise unknown betting exchange.
This Prophet Exchange review will discuss how the Prophet Exchange p2p betting app services work, how to sign up for a profile, its promotional offerings, welcome bonuses, different features, and banking options available.
---
Prophet Exchange at a Glance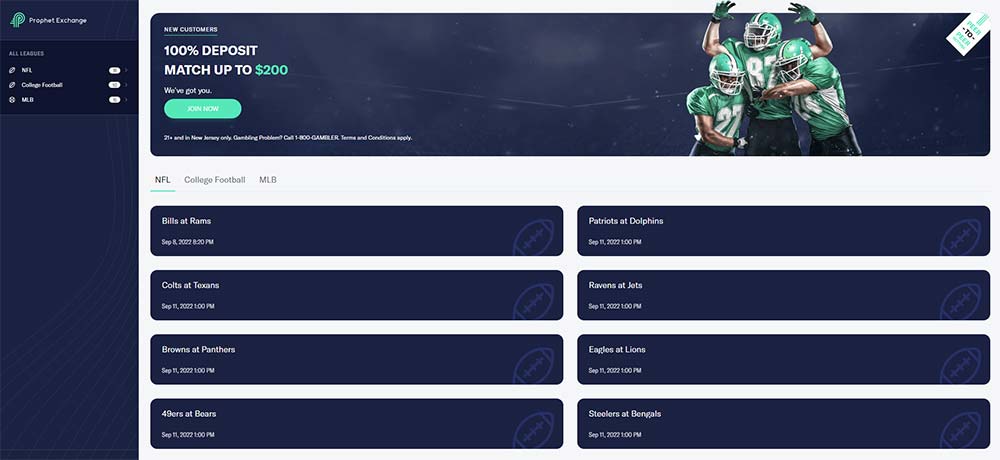 The Prophet betting exchange is a unique and fun twist to the sports betting norm that allows users to peer-to-peer betting. It has a phenomenal user interface that is sleek and easy to understand while also having a great welcome bonus that's a 100% risk-free bet up to $250.
Prophet Exchange Pros and Cons:
| ✅Pros | ❌Cons |
| --- | --- |
| Great odds and no juice | Limited sports markets available |
| Great customer support | Limited betting options |
| Well-organized user interface | No parlay bets |
| Fun and different | |
---
Prophet Exchange Promo Code & Bonus Offers

Prophet Exchange runs several bonuses throughout the year, including a signup bonus, a refer-a-friend scheme, so-called Prophet Boosts, and other occasional seasonal promotions. Being a peer-to-peer betting platform, thus leading to an overall smaller profit margin for the operator, the bonuses they offer are somewhat smaller than what other betting sites offer, but they're still more than decent.
Prophet Exchange Welcome Bonus
Prophet Exchange Sportsbook is offering new customers in New Jersey a risk-free bet worth up to $100 when they register! All you need to do to get this offer is sign up and place a valid real cash wager. In case your bet ends up as a loss, your initial stake will be refunded up to a limit of $100.  It will be automatically applied if your first bet losses, but don't dilly dally; the offer will expire after ten days, similar to other sportsbook promotional offers.
After you finish the registration process, you must make an initial deposit of $10 to qualify for the $100 risk-free bet at Prophet Exchange. Players won't need a Prophet Exchange bonus code to receive the risk-free bet. Also, unlike most online sportsbooks, this promotion runs until the end of the year, since it's not based on a particular season or market.
Prophet Boosts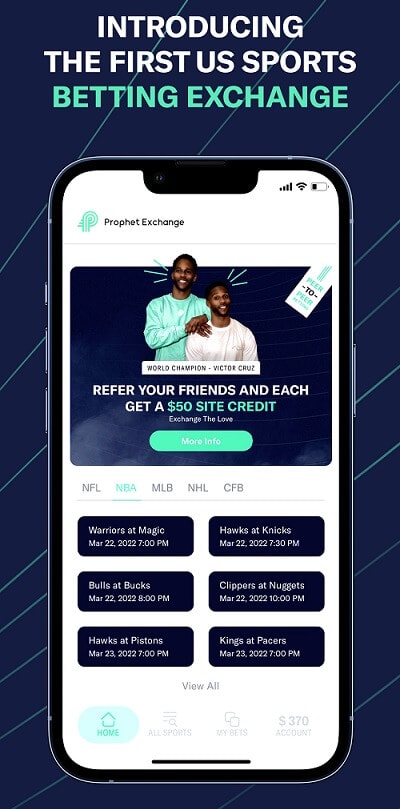 A Prophet Boost is Prophet Exchange's unique take on Odds Boosts offered by other sportsbooks. Instead of offering the same boosted odds on certain events, Prophet Exchange instead allows you to bet that a certain event won't happen.
For example, DraftKings might offer boosted odds on 'Jimmy Butler to score 30+ points and the Heat to win' at odds of +400. With Prophet Exchange, you can practically hedge your bet, and place a wager that Jimmy Butler won't score 30+ points and that the Heat won't win at odds of -315.
A hedging calculator is pretty much a must-have with these types of bets in order to make sure that you end up with a profit either way. In this scenario, you would walk away with a $10.24 in profit if you placed down a $50 wager, regardless of the outcome.
Prophet Exchange Refer-a-Friend Bonus
The only other Prophet Exchange promo is its "Exchange the Love" promotion, which requires users to recruit one of their friends to sign up for an account and make a deposit. To get this bonus, click the "Exchange the Love" banner to get your sign-up link and send it to a friend to use for registration.
After your friend has created an account, be sure they deposit at least $50 into their account. Once they've done this, you both will receive $50 in bet credits within 72 hours that can be used on anything you'd like, including live betting odds! The maximum you can earn via the Prophet Exchange referral program within any given year is $2,500.
While Prophet Exchange doesn't currently have traditional odds boosts, the peer sports betting exchange already has what most bookmakers would consider boosted odds on daily wagers like the spreads and total. Still, they are taking suggestions for future promotions through their customer service team!
Generally speaking, I think Prophet Exchange doesn't need to offer its customers promotions because they already have the best odds available from other users!
---
How does Prophet Exchange Work?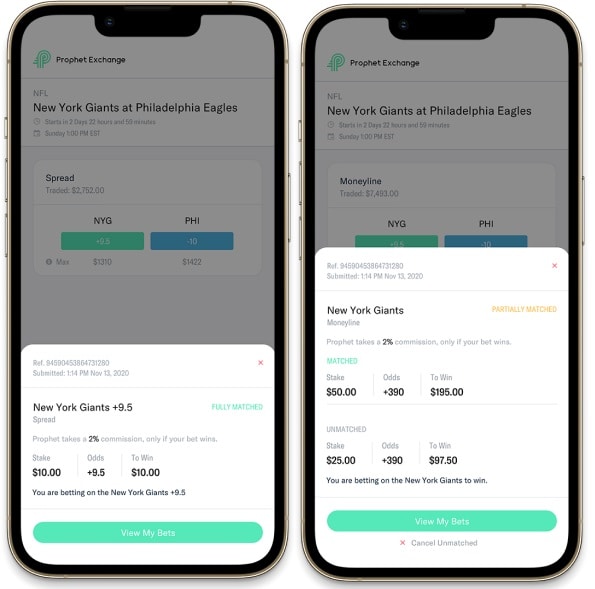 The main selling point of p2p sports betting exchanges is users' ability to create their odds or accept the odds of another created wager by another user on the moneyline. This type of forum allows you never to have to adhere to bad oddsmakers again; however, it's a possibility that another user might not accept their created wager if the odds are too out of whack.
Creating your own odds (or other peers' odds) allows bettors to experience betting without juice from the sportsbook. Have you ever noticed that every spread and over-under bet is typically at -110 odds rather than a straight-up +100? This happens because the sportsbook adds a fee to the odds of every wager to cover their losses and make money, known as the juice or vig in sports betting.
Prophet Exchange's features allow users to take charge of their gambling experience; however, it does have a drawback in the number of betting options available in its current state. You can place live, straight, spread, and over-under bets but cannot place parlays, teasers, or prop bets, which doesn't seem like a high price to pay for better odds in sports betting markets.
Prophet Exchange Peer to Peer Betting Explained
The Prophet Exchange doesn't follow the traditional sportsbook model because its services are strictly tailored to exchange betting. A betting exchange platform is a high selling point because it helps fix price and liquidity issues that other sportsbooks may have.
Prophet Exchange also prides itself in allowing your sports betting not to be limited in any way. Other sportsbooks will sometimes limit bettors if they win too much, which is just something that doesn't sit right with me. Why should I be punished for being hot during the college football season?
Sportsbooks do this because they don't want to lose too much money to bettors because if they take on too many bets they can't handle, they'd eventually close down. Prophet Exchange doesn't have this problem because every bet is peer sports betting, meaning person to person, so it doesn't take on any risk and only takes a commission on winning bets.
---
Prophet Exchange Legal States
Currently, the only state where Prophet Exchange will be launching in New Jersey, the state where the company was founded. However, it is looking to gain licensing from different gaming commissions in places like Indiana (planned for 2023) and Pennsylvania around the United States.
If you are located outside of New Jersey, but your state has legalized online gambling, be sure to show your interest by signing up on their website to get up-to-date information on the betting exchange's progress in coming to your area! Showing them your interest will also help them know where they need to grow next.
---
Signing up to Prophet Exchange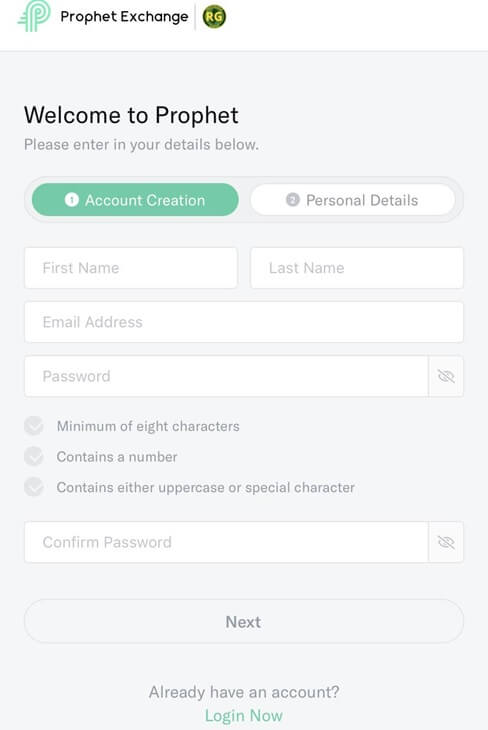 Registering for a Prophet Exchange account is very simple and can be accomplished by entering just a few personal details that you would have on any other sportsbook. All you need to do is go to profitbettingexchange.com and fill out the form on the homepage.
The registration form will require the following information:
Full Name
New Jersey Home Address
Phone Number
Email Address
Birth Date
Last Four Digits of Your SSN
You will also need to create a unique username and password so bettors can see who they're betting against! These details will also be the login information you need to enter to use your account.
---
Prophet Exchange Mobile App
The betting app of the exchange only recently launched and is already a highly rated app in the Apple App Store (4.9 stars) and Google Play Store (5 stars). See below for links to download the Android and iOS apps on your respective mobile devices.
Prophet Exchange has a YouTube page that features previews of its app and its features. If you'd like to watch these videos for yourself, click the link here for their YouTube channel, or continue reading below.
The mobile app has a sleek design with a white, teal, and navy colorway that appears somewhat similar to other sportsbooks. From the app, you can place bets and check lines and see how much has been placed on each event (located in the top left-hand corner of each betting market).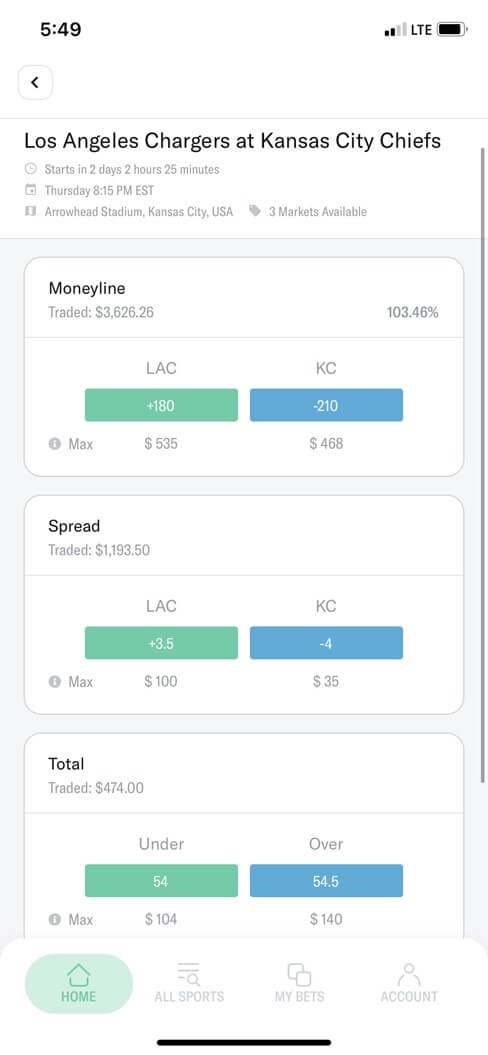 The app can be found in the app store by searching for "Prophet Exchange" and ensuring it has the same logo pictured below. Once the app is downloaded, you can open it up and either log in or sign up for a profile within!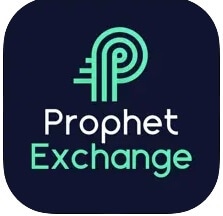 GeoComply Software
The Prophet Exchange app uses geolocation software GeoComply to adhere to local gaming commission rules on ensuring their bettors are within state lines. A bettor not located in New Jersey will not be able to place any wagers until their mobile phone can be geolocated in state lines.
Be sure to turn location services on when you first open up the app because you cannot place a bet without them. All sportsbooks, daily fantasy sports websites and apps have geolocation software, and local gaming commissions protect your private location information, so don't worry about tracking you.
---
Prophet Exchange Features & User Interface
The number of betting markets is somewhat limited to only the major sports, and the number of betting options is limited to three types of bets that can also be placed live. The user interface is similar to that of most other traditional sportsbooks and features the different events listed by sport and can be easily navigated through the sports tab.
Prophet Exchange Odds
Once you've found the event of your choice, you will be brought to the betting screen, providing you with different odds for the moneyline, spread, or over-under bet. Spreads and over-under wagers will always be +100 odds at the initial launch; however, users can move the line, but unlike traditional sportsbooks, will still stay at +100 odds.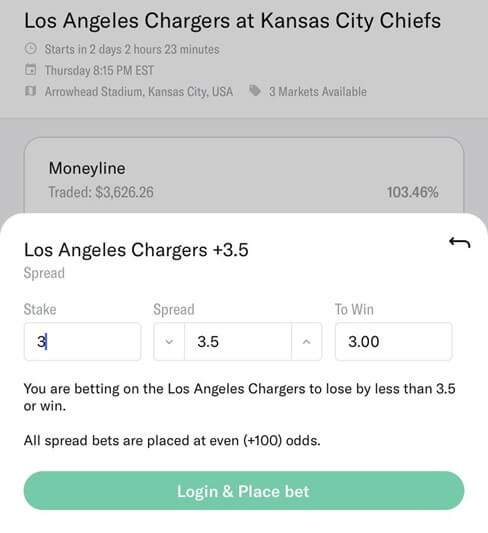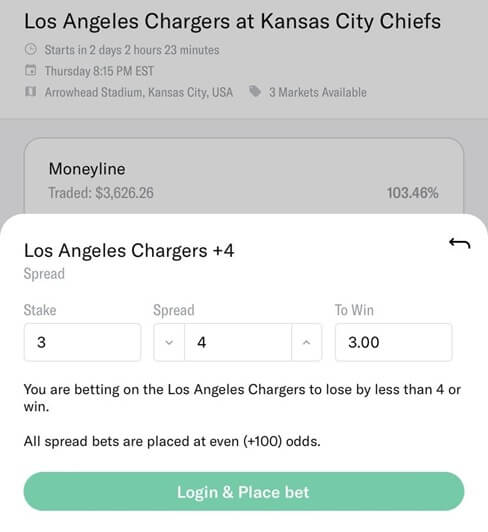 An example would be if the spread for the Pacers and Nuggets were Nuggets -6 at +100 odds, a user would be able to move the line and bet Nuggets -7 at +120 or go the other side and bet Nuggets -5 for -120. Essentially you are buying or selling points through your odds based on whether or not the line was raised or lowered.
The moneyline is where you'll decide your odds, and users will be shown two rows of boxes with different odds for the wagers placed by users of the app or website. The box closest to the middle will have the best odds, while the worse odds outline the rest of the row in ascending order.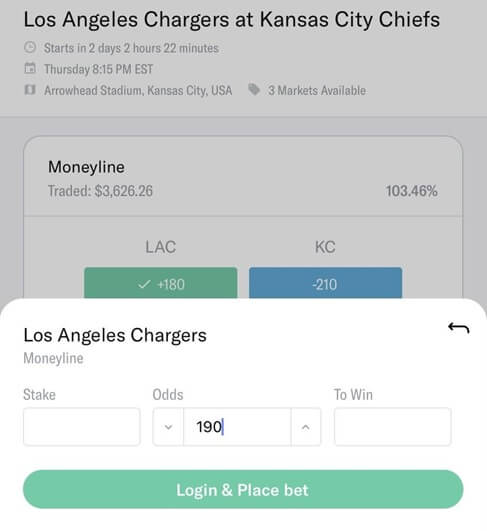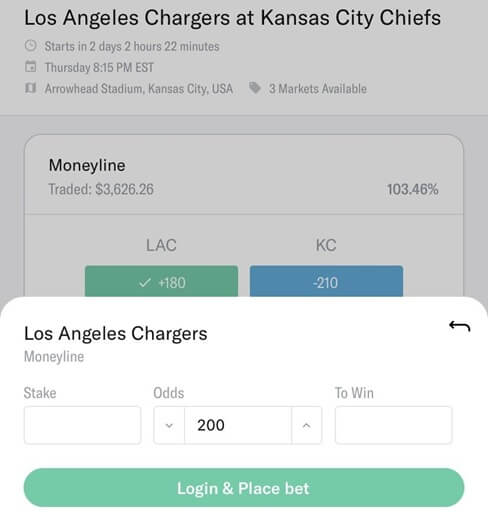 Prophet Exchange Live Betting & Streaming
In-play betting and live streaming are unfortunately both absent from Prophet Exchange. This could be down to several reasons, but probably the most obvious ones are just the overall cost and difficulties of supporting these features for a smaller sportsbook like Prophet Exchange.
Prophet Exchange Early Cashout
Another feature currently missing from Prophet Exchange's platform is the Early Cashout. With Cashout, other sportsbooks provide you with the ability to collect your winnings or refund a portion of your stake before the game ends, if certain conditions are met. The addition of this feature is on the horizon, but the sportsbook hasn't committed to any specific date of its release.
---
Prophet Exchange Betting Markets & Leagues
Prophet Exchange launched with just the main bases like NFL, College Football, MLB, NBA, and CBB. PE do cover all of the main bases well like NFL, MLB, NBA, NHL, and NCAA football and basketball (only markets in season will be shown). So while you won't be able to place wagers on the PGA Tour or F1 racing, you will be able to place bets peer to peer for the Super Bowl, NBA Finals, and World Series.
---
Available Bet Types
Similar to their number of betting markets, the available betting types are also lacking. Customers can place wagers on a market before the event has started or live during the event; however, only three types of wagers are available.
Moneyline
Spreads
Totals (aka over-unders)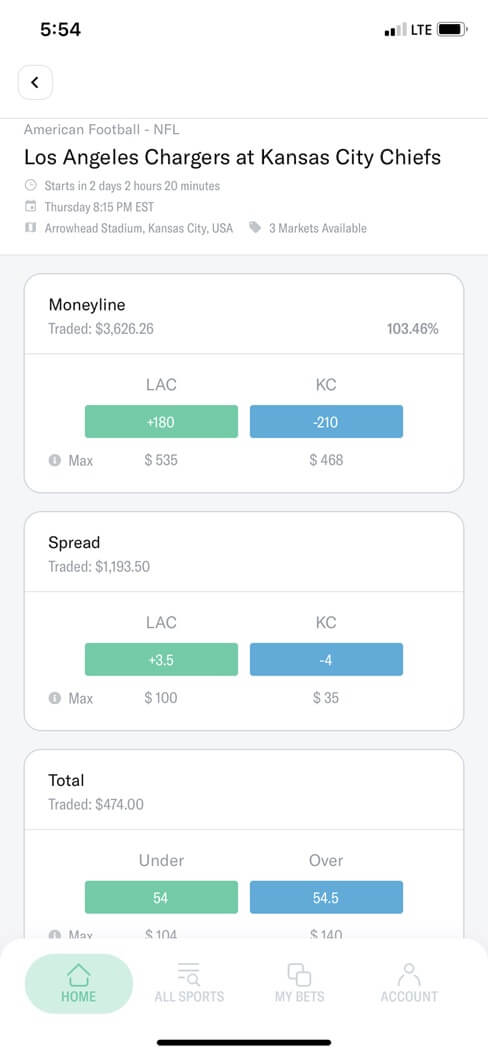 The moneyline is essentially a bet on who will win an event straight up, and the odds reflect that. The moneyline is where users can make their line by setting the odds that other users may choose to accept. A favorite will be shown as having unfavorable odds, like -140, while underdogs will have favorable odds like +140.
Spreads are wagering on a team to win by a certain amount or with a certain amount of help from additional points from the spread. The spread is shown as a +/- number meaning that the team will receive or lose points at the end of the game based on the spread they take.
For example, if a bettor was to take the Patriots over the Bills at Patriots +4, then if the Patriots win or only lose by three points, the bet cashes. If the Patriots lose by precisely four points, the bet will push, and both users will receive their stake back.
Similar to spreads, totals wagers are based on a line given by the platform for the predicted total number of points for the game between the two teams. This means the customers will decide to bet over or under the line given, and the total number of points will need to reflect their bet for the wager to cash. For example, if the points total for the Patriots and Bills game was 46 and you took the over, the combined point total will need to be at least 47 for your bet to cash.
All types of betting and markets will also grow over time, so don't think they aren't working to be better! As the platform has time to launch and grow, more options and markets will become available!
---
Prophet Exchange Banking Options
Prophet Exchange features several different payment methods for customers to fund their experience. To access the cashier page, simply click on the cash amount in your profile in the bottom right-hand corner of the page.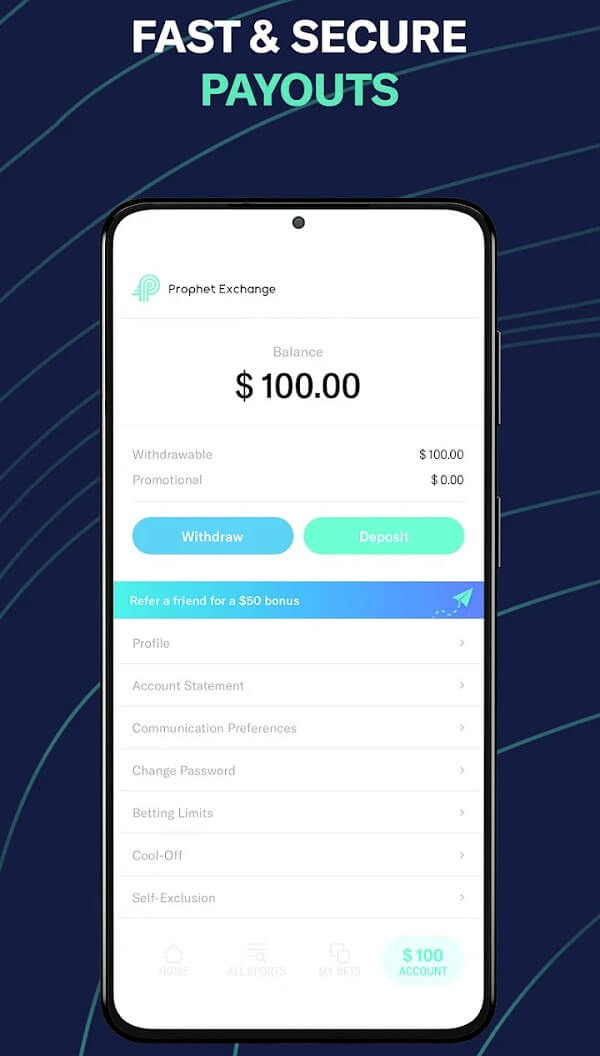 From this page, you can either make a Prophet Exchange deposit or a withdrawal, as long as it has a minimum amount of $10 for either transaction. Customers have access to the following payment methods:
Debit

/

credit card

(deposit only)
Wire transfer (deposit only)
Online Bank Transfer (ACH)
Cash at the casino cage at Harrah's Casino in Atlantic City
---
Prophet ExchangeCustomer Support
Prophet Exchange has a phenomenal customer service team that can be contacted in several ways. The quickest and easiest way to speak with customer service is the live chat feature, which allows users to get quick and easy help with their accounts.
If you have an issue that isn't pressing enough for the live chat feature, you can reach the team by emailing hello@prophetexchange.com, reaching out to them on social media @ProphetExchange, or by messaging them on their website (here).
Not every bettor will experience problems with the app or website. Still, the most typical issues are problems with making a deposit or withdrawal, a wager not being settled correctly, or the geolocation software not working properly.
---
Is Prophet Exchange Legit?
Yes! Prophet Exchange is 100% legal in New Jersey and licensed by the New Jersey Division of Gaming Enforcement. The license means that the local state government backs Prophet Exchange to ensure safety for their constituents.
This local government agency regulates every sportsbook to ensure fairness and to be sure these sportsbooks (or, in this case, a sports betting exchange) aren't preying on people with a gambling problem. If you think you may have a gambling addiction, please click the link here for reference materials to learn more on how to get help.
---
Final Words
All in all, I think this is a gambling platform that every gambler should use for many reasons. Prophet Exchange features a unique gambling experience that is different from any other online gambling platform in the United States. That allows players to set their odds and play without limitations or the juice from their bookmaker.
While it is going through a few growing pains with limited betting markets and options available, it will grow with its platform. What I mean by this is that with the exchange coming to more states and gaining more users, more betting options and markets will come!
I also find solace in the fact that if I were to lose, I'd be losing to a fellow bettor and not just DraftKings. Don't get me wrong, I'd much rather win, but if I have to lose, I'd rather it be to one of you!


Bonus Bet up to $250
Get Bonus