If FanDuel Sportsbook has just launched in your state, you may want to get in on the action and create an account. If you have not used the operator before, you will probably be wondering how to make a FanDuel deposit. Well fear not, we are here to help.
Legal online sports betting is growing across the United States. One operator that has taken advantage of the growth of online gambling is FanDuel. The gaming brand launched in July 2009 and has grown to become one of the most established sports betting apps in the US. The FanDuel sportsbook and FanDuel sportsbook app launched in New Jersey in August 2018. By doing so, it became one of the first legal online sportsbooks in the United States outside of Nevada. Like DraftKings, FanDuel is well-known for its daily fantasy sports contests and remains of the most well-known DFS sites worldwide.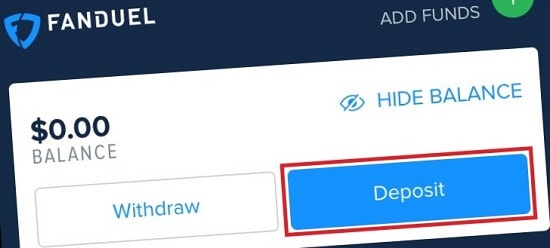 This guide provides all of the crucial information surrounding depositing on the FanDuel sportsbook. We will cover how to deposit money at online wagering companies, the various FanDuel sportsbook payment options available, and what a minimum deposit sportsbook entails. But before you can deposit, you first need to create a FanDuel betting account.
Create a FanDuel sportsbook account
Before you can deposit funds and place some wagers at FanDuel, you must sign up for a new player account. You can do this by this by clicking on the green "Join" button in the top-right corner of the main page at fanduel.com/sportsbook. This will generate the registration fields where you will need to enter some personal information such as full name, email address, location, and date of birth. Once you have provided all of the required information, your account will need to be verified.
Once the verification process is complete, your betting account is ready to go, and you can use this to access all of the sportsbook features and daily fantasy sports contests on the FanDuel platform. Please be aware that you will be required to verify your age and identity before you gain full access to all of the site's features. You can upload the necessary documents by clicking on your username in the top-right corner of the homepage then selecting the account information option from the drop-down menu.
New customers can take advantage of a $1,000 risk free bet when signing up without the need to use a FanDuel sportsbook promo code. The offer is open to all new customers to the book. Just create an account at fanduel.com/sportsbook to get started.
How to make a FanDuel deposit online
Once your account has been set up, and everything has gone through, there is just one thing left to do before you can place a wager on your favorite team. Before you can submit a bet, you must make a deposit, and the good news is you have numerous options to choose from. Hit the "Deposit" button in the top-right corner (or from the main menu on the app), choose your preferred FanDuel deposit option and deposit amount, then follow the instructions. If you select the instant deposit methods, your FanDuel betting account will be credited as soon as you confirm the transaction.
Debit Cards: Deposits can be made straight away by using a Visa or Mastercard. This is one of the most popular FanDuel deposit options. Select the card option, then add in the amount you wish to deposit, add in your card number, name, expiry date, security code, and submit.
Credit Cards: Instant deposits can be processed using a Visa or Mastercard; however, there is a catch. Using a card at FanDuel is really easy to do. Select the Credit & debit cars tab, enter the deposit amount, add your card details (make sure they are right), then press the big blue confirm deposit button.
PayPal: Most people these days have a PayPal account, and you can use it to fund your betting account and also withdraw money back to the e-wallet platform. PayPal is one of the most trustworthy payment methods globally. Users can make a FanDuel PayPal deposit, and the money will go into their accounts instantly. Select PayPal from the main tab and enter your PayPal account details.
FanDuel Prepaid Card: Using a prepaid card at FanDuel is now one of the most popular cashier options at the sportsbook. If you use one of FanDuel's own cards, just select the option from the left, then enter the details from your card and the amount you want to deposit.
Play+ Prepaid: Play+ Prepaid is similar to an e-wallet and an excellent way to navigate around debit and credit card issues because you can fund your Play+ Prepaid using your Visa, Discover, or MasterCard in addition to your checking account. Another benefit of using a FanDuel prepaid card is that it can be used to process withdrawals.
Bank Transfers: Bank transfers remain a popular way to deposit funds, and they are among the FanDuel payment methods. However, please note that using a bank transfer means it will take a couple of days before your account is credited.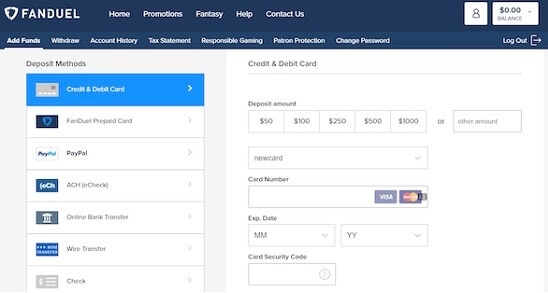 Although you do not need to live in a state where FanDuel is licensed and operational to register, you must be within a legal state's lines and be at least 21 years old for a bet to be processed and accepted. Creating a FanDuel account is simple and can be done in minutes. Once you have registered, you can make your first FanDuel sportsbook deposit in seconds using one of the FanDuel sportsbook deposit methods. The FanDuel mobile app and desktop site keep players protected by using the latest SSL encryption to ensure safe transactions. All bettors should feel safe using FanDuel; it is one of the most trusted brands in the nation, so your bank account information will always be secure.
You can deposit or withdraw at FanDuel from anywhere in the US. However, you will not be able to place wagers until you are physically located in jurisdiction borders where FanDuel sportsbook is legal and available.
FanDuel deposit methods
As you can see above, making a deposit is very easy with the sportsbook. The good news is that FanDuel has a wide choice of banking and cashier options. There is usually a method available no matter how you want to deposit to the book. The full list of options available are:
| Deposit method | Deposit Fee | Minimum Deposit | Processing Time |
| --- | --- | --- | --- |
| Credit/Debit Cards | Free | $10 | Instant |
| Online Bank Transfer | Free | $10 | Instant |
| eCheck | Free | $10 | Instant |
| Wire Transfer | $15 | $10 | Instant |
| PayPal | Free | $10 | Instant |
| FanDuel Prepaid Card | Free | $10 | Instant |
| PayNearMe | Free | $10 | Instant |
| Gift Cards | Free | $10 | Instant |
FanDuel does not accept Amex directly, but you can use Amex through PayPal which is really easy to do. FanDuel is one of the best sportsbooks accepting PayPal.
With online betting still a relatively new concept to most people in the US, many people were, and still are, unsure of how using an online sportsbook works. Problems around a FanDuel deposit, FanDuel withdrawal, and how do you use a FanDuel promo code are all common questions raised by bettors. Suppose you have never come across online payment methods before and don't know how to claim a deposit bonus. If that is the case, you might not know how things work online regarding a possible FanDuel minimum deposit or what to do if FanDuel deposit not working. Additionally, you may be wondering if the payment method you select to deposit how you claim your first deposit bonus.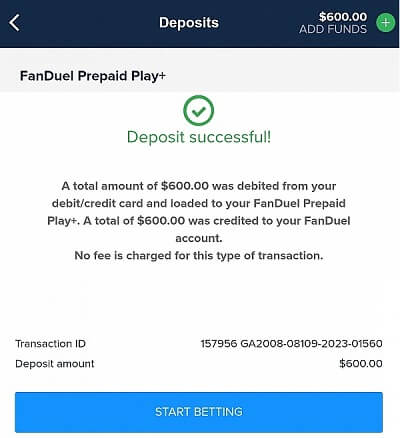 FanDuel deposit problems
We would love everything in life to run smoothly right? But of course, we know that isn't always the case. If you are having problems making a FanDuel deposit, it could be for a number of reasons.
Most of the time a deposit is stopped, the fault comes from your bank. Please make sure you are entering your name, card number, expiration date, security code, and state/zip code correctly and that all the details match the account information associated with your card. If your details are correct and you have funds in your account but the transaction still declines, you will need to contact your bank.
If you have opened a FanDuel account in the past but closed it yourself, or had your FanDuel account suspended, this could be one of the reasons why you can't make a deposit. If you feel this is the case, please contact customer support at support@fanduel.com.
If you are trying to deposit using PayPal and the transaction is declined, you will need to contact PayPal to see what the problem is. You may have an old or expired card registered on your account which is normally the case.
Now that you have successfully funded your account, you can check out the extensive range of markets and sports to bet on with the book. If you are new to mobile or online betting, our how to bet on FanDuel sportsbook guide will tell you exactly what to do to get your wager on.
FAQs
Does FanDuel accept American Express?
FanDuel does not directly take American Express. However, you can use it to make a PayPal payment and then use PayPal to deposit funds to your FanDuel account.
Can I add a deposit limit to my FanDuel account?
Yes, you can. If you feel you need to add a limit to your betting or DFS account, please contact support who can add this for you.
How do you deposit money into FanDuel?
Once you have created a FanDuel account, head to the deposit page and choose your FanDuel payment option. Then decide how much you want to deposit and follow the next steps.
How long does a deposit take for FanDuel?
Most are done instantly; however, bank transfers can take a couple of days to process.
How much can you deposit on FanDuel?
The maximum deposit limit on FanDuel is $2,500.