Gamble USA strives to improve your online gambling experience. We aim to help you play safely, make informed decisions when gambling, and increase your betting knowledge through our guides.
We adhere to strict editorial integrity; our content may contain links to products from our licensed & legal US partners.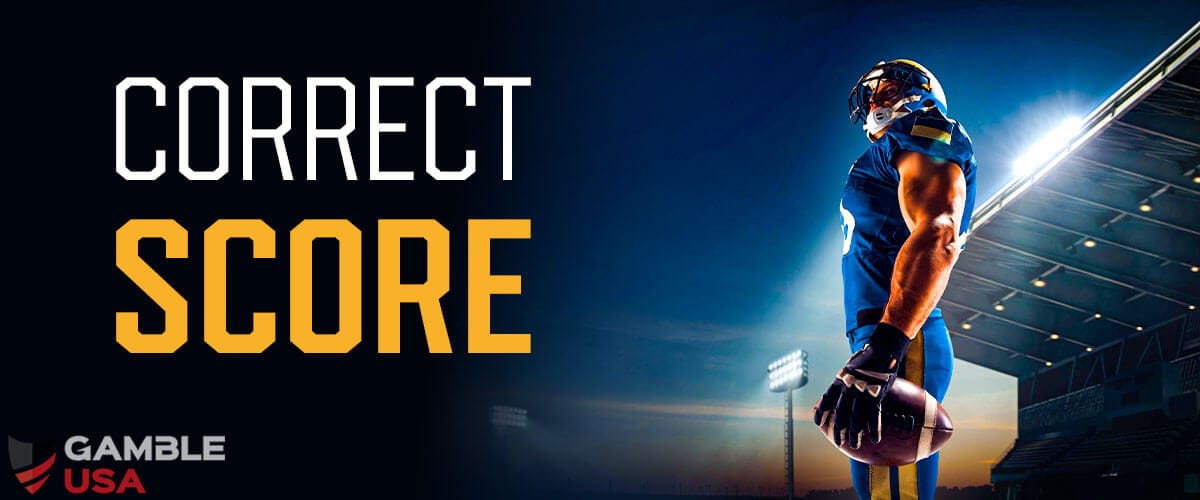 Whilst in sports such as the NBA and NFL predicting the exact final score is an incredibly tough thing to do, in other low scoring sports such as soccer, tremendous value can be found when participating in correct score markets.
With a host of potential score lines available to bettors – in this guide we will tell you everything you need to know about placing correct score bets and what you can do to try and make as accurate predictions as possible.
What is Correct Score Betting?
Correct score betting simply does what it says on the tin – to win a correct score bet, the scoreline at the end of the match must match with the scoreline you have placed on your bet slip at the beginning. Any other scoreline that occurs will see your bet deemed as a loser.
When trying to predict the correct score, you will often be presented with numerous options. In sports such as soccer this will include backing either the home or away team to win by certain or score line. Bettors will also have the chance to predict score lines which could see the game end in a tie.
Correct Score Double
Bettors turn to correct score markets as in many cases the odds are often generous. Bettors can see even bigger returns when they try and predict the scores in two matches.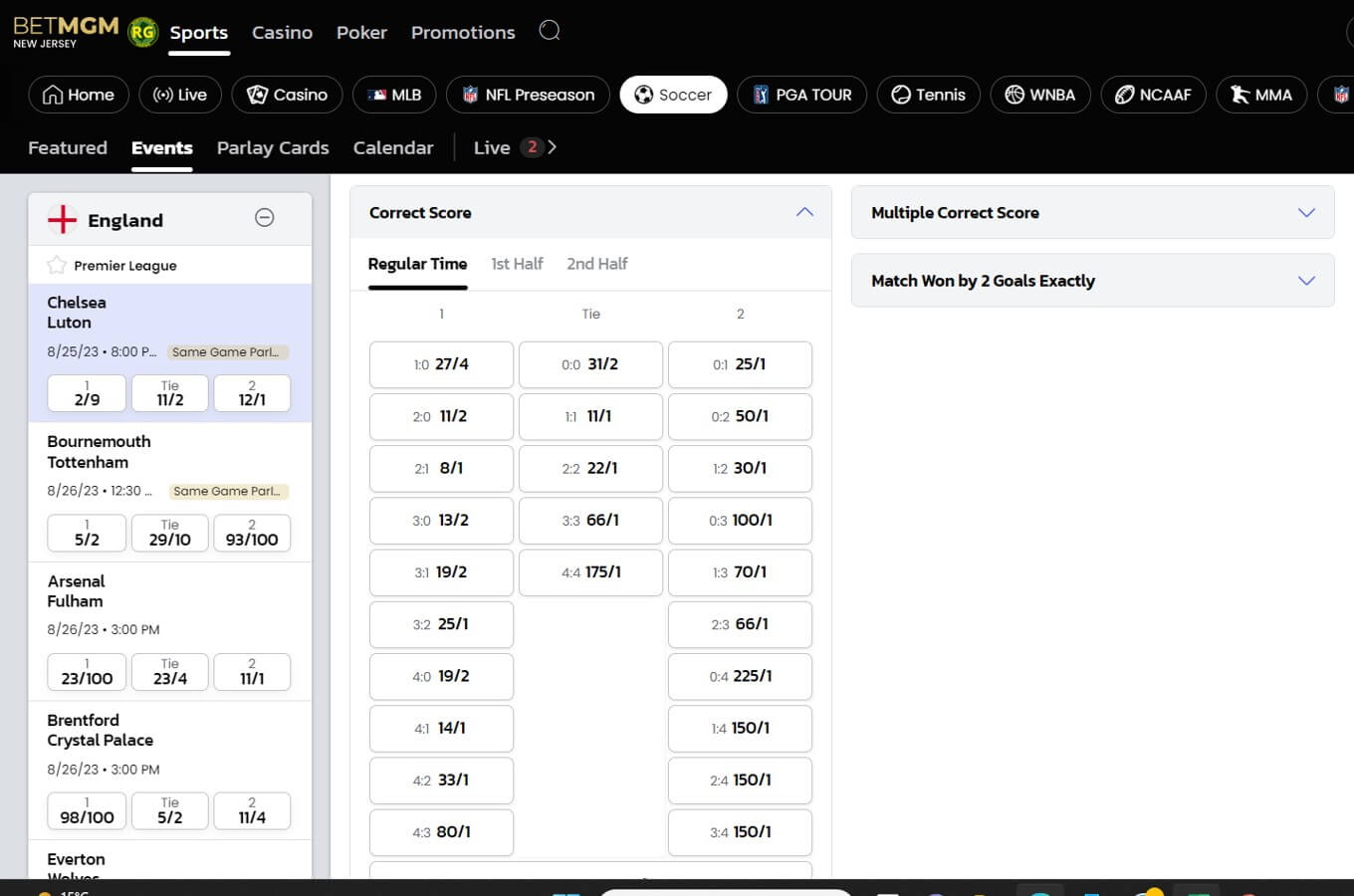 Known as a correct score double, the only way this bet will win is if both matches return the scoreline that was predicted before the start. As these bets are difficult to land, bettors can often make huge returns and it is an incredibly popular bet type when it comes to betting on matches in acclaimed leagues such as the English Premier League.
Correct Score Betting Tips Predictions Explained
If you are looking to place a correct score bet, the layout for the bet is often the same across many of America's most popular sport books.
When you find the correct score markets they are often laid out in three columns. Each of the columns will be headed with 'Home', 'Tie' and 'Away'. Under each of these columns will be a range of different score options. There is a reason why correct score markets contain columns.
For example, in an English Premier League match you may think the final score will be 2-1. Although 2-1 is a valid scoreline, you also have to predict whether it will be the home side that wins 2-1 or the away. Depending on the overall win odds of both teams, the 2-1 odds will be different across the columns.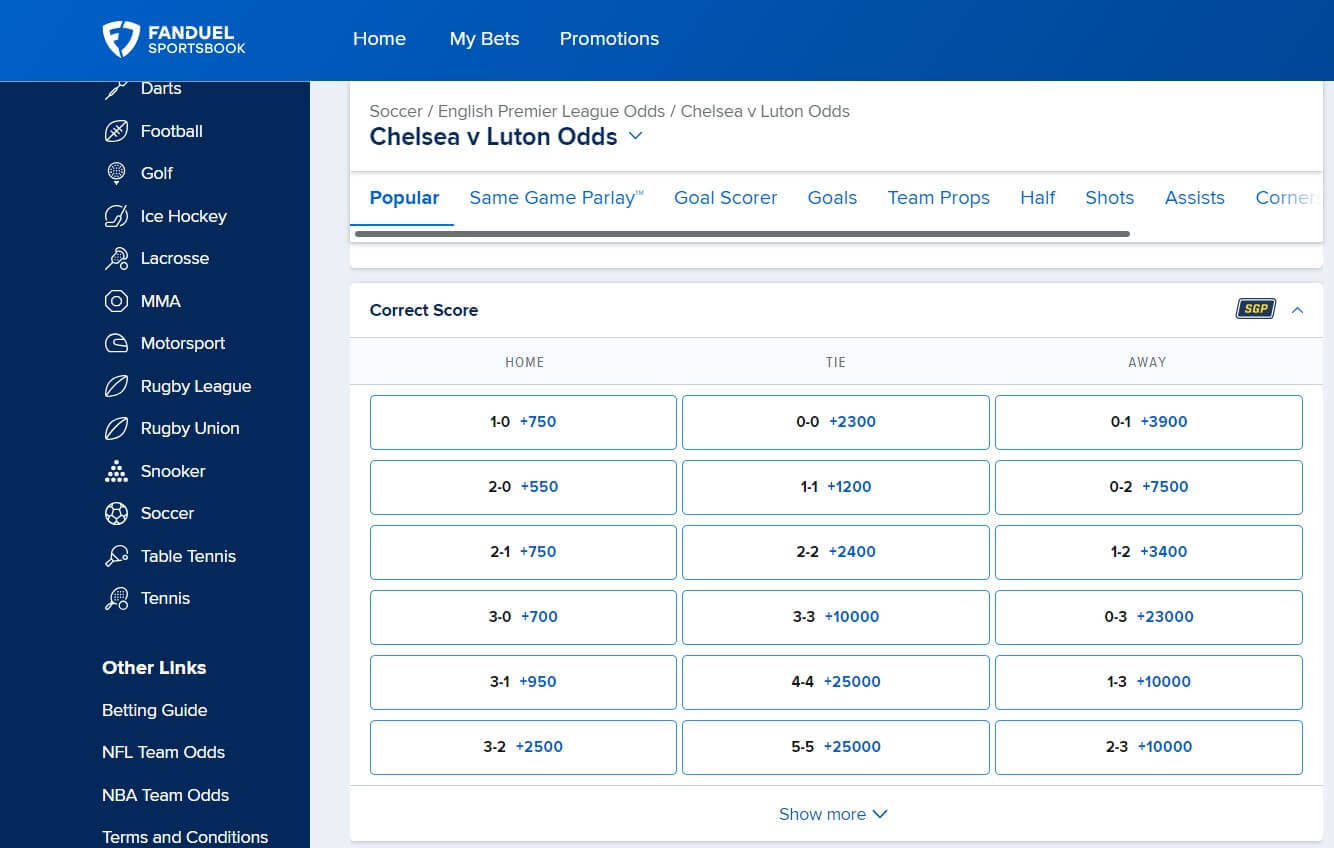 The tie column is only relevant if you think the game will end all square. You will be presented with a range of tie scoreline scenarios. In sports such as soccer, betting on a game remaining 0-0 is a valid correct score option.
Is It Possible to Predict the Correct Score?
Predicting the correct scores is often a tough thing to do, but certainly isn't impossible! Thankfully there are a range of tools you can use to help narrow down your selections.
Form tables – form tables are a helpful tool as they allow bettors the opportunity to see how a team has been performing over a set period of time. Often taking the last five results into account, bettors will be able to see how many matches a team has won, lost or tied as well as the overall amount of goals. Looking at form tables can often help identify patterns where bettors can see how many goals a team has scored and whether there is one scoreline that appears more than once.
Head-to-head record – in leagues such as the Premier League, teams have often played one another many times. With each of these matches being recorded, you can see if any score lines have commonly appeared between the two sides.
Keep an eye on form and fitness – when it comes to predicting the correct scoreline pay attention to all of the latest team news. If a team's best forward is unavailable for selection due to either injury or suspension this is likely to have ramifications when it comes to correct score odds.
Assessing Your Correct Score Predictions
If betting on the correct score is one of the ways in which you like to bet, there are a few things you can do to assess and track the different scoreline bets that you have placed.
Record and track scores

– logging scores will enable you at a glance to see if any score lines favor certain teams or not.
Pay attention to the overall betting markets – betting markets will often be crucial when it comes to determining what score lines might be more likely over others. There will often be similarities in scoreline odds as a season unfolds, keeping an eye on the odds could determine whether there is any hidden value that can be found.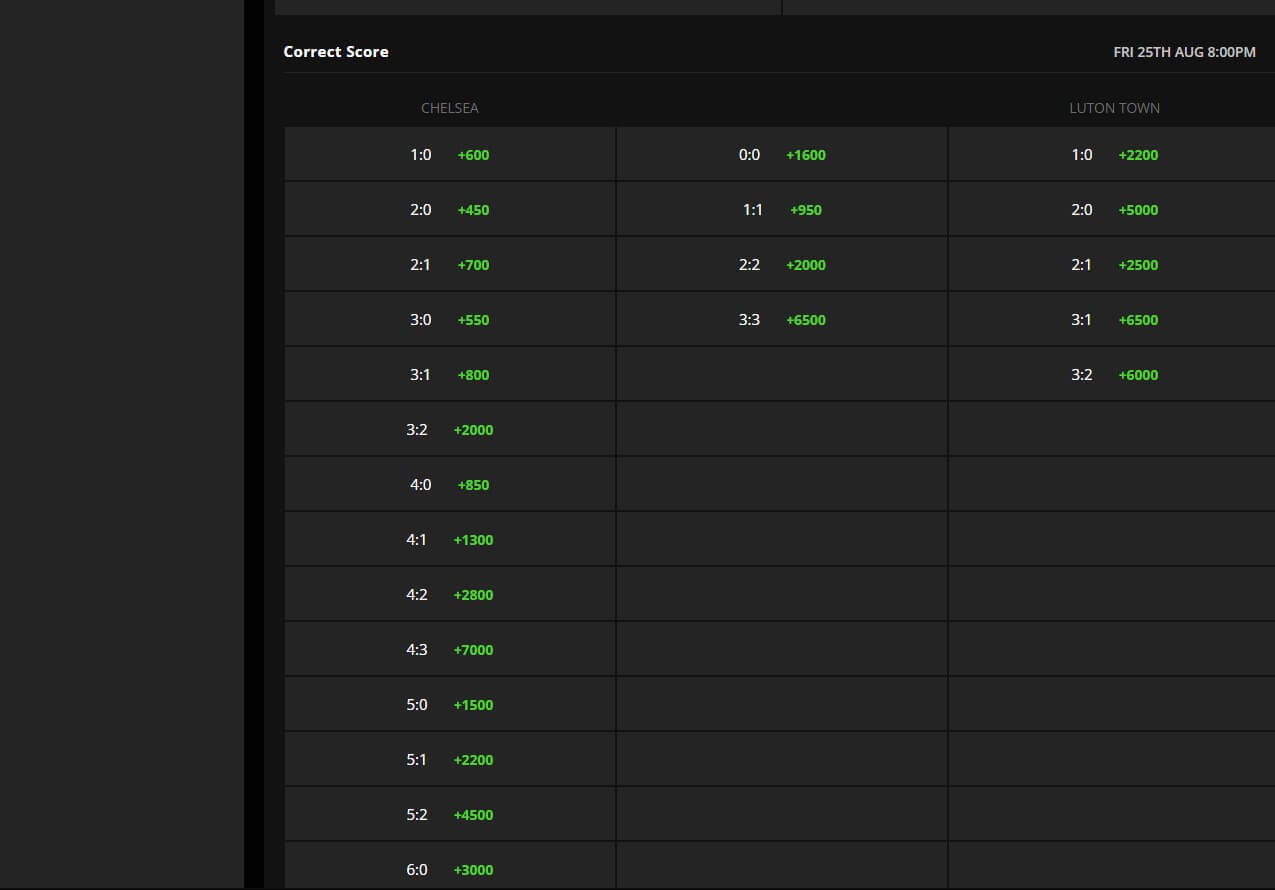 Game stats – game stats can often be telling when trying to assess correct score predictions. Seeing how many shots a team takes and how many chances are made can be key stats to be aware of when trying to make future correct score predictions.
Backing Expert Correct Score Tips
There are a whole myriad of websites, videos and blogs that provide tips and predictions from ex-professionals and journalists. Often a good guide to follow, scoreline tips from experts can be a useful tool to help you make better, informed scoreline decisions – however these predictions shouldn't be treated as gospel.
Predicting a correct score is a hard thing to do and is by no means an exact science. Some experts do keep a track of all their predictions and previously predicted score lines. This can be useful to take note of as it allows you to gauge whether what the expert is saying is truly worth following or not.
Summary
Correct score bets are great bets where bettors can see some significant returns.
Often an enjoyable bet to make, bettors who look to get involved in correct score markets will require patience as correct score bets aren't as likely to occur as regularly as other bet types such as outright bets.
When making correct score bets there are often a lot of data and tools available to you that will help you make better informed decisions. The use of historical head to heads, game stats, form tables and expert predictions are all easily accessible and can really help narrow down the wide range of score line options that you can choose from.
Fun and easy to place, predicting the correct score line can be a really brilliant market to get involved in.