Gamble USA strives to improve your online gambling experience. We aim to help you play safely, make informed decisions when gambling, and increase your betting knowledge through our guides.
We adhere to strict editorial integrity; our content may contain links to products from our licensed & legal US partners.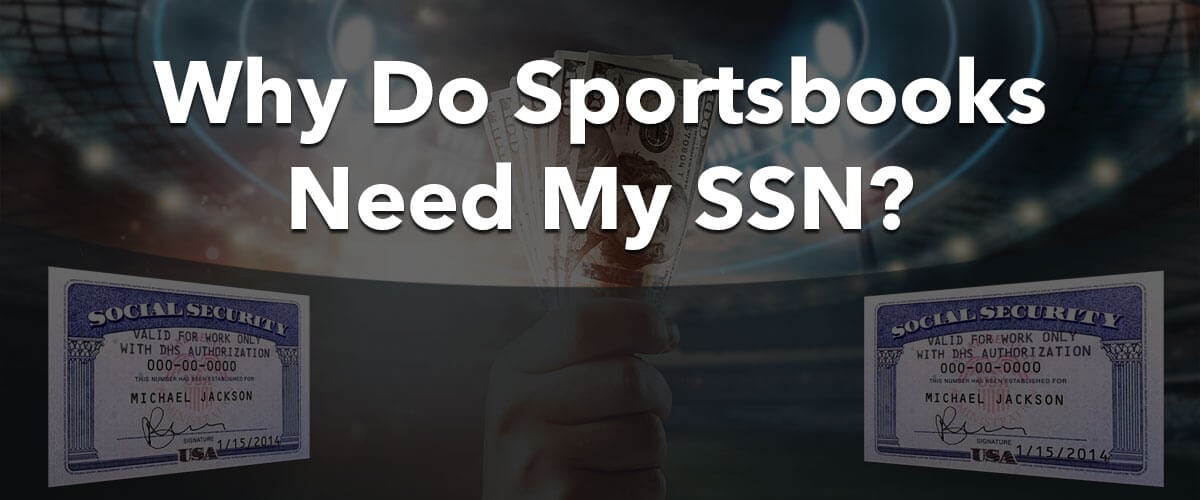 If you're new to online sportsbooks or gambling in general, you might not realize how legal sportsbooks work and how they require users to verify their identity. Betting online is different from betting in person, so there's no bouncer checking IDs to be sure users are over the age of 21.
Any legal online casino or sports betting site will require its users to verify their identity through different personal details that will need to be disclosed to make an account on their platform, including their social security number. The social security number is your account's specific identification that sets you apart from the other users and verifies your age and identity.
Mobile sports betting is still a relatively new concept in the United States. For example, the Ohio sports betting market has only just opened up so bettors in the state may be unsure about giving over personal information to FanDuel Ohio, Caesars sportsbook, barstool sportsbook Fox Bet or any other legal sports gambling options in the Buckeye State. With many betting options to choose from, it is important you know exactly why a sports betting app will ask for your SSN.
If you're wary about releasing your social security number online, read below why betting sites require this, how many digits you'll need to share, and how to register without one if needed!
Reasons Sportsbooks Ask for your SSN
As mentioned above, there's no bouncer checking IDs online, so sportsbooks use different identification methods to verify users' identities. They mainly do this to prevent fraud and adhere to local gaming enforcement and government regulations because of money laundering laws (bank secrecy act).
These same money laundering laws are why identity verification is necessary for an online sportsbook. Tracking a user's earnings allows the sports betting service to determine whether or not a user might be using it to launder money. Registering an account to an individual allows the government to tax the gambling winnings for the user from the online sportsbook.
New customers that sign up for a new account are required during the registration process to provide accurate documentation and their home address to deposit and win or lose money from the sportsbook through bets on various games and events. Verifying your identity allows bettors more fluid access to withdrawing money from their online casino or sportsbook accounts.
Also, you should remember that you are protected by the regulatory body of whatever state you are playing in. If you are playing in New Jersey, the New Jersey Division of Gaming oversees all gambling activity in the Garden State. This is far better than trying to use any offshore betting sites.
How many Digits do I need to Share?
Sportsbooks require your social security number to sign up for an account; however, most only require a part of it. Similar to credit checks, sportsbooks don't need your full social security number to determine your identity because they also have your date of birth in their system.
Due to this, a new customer will need to provide only the last four digits of their social security number because online sportsbooks can use this along with their other information to verify their identity. Only entering four digits allows sportsbooks to protect users' privacy and verify identity because they can cross-check the social security number with the date of birth of each user.
Sportsbook Verification Process in Steps
The identity verification process only takes a few minutes and, if done correctly, will be completed when registering for a new account. Creating a new account on any online sportsbook will require the user to disclose personal information to verify their identity, including their full name, date of birth, address, email address, and phone number.
The first step of creating your account is to go to your sportsbook of choice and click on the "Join Now" button (or one similar to it) in the top-right corner of the screen (pictured below). Once you've done this, you'll be prompted to fill in the registration form with all the information listed above and your social security number.

These personal details help register the account to each user, which is why users need to disclose their social security number (usually only the last four digits) so the sportsbook can verify that it's true. If your information is entered correctly, your account will be verified, and you'll be ready to go; however, if the information is incorrect, there will be an issue, and the account will be barred from making withdrawals until it's fixed.
FanDuel SSN Example
No Sweat First Bet Up To $1,000
21+. T&C Apply
21+. T&C Apply
Convenient banking
Massive choice of sports
No Sweat First Bet Up To $1,000
21+. T&C Apply
21+. T&C Apply
The FanDuel safe and legal sportsbook requires its users to enter the last four digits of their social security number during the second to last stage of its registration process (pictured below). The SSN is required to ensure that all users are 21 years old or more and a citizen of the United States.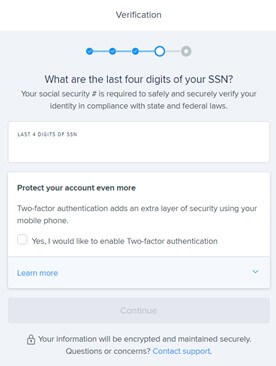 The FanDuel Sportsbook website states they do this to adhere to government regulations that require users who win $600+ a year to fill out a 1,099 form for their taxes.
DraftKings SSN Example
Up To $1,000 Deposit Bonus
21+. T&C Apply
21+. T&C Apply
The best sportsbook
Amazing odds & offers
Awesome betting app
Up To $1,000 Deposit Bonus
21+. T&C Apply
21+. T&C Apply
The DraftKings Sportsbook is very similar to FanDuel in the registration process because it also requires the user to provide only the last four digits of their social security number. As seen below, DraftKings requires this information in the second step of the new user registration process.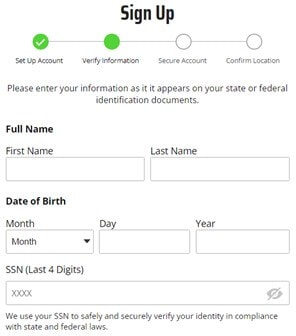 The DraftKings website states they require SSNs to verify their users' identity and require users with a big win to fill out a W-9 or W-8BEN IRS tax form.
Which Sports Betting Sites ask for SSN?
All legal betting sites in the United States are required to verify user identity by using social security numbers by law.
Suppose you find yourself on an online casino or sports betting platform that does not require your SSN. In that case, you are likely on an offshore betting site, which is not regulated or licensed by a government agency, meaning it's very risky to use.
Can I register at a Sportsbook without SSN?
Unfortunately, no legal and licensed online sportsbooks or online casinos allow users to create an account without verification of their social security number. While you may be required to verify your identity with your driver's license or financial institution documents, users must have a valid social security number to create and operate their accounts.
A few online sportsbooks operate offshore and do not require users to register using a social security number. Still, they are not fully licensed or fully legal anywhere in the United States (but more on that below).
Social Security as a Measure Against Offshore Betting
One of the main reasons that social security numbers are required to sign up for an online sportsbook account is to track people's winnings for tax purposes, something offshore betting sites do not do. If you're using an online sportsbook that does not require social security numbers for registration, then you're on an offshore betting website like Bovada or MyBookie.
While there's usually no penalty for users who use offshore sportsbooks or casinos, they are not regulated and can be using predatory or unfair practices. Their online slot machines and casino games could be potentially rigged because there's no government oversight.
If you don't believe me, Google "the truth about offshore gambling sites," and you'll find plenty of related articles previous to this one warning you of the same issues.
Are there Alternative Verification Methods?
Unfortunately, no, all users are required to use their social security number to create an account on a legal online sportsbook. Some users having issues verifying their accounts may be required to provide additional information or pictures of their driver's license or financial statement to prove their identity and home address before they can bet online.
Is FanDuel safe for SSN?
Yes, FanDuel is safe for SSN. Adding your SSN to FanDuel sportsbook is a requirement when creating a FanDuel account and signing up at fanduel.com. FanDuel is one of the biggest and most trusted sportsbooks in the US and is available in over 18 states. The site has encryption software and various security sanctions to keep your details safe and secure.
States with legal Online Sports Betting
Before you sign up with any betting site, whether it be Bally Bet or the Caesars sportsbook app, you may want to know which states offer legal online sports wagering. All licensed betting apps in these states will require your SSN as part of the registration process. Although some may feel it is too stringent, entering your SSN as part of security measures is a far better option than using an offshore sportsbook that may not require your SSN, but you also won't be protected.
The following states offer legal online sports betting:
Arizona
Arkansas
Colorado
Connecticut
Illinois
Indiana
Iowa
Kansas
Louisiana
Maryland
Massachusetts
Michigan
Nevada
New Hampshire
New Jersey
New York
Ohio
Oregon
Pennsylvania
Rhode Island
Tennessee
Virginia
West Virginia
Wyoming
It is expected that the list of legal sports wagering sites will continue to grow, as more and more people become interested in placing a sports bet online. Online casinos are more limited, but in general, online gambling sites continue to expand.
Why Sportsbooks Need SSN FAQs
Do I need to give my SSN to bet online?
Yes, all legal online sportsbooks will require new users to register for an account using their social security number to adhere to regulations from local government agencies. If an online casino or sportsbook does not require you to use your SSN when registering for an account, then it's an illegal offshore betting site.
Is it safe to share my SSN with a sportsbook?
Yes! According to the New Jersey Division of Gaming Enforcement, all sportsbooks are required to protect users' social security numbers and bank information through different levels of cybersecurity. If your identity were to be stolen, you would be insured through your local gaming commission that licenses the sports betting service used.
Does FanDuel require SSN verification?
Yes! FanDuel requires each user to enter the last four digits of their social security number to register for an account. The user must enter the full social security number to verify their identity if there's any issue during the registration process.
Is sports betting without an SSN legal?
Not exactly. Some offshore betting sites don't require users to enter their social security numbers; however, they are not entirely legal. Offshore betting sites are legal to use, but not regulated by any government agency, meaning that the user will not be breaking any laws but are at risk of getting taken advantage of by an operator.
How to resolve issues with DraftKings Social Security number not working?
Suppose you have any issues with your SSN when creating your DraftKings account. In that case, you also may be required to verify your identity through a second method, including uploading a photo of your driver's license, passport, or other government-issued ID. To do this, go to the "Document Upload" button in your account options (get here by clicking on the profile picture in the top left-hand corner of the app or website) and upload your photos!
Is it safe to give Draftkings SSN?
You may be wondering why sportsbooks need SSN and feel it is personal information that you would rather not give away. Consequently, when signing up for DraftKings you may be reluctant to give your SSN as part of the registration process. However, you should have no such worries.

DraftKings is one of the best online sports betting sites in the US, with excellent bonus offers, competitive betting odds and unique promos targeted at big events like the Super Bowl. As such, the brand is extremely trustworthy and all of your personal information, including your SSN, will be safe and secure.