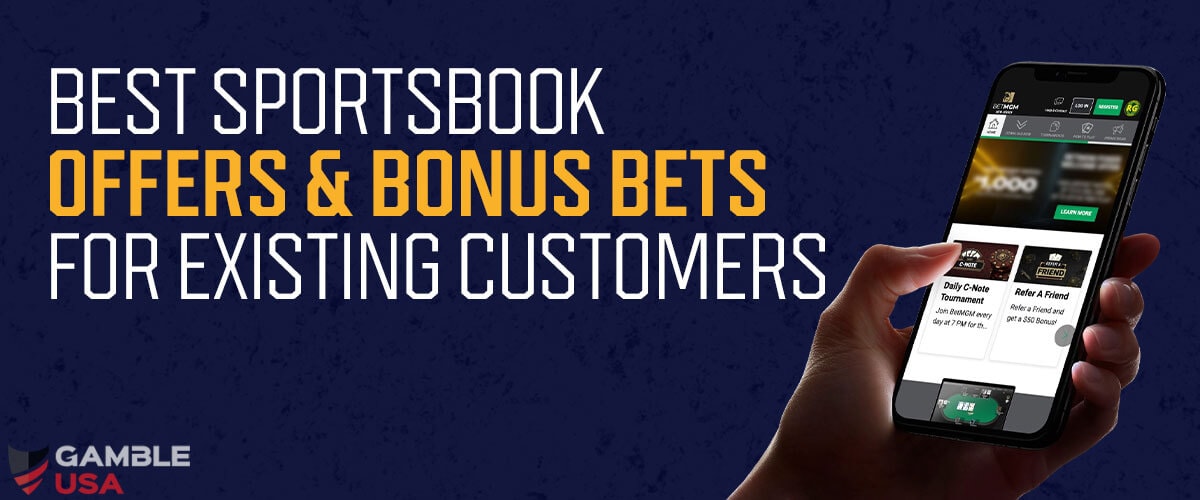 If you have been a long-time customer of a sportsbook, you may be wondering if they offer bonus bets to existing customers?
The answer is not that straightforward. Yes, a lot of operators do offer some form of bonus bet or reload bonus for existing customers, but like most things in life, the best deals are for new customers. Sportsbooks do occasionally throw bonus bets and loyalty offers at existing players, but these tend to be as rare as a Jaguars win. If you do come across a betting site that runs a generous betting offer as a reward for returning customers, you have hit gold.
As the US online gambling industry continues to expand, bettors have access to several bonuses and promotions as operators compete for new customers. With a saturated market, bookmakers need to offer competitive welcome offers and sign-up offers to incentivize people to register for their betting site or sports betting app. However, although we see lots of bonus bet offers for new customers only, we rarely come across existing customers' bonus bet promos. New customer welcome bonuses provide excellent value, but players want to join betting sites that continue to reward their existing customer base with exclusive customer offers.
In the UK betting market, operators offer bonuses for existing customers regularly, such as the bonus bet club. Bonus bet clubs are weekly offers giving bonus bets for existing customers up to a specific value on a sporting event of their choice. Online betting sites like Paddy Power frequently run betting offers such as free-to-play games horse racing boosts among many other existing customer offers.
In the US, there are not a lot of operators that give bonus bets to existing customers. Unfortunately, you will rarely come across a bonus bet for existing DraftKings customers or a bonus bet for existing BetMGM customers. However, US operators do offer regular price boosts on all of the significant domestic sports such as football and basketball.
The best way to access bonus bets is to join a sportsbook as a new customer. As well as getting bonus bets, you may also get a no deposit bonus, or other matched betting offers to reward you for signing up. You can also access a bonus code to claim your new betting bonus. There is not always a requirement for to enter a sportsbook promo code to access a new customer offer, but keep your eyes peeled in case one is needed.
---
Best Alternative Bonus Bets for Existing Customers
As we have mentioned above, existing customer betting offers tend to focus more on rewards club schemes and loyalty programs; the best way to access bonus bets is by joining another book. Online sportsbooks offer bonus bets for new players to join as it means they can test how the site or app works without losing any money. They can place a qualifying bet, and if the wager loses, they will get refunded. Essentially you are using bonus cash to place your wager. Although these tend to be smaller amounts, such as a $5 bonus bet, it is a fantastic opportunity to try out parlay betting apps with no risk.
We have listed some of the best bonus bet offers at US sportsbooks below that existing customers should claim instead:
Although the above are not existing customer bonus offers, you can access bonus bets if you sign-up at any of the above sportsbooks today. Whether you are playing in New Jersey or using a New York sportsbook, you will still be able to access these online sports betting bonuses. Other sportsbooks such as the Betfred sportsbook offer perks such as enhanced odds on significant events like the NBA playoffs. Additionally, there are no bonus codes for existing customers. If you are already signed up at a sportsbook, the best way to access new bonuses is by visiting the promotions page on the site or app.
---
Free-To-Play Sports Betting
The chance to bet on sports for free is an attractive one for anybody who may be hesitant about gambling. Therefore, several sportsbooks utilize free-to-play sports betting games, or free-to-play contests making the transition to playing for real money a smooth one.
There are many different ways bettors can attempt to participate at free money with sports betting predictions. Trivia quizzes, pick'ems, and social gaming challenges are a clever way for players to test the waters with a particular sportsbook or a few different betting sites.
The top three sportsbooks offering free-to-play sports betting options are:
DraftKings Sportsbook
FanDuel Sportsbook
Monkey Knife Fight
The three sportsbooks above all offer the three main types of free-to-play sports bets that you may encounter. As we mentioned above, these are Trivia quizzes, pick'ems, and social gaming challenges.
---
How do Bonus Bet Offers for Existing Customers Work?
As we touched on above, new customers always seem to get preferential treatment over existing customers. New players will typically be able to claim extra bet credits or a more generous sportsbook bonus as operators desperately want new blook. Try and renew your car insurance or get a deal on a new phone contract, most deals have T&Cs that say for new customers or patrons only. Sportsbooks are no different. The market is super competitive and to grab players' attention, and custom, they offer crazy sign-up offers. Then they hope that once you are there, you will like what you see and stay loyal and wager.
Life doesn't really happen this way. Bettors are savvy. We want the same goodies and deals that new players get. Unfortunately, the only way to really get this is to sign up as a new player. Sure there are operators who do offer some incentives to existing customers and we have detailed a few of these below. These are great additions to a sportsbook but nowhere near as good as a new player sign up bonus.
As you can see above, there is a good selection of offers for existing customers, but these are not mega-bonus bets. On a big, huge event such as the Super Bowl or March Madness final, selected customers may get emails with bonus bets on there, especially if you haven't bet with a book for a long time. You can of course take advantage of any of the refer a friend sportsbook offers that are now available.
Sportsbooks will usually offer some form of sports betting bonus for existing users that consist of enhanced minimum odds or a bonus specific for an event like the Champions League. On the surface, any bonus bet or welcome bonus that is offered by a gambling site will instantly appeal. However, dig a little deeper and there are normally certain requirements you have to meet before total bet settlement is reached.
If bonus bets for existing payers are offered by a book, there are usually some tough T&Cs or hoops to jump through before you can claim an offer. Operators do offer options such as Weekly Prediction Challenges where you need to bet x amount to get y free. These change all the time and are sometimes account-specific. The best way to check is to keep an eye on the promos or offers tab in your existing account.
A lot of existing customer offers are account specific. So what may be available for you, may not be available to another customer. Generally, the more you bet with a book, the more offers and promos will be available to you. It is a bit like in Vegas. If you are a high-spending VIP, you get the best suite, picked up from the airport, the best of everything. If you are an average Joe, we have to settle for a normal Vegas experience.
As more states open up to sports betting and competition heats up even more, we really do hope more sportsbooks offer a loyalty reward bet program of some sort. Until then, play your A-game and join a book as a new customer to get the bonus bet.
---
Sports Leagues with Promos
There are certain sports that enjoy the biggest market coverage at most online sportsbooks. Consequently, they also come with numerous promos for users to benefit from. Whenever there is a major sporting event, you will likely notice odds boosts or free bets surrounding this event to encourage you to wager.
Let's take a look at some sports that usually provide promos for existing players. There are no sportsbook promo codes needed for these offers. Sportsbook bonuses that are for specific events can be found on the promotions tab or section.
NFL
Some of the best bonus bet offers for existing customers can definitely be found during the NFL season. It is guaranteed that there will be several football betting promo codes that will be available for both new and existing users. It is important you always check the promotions page of the site or app you are using as these promos are typically easy to achieve.
The NFL is undoubtedly the most popular sport with bettors. As operators are aware of this, they will release plenty of risk free wagers, odds boosts and other promos so help try and give your bankroll a boost. For example, instead of a regular deposit match bonus, online sports betting sites may provide risk free wagers on the Super Bowl or playoffs.
NBA
Prop bets seem to be the choice of most bettors when it comes to the regular NBA season. For example, you could place a wager on a team to win, and every time the player you have chosen makes a three pointer, you will receive free bets. Most sportsbooks will offer player props, parlays, and more including daily sportsbook promotions such as boosted odds. Simply choose which offer is the best for you and enjoy.
NHL
You may notice that a Bet and Get offer features a lot around NHL games. These work by bettors wagering a certain amount on a game and getting something back each their team scores a goal. Like other popular sports, when the playoffs arrive the offers start to heat up. A lot of sites in recent years have targeted the Stanley Cup for their promotions. For example, Unibet had a promotion where if you wagered $50 on the winner of the Stanley Cup, you would receive an additional $5 every time they clocked up a postseason win.
---
FAQs
How do you keep getting bonus bets?
There are a few ways you can do this. You could choose to create multiple accounts with different apps to get free plays. For example, you could sign up at the BetMGM Sportsbook then another site to take advantage of two different deposit offers. Additionally, some betting sites offer you weekly bonuses bets for betting on certain games.
Can you withdraw bonus bet winnings?
This all depends on the terms and conditions of the offer. Some sites will have wagering requirements, while others will let you instantly withdraw your winnings. Do some research to find the best deals.
What kind of existing customer betting offers can I get?
The range of betting offers you can receive at a sportsbook depend on which site you sign up for. Popular offers include parlay boosts, cashback specials, insurance on parlay bets, bonus bets, reload deposit boosts and enhanced odds offers.
Do I need codes for existing customer offers?
Generally not, but there may be a reload deposit offer that requires a code. If there is one, then all you will have to do is pick it up from the bonus offer itself. This is done so that you can confirm when you want to use the offer, so it is not automatically assigned to your next deposit. Should you want to take up a deposit offer, you have to meet the requirements, and if it is a cash boost, then you may have to make a large deposit to maximize your boost.