Gamble USA strives to improve your online gambling experience. We aim to help you play safely, make informed decisions when gambling, and increase your betting knowledge through our guides.
We adhere to strict editorial integrity; our content may contain links to products from our licensed & legal US partners.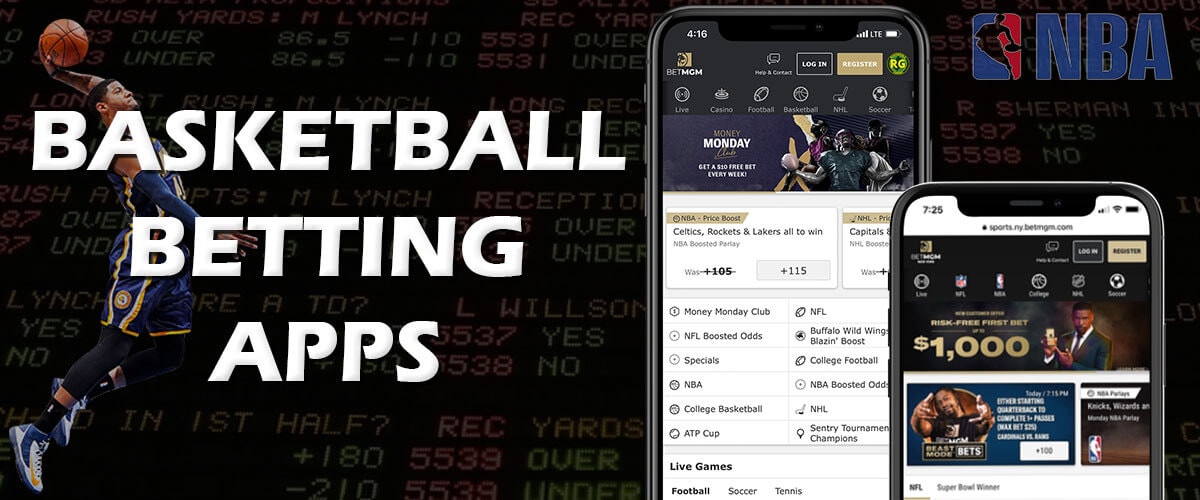 As sports betting expands across the United States, gambling on prominent sports such as basketball has snowballed. Finding reliable basketball & NBA betting apps does not need to be challenging.
There are more legal online sportsbook sites available than ever before. From Arizona to Wyoming you will discover numerous platforms on which you can place a sports bet. Every betting site that wants to be considered as a top option in the US must provide comprehensive coverage of NBA basketball or the regular NBA bettor will look elsewhere. An NBA betting site will offer odds on the NBA draft, the NBA Championship, and more.
Thanks to numerous top-quality NBA wagering apps to choose from, getting your fill of online basketball betting is now easier than ever. You no longer need to sit down at your desktop or visit a retail sportsbook to bet on NBA games. Thanks to advances in technology, bettors can now wager on the go via NBA betting apps. But which are the best basketball betting apps, and how do you get started?
Betting on basketball is extremely popular in the US, and operators now offer several online betting options on the big tournaments. For example, you could find a March Madness betting app that just focuses on the NCAA college tournament. Additionally, you may love college basketball and be on the lookout for college basketball betting apps. Wherever your interest lies, you won't be short of options, as multiple basketball betting sites are available.
This page lists the best NBA sports betting apps all with competitive NBA betting odds. So if you are looking to back your team this season, we show you which are the top licensed basketball sportsbook apps below.
Best Basketball Betting Apps
If you want to bet from your Android mobile or iPhone on basketball, then these are the best NBA betting apps:
We believe the apps listed above are the top 5 NBA and basketball betting apps for US bettors. Each app has several perks, such as attractive welcome bonus offers, excellent NBA odds, and NBA free bets, which can be used on big events such as the playoffs. For example, if you wanted to wager on the playoff finals, you could sign up to one of the above betting sites and use your free bet to add some excitement to watching the most significant event in the sport. Everybody loves an NBA playoff game!

There is no need to spend several hours researching and comparing the options to find a highly-rated site that offers generous odds and a nice deposit bonus. We have significant experience in reviewing and ranking online sportsbooks to provide a list of the best NBA betting sites. As more legal sports betting apps become available in 2023, our team of reviewers are frequently testing the latest options to discover the best app to bet on NBA games. Let's look at all of the critical information you need to select the best NBA mobile betting sites for you, including details of how to bet on NBA games.
All of the listed basketball betting apps can be downloaded to iOS devices (iPhone & iPad) in addition to an NBA app for Android. Additionally, each operator is licensed and regulated right here in the US so you can wager in confidence.
The good news is finding NBA betting apps is straightforward as long as you have the correct information. Basketball is extremely popular in the US, with the NBA being the most-watched basketball league globally. Consequently, there is no shortage of options when it comes to searching for an NBA betting app. When betting on the NBA, you will be presented with countless NBA betting lines and various other bet types.
This article will assist you in finding highly rated and reliable NBA betting apps with several betting options at competitive odds. With our wealth of knowledge in the online sports betting sphere, we can separate excellent basketball apps from bad ones.
#1 DraftKings Sportsbook App
DraftKings sports betting is one of the best experiences in the US. The operator is known for its daily fantasy sports contests and also offers a plethora of betting options for major domestic and international sports. For basketball, the DraftKings app runs special promos during the NBA finals. For example, for the latest playoff games, players could find 150-1 odds on the Bucks or Suns to win their next game. DK makes it easy to place an NBA bet thanks to its user-friendly layout and it is one of the best NBA sportsbooks available. DraftKings prop betting options are also some of the best in the business, especially when it comes to betting on basketball.
Standout feature: Regular odds boosts
Features: 4/5       Odds: 4/5       Basketball promos: 4/5
Download link: sportsbook.draftkings.com – Deposit bonus up to $1,000
#2 FanDuel Sportsbook App
FanDuel is one of the biggest names in US sports betting. Regarding the NBA, the operator provides comprehensive coverage of regular and post-season NBA matches with several live betting options and the easy-to-use FanDuel cash-out feature. There are several wagering options, such as NBA over/under and NBA future on FanDuel. Additionally, the app looks great, and the odds are competitive. They also offer an awesome $1,000 no sweat bet for all new players too.
Standout feature: Same game parlay
Features: 3/5       Odds: 4/5       Basketball promos: 4/5
Download link: fanduel.com/sportsbook – $1,000 no sweat first bet
#3 BetMGM Sports App
BetMGM claims that it understands the unparalleled passion that drives NBA fans, and this is clear when you visit the app. The operator has excellent odds boosts and significant college basketball coverage. BetMGM may be known to most as an online casino platform, but we consider it as one of the best NBA betting app options due to its NBA futures, prop bet, BetMGM's excellent parlay betting option, and NBA Vegas-style wagering options.
Standout feature: In-Game betting
Features: 3/5       Odds: 3/5       Basketball promos: 4/5
Download link: betmgm.com – $1,000 new player bonus bet
#4 Caesars Sportsbook App
The Caesars sportsbook is relatively new on the scene, but that doesn't mean its app isn't right up there with the best. It is a fantastic choice for NBA betting as the sportsbook covers all of the regular-season NBA games and also has a large NBA live betting section. Users can bet on hundreds of options when the action has started, including full-time results and the next player to score a three-pointer. Get started with a first bet on Caesars up to $1,250 on your mobile or online.
Standout feature: Caesars rewards
Features: 2/5       Odds: 4/5       Basketball promos: 3/5
Download link: caesars.com/sportsbook-and-casino – First bet on Caesars up to $1,250
#5 PointsBet App
When visiting the PointsBet app for the first time, you will encounter a user-friendly interface that makes navigation a breeze. This means it is easy for users to navigate their way to the NBA wagering section, where they will discover hundreds of NBA betting options, making it an excellent NBA sportsbook. The PointsBet app can be downloaded on both iOS and Android devices in just a few minutes.
Standout feature: Daily parlay booster
Features: 3/5       Odds: 4/5       Basketball promos: 2/5
Download link: pointsbet.com – 5 x $50 second chance bets
How We Choose the Best NBA Betting Apps
At Gamble-USA, we consider various factors and utilize different strategies to evaluate every mobile app and sportsbook we recommend. Experiencing these sites first-hand and using them regularly is the most crucial part of this process.
Before we start to compile our reviews, we download the app, register a new account, deposit real money, and submit numerous different types of bets. We then rank the site according to our experience. Essentially we are looking for betting sites or apps we would happily recommend to our family and friends. Some of the critical factors we consider are:
Is the banking process efficient and straightforward?
Is the NBA betting app safe and legal to operate in the US?
Is there a wide range of NBA betting lines, and are they a reasonable price?
Does the app offer markets on popular basketball leagues and college tournaments?
Is there a live betting option?
Is there a generous welcome bonus?
Does the app contain good features?
Are there any betting tips?
In addition to looking out for each of the factors closely, we evaluate each NBA betting app against each other based on a number of basic industry standards which are evident in the online gambling world.
How to get started on an NBA Betting App
It is straightforward to get started at the best NBA betting apps, and you will be to place your bet on the future NBA MVP in no time.
Whether you are playing in New Jersey, New York or any other states with legal online sports betting, just follow the below steps to get started:
Choose your NBA betting site and click the 'Join Now', or 'Sign Up' buttons. Before you join, have a look through the site and make sure if offers your preferred payment methods. The best NBA betting site will offer a wide range of payment options, from e-wallets to prepaid card and more.
Enter your personal information and select a username and password. You will then be required to verify your details via email.
Before you bet, you must deposit money using your preferred payment method. Make sure you are taking advantage of any bonuses available, such as a second chance bet or other welcome offers.
Once on the app, head to the NBA section, choose your odds and then get betting.
Once you have submitted your wagers, wait for the results to roll in. Any funds generated from winning bets will be instantly added to your account. You can then use these funds to maintain your bankroll or request a withdrawal.
Keep an eye out for ongoing NBA promotions during the season. You will often find some online sportsbooks provide an odds boost for games in the NBA playoffs so make sure you are there to take advantage.
Types of Bets Available on Apps for Betting on the NBA
When wagering on the NBA through an app, you will have access to every type of bet you can think of. All of the best types you're used to in the sportsbook or casino are available at your fingertips. You will also discover expanded options for prop bets and more.
The best NBA betting apps know that convenience is important for players, but the ability to wager on whatever you want is also vital. Whether you want to bet on the Boston Celtics to win the playoffs or are interested in player props, there will be options for everyone. Rest assured, you will not miss out on any of the action by switching to mobile betting.

Below are the four most popular types of bets on NBA betting apps.
Moneyline NBA Bets
If you simply want to bet on who will win the game outright, moneyline is the type of wager you are after. The most typical choices are three-way moneylines, draw no bet, and double chance. You must pay attention to minor subtle differences between the betting lines and odds on offer.
The moneyline bet is the most straightforward type of wager you can make on an NBA game. However, that doesn't mean you shouldn't presume it is all easy. Professionals often use moneyline bets to turn massive profits.
Futures Bets
Basketball futures are bets on events that occur in the relatively distant future. Users can wager on both team and individual performances. If you are craving some off-season action, you could place a January wager on next season's NBA champion or Player of the Year, for example.
Odds on futures lines will vary more between basketball betting sites than those for individual games. This gives bettors plenty of opportunities to shop around in search of the best value for money.
Basketball Prop Bets
Basketball is dominated by global superstar players. Compared to most other team sports, these stars have a bigger influence on the outcome of games through their amazing play. Consequently, there are multiple chances to wager on specific performances rather than game outcomes. Placing an NBA prop bet is both fun and straightforward with multiple options available.
NBA player props mean betting on the individual performance of specific players. There are some NBA betting apps that will even allow you to customize your own, choosing the statistics and players you want to bet on.
NBA team props will ask you to bet on instances in the game other than the outcome itself. These include things such as the number of fouls and who will score first.
Spread NBA Bets
If you want to wager on the underdog or a team you feel will perform above expectations, you should choose a spread bet. Also, if there is an NBA team you think will win by a much larger goal margin than most people predict, you can get rewarded for those predictions with spread bets.
Live Betting on NBA
Live betting or in-play betting has surged in popularity over recent years. Many believe it is the future of sports betting. Live NBA betting adds to the excitement levels by allowing users to respond directly to the progression of the game in real-time.
The odds will be adjusted frequently as the game progresses, and now props will appear throughout. Standard bets such as spread, totals, and moneylines will open and close during the game. This gives the betting app time o readjust the odds or avoid a risky betting line entirely.
Some examples of NBA live bets include:
Will a player score 50 points?
Which team will score the next three-pointer?
Which player will make the next steal?
NBA live betting will appear the same to anybody who has placed a pre-game wager on a sports betting app. In-play markets will be easy to find on any basketball betting app listed on this page.
NBA Betting Apps FAQs
What can you bet on in basketball?
We have provided several basketball betting options in the article above. Users can bet on the outright winner of a game, who will score the most points, who will have the most rebounds, and more.
How can I bet on the NBA?
Betting on the NBA is easy. As long as you are a resident in a state with legal sports betting, you can sign up at any of the betting apps we have recommended above. There are several betting apps available, and once you have registered, you can choose from point spread, prop bets, futures bets, and more as you wager on your favorite team.
What are the best NBA betting apps?
Looking at the apps listed at the top of this page is your best bet when trying to find out the best apps for wagering on the NBA on your mobile device. All of the apps we have recommended check every box in terms of what a sports bettor is looking for. All have excellent bonuses, fast payouts, competitive NBA odds and efficient banking options.
Can I use more than one NBA betting app?
Yes, you can sign up with multiple NBA betting apps. In fact, doing so will be beneficial as you can then shop for the best odds and lines and choose the app with the most attractive NBA odds. Not every betting app will see the game in the same way, and you can use this to your advantage. Finding an edge in sports betting is always the aim, but is not easy. There is no rule saying you can't sign up with several NBA betting apps.
How do I know if an NBA betting site is legit?
The easiest thing to do is check for a state authority logo at the bottom of the page. For example, the New Jersey Division of Gaming Enforcement. If the logo is visible, the site is secure and legit. All of the apps listed on this page are approved to operate in legal states and fully licensed.