There are a lot of sportsbooks that now offer parlay bets, and BetMGM is one of them. It's easy to bet parlays with BetMGM sportsbook and we show you how to do it.
Online sports betting is rapidly expanding across the United States. Sports bettors across the nation have access to multiple top-quality betting apps and features. Serious and recreational bettors can take advantage of gambling on the go via the latest sports gambling apps. Additionally, there are a considerable amount of bet types available. Whether you want to use your risk-free opening bet on a straight wager or multiple bets, there is plenty of choice.
One of the most popular types of wager to place on any sport is the parlay bet. The best parlay apps will allow you to make game parlays on significant leagues such as the NFL, NBA, MLB. It is extremely rare nowadays to find an online sportsbook that won't let you parlay, as they are one of the most prominent types of bets in the market.
Most sportsbooks allow users to place parlay bets, and they are attractive as they have the potential to yield huge payouts for bettors. One of the best options for a game parlay wager is the BetMGM app. BetMGM is one of the most well-known gambling brands globally, and users have the ability to place a parlay on BetMGM sportsbook. Not only that, BetMGM also offers a range of parlay insurance options so if your bet doesn't land, you can still get some money back.
This article is a comprehensive guide for anyone looking to make a BetMGM parlay bet. We will cover how to bet parlay on BetMGM sportsbook, how to do a 5 team parlay on BetMGM, how to cash out a parlay on BetMGM, look at the BetMGM One Game Parlay offering, and more. We will also cover the basics of parlay odds and pre-game betting and how to view your potential BetMGM parlay payouts.
How To Place A Parlay Bet on BetMGM
Before placing a multi-game parlay on BetMGM, you must register with the sportsbook. The BetMGM platform is one of the best around and has a fantastic welcome bonus consisting of a 100% matched deposit offer that can go as high as $1,000.
Joining BetMGM is simple. Head to betmgm.com and click register and follow the on-screen instructions to create your account, and you can be exploring the parlay builder section of the site within minutes. Please be aware that you will be required to provide some personal details such as name, address, email, and birth date to complete your registration.
If you are brand new to sports betting, you may want to read our introductory guide on how to bet on BetMGM to see how to place a simple bet.
Adding Bets To Your Betslip
To create a parlay manually at BetMGM sports, you must select the betting markets that you want to wager on. To do this, you can head to the sports you want to bet on and select the bets that you wish to enter into your parlay. Simply tap the pick you want to make to add it to your betslip. Once all of your selections are in your betslip, you can select the parlay option, enter the amount you want to wager, and select place Bet to finalize the wager.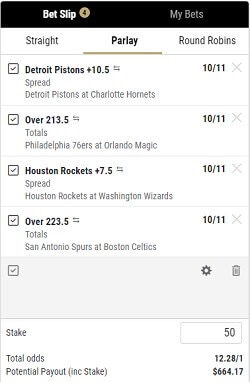 At BetMGM, there is an enormous series of betting combinations that you can put into parlays. The BetMGM online sportsbook has sports like the NFL and MLB down to more niche sports such as cycling and obscure soccer leagues worldwide. Although not every type of bet is accepted into parlays,  such as combinations of prop bets in some instances, you are mostly limited by your imagination when it comes to putting together a parlay.
There will be a BetMGM parlay limit stated when putting together your bet, so bear that in mind. Additionally, you will have access to BetMGM cash-out options if you feel the bet won't be successful and want to get at least some return on the original stake. You can use a parlay calculator to help you decide if it is worth keeping the bet active or cashing out.
What Is A Parlay?
Whether you are wondering how to do a parlay on BetMGM or any other sportsbook, the principle behind these wagers is the same across the board. The good news is, they are not complicated. A parlay bet is a wager that has two or more selections placed within the same bet. So, for example, you could place the Los Angeles Lakers to win, the Chicago Bulls to win, and Miami Heat to win, all with the same stake.
However, what makes winning parlays challenging is that all three of those teams must win in order for you to get a payout. The advantage of this is that your odds will be boosted when you combine multiple bets. On the other hand, the drawback is that it only takes one team to lose for the whole bet to fail. Parlays are a high-risk, high-reward type of wager.
BetMGM One Game Parlay
One of the developments from the original parlay bet is the same game parlay. Sometimes called a single-game parlay with other books, this awesome bet type is referred to as the one-game parlay feature on BetMGM. With this wager, players can combine traditional bets like the point spread or total into a parlay with several props from the same game. This type of parlay is fantastic for users who are really interested in a specific sporting event and have the knowledge to wager both props and traditional bet types.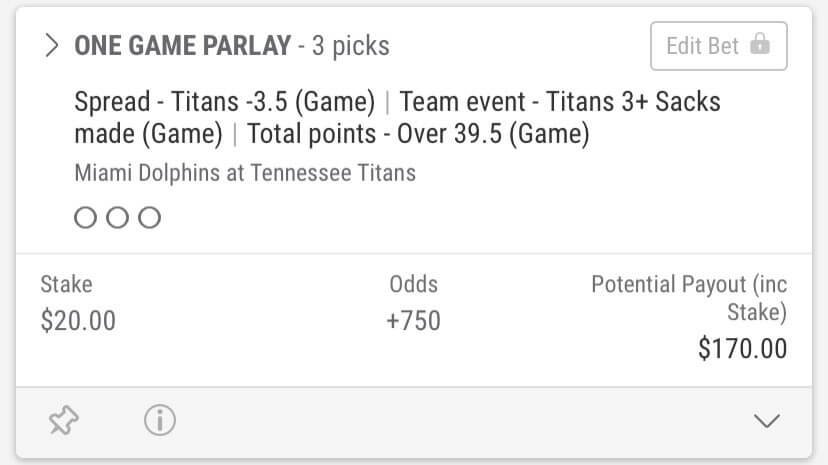 For example, let's say the Seattle Seahawks and Green Bay Packers are playing a game during the NFL season. Using the one-game parlay feature, you can bet n the point spread between those two teams, QB to throw over a certain amount of yards, a running back to score a touchdown, and a wide receiver to reach 100 yards. All of those scenarios can be parlayed, and you will make a huge profit if all of those items pan out.
Making a One Game Parlay is really simple. First, find the sport you want to bet on, then choose the event or game. Click on it and if One Game Parlays are available, it will say at the top of the screen. You can either select promoted one game parlays that are pre-selected by BetMGM, or build your own single-game parlay by making selections from the same match by tapping the odds. Once you have made your picks, open the betslip, enter the amount you want to wager, and place the bet.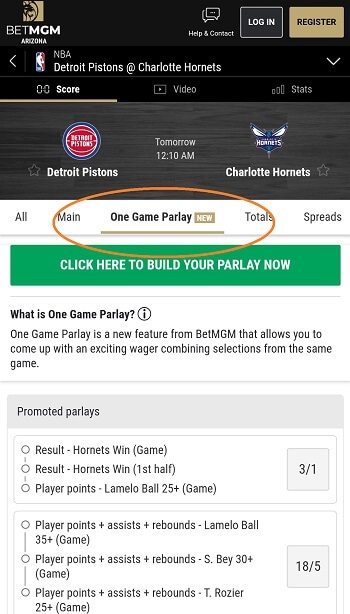 BetMGM Parlay Generator
The other way to create a parlay at BetMGM sportsbook is to use the parlay generator tool. This completely automates the parlay creation process. By using the parlay generator, you enter a set of criteria that you want your parlay to include. Then, the generator does all of the work for you by selecting the legs of the parlay based on those criteria. You can then quickly lock in your bet once those legs are chosen.
Additionally, you can choose a range of odds that every leg of the parlay needs to fall into and the amount of legs in the parlay. These choices have a direct impact on what the odds are for the parlay and the potential payout.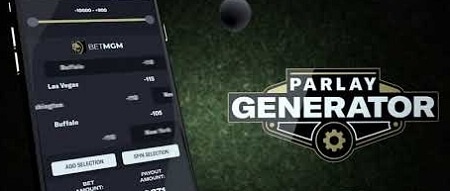 It is also important to mention that you are not obligated to bet on the parlay that is generated by the parlay generator on BetMGM. You should still do your own research on the games and events you will be including in your parlay and don't agree to include any games you think are a bad bet. However, if you are looking for some fun in a parlay that doesn't require much thinking, this generator is a handy tool.
Big Wins From BetMGM Parlays
Parlay bets are hugely popular. This is mainly down to the fact you can win huge amounts from a very small bet. Of course, the odds are always stacked in the book's favour, but big wins do happen. Take for example this huge $1,133,530.50 win from a $50 wager. Ok, it is very very lucky, but can you imagine being that guy (or gal) who landed that! Over a million bucks from a $50 bet. Crazy.
There are loads of other parlay success stories all over Reddit and Twitter with screenshots to back the wins up.
BetMGM Sportsbook Parlay Insurance
When you sign up for a new account at BetMGM, you can opt in to claim their NFL one-game parlay insurance for NFL wagers with four or more legs. To do this, head to this promotion under BetMGM's "Promotions" tab. Then navigate to the  NFL section of the online sportsbook, select a matchup and click on the "One Game Parlay" tab.
BetMGM will provide some sample parlays that you can select, or you can choose your own, using wagers such as first touchdown scorer, anytime touchdown scorers, point spread, point total, over/under passing yards thrown by a particular quarterback, etc. Please note that your parlay must have at least four legs to qualify for the insurance.
Some parlay bets on BetMGM could include:
Seattle Seahawks (-6.5) over Miami Dolphins (-110)
New England Patriots (+3.5) over Green Bay Packers (-110)
Las Vegas Raiders (-7) over Tennessee Titans (-110)
Kansas City Chiefs -8 over Los Angeles Chargers (-120)
If one of your legs doesn't hit, you will receive a refund in the form of a free bet (up to $25).
Issues With Parlay Bets on BetMGM
If you see a BetMGM parlay not working message or are still unsure how to do parlay bets on BetMGM, you can get help 24 hours a day. BetMGM, like most legal online gambling sites, has round-the-clock customer service that is available. You can get in touch with the customer service staff at this bookmaker via both live chat and email. The live chat feature is excellent as it allows you to get instant answers to your questions, while email inquiries are typically resolved within 24 hours.
FAQs
How does parlay insurance work on BetMGM?
BetMGM offers parlay insurance. If you place a five-team parlay bet and one of the legs loses, then you'll be refunded the amount of your bet up to $25.