Gamble USA strives to improve your online gambling experience. We aim to help you play safely, make informed decisions when gambling, and increase your betting knowledge through our guides.
We adhere to strict editorial integrity; our content may contain links to products from our licensed & legal US partners.
Apple Pay has become the go-to payment method for a lot of our online purchases. We use it to pay for everything from cinema tickets, to groceries, to beer, and now we can use Apple Pay with our favorite sports betting apps and sites.
With the online betting world taking off in the United States, punters are searching for reliable websites where they can enjoy real money betting with efficient digital payment systems. Options such as Google Pay and Apple Pay deposits have arrived on the scene to give users that digital option. The best betting sites will provide a wide range of payment methods for deposits, including new digital systems like Apple Pay.
If you have been wondering if there are any sportsbooks that accept Apple Pay? Then luckily for you, the answer is yes. Sportsbook betting sites accepting Apple Pay are becoming more common. Apple Pay is proving to be one of the highest regarded digital payment systems due to its seamless transactions and fast & secure payments. Sportsbooks are accepting that Apple Pay and other digital wallets are becoming the norm for online sports betting. It is not just sportsbooks either, as online casino sites are also jumping on the Apple Pay bandwagon.
If you want a payment option that is more digital than simply using your American Express card, then an Apple Pay betting site is for you.
If you're a player looking to use Apple Pay on a sports betting website or betting app then look no further. We are going to show you the best apple pay betting sites available right now on the sports betting market.
Apple Pay Betting Sites
If you want to use Apple Pay to wager online, then these are the Apple Pay sportsbooks that accept the online eWallet:
All of the above sites also offer generous bonuses and promotions. Some of the bonuses will offer bet credits so always make sure you read the terms and conditions, so you understand how the bonus plays. Check our site for the latest bonus code offers, and how you can use your bonus funds for Super Bowl betting or wagering on your favorite sports. Sign up today and claim your welcome bonus, and enjoy excellent daily fantasy sports or any online sports markets available with these platforms.
Betting Apps that accept Apple Pay
Apple Pay is becoming one of the most convenient payment options for anybody looking to purchase something online. With the rise in online gambling in the United States, naturally bettors also want to use this payment system as they look to add funds to their betting account quickly and efficiently. Some of the biggest business apps in the business accept Apple Pay, including:
DraftKings
FanDuel
BetMGM
Choosing Apple Pay to deposit to any of the above apps is straightforward. When you have signed into your account, head to the banking or cashier section of the app. Click the payment options and you will be presented with the entire list of options available to you. Choose Apple Pay and then enter how much money you want to deposit.
Remember that you currently can't use Apple Pay to withdraw funds, so you will have to choose your preferred banking option when it is time to collect your winnings.
Step-by-step guide to using Apple Pay with a sportsbook
The likelihood is that if you are here, you already have an Apple Pay account, however, if you don't or you are struggling to make a payment to an online sportsbook with Apple Pay then please check out this step-for-step guide.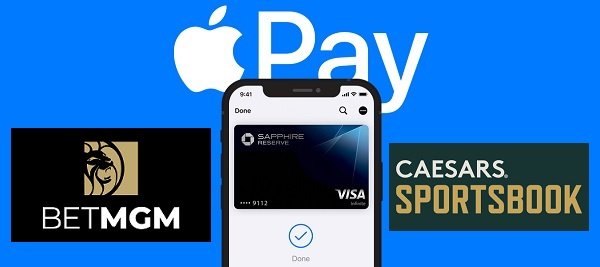 Initial steps
Apple Pay is easy to set up and gives you a simple and more secure way to pay and donate with the devices you use every day. If you have an existing Apple ID, you can make a deposit on your chosen betting website quickly and efficiently.
Step 1: Your Apple device
Apple Pay can only be set up using an Apple device. Before you proceed ensure that you have a certified Apple device that is not jailbroken and check that it is listed in the compatible device list below:
iPhone 6 or Newer (Any iPhone with face ID or Touch ID excluding iPhone 5s)
iPad Mini, iPad Pro, or iPad Air with either Face or Touch ID
Apple Watch Series 1 or newer.
Any Mac with Touch ID.
Is your device listed above but still can't find apple pay?
Try to ensure that you are signed in to Apple via your iCloud account. When you open Settings on your Apple device, your profile should say iCloud. If not click on your name and sign in to iCloud.
You may need to update your Apple device's software to the latest iOS, watchOS or macOS. Do this by visiting your settings -> General -> Software update.
Step 2: Your card provider
Apple Pay works with many of the major credit and debit cards from the leading banks. Just add your supported cards and continue to get all the rewards, benefits, and security of your cards. If you are unsure if your card provider is compatible, then check this link: Which US banks work with Apple Pay
Step 3: Activate Apple Pay
The next step is to head to your Wallet and select the + icon to add a card. Follow the steps provided to add your card. If you have previous cards that don't work then click on them and enter the security code from the back of your card (usually the last 3 digits). After you have entered your card details click next. Your bank or card issuer will need to verify your information and decide whether you can use your card on Apple pay.
This part may take some time depending on your bank provider. Look out for emails or text messages from your bank provider or log into the relevant app to approve your Apple pay card.
Once this is approved you are ready to start making Apple Pay payments on any of the sports betting operators listed above. One of the great things about Apple Pay is that it doesn't need a password. Touch id or face id are used instead, increasing your security considerably compared to traditional payment methods.
Step 4: Log on to your favorite sports betting app
If you don't have an account on a registered Apple Pay sportsbook you need to find a site that does. We can highly recommend BetMGM Sports as our #1 Apple Pay sportsbook of choice. Any of the online betting sites listed in the comparison table above also accept Apple Pay and are all licensed and legal in several US states.
The iTunes app store plays host to most of your favorite Apple Pay gambling sites. If you want to use multiple apps without leaving your device then apple pay is perfect for your online gambling experience. Android users can download the app via the Google Play store, however, Apple Pay is not available.
Step 5: Head to deposit and select your payment method.
Locate the deposit, wallet, or funds section or your favorite sports betting app. Choose to deposit funds and select Apple Pay as your preferred method of payment. Choose your amount, enter your password, thumbprint, or face ID, and boom it's as easy as that. No more annoying security codes, bank transfer problems, or lost wallets are going to get in your way now.
What do you need to set up Apple Pay?
Whether you are creating a new account for a mobile sports betting site or making an Apple Pay payment, verification will be required. All legal sports betting sites require new customers to provide some personal information to verify who you are. If you decide you want to use Apple Pay on a sportsbook, there are a few things you must do before you can start betting on sport. First, you must make sure that your device is compatible, which would be either an iPhone, iPad, Mac, or Apple Watch. You can't use Apple Pay betting apps without having one of those devices.
You also must have an active Apple account to use any Apple Pay bookies. You can find the Apple Pay option under the Apple Wallet app on your device. You will need a card from a supporting issuer which can be your debit card, credit card or Apple card.
You then must add your card to the wallet on every device you want to use when betting at any Apple Pay bookmakers. Once the card has been added, you can make a seamless Apple Pay transaction directly to the betting site you are using. The best betting site will accept will offer new payment methods such as Apple Pay, removing the need to constantly have to verify your information, which is the case for other payment methods.
Choosing the Best Apple Pay Betting Sites
Apple Pay is not as common betting sites, but choosing the best option from the limited ones can still be difficult. Therefore, we have put together these tips to help you choose the best Apple Pay Betting sites.
Gain More Knowledge: Knowledge is crucial in all aspects of life and the same applies to choosing an online betting site. Before you start, we recommend you broaden your knowledge about betting platforms that accept Apple Pay and what they offer. One of the ways to do this is read bookmaker reviews which will give you an insight into all a platform offers.
Compare Top Options: After getting the information you need, the next step is to compare the Apple Pay sites. This will help you determine which is best for your needs.
Supported Payment Methods: Apple Pay does not support withdrawals, so you need to settle for a bookmaker that accepts Apple Pay with reliable alternative payment options. These could range from Credit/debit cards, eWallets, etc.
Evaluate Your Requirements: What you want from a betting site is another factor you need to determine. Do you like platforms with extensive markets, or do you love free bet bonuses or cash bonuses? Make sure you go through the offerings on the sites that accept Apple Pay and pick only the one that offers what you like. If you settle for anything less, you may end up getting frustrated.
Average time of Apple Pay for deposits and Payouts
The processing time for deposits on Apple Pay is almost always instant. Apple Pay is a ground-breaking payment method that can be used without clicking any physical buttons. There may not be a huge choice of operators who use this method currently, but it's growing in popularity. The fact that it is one of the fastest payout sportsbook methods is a real draw for customers.
Let Apple pay do the hard work. If there is any delay in deposits using Apple Pay this is usually due to your bank provider or the actual sportsbook rather than a fault at Apple.
One thing we will point out is that Apple Pay can't be used to withdraw money after gambling online, as Apple Pay is a payment system only. Don't worry though you can still withdraw the money to the bank account you choose, including the one you have already set up on Apple Pay.
Unfortunately, Apple Pay sports betting operators still have their own individual terms and conditions so timings to bank transfer back your winnings vary. Alongside this, your bank's terms and conditions will make withdrawal times vary dependent on your payment method.
Can You Trust Apple Pay? Some History
Apple pay has become one of the most trustworthy payment systems available for players looking to switch their payment methods. In 2014 Apple pay became one of the first digital wallet services to be massed produced. Apple Pay betting sites and Apple Pay compatible apps were soon to follow.
By 2015 Apple Pay grew increasingly fast as the sites that accept apple pay and the list of payment cards and payment methods linked to apple pay grew significantly. By the following year, Apple Pay was being tested and used as an online betting payment method.
Fast forward to today and sportsbooks that accept apple pay are flourishing, this is no surprise as in the U.S., Apple Pay remains the top mobile payment player, with 43.9 million users in 2021.
Fees & Limits
As we have mentioned, the Apple Pay cash app is quite similar to e-wallets. However, it allows players to add only their debit and credit cards to their wallet app instead of enabling them to go directly to their bank accounts. Bettors in the US can use the Apple Pay Cash card where any money received is saved.
If you want to use an Apple Pay casino and choose to fund the Apple Pay Cash card via a debit card, there are no associated fees. However, if you want to use your credit card to fund the transfer, there is a fee set at 3%. With that said, sending or receiving cash via Apple Pay is free.
There is a minimum transfer of $1 that comes with using the Apple Pay Cash card when you want to transfer money to your bank account. There is a minimum deposit, however, set at $10.
FanDuel & Apple Pay
FanDuel sportsbook is the biggest sports betting operator in the US, so naturally, you would expect them to take Apple Pay right? Well unfortunately not. FanDuel (sportsbook or DFS) does not currently accept Apple Pay as a way to make deposits. If Apple Pay (or Apple Cash) is your preferred way of funding your sportsbook, then you will have to choose another operator listed above that will accept this method.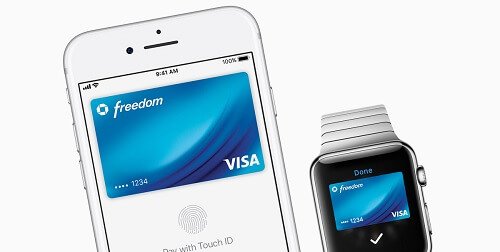 Using Apple Pay with Apple Cash
One great benefit of using Apple Pay is their brand new feature Apple Cash. Apple Cash is a simple and secure way to make purchases and send money to your contacts with your Apple device. Simply tap the Apple Pay button in messages, enter an amount and click pay. You can find your Apple Cash Balance on your apple cash card inside your wallet with the rest of your cards.
Again Apple is at the forefront of speedy and safe transactions, and you can use this feature to deposit with your favorite sportsbook.
Security & Privacy
Whether you are looking to get involved with New York sports betting or wagering in Colorado, the safety of the mobile sportsbook you are using is vital. Any sportsbook app must be licensed for you to be secure and comfortable placing a sports bet. These same rules apply to payment options such as Apple Pay.
Using the Apple Pay service, there is no need to worry about your card details as they are not saved on your mobile and are not shared with third parties. Additionally, Apple Inc uses advanced software solutions which further enhance the security of your transactions.
Before you can make an Apple Pay deposit and bet on a sports activity, you must use a passcode you have set prior to using the application. You can also take advantage of the Touch ID and Face ID features that are available on numerous Apple devices.
Pros of using Apple Pay
The main advantage to using Apple Pay online as your deposit method with a sportsbook is the speed. If you already have Apple Pay set up, it's very quick to make a deposit. You don't have to worry about typing out card details, or remembering to carry your wallet with you when you leave.
Once you have signed up with Apple Pay there is no better, or faster payment method to use on sports betting apps or sites that allow betting with Apple Pay.
Another significant advantage of using an Apple Pay casino site or to deposit to an online bookmaker is the security it ensures. You card details will never be shared with any third-part entities, preventing any online fraud and your personal financial information falling in the wrong hands.
Also the fact that you pay no fees is an excellent perk to have which many bettors will appreciate. There are no additional charges when you add funds to your betting account using Apple Pay.
Cons with using Apple Pay
One of the first disadvantages of Apple Pay is the lack of availability. As shown in our list choosing Apple Pay somewhat restricts your choice of online casinos and depending on the state you live in, your choice of registered online sportsbooks may be extremely limited.
Apple Pay does not allow for any withdrawal. Although payment may be instant, it does not support withdrawals.
Not all Apple products are compatible with Apple Pay. Apple, like other market leaders, is very well renowned for making its own products obsolete to push customers towards upgrading their products.
Are there alternatives to Apple Pay?
If you are looking for alternative payment methods to deposit on your favorite sports betting sites then look no further.
Debit cards and credit cards are the most common form of payment methods available to use across a wide range of betting sites. Visa and Mastercard are the most widely accepted forms of acceptable card payment methods.
PayPal and Venmo are good alternatives for sites that don't accept Apple Pay.
Most online sportsbooks offer a pre-paid gift card that can be purchased on their respective website. If you are struggling to make a deposit with other providers then this option may be for you.
E-Check. The digital version of a paper check, if you have a digital check ready to send why not deposit it straight to one of our compatible betting sites.
Bank Transfer. Fast bank transfer sportsbook operators seem to be the first choice for players who need safe and big transactions.
If you find yourself with some spare cash lying around and are wondering how you can get that money onto your betting account then it is worth checking out your online sportsbooks' available options. Some operators will let you deposit your cash into your online account in person.
Cash made even easier? PayNear me is a service that is already in place at 7-Eleven stores across the US. This service allows you to operate on a cash basis and in some cases directly transfer cash into your account over the counter at 7-Eleven stores.
You can read more about Venmo sportsbooks, and PayPal sports betting sites with our dedicated guides.
Apple Pay Vs the Alternatives
In this section, we will look at how Apple Pay compares with some of the major alternatives.
Google Pay Vs Apple Pay
Google Pay is also referred to as G Pay, and is a new addition to the gambling sector. It is an online payment wallet developed by Google now available on many top betting sites. It performs almost the same functions with Apple Pay. However, it can be used on both Android and other Apple devices, unlike Apple Pay which is limited to only iOS devices.
Samsung Pay Vs Apple Pay
Samsung Pay is another wallet that's like Apple Pay. However, Samsung Electronics is the company behind this payment option, and it allows users link their debit/credit cards with Samsung devices. You won't find it on many sportsbooks since it is not widely accepted, except in the US. Samsung Pay allows you to make deposits straight from your crypto wallet with Bitcoin, Litecoin, etc. But if you opt for Apple Pay, you will have to use a BitPay or Coinbase card to fund your account using crypto.
How does Apple Pay work?
Using apple pay in the US is simple, secure, and becoming increasingly popular amongst betting site operators. For those players that are technically savvy, we knew that you would be interested in how Apple Pay has transformed the use of traditional credit cards and debit cards. Two superior pieces of technology underpin the ease of using apple pay.
Secure Element
Apple Pay is underpinned by the Secure Element, the host to apple pay's specially designed applet. An applet is a small application that performs one specific task that runs within the scope of a dedicated widget engine or larger program.
Credit, debit, or pre-paid card data is sent from the payment network or card issuer encrypted to these applets using keys that are known only to the payment network or card issuer and the applets' security domain. This data is vigorously protected throughout the data transfer process, storage, and transactional elements by the Secure Element and its dedicated hardware bus.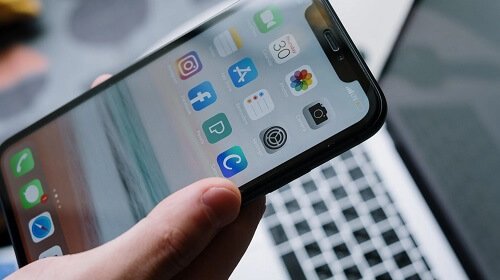 NFC controller
The NFC (near-field-communication) controller is the brains behind contactless payments that give Apple Pay its futuristic feel and solidifies that apple pay gambling is the future. The NFC controller ensures that apple pay can only receive payment requests from point of sale terminals that are close to the device ensuring the best apple pay results. Just two clicks of the side button and Apple Pay is at your fingertips for use: the traditional debit cards and credit cards are a thing of the past.
However, the NFC controller is not so relevant for sportsbooks that accept Apple Pay. But as you will be looking to use Apple Pay as the complete payment method, it is useful to know its function. Apple pay and its online betting app relationship are different to NFC transactions.
The NFC controller is not used in a Sportsbook transaction. and instead, payment authorization within apps and on the web are routed to the Application Processor, but only after encryption by the Secure Element to the Apple Pay server.
Summary
Although you may be a prominent Apply Pay user, is it still a fairly new payment option. It has generated popularity worldwide due to the convenience and flexibility of the payments it provides. Consequently, it is unsurprising that some modern online sportsbooks have begun to accept deposits being made through Apple Pay. The technology the service uses means bettors can benefit from instant transactions, all while being protected by the very best and latest security innovations developed by Apple.
The only thing customers need is to add their credit and debit cards to their wallet so they can add funds quickly to their betting accounts. Because Apple Pay utilizes Touch ID and Face ID features, all transactions can be verified more safely and quickly than ever before.
Although there are currently not lots of online sports betting sites that accept deposits via Apple Pay, it is certainly an excellent solution for those who are lucky enough to be able to use it. At the moment, Apple Pay can only be used for deposits but the fact no processing fees are required to make transactions means it is a great option for all bettors.
FAQS about Apple Pay Betting sites
Can you bet with Apple Pay?
Yes, you can use Apple Pay on several betting sites. Use Apple Pay to top up your accounts on your favorite betting sites.
Is there a charge for using apple pay?
No, there is no charge for depositing with Apple Pay.
Can I withdraw money with Apple Pay?
Not as such. Apple Pay does not allow you to withdraw to your Apple Pay wallet at this moment, but you can withdraw funds directly to the original source.
We recommend using your traditional credit or debit card that is linked to your Apple Pay account so that you can keep track of your winnings.
Can I still claim the welcome offer when using Apple Pay?
By law, the operator is required to make sure that the money comes from the account holder. This can sometimes cause online betting players problems when it comes to sign-up offers or free bets. The payment method must make it clear that the money has come from the correct person in a legitimate way.
Apple Pay is strong when it comes to verifying money deposited. Apple Pay provides a much stronger opportunity to claim sign-up offers compared to its competitor e-wallets Neteller or Skrill.
However, each online operator may have varied T's and C's. It is best to check with each individual provider before assuming you qualify for free bets or a sign-up bonus.
Is Apple Pay better than other payment methods?
There is no financial benefit to using Apple Pay. Charges that apply with other payment methods will still apply to Apple Pay. There should not be any charges when depositing with Apple Pay.
Can I use multiple cards on Apple Pay?
Yes. Apple Pay is a digital wallet that allows you to use and store all of your registered payment methods. The e-wallet will provide you with the option to use any of these cards to deposit on your favorite betting sites.
Can you use Apple Pay on DraftKings?
No, you can not currently use Apple Pay on DraftKings in the USA. Please check this detailed DraftKings Sportsbook review for alternative methods to Apple Pay available on Draft Kings.
Can you use Apple Pay on PointsBet?
No, PointsBet does not currently accept Apple Pay. They do however accept a range of options that you can read about on our PointsBet deposit options page.