Several US books now accept eCheck as a deposit method, and in the guide, we will show you what are the best echeck betting sites to use and how to make convenient, safe, and secure deposits and withdrawals to your account.
Although most gambling sites, whether it be an online sportsbook or new online casinos, still accept regular checks, eCheck has certainly proven to be more popular among players. For the experienced or casual sports bettor, they are more suitable as the transactions are processed faster. The good news for USA players is the majority of sportsbooks will accept an eCheck deposit, whereas regular checks are only available at a handful of sites.
But not all online sportsbooks accepting eCheck are created equal, and choosing the best eCheck betting sites for your needs is key to ensuring your bets go as far as possible. In this article, we'll dive into the five best sportsbooks accepting eCheck in the US, give you a guide on how it works, and look at some key benefits and downfalls of this increasingly popular payment option.
eCheck might also be referred to as ACH eCheck or bank transfer on some betting apps, so consider this as a guide to both these sportsbook ACH banking methods.
5 Best Sportsbooks Accepting eCheck Deposits
ECheck betting sites offer sports bettors the option of making an electronic payment online to replace the more traditional physical check. Simply, it's much easier to do and can be done from wherever's comfortable, convenient, and connected to the internet without having to get in touch with your bank to accomplish it. If any real money cash app that allows you to bet online wants to be competitive, they will accept an instant eCheck as a deposit method.
But which eCheck sports betting sites are the best, and why should you take your business there? Here's our list of the five best online sportsbooks accepting eCheck and why they deserve your attention:
#1 DraftKings Sportsbook

A long-standing favorite among bettors and a powerhouse in the sports betting industry, DraftKings Sportsbook is all about providing an inclusive and immersive customer experience and has always adapted to changing customer needs and emerging innovations. With a $1 minimum bet on most sports and events, a large pool of betting options, and a 20% sportsbook bonus up to $1,000, DraftKings is one of the best eCheck betting sites for novice and experienced bettors alike. They are our favorite minimum deposit sportsbook, thanks to this low bet amount.
Not only that, players have several excellent options for payment, with deposits starting at just $10. These include direct transfer, DraftKings gift cards or DK prepaid cards, Play+, PayPal, PayNearMe, gambling prepaid cards, and the coveted eCheck. These payment options, paired with Draftkings' extensive offering of start-up bonuses, rewards programs, promotions, and odds boosts, make DraftKings deserving of a top spot on this list. For more details on how to deposit on DraftKings or withdraw money from the DraftKing sportsbook, tap on our dedicated guides.
Up To $1,000 Deposit Bonus
21+. T&C Apply
21+. T&C Apply
The best sportsbook
Amazing odds & offers
Awesome betting app
Up To $1,000 Deposit Bonus
21+. T&C Apply
21+. T&C Apply
#2 BetMGM Sportsbook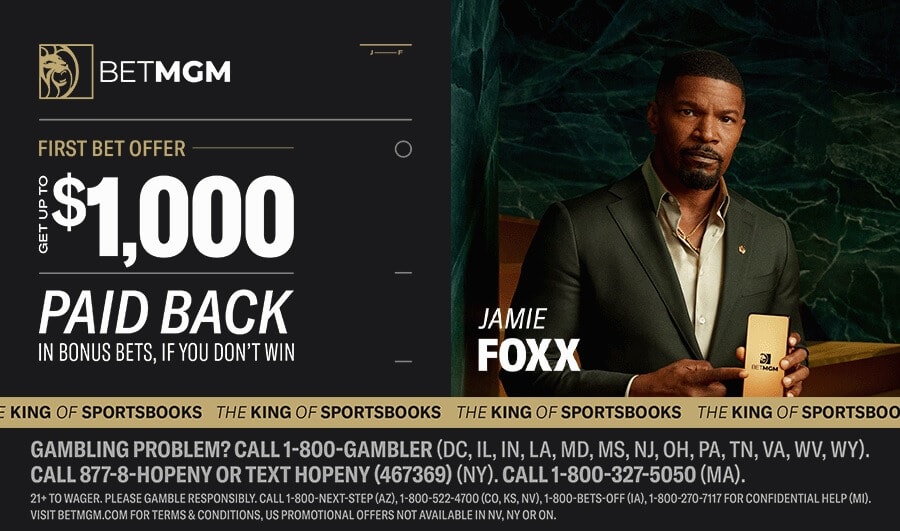 When it comes to an impressive, immersive online betting experience with industry-setting odds, BetMGM Sportsbook is an immediately recognizable institution among sports betting sites. BetMGM prefers eCheck and accepts all major credit and debit cards, Skrill sportsbook deposits, PayPal, Neteller, and PayNearMe for transferring funds. With zero fees associated with customer withdrawals and an easy-to-use tracking system, BetMGM makes payments seamless, so their customers don't have to worry about their money or disrupting their game flow.
By adhering to its brand authority among eCheck betting sites and offering an amazing $1,000 bonus bet, speedy payouts, great play options, and super early betting lines, BetMGM will remain a customer favorite for years to come.
Promo Code: GAMBLEUSA
Up To $1,500 In Bonus Bets
21+. T&C Apply
21+. T&C Apply
Promo Code: GAMBLEUSA
Super fast payouts
Live streaming
Promo Code: GAMBLEUSA
Up To $1,500 In Bonus Bets
21+. T&C Apply
21+. T&C Apply
#3 Betway Sportsbook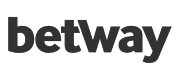 Convenient, secure, and compatible across devices, the Betway app and eCheck betting site focus on promoting a thriving customer base by offering top security and paying customers fast and dependably. Along with a great user interface and excellent customer service across devices, Betway's selection of sports and leagues is unrivaled across the sportsbook sphere. They maintain super flexible minimum and maximum deposits without the worry of pricey transaction fees and accept payment in various ways, including debit and credit cards, PayPal betting, Play+, Google Play deposits, game on card, and eCheck.
Up To $250 In Bonus Bets
21+. T&C Apply
21+. T&C Apply
Live In-Game Betting
Odds Boost
Up To $250 In Bonus Bets
21+. T&C Apply
21+. T&C Apply
#4 PointsBet Sportsbook
With some excellent offers and bonuses, including an enviable start-up bonus, the PointsBet app is a sports betting site with unwavering popularity that's well-earned. With low minimum bets and competitive odds on an incredible range of sports, PointsBet maintains consistent appeal across the whole sportsbook industry while paying homage to its local roots.
With desirable, speedy, and friendly customer service and a user-friendly interface across all platforms and devices, PointsBet is top-notch when accommodating its customers' needs. It makes sense that PointsBet also offers a long-reaching list of withdrawal and deposit options to claim its massive bonus bet offer, including Mastercard, PayNearMe, PayPal, Visa credit and debit cards for betting, Venmo sports deposits, online banking, and of course, ECheck. As far as eCheck betting sites are concerned, PointsBet sportsbook deposit is top of the game.
10 x $100 Second Chance Bets
21+. T&C Apply
21+. T&C Apply
Awesome live betting
Multiple bet types
Huge range of sports & markets
10 x $100 Second Chance Bets
21+. T&C Apply
21+. T&C Apply
#5 Unibet Sportsbook
With a solid foundation built in Europe and adopted by the USA, Unibet is a sports betting site that has always focussed on continually improving its user experience. With a superb appearance and adaptable interface, Unibet is easy to navigate across multiple platforms and offers a treasure trove of customer-centric options for all players. Across eCheck betting sites, Unibet offers players continually competitive odds, delectable free bets promotions, mind-blowing free bet no deposit bonuses, and reliable and trusted transactions.
Customers can conduct transactions using all primary payment methods, including Apple Pay betting, Play+, online transfer, credit or debit card, and eCheck. With its ease of use and unblemished reputation, Unibet remains an established customer favorite among eCheck and VIP preferred betting sites.
Other notable legal sports betting sites that allow an eCheck deposit include Caesars Sportsbook, FOX Bet, FanDuel Sportsbook, and Hard Rock Sportsbook.
Second Chance Bet Up To $500
21+. T&C Apply
21+. T&C Apply
Awesome second chance bet bonus
Massive market choice
Second Chance Bet Up To $500
21+. T&C Apply
21+. T&C Apply
What are eCheck Sports Betting Sites?
If you are wondering how an eCheck works in conjunction with an online betting site, it is actually straightforward. There are many eCheck casino and sports gambling sites that accept this global payment option. In the United States, money is withdrawn from a bettor's checking account and transferred to the payee's checking account. This is a process that is carried out by an automated clearing house (ACH E) system.
If you opt to use an eCheck at a gambling site, whether that is for betting on sports or to make a casino deposit to play casino games, unlike a paper check, it will not leave a trail behind. An electronic check just requires an authorization order which can be done online and ensures the player is happy for the ACH payment to proceed.
Once the payment has been authorized, the bettor can set up their own payment system. This could be a one-off payment or a regular direct debit. With an ACH transfer, as with other payment methods, you must provide some financial information, such as your checking account number, for the payment to go through.
The best sports betting site will offer numerous deposit options, including debit and credit cards and a prepaid card.
How eCheck Works for Sportsbook Deposits and Withdrawals
There are several different withdrawal methods and deposit choices when visiting your favorite eCheck betting site online, from using credit or debit cards, digital wallets, and eCheck. This method is safe, effective, and increasingly available worldwide and in all kinds of currencies. If you're curious about how eCheck works for your deposits and withdrawals on betting sites, here are some key features of this increasingly popular payment option:
Checking is a form of electronic fund transferring or EFT. Like a direct deposit or a debit card, eChecking directly debits your bank account.
Security is guaranteed when using eCheck methods. eChecking incorporates safety measures like public-key cryptography, authentication, encryption, and digital signatures during the transfer process.
Using eChecking is fast and cheap. Needing less processing than a traditional paper check and relying on the speed of your internet connection, eChecking is a quick and easy way to pay funds to a third party like a sportsbook.
Getting Started With eCheck Betting Sites
So what do you need to get started using eCheck the next time you place a bet on your preferred eCheck betting site? Like traditional checks, using your online sports betting account for eCheck requires you to have a checking account in your name and funds to supply it with. Then, when it comes time to top up your bets, you'll be asked to provide crucial information about your checking account, like your account number, full name, and routing number. It is that simple to start betting!
And remember that to be able to use the sportsbook's cashier page and fund your account via eCheck, you must first register an account. That's a piece of cake as well, with most online books asking for a username, full name, birth date, cell number, last four digits of SSN, etc. The process of setting up a new sportsbook account and funding it through this payment method is seamless and requires less than 10 minutes. If you run into any problems, you can read our BetMGM troubleshooting, issues with FanDuel, and DraftKings resolving a problem pages.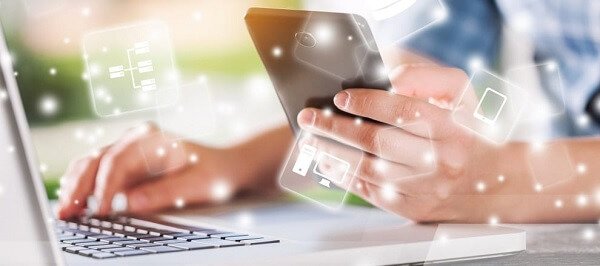 Drawbacks of eCheck Sportsbook Payments
Like all payment methods, eCheck might not be the best option for everyone, as is the case even with PayPal casinos. There are some positive and negative features, which we will make you aware of. The main cons of eCheck that could be a dealbreaker for certain sports bettors are:
There's a necessity to provide account information. Sharing personal information on an online sports betting account, a necessary component of eCheck, may make some bettors ill at ease.
Not all sportsbooks accept them. Although there's a growing selection of reputable sportsbooks utilizing this payment method, it's not yet universally accepted among betting sites.
Your eCheck could bounce. Like traditional checks, eChecks can also bounce when making transactions on sports betting sites, and transfers may be halted. Besides insufficient funds, the reasons for an eCheck bouncing largely boil down to whether your bank recognizes that the transaction is linked with an online betting establishment.
They can be subject to glitches. Although uncommon, eChecking transfers may experience delays due to errors or glitches in the software.
You might have to pay more upfront. Some sportsbooks only allow using eChecks for a higher deposit minimum amount.
These practical and straightforward eChecking downfalls also highlight a fundamental issue with banks and their relationship with betting in general. EChecks might also bounce due to the Unlawful Internet Gambling Enforcement Act (UIGEA) if your bank associates the payment with online sports betting or gambling. Whether this poses a risk to you largely depends on which bank you use and the eCheck sports betting site you're betting on, and how they classify their withdrawals from your account.
Benefits of using eCheck as a Sportsbook Banking Method
There are several benefits when using eChecks as your preferred sportsbook banking method as well. Undoubtedly quick, secure, and cheap, eChecking has many other advantages that align with the needs of tech-savvy sports betting enthusiasts. Here's a run-down of the most essential benefits of eChecking betting sites:
They're cardless. EChecks allow bettors to conduct transactions online without a debit or credit card. Not only that, but customers don't need to worry about transferring money into an online payment platform supported by their sportsbook of choice. This means you don't have to worry about printing off multiple bank statements to keep on top of your gambling history. Once you log in to your account, there will be a cashier section where all of your deposit and withdrawal history will be displayed in one place.
They're cheap to use. Many websites with eCheck capability don't have transaction fees associated with using them. This lets bettors know precisely what's leaving their account at face value.
They're simple to set up and use. Rather than figuring your way around crypto, eChecks are as simple to use as opening a checking account. By providing your checking account information and routing number, you will be betting in no time.
They're secure and safe to use. For those bettors concerned with genuine threats like cybersecurity, fraud, and identity theft, eChecks can offer a safer solution than other sportsbooks' payment methods.
They're fast. eChecks are processed quickly. Transferring money online has become the norm nowadays, and although online sports betting sites are required to scrutinize payments, it is automated so your funds will be moved into your account quickly.
These great features combined equal a more seamless betting experience where large amounts of currency can be transferred with little or no fuss. And, if there's any issue, eChecks are traceable and trackable, so you always know where your money is.
Guide to Instant Check Sportsbooks
If you have a checking account and think you'd like to try using eCheck as a payment option on your favorite sportsbooks, it's essential to fully understand how it works. As such, here's our simple guide for both depositing and withdrawing funds using eChecking:
Depositing using eCheck
Whether online or in-person, depositing your betting funds using eCheck is simple and straightforward. First, you need to log into your account and find the appropriate Banking or Cashier section to select for online users. Then you simply need to select 'eCheck' from the list of accepted payment options. Much like completing this step in person, next you'll be asked to provide the appropriate information needed to set up your deposit. For example, you may need to give your full name, account number, check number, and routing number.
After this information has been filled in, you will be required to detail the amount you wish to add to your online betting account. Then, the sportsbook will withdraw your deposit into its account automatically, and the funds will appear in your betting balance instantly. The transaction could take a while to appear in your eCheck account, usually within 3-5 business days. Anyone who has completed a deposit in this way will receive a receipt to validate the transaction.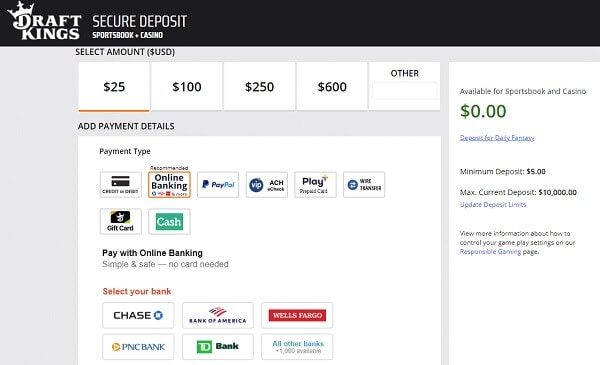 Withdrawing through eCheck
Withdrawing funds through eCheck is just as simple as setting up a deposit. For online bettors again, simply log into your account and find the withdrawal section, usually located in your account tab. You then need to select the amount you'd like to withdraw and provide your banking information, if necessary so that your funds go promptly and directly to your account. You might then be asked to agree to the company's terms and conditions before clicking the submit function. Again, it's important to look out for any fees or processing times and to keep in mind that for first-time bettors, there may also be a verification process to complete.
In most cases, eCheck transactions come with fees, but they are placed by the processor and not the sportsbooks. The average eCheck sportsbook withdrawal time is 2-5 business days, depending on the bookmaker.
Summary of the Sportsbook Instant Banking Method
Depending on what exactly you're concerned with when it comes to online sportsbook betting, eChecks can offer a solution that's low in fees, that's appropriate for both withdrawing and depositing funds, and that's without the need for registering the service. For these reasons, plus those of security, eCheck methods have developed a strong grasp in the online betting community.
However, if you're after betting with a fast payout sportsbook, eChecks may indeed fall short. Remember to keep in mind what factors matter the most to you and what concerns you may have before setting up that eCheck. But for simplicity and cost-effectiveness, eChecking certainly gets our vote.
FAQ's
Can I use eCheck at any online sportsbooks?
You can use eCheck to deposit funds at any online sportsbook mentioned in this article. You can use an eCheck or wire transfer at our recommended sports betting sites.

However, eChecks are not available in every online sportsbook. If you are looking closely at joining any betting sites not listed on this page and would like to use an electronic account to add funds, make sure they accept this payment method before signing up.
Can I make recurring payments via eCheck?
Yes, you can set up recurring payments if you want to do so via eCheck. To do this, you must contact your online sportsbook or bank to create this payment system.
Why use eCheck at Betting sites?
If eChecks are accepted at your preferred sportsbooks, then it's a superb deposit method that is fast and very secure, especially compared to a regular paper check.

The main factor holding it back is the adoption of this method at the casinos.

Which is the best eCheck betting site?
Our favorite eCheck betting site is DraftKings which is available in numerous US states. On top of the sportsbooks, there is also a superb online casino offering hundreds of fantastic games and a huge variety of deposit and withdrawal methods on top of eChecks.
Will there fees be charged for making eCheck withdrawals?
In some cases, no, but this is really down to the sportsbook you choose to play at and which bank you opt to use for this withdrawal method.

Consult the cashier section to verify what fees if any, are applied for each withdrawal option.
Is paying with eChecks secure?
Yes, paying using eChecks is entirely safe and secure. Unlike using paper, security is enhanced for eChecks, and sites will have encrypted technology in place to make sure all your information is protected. When using eCheck payments you will also receive a unique code so you can easily trace all of your transactions.