Gamble USA strives to improve your online gambling experience. We aim to help you play safely, make informed decisions when gambling, and increase your betting knowledge through our guides.
We adhere to strict editorial integrity; our content may contain links to products from our licensed & legal US partners.
Cash Out is one of the best betting tools going. There are now several US sports betting apps and betting sites that offer this must-have feature.
Cash Out allows you to settle your bets before the action has finished, which means you can guarantee some profit or reduce any potential losses. It is an extremely popular way of betting within the industry, with most US online sportsbook sites now having it available.
Before signing up with any online betting site, any punter is looking for fast withdrawal options, a generous welcome bonus, their preferred payment method and innovative features such as bet builder. However, to be considered as a top bookmaker in the United States, you must also offer an efficient cash out service to attract those who want to lock in some profits before an event as ended.
So if you are wondering which legal US Sportsbooks offer cash out, our guide is here to help.
US betting apps & sites that offer Cash Out
Nearly all US sportsbooks offer the cash-out feature; our pick of the best legal sports betting sites to offer a cashing out facility are:
Legal online sports betting is expanding across the US, with licensed and regulated online sportsbooks offering new betting options and features to attract new customers and keep current ones engaged. One of the more modern features players will find available with online betting sites is the awesome cash out feature. The best betting site and betting app will offer the cash out option, or at least partial cash out, in addition to bonuses such as free bets.
The vast majority of online sportsbooks offer some form of in-game wagering and cash-out options. It is vital players choose to use regulated and licensed sports betting platforms such as DraftKings, BetMGM, PointsBet, FanDuel, and Caesars to cash out. Betting sites such as illegal Bovada will offer Bovada cashing out, but you could be at risk of losing money as they are not licensed in the US.
Although most bettors may look for bonuses first, with a generous maximum free bet and some bet credits in return when they sign up, cash out is also crucial.
Want to know which sportsbooks with cash out are legal in which state? Have a look at our guides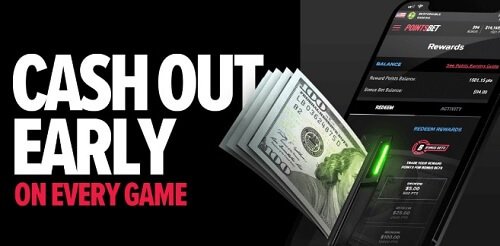 Below you will find our cash out guide, detailing how cash out works, the benefits of using it, how to use the cash out feature, and more. You will find the cash out option at most real money online gambling sites across the US, but we only recommend safe to use sites and trustworthy sites. We also look at which sites offer the best betting markets, bonuses, promotions, odds available, etc.
What is a Sportsbook Cash Out Bet?
Before looking for the best betting sites with cash out, it is helpful to know what the tool is before signing up a betting site. Some sportsbooks may use a different name for the cash out option, but most will offer it in some form. For example, some betting sites may use 'buy out' or 'early settlement.' Whatever it is called, it works in the same way across all betting sites. The main idea being cash out is to give bettors the ability to settle a bet, thus accepting a payout less than the original amount before the event ends. The advantage of taking this option is that you guarantee some profit that you can bank regardless of how the bet eventually gets settled.
For example, if you place a bet at odds of +100 on an NFL game. You decide to get behind the Seattle Seahawks to beat the Los Angeles Rams. The total amount you could win in the traditional way from this bet would be $20, as you would get $10 in winnings and your original stake back. However, let's look at a scenario where the Seahawks are up by 1TD with 5 minutes left on the clock. You are in a decent position to win the bet; however, you are slightly concerned that the Rams still have time to come back. You don't want to risk losing too much money, so you choose to use the cash out feature.
As the bet was going well, the sportsbook payout would likely be good at the time you decided to cash out. You would typically be offered around $16, so you would miss out on $4 of profit, but you receive the money no matter how the match ends. A good betting tip when using cash out is to ensure you are watching the event if you can via a live stream, as you can then make a better judgement on whether to leave the wager early.
Sportsbooks with cash out option are so popular among sports bettors as they offer an element of excitement and give them the chance to guarantee some profits. Moreover, you can also reduce your losses and at least take something from the bet, which is vital in the online gambling world.
Once you placed bet, cash out is offered while the event is ongoing, so it can also be viewed as a live betting feature; which is why these live betting strategies can be handy when playing at a sportsbook with this option. However, cash outs could also be offered halfway through the season on long-term futures bets, such as the Super Bowl winner or NBA Champion.
Should you use the Cash Out Option?
US Sportsbooks that offer bettors the chance to cash out for real money are now very prominent. When you have placed your bets with a sportsbook, you will likely have the opportunity to settle them before the action is over. Even though cash out is incredibly popular, should you take the option if offered? Well, a lot depends on different factors that will play a role in your decision.
There are two significant benefits for sports bettors if they decide to utilize the cash out option. The first is that bettors can firmly secure their winnings without worrying about how the bet may end up. Live sports events can dramatically change towards the end with twists and turns, so you reduce the variance by using cash out. It gives you some degree of control. Secondly, bettors mitigate losses if things are going particularly badly. Losing a bet is never easy to take, but if you can take at least something the sportsbook offers, it is not a total loss.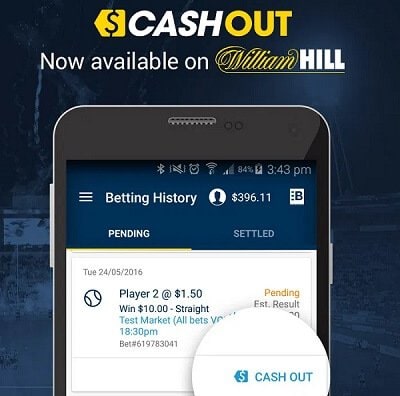 Sports betting cash out has a considerable element of give and take between the bettor and the sportsbook. When you decide you want to cash out a winning bet for a profit. The profit will naturally be less than the maximum amount you would win if you let the bet play out. Essentially, the bettor is giving the sportsbook some return, while the take is that the bettor is also reducing their risk and winning some money no matter what. Cash out can also be a viable alternative if you need to cancel a misplaced bet before a game begins and the sportsbook doesn't let you.
Whether you are in New Jersey using NJ sportsbooks with a cash out option, or anywhere else in the US where sports betting is legal, ultimately the final choice comes down to you and how confident you are to ride the bet out, or cut your losses.
How to use Cash Out Feature
Cash outs are available on most sports betting sites via a desktop or mobile device. If you want to get yourself out of a bet, you can see the cash out offer on your live betting slip or any current bets that are showing on your account. For example, if you have placed several football bets, you will see your football betting slips' cash out option.
If a sportsbook offers the cash out option, you can click the relevant button and choose to buy yourself out of the bet for the amount the sportsbook offers. When you have confirmed the cash out, the money will instantly appear in your account. For example, with the BetMGM Cash out feature, if your bet is eligible to end early, you will see the cash out button available.
Please be aware that cash out is not offered for every bet. Online sportsbooks have different rules and regulations for individual offers, such as cash outs, so you must check the rules on what is offered and how the feature works at the sportsbook you are betting with.
Why do Sportsbooks offer cash Out?
There are benefits to both sportsbooks and the bettor when it comes to using cash out. The obvious advantage to the bettor is that they can guarantee themselves a profit or cut down on losses, and this also applies to the sportsbook. If a sportsbook offers you the chance to cash out on a bet that is winning, it won't be for the total amount, so this saves the sportsbook money if a bettor accepts their cash out offer. If the bet is losing and the bettor decides to cash out, the sportsbook guarantees their own win while also keeping the bettor engaged and not turning them off.
There are many free play bonuses from sportsbooks how bettors can use these bonuses to their advantage with cash out. For example, if you use one of the major US betting sites such as DraftKings sportsbook, they typically offer fantastic odds on futures bets. So, if at the beginning of the NFL season you bet on a team to win the Super Bowl, and they reach the playoffs with a fantastic record, you can use the DraftKings sportsbook cash out to lock in a nice profit.
Now, this may not be for the total amount of the initial bet; however, things can completely change in the playoffs, and even though the team you bet on looks strong, they could easily lose in the first round of the playoffs, and the bettor wins nothing. Sports betting sites frequently offer incentives like these to keep bettors active and get them playing.
Cash out betting has become the norm in online sports betting markets. Any sports betting site that wants to attract customers will offer this feature as a betting option on their desktop and sports betting app. If a sports bettor is choosing between numerous online sports betting sites, the sportsbook app offering an efficient auto cash out service will have more chance of attracting new custom.
Pros & Cons of Using Cash Out
The cash out feature instantly became very popular with bettors when it was introduced. Lots of sports betting sites realized they had to launch a version of cash out as players were using it as part of their betting strategy. With that said, let's take a look at some pros and cons of using the cash out option at your chosen bookie.
Pros
Luck becomes less of a factor: Of course, luck plays a huge role in sports betting. You can think you have done all of your preparation and research before placing your wager, only to see an injury completely derail your plans. Cash out gives you more flexibility and control over variance as you can lock in some profits and reduce your losses.
Simple to use: Using the cash out feature is straightforward, so you don't need to use any extra time to ensure you are using it correctly.
Can use cash out to score large profits: If your strategy includes using multiple bets and targeting high odds, using cash out can be very helpful. You can avoid the pain of losing a 10 leg parlay by utilizing cash out.
Cons
Lower value: When offering cash out, an operator is essentially 'buying' out your bet at a discounted price. If the bookie feels the the wager is worth $10, they might offer $9.50, so the cash out feature is like selling them your bet for less than face value.
Lower profits: Whenever you use the cash out option, you will naturally get less money than you would if you just let the bet play out.
Not included in promos: Every online sportsbook site offers welcome bonuses and promotions. Most of the terms and conditions associated with these bonuses exclude cash out. Make sure you check the wagering requirements on bonuses on betting apps with cash out.
How is Cash Out Calculated?
A 'cash out calculator' works based on odds offered on any sports bet. The book will come up with a value based on different factors and provide this price for the customer. With a cash out offer, the final price is what the betting sites decide is the wager's current value.
As in-game betting continues to grow in the licensed US betting market, sportsbooks are becoming more efficient with the live sports odds they offer. Furthermore, sports betting platforms are also getting more proficient in the prices they offer for cash outs.
With standard betting types such as Point Spread and Moneyline bets, determining a bet's value is straightforward. However, with other kinds of bets such as Futures, prop bets and Parlays, things can get a little more complicated. Future bets have a long time to run before they get settled, and plenty of things can change in that time. Parlays have numerous legs, so if there are several legs of the bet still to go, it becomes difficult for the bettor to decide if they should cash out or not.
Ultimately, a cash out bet is decided by real-time odds and removing the risk based on the original wager amount.
Can you go back on a Cash Out Offer?
Any cash out offered by betting sites is final. Once you have accepted cash out, the bet is settled at the current confirmed price. If you feel you have gone too early, you cannot go back to the book and claim the initial wager's maximum amount. This highlights the whole risk/reward element of cash out if it is available. The odds constantly change, so it is about maximizing the value at the right time.
What does cash out suspended mean?
If you have never experienced using betting sites for cash or played at a cash out betting site before, there will be terms you are unfamiliar with. The best cash out betting sites will provide lots of information around things like bet credits stake and free bet stakes before you wager. However, information surrounding a cash out option becoming suspended may be less detailed.
If you want to cash out but are seeing a message stating the betting option has been suspended, it means an incident has occurred during the event you have bet on. This could be a goal or a free kick in a soccer game, or a touchdown in an NFL match. Consequently, it will be difficult to cash out a wager that contains several bet selections. Sportsbooks therefore reserve the right to remove the cash out option at any time.
Best football cash out sites
There are more and more US sportsbooks with cash out than ever before. Whether you are in the New Jersey sports betting scene or playing as a new player in Michigan, cash out is an excellent option. One of the sports this feature works really well with is football. NFL betting is the most popular sport that gets added to any bet slip, and being able to close it early if the wager isn't going well only adds to the appeal.
We have compiled a list of the best sites that offer a range of football betting options in addition to a straightforward cash out feature. These sites include:
FanDuel
DraftKings
BetMGM
PointsBet
Caesars
Other notable cash app options include Barstool sportsbook and Fox Bet. All of the sportsbooks above enable you to cash out an NFL wager. You will also discover promos such as odds boosts for certain games and ongoing promotions running throughout the season. The best sports betting site will offer cash out for a wide range of markets.
Early Cash Out
In the sports world, things can change very quickly. For instance, an NFL game could look completely over with 10 minutes left on the clock before Tom Brady embarks on one of his famous fourth quarter comebacks. Bettors will be used to these situations which means when wagering on games it is very useful to have a little insurance on your side one it looks like one team is running away with it, to cut your losses.
Early cash out betting is the perfect way to do this. All of the legal sportsbooks we have listed on this  page offer this feature, and it is becoming increasingly popular. You must decide quickly to get the full benefit when using it, but the final choice resides with you and what works best.
With early cash out, if a minimum profit still works for you, take it. If you wouldn't be happy with that and want some bigger returns, you can ride it out and see what happens.
FAQs
Which betting app has the best cash out?
PointsBet app has the best cash-out feature. It is the fastest and easiest to use, and they normally have the best odds too.
Can I cash out from a different state to the one I placed a bet in?
No. In order to cash out your bet, you need to be located in the state where the bet was originally placed.
Why does cash out get suspended?
The Cash out feature can be removed, or suspended when a live line is no longer available to wager on. This can happen during an event if say a goal is scored in a Premier League game and this affects the outcome of your bet.
What is cash out, and how does it work?
Our cash out guide above highlights how you can use this feature and what it entails. You can buy yourself out of an active bet early before it finishes to make some profit or cut your losses. It adds excitement to sports betting, and most legal and regulated US sportsbooks have cash out available. Even if you find a sport boring, using cash out when watching can make it exciting.
When can you cash out a bet?
As long as the event is still taking place and hasn't finished, you will be able to use the cash out option. The live odds will reflect the bet status; if you decide to cash out just before the end of the event and your bet is almost sure to lose, you will have to take what you can get.