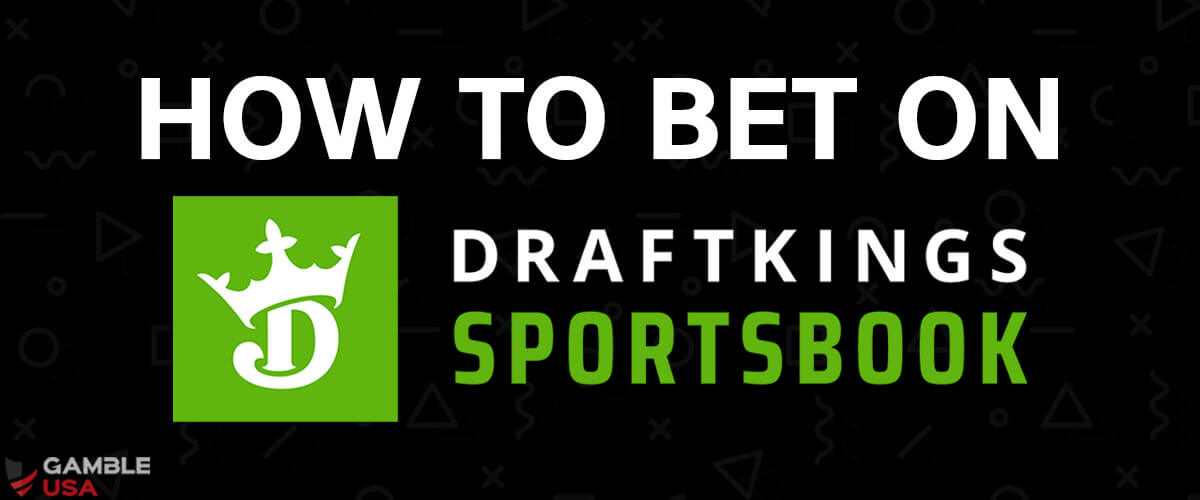 You may be completely new to betting, you may be new to online or mobile betting, whatever you reason, you are probably wondering how do you bet on DraftKings sportsbook.
Online and mobile sports betting is growing in the United States, and many people who have never thought about wagering before are becoming interested in making some money on their favorite sports. Although retail sports betting has been around for a while, betting online is a different ballgame.
One of the most well-known brands currently operating in the US is the DraftKings sportsbook. The company shot to prominence due to the success of its daily fantasy sports contests but has since grown to become one of the most successful sports betting platforms worldwide. Additionally, the Draftkings sportsbook app provides customers with the opportunity to access DraftKings betting lines and various DraftKings sportsbook offers on the go.
As we mentioned above, online betting in the US is still a relatively new concept. It has only just launched in states like Maryland and New York, and people there may not know how to bet on sports. The thought of using your money on a gambling app that you are unfamiliar with might seem intimidating for a first-time sports bettor. The good news is, placing a bet online is a straightforward process, and it is easy to place bets on the DraftKings sportsbook.
So, if you want to find out how to bet on DraftKings sportsbook, this guide will help. We will talk about how to use DraftKings properly and start right with the basics. So if you are new to mobile betting, or an experienced Vegas pro, read on to find out exactly how to place a bet with DraftKings sportsbook. Think of this piece as a type of sports betting tutorial or maybe even a DraftKings for dummies article!
Up To $1,000 Deposit Bonus
21+. T&C Apply
21+. T&C Apply
The best sportsbook
Amazing odds & offers
Awesome betting app
Up To $1,000 Deposit Bonus
21+. T&C Apply
21+. T&C Apply
How to Bet on DraftKings Sportsbook
If you have seen the DK TV ads or banners on sports stadiums and thought, I want a piece of the action, then this guide is for you. DK is widely considered as one of the best betting sites for new players.
1. Create a DraftKings sportsbook Account
It is probably obvious, but you can't bet if you don't have an active Draftkings account. You can start by going to sportsbook.draftkings.com and clicking the "Sign Me Up" button on the main page, or the Sign Up button at the top of the homepage. You will then be taken to the DraftKings registration section, where new players will be required to provide some information:
Name
Address
Date of birth
Email
Phone number
Social security number
You must also create a username and password for the online sportsbook. DraftKings also states that it must verify the identity of every new player. This is a standard practice among all online sportsbooks and is done for your protection. You will also have to answer some security questions. It takes around 5 minutes in total to create your account but its essential to be able to deposit and withdraw, keep track of your bets, and get notified of any promos that may be coming your way.
Users will need to confirm that they're at least 21 years or older and that all of the information they have provided is accurate. Once you have agreed to the terms and conditions, a new account will be set up. You may have a DraftKings sportsbook promo code to use when joining but this isn't essential to claim the welcome offer as it's available to all new customers.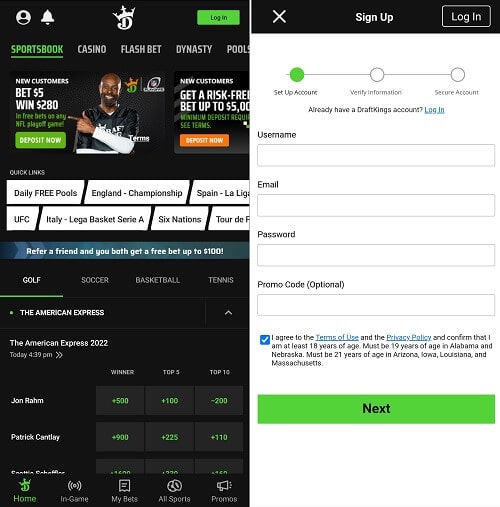 DraftKings sportsbook is legal in over 16 states and is totally secure and available in: AZ, CO, CT, IL, IN, IA, KS, LA, MA, MD, MI, NH, NJ, NY, OH, PA, TN, VA, WV & WY
After creating a new DraftKings sportsbook account, the next step is to log in, fund your account and start exploring the various futures bets and point spread options available on the site. You can download DK on your phone at this stage or even sign up through it; the process is simple, as the operator is considered the all around best betting app for beginners.
If you have a DraftKings promo code which enables you to access a free bet or an odds boost, you can enter it during the registration process.
2. How to Deposit at DraftKings
Now that you have an account, you need to add funds to it so you can place your first wager. Making a DraftKings deposit is quick, safe, and secure. When you are signed in, head to the cashier section of the site, click your chosen deposit method, and enter your preferred amount.
DraftKings provides plenty of flexibility for moving money around the online sportsbook. The deposit options include:
Credit card
Debit card
Bank transfer
Play+ Prepaid
PayPal
PayNearMe (7-Eleven, Family Dollar, CVS)
Patrons in some states might have the ability to deposit into their accounts through the casino cage at DraftKings' casino partner. For example, if you live in New Jersey, you can visit the cashier at Resorts Atlantic City to fund your account. When you make a deposit, you are just depositing a set amount, say $20. This doesn't mean you are subscribing to bet all the time, it's a one-off deposit. If you bet $20 and don't win your bet, you can add more funds, but this has to be done by you, as and when you want. There is no subscription or direct debit.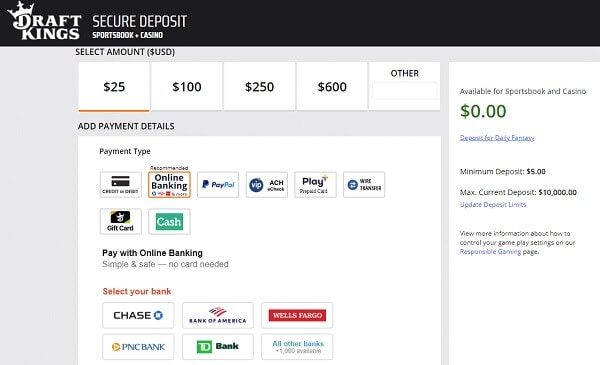 3. Get ready to place a bet on DraftKings
You have an account, and you have funds in it, now it's time to put some skin in the game. DraftKings makes everything clear and transparent, so you know exactly what the bet is, how much it is for, and how you will win. To place a bet, simply find the event and outcome you would like to wager on and click to add it to your bet slip. You can find the full list of sports in the footer of the app. just click on All Sports and scroll down the list to find the sport you want to wager on.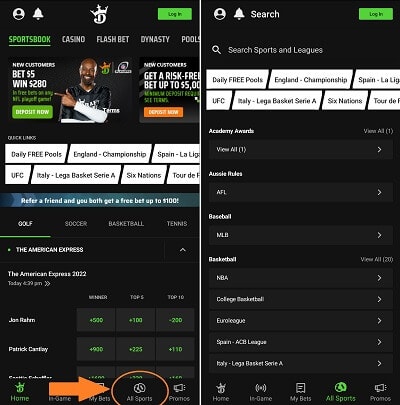 When you find the sport, scroll till you find the match/game you want to bet on. You can see odds right away for a Spread bet, Total, and Moneyline. Here you can add 1 selection, or add more bets to your betslip. You can also click on the particular game to view more market and betting options. There are a few different types of bets you can place with DraftKings and we go into these in more detail below.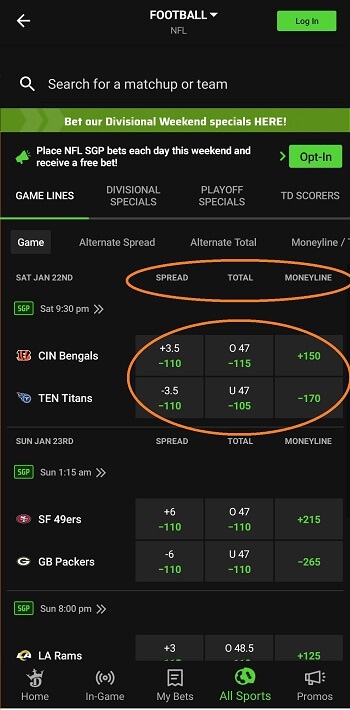 Note that the green numbers associated with each outcome are the odds, which decide the potential payout. You can add up to 12 selections to your bet slip at any given time.
So, for example, if you wanted to bet on an NBA game, click the NBA markets, choose your match and then place a single wager or a team bet.
To view your bet slip, click the center button on the app or look at the right-hand side of the screen on the desktop site. Here you will see all of the picks you have selected that are waiting to be placed. The bet slip allows you to toggle between Singles, Parlays, and Round Robins. Enter the amount you want to bet, and the potential payout will be calculated. It is just as easy to place a bet on the DraftKings sportsbook app, with everything designed to fit and work perfectly for a mobile device.
Once you are happy with your picks and stake, select 'PLACE BET' to lock in your bet. There will be a record of all of the bets you place. You can view your complete betting history by visiting 'My Bets.'
If you made the right selections, you can then proceed to withdraw your funds from DraftKings.
How to bet on football on DraftKings
DraftKings has over 14 different sports you can wager on, and as you guessed, football is the most popular for customers to have a wager on with the NFL being the most popular league. If you are betting on the NFL, college football, or really any type of sport, it is very simple. Make sure you have signed up for an account sportsbook.draftkings.com and have put money into your account. This doesn't have to be hundreds of dollars; DraftKings deposits are as low as $5.
As we show you on the images above, select football from the list of sports, or use the search feature at the top of the page to search for a matchup or team. If you select NFL for example, you will then be shown all the available games to bet on. These can be games happening right now with in-game wagering or futures on games that will take place in the future.
Scroll till you find the game you want to be on. You can click on the odds if you want to wager on the spread, moneyline, or totals. Clicking on the odds box will add the choice to your betslip. You can see further betting options by clicking on the game, or the same game parlay option. The same game parlay allows you to combine multiple bets from one game. When you have made your picks, open the betslip and set the amount you want to bet. A box will show the potential returns you can win should your bet come in. Click on Place bet and your wager is now on.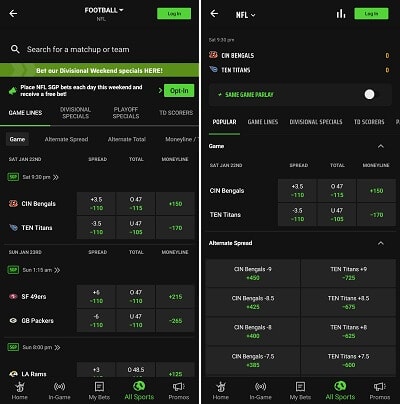 Now sit back and watch the game unfold. If your bet lands, the winnings will be credited to your account, where you can withdraw, or leave in the funds for any future betting.
It must be noted that DraftKigns has some of the best college football odds around.
How to bet on a team on DraftKings
If you are an avid sports fan, whether you like the NFL, NHL, NBA, MLB or the MLS, it is likely you will have a favorite team or teams in addition to players. For example, if you are a Kansas City Chiefs fan, you will likely be excited that you have reached another Super Bowl and are looking forward to watching the team in action in Arizona. However, you also may want to go even further and make it even more exciting by wagering on your team as you are that confident that they will win. So, instead of focusing on player props and individual targets, you may want to bet on a team.
The good news is betting on a team on DraftKings is straightforward. In fact, lots of new players tend to bet on teams as they are a good way to get started. The most simple team bet is a straight moneyline wager. With a moneyline, you are just picking which team you think will win the game outright. Like with any other bet types, the bigger the underdog, the more higher the odds and the profits will be. Other team friendly bets on DraftKings include totals or over/under, parlays, futures and live betting.
To bet on your favorite team, simply choose your sport, go to the match you want to bet on and click to view the available options. Choose your preferred outcome and then add it to your betslip. The green numbers linked to each outcome are the odds which will determine your potential payout.
There are several teams available on the sportsbook from the New England Patriots in the NFL to Chelsea in the English Premier League. You will certainly not be short of options when it comes to team betting on DraftKings.
Types of Bets at DraftKings Sportsbook
Before we talk about how to place each type of bet individually, we thought it was worth listing them. DraftKings has excellent resources to help a new bettor get acclimated, including guides and information.
The most prominent types of bets on DraftKings are:
Moneyline
Spread
Props
Parlay
Teasers
Over/under
But we want to answer the question of how to place a bet on Draftkings, so let's look at these types of wagers in more detail.
How to bet Moneyline on DraftKings
A money line bet is the simplest type of wager, so it feels like an excellent place to start! This type of bet only includes odds, as in "odds to win ."They are wagers where you are simply predicting the outcome of a game. The favorite will always have a minus sign (-) displayed next to it, while the underdog is indicated by a plus sign (+). When betting on the favorite, the moneyline is the amount you would have to bet to win $100. With the underdog, the moneyline is the amount you stand to win if you bet $100.
Take the below example:
Dallas Cowboys (-300)
Philadelphia Eagles (+250)
In this instance, you would have to wager $300 on the Cowboys to win$100. On the other hand, the same bet on the Eagles Lions would see you win $250. Moneylines always assume a base of $100. Of course, you can decide if you want to bet less or more. You may see this as the best way to bet on DraftKings, to begin with, as it is a good option to ease yourself in.
How to bet Over/Under on DraftKings
This type of bet is also referred to as a total. This is the name given for a wager when are predicting the total amount of something to occur. This can be combined points in a game, points scored by a player, yards for a player, etc. These bets are also accompanied by odds and are typically listed around -110.
Suppose you want to bet on Green Bay's running back total rushing yards. For example, the 'total' will be set at around 85 yards. If when the game finishes, the Green Bay running back gets to 86 yards or more, the 'over' wins, and you can pat yourself on the back.
How to do Prop Bets on DraftKings
Props, or proposition bets, are also referred to as side bets because they allow users to wager on specific events that occur within a game instead of just on the game itself. Game props are typically presented as moneylines and can cover a range of in-game events, such as a Quarterback throwing over a certain number of yards.
For example, if betting on basketball, you could predict how many points a player will score in one quarter or how many three-pointers they will score. Just click on any matchup to see all of the props available on DraftKings.
How to do Parlays on DraftKings
A parlay bet is a wager placed on multiple outcomes to occur, offering accumulated potential to make money on DraftKings Sportsbook. All outcomes or 'legs' with the parlay must be chosen correctly for a parlay bet to win. The odds for each selection are multiplied by one another to determine the odds for the parlay. Parlays can be made up of several bet types, including spread, over/unders, and moneylines. This means they have higher payouts than if each wager was placed separately.
There is also the DraftKings same game parlay option for players. This allows users to combine multiple Same Game Parlays into one whole parlay. To do this, you must first choose your game. SGPs are available for football, baseball, and more. Look for a game with a +SGP icon in the top-left corner. Then toggle  "Same Game Parlay" on. Once this has been turned on, all available bets will appear. Then combine your chosen bets from one game and add the bet to your bet slip.
How to do Teasers on DraftKings
A teaser is similar to a parlay bet but allows the game totals and point spreads on two or more picks to be adjusted. A fixed number of points are given to all choices in the teaser, "teasing" them down, which results in lower payouts. The payout odds are determined by the number of chosen picks and the number of selected points.
All picks must be successful for the bet to win. If a selection in a teaser results in a push/draw, that pick is removed, and the odds will change accordingly.
Teaser example:
We have chosen a 2 team 6-point teaser, and our two selections are the Las Vegas Raiders +6 and the New York Giants +2.5. With a teaser bet, the additional 6 points are added to both teams presenting us with a new line: the Raiders t +12 and the Giants at +8.5. Both teams must win at these new lines for the bet to win. Instead of a 6-point teaser, a 6.5 or a 7-point teaser can be chosen, and the odds will be adjusted accordingly.
Understanding DraftKings sportsbook odds
Odds are a fundamental part of sports betting. It's important to know how to read betting odds before you place a bet on any sportsbook. Operators set the odds and it's important for bettors to know how they work. There are 3 main types of odds, Fractional, Decimal, and the most popular in the US, American. On a betting app, these are shown as three-digit numbers followed by a plus (+) or minus (-).
These odds indicate if you are going to bet on the favorite or underdog and how much money you can win should you bet $100. The higher the odds, the less chance the operator feels the selection will win. If you see the image below, this is how they are set out on DraftKings:

Available sports on DraftKings sportsbook
DK sportsbook has the widest choice of sports for patrons to bet on. There are over 20 different sports and markets available to have a wager on, these include:
Sports on DraftKings Sportsbook
Academy awards
Darts
Rugby league
Aussie rules
Football
Rugby union
Baseball
Golf
Snooker
Basketball
Handball
Soccer
Boxing
Hockey
Table tennis
Cricket
Lacrosse
Tennis
Curling
MMA
Winter Olympics
Cycling
Motorsports
Tips for new DraftKings sports bettors
Not everyone who bets on DraftKings is a season Vegas pro. Most are new customers and new to betting. Sports betting isn't all about putting a week's paycheck on your favorite team. Betting can be fun and it is important to stay within your limits. Never bet more than you can afford to lose and if you feel betting has taken over, talk to someone. With that said, here are some quick tips when it comes to betting on DraftKings sportsbook.
Find a sport you feel comfortable with
If you are a huge tennis fan and watch every game religiously, don't go and bet on the basketball if you have no idea on the game. Stick to a sport you know and one you feel you have the most information on.
Don't overcomplicate your first bets
If you have read all this guide, you will know DraftKings offers lots of different bet types. To the pro, these all make sense, but to a new sports bettor, they will confuse you and leave you scratching your head. Stick to a simple moneyline bet until you find your feet.

Take your time
There should be no rushing to placing your first bet with the book. Take your time to find your way around the app, look at the markets, browse different sports, see how the different bet types work, and only then should you place your bet. Aso, if you are interested in soccer for example, take a look at the soccer odds to get the most bang for your buck.
Take advantage of betting features & promos
DraftKings offers numerous betting features such as cash out and bet builders. Cash out allows you to settle a bet early and help lock in a profit before a game ends. This is a great way to cut your losses and walk away if the game isn't going the way you want. Knowing when to walk away is vital when gambling, and cash out allows you to do this while still maintaining some profit. Also keep an eye out for promos such as odds boosts. These will boost the odds on some sports you may be interested in, giving you a bigger payout.
How does DraftKings sportsbook work?
DraftKings has built a fantastic reputation for being an excellent daily fantasy provider before transitioning into one of the most established online sportsbooks in the US. However, if all of these betting terms are new to you and the world of online gambling seems complicated, you may want some information regarding placing bets online.
Fortunately, the online betting process on DraftKings is straightforward and works in the same way as it would if you were to visit a retail betting kiosk. The big difference is all of the options are at your fingertips, with everything being processed on the web.
DraftKings works by taking bets from customers. The sportsbook sets odds and allows customers to bet on what they feel the outcome of a game or match will be.
States where DraftKings is available
Before you place a wager on the Super Bowl or a regular season MLB game or the NFL playoffs, you must be in a state where online sports betting is legal. More states are now legalizing placing a sports bet online, and brands such as DraftKings have taken advantage of this online sports betting explosion. Below is a full list of the states where users can access the DraftKings app:
DraftKings Arizona
DraftKings Colorado
DraftKings Connecticut
DraftKings Illinois
DraftKings Indiana
DraftKings Iowa
DraftKings Louisiana
DraftKings Michigan
DraftKings New Hampshire
DraftKings New Jersey
DraftKings New York
DraftKings Oregon
DraftKings Pennsylvania
DraftKings Tennessee
DraftKings Virginia
DraftKings West Virginia
DraftKings Wyoming
DraftKings Ontario
DraftKings Maryland
DraftKings NY launched in 2022 and is already enjoying huge success. New York sports betting is booming with the likes of the FanDuel sportsbook and Caesars sportsbook accepting bets in the Big Apple. The DraftKings sportsbook Maryland launched in November 2022, giving bettors in the Free State access to DraftKings DFS (Daily Fantasy Sport) contests, markets on NFL week matches, the Flash Bet feature and more.
DraftKings casino is only available in a selection of the states listed above as they do not accept online casinos.
It is hoped that DraftKings Kansas will launch within the next year with sports betting legal options becoming available in the state. DraftKings Ohio is slated to launch on January 1, 2023.
DraftKings Sportsbook explained
DraftKings is one of the biggest names in the US sports betting space. Players who enjoy daily fantasy sports have been using the platform for years, and now they can place real money sports bets using new options like the DraftKings Ohio sportsbook or the Maryland sportsbook. The brand has expanded across the country to become the betting behemoth it is today. Users can also access all of the betting options via the excellent DraftKings sportsbook mobile app, available on both iOS and Android devices from the App Store and Google Play store respectively.
Once you have completed your registration, you can claim your opening bonus bet and start betting. DraftKings is renowned for providing multiple types of bets and markets. It doesn't matter if you are an avid NFL fan or quite enjoy watching more niche sports like cycling, DraftKings will have odds and a market for you.
Banking is simple as well, with modern, convenient payment methods on hand to ensure you can add and withdraw funds safely and quickly. Ultimately, DraftKings is a massive name in the US, and has joined force with professional sports and leagues to enhance its reputation. If you are looking to get involved with sports wagering for the first time, it is a good place to start.
DraftKings Betting Limits
There are always wagering requirements attached to any bonus offer, and most sportsbooks also have limits on deposits and bets you can place. Some of the key factors to know about regarding betting restrictions at DraftKings include:
Minimum Deposit: The minimum deposit limit is $5, with the lowest betting limit $0.10.
Parlay Rules: A standard parlay could reach up to 16 legs, but there will be a cap for some sports or events and also limits on same game parlays.
Payout Limits: The maximum payout for any single winning wager is $1 million.
Additionally, you should be aware there may be state-specific rules and regulations you will need to understand. Take a look at our state pages for more information. Some of the common rules you will notice in the legal markets are things like restrictions on wagering on political events or high school sports.
FAQ's
How old do you have to be to bet on DraftKings?
You must be at least 21 years old to gamble on legal sportsbooks, including the Draftkings sportsbook and the DraftKings sportsbook app.
How long for DraftKings bets to settle?
Bets are typically settled shortly after an event has finished. With a wide range of betting opportunities available to players, it is vital DraftKings settles all bets correctly. Consequently, it may take slightly longer than expected to receive any returns during hectic periods.
Can I bet on my phone with DraftKings?
Yes, DraftKings has a dedicated mobile app that is ideal for mobile bettors. Whether you are using the DraftKings sportsbook NY app or playing in Indiana, you can place a prop bet or player props wagers on the move by using the app.
Is DraftKings legal in Ohio?
DraftKings is one of the biggest brands that will launch in Ohio on January 1, 2023. Bettors in the state will have access to one of the most elite betting apps in the online gambling industry.
How can I get free money on DraftKings?
You can get your hands on free cash on DraftKings by signing up for a new DraftKings Sportsbook account. Read more above for how does DraftKings betting work for how to best use your free money and free bets.
Can you cancel a bet on DraftKings?
Once you have submitted your bet on the DraftKings platform, you cannot cancel it. There are some exceptional circumstances that mean you could withdraw a wager, such as if it has been placed in error. But otherwise, once the bet has gone in, it can't be voided.
What is the DraftKings promo code?
There is no DraftKings promo code required to claim the welcome bonus. New users can click our links in order to create an account and take advantage of the generous new user offer.