Gamble USA strives to improve your online gambling experience. We aim to help you play safely, make informed decisions when gambling, and increase your betting knowledge through our guides.
We adhere to strict editorial integrity; our content may contain links to products from our licensed & legal US partners.
Sometimes flying under the radar, the FanDuel Casino bonus of any losses covered up to $1,000 for the first 24 hours is quietly one of the best casino bonuses available in the US. With only an x1 playthrough requirement, experienced casino players can immediately see the value.
However, with the constantly changing state laws regarding online casinos, it can be unclear what states allow online casinos — and so for that reason, we've set ourselves the task of wading through state legislature to find out which casinos are available where. Today, we're looking at FanDuel Casino.
Exclusive $1,000 Play it Again Bonus
21+. T&C Apply
21+. T&C Apply
Amazing choice of slots & games
Exclusive Play it Again Bonus Up to $2,000
---
FanDuel Casino Legal States List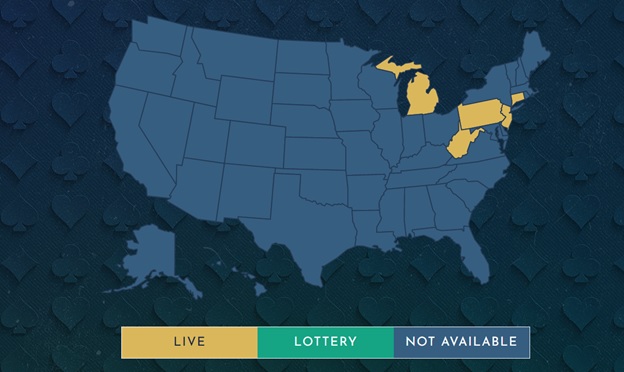 ✔️New Jersey
If you live in the Garden State and are wondering if any US online casino is legal in your state — the answer is almost always yes. In 2013 they became the first state to legalize online casinos, and since then, they've been the number one destination for any and all online casinos looking to get a foothold in the US. With so many to choose from, you'll need our guide for the 12 best NJ casino apps.
✔️Connecticut
The newest member on this list, Connecticut joined the list of states allowing online casinos in October 2021. Connecticut is a weird one. With state legislation requiring all online casinos to be partnered with one of two land-based casinos, any online casino looking to strike up an agreement usually has to be willing to negotiate and possibly make some compromises. And that's the case with FanDuel, who operate a casino in Connecticut, though under the Mohegan Sun Casino skin. It's a small market for players in Connecticut. And if you want to play here, there are only two big names to choose from. DraftKings and FanDuel.
✔️Pennsylvania
Almost four years before Connecticut, the Keystone State allowed for online casinos in October 2017. Being in the market for over five years means players in Pennsylvania have a lot more to choose from than others. You can check our review on the best PA online casinos.
✔️West Virginia
While legalized in March 2019, West Virginians had to wait more than a year later for the first casinos to launch in July 2020. The good news was that when the first did launch, there was a wave of online casinos to follow, and now if you live in West Virginia, you're almost spoilt for choice. Check out our guide for legal West Virginia online casinos.
✔️Michigan
At the tail end of the 2010s, the Wolverine State officially legalized online casinos five days before Christmas in December 2019. It was a bit of a slow start, but in 2022 all the big names are here. For a summary, you can check our review for the 6 best MI real money online casinos.
---
In Which States is FanDuel Online Casino Legal In?
Conceived in 2009 to be a pivot from Hubdub (a news prediction site), FanDuel was initially aimed exclusively at football, marketing themselves as a fantasy football league. It was an instant hit. A clever way to get around sports betting laws, and soon they expanded to include all major sports. While successful, FanDuel often found itself playing second fiddle to DraftKings. However, in 2018, they were taken over by Flutter Entertainment for $180 million, who planned for FanDuel to become much more than just a fantasy sports league.
The results since the takeover have been undeniable. The FanDuel app is now the number one US-based betting platform, and even more, they are one of the top online casinos, having claimed $2 billion worth of revenue in 2021. How have they done this? A lot of little things mainly. But one big thing they did is revolutionize the standard structure of online casino welcome bonuses with FanDuel's online casino offering to cover any losses incurred in the first 24 hours up to $1,000.
Below you can see a summary of which states can take advantage of this offer, as well as who they're partnered with.
| 🇺🇸 State | 🚀 Launch Date | 🏛️ Retail Partner | Mobile App |
| --- | --- | --- | --- |
| New Jersey | July 27th, 2021 | Golden Nugget Casino | ✅Yes |
| Connecticut | October 19th, 2021 | Mohegan Sun Casino | ✅Yes |
| Pennsylvania | January 24th, 2020 | Valley Forge Casino | ✅Yes |
| West Virginia | March 5th, 2021 | The Greenbrier | ✅Yes |
| Michigan | January 22nd, 2021 | MotorCity Casino | ✅Yes |
If interested in sports betting, you can check where FanDuel Sportsbook is legal through our guide.
FanDuel Casino NJ
Launching on July 27th, 2021, FanDuel was one of the few online casinos that did not start their journey in New Jersey. That might be surprising for some, though it just speaks to the confidence of FanDuel, who were so confident of securing licensing eventually in New Jersey that they initially prioritized more challenging states. Of course, if you're a  New Jersey player, you have nothing to worry about. Because the same great bonuses are available to you, including the FanDuel Rewards Program.
Partnered with the Golden Nugget, FanDuel casino is licensed by the New Jersey Division of Gaming Enforcement.
FanDuel Casino CT
For the Constitution State, there is perhaps no better destination for online casinos than FanDuel by way of the Mohegan Sun Casino. This partnership began on October 19th, 2021 — and while the aesthetic of the Mohegan Sun online casino may be different from the traditional colors of FanDuel, Connecticuters will find that the site operates just the same with the same great welcome bonus, the FanDuel referral bonus, and a whole host of games.

While certainly a little irregular, this unique partnership with the Mohegan Sun Casino does grant FanDuel the highly coveted Connecticut license issued by the Connecticut Department of Consumer Protection.
FanDuel Casino PA
Launched on January 24th, 2020, FanDuel was the sixth online casino to be licensed in Pennsylvania. Pennsylvania was the first market that the FanDuel casino launched into. Originally players in Pennsylvania could only reach the FanDuel casino through the FanDuel Sportsbook app — however, seeing how top-rated the casino was with users, they launched the stand-alone app on June 24th, 2020.
FanDuel has partnered with the Valley Forge casino and is licensed by the Pennsylvania Gaming Control Board. Among the several promo codes for existing PA players, the FanDuel Casino reward machine promotion ranks among the best.
FanDuel Casino WV
The Mountain State is one of the biggest markets for online casino games in the US, second to perhaps only New Jersey. As such, it was no surprise when on March 5th, 2021, FanDuel launched. Players located in West Virginia may have a lot to choose from, but there are few, if any options better than the giants of FanDuel. FanDuel of West Virginia is licensed by the West Virginia Lottery, having agreed to a partnership with The Greenbrier.
As one of the prime online casino markets, it should be no surprise that players in West Virginia have access to all the game types of FanDuel casino via the FanDuel desktop website and the FanDuel mobile app. This means you can play the best RTP slots on FanDuel and a range of blackjack, roulette, keno, and live dealer games.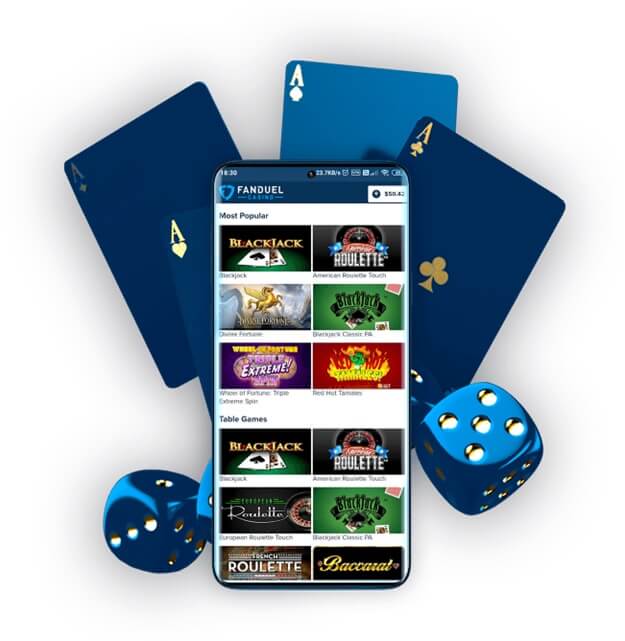 FanDuel Casino MI
January 22nd, 2021 was a great day for online players in Michigan as FanDuel had a dual launch that day not only with their online casino but also with their online sports betting app. Now, well into its second year, FanDuel has remained one of the top destinations for Michiganders looking to take in the excitement that online casinos offer.
FanDuel is partnered with the land-based MotorCity Casino of Detroit, Michigan. This partnership grants FanDuel a license to operate in the state, according to the Michigan Gaming Control Board.
Exclusive $1,000 Play it Again Bonus
21+. T&C Apply
21+. T&C Apply
Amazing choice of slots & games
Exclusive Play it Again Bonus Up to $2,000
---
FanDuel Casino states not allowed
Listed below are all the states where FanDuel casino is not available. This could mean that real-money online casino gaming is not yet legal in the state, or that Fanduel does not yet have a license to offer real-money online gaming. If you are in one of the states below and want to play casino games, have a look at these latest sweepstake casinos.
Alabama
Alaska
Arizona
Arkansas
California
Colorado
Delaware
Florida
Georgia
Hawaii
Idaho
Illinois
Indiana
Iowa
Kansas
Kentucky
Louisiana
Maine
Maryland
Massachusetts
Minnesota
Mississippi
Missouri
Montana
Nebraska
Nevada
New Hampshire
New Mexico
New York
North Carolina
North Dakota
Ohio
Oklahoma
Oregon
Rhode Island
South Carolina
South Dakota
Tennessee
Texas
Utah
Vermont
Virginia
Washington
Wisconsin
Wyoming
---
Alternatives in Other States
The top online casinos mostly operate in the same states as FanDuel. Casinos such as DraftKings Casino, Caesars, BetMGM and Borgata are also great casinos, but they do not cover any of the other states that fall outside of FanDuel's scope.
However, if you do not live in one of those states, all is not lost. You can try out a number of online social casinos, that virtually cover the whole country. These sweepstakes casinos are free to play at, and at some of them you can win real cash prizes.
What is the catch – you may ask. Absolutely none! Of course, you should always remain alert that there are some sweepstakes casinos out there that have bad reviews and may not pay you out your winnings. Not at any of ours though. Feel free to check out any of the following Sweepstakes casinos and check out what they can offer you. Some of these casinos have hundreds of casino titles, or even over 1,000, so there is plenty to get excited about.
These options are only the tip of the iceberg, and if you want to know more, you can check out our full range of sweepstakes casinos. For starters though, here is a quick taste of what awaits you at our top 5 social casinos.
---
Getting Started with FanDuel in Your State
So now that you know who can play at FanDuel casino, you may be wondering how to play. First things first, you'll need to register. This process is easy, though in order to get access to their fantastic welcome bonus, you'll have to make sure that you adhere to it strictly, and to ensure that you don't miss out, we've come up with this short guide.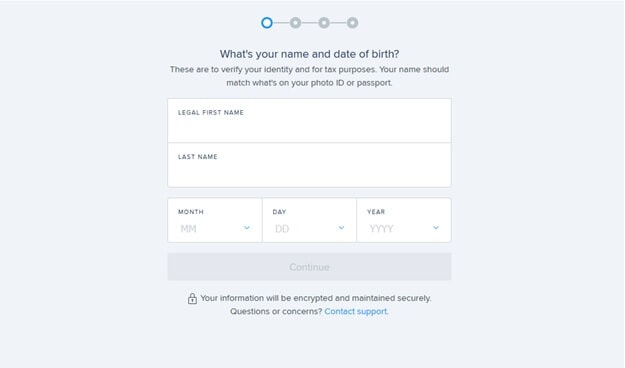 Navigate to the FanDuel casino homepage

by way of our secure links.
In the top right corner of the screen, click the green "Join Now" button.
The first page of information required is related to your account details. These include username, desired password, and email. There's a space for a promo code, but for the FanDuel $1,000 "Play it Again" bonus, you won't need to use it and you should leave that space empty. Once you've entered the relevant information, click "Create Account".
Next up, you'll need to enter in the required information to ensure that you are legally able to play at FanDuel Casino. This information includes your full name and address. It's essential to ensure that all this information is entered in exactly as it appears on your photo identification; otherwise, there may be delays on your withdrawals per their KYC (Know Your Customer) policy. After you've done that, click "Next".
For this step, you'll need to navigate to your email, find the confirmation email, and click the confirmation link.
The FanDuel bonus must be activated in the first seven days. So the next step is to navigate to the cashier section, choose "deposit", and follow the prompts. You won't need to select the bonus, as it'll apply itself the second you make you play your first real money game.
Done. You're now ready to play real money casino games safely, knowing that FanDuel will cover any losses incurred in the first 24 hours up to $1,000.
If this is your first time signing up for an online casino, this process may take up to 30 minutes. But once you get the hang of it, signing up for FanDuel or other online casinos is a breeze, taking less than five minutes on average.
---
FanDuel Casino Welcome Bonus
The FanDuel welcome bonus is different from a lot of others. With FanDuel, all losses made within the first 24 hours are covered up to $1,000. What makes this offer so good though, is that while many other online casinos require you to playthrough your bonuses up to x35, FanDuel only requires an x1 playthrough. That means if things don't go your way in the first 24 hours, you'll get your money and only need to play with it once to be able to withdraw. This makes the FanDuel cashback bonus as close to risk-free as you'll find.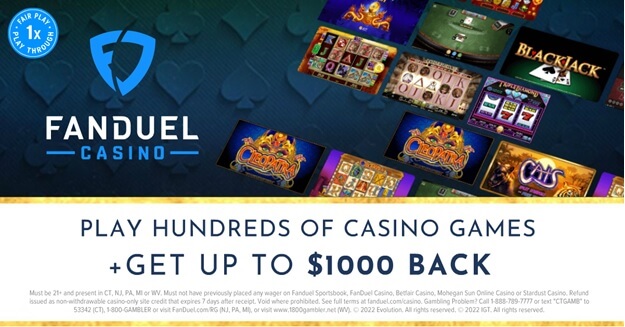 I'm a massive fan of this bonus, as it allows you to go for slightly riskier strategies. Think single number roulette or bonus buy feature slots. I go for something big, and then if it doesn't pan out, I'll return to my more cautious and safe betting habits when my money is returned.
Of course, if that isn't your style, you can just as well exercise your regular gambling habits, knowing that for your first day, FanDuel will cover any potential losses.
Currently, FanDuel Casino also runs a second welcome bonus, in the form of a free sign-up offer. After signing up and verifying your account, you will receive a $25 free casino credit. Three more will follow up on the next three weeks, bringing the total FanDuel no deposit casino bonus code to $100.
---
How Does FanDuel Compare to Other Online Casinos?
Of the big four online casinos, FanDuel is the most unique. Similar market reach, and similar game types leave little differences in this area, and instead, the most significant differences are in their welcome bonuses. For a more traditional bonus, there are few better than Caesars online casino. With Caesar, your first deposit is matched 100% up to $2,000. Likewise, if you're looking to try online casinos for free without risking a dollar, then you might prefer BetMGM Casino, who give a $25 no-deposit on top of their $1,000 matched first deposit — or with the DraftKings Casino promo code triggering a $50 free upon successful registration on top of their $2,000 first deposit match.
If you live in New Jersey, Pennsylvania, Michigan, or West Virginia, you'll have all four options. However, if you're from Connecticut, it's a tale of two casinos. DraftKings or FanDuel.
Which of these is better than the other though, is hard to say. One thing that I've seen newcomers do is not understand just how valuable the FanDuel welcome bonus is and in turn, not get as much value from it as they should. As such, if you've never played at online casinos before, I'd push you towards DraftKings or BetMGM with their no-deposit bonus. But if you know your way around the online casino world, then I think the question as to whether or not you should play at FanDuel is a no-brainer, and you should definitely play at FanDuel casino if it is legal in your state.
Exclusive $1,000 Play it Again Bonus
21+. T&C Apply
21+. T&C Apply
Amazing choice of slots & games
Exclusive Play it Again Bonus Up to $2,000
---
FAQs
Where is FanDuel Casino Legal?
FanDuel Casino is legal in Connecticut, Michigan, New Jersey, Pennsylvania and West Virginia. You must be in one of those states to play at FanDuel Casino, and you cannot use a VPN to connect through to that state. Using a VPN is breaching the terms and conditions of the casino, which not only can get you banned, but it is actually a criminal offense.
Where to play casino games out of state?
If you are not in one of the states where FanDuel Casino operates, then the next best thing is to try out a social casino. These operators are available nationwide, and the best thing is that they will not cost you a dime to play at!
What games can I play at FanDuel Casino?
FanDuel Casino has a wide range of casino games to keep you entertained. You can play all the latest slots, video poker, fish games, table games and even live dealer games. The casino is available across all platforms, and has iOS and Android mobile apps, with which you can take your gaming on the go.
How to withdraw winnings at FanDuel Casino
You can withdraw your funds using PayPal, electronic check (ACH), Venmo, Revolut, Check, or the FanDuel Prepaid Card. Managing your withdrawals are very simple, and can be done on your cell phone or computer. In terms of speed, Venmo offers the fastest withdrawals, with the money hitting your account in 24 hours. The first few times may take up to 72 hours, but once you have done a few withdrawals, your account will be green-lit for the speedier transactions.