Established in 2009, Venmo has grown to be one of the best digital wallets available. Accepting at several betting sites, FanDuel is one of the biggest names to use it. In this guide, we will show you how to use Venmo with FanDuel, how to link your account and make those important deposits and withdrawals.
FanDuel is one of the major online sports betting platforms to accept this gambling banking option, and we can expect to see more Venmo betting sites crop up in the future. In a world where not many banks accept gambling transactions, Venmo is a welcome addition for a lot of bettors.
Even though using Venmo to transfer money to other users may be easy for many people, making payments in sportsbooks that accept Venmo may not be so straightforward. However, our experts have developed this extensive guide to help you get started. We'll be looking into how to use Venmo on FanDuel for payments, popular alternatives, and many more. But first, let's take a brief look into Venmo and how it works.
Bet $5, Get $150 In Bonus Bets
21+. T&C Apply
21+. T&C Apply
Convenient banking
Massive choice of sports
How Does Venmo Work?
As mentioned earlier, Venmo allows you to transfer funds from one user to another. Once you download the Venmo app from the Google Play Store or Apple iTunes App Store, you'll be allowed to link your account to your online banking account, debit card, or credit card. Once this is done, users can easily send money to one another with a button.
Almost no fees are attached to this payment method, especially when sending money to your online gambling account. However, a 3% fee is charged when you send money to a friend via your credit card. Venmo also offers a fast cash-a-check feature with a 5% charge.
FanDuel Venmo Deposits
Making deposits on FanDuel using Venmo is straightforward and similar to any other payment method. Below, we have put together a detailed guide to help you do this without hassle.
Step 1:

Register on FanDuel

. The first step would be to create a FanDuel account. Head to the website and click on "Join Now." Then pick your country and input your details. You may need to verify your identity before you get started, and once that's done, you'll be able to get started.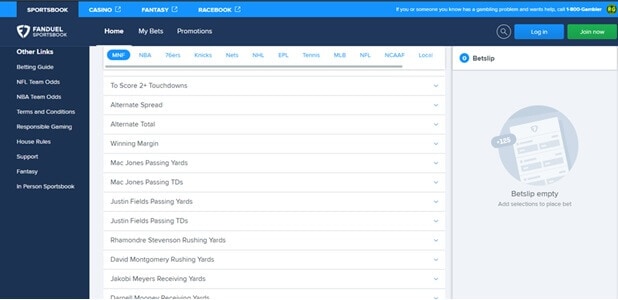 Step 2: Click on the "Account" section underneath the website. Then tap on the "Add Funds" button and select Venmo as your payment method from the list available.
Step 3: Link your Venmo account to your FanDuel sportsbook account. Simply do this by following the instructions that pop up.
Step 4: Input your preferred deposit amount and click on deposit. Note that the minimum amount you can deposit on FanDuel is $10. Once you do this, wait for your funds to land in your account. This is usually instant, so don't worry about waiting too long.
Step 5: Start wagering on your favorite sports. After the deposit has landed in your account, choose your preferred sports and

place your bets on FanDuel

.
FanDuel Venmo Withdrawals
You'd be able to use Venmo to withdraw money on FanDuel if you used it to make a deposit. Making a FanDuel Venmo withdrawal is also straightforward, and we have put together a few steps to help you.
Step 1: Input the URL of the FanDuel website and click on the login button. Then enter your login details to sign into your account.
Step 2: Next, click on the "Account" section underneath the page, similar to what you did for deposits.
Step 3: Click the "Withdraw Funds" button and pick Venmo as your desired withdrawal method from the list of options.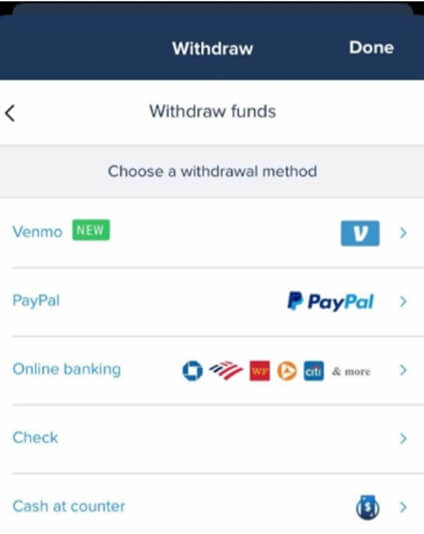 Step 4: Link your Venmo to your FanDuel sportsbook account when the notification pops up.
Step 5: Input your withdrawal amount from the funds available in your account. Click on withdraw if you are satisfied with your selection.
Step 6: Wait for your funds to land in your Venmo account. The first withdrawal could require between 24-48 hours to be processed. Also, according to the FanDuel site, withdrawals may take 24 hours longer if requested during peak periods. Once processed, you should see the funds in your account within an hour.
Alternatives to FanDuel Venmo
Many other reliable alternatives are available if you don't want to use your Venmo account for deposits and withdrawals on FanDuel. Here's a list of some of the most reliable options.
FanDuel PayPal
PayPal is a renowned developer that currently manages Venmo. So, what other deposit and withdrawal method alternative could be better than the parent company? You can expect the same and even better quality of services you get from Venmo – and the best part is that it is legal on FanDuel sportsbook!
PayPal sportsbook deposits are extremely fast, easy to use, and offer numerous features to keep users protected. Moreover, opening a PayPal account is very easy, and you can link it directly to your bank account. FanDuel PayPal deposits are instant, and withdrawals are also very fast. Moreover, a mobile app is available that players can use to make deposits on FanDuel via their mobile devices on the go.
FanDuel Apple Pay
Apple Pay is another reliable payment option for sports bettors that is available on FanDuel. It is a reliable e-wallet that offers seamless payment and is a great alternative to Venmo. This payment option is very easy, as you only need a functional Apple device. Deposits with this option are typically instant, and you don't have to pay any transaction fees. On the downside, it is only available on Apple devices and other not on other betting apps, which can be limiting.
Bet $5, Get $150 In Bonus Bets
21+. T&C Apply
21+. T&C Apply
Convenient banking
Massive choice of sports
FanDuel Online Bank Transfers
Online bank transfers have been one of the most popular banking options since the online sports betting industry launched in the US. Whether playing at the FanDuel sportsbook or online casino, you can withdraw money using this option. To withdraw money using a bank transfer, head to the FanDuel site and choose "online bank transfers" option as your preferred method. Then enter the account number and the routing number. Then just simply enter the amount you wish to withdraw and confirm.
FanDuel Venmo FAQs
What is the minimum Venmo deposit at FanDuel Sportsbook?
The minimum Venmo deposit you can make on FanDuel sportsbook is $10. This is the same as many other payment options on the platform.
Is FanDuel the only Venmo betting site?
No, FanDuel is not the only Venmo betting site. DraftKings daily fantasy sports site also accepts Venmo, but its sportsbook customers must find other alternatives. However, we believe that more online sportsbooks will begin to accept this payment system going forward.
Can I deposit money with Venmo at FanDuel Casino?
Like the sportsbook, you can use Venmo to make deposits on FanDuel online casino.
How long do FanDuel Venmo withdrawals take?
FanDuel Venmo withdrawals require between 24-48 hours to be processed. However, this could be 24 hours longer if you request a withdrawal during peak periods or late at night. For the best outcome, we recommend you only make a withdrawal request during business hours. Subsequent Venmo withdrawals should be faster than that, often instant.
FanDuel Venmo withdrawal not working?
If your FanDuel account is suspended or restricted, it is likely that Venmo withdrawals won't work. The same is true if you have failed to verify your location or account details. This process is done during your registration at FanDuel and confirms you are the real person linked to the Venmo wallet used to deposit and withdraw at FanDuel.