Gamble USA strives to improve your online gambling experience. We aim to help you play safely, make informed decisions when gambling, and increase your betting knowledge through our guides.
We adhere to strict editorial integrity; our content may contain links to products from our licensed & legal US partners.
Sports betting has become increasingly competitive over the years and online sportsbooks keep things interesting by offering customers betting options that narrow the gap between the two teams. This is usually done with spreads but you can also avoid predicting the winner by betting on totals.
Alternate totals allow customers to make a customized choice on the standard sportsbook bets. Match total of under 215.5 for -110? Well, take an alternate option and bet on under 210 for +145. It's a great way to boost your payouts of total points bets.
Let's take a look at how you can make the most of this betting option and what alternate total points really are.
What Is an Alternate Total Points Bet?
For all the new bettors on the scene, a total points bet is specific to the total amount of points scored by both teams, it doesn't matter who wins.
Let's say you're betting on the Giants vs the Eagles and the total predicted by the sportsbook is 42, you can then bet on the two teams to score under 42 or over 42, usually with odds of -110. While you expect the Eagles to win, you've got a feeling that the offense of both teams will crush it and a total of 42 is a bit low. Instead of betting the low odds of -110 for over 42, you have the option of betting over 44 for +100, a chance for bigger payouts. You can see the three winning options of alternate totals below in green.

This betting option is known as an alternate total points line and it's usually available with most of the top-rated sportsbooks. It's available for both spread and total bets by changing the predicted scores that the sportsbook calculated and the odds will increase/decrease by how much you are influencing the scoreline.
Alternate Totals Example
To explain just how effective the betting option can be, let's look at the alternate totals for the NHL match between the Panthers and the Golden Knights that are currently available with the DraftKings sportsbook platform.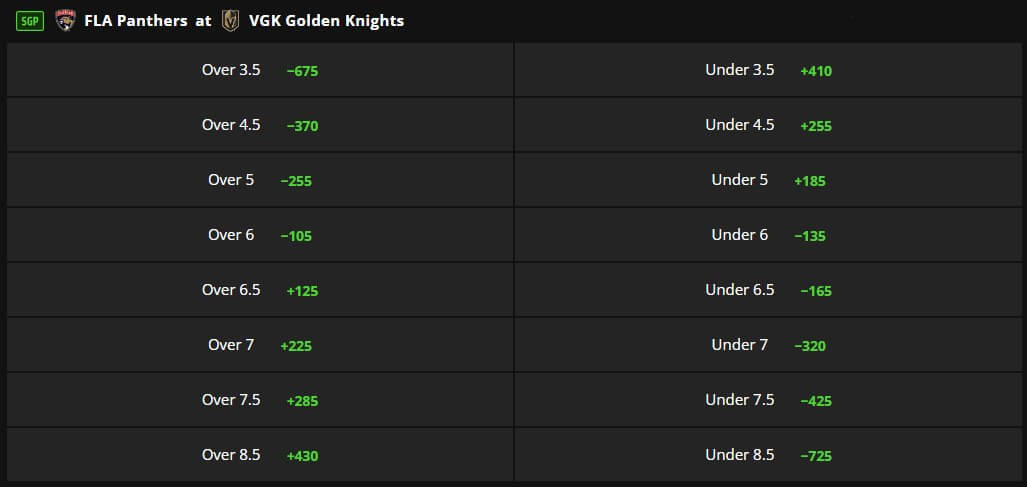 The sportsbook calculated total is 5.5, if you think the Golden Knights are going to continue their high-scoring playoffs and the Panthers are up for the challenge, you might consider the over 6.5 option at +125. This will pay out much more than the standard total bet which is over 5.5 at -120.
The more you increase the total amounts in the 'Over' column, the higher the odds become, it's the opposite for the 'Under' column so take some time to run through exactly how you think the match will play out. Once you've made your decision, your betting slip should look something like this: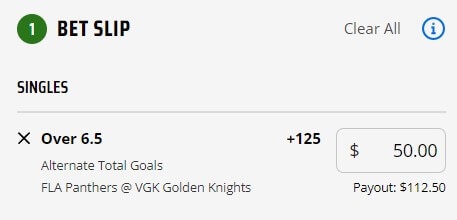 Any score combination adds up to 7 and you'll be walking away with $112.50 after the match. Keep in mind that the scoreline and winner don't matter, you're only hoping for a minimum of 7 goals to be scored with the alternate total points bet.
How to Bet on Alternate Total Points
Now that we've got a solid understanding of how these bets work, let's run through how you can find alternate totals and put your money down. Some sportsbooks might differ, but for the most part, it's the same process.
Register/login to the sportsbook platform that has odds available on the match.
Head to the specific sports market of the match, and click 'View more betting options'.
Browse through the options for Alternate Totals/Runs/Pucks etc.
Scroll through the options to find the best alternate totals payout for your scoreline prediction.
Click on the option and type in your bet amount on the betslip.
Confirm your bet at the bottom of the slip, make sure you've got enough funds in your account!
The same process will apply to a sportsbook app. If you'd prefer to bet in person, you'll have to head to your nearest retail partner of any well-known sportsbook and go through the same process.
You'll have to bring your verification documents with you if you've never placed a bet with the sportsbook before. We also recommend checking out some online alternative totals so that you know what betting odds you can expect at the cashier.
Is Betting on Alternate Total Points a Good Idea?
Alternate betting totals are a great way to drastically increase payouts from the set total and spread that a sportsbook has on offer. As always, with increased payout opportunities comes lower odds, but you can try to make the most educated bet possible by researching the specific match you're interested in.
By betting on totals, you won't have to bet on the winner of a match but rather the combined performance of the two teams playing. This is very useful in highly competitive leagues like the NFL, NHL, and NBA where it's very difficult to pick an outright winner on the day.
However, you'll have to know quite a bit about how the two specific teams play against each other and what kind of form their key players are in. Take a look at the difference in odds between the moneyline/total compared to the variety of odds available with alternate totals.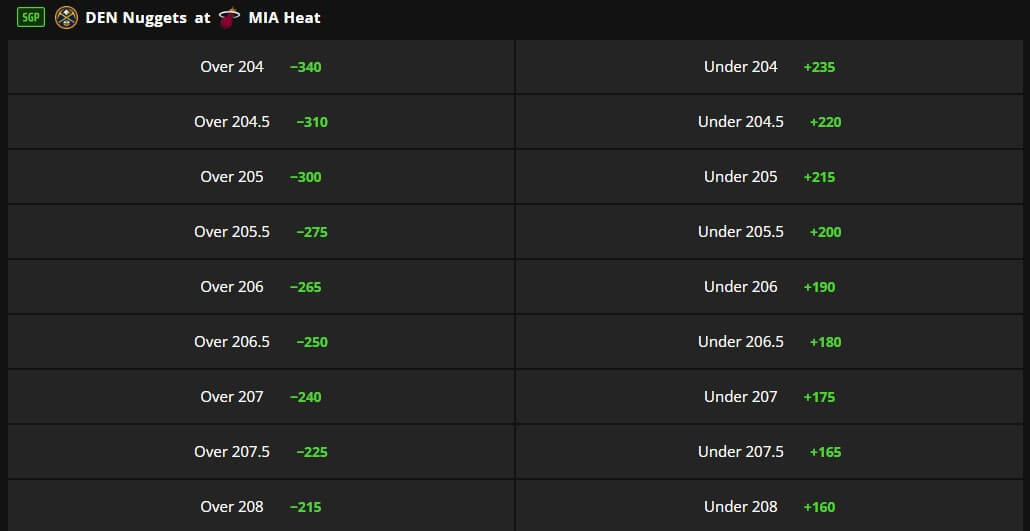 Betting on alternate totals can be profitable but it's an option that should take some research and experience. If you feel confident in a specific match, browse around the top sportsbooks to see who's got the best odds for your prediction and decide if the chance is worth the bet. Win or lose, you'll have to make the call!
Where to Place an Alternate Total Points Bet
Probably one of the most important things to consider with alternative total points is the sportsbook platform you'll be placing the bets on. Only a few states have legalized online sports betting and then only a couple dozen sportsbooks will be available in each of them.
By picking one of our top-rated sites, you can rest assured that they've obtained the necessary licensing and that the platform is legitimate. Our top five sportsbooks for betting alt totals includes:
| 📖Sportsbook | ⭐Best feature | 🇺🇸 Available states |
| --- | --- | --- |
| DraftKings | Best alternate total betting options | AZ, CO, CT, IL, IN, IA, KS, LA, MA, MD, MI, NH, NJ, NY, OH, PA, TN, VA, WV & WY |
| BetMGM | Alternate bets available with most sport markets | AZ, CO, DC, IL, IN, IA, KS, LA, MA, MD, MI, MS, NJ, OH, NV, NY, PA, TN, VA, WV & WY |
| Caesars | Highest value welcome offer | AZ, CO, IA, IL, IN, KS, LA, MA, MD, MI, NJ, NY, OH, PA, TN, VA, WV, & WY |
| FanDuel | Alternate spreads and totals to bet on | AZ, CO, CT, IL, IN, IA, KS, LA, MA, MD, MI, NJ, NY, OH, PA, TN, VA, WV & WY |
| PointsBet | Some of the best betting odds on the market | CO, IL, IN, IA, KS, LA, MD, MI, NJ, NY, OH, PA, VA & WV |
While the betting option is widely available with the best platforms, you'll have to consider which sport you'll be betting on. Totals are usually available with football, basketball, hockey, baseball, and soccer. Let's take a look at how they'll work in the three most popular betting leagues.
Alternate Total Points for NFL
The most popular market for alternate total bets is without a doubt the NFL. It follows the same principle of adding each team's score at the end of the game to calculate the 'total'. Just remember the possible ways to score in football:
Touchdown: 6 points
Field Goal: 3 points
Safety: 2 points
After the touchdown: 1 point (Field Goal or Safety) or 2 points (another touchdown)
Let's say you were interested in the Super Bowl game between the Philadelphia Eagles and the Kansas City Chiefs. You had no idea who was actually going to win, but you knew both teams had 30 points in them judging on their last couple of matches.
DraftKings sets their prediction of the total at 51.5 with both Over and Under having odds of -110. While betting over the 51.5 would win, you could boost that by quite a bit by shifting the maximum.

All of the bets in the green box would be winning. It's just a matter of picking the total with the best payout without going over the total, that's where these types of bets get a bit tricky.
Important to note here, DraftKings usually has their totals with half a point. This is an easy way to avoid customers matching the score exactly. The real total has to be either over or under its predicted total.
Alternate Total Points for NBA
NBA is another popular alternate total option for sports bettors. The key difference you need to be aware of is how rapid and high-scoring matches are. Where average NFL games are around 46 points, average NBA games are around 230 point totals. Scoring possibilities in the NBA are only two-pointers and three-pointers.
Let's look at the odds of various totals for a game from the NBA finals between the Golden State Warriors and Boston Celtics. FanDuel had a reasonable total prediction of 210 set for the game, but Celtics had one of their worst performances of the year. This was a great opportunity as all the bets in the green box would have won with the best odds being +160.

Alternate Total Points for MLB
From the previous two examples, you must be thinking that alternate totals are the Holy Grail of sports betting. They can be, you just need to be up to date with how each team will perform. For the MLB, you'll be betting on alternate total runs. It's the same concept as the others, just has a different name because runs are so scarce!
Our example is between the Houston Astros and Philadelphia Phillies in Game 5 of the World Series. With an average of 7.5 total runs in the other four games, BetMGM set their total runs at 7 with lower baseball odds on the Over bets. The game at Citizens Bank Park ended 3-2 which had huge payouts for any sports bettors who predicted a low-scoring match.

As you can see, sports with a high scoring rate and total scores will be easier to bet on alternate total points than a sport where it's difficult to score, like baseball and soccer. That being said, the odds do reflect this probability and you could be in for some big payouts when you're betting on alternate total runs.
Tips for Placing an Alternate Total Points Bet
Alternate lines, both spreads and totals, can be a tricky betting option for even the most experienced sports bettors. We highly recommend that you include some of our expert tips in your game before you bet.
By researching the previous results and player form, you can get a better idea of whether the match will be high-scoring or low-scoring. It's just a matter of finding the total point bet that will have the best payout according to what you feel the result will be.
Follow expert opinions on each team. You can do this by checking out well-known social media accounts that are affiliated with each team or by watching some sports shows that discuss each match. This will give you bits of information that you can use to make your decision.
Keep an eye out for different sportsbook totals. Every platform will have its own formula to calculate the standard totals. You might find that some of these betting options are way off the total that you've researched. This will be a great opportunity to bet over or under the amount for high payouts.
FAQs
What is an alternate total points bet in basketball?
An alternate total bet allows the bettor to choose another total option for the match with relative odds. Let's say a total of 215.5 is set between the Denver Nuggets and Miami Heat at -110. If you think this total is off, there are alternate totals higher and lower than the standard 215.5. Under 205 would have odds of +235 and over 226 would have odds of +225.
What do total points mean in betting?
Total points refers to all the points that are scored in a match. Whether in the NFL, NBA, or NHL, you simply add up both teams' scores to calculate the total and then you can bet on whether the total points will be less or more than the sportsbook prediction on the day.
Does an alternate total point bet include overtime?
This depends on the sportsbook platform you are using and the alternate total betting option. Generally, an alternate total will include overtime but you might find options that do not include it. We recommend double-checking with customer support before you place the bet, just to be sure.
What are alternate odds?
Alternate odds offer different betting options to the standard spreads and totals of an online sportsbook. You can choose your own scoreline with odds that are specific to the outcome.