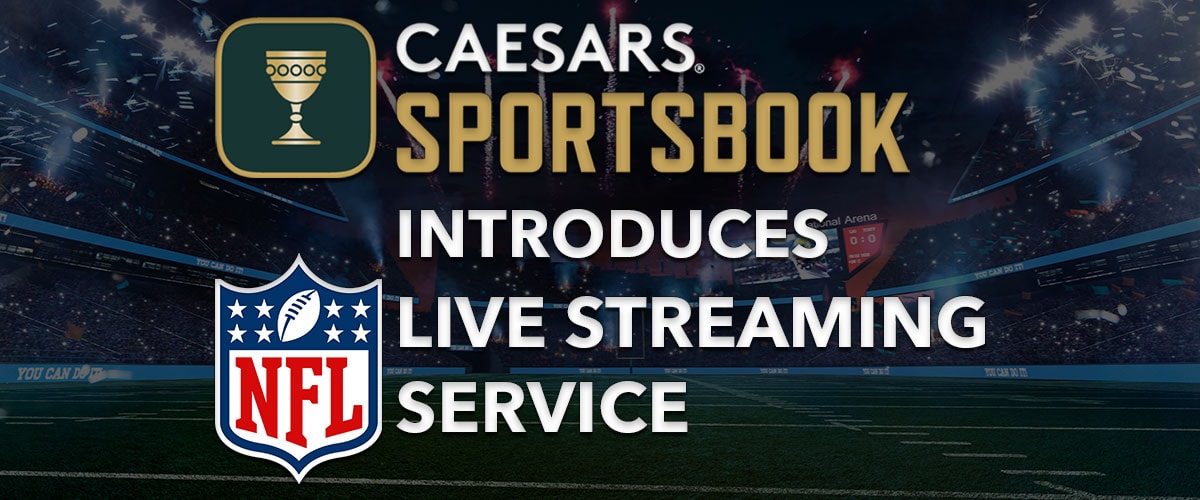 Caesars sportsbook is one of the top-rated betting sites available to US customers. They've improved their service even further by offering customers the option of streaming all their favorite matches through the sportsbook app.
Live streaming is quite common with sportsbook services worldwide but is scarce in the US. The only sporting option is currently the NFL, but it seems promising that more betting markets will be made available over time. For now, though, you can watch NFL games via video streaming technologies to improve your sports betting sessions, it almost becomes like a watch bet video experience.
Not many sports betting sites can claim this feature, and we'll be exploring exactly what it means to you as a sports bettor and how you can incorporate it into your game. It definitely fits nicely with the latest Caesars Super Bowl promo code.
Let's dive right in!
Caesars Sportsbook and Watch & Bet NFL Streaming Partnership
While the NFL has been live-streamed globally, it's been a fairly complicated matter of making these streams available to US sports bettors. The issue is largely due to broadcasting rights with sporting networks in the US.
Caesars sportsbook has finally made the breakthrough by teaming up with Genius Sports to become an official sports betting partner, the distributor of all NFL data and statistics. They offer a 'Watch & Bet' service that uses machine learning advancements to generate betting options for customers who prefer to place wagers while the action unfolds. It's a feature that brings new opportunities and live betting strategies that NFL bettors can employ.
An agreement was reached between the two service providers to include the online streaming service within the Caesars online sportsbook. The first match to be available was the Cowboys vs. the Colts on the 4th of December. Sports bettors were not only allowed access to view the game but could also place live bets while watching. These betting options were accompanied by the full extent of the 'Watch and Bet' service. Customers could see detailed data and statistics surrounding the match and place wagers in real-time.
Not only is the live streaming option the first of its kind within a US sportsbook, but you can also experience the full extent of the Watch & Bet service. That means you'll view graphics and data specifically related to the live betting markets, giving you an edge with your wagers while the game is on.
Even if you're not a big fan of the Caesars sportsbook offer, you could open an account and use the data that is made available within the Watch & Bet service.
How to Use NFL Live Streaming at Caesars
Only registered customers can visit the NFL live-streaming platform within the service. To become a registered customer, you must visit the signup page either through the Caesars website or the app.
Promo Code: GUSA1000
$1,000 First Bet on Caesars
21+. T&C Apply
21+. T&C Apply
Promo Code: GUSA1000
Massive welcome bet offer
Earn Caesars Rewards
Promo Code: GUSA1000
$1,000 First Bet on Caesars
21+. T&C Apply
21+. T&C Apply
The Caesars signup process will require your personal details and a cellphone number to verify your account. You will also need to share your Social Security Number and an active email address. Make the most of the $1,250 risk-free bets offered while signing up with the GUSAFULL promo code. Deposit more than $10 and make your first bet with the Caesars sportsbook.
Once all of the account admin is out of the way, you can visit the Caesars sportsbook homepage and scroll down to the NFL betting section to access the live streaming service. It's quite simple to use and offers customers an even larger variety of betting options. Spend some time researching and familiarizing yourself with live betting markets before you jump in with both feet.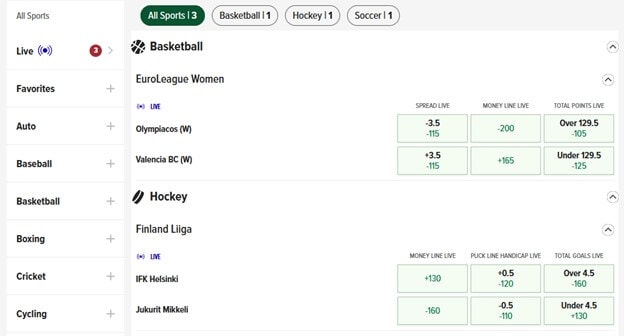 While you're using the service, make sure that you maintain an active internet connection. Any interruptions could have your stream delayed and missing a key piece of information to place your live wager.
Caesars NFL Live Streaming Costs
We know what you're thinking, live NFL games with the option to bet on them? That must come at a high cost.
Well, you're in luck; the only cost to you will be the initial deposit when you open and activate your account. After that, you'll need to maintain the account's activity by regularly depositing and betting on matches.
The terms of service are vague about the length of inactivity but state:
"You agree that we may, without prior notice, immediately terminate, limit your access to or suspend your remote wagering account, any associated email address, and access to our Services. Cause for such termination, limitation of access or suspension shall include, but is not limited to: … (v) extended periods of inactivity".
To avoid being restricted in this regard, we recommend making a bet at least once a month and having some funds in your Caesars account. You're likely to receive a notice of inactivity before any actions are taken to restrict your Caesars Sportsbook account service.
Is Caesars Live Streaming Exclusive to NFL Games?
At the time of writing, the partnership between Caesars and Genius Sports only extended to the live streaming of certain upcoming NFL matches. This is mainly due to the demand created for football streaming and betting. Genius Sports does have affiliations with plenty of other leagues as well. You can see all of them below.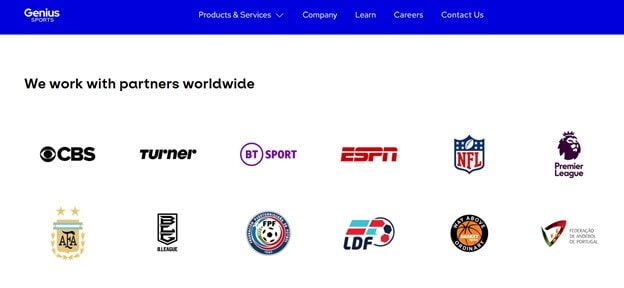 With the likes of CBS, ESPN, and the English Premier League featuring among their partners, we believe it's only a matter of time before plenty of other betting markets become available within the Caesars sportsbook live streaming service. You can always bookmark this page to check back if any information has changed at a later date.
While the NFL streaming service is currently exclusive, Caesars entertainment doesn't end there. There are plenty of live betting markets with just about every sporting option within the sportsbook. You might not be able to catch the game, but you can still place a wager while using another broadcasting service.
States with Caesars Live Streaming Services
Live streaming is only arriving in the US now, so state laws will still need some time to catch up with the broadcasting service. You will now be able to use Caesars sportsbook live streaming if you are in one of the states where Caesars is allowed to offer bets. These include Arizona, Colorado, Indiana, Iowa, Illinois, Kansas, Louisiana, Michigan, New Jersey, New York, Pennsylvania, Tennessee, Virginia, West Virginia, and Wyoming.
We will see this list grow as more sportsbooks find ways to include live streaming in their service. Caesars sportsbook has also been gradually expanding into other states, so you can always sign up to be notified when their service will be available in yours! Once they've arrived in new territory, it's almost certain that promotions will be made available with a strong focus on the top sports to watch live.
Other Caesars Sportsbook Features
The option to watch a game live within a sportsbook service is a big contributor to a positive rating here at Gamble USA, but it's not all that the Caesars sportsbook has to offer. Once you sign up with them, you will be welcomed with a promotion of up to $1,250 in free bets to use on the most popular sports. This bonus is one of the best currently on offer, and you can kick start your Caesars Rewards account with 1000 Tier and Reward credits. You will need to make a minimum deposit and bet of $10 if you want to opt-in for the rewards.

You must wonder, "is Caesars sportsbook legit?" with an offer like that. Well, after recently acquiring William Hill for a massive $3.5 billion, Caesars has become the biggest name on the sportsbook scene. They are licensed in numerous countries worldwide and abide by all the necessary regulations to offer their service in 15 states.
The sportsbook itself is phenomenal. You will find many games within all major sports, from horse racing to NFL games. Caesars sportsbook also offers incredible odds with most of their betting options but be sure to shop around; these can differ significantly from operator to operator. Once you've opened your account, you'll come across all of these promotions, which can be used throughout the service.
Promo Code: GUSA1000
$1,000 First Bet on Caesars
21+. T&C Apply
21+. T&C Apply
Promo Code: GUSA1000
Massive welcome bet offer
Earn Caesars Rewards
Promo Code: GUSA1000
$1,000 First Bet on Caesars
21+. T&C Apply
21+. T&C Apply
Their customer support team provides a quality experience if you have any issues while using the sportsbook and can be contacted through live chat. If your query is more detailed than that, they have a contact email address and a dedicated phone line. The app is also very well designed with a sleek interface and intuitive layout.
Finally, you can look forward to one of the best loyalty programs in the business with Caesars Rewards. They have plenty of partnered resorts and locations throughout the country, so your online wagers earn you some credit elsewhere.
Do Other Sportsbooks Offer NFL Live Streaming?
Currently, sportsbooks only offer NFL live streaming outside of the US. The partnership between Genius Sports and Caesars is the first of its kind locally, but we expect more to be on the way fairly soon. Genius Sports will likely always be the middle-man as they have the exclusive rights of live streaming the NFL matches with their own analysis and graphics. While Caesars has led the way, the agreement does not allow them the exclusive option of live streaming, so many other betting apps will soon follow with offers of their own.
There are already licensing agreements with sportsbooks outside of the US to use the service, 3 of them being in Canada. If you are abroad, there are several online sportsbooks that include a live streaming service, and the majority of them include the NFL.
Many US sports betting sites also offer the option of live betting, which is a similar experience if you are signed up with one of the sports networks. You will probably have to sit with your phone in your hand if you want to place a wager during the game. Having everything in one place is far more convenient and now a cornerstone of the Caesars sportsbook app.
BetVision Launches to improve Caesars Live Streaming Service
Anybody who places a wager on any football game can stream NFL games from their Caesars sportsbook app through "BetVision," a new, immersive experience offered by Genius Sports which presents new ways for customers to engage with NFL content.
The watch bet video streaming service will be available who want to live stream NFL games. These low latency, watch bet video streaming services will integrate seamlessly with bet slips and NFL betting odds. Additionally, your on screen experience will be improved by in-game betting alerts during a break in play.
This is a great chance for you to select NFL games you are interested in ahead of time and plan your wagers alongside watching a live stream. The streaming product at Caesars is better than ever as the operator is always looking to enhance its customer experience.
FAQ's
How to stream NFL matches live on Caesars?
To stream the upcoming NFL matches with Caesars, you'll need an account! Once you've got that sorted, you'll be able to use the sportsbook app to stream the fixture that you're interested in watching. Just make sure you have an active WiFi connection or enough data to watch the match. Also, you'll have to be located in AZ, CO, IN, IA, IL, KS, LA, MI, NJ, NY, PA, TN, VA, WV, or WY to use the service.
How much does Caesars live streaming cost?
To use the Caesars live streaming service, you'll only need to have an active account with the sportsbook. To be granted that status, a recent bet would have been placed, and you will need funds in your account. You can then access the live streaming services through the Caesars sportsbook app.
Can I stream matches through the Caesars app?
Yes, of course! If the app is available on your mobile device, you will be able to download the application, open your account, deposit your funds, make a bet, and head over to the live streaming service. From there, you should be able to choose the match you're interested in and find all of the betting options. Remember to claim the welcome bonus while you're at it.