What happens when you combine a global gambling giant with one of the world's largest sports betting operators? You get the Caesars Sportsbook.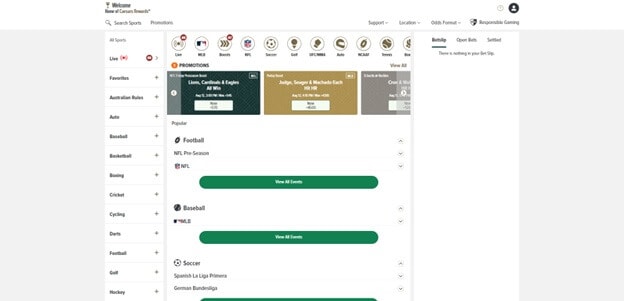 With Caesars Entertainment's acquisition of William Hill in April of 2021, the gaming group made its intentions clear to compete with DraftKings and FanDuel for the top online sportsbook.
Caesars Sportsbook's recent launch in Wyoming has increased the betting site's reach to 13 states, joining Arizona, Colorado, Illinois, Indiana, Iowa, Louisiana, Michigan, New Jersey, New York, Tennessee, Virginia, and West Virginia. Retail sports betting locations are available to residents in Illinois, Maryland, Nevada, North Carolina, and Washington DC.
The online sportsbook features 18 sports betting markets, includes all the ways to wager, and offers new users a hefty first bet on Caesars up to $1,25. It's a fantastic welcome bonus, plus you get access to dozens of daily odds boosts, profit boost opportunities, and automatic entry into the rewards program from Caesars.
Whether you're ready to get started by clicking here or want to read more about Caesars Sportsbook or the registration process below, we've got you covered. Continue reading for a step-by-step guide to opening a Caesars online account, from getting to the sign-up screen to placing your first bet. All of which can be completed in less than five minutes.
Quick Step-By-Step Guide To Sign Up At Caesars Sportsbook
This article will go into full detail in the following sections, but below is a quick step-by-step guide to the few minutes you'll spend signing up with Caesars Sportsbook. Bettors must be 21 years of age and physically located in a participating state.
Visit

Caesars sportsbook

Create an account
Enter your information
Verify your information
Make a deposit
Place your first bet
Opening Your Caesars Account:
Available by internet browser or mobile betting app, click here to get started or search your respective mobile device's app store to download and install. Be sure to use promo code GUSAFULL during registration to claim your welcome bonus risk-free first bet up to $1,250.
1. Visit Caesars sportsbook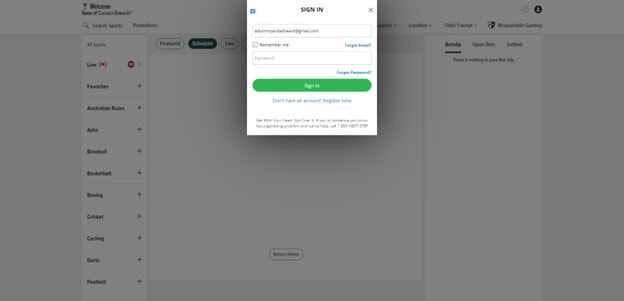 Visit the Caesars sportsbook website or head to the Android or iOS app store and search for the Caesars betting app. Download and install the sportsbook like you would any other app. Caesars uses encryption technology to ensure sensitive information and transactions are fast and secure.
2. Create an account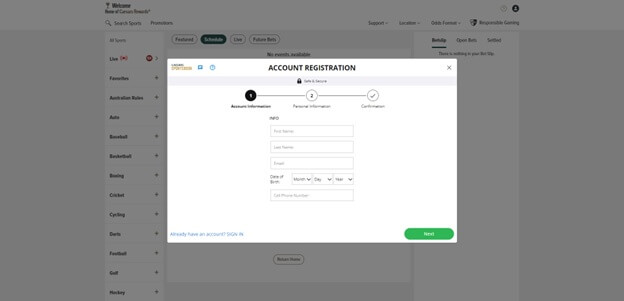 To create an account with Caesars sportsbook, click the person icon in the top right corner of the screen. With the sign-in box up, select the 'don't have an account register now' link under the green sign-in button. The initial information you'll need to enter is your name, email, date of birth, and cell phone number.
For mobile device users, getting to the registration screen is the same as using the website. Select the person icon in the top right corner, and click the link below the green sign-in button.
Caesars sportsbook account information checklist:
Name
Email
Date of birth
Phone number
Password
Last four digits of your social security number
Address
Promo Code GUSAFULL
3. Enter your information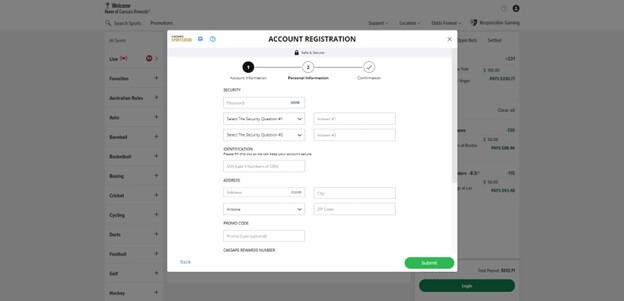 After entering your account information, Caesars sportsbook will prompt you to create a password, assign two security questions, and ask for the last four digits of your social security number and street address for verification purposes.
This section is also where you'll enter the Caesars promo code GUSAFULL and any previous Rewards program info. You'll then need to click four boxes agreeing to terms of service, acknowledgment of accurate information, confirmation of being 21 or older, and that you don't have multiple accounts.
4. Verify your information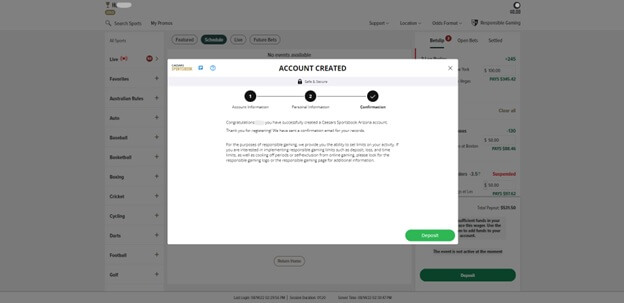 The Caesars sportsbook eligibility and verification process happens between steps three and four. You'll be redirected to the previous page if something is inaccurate. Once approved, you'll see the congratulations on successfully creating your Caesars online account. Click the green deposit button in the bottom right corner of the box to transfer money.
5. Make your first deposit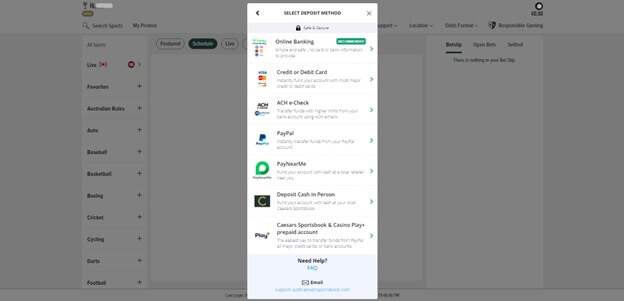 Caesars sportsbook has various deposit methods, many of which are instant, including credit/debit cards, PayPal, and online bank transfers using Trustly (a consumer banking method founded in 2008).
Withdrawing funds take 1-5 days to settle and is done using ACH eChecks using VIP preferred, PayPal, prepaid Play+ cards, or Trustly online banking. A minimum of $10 is required to deposit or withdraw from Caesars Sportsbook.
Complete list of Caesars banking methods:
6. Place your first bet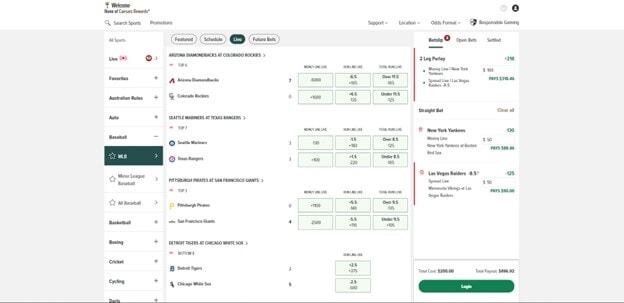 To place your first bet with Caesars sportsbook, search the event you wish to wager on by either scrolling the sidebar or typing a portion of it into the search bar just above the listings. After selecting your bet, the bet slip will populate on the right side, where you can enter your stakes to see the potential payout. Hit the green button at the bottom of the bet slip to confirm your wager. If multiple wagers can be put together to make a Caesars parlay bet, that section will pop up in the bet slip above the individual bets.
If using a mobile app, a partial bet slip will populate after selecting your side of a wager. To get to the full bet slip, click the tab at the bottom of the screen.
How To Open An Account Using The Caesars App
Available for both Android and iOS, Caesars has one sportsbook app for all 13 states. Thanks to routine updates, the sports betting app has a rating of 4.4/5 stars or better on Google Play and the Apple app store. Search for and install the Caesars sportsbook app like any other app, and allow the program to verify your location when using.
How To Verify Your Caesars Account – Know Your Customer Policy
To prevent fraud or other questionable activity, state law requires all legal US online sportsbooks to collect certain information on customers upon signing up. Sportsbook operators are subject to fines for failure to do so.
The know your customer policy also comes into play with tax reporting. Online sportsbooks are required to withhold taxes and report winnings over $600. Sports bettors will need to self-report all other profits at the end of the year. Don't fret, since our gambling tax winnings calculator streamlines this process.
Eligibility Criteria To Create A Caesars Account
To be eligible to create a Caesars sportsbook account, users must be 21 years of age and located in one of the 13 approved states. A geolocation check will be performed during the registration process, and every time you sign in. You will be asked to download a player locator app to avoid any sportsbook geolocation issues. Accurate information must be entered into all prompts to access the deposit screen.
Problems Signing Up With Caesars
Encountering problems is rare when signing up with Caesars sportsbook. The majority usually comes from a user or mechanical error, including a spotty internet connection, an outdated device, or accidentally attempting to create a second online account.
Along with a FAQ support section, the Caesars online sportsbook features 24/7 customer support, including a live chat for minor problems and email for more complicated matters. Help can be found by clicking on the support drop-down link at the top of the screen or by scrolling to the bottom. Our Caesars Sportsbook troubleshooting guide can also enlighten you and help you sign up or place your bets without issues.
Benefits Of Opening An Account With Caesars
Caesars sportsbook has 18 sports betting markets to choose from, with all the traditional bet types available, including moneyline and point spread bets, as well as futures, prop bets, and same game parlays, which allow you to couple multiple wagers from the same contest into one.
Same game parlay availability is indicated by a green SGP next to the time of the event. To get to the complete list of wagers, click on the event listing. Caesars sportsbook has a dedicated same game parlay section that helps avoid any confusion on what wagers are applicable. The online sportsbook also has live betting, the Caesars early cash-out option, and a favorites section, so you don't have to search for football each time this NFL season.
To entice new users, Caesars sportsbook offers a welcome bonus of the first bet on Caesars up to $1,250, refunded in a single free bet credit if the first bet settles as a loss. The free bet credit will be applied to your sportsbook account within 48 hours. The free bet must be used within 14 days. Use the Caesars Sports promo code GUSAFULL to claim your welcome bonus. A minimum sports betting deposit of $10 is required.
Other ways to build your bankroll include the Caesars refer a friend, and the daily odds boosts by the dozens on select bets (max stakes of $100 per wager), profit boosts promotions depending on upcoming events, and the occasional parlay bet insurance opportunity. Terms and conditions apply.
By successfully signing up with Caesars sportsbook, bettors will be automatically entered into the Caesars rewards program, where they will earn points redeemable for in-real-life benefits, including exclusive access, discounted rates, and hotel perks, at more than 50 Caesars casino and resort properties.
Complete list of sports betting markets:
Australian Rules
Auto
Cycling
Darts
Lacrosse
Motorbikes
Rugby League
Rugby Union
FAQs
Is Caesars sportsbook legit?
Caesars Palace in Las Vegas has been in the gambling business for more than 50 years. Today the gaming entertainment enterprise operates online and retail sportsbooks and casinos in multiple states. The local gaming commission oversees each, so you know Caesars sportsbook is legit.
What states is Caesars sportsbook available in?
The Caesars sportsbook is available online in 13 states, with Wyoming being the most recent to go live.
Arizona
Colorado
Illinois
Indiana
Iowa
Louisiana
Michigan
New Jersey
New York
Tennessee
Virginia
West Virginia
Wyoming
What information do I need to sign up with Caesars Sportsbook?
The information you'll need to sign up with Caesars sportsbook is your name, email address, date of birth, phone number, password, last four digits of your social security number, and street address.
Does Caesars Sportsbook have a welcome bonus?
Caesars welcomes new members with a risk-free bet up to $1,250 refunded in a single free bet credit if the first wager takes a dive. The bet credit will be applied within 48 hours, and bettors have 14 days to use their free bet before it expires. Use promo code GUSAFULL when signing up to claim your Caesars sportsbook welcome bonus. Click here to get started.
How many betting markets does Caesars sportsbook have?
Caesars sportsbook offers 18 sports betting markets, including all the most popular professional sports leagues. The betting site has all the traditional wager types like the moneyline or point spread, as well as more exotic prop bets and same game parlays.