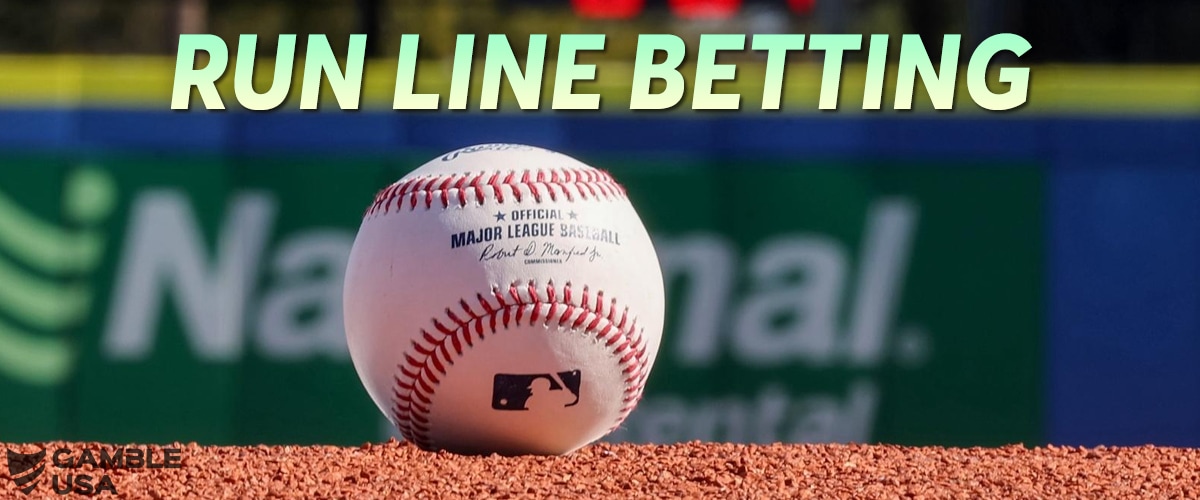 Every sport has its own terminology. In baseball, points scored by a team are referred to as "runs." For this reason, the point spread in baseball is called the run line. Point spread betting is a hugely popular form of sports betting and understanding how a run line works is very important for all baseball betting fans around the United States.
US sports bettors have plenty of options to make wagers on every game of the MLB season. This guide explains how a run line works, and how bettors can make these wagers using safe, reputable online sportsbooks.
What is the Run Line in MLB Betting?
Run line betting refers to point spread wagering for baseball. In baseball, points are referred to as "runs." In order for a player to score a run, they must safely cross the home plate. The team with the most runs at the end of the game is declared the winner.
In nearly every sporting event, there is a clear betting favorite and an underdog. Point spreads, known as the run line in baseball, essentially even the playing field by assessing the skills of teams (or players) and their projected margin of victory.
Sportsbooks take this projected margin of victory to create the run line for games. The betting favorite is given a certain number of points they must win by. This is called "covering the spread." The underdogs are given a certain number of points they can lose by, yet still earn a winning run line wager.
MLB Run Line Example
Millions of people place wagers on the MLB each year. A large percentage of these bets are run line wagers, as they are often much easier to predict than moneyline bets. Unlike moneyline wagers, in which bettors attempt to predict the outright winner of a match, run line bets can still be won on a losing team that does not allow their opponent to cover the spread.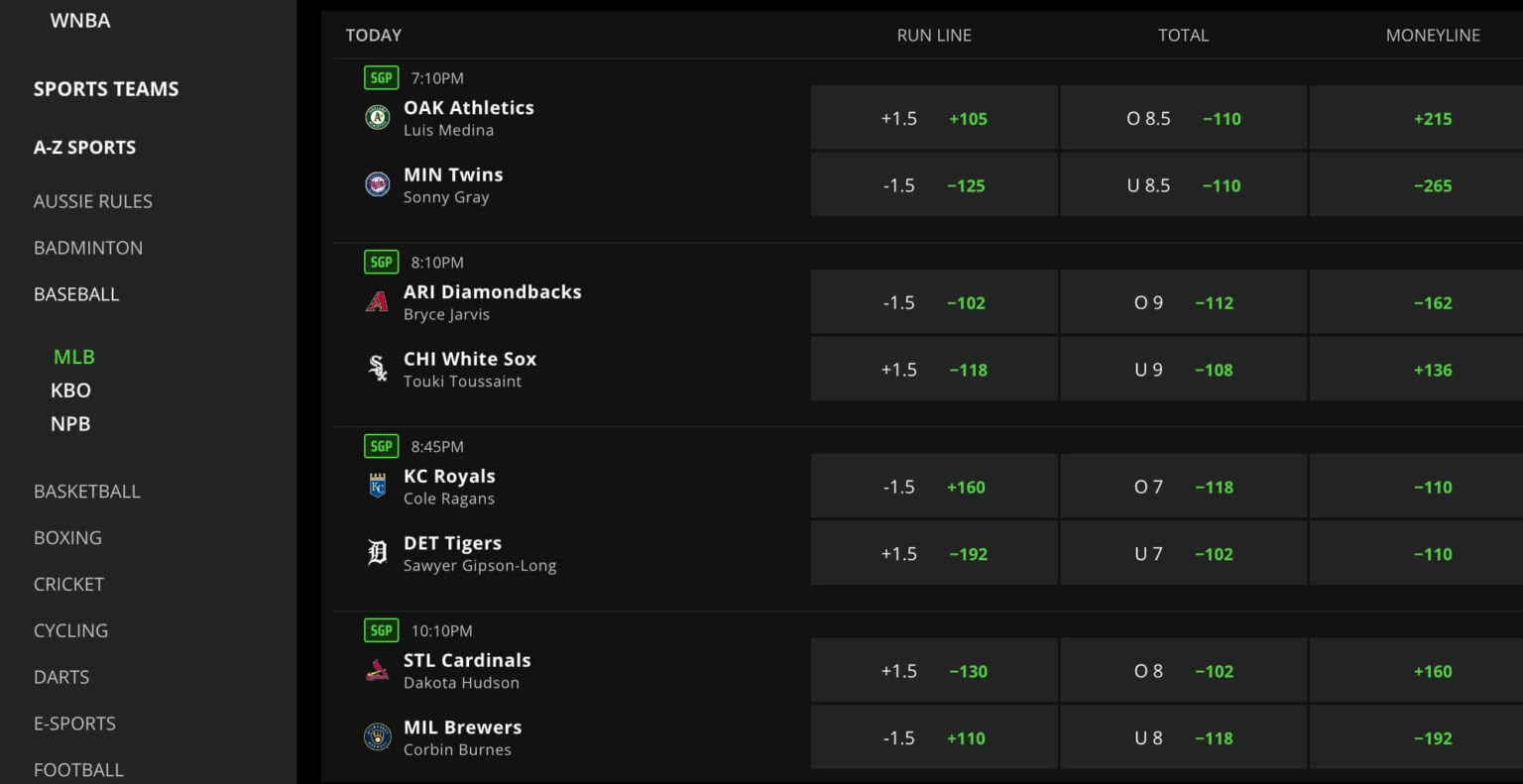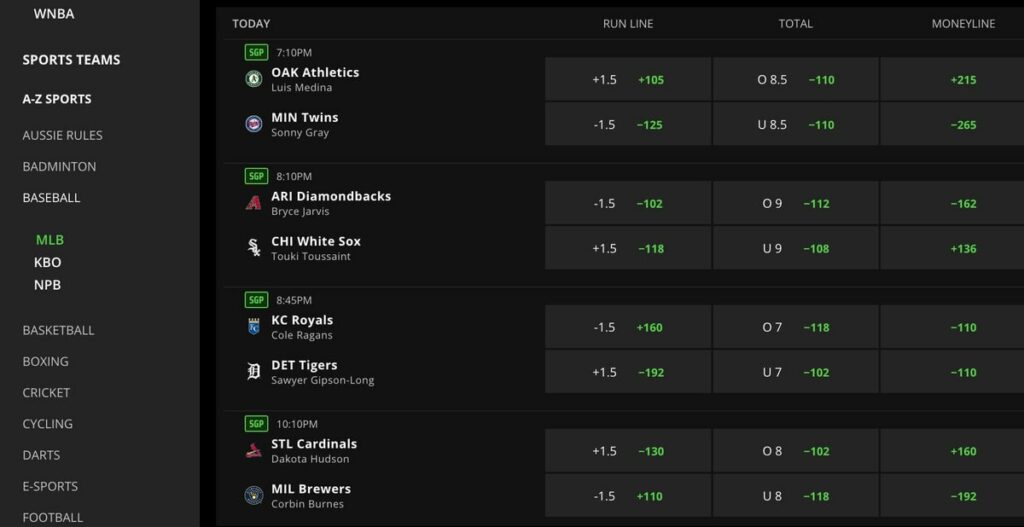 MLB games tend to be fairly low-scoring. In fact, 30% of all games are decided by a single run. For that reason, the run line for MLB games tends to be much less extreme than a point spread for a sport like football or basketball. Below is an example of a run line for a game between the Houston Astros and Seattle Mariners.
Houston Astros: +1.5 (-205)
LA Angels: -1.5 (+170)
In this example, the Houston Astros are the slight underdogs for a moneyline wager. The Astros are given 1.5 runs, meaning a run line wager on this team would be successful if they do not lose by 2 runs or more. The Angels come in as the slight betting favorites and need to defeat the Astros by at least 2 runs to earn a winning wager.
Run line odds help to make a matchup far more evenly matched for bettors. As a result, the odds for these types of bets tend to be less lucrative than they are for standard moneyline wagers.
When Betting on the Baseball Run Line Makes Sense
The MLB is comprised of 30 teams, each of which plays 162 games throughout a regular season. The roster depth and talent of these teams vary, resulting in many games taking place between massive favorites and underdogs. In the majority of these matchups, the betting favorite earns the victory.
Run line betting helps to significantly even the playing field. The betting favorites are forced to not just win, but win by a certain number of runs.
A straight moneyline wager on a huge betting favorite is generally not very profitable. For example, a $50 bet on a team with odds of -230 to win would pay out just $21.74. Anything can happen in baseball and, unless combined into a parlay, a moneyline wager on a betting favorite is sometimes not worth the risk for a small return.
The same can be said for wagering on the underdogs. MLB lines are set in place for a reason and betting on the underdogs can be extremely risky.
Why Make Run Line Bets?
Run line betting can be beneficial for wagering on both the favorite and underdog. By forcing the favorites to win by a certain number of points, the team's odds become far more lucrative. The risk goes up, yet bettors can often make a far bigger profit on the favorite than they would have with a moneyline wager.
The chances of earning a winning wager on the underdog team also go up significantly with a run line bet. This team is able to lose, yet can still provide bettors with a winning wager if their opponent cannot cover the spread.
Oftentimes, experts will place run line bets when there is a team heavily favored to win a game by a large margin. In this case, the run line odds on that team will offer much larger payouts than a moneyline wager. Experts will sometimes choose to bet on the underdog in a run line bet if that team is expected to be competitive and can prevent the opposing team from winning by a large margin.
Alternate Run Line Explained
The standard run line is the one most clearly presented by online sportsbooks. Generally, this is a spread of -1.5 and +1.5. If, however, a bettor is unwilling to wager on a team at -1.5, yet would take that wager with a -1, they can place what is called an alternate run line bet. Keep in mind that when the run line changes, so do the odds.
Alternate run lines can be higher or lower than the standard run line. An example of a few different run lines and their fluctuating odds can be seen below.
| ⚾Standard Run Line | ⚾Alternate Run Lines |
| --- | --- |
| LA Dodgers: -1.5 (-148) | LA Dodgers: -1 (-216) -2.5 (-105) -3 (+105) |
| Colorado Rockies: +1.5 (+124) | Colorado Rockies: +1 (+163) +2.5 (-123) +3 (-149) |
MLB Run Line and Alternative Line Differences
Online sportsbooks set the opening run line for games using research and data analysis. As previously mentioned, 30% of all games end with just a one-run difference. Due to that fact, the majority of run line odds for MLB games are set in a -1.5 and +1.5 format.
Alternative run line odds provide bettors with different MLB spreads. Many of the top online sportsbooks such as DraftKings Sportsbook offer a large variety of alternative run line wagering options. As the run line changes, so do the odds.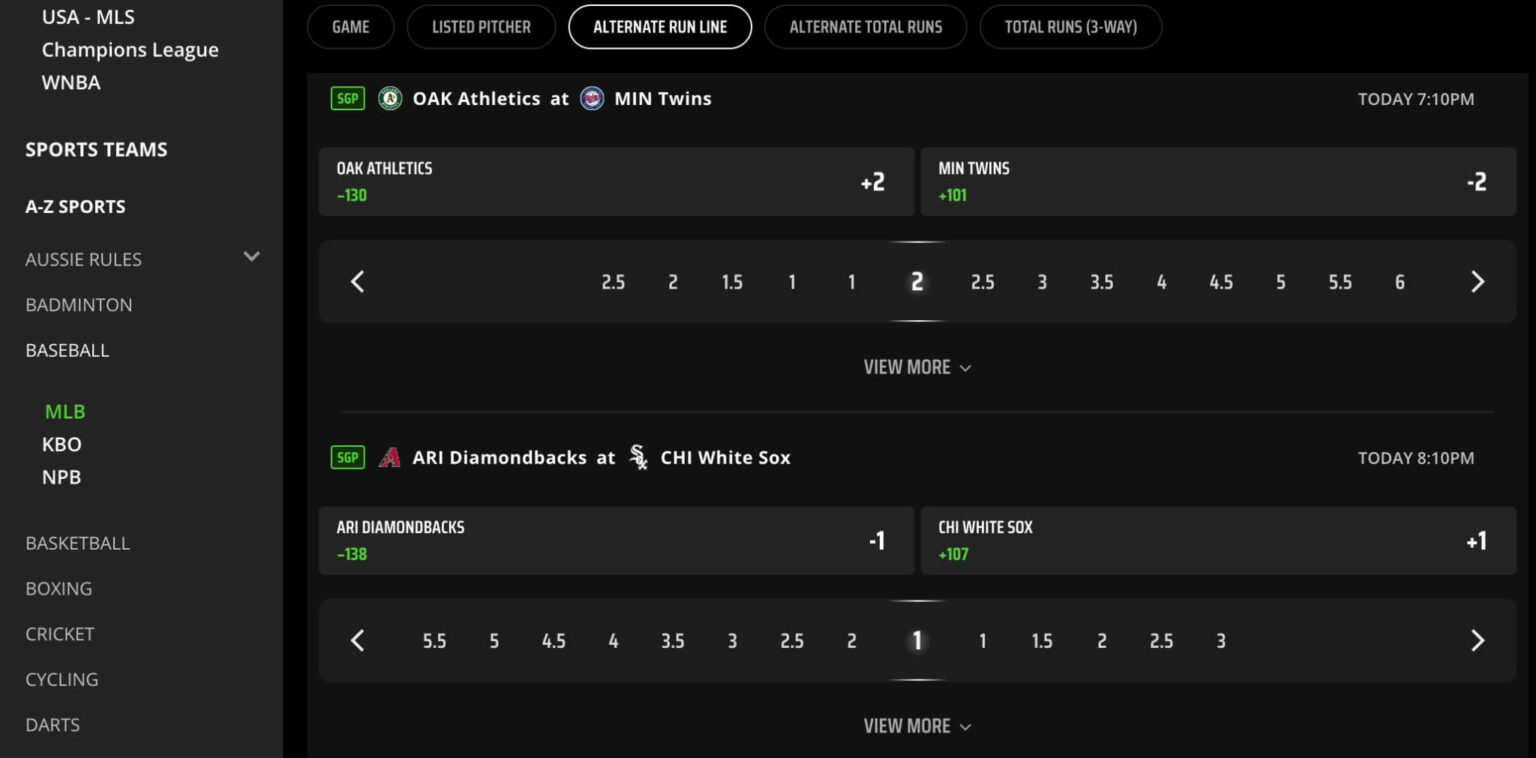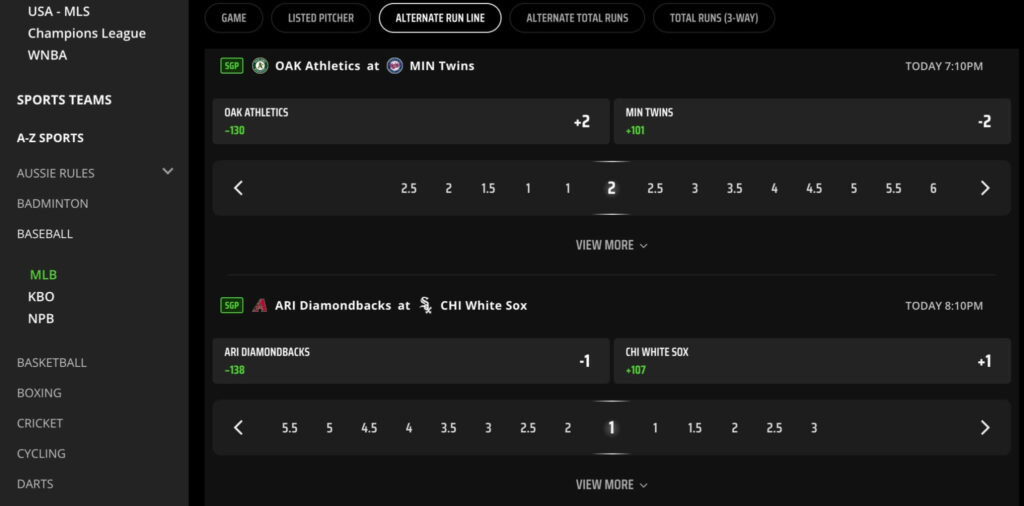 The standard run line of -1.5 and +1.5 represents the most likely margin of victory difference between two MLB teams. Generally, the odds for these types of bets are not swung heavily in favor of either team. Occasionally, however, the moneyline betting favorite becomes an underdog to cover just a 1.5-run spread.
As the alternative run lines are increased, the odds for the betting favorite to cover the spread decrease even more. Many sportsbooks will offer alternate run lines as high as -6.5 and +6.5. An example of how dramatic the odds can be with this type of alternate line can be seen below.
| ⚾Standard Run Line | ⚾Alternate Run Lines |
| --- | --- |
| Oakland Athletics: +1.5 (+105) | Oakland Athletics: +6.5 (-970) |
| Minnesota Twins: -1.5 (-125) | Minnesota Twins: -6.5 (+537) |
In this example, the odds of the Minnesota Twins (a betting favorite to win) defeating the Oakland Athletics by 7 runs or more sit at +537. Alternatively, the Oakland Athletics are a massive favorite to prevent the Twins from winning by 7 runs or more with odds of -970.
Reading Run Line Odds & Lines
Understanding how to read MLB run lines is simple. All legal US online sportsbooks have modern user interfaces that clearly identify the run line for upcoming MLB games. Most of the time, these sportsbooks present three different types of odds for games: moneyline odds, run line odds, and totals odds.
Run line odds are very easy to identify. As mentioned, these odds highlight the number of runs that a team needs to win by, or lose by, in order to earn a winning wager. The odds are presented in the standard moneyline format of – and + to identify the favorites and underdogs.
The number next to the – symbol identifies how much money a bettor would need to wager to win $100. The number next to the + symbol identifies how much money a bettor would earn on a $100 wager. As the run line increases in both directions, the odds for the teams change.
Run Line Movements
Online sportsbooks are always working to give them the best chance of earning a profit. They do this by adjusting the vig, also known as the juice, based on two team's odds of winning. To show an example of how run line movements can change, take a look at an example.
| ⚾Original Runline Odds | ⚾Adjusted Run Line Odds |
| --- | --- |
| Chicago Cubs: +1.5 (+150) | Chicago Cubs: +1.5 (+136) |
| Atlanta Braves: -1.5 (-180) | Atlanta Braves: -1.5 (-162) |
In the opening run line odds for this matchup between the Cubs and Braves, the Braves are given odds of -180 to cover a 1.5-spread against the Cubs. In this example scenario, we'll assume that the majority of bettors began wagering on the Cubs to prevent the Braves from covering that run line.
The sportsbook then adjusts the odds to encourage more wagers on the other team, increasing their odds of earning a profit. This online sportsbook lowered the vig on the Cubs to +136 while increasing the Brave's odds to -162. This is a common tactic for sportsbooks to tip the odds in their favor.
Steps to Place a Run Line Bet
The steps to place run line bets are extremely simple. The first and most obvious step is to join a legal, reputable online sportsbook. Online sports betting is now legal in more than half the country, giving millions of Americans easy access to odds on the MLB.
Below are the steps to join and begin placing MLB run line wagers through DraftKings Sportsbook, one of the best overall online sports betting platforms in the US. Similar steps apply to pretty much all sites like DraftKings.
Click the "Get Bonus" tab on this Gamble USA guide page.
Begin the DraftKings registration process by providing your email address, desired username, and phone number.
Verify your identity by providing your home address, social security number, and some other basic personal information.
Make a deposit into your DraftKings Sportsbook account using an accepted banking method.
Click the "Baseball" tab on the list of available sports betting odds featured on the DraftKings homepage.
Select "MLB" within the "Baseball" drop-down menu.
Select any of the available run line wagers and place your wager.
DraftKings has a world-class design with a very intuitive bet slip that reveals exactly how much the possible payouts are for each winning wager. Hardcore baseball fans will find run line odds on more than just the MLB here, too. DraftKings Sportsbook provides baseball wagers on a number of international leagues such as the CEB, NPB, and KBO.
MLB Run Line Tips & Strategies
Run line betting offers some clear advantages over standard moneyline betting. Of course, all forms of sports betting can be difficult and even the most informed baseball fans can struggle to win consistently. The most successful MLB bettors utilize several strategies to increase the odds of making correct run line bets. Learn about some of those strategies below.
Research Team Statistics
It's crucial to put in a considerable amount of research before placing any run line wagers. That includes looking into the statistics of the teams competing in games. Researching the statistics of teams can provide some useful insight into how many points they may score.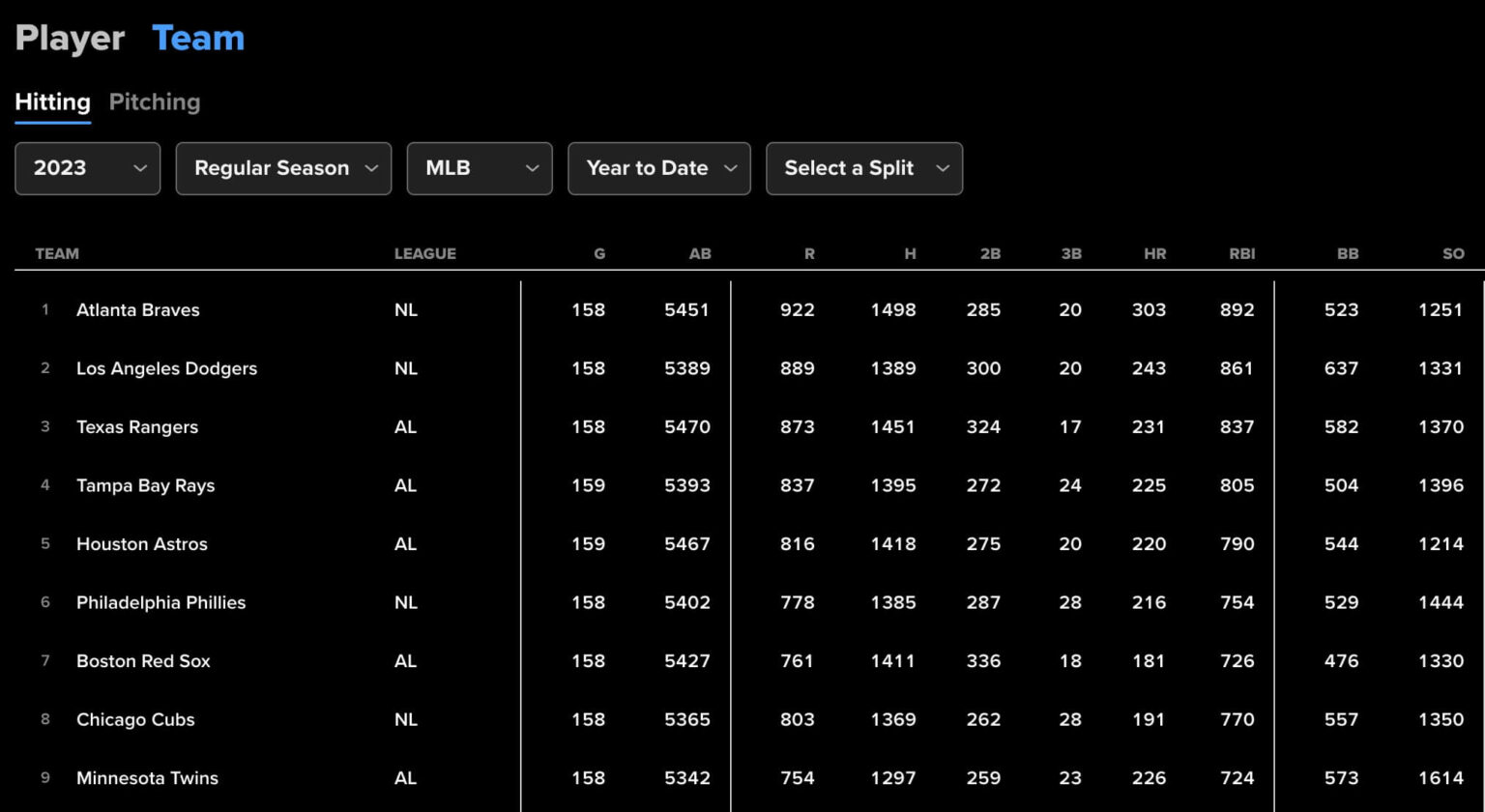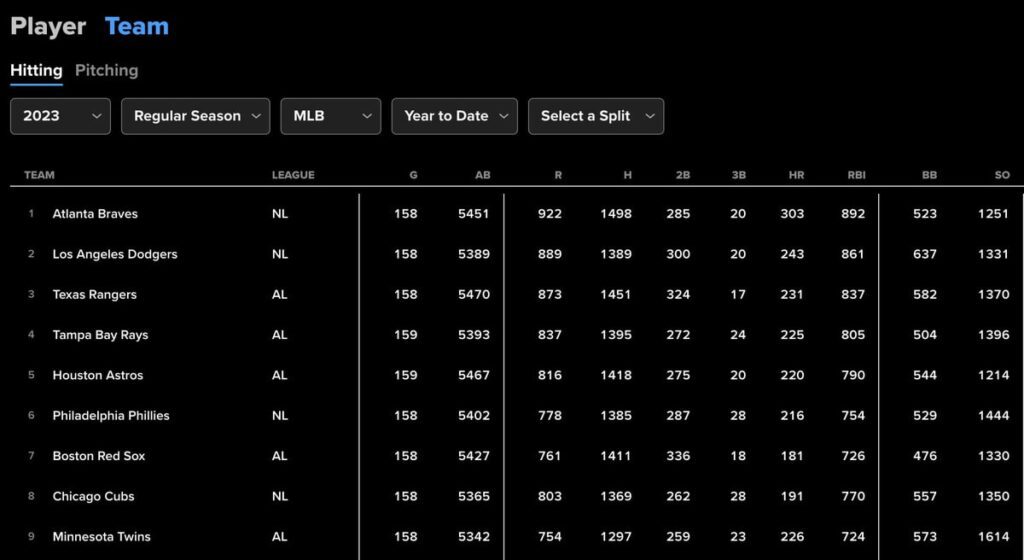 It's recommended to look into things like player run percentages, player RBIs, starting pitcher ERAs, and more. It's also highly recommended to look into the prior game history between two teams set to compete. This can paint a picture of how their future matchups could play out.
Favor Betting on the Team that Gain Points
As mentioned previously, a huge number of MLB games are decided by a single run. This is a reason why many experts choose to bet primarily on the team that is earning runs within the run line.
There are two advantages to betting on the team that is given 1.5 runs. Firstly, if this team manages to win the game, the wager is won automatically. Secondly, this underdog team can lose a game, yet still earn a winning run line wager by preventing the opposing team by defeating them by 2 runs or more.
Search for the Best Run Line Odds
Online sportsbooks will often feature different odds on the same sporting event. Many betting experts recognize this and "line shop," searching for the most lucrative odds being offered. It's always recommended to search for the best run line odds before placing any wagers.
There is nothing wrong with joining multiple online sportsbooks. Even a small odds change between these wagering platforms can be extremely profitable for bettors. Spend time searching for the best odds and place your wagers accordingly.
Closing Thoughts
Run line betting provides some clear advantages over other forms of baseball betting. It helps to even the playing field between teams, offering bettors some great incentives to wager on underdogs.
Of course, sports betting is never easy and there are some downsides to run line betting, too. It can be frustrating to bet on a winning team, only to discover that the team did not manage to cover the run line, resulting in a losing wager. Run line odds tend to be less lucrative than moneyline odds, as well.
The upsides to run line betting are clear. Bettors can get lucky by picking a team that loses a game, yet prevents the other team from covering the run line. This form of sports betting evens the playing field between teams and alternate run lines offer some great opportunities to win big.
There are a huge number of world-class sportsbooks offering run line odds. Check out the ones available in your state and explore which baseball betting odds are being offered today.