Gamble USA strives to improve your online gambling experience. We aim to help you play safely, make informed decisions when gambling, and increase your betting knowledge through our guides.
We adhere to strict editorial integrity; our content may contain links to products from our licensed & legal US partners.
Fixed odds betting is one of the most prominent types of sports wagering globally. But what is fixed odds betting?
As sports betting grows across the United States, more online sportsbooks are appearing, and bettors have more choices than ever. Retail and online sportsbooks offer fixed odds sports betting options on numerous different sports. The good news is the concept of a fixed bet is easy to understand and has become a popular choice among players.
You may have heard phrases such as 'fixed matched betting' or 'fixed game betting'. Fixed odds betting is a form of betting where the offered odds do not fluctuate, but remain 'fixed' – unchanged. When you are betting on the NFL, college football, or a soccer match, having some fixed picks locks you in for that bet. These are great if you have received a football tip and are confident of a sure win, as the odds won't fluctuate.
Football is the most prominent domestic sport, and many sports betting apps offer football fixed odds for several games. Fixed odds betting has been extremely lucrative for bookmakers across Europe, and now US players can access fixed odds football betting systems. It is rewarding for sports betting operators as, due to fixed-odds betting, the books are balanced. This means the bets are arranged so that the bookmaker will not be paying out more money than they have received.
Best fixed odds US sportsbooks
The 3 best legal US sportsbooks for fixed odds betting are:
What is Fixed Odds Football Betting?
As we've already explained, fixed odds betting differs from usual forms of wagering in the fact that the offered odds remain unchanged, as opposed to them fluctuating over time to reflect the increased or decreased likelihood of a sports result. As such, they're best used when you believe you have a good prediction and don't want your potential payout to decrease as time progresses.
For example, if you have a good hunch on who will win the Super Bowl ahead of time, you should go for fixed odds, as the odds (and therefore payout) will surely become worse as the event goes closer and your team becomes more likely to win. Here are some more concrete examples.
When you wager on a betting price, you are wagering on odds that are fixed. Let's take NFL betting as an example. You have found some NFL betting apps and have done your research, ready to put some money down on your NFL predictions. If you want to make a Futures bet, you will likely be looking at fixed odds. For example, similar to the example we outlined above, the Seattle Seahawks could be 50/1 to win the Super Bowl next year.
Fixed odds also work for a parlay bet. However, instead of a single fixed match, you will be betting on multiple real fixed matches to make up a parlay. A parlay is a fun betting option as rather than one match prediction you make several which means the payout is higher.
You can also consult NFL betting charts, which are 'betting percentages' showing actual wagers placed on each game at participating sportsbooks. A betting chart is a common way to check out the fixed odds spread across different sportsbooks. These might be useful before making your football predictions as you may believe you can predict the correct score so scouring for the best football odds is important.
Fixed odds are a method of evening things out for the player and the bookmaker. For example, if a team has 100 to 1 odds on winning the next Super Bowl, the chances of them actually winning are very slim. It is more likely one of the other teams will be victorious.
Our guide to reading betting odds may also be a good place for you to start if you are new to betting and looking to make money betting on sports.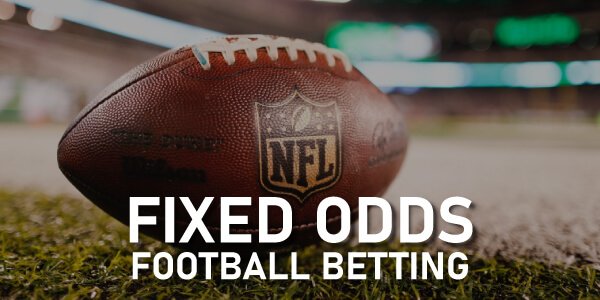 Difference Between Fixed Odds & Spread Betting
The main difference between fixed odds betting and spread betting is with fixed odds, your potential profit or loss is fixed or 'locked in' by odds offered by the bookmaker. However, spread betting means your potential profit or loss can be much higher than your initial stake.
For example, if you wake up on a Monday and want to place a bet on the Monday night football tonight, you check out the US bookmakers fixed odds football betting list. You decide to place a $100 bet on the favorite to win the game at odds of 1/5. Your potential return would be $20 plus your original stake, and your possible loss would be fixed at $100.
Alternatively, if you decide to place a $100 football spread bet on a favorite, and you buy two on a spread of 1.8-2, the outcome would be a profit of $100 for every touchdown above the spread.
Make sure you look out for free bet offers before signing up for any sportsbook. With the US betting market becoming crowded, many operators offer players generous incentives to sign up, such as completely free bet offers and risk-free sportsbook offers.
Decimal Odds
Fraction odds or moneyline odds are typically offered in the UK and the United States; however, decimal odds are more prevalent in most other European countries and Australia, Canada, and New Zealand. They could also be referred to as 'European odds.'
The premise is the same as it is with fractional odds, with the only difference being in how they are presented. Instead of displaying the potential amount of money you could win above or below the wager, decimal odds are used as a way to calculate your winnings. For example, if the odds are listed as 4.0, your winnings will be four times your bet; if it is 4.5, your winnings will be four-and-a-half times the amount of your bet.
Hey! Since you are here, you may also want to read
Fractional Odds
In the mature UK betting market, the betting lines are presented in fractions. In terms of fractional odds, any money you may win is added to the amount a bettor must wager. So, if the betting fixed odds for a Sunday night football match are 3/1, and you bet $100, you win $300 on the bet.
If the odds are really high for a specific event, the fraction will be flipped. The bettor will still receive the potential winnings in addition to the amount wagered, but the payout return will be significantly smaller. If the Chiefs are expected to win the Super Bowl, they could have odds as short as 1/2. That means you would have to bet $2 to win $1. Consequently, bets like this are not worth it, as the wager outweighs the potential money you could win. Essentially, 1/1 odds mean the chances of either team winning a particular game are 50/50.
Moneyline Odds
A moneyline bet is the most common type of bet in the United States; they are similar to Vegas odds. The moneyline to odds will usually appear next to the spread and implied total when you look at your wager on the bet slip. For example, let's look at an NFL game this weekend between the Buffalo Bills and the Denver Broncos. The moneyline on Buffalo is -308, while the Broncos is +245.
This means that when wagering on the moneyline, you are betting on a team winning a game outright. The odds attached to a team indicate how likely they are to win. In the above example, the Bills are tipped to win, so they have more favorable moneyline odds.
There is no need for a point spread to determine which team is likely to win. If there is a (-) symbol attached to one team and the other has a (+) symbol, the team with the negative symbol is the favorite to win the game. Read more about what + and – mean in sports betting.
Using the above example, you would need to wager $308 on the Bills just to get $100 back. However, betting $100 on the Broncos would mean you get $245 in return. There is a possibility that both teams could have a negative symbol next to them in individual games. This means bookmakers feel neither team is heavily favored to win; however, most of the time, one team will have slightly better odds.
Moneyline odds of +300 is the same as seeing fractional odds of 3/1. On the other hand, if you see a moneyline of -300, it is the same as 1/3 odds.
Summary
Fixed odds betting is very popular, especially in sports such as football, which is in our opinion, the best sport to bet on. If you ever receive some hot betting tips, whether that be a soccer tip or a basketball tip, get those fixed wagers in. There are numerous free tips and strategies a bettor could use to try and reduce the risk and increase the chances of a higher return.
Additionally, fixed odds betting is fun and can be an entertaining way to approach your favorite sports and add excitement while you wait on the outcome of a game. Fixed odds betting is less complicated than decimal odds, which is another big plus.