Placing a Multibet or multi betting is one of the hottest bet types available to US bettors. But what exactly is it and how do you do a Multibet?
US sports betting is becoming more prevalent across the country as more states legalize online gambling. As people look to make money betting online, they must understand the numerous different bet types available. Bettors can choose from wagers such as a sportsbook parlay, over/under, moneyline, point spread, and futures bets.
However, one of the most popular types of wager is placing a Multi bet, accumulator bet or multi betting as it's sometimes called. If you want to make your sports gambling experience more exciting and try and win big payouts, then multibetting is the perfect choice for you. Our multiple bets explained article covers everything you need to know about this popular form of wagering. We cover numerous bet types, strategies, tips, and how you can make a tidy profit. Let's look at how this one bet type can make you some money.
What Is A MultiBet?
Multi bet is a type of betting that allows players to select more individual wagers and combine them as one bet. Experienced gamblers will have come across terms such as combo, accumulator, and parlay; these are synonyms for a multibet. The reason multi bets are so difficult to win is that you need every leg to be successful. If just one leg loses, you see any returns. Trying to predict one game's outcome is tough, but doing the same for several games is even more challenging. You could be placing as many as seven bets at once with multibetting, and such bets are exciting with big potential payouts.
These days, operators will allow you to add as many picks to your bet slip as you want. The more choices you lock-in, the higher the payout will be. However, each time you add a pick, the likelihood of losing a multibet increases.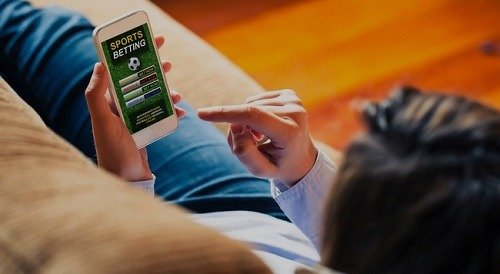 The significant reason that multiple betting is so popular is that the potential winnings can be much higher than if you were to place a standard single bet. You can calculate your potential returns by multiplying all the odds from your picks with the stake you are about to place. For example, instead of placing three multi-stake singles worth $10 on odds of +100, you can place a multi bet and get odds of +700.
A multibet can be made from two selections and is also referred to as a double. If you follow the same pattern, three picks within a multibet are called a treble. Additionally, there are numerous variations of a multibet. Some are more advanced than others, but if you are serious about wanting to play, it is vital you have an understanding of what all the variations mean.
You may also want to check out our guides on Matched Betting in the US and also our guide to Arbitrage sports betting.
Types Of Multibet
We have mentioned doubles and trebles above, which are the most straightforward varieties of a multibet. Typically, if you make four selections on the same bet slip, this is known in the business as an accumulator. Every time you add a pick, you create a "fold" bet. All of these selections fall under straight multiples. Consequently, all your choices need to win to count on returns.
If you want even more multiple bet options, you can apply full cover with singles into your sports betting experience. This type of bet is more complicated compared to straight multiples as you don't need to win all your picks to get some money back. The most standard full cover with singles bet is known as a patent bet. This bet type consists of three selections split into seven different bets, which are:
Three Singles
Three Doubles
One Treble
To make some money from this bet, you only need to strike lucky on one selection. Full cover without singles is another popular form of a multibet. It is not too dissimilar to the other varieties; the only notable difference is that it doesn't cover single wagers. The most straightforward full cover without singles wager is known as a Trixie and comprises three selections split into four bets: three doubles and a treble. For it to be successful, players must have two winning picks.
There are also 'luckies' involved when placing a multibet. You can have a lucky 15 which consists of six double bets, a 4-fold, four single bets and four trebles (4+6+4+1 = 15 bets).
Lucky 31 is 10 doubles, 10 trebles, 5 4-folds, a 15-fold and 5 singles.
How Do You Win A Multibet?
It is very difficult to win multi bets. As they combine a series of single bets into one wager, the odds multiply every time a leg is added. Therefore, the more choices you make, the less likely you are to win. We recommend placing a multibet on a sport that you are familiar with, as your chances of winning will be a little higher as you will have more knowledge of what you are betting on.
Additionally, try and keep the number of legs you add to your selection to a reasonable level. Although your potential payout will be massive if you add countless legs, the bet is far more likely to lose. So, a four leg multi bet will be easier to win than an 8 leg multi bet. You now also have the option of a same game multi bet instead of a standard milti bet if you just want to focus on one game.
There are several people here that have placed a successful multi bet and know how multi bets work. We certainly enjoy talking about how our wagers performed on a Monday after the weekend of NFL matches. They are more exciting than placing a single wager plus there is more chance of you getting a bigger payout with a double bet or thid bet than just a simple moneyline bet.
How To Place A Multi Bet
It should be simple to place bets and you will be pleased to know that placing a multibet is not different from wagering any other betting type. If you are about to submit one for the first time, you might feel it sounds too complicated because you need to make more than one selection. However, it isn't as tricky as it sounds, and if you follow the below steps, you can confirm your multi bet with a few clicks.
You may also want to read up on placing a Double Chance Bet which is very popular with soccer bettors. Double bets are similar to multi bets.
Choose An Online Sportsbook
All major sportsbooks have multibet options available. The bonus for players is that there are several top-quality betting sites available, so just choose the most suitable one. Once you have chosen your preferred sportsbook, you must register for an account. The bookmaker's website will ensure this is a straightforward process. All players will need to enter some personal information such as name and email address. Once that is done, make a deposit and start betting.
Best Betting Sites offering multi bets
Now that you know what a multibet is, you need a book to place your bets at. You can do this online, or on one of these legal US sportsbook apps. Visit one of the below sites, make a deposit and get those selections in.
Create A Bet Slip
Have a look at games you want to wager on, and click on the odds. The selection will appear in your bet slip, as you can add as many selections as you like.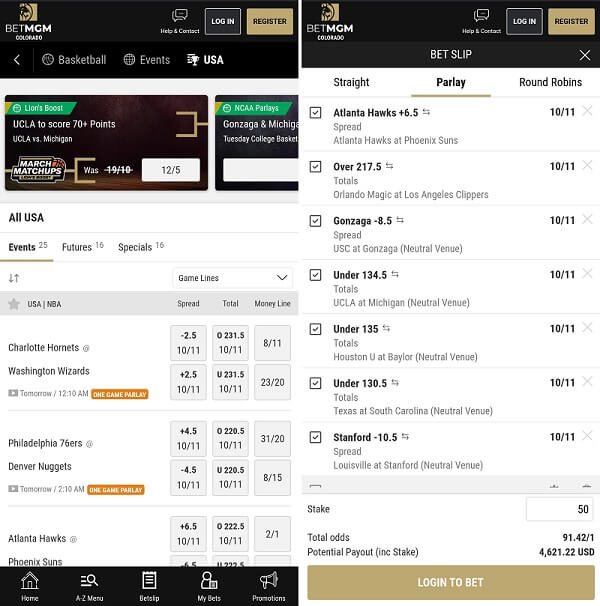 Confirm The Bet
You are nearly there; the final action is entering the stake and clicking the place bet button. Now you sit back and hope the risk you have taken pays off.
Most Popular Sports For Multi Bets
Multiple bet options are incredibly flexible, which means you can use this betting type for any kind of sport. Additionally, bettors are not restricted from placing their multibet on just one sport, and they can mix and match as much as they want. The sports that offer a vast number of markets are naturally the most prominent ones for placing this kind of wager.
Football and Soccer are renowned sports for parlay bets. Players will discover hundreds of markets for an NFL game, English Premier League action, or the Champions League. Even though this could be counted as an individual bet made up of several selections, you are not betting on one event like the Super Bowl. Consequently, you may want to have some knowledge of the sport. For example, if you know nothing about horse racing, even though there are multiple option you may struggle to produce a winning bet.
All of the big domestic sports like basketball, hockey, and baseball are also available and work well for these wagers. It is worth mentioning that individual sports such as motor racing and tennis offer good value for your multiple bets. Customers can be creative and flexible with their multibets and don't need to focus on just one sport.
A Beginners Guide To Multibetting
As we have discussed above, placing multi bets should be a smooth process; however, this doesn't apply regarding winning some money from them. Betting on multiples increases the risk; however, there are some tips and tricks that increase your chances of making a profit from this betting type.
1) It may seem unnatural, but players should not always back the short odds. Only betting on short-priced teams won't lower the risk considerably. Sport is unpredictable, and even what many consider to be an overwhelming favorite can be shocked. Always look for the value and not the favorites.
2) Keep the selections down to a reasonable level. Every time you add a new selection to your slip, your chances of winning diminish. It may seem tempting to keep adding picks as you see the potential payout increase but try and avoid doing this.
3) Concentrate on the teams and not the odds. When you get involved in combo wagers, you may get ahead of yourself and start looking at just the numbers. However, these numbers should not take control of your picks. You should be putting all of the effort into analyzing the teams or individuals involved in the game.
4) Keep your eye out for professional tips. It can take a lot of time to analyze all picks that you want to wager on. However, there is a simple solution. Keep visiting gamble-usa.com, and you can see lots of articles on tips, reviews, and strategies to maximize your returns.
5) Make sure you benefit from bonus offers and promotions. Most operators offer increased odds or multiple bet insurance, which can boost your payout. Additionally, you will get your stake back even if you lose on just one selection.
You may also want to read our guide on how to read betting odds.
Multibetting Tips
Anyone who has experience of gambling knows that betting on any type of sport is unpredictable. Consequently, professional bettors create and utilize numerous strategies to increase their chances of winning. We have listed some below that can improve your wagering experience and ensure long-term success.
Now, this may seem unusual, but one of the ways of minimizing your risk is by making one wrong selection. Although this is a contradiction as the major aim of betting is to win all picks, there is a method behind the madness. The main idea behind this approach is that the probability of losing multibet increases with each selection. If you can try and guess which one might fail, try with the opposite of what you first thought to wager.
One of the most prominent types of wagering nowadays is live betting. Players can take advantage of this and create numerous multiple bets. The beauty of live betting is that you can you watch the games and bet on them at the same time. With the advancements in mobile wagering, players can also do this remotely. Additionally, bettors can react to what is happening during the game and act accordingly.
There is not as much importance of looking at low odds or higher odds with a multi bet. By their nature, the odds will be high as you are betting on several events, which makes having a winning selection difficult. Just make sure you choose your betting market wisely.
Look out for any benefits of multibets of variances of this type of wager during your research. For example, A draw no bet is a great way to protect yourself and ensure you receive at least something out of the wager.
Benefits of Multi Bets
Before you get into the nuts and bolts of a multi bet strategy or any type of system bet, it is worth knowing how they can benefit you. One of the pros of a multi bet is that if a bettor is lucky or wise enough to have all of their bets win that would mean a large return. It is even better when you consider you don't need to put that much money down as some of the wagers allow for rolling over of returns for you to use as a stake before placing another wager. In any full cover bet, there you don't need all of the bets to be successful before you can start making profits.
However, full cover bets are expensive because each separate bet needs its own wager. You won't be able to use a free bet offer so the price is quite high. The non cover bets are risky because if one of the legs of the overall bet loses the entire bet is lost like a parlay bet. When it comes to this betting system, you should not expect to win every time you play.
If you do some research, read some betting tips and develop a betting strategy you can see some nice quick returns with a game multi wager.
FAQs
Is draw no bet worth it?
A draw no bet is a good option for punters to protect themselves, especially for bettors who want a degree of reassurance and seek a safer kind of bet.
Are multi bets worth it?
Multi bets are undoubtedly risky, as each leg you add, the more likely it is you will lose. This does increase the amount of money you could win, so it is up to the customer to decide if the potential payout is worth the risk.