BetMGM gambling apps now in Google Play Store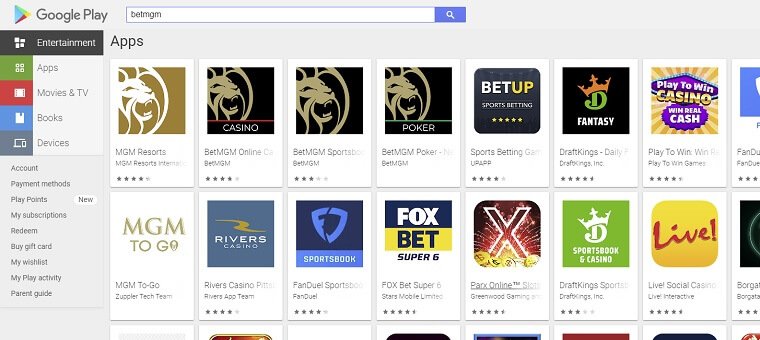 The new BetMGM Sportsbook & Casino app is now available on the Google Play Store for customers in the US.
After Google changed its policies in March to allow online gambling companies in the United States to add their apps to its Play Store, many operators have taken advantage and launched their platforms. For a long time, gaming companies could not offer their apps in the Play Store because of legal restrictions in place linked to Google's policies. However, operators can now provide a more straightforward way for players to locate and download their app with the change.
The latest company to take advantage of this change of policy is BetMGM. They have launched their sportsbook app, as well as the BetMGM casino app, and BetMGM Poker app on the Play Store. Earlier this month, the company launched its online poker app, so it was always likely to follow that with their main sports betting and iGaming platforms.

21+. T&C Apply
21+. T&C Apply
New Apps Mean Remote Betting
Players located in states with a legal online gambling market can download and play on the BetMGM applications. There is a different app for each option, so it is easy to place sports wagers, play casino games, or play poker.
There are specific jurisdictions where the app is valid. To ensure players are playing in a legal state, BetMGM uses geolocation technology to pinpoint a user's location, ensuring they can access the content without issues. Players can switch the app to a new jurisdiction when traveling, which is a fantastic option. Customers who are required to travel frequently will find this option very convenient.
The casino and sportsbook app both offer the option to switch jurisdictions when traveling to a new state. However, the casino app is only available in New Jersey and Pennsylvania currently. Players can download the app and be playing their favorite games or wagering on their favorite teams within minutes. For iGaming fans, the casino app offers table games, MGM slots, video poker titles, and more.
BetMGM is expanding to become a significant player in the US online gaming sector. With the apps now available in the Google Play Store, that growth is expected to continue. Millions of people use android services, and the new app launches allow the company to reach more people even more quickly.
Apps Easier to Download for Android Users
In the past, it was a rather complicated process to download the BetMGM app, or any sports betting app for Android users. Although not challenging, players still needed to complete steps on their mobile device, and an automatic warning would pop up on the screen. This warning was standard and nothing alarming, but some players were worried, and it would put them off completing the download process.
Consequently, fewer Android users downloaded the app, which is obviously not good news for BetMGM. However, they weren't the only operators who faced this issue, but now that Google has changed its stance on real money gambling apps, the whole process is far simpler.
Operators are still required to follow specific protocols when adding the app to the Play Store. They must state that it is for adults only with an age limit restriction in place. Additionally, all operators must include information on how to seek help if you or someone you know suffers from a gambling problem.
For more legal casino and sports betting news across the US, follow us on twitter @Gamble_usa for the latest news and offers.
Relevant news