Gamble USA strives to improve your online gambling experience. We aim to help you play safely, make informed decisions when gambling, and increase your betting knowledge through our guides.
We adhere to strict editorial integrity; our content may contain links to products from our licensed & legal US partners.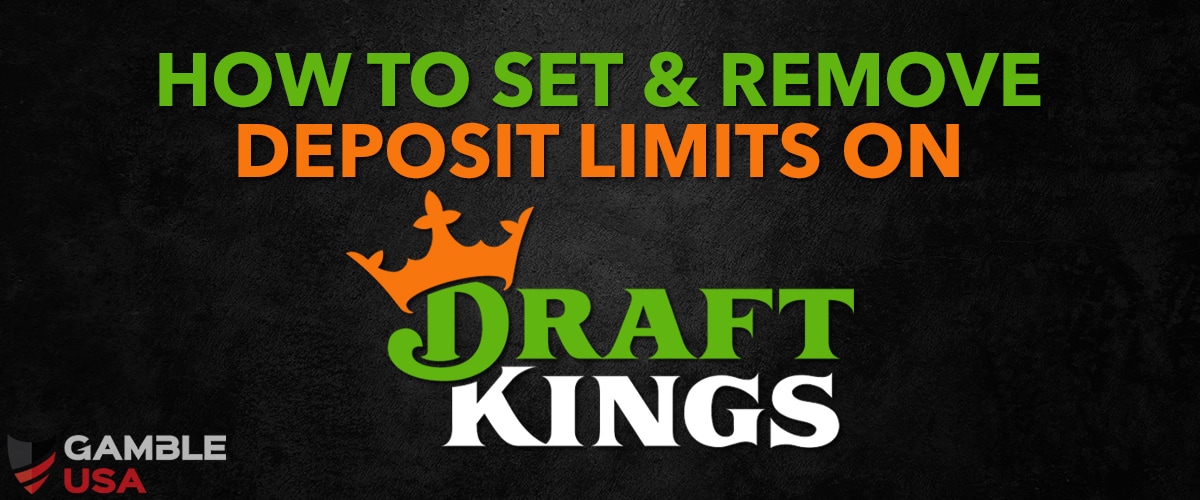 In the ever-evolving realm of online sports betting and daily fantasy sports, responsible gambling has gained significant importance. With platforms like DraftKings attracting a large user base, it becomes crucial for individuals to maintain control over their gambling activities. One powerful tool that enables users to exercise this control is the ability to set deposit limits on their DraftKings accounts.
The introduction of deposit limits within the online gambling industry stems from the recognition of potential risks associated with excessive gambling. In the United States, the legal landscape surrounding online gambling has evolved over the years, with individual states regulating the industry independently.
While federal laws such as the Unlawful Internet Gambling Enforcement Act of 2006 exist to govern online gambling activities, it is at the state level where laws pertaining to deposit limits have emerged. States like New Jersey, Pennsylvania, and Michigan have established comprehensive frameworks for online gambling that include provisions for deposit limits. These measures are aimed at protecting players' financial well-being, encouraging responsible gambling behaviors, and mitigating the risks associated with problem gambling.
By setting daily, weekly or monthly deposit limits on your DraftKings account, you actively embrace responsible gambling practices. These limits empower you to establish financial boundaries and exercise self-control, ensuring that your online gaming experience remains enjoyable and within your means.
In this article, we will guide you through the process of setting and increasing deposit limits on your DraftKings account, enabling you to take control of your gambling activities. By implementing these limits effectively, you can strike a balance between entertainment and responsible gambling, thereby fostering a healthier gaming environment for yourself.
Ways to Limit Deposits on DraftKings
DraftKings understands the importance of responsible gambling and offers various options for players to set deposit limits. By utilizing these deposit limit features, you can exercise control over your gambling activities.
That said, there are two primary types of deposit limits available on the DraftKings platform: self-imposed limits and state-regulated limits.
State-Regulated Deposit Limits: Generally, DraftKings users are subject to a standard $5 minimum deposit limit for all payment methods, except bank wire transfers, which have a standard deposit limit of $100. The standard maximum deposit limit typically varies depending on each DraftKings participating state's specific rules and regulations. Regardless, customers can request to increase their maximum deposit limits by contacting customer support or set self-imposed deposit limits, based on their individual preferences. The state-regulated minimum and maximum DraftKings limits apply to all the platform's products, including fantasy sports, sportsbook, casino and marketplace.
Self-imposed Deposit Limits: If you wish to exercise more control over your maximum deposit limits, DraftKings provides a responsible gaming feature that allows customers to set deposit limits, lower than the state-regulated limits, over a daily, weekly or monthly period. These self-imposed deposit limits offer flexibility and enable you to manage your deposits based on your specific needs. For instance, you can set maximum DraftKings deposit limits of $50 daily, $200 weekly, or $1,000 monthly, according to your desired level of control, to protect you from impulsive betting.
Steps to Set Deposit Limits on DraftKings
Whether you prefer to access DraftKings via the mobile app or the website on your mobile device or desktop, you can easily establish deposit limits that align with your desired spending boundaries. As mentioned earlier, you can set separate payment restrictions on the DraftKings sportsbook, casino, fantasy sports and marketplace.
The processes for setting deposit limits on both the DraftKings sportsbook and casino are similar and straightforward. However, there are few minor navigational differences between both platforms, and these are outlined in the steps provided to assist you set DraftKings deposit limits below:
Setting a deposit limit via the DraftKings app (Sportsbook and Casino)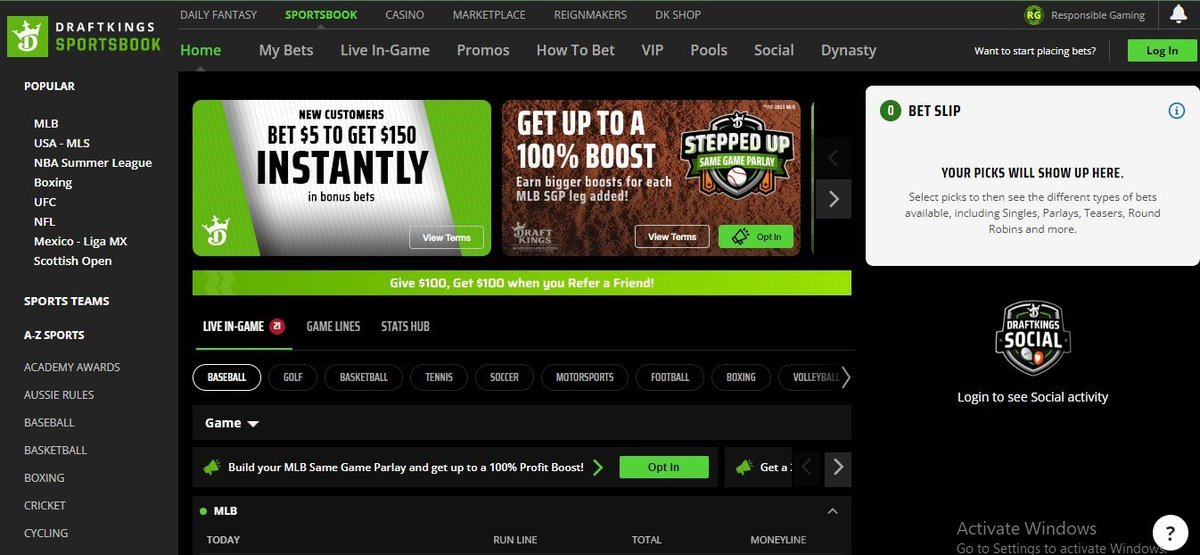 Launch the DraftKings sportsbook app
Login to your account
Tap profile photo in top left corner to reveal a dropdown menu
Scroll down the 'Responsible Gaming' section of this menu
Click on 'Patron Protection Center'
Then, select 'Player Limits'
Set a Daily, Weekly or Monthly limit, depending on what you want
Click 'Save' and then, 'Confirm', to record your selection
Up To $1,000 Deposit Bonus
21+. T&C Apply
21+. T&C Apply
The best sportsbook
Amazing odds & offers
Awesome betting app
Setting a deposit limit via the DraftKings desktop and mobile website (Sportsbook and Casino)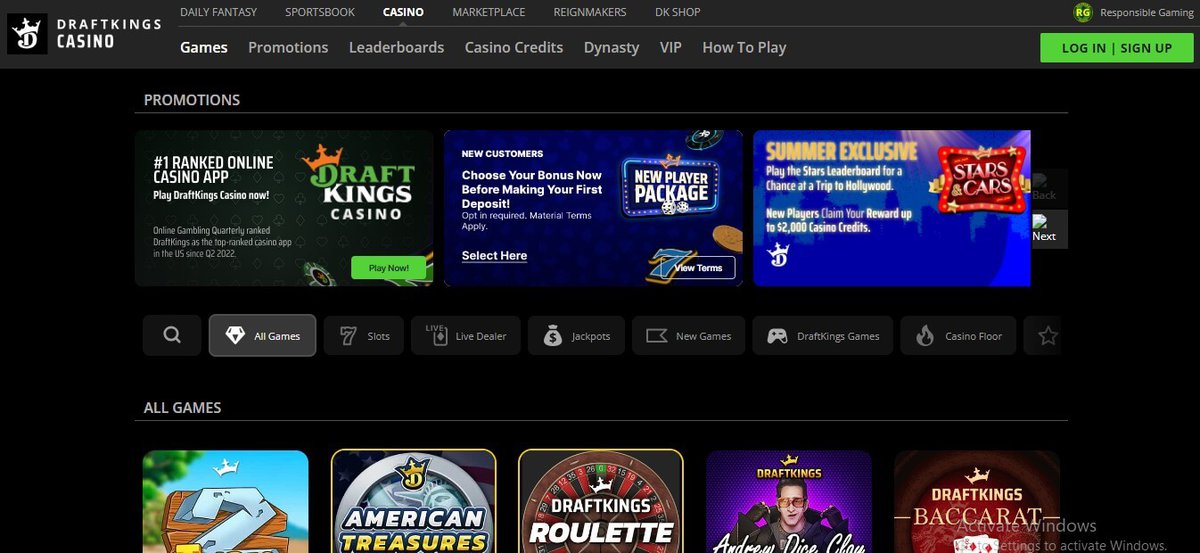 Access the DraftKings sportsbook or casino either via desktop or mobile web
Head over to the settings section

For desktop users, this can be done by clicking the profile photo in the top right corner
Mobile web users can do this by tapping the three-line menu icon in the top left corner, and then selecting the gear icon

Select 'Account Information' from the resulting dropdown
Then, click on 'Player Limits'

Mobile web users are required to tap the dropdown in the center of the 'My Account' screen to reveal this 'Player Limits' option

Select 'Deposit Limits'
Then, set your limit time period and amount. This period can be daily, weekly or monthly
Tap 'Save', then 'Confirm' to store your selection
In addition to choosing a limit period and amount, DraftKings fantasy sports & marketplace users can select the nature of their deposit limits. This can either be an 'Alert Me', which simply sends a message to notify a user approaching the deposit limit, without taking further action, or the 'Block Me' feature which completely restricts a user and prevents further payments.
$50 Casino Credits + $2,000 Bonus
Excellent mobile app
User-friendly design & games
$50 Casino Credits + $2,000 Bonus
Deposit Limits on DraftKings DFS

Setting a deposit limit on the DraftKings DFS platform can be done only through the desktop and mobile websites, and the steps to do this are outlined below:
Access the DraftKings Fantasy Sports platform, either via desktop or mobile
Launch the settings menu

Desktop users can do this by tapping the three-line menu icon in the top left corner of their screens and then selecting the gear icon
Mobile users are required to simply click the profile photo in the top right corner of their screens

Select 'Account Information'
Then from the resulting dropdown, choose 'Player Limits'
Choose the type of deposit limit; This can either be an 'Alert Me' or a 'Block Me'
Then set your preferred deposit limit period (daily, weekly or monthly) and amount
Store your settings by clicking 'Save' and 'Confirm'
Up To $1,000 Deposit Bonus
21+. T&C Apply
21+. T&C Apply
The best sportsbook
Amazing odds & offers
Awesome betting app
Who Should Consider This Option?
Setting a deposit limit on DraftKings is a proactive step towards responsible gambling and is recommended for various individuals who engage with the platform.
If you fall into any of the following categories, considering the option to set deposit limits can greatly benefit you and contribute to a healthier gaming experience.
New Players: For individuals new to online sports betting or daily fantasy sports, setting deposit limits is highly advisable. It allows you to establish responsible gambling habits from the outset and prevents excessive deposits that may lead to financial strain.
Recreational Players: If you use DraftKings primarily for recreational betting, setting deposit limits is crucial. It ensures that your gaming activities remain within your entertainment budget and prevents you from overspending.
Players with a Budget: If you have a predetermined budget for your online gaming activities, setting deposit limits is essential. It allows you to stay within your financial means and prevents impulsive or excessive deposits that may exceed your allotted gaming budget.
Players Concerned About Problem Gambling: For casino players who are concerned about developing problematic gambling behaviors, setting deposit limits is highly recommended. By proactively setting ironclad limits on your DraftKings deposits, you create an additional layer of protection against potential gambling-related issues.
Players Seeking Financial Control: If you value financial control and prefer to manage your expenditures carefully, setting deposit limits is a suitable option. Choosing to restrict your payments on DraftKings ensures that your deposits align with your financial goals and prevents impulsive spending.
DraftKings Deposit Limits Frequently Asked Questions
How to reset My DraftKings deposit limit?
You can request to reset state-regulated DraftKings deposit limits by contacting customer support and providing additional information, such as a license or state-issued ID, if required. Eligible DraftKings customers residing in Massachusetts, Maryland and Tennessee are required to fill and submit a state-specific form, along with their deposit limit increase requests.
What does DraftKings deposit limit exceeded mean?
When you see the message "DraftKings deposit limit exceeded," it means that you have attempted to make a deposit that exceeds the deposit limit you have set on your account.
How can I increase my deposit limit on DraftKings?
To increase your deposit limit on DraftKings, log in to your account and access the "Player Limits" section in settings. Look for the option to increase your deposit limit and follow the instructions provided. Be sure to save or confirm your changes. Keep in mind that additional verification or jurisdictional restrictions may apply. If you need further assistance, reach out to DraftKings customer support for help.
Do deposit limits apply on both DraftKings Casino and Sportsbook?
Yes, deposit limits apply to both DraftKings Casino and Sportsbook platforms. However, it is important to note that the deposit limits for each platform must be set separately. This means that you can establish different deposit limits for your activities on DraftKings Casino and Sportsbook based on your individual preferences and financial boundaries.
Can I increase my DraftKings withdrawal limits?
No, it is not possible to increase your withdrawal limits on DraftKings. The withdrawal limits are set by DraftKings and vary depending on whichever payment method you opt for. If you're looking to make huge withdrawals, bank wire transfers on DraftKings come with no maximum limits and allow players to withdraw as much as they want.
How long does it take for the new DraftKings deposit limit to take effect?
Once you have successfully set a new deposit limit on DraftKings, it will take effect when the previous period has passed. For example, daily deposit limits will reset after midnight, weekly deposit limits usually reset every Sunday, etc.
Why will DraftKings not let me deposit money?
DraftKings may not allow you to deposit money for various reasons. The main reason could be that you have reached your deposit limit, which is a predetermined maximum amount set by yourself or based on state regulations for responsible gambling. Other potential reasons include an expired debit/credit card, incomplete account verification, using a deposit method not in your name, or being in a state that prohibits depositing on DraftKings.
Does DraftKings have a deposit limit?
Yes, DraftKings does have a deposit limit. The standard deposit limits on DraftKings vary depending on various factors, including state regulations and individual player preferences. Users have the option to set their own deposit limits within the platform's responsible gaming features, allowing them to establish maximum deposit amounts over specified periods.
About DraftKings Deposits
Below is a table outlining various deposit options available on DraftKings, along with their standard minimum and maximum deposit limits, deposit times, associated fees, as well as minimum and maximum withdrawal limits on the platform:
💳Payment Option
💵Standard Minimum Deposit
💰Standard Maximum Deposit
⏱️Deposit Time
💲Deposit Fees
💵Minimum Withdrawal
💰Maximum Withdrawal
Online Banking
$5
Varies
Up to 3 days
Free
$1
$100,000
VIP Preferred (eCheck)
$5
Varies
Up to 3 days
Free
$1
$100,000
PayPal
$5
Varies
Instant
Free
$1
$60,000
Debit Card
$5
Varies
Instant
Free
$1
$25,000
Cash at Cage
$5
$500 per day
Instant
Free
None
$100,000
Venmo
$5
$2,999 per transaction
$5,999 per week

Instant
Free
$1
$20,000
Bank Wire
$100
Varies
Up to 2 days
Free
$20,000
None
Play+ Prepaid Card
$5
Varies
Instant
Free
None
$25,000
Checks
$5
Varies
Up to 2 days
Free
$15
$49,999
What Other Options are There for Responsible Gaming on DraftKings?
In addition to setting deposit limits, DraftKings offers several other options to support responsible gaming and ensure a safe and enjoyable experience on the platform. These options work in different ways to empower players to take control of their gambling activities and maintain healthy gambling habits.
Without further ado, let's explore the other responsible gaming features available on DraftKings:
Self-Exclusion: The self-exclusion durations currently available on the DraftKings platform include 3 and 6 months for fantasy sports only, as well as 1 and 5 years for both casino and sportsbook. Customers can also set shorter cool down durations with there being options for 3, 4, 5 or 6 days and 1, 2, 3 or 4 weeks. During this self-exclusion period, DraftKings users can't access their accounts, make any deposits, enter fantasy sports contests, make any sports wagers or play in any casino games.
Wagering Limits: Alongside deposit limits, DraftKings offers wagering limits as a means of responsible gambling control. With this option, players can set maximum limits on the total amount they can wager within a specified period, such as daily, weekly, or monthly. Wagering limits provide an extra layer of protection, preventing players from placing bets beyond their intended budget.
Max Wager Limits: Contrary to basic wagering limits, max wager limits on DraftKings are a specific type of limit that allows players to set a maximum amount they can wager on individual bets or games on the sportsbook or casino. This feature is particularly helpful for those who want to exercise caution and avoid placing excessively large bets, thus curbing impulsive betting.
Time Limits: Time limits are designed to help players manage their gaming sessions effectively. With this DraftKings feature, individuals can set specific session limits for their gameplay to a few hours per day, thereby ensuring they do not spend excessive amounts of time gambling.
Feel free to utilize any of the DraftKings responsible gambling features such as deposit and time limits to stay on top of your gambling activities. The only way to have fun is to gamble responsibly, and DraftKings understands this.